This post is kindly sponsored by Kroger, but the recipe, photography, video, and opinions are 100% ours.
Know what's better than scrambled eggs for breakfast? Italian-style scrambled eggs…any time of the day!
If you want to make the most amazing skillet scramble you've ever encountered, we have the tips and tricks to make it happen. First, and foremost, start with fresh ingredients, and second, follow our technique for super creamy, yet fluffy eggs. And much of the prep can even be done the night before, making assembly a snap!
How To Make Italian Skillet Scramble
Don't you just love recipes that are easy and super delicious, too?
Well…here you go! This recipe is as easy as a breeze and the results are amazing!
We've said it before, and it bears repeating: A dish is only as good as the quality of ingredients you put in it. That's why we constantly rely on Kroger for preparing our favorite dishes.
And when it comes to fresh produce, Kroger ensures quality every single time. In fact, when it comes to tomatoes, Kroger checks incoming tomatoes for 17 different types of defects including catfaces, zipper scars, puffiness, and sunburn. And don't worry – any produce that has defects is used for amazing programs such as Zero Hunger, Zero Waste efforts.
And, Kroger keeps redder tomatoes front and center…that's how you know they're fresh!
Private Selection Petite Grape Tomatoes are the perfect selection for our skillet scramble. All that's needed is to halve about 1 cup of them, and you're ready to add them into the scramble party!
Building the Flavor Profile
Before we make perfect Italian scrambled eggs, we need to build those wonderful Italian tastes.
First, we start by sautéing Italian sausage. We just crumble the meat right into the skillet by removing the casings with a small knife.
EXPERT TIP: After cooking the sausage, transfer it to a bowl, and then heat 2 tablespoons of the butter in the same skillet. Sauté the shallots until tender, and then toss in the tomatoes until just starting to soften, about another 2 minutes. Transfer this mixture to another bowl. All of this prep work can be done up to 24 hours in advance.
For this Italian Skillet Scramble, we're using 12 whole eggs.
We place them in a large bowl and whisk them together with the fresh basil, salt, and pepper.
EXPERT TIP: Use a whisk to lightly beat the eggs. Resist the temptation to over-whisk the eggs. If they are too beaten, they will not be as fluffy when you scramble them.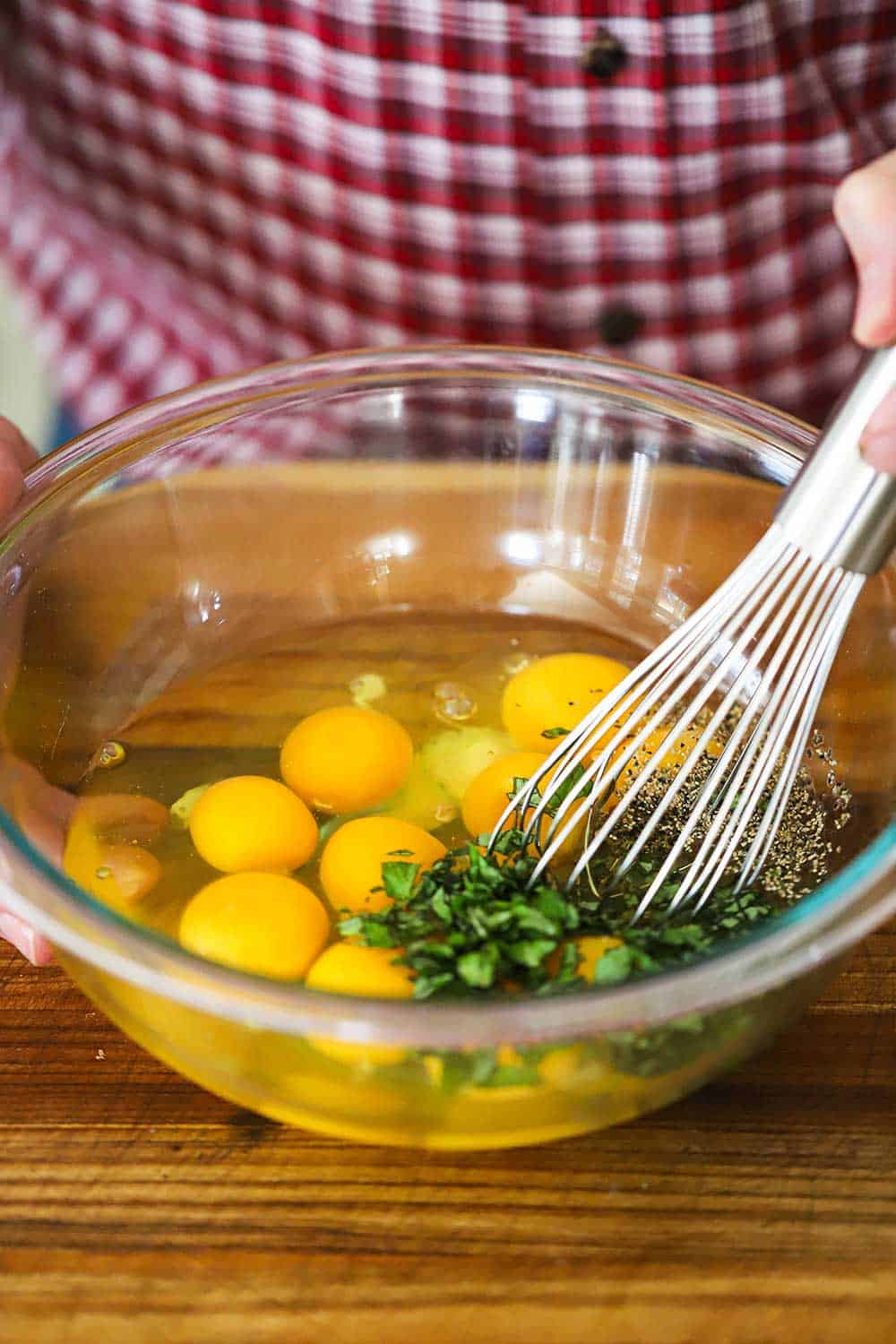 How To Make Buttery Fluffy Eggs
Some dishes are just begging for butter, and in our books, buttery scrambled eggs are the only way to go.
Still working in the same skillet you prepared the sausage and tomatoes, go ahead and melt 6 tablespoons of quality butter.
Did we say quality? Well, that certainly means we're using the best: Kroger butter is extra creamy and perfectly prepared. Mmmmm…butter!
Now, comes the technique for making the best scrambled eggs in town.
After the butter has melted, simply pour the lightly beaten eggs into the skillet and do nothing for about 1½ minutes.
EXPERT TIP: This will cause the eggs to just begin to set – as if you are making an omelet. Use the flat edge of a spatula to push the edges of the cooked egg into the center of the pan. Continue gently doing this until the eggs are just barely cooked through. Remove from heat. The eggs will continue to cook even after your turn off the heat.
Now, it's time to mix everything together.
Simply stir in the prepared sausage, tomatoes, as well as shredded mozzarella.
EXPERT TIP: We love our scramble to be extra cheesy, which is why we go with 2 cups of shredded cheese, but you can decrease that to 1 cup if you're not as crazy about cheese as we are. Other excellent melting cheeses include cheddar, Monterey Jack, Swiss, and Fontina. A combination of these is awesome!
Kroger's Commitment To Excellence
We just can't say it enough, when you want to have confidence in serving up smiles with delicious, quality ingredients – Kroger Brand products are always there to help you with what really matters.
And folks this amazingly delicious Italian Skillet Scramble is no exception. Also, see how we turned to Kroger to make our amazing Leftover Pot Roast Sliders!
In the meantime, who wouldn't be excited about this dish being placed on the table for scrumptious breakfast, brunch, lunch, or even dinner!
The flavor profile of this dish is so deeply flavorful, yet not fussy.
Even those finicky eaters will devour it up!
And Kroger makes it easy to get everything you need from start to finish at a good value with FREE pick-up and digital coupons!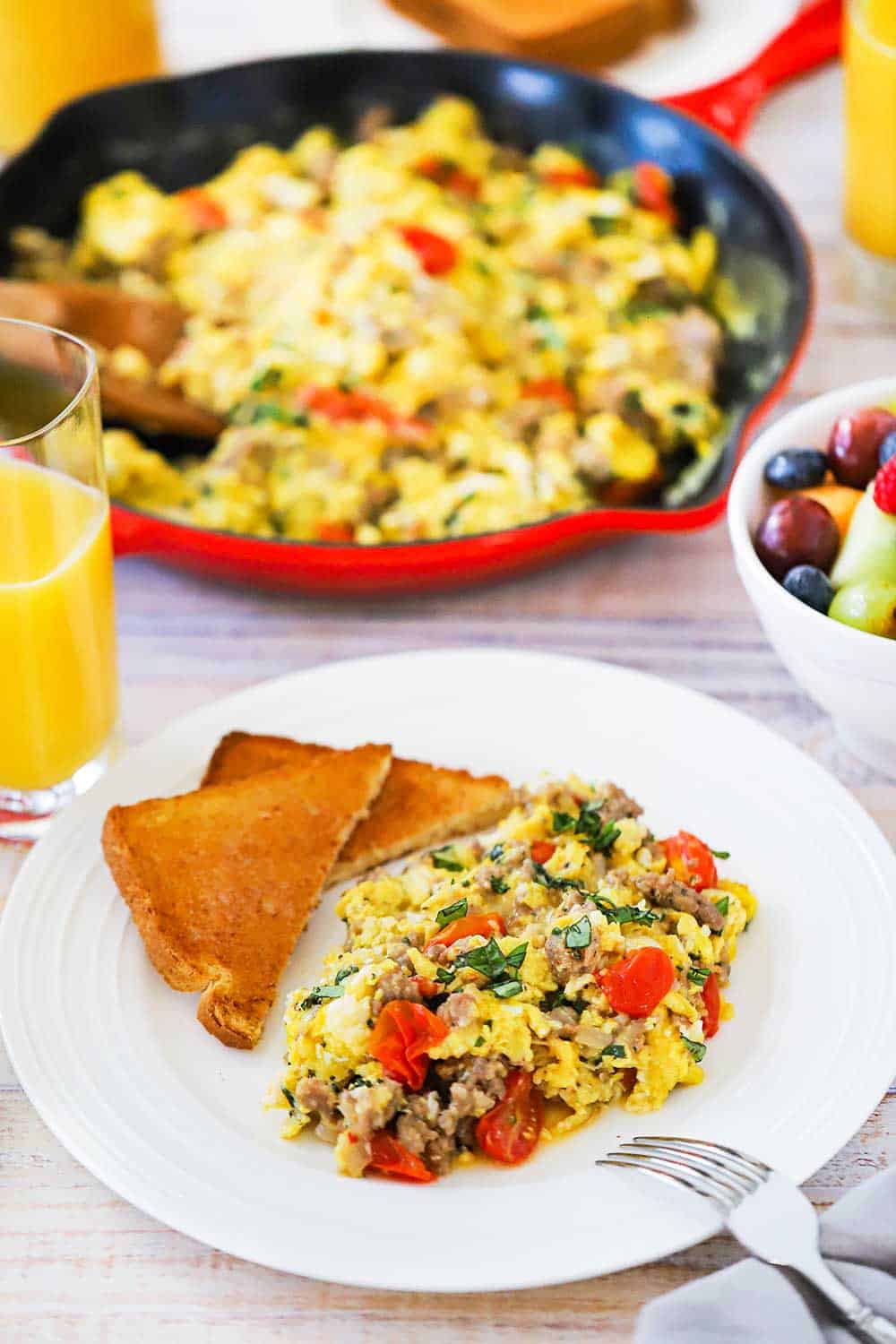 Folks – now is the time to run to Kroger and get every single item you need for this recipe.
And why not go ahead and make it extra cheesy?
When you get that first cheese pull, you will be so happy that you did!
Ready to make the most delicious scrambled egg dish this side of Venice? Go for it!
And when you do, be sure to take a photo of the dish, post it on Instagram, and tag @HowToFeedaLoon and hashtag @HowToFeedaLoon!
Italian Skillet Scramble
Italian Skillet Scramble is a go-to brunch/breakfast dish in our house. Basic scrambled eggs are transformed into something truly magical. Perfect for a morning feast, but also filling enough for a great dinner!
Print
Pin
Rate
Servings: 6 people
Calories: 528kcal
Ingredients
8 oz Italian sausage hot or sweet, casings removed
8 tbsp unsalted butter divided
1 shallot chopped
1 cup grape tomatoes halved
1 tsp Kosher salt
½ tsp black pepper freshly ground
12 large eggs
¼ cup fresh basil chopped
2 cups mozzarella shredded
Instructions
Heat a large skillet over medium-high heat. Crumble the sausage into the skillet and cook until browned and no longer pink, breaking up the meat with a wooden spoon as you go. Remove the cooked sausage to a bowl and set it aside. Wipe out the skillet with a paper towel.

In the same skillet, heat 2 tbsp butter over medium heat until melted. Add the shallots and cook until soft, about 2 minutes.

Add the cherry tomatoes and cook until beginning to soften, about 2 more minutes. Transfer to another bowl and set aside.

In a large bowl, whisk together the eggs, 2 tbsps of the basil, salt (1 tsp), and black pepper (½ tsp) just until blended, but don't overbeat.

Add the remaining butter (6 tbsp) to the same skillet and melt over medium heat.

Pour in the egg mixture and don't stir or disturb them in the pan for 90 seconds, or until the bottom of the eggs are starting to set.

Stir with a spatula, scraping up the eggs on the bottom and sides of the pan and folding them toward the center. Repeat until the eggs are just cooked. Don't overcook!

Turn off the heat. Gently fold in the sausage, tomato mixture, and cheese and stir to incorporate into the eggs.

Serve at once, sprinkling remaining basil over the top of each helping.
Notes
For the Italian sausage, go with whatever your favorite is: hot, sweet, mild, or a combination of them. You can also use regular ground pork and add 1 tbsp of Italian seasoning and 1 tsp fennel seeds, along with about 3/4 tsp of salt and 1/2 tsp of pepper. You may have noticed that in the video, we added the basil after the eggs are cooked. You can add the basil as you are initially whisking the uncooked eggs, or you can add it right towards the end. Just be sure to leave some extra for garnish! If using dried basil, use 1 tablespoon, and don't worry about garnishing. The sausage and shallots/tomatoes and can be prepared up to 24 hours in advance. Although this scramble is best served hot off the stove, we've heated it up the next day with a little toast, and it was still fantastic.
Nutrition
Calories: 528kcal | Carbohydrates: 4g | Protein: 27g | Fat: 28g | Saturated Fat: 12g | Trans Fat: 1g | Cholesterol: 470mg | Sodium: 1044mg | Potassium: 345mg | Fiber: 1g | Sugar: 2g | Vitamin A: 1520IU | Vitamin C: 5mg | Calcium: 263mg | Iron: 3mg