Leftovers give us so many culinary opportunities! Taking what's good, and making it even better is so fantastic!
Finding creative ways to re-invent food left in containers from last night's dinner not only helps to reduce waste and even helps save money – but it's also fun and when done right, off-the-charts delicious! And these are so easy to prepare!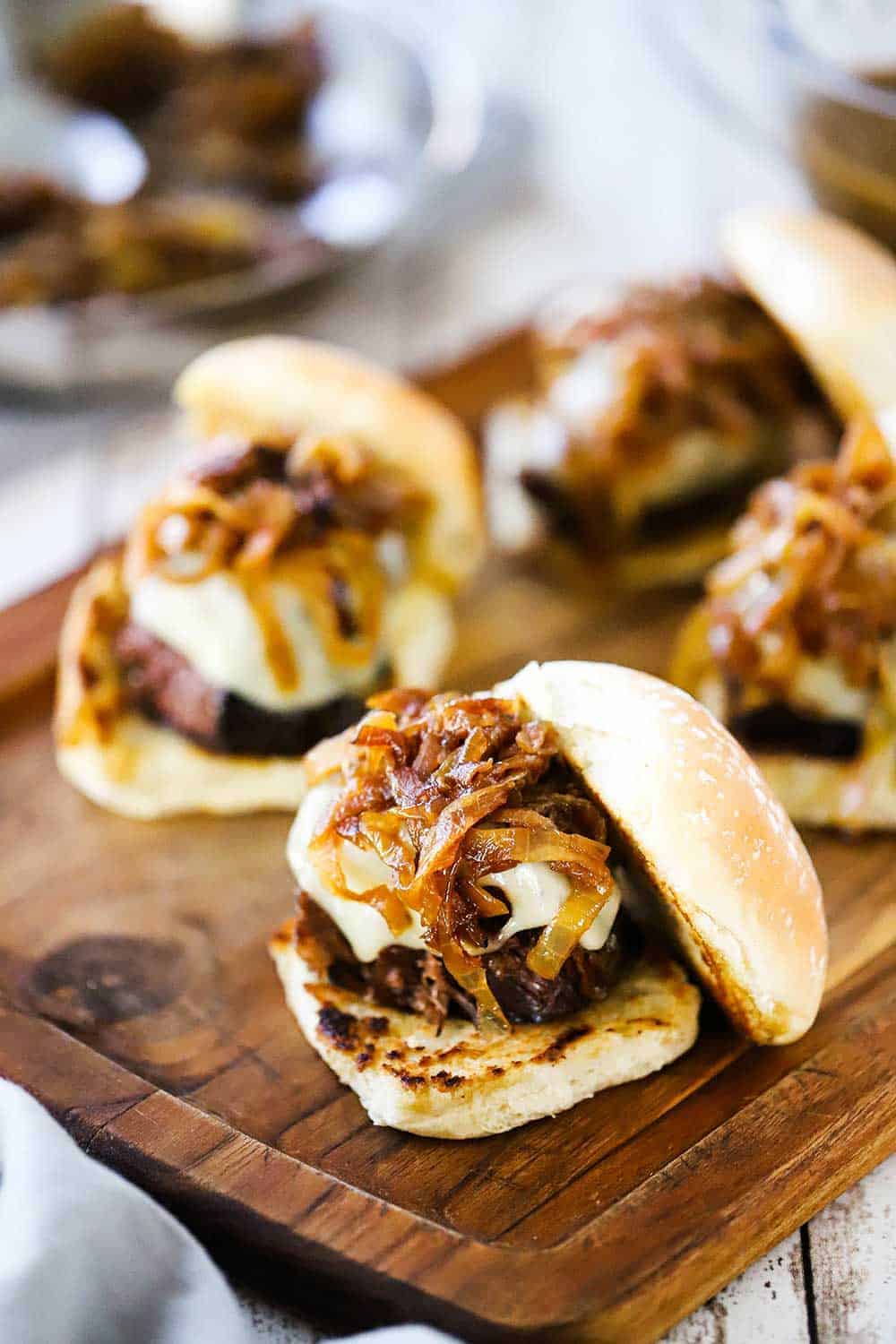 How to Make Leftover Pot Roast Sliders
Well, as you would imagine, it all starts with amazingly delicious leftover Classic Pot Roast!
For the leftover Mashed Potato Cakes, we'll use our Best Mashed Potatoes, but more on the in a bit!
How To Make Caramelized Onions
There are several components that make these sliders unbelievably delicious.
But, we truly believe that making caramelized onions is what takes them from exceptional to divine.
EXPERT TIP: Caramelized onions take about 1 hour to prepare. They can absolutely be made up to 2 days in advance and then simply reheated on the stove before adding to the sliders. Start with 3 large onions (white or yellow) and cut into slices. To a large pot or skillet, add a couple of tbsps of olive oil, add the onions and cook until the sugars are released and caramelize. They will become a darkish brown color and reduce in size significantly. We add a little Worcestershire sauce and sweet Sherry for added flavor, but that's not 100% necessary.
Once the onions are ready to go, it's time to build the amazing pot roast sliders!
Simply reheat the roast in the oven and toast your buns (leftover dinner rolls are great if you have them!), and pull out your favorite sliced melting cheese. We always go with Private Selection Baby Swiss that we pick up from Kroger!
Cut the roast into 2-inch pieces, or large enough to cover the base of your buns (or sliced dinner rolls).
EXPERT TIP: A full slice of cheese will completely melt over the chunk of pot roast on the slider. If you prefer, use the top of a jar lid, or a 3-inch circular cutter to form a cheese circle that will fit perfectly onto the slider. Again, this isn't necessary but makes for a pretty presentation. You'll enjoy eating up any leftover cheese scraps, just like we do!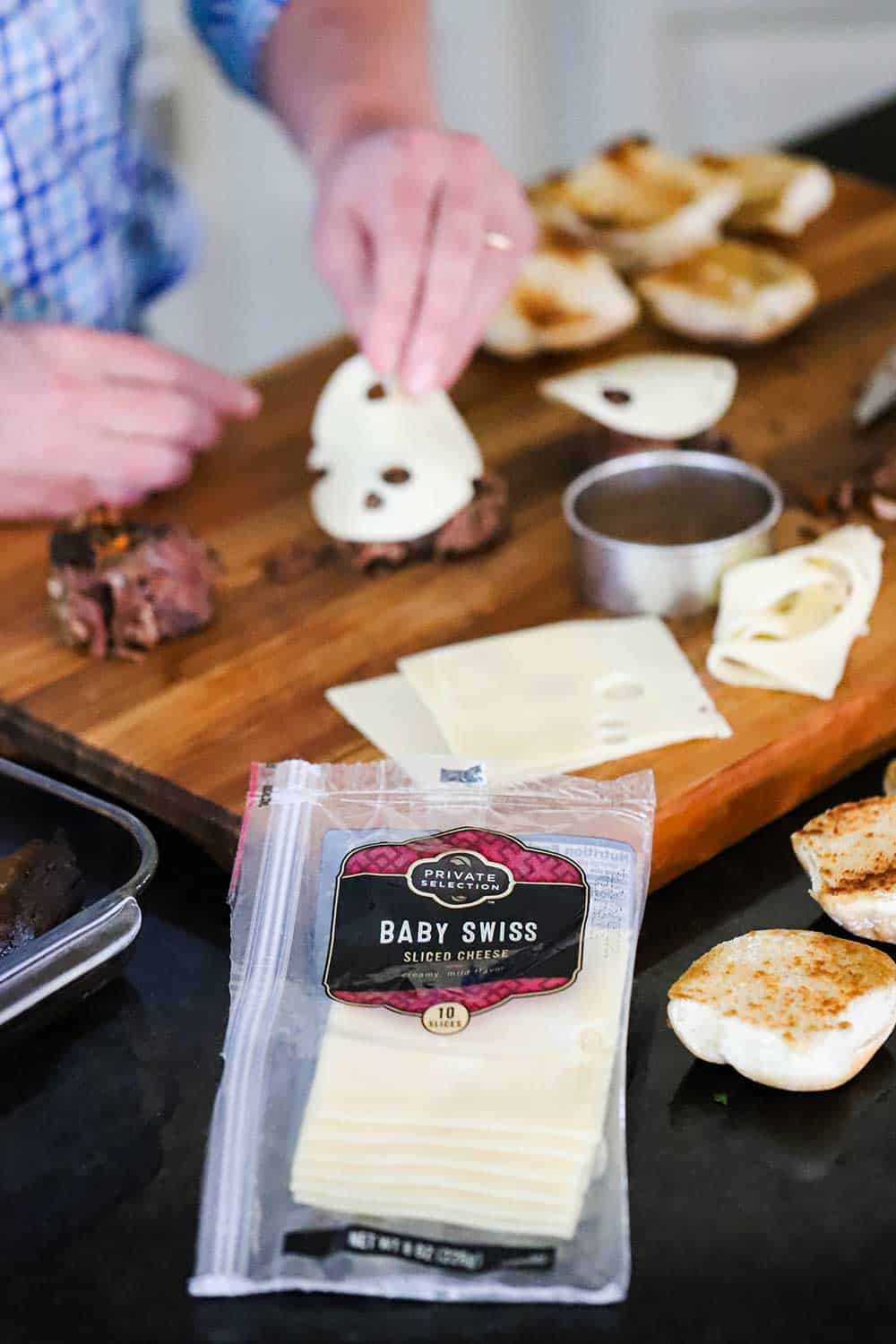 Building the Perfect Slider
After you've cut your leftover roast into chunks, place them on a baking sheet, and preheat your oven to 400°F.
Place the prepared cheese on each piece of meat and then place it in the oven until the cheese has melted, about 2 to 5 minutes.
Remove from the oven and top each with a nice mound of heated caramelized onions.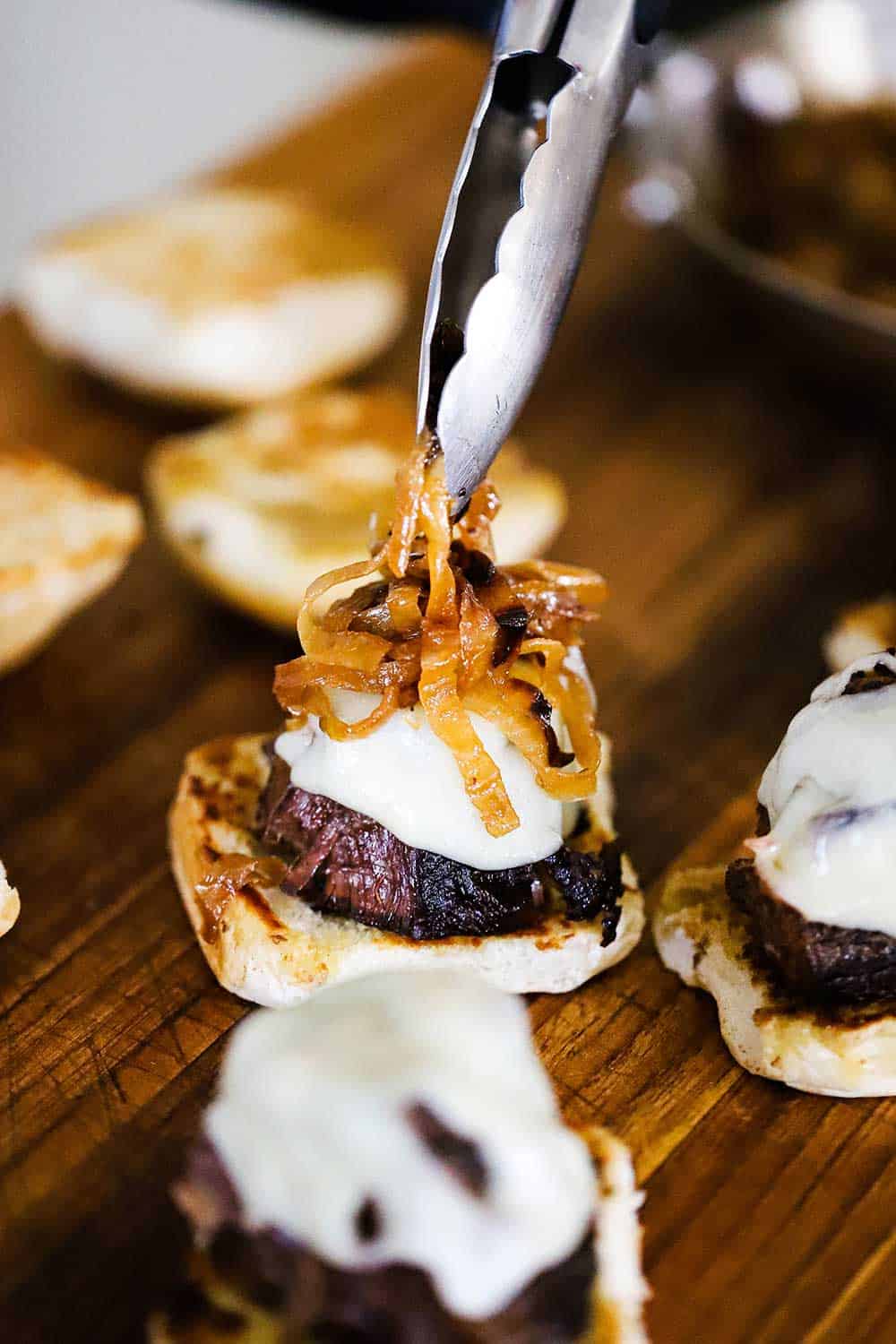 Ladies and gentlemen, it just doesn't get much better than this.
And you did this almost entirely from leftovers!
Don't be offended if your family raves more about these pot roast sliders than they did about the original pot roast!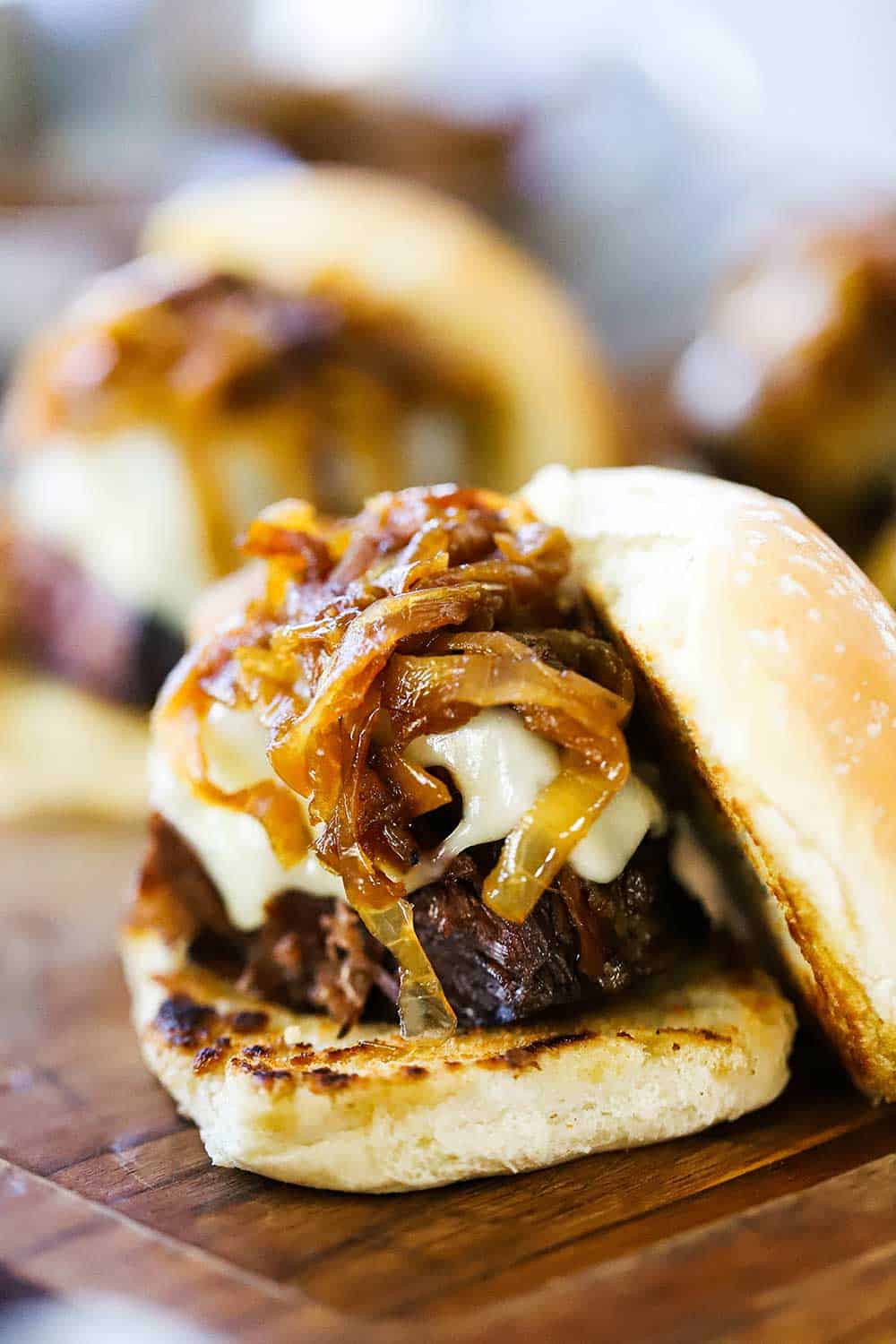 Now, if you have some leftover gravy from your amazing Sunday roast (or whenever you happened to make it), be sure to heat it up!
You don't need to do anything additional to the gravy, rather than serve it alongside the sliders.
Talk about the perfect dipping sauce! Yum!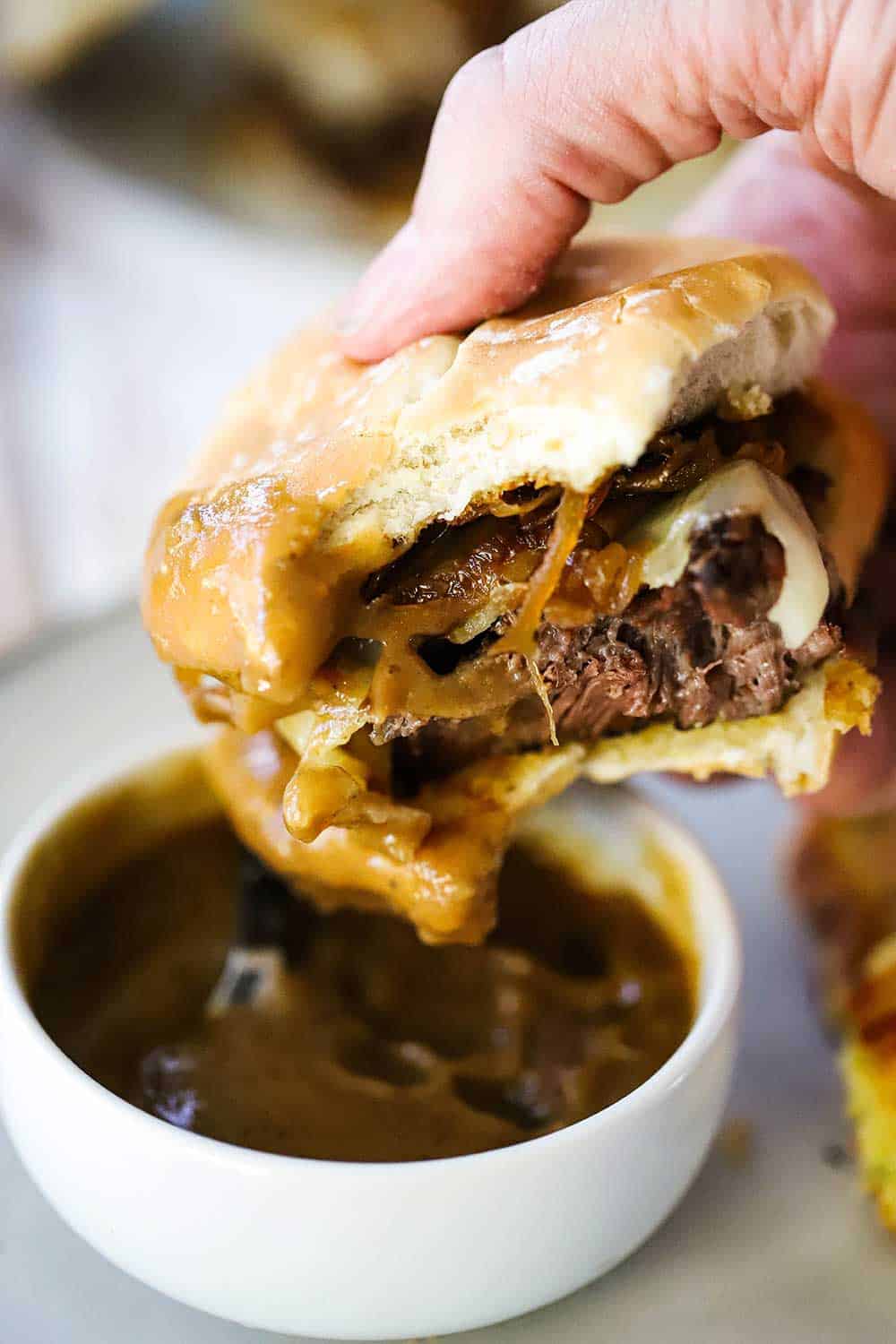 What To Serve With Pot Roast Sliders
Since we're making the most of our leftovers, chances are you've got some leftover mashed potatoes! And if these look good, you'll love our Bratwurst Sliders!
This is the perfect time to make Leftover Mashed Potatoe Cakes!
They are incredibly flavorful and can be made in advance, just reheat in the oven or even the microwave!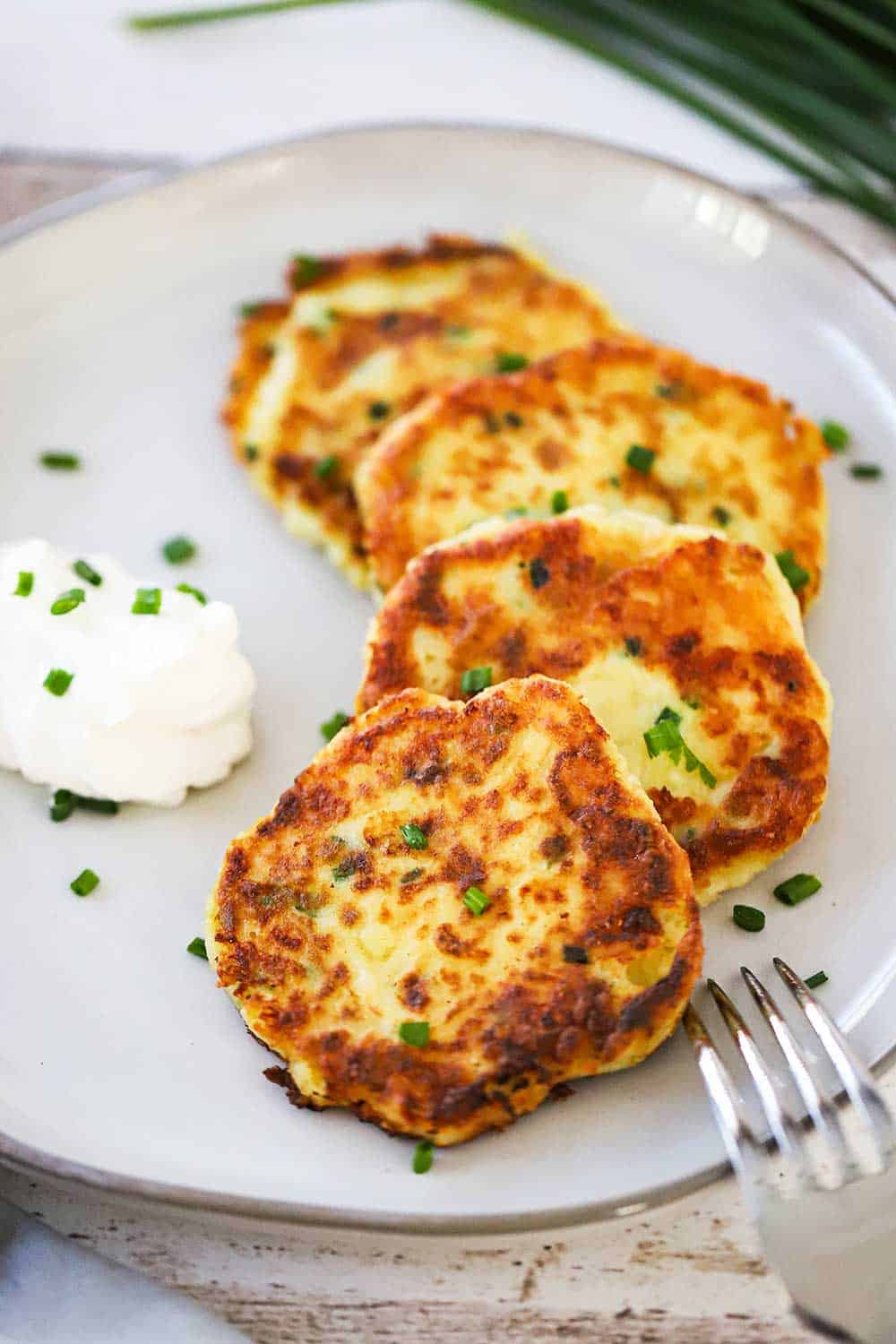 How To Make Potato Cakes
To make classic potato cakes, all you need to do is to place a couple of cups of leftover mashed potatoes in a large bowl.
We enhance the flavor with Grated Parmesan Cheese that we picked up from Kroger. To elevate the taste, even more, we throw in some chopped chives.
EXPERT TIP: Home cooks for many generations have simply used nothing more than mashed potatoes and flour, with a little grease to make potato cakes. We find that the addition of the grated Parmesan not only adds to the flavor but also acts as a binder. The addition of flour and egg helps form the cake, too. Most importantly, make sure the potato pattie is well floured before adding to the bacon grease or oil. Don't flip too early. You'll notice the brown edges starting to form. See NOTES for more tips.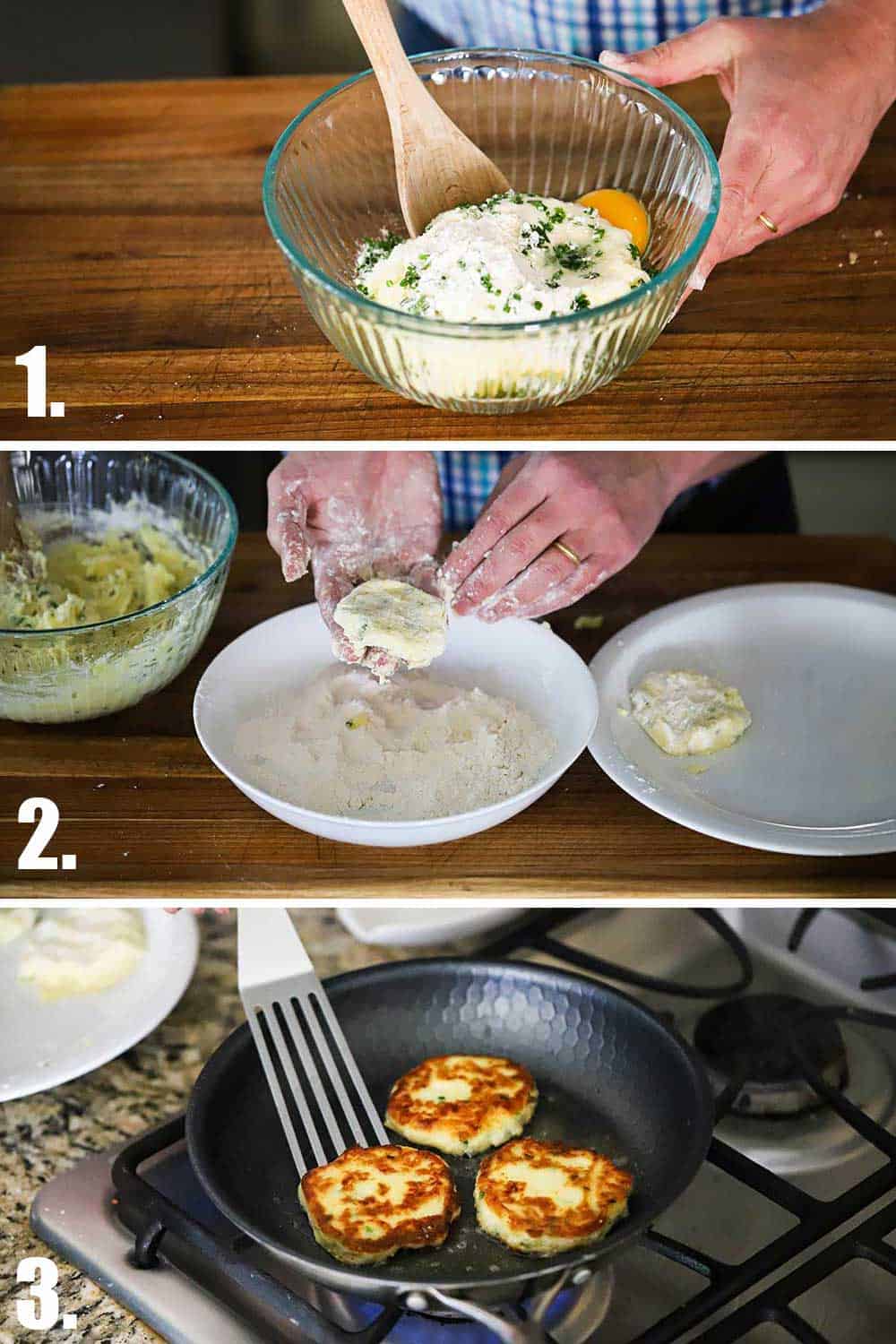 Making Leftovers Even More Delicious
We love getting creative when we have leftovers, such as pot roast with gravy, mashed potatoes, and homemade dinner rolls!
And Kroger makes it easy to get everything you need from start to finish at a good value with FREE pick up and digital coupons!
Folks, if you want to become a superstar in your own home…you've just got to make these Leftover Pot Roast Sliders and Leftover Mashed Potato Cakes!
Ready to take leftovers to the next level? Go for it!
And when you do, be sure to take a photo of the dish, post it on Instagram, and tag @HowToFeedaloon and @KrogerCo!
Pot Roast Sliders and Mashed Potato Cakes
Pot Roast Sliders and Mashed Potato Cakes take yummy leftovers and elevate them to astronomical culinary heights! The caramelized onions can be made a couple of days in advance, and everything else comes together in a snap! NOTE: Recipe for Potato Cakes is in the NOTES section.
Print
Pin
Rate
Servings: 8
Calories: 403kcal
Ingredients
FOR THE CARAMELIZED ONIONS
3 large onions peeled and sliced
2 tbsp olive oil
1 tbsp Worcestershire sauce
¼ cup Sherry optional
Salt and pepper a pinch each
FOR THE SLIDERS
1 lb pot roast leftover
8 buns dinner rolls, or slider buns
2 tbsp unsalted butter softened
8 slices Swiss cheese
Gravy leftover, heated, for dipping
Instructions
Make the Caramelized Onions
Heat the oil over medium heat in a large saucepan/skillet. Add the onions and stir occasionally until beginning to soften, about 20 minutes.

Add the Worcestershire sauce, Sherry, salt, and pepper, and continue to simmer, stirring often, until the onions are very soft, have reduced to about 2 cups, and are brown. Set aside.
Prepare the Sliders
Preheat oven to 400 F.

Place the roast in a baking dish and cover with foil. Place in the oven until heated through, about 15 to 20 minutes. Meanwhile, place the gravy in a small saucepan and heat over low-medium heat.

If the onions were made in advance, transfer them to a small saucepan and heat them over low-medium heat.

Meanwhile, butter the cut side of the rolls/buns. Toast them by heating a skillet (cast-iron is great) over medium-high heat. Working in batches, place the rolls, butter-side down, in the hot skillet. Cook until toasted and nicely browned. Set aside.

Remove the roast from the oven and cut into 1 to 2-inch pieces. Place each chunk of meat on a baking sheet and cover with a slice of cheese. Place back into the oven until cheese melts, about 2 to 5 minutes.

Remove from the oven and use a spatula to place the meat onto the bottom of a toasted roll/bun. Top with about 2 tbsp of onions and top with the remaining buns. Serve at once with warmed gravy on the side for dipping.
Notes
The caramelized onions can be made up to 2 days in advance. Just keep in an air-tight container in the fridge until ready to use. Reheat in a saucepan over medium heat.
If you don't have any leftover gravy on hand, you can make a new batch by heating 2 tbsp of oil (or butter or bacon grease) in medium-sized saucepan/skillet. Once melted, add 2 heaping tbsp of flour and stir until combined. It should resemble wet sand. If too dry, add a little more oil/butter. If too wet, add a little more flour. Whisk in 2 cups of beef broth and stir continuously until thickened. Season with salt and pepper.
POTATO CAKES recipe:
Ingredients:
2 cups mashed potatoes
1/4 cup Parmesan cheese
1/4 cup all-purpose flour (plus more for dredging)
1/4 chopped chives, plus more for garnish
1 egg
2 tbsp bacon grease or butter
Sour cream, optional, for garnish
Instructions:
Place the potatoes in a large bowl and mix in the cheese, flour (1/4 cup), chives, and egg until fully mixed.
Add about 1 cup of flour in another shallow bowl.
With clean hands, flour your fingers and then grab about a golf-ball-size ball of the potato mixture. Add a healthy pinch of flour on top of the ball and gently press into a small disk, about 2-inch wide. Make sure the patty is well coated with flour. Place on a plate and continue with remaining potatoes.
Heat a non-stick skillet over medium heat and add the grease or butter.
One by one, and working in batches, carefully transfer the potato cakes to the hot oil. Cook until browned on the bottom, about 2 to 3 minutes (don't flip too soon!).
Using 1 or 2 spatulas, carefully, but swiftly, flip the cakes over and cook for another couple of minutes. Transfer to a plate lined with paper towels and continue with the remaining cakes.
Serve at once, with a dollop of sour cream (if desired), or cover in foil to keep warm. The cakes can be kept warm in the foil in a low-temp oven until ready to eat, or they can be microwaved on LOW in 10-second increments until warm.
Nutrition
Calories: 403kcal | Carbohydrates: 39g | Protein: 23g | Fat: 16g | Saturated Fat: 6g | Cholesterol: 60mg | Sodium: 391mg | Potassium: 306mg | Fiber: 2g | Sugar: 7g | Vitamin A: 229IU | Vitamin C: 4mg | Calcium: 165mg | Iron: 12mg