This post is kindly sponsored by the National Pork Board, but the recipe, photography, video, and opinions are 100% ours.
Summer is a time to celebrate the joys of warm weather and delicious food, especially when made in the comfort of your own backyard!
We are thrilled to have partnered with the National Pork Board to bring you this over-the-top delicious grilled pork recipe and introduce you to "No Oven Summer!" Why heat up your kitchen when you can fire up your grill and make some of the best sliders you will ever experience? This is your "get out of the kitchen free" card, and boy, oh boy, is it something to behold!
Grilling pork outside makes life easy and delicious.
And these incredible bratwurst sliders couldn't be simpler to prepare!
Grilled Pork Delivers Superior Taste
We have to admit it, we love cooking with pork. It is such a versatile protein and when prepared correctly, especially on the grill, the taste and texture are like none other.
With pork, you have many options when it comes to grilling. The National Pork Board provides a wonderful guide at understanding how to identify pork cuts. I think we've tried all of them!
We recently grilled a Delmonico Pork Steak and wow, oh wow, we can honestly say it was one of the best steaks we've ever consumed.
EXPERT TIP: Bratwurst is a German sausage loaded with amazing spices including nutmeg, caraway, ginger, and sage. Be sure to seek out fresh, all pork bratwurst. We simply remove the casings and then form them into 3-inch patties. You can use a large cookie cutter, or the lid of a jar, to form the slider patties, or just use your clean hands. A sprinkling of salt and pepper is all that's needed for this deeply flavorful ground pork.
Adding Even More Taste and Texture
Onions are a wonderful addition to grilled pork, and we think the taste and texture of lightly fried onions strips are amazing.
Preparation is easy and can be done well in advance.
Simply soak the onions strips in buttermilk, dredge in seasoned flour, and then fry up in some oil until crispy.
Another amazing addition to these bratwurst sliders is homemade beer cheese sauce.
The sauce is deeply flavorful and comes together in about 15 minutes.
You can even prepare this easily in a sturdy skillet out on your grill to keep you off the stove!
How To Grill Pork
Pork is the most widely consumed and versatile protein in the world; it's easy to cook, adaptable to just about any recipe, and very tender and juicy.
And grilling enhances the pork in a way that we think is just spectacular. Bratwurst is ground pork, so you'll want to make sure your sliders reach an internal temperature of 160°F and the juices run clear.
EXPERT TIP: Although any type of slider bun will work wonderfully with these sliders, we think pretzel buns are the perfect match for these gems. Simply add a little butter on each cut side, and then toss them on the grill with the sliders for about 5 minutes, just to get them nice and toasty. Remember, it's important that the sliders reach an internal temperature of 160°F. An instant-read thermometer makes it easy to know when they are ready!
Every time we serve these deeply flavorful sandwiches, folks just go crazy for them.
They are the perfect outdoor summertime treat.
Just one bite is all it takes to realize that grilled pork delivers incredibly juicy and deeply flavorful results…every single time!
These grilled bratwurst sliders with fried onions and beer cheese sauce on pretzel buns are quintessential summer fun food at its best.
It's so much fun to let friends and family build their own sliders.
More cheese, anyone?
A Delicious "No Oven Summer" Treat
Summertime is a time to celebrate so many of the good things in life.
But, spending time in a hot kitchen over a hot stove isn't one of those things.
These incredible all-pork bratwurst sliders are something you'll be talking about year-round!
Ready to make the most delicious pork sliders of the summer? Go for it!
And when you do, be sure to take a photo, post it on Instagram, and tag @HowToFeedaLoon and #NoOvenSummer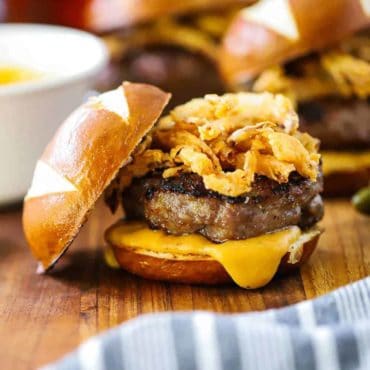 Bratwurst Sliders
Bratwurst Sliders are a little piece of heaven. Grilled to perfection and made even better with the addition of fried onion strips and homemade beer cheese sauce. All on pretzel buns. Amazing!
Print
Pin
Rate
Servings: 4
Calories: 410kcal
Ingredients
For the Fried Onion Strips
1 cup onion cut into 1-inch strips
1 cup buttermilk
1 cup all-purpose flour
1 tsp salt
½ tsp black pepper freshly ground
vegetable oil for frying
For the Sliders
16 oz Bratwursts all pork, links
Salt and pepper
5 pretzel buns slider size
2 tbsp unsalted butter optional
Instructions
Prepare the Beer Cheese Sauce
Click here for the easy 15-minute recipe
Make the Fried Onion Strips
Set up a dredging station by adding the buttermilk in one medium-sized bowl and then the flour mixed with the salt and pepper in a 2nd bowl.

Add the onion strips into the buttermilk and toss to coat. Transfer to the seasoned flour and toss again until fully coated. Shake off excess and set aside on a plate.

Heat oil to 365°F. Drop the breaded onion strips into the hot oil and cook until golden brown, about 4 to 5 minutes. Remove with a slotted spoon on a plate lined with paper towels. Sprinkle with a little more salt, if desired. Set aside.
Make the Sliders
Carefully use a sharp knife to remove the casings from the bratwurst links. Use a 3-inch cookie cutter, or the lid of a jar, or just your hands, to form a pattie from each link. Season lightly on both sides with salt and pepper.

Heat your grill to medium-high heat. Use a spatula to place the sliders on the grill over direct heat. Cook for 5 minutes and then flip. The sliders are ready when juices run clear and internal temperature reaches 160°F.

While the sliders are cooking, butter the pretzel buns (if desired) and place on the grill, cut side down, during the last 5 minutes of grilling the sliders.

Remove the sliders and buns from the grill and serve with fried onions and warmed beer cheese dip. Let guests build their own sliders if desired.
Notes
Be sure to seek out all-pork bratwursts. Bratwurst links can be found in the meat department of most well-stocked supermarkets, or at your local butcher. Sometimes they are frozen. The beer cheese dip can be made up to 2 days in advance. Gently reheat over medium-low heat until the desired consistency is reached. The sauce is also excellent at room temperature. Reminder: The warmed sauce will thicken somewhat as it cools. The fried onion strips can be made up to 4 hours in advance. You can make them a day in advance, and store in an air-tight container, but they will lose some of their crispiness. Pretzel buns can be found in the bakery section of most well-stocked supermarkets, or at your local bakery, or ordered online. If you can't find pretzel buns, regular slider buns are still wonderful with these sliders. If you prefer to make regular sized burgers, instead of sliders, no problem. Just use 1½ links for each patty. The recipe can easily be doubled or tripled for feeding a group.
Nutrition
Calories: 410kcal | Carbohydrates: 35g | Protein: 21g | Fat: 28g | Saturated Fat: 8g | Cholesterol: 106mg | Sodium: 1631mg | Potassium: 567mg | Fiber: 2g | Sugar: 5g | Vitamin A: 276IU | Vitamin C: 3mg | Calcium: 115mg | Iron: 2mg