This amazing sauce is so flavorful and is ready in about 15 minutes!
If you love cheese and beer as much as we do, you are going to flip for this sauce. We love serving it warm with fresh pretzels or as a sauce on a burger. But it's also really delicious at room temperature. Perfect for entertaining or even just a Sunday afternoon watching the big game!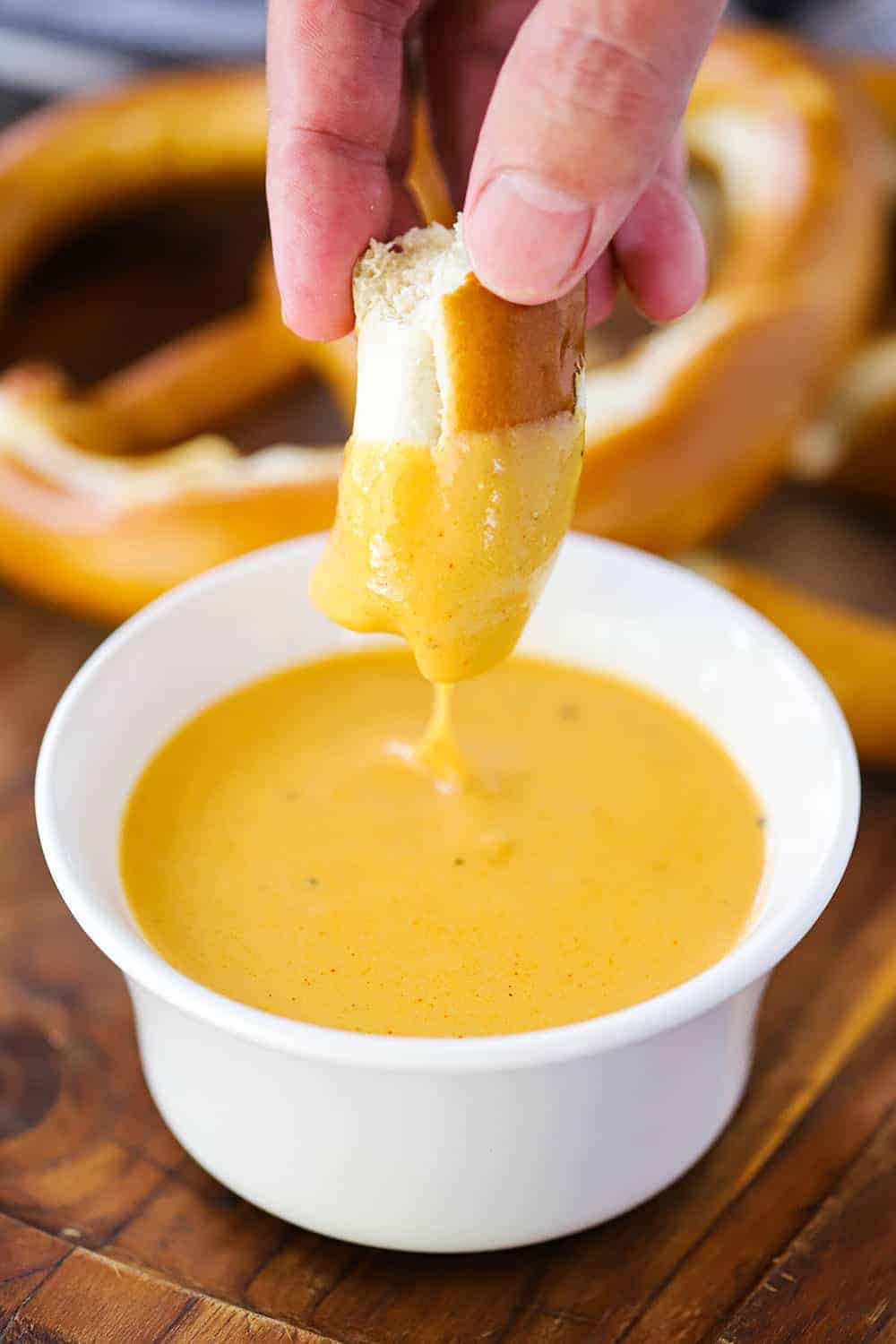 This beer cheese sauce for pretzels is also a beer cheese sauce for burgers.
It's not only super fast and easy to prepare, but it's a lot of fun, too!
Choosing the best cheese
There are about as many types of cheese in the world as there are cheese lovers – lots of them.
And the great thing about this recipe is that you can choose whatever type is your favorite.
EXPERT TIP: You will want to choose a cheese that has a nice melting capability. Our favorite is mild cheddar cheese. If you prefer sharp cheddar or extra-sharp cheddar, go with that! A combination of cheddar with Monterrey Jack, mozzarella, or smoked Gouda are all wonderful choices. Remember that a smoked cheese is wonderful, but will impart a strong smokey taste to the sauce. NOTE: We highly recommend grating a block of cheese on a box grater or with a shredder on your food processor. Bagged pre-shredded cheese is drier, and won't produce as creamy of a sauce that we're looking for.
Once you've got your cheese shredded, it's time to bring the sauce together.
In a medium-sized saucepan, we need to create a roux.
Simply heat two tablespoons of unsalted butter and then add 3 tablespoons of flour.
EXPERT TIP: Again, this is the simple process for creating a roux, which will help to thicken the sauce. Once the flour and butter have been mixed, it will resemble coarse, wet sand. Be sure to let the roux cook for a couple of minutes because you need to cook out the raw flour taste.
The best beer to use
So, this is just like choosing the right cheese. Go with your favorite!
We love choosing a nice lager, which is more robust than a blonde beer, but again, this is all a matter of taste.
Avoid any type of flavored beer because that will alter the taste of the sauce that may not be desirable. Non-alcohol beer works very nicely for this sauce, too.
To deepen the flavor of the sauce, we add Dijon mustard, Worcestershire sauce, and smoked paprika. Yum.
Once the sauce has thickened to the point that it coats the back of a wooden spoon, it's time to add the shredded cheese.
After sprinkling in the cheese, stir continuously until it has completely melted.
What to serve the sauce with
This beer cheese sauce is so delicious, warm or room temperature, that it makes for a great dipping sauce.
Pretzels were made for dunking into the sauce. And just wait to you dunk a bratwurst burger (recipe to come) into a bowl of it. Wow!
EXPERT TIP: The sauce is delicious and can be served right after the cheese melts. However, once off the heat, the sauce will thicken to a consistency that is ideal for dipping pretzels and pouring on burgers.
This sauce has a German flair to it. We love to serve just before a German feast of Braised Bratwurst and Saurkraut and Homemade Spaetzel!
But, talk about the perfect dip for serving at parties or a tailgating party before and during the big game – at home! You can easily keep it warm in a small slow-cooker, too.
After just one bite, you're going to want to make this sauce over and over again!
Ready to make the best beer cheese sauce in town? Go for it!
And when you do, be sure to take a photo, post it on Instagram, and tag @HowToFeedaLoon and hashtag #HowToFeedaLoon!
Ingredients
2 tbsp unsalted butter
3 tbsp all-purpose flour
⅔ cup beer
¾ cup whole milk
1 tsp Dijon mustard
2 tsp Worcestershire sauce
1 tsp smoked paprika
¾ tsp Kosher salt
½ tsp black pepper freshly ground
2 cups cheddar cheese shredded
Instructions
After you have shredded the cheese, make the roux by melting the butter in a medium-sized saucepan over medium heat. Whisk in the flour until completely incorporated. Cook, stirring frequently, for 2 minutes.

Add the beer and stir until incorporated. Next, add the milk, Dijon mustard, Worcestershire sauce, paprika, salt, and pepper. Stir continuously, until the mixture begins to thicken and coats the back of a wooden spoon, usually about 3 to 5 minutes.

Sprinkle in the cheese and stir until melted. Taste and add more salt, if desired.

The sauce is ready to be served at this point. Once off the heat, it will thicken even more. Serve warm or at room temperature.
Notes
We think a mild cheddar is wonderful for this sauce, but you can go with whatever is your favorite. Just make sure it is a good melting cheese. Sharp cheddar is great, too, but will deliver a stronger flavor. You can also use a combination of cheddar with Monterey Jack, mozzarella, or smoked Gouda. We go with a nice German lager, but, like the cheese, go with whatever is your favorite. Strong stouts and flavored beers will have a major impact on the taste, so experiment with it before serving to guests! The sauce is wonderful warm or room temperature. It can be made up to 3 days in advance, and gently reheated on the stove over low-medium heat.
Nutrition
Calories: 174kcal | Carbohydrates: 5g | Protein: 8g | Fat: 10g | Saturated Fat: 6g | Cholesterol: 40mg | Sodium: 419mg | Potassium: 81mg | Fiber: 1g | Sugar: 1g | Vitamin A: 532IU | Vitamin C: 1mg | Calcium: 231mg | Iron: 1mg