We are so excited to share with you this revolutionary approach to preparing the world-renowned Delmonico steak.
We love a good juicy steak. There's no doubt about that. But when the highly acclaimed pork farmer, geneticist, businessman, and giant in the culinary industry Steve Kerns of Mangalitsa Estates shared this particular cut of meat with us, we became instant fans. The taste is like nothing we've ever had. He has revolutionized pork in a way that you just have to taste and experience to understand what we are saying.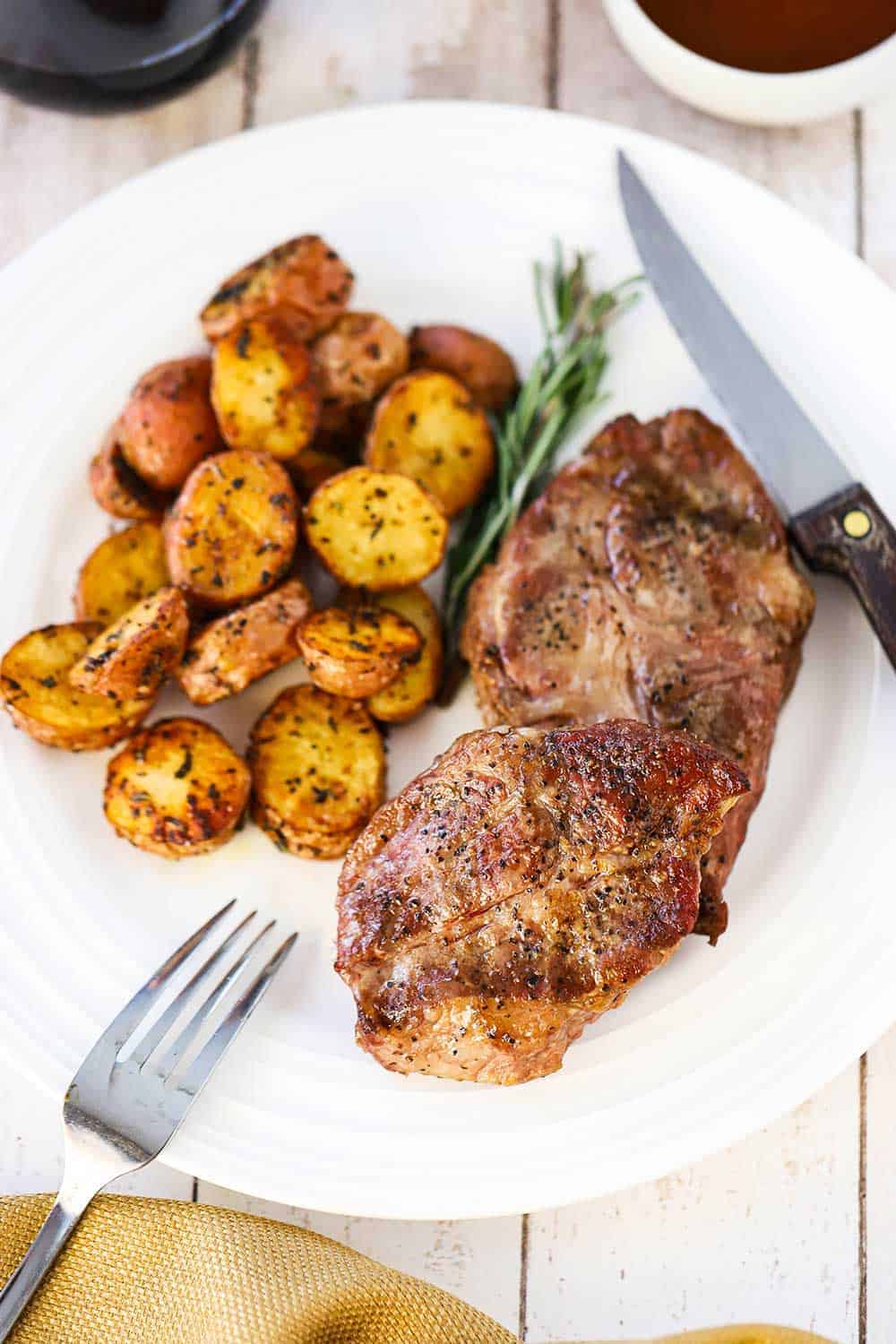 HOW TO MAKE A DELMONICO PORK STEAK
There are some cuts of meat that are so delicious on their own they require hardly any other ingredients to bring out its amazing taste.
This Delmonico Pork Steak from Mangalitsa Estates is one of those cuts of meat.
Red in color and beautifully marbling is just the beginning.
WHAT IS A DELMONICO STEAK
One of the things we love so much that Steve Kerns with Mangalitsa Estates does is to deliver cuts of pork that you don't typically see.
A Delmonico steak originated with the iconic Delmonico Restaurant in New York City in the mid-1800's.
It was (and still is) a tender cut of beef that the head chef of the restaurant would serve to patrons. It is similar to a ribeye or New York strip steak.
Mangalitsa is a breed of pork that is on par with Japanese Kobe beef. Unbelievable taste and texture that is out of this world.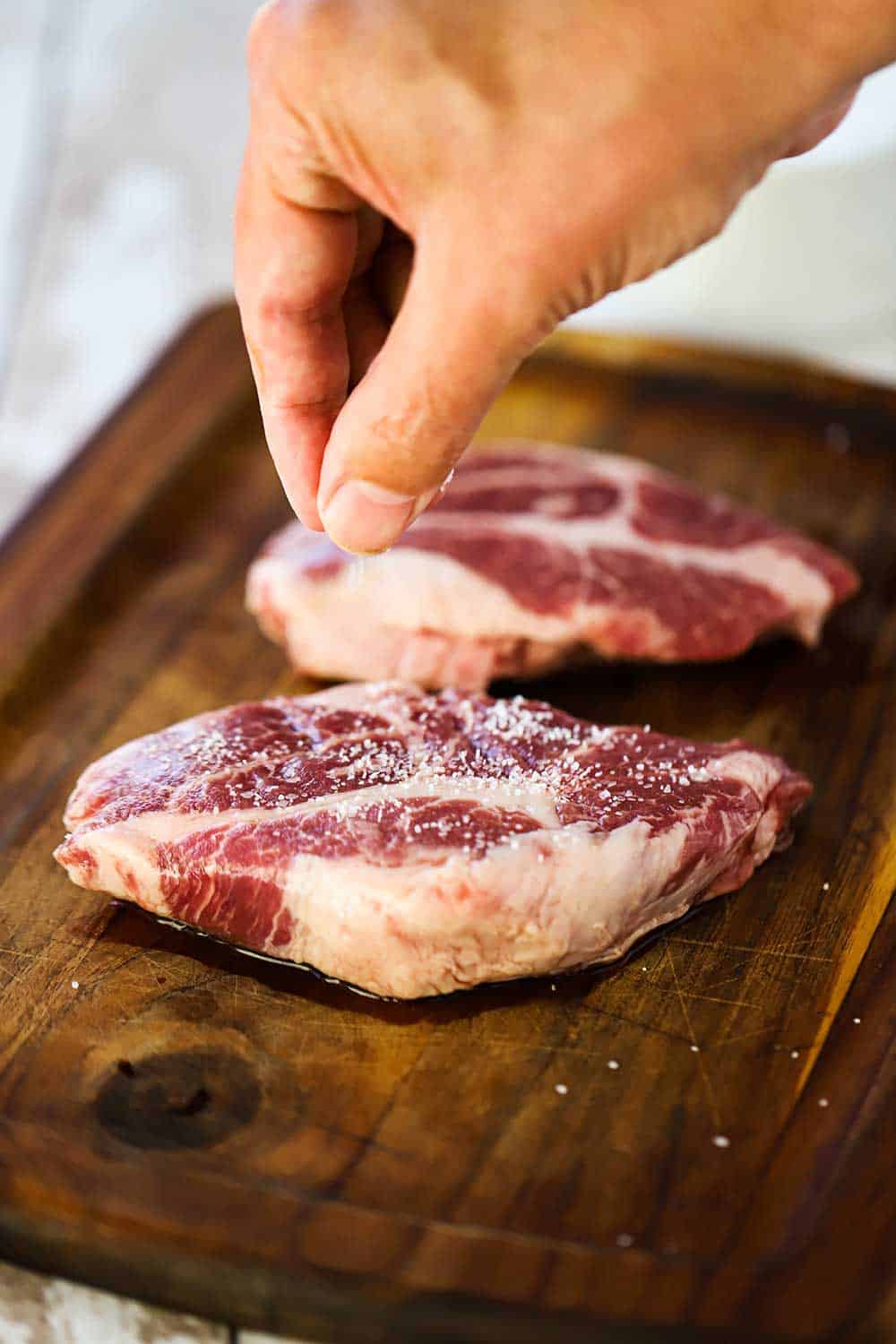 The taste of this pork steak is so incredible that you really need very little preparation.
We hit the steaks with a little salt and pepper and soak in Worcestershire sauce for about an hour.
We grill them over high heat for about 4 to 5 minutes per side. That's all that's needed to render one of the best cuts of meat we have ever made or consumed. Honestly.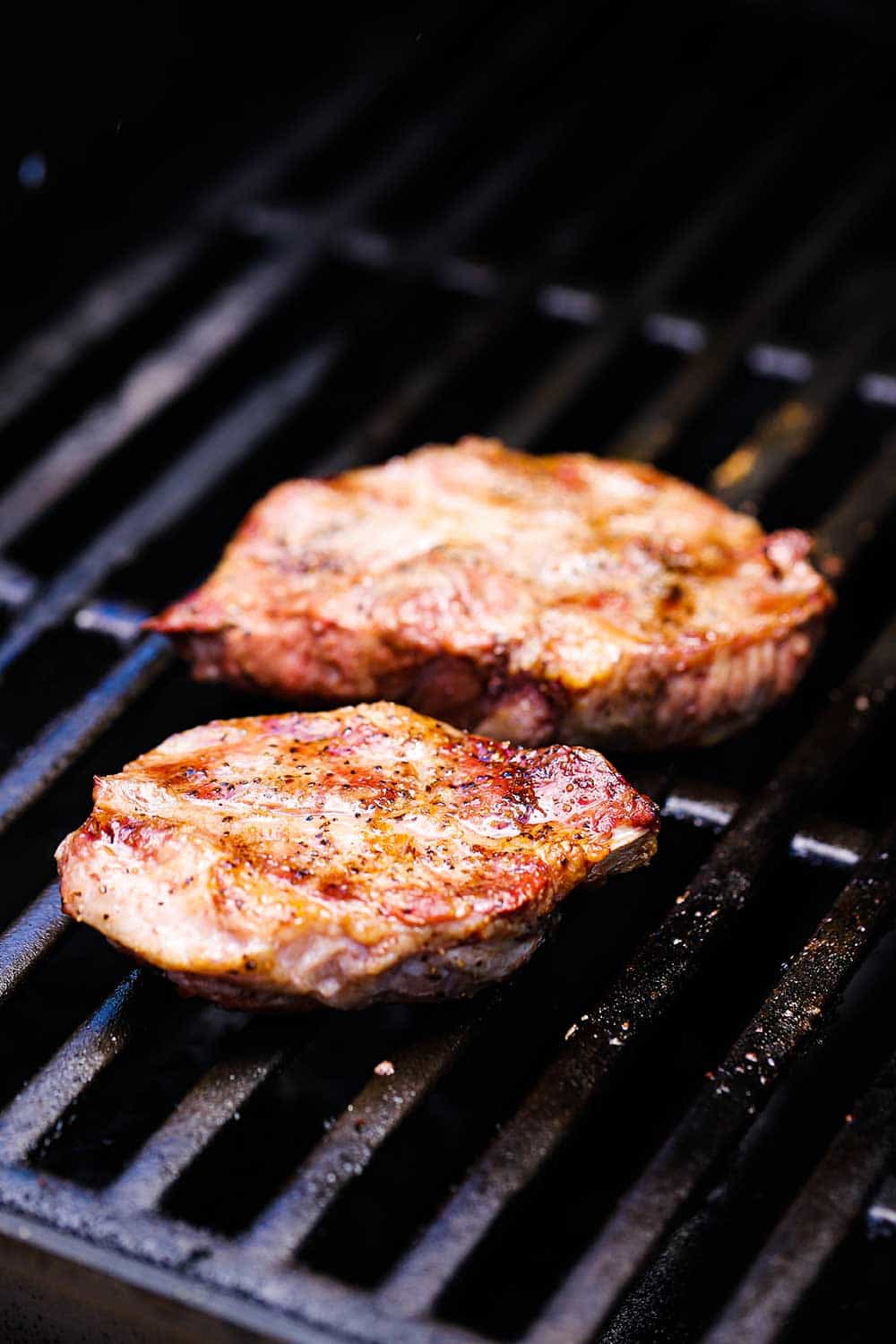 A CUT ABOVE THE REST
Steve Kerns created Mangalitsa Estates in a mission to create pork products that were more than just "the other white meat."
He brought incredible flavor and depth to the table that we just find amazing.
You'll take one bite, and see exactly what we mean. We love to serve this Delmonico Pork Steak alongside our Balsamic Roasted Potatoes.
It's not often that the Loon is left speechless after he bites into one of his favorite dishes.
This pork steak was the exception to that rule. It's difficult to describe how amazing this steak is.
For many years, only the top chefs in North America had access to the pork from Mangalitsa Estates. But we are so excited to let you know that now home cooks can order this 5-star pork directly from the farm. Click here to peruse the amazing assortment of high-quality cuts of Manglitsa pork.
A REVOLUTIONARY APPROACH TO PORK
Mangalitsa Estates has redefined what good pork is in North America.
With a humane and healthy approach, Steve Kerns has created pork products that simply are like none other.
And it's more than just steaks. He also produces pork brisket, pork petite fillets, pork burgers, and so much more. Just take a look at this Mangalitsa Pork Burger.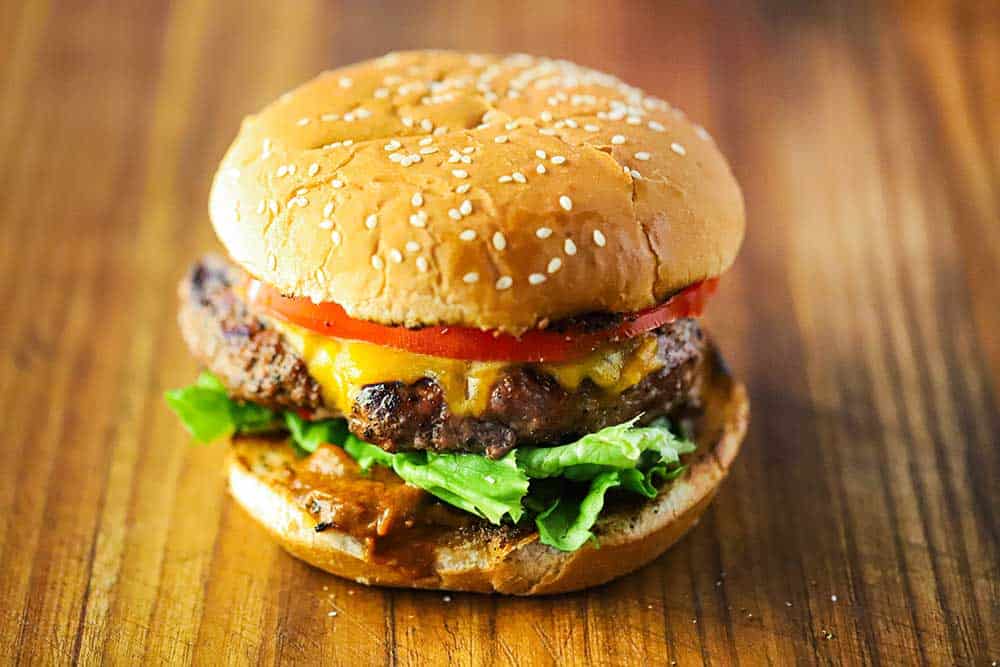 Now, we said this Delmonico Pork Steak is so good on its own, nothing else is really needed to make it better.
Well, that is true.
But, we can't leave well enough alone. These steaks are amazing with our Homemade Steak Sauce!
Folks, when you order pork products from Mangalitsa Estates, we assure you will NOT be disappointed.
There is a reason that the top chefs across North America get their pork from Steve and only Steve.
It's really that good. And we would never steer you wrong on something this important!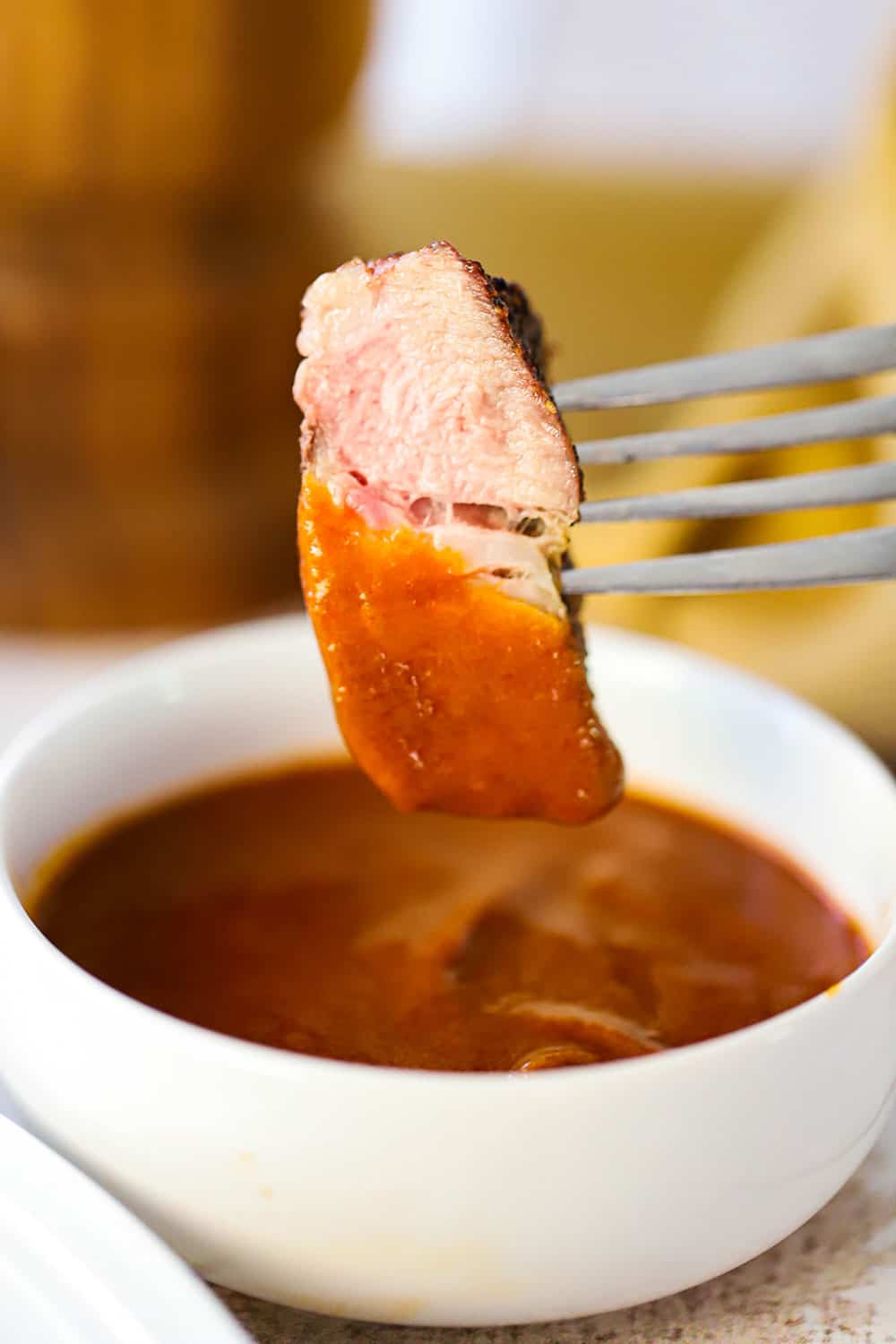 Ready to make the best pork steak this side of Ohio? Go for it!
And when you do, be sure to take a photo of it, post it on Instagram, and tag @howtofeedaloon and hashtag #howtofeedaloon!
Delmonico Pork Steak
If you've never had a Delmonico Pork Steak from Mangalitsa Estates, then you not really lived. That's a bold statement, but once you take a bite, you'll understand what we mean. Simple in preparation and over-the-top in amazing taste. There's a reason the top chefs across North America rely on this pork, and only this pork, for their menus.
Print
Pin
Rate
Servings: 2
Calories: 228kcal
Ingredients
2 10 oz pork steaks
2 tbsp Worcestershire sauce
1 tsp Kosher salt
½ tsp black pepper freshly ground
steak sauce optional, for serving
Instructions
Sprinkle the pork steaks with salt and pepper and place in a small dish. Pour the Worcestershire sauce over the steaks and cover with aluminum foil. Place in the refrigerator for 1 hour.

Heat your grill (or grill pan on the stove) to medium-high heat. Add the steaks and cook until internal temperature reaches 145 F. About 4 to 5 minutes on each side.

Remove the steaks from the grill and let rest for 5 minutes on a cutting board. Serve hot with steak sauce.
Notes
Pork steaks vary in size which means cook time varies, too. We recommend using an instant-read thermometer to ensure you reach an internal temperature of 145 F. We think these steaks are wonderful when served with Roasted Balsamic Potatoes.
Nutrition
Calories: 228kcal | Carbohydrates: 4g | Protein: 1g | Fat: 10g | Saturated Fat: 2g | Cholesterol: 1mg | Sodium: 1330mg | Potassium: 136mg | Fiber: 1g | Sugar: 2g | Vitamin C: 2mg | Calcium: 18mg | Iron: 1mg