Roasted Potatoes with Balsamic and Herbs has been a staple at the Loon/Longwell house for many years.
We have played around with the recipe, and always go back to this version.
Crispy on the outside and soft on the inside. And so flavorful.
ROASTED POTATOES WITH BALSAMIC AND HERBS ARE EASY TO PREPARE
We love the simplicity of this dish. Just a few ingredients and a simple technique in roasting. Perfect every time!
Watch us show you how easy it is to make these Roasted Potatoes with Balsamic and Herbs!
We love starting with petite (or baby) potatoes.
You can usually find a variety of colors in the produce section of a well-stocked supermarket, but any small variety will work.
The addition of shallots, herbs, olive oil and balsamic provide amazing flavor.
BAKE THE HERBS AND SHALLOTS THE ENTIRE TIME FOR EXTRA CRISPY AND CHARRED
You can roast the potatoes with the shallots and herbs the entire bake time, or you can add the shallots and herbs during the last 5 minutes of baking. If you bake them the entire time (as we do in the video), they will become somewhat charred and crispy. We like that, but you may prefer them not as crisp. If so, add the shallots and herbs at the end of baking. We love them either way!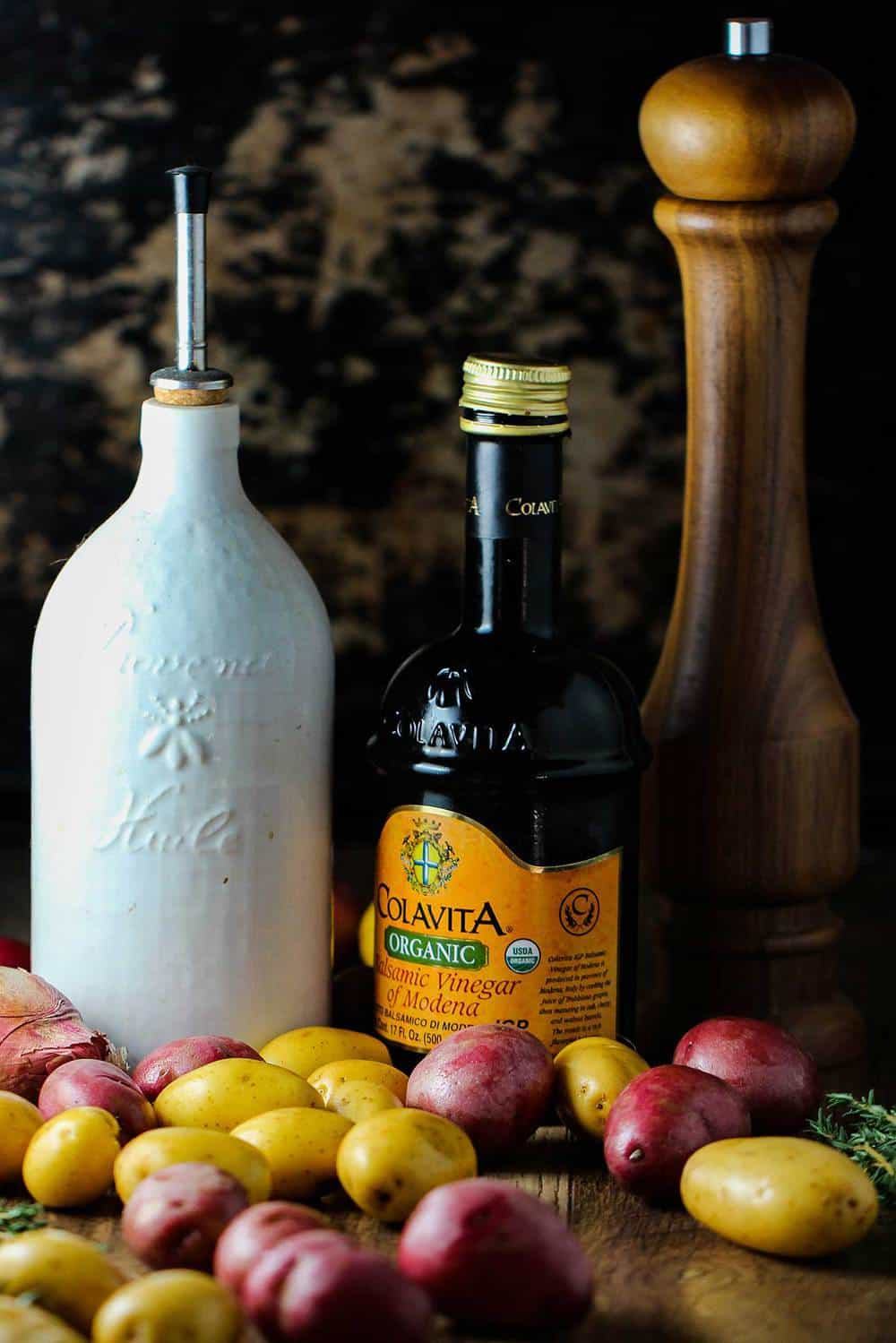 Fresh herbs are a wonderful addition. You can go with dried, if necessary, just use about half a tablespoon of each.
Chop the shallots finely and they will compliment the flavor wonderfully.
Top-notch olive oil and balsamic vinegar is always a good choice.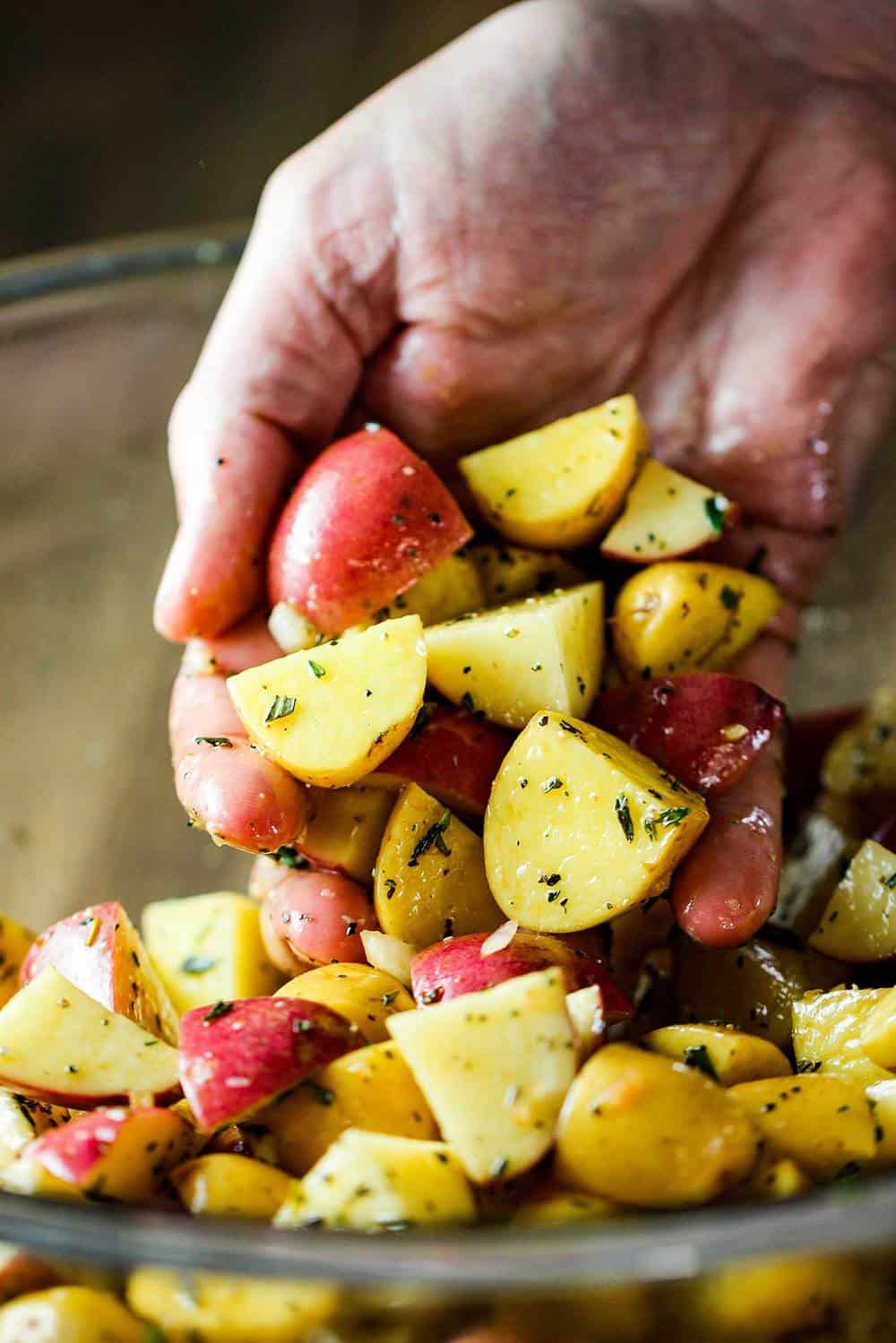 SPREAD THE POTATOES OUT EVENLY ON A BAKING SHEET
The trick to getting the potatoes extra crispy is to spread them out on a large baking sheet without letting any overlap.
You'll need to move the potatoes around about half-way through the bake time.
And the smell as they are baking is intoxicatingly delicious. Another amazing spud recipe is our French Potatoes au Gratin (Dauphinoise) and our Roasted Potatoes in Foil!
Roasted Potatoes with Balsamic and Herbs really do make for the perfect side dish.
They are perfect for a holiday feast, or alongside grilled roasts or burgers in the warm months.
You'll never go wrong with these delicious spuds.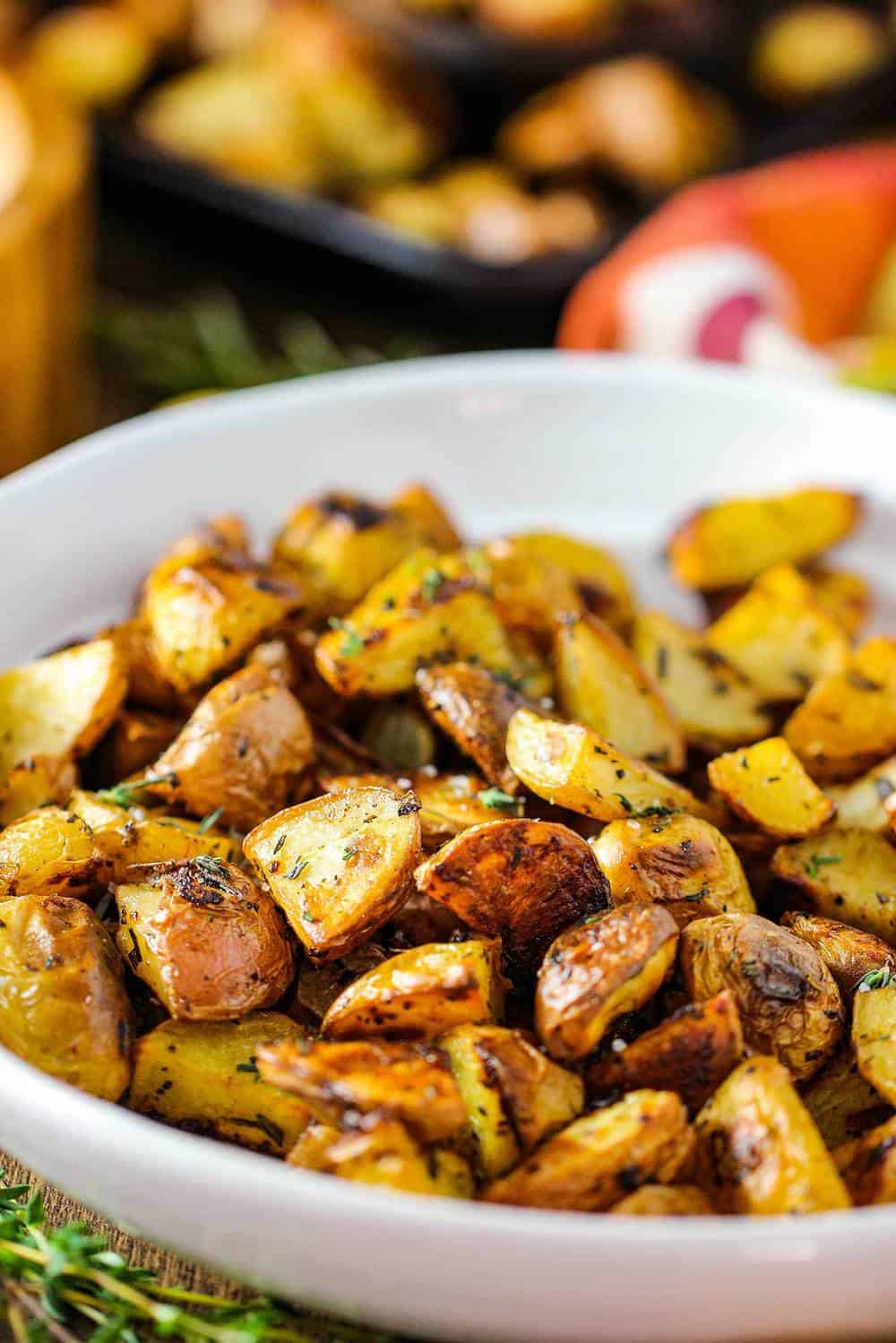 ROASTED POTATOES ARE THE PERFECT SIDE-DISH YEAR ROUND
This has been one of our most popular dishes on the blog for a long time.
One bite, and you'll understand why.
Though they are most delicious fresh out of the oven, they are still irresistible the next day. They are impossible to not pop one, or lots, in your mouth.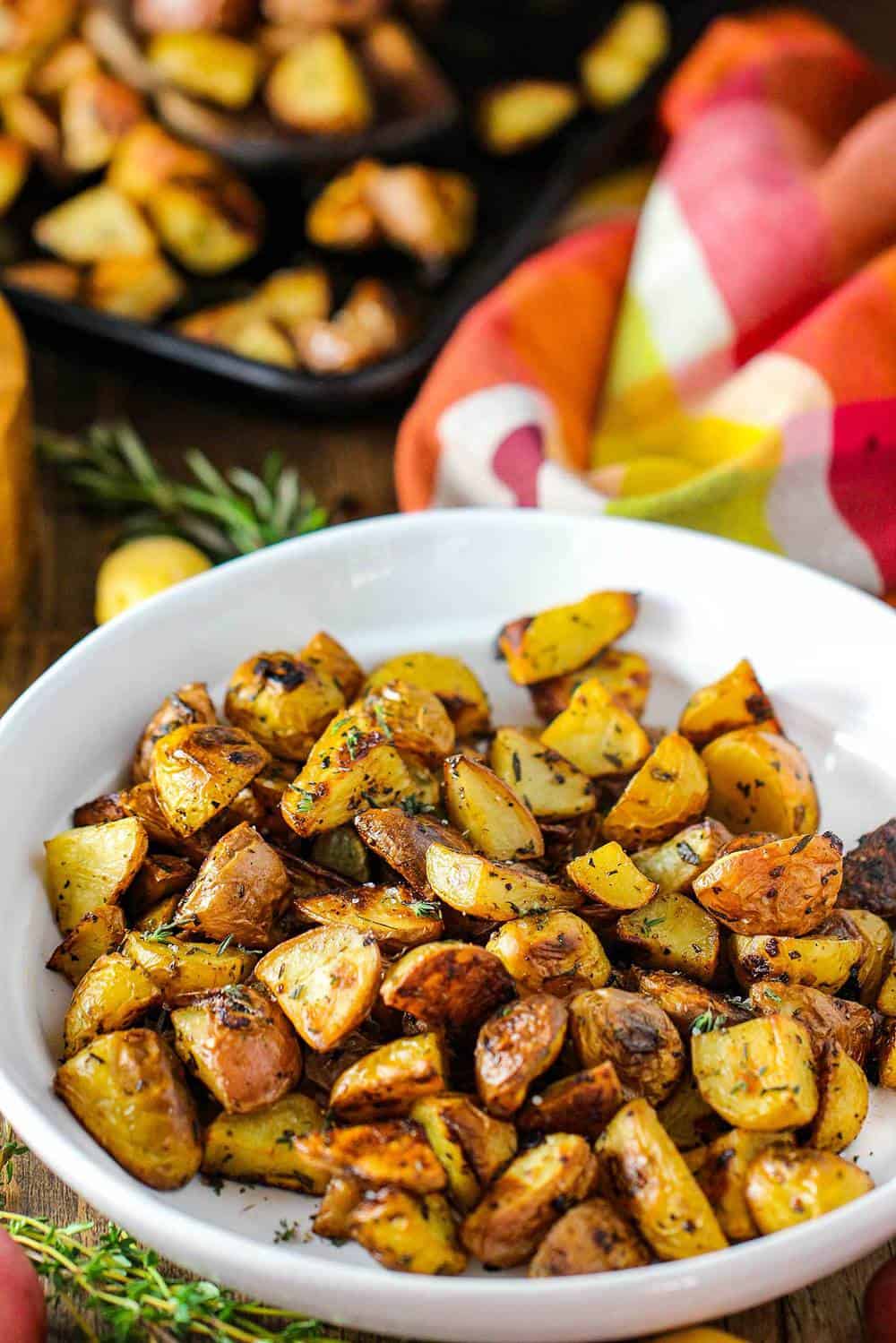 These are so good you'll want to eat them fresh out of the oven.
The Roasted Potatoes with Balsamic and Herbs pair perfectly with Classic Beef Wellington.
Simply delicious!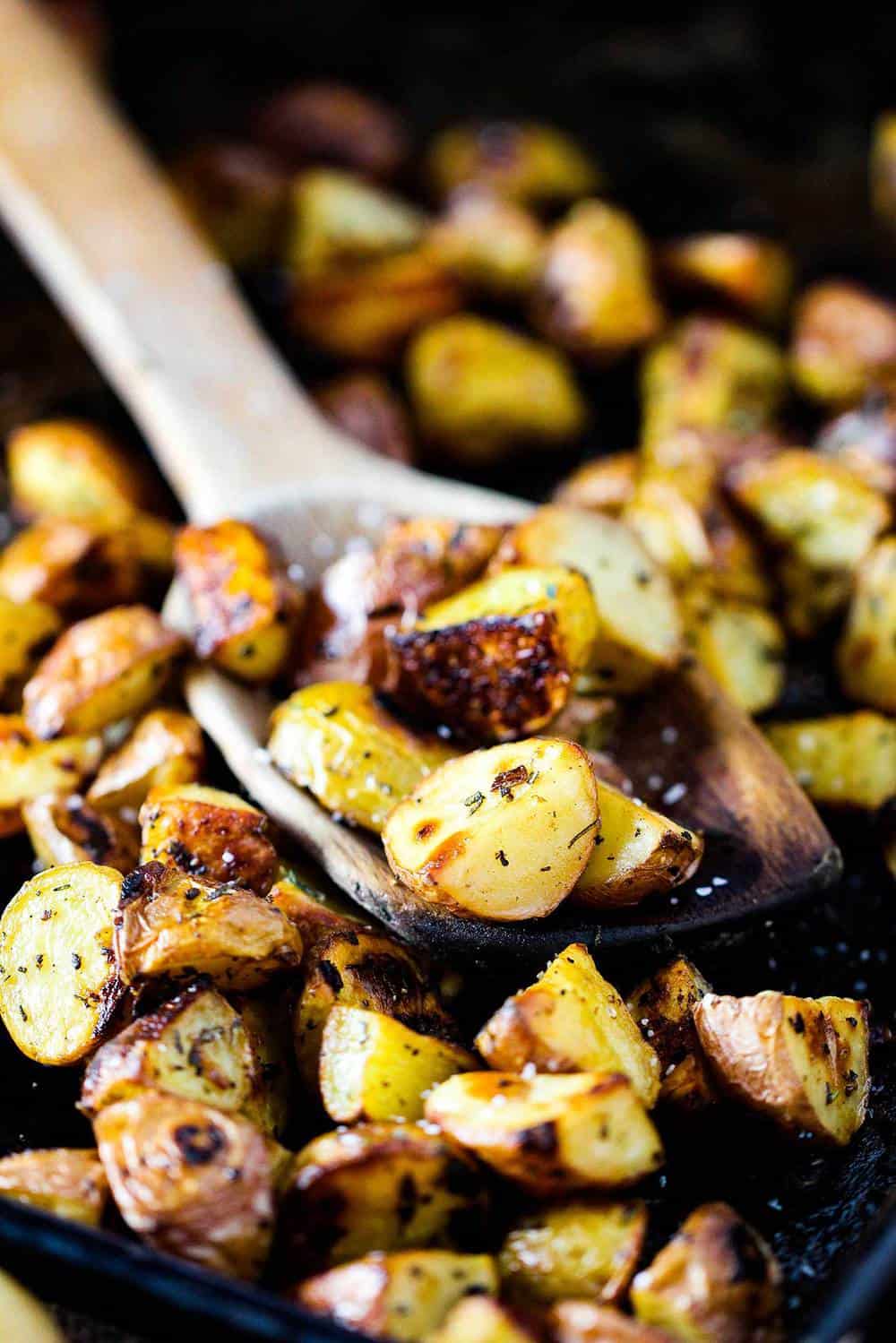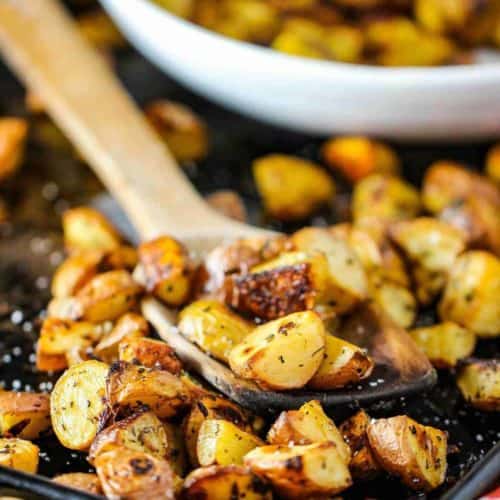 Roasted Potatoes with Balsamic and Herbs
Roasted potatoes with balsamic and herbs is the perfect dish, especially during the holidays. The dish is beautiful, and so full of flavor. Delicious!
Print
Pin
Rate
Servings: 6 people
Calories: 214kcal
Ingredients
4 cups baby potatoes: red, yellow, purple halved (large ones quartered)
2 tbsp quality olive oil
2 tbsp quality balsamic vinegar
1/2 large shallot about 2 tablespoons, chopped
1 tbsp fresh thyme chopped
1 tbsp fresh rosemary chopped
Sea salt and pepper to taste
Fresh thyme and rosemary for garnish
Instructions
Pre-heat oven to 400 F

Place the potatoes in a large bowl and add the oil and vinegar.

For crunchy herbs and shallots, mix into the potato mixture before baking. For fresher herbs and shallots, mix into the potatoes in the last 5 minutes of baking.

Transfer the potatoes to a large baking sheet/pan, spreading them out so they do not overlap.

Generously salt and pepper the potatoes.

Bake potatoes for 30 to 35 minutes, until golden and tender when pierced with a knife. Stir once halfway through baking. If you prefer a darker exterior, bake for a total of 45 minutes.

Garnish with fresh thyme and rosemary and another pinch of coarse sea salt. Serve at once!
Nutrition
Calories: 214kcal