If you want a 5-star side dish that requires only 5 ingredients (including salt and pepper), you're about to get really excited!
These perfectly roasted potatoes are so simple to prepare but are spectacular in taste and texture. We love them served along with a juicy steak, or our favorite grilled burger! A home run of a side dish every single time!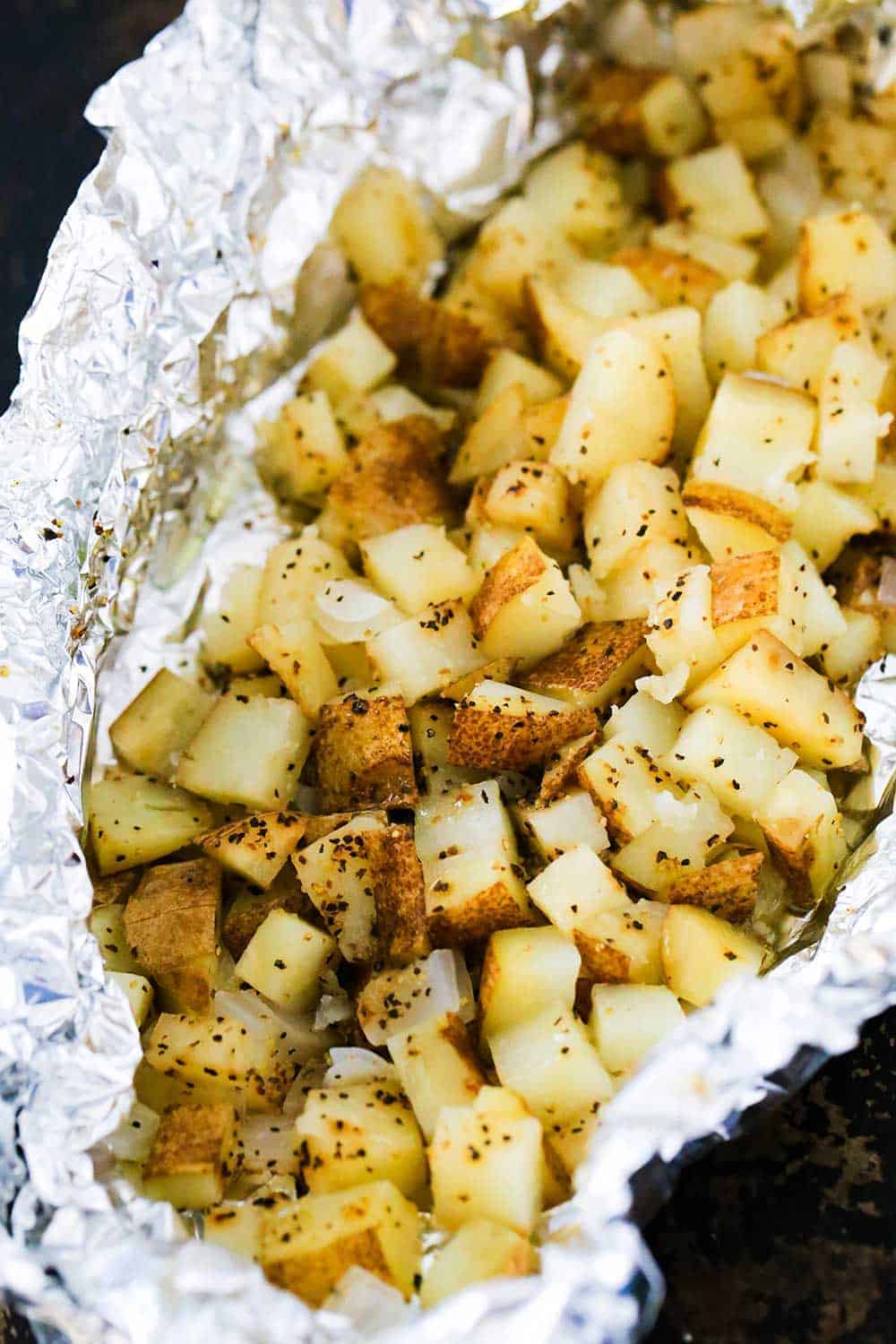 HOW TO MAKE ROASTED POTATOES IN FOIL
These potatoes are so easy to prepare, and you can adapt them to your own tastes, too.
We go with sturdy foil to create the foil packets for the potatoes.
Russet potatoes work perfectly, but you could really go with any type of potato you have on hand. Yukon gold or red new potatoes are wonderful options.
PREPARING THE ONIONS AND POTATOES
If using russet potatoes, typically figure 1 potato per person/packet.
EXPERT TIP: We start by cubing the potatoes with a large, sharp knife. BONUS: No need to slice to potatoes! Just scrub and remove any dark spots. Potato cubes of about ½-inch in thickness cook quickly and only require about 20 minutes in the oven.
Place a rectangle of foil (approx. 12″ x 18″) on your work surface. If you're serving four people, then you'll need four pieces of foil. Start by adding about 1 tbsp of oil down the center of the foil, and then add a layer of chopped onions.
NOTE: The chopped onions completely cook down during the roasting process. They practically melt into the potatoes and a depth of flavor that is incredible.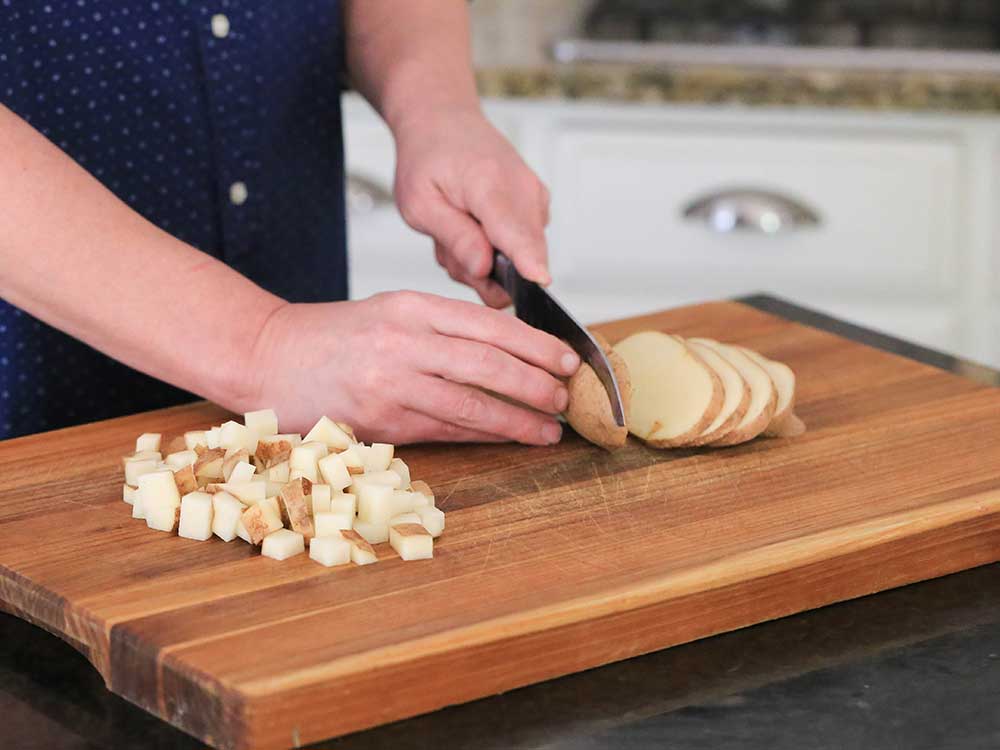 Next comes a layer of the cubed potatoes. Use half of them for the first layer.
Sprinkle with salt and then pepper. The more pepper you use, the more 'kick' the potatoes will have.
Next, add another tbsp of oil, and then repeat the process.
FORMING THE FOIL PACKET
Once you've created your two layers of oil, onion, potato, salt, and pepper (with another splash of oil on top), it's time to create the packet for roasting.
Simply bring the long-side edges of the foil to meet over the potato mixture, and use your fingers to pinch the foil together and form a seal.
Fold 'em up!
Preheat your oven to 400°F.
Place the packets on a baking sheet.
EXPERT TIP: We bake the Roasted Potatoes in Foil for 20 to 25 minutes. We recommend carefully removing the potatoes from the oven after 20 minutes. Very carefully open on of the packets and either pierce a potato cube or grab one for you to taste. If the potato is very tender, they're ready to eat. If not, place them back in the oven for another 5 to 10 minutes.
ROASTED POTATOES IN FOIL ARE THE PERFECT SIDE DISH
The potatoes are so incredibly flavorful and are the perfect side dish, especially with a nice juicy steak!
Diced potatoes on the grill in foil are perfect, too. When the grill is closed, it acts as an oven, so preparing them on the grill is as easy as making them in the oven.
So easy, so elegant, and so yummy.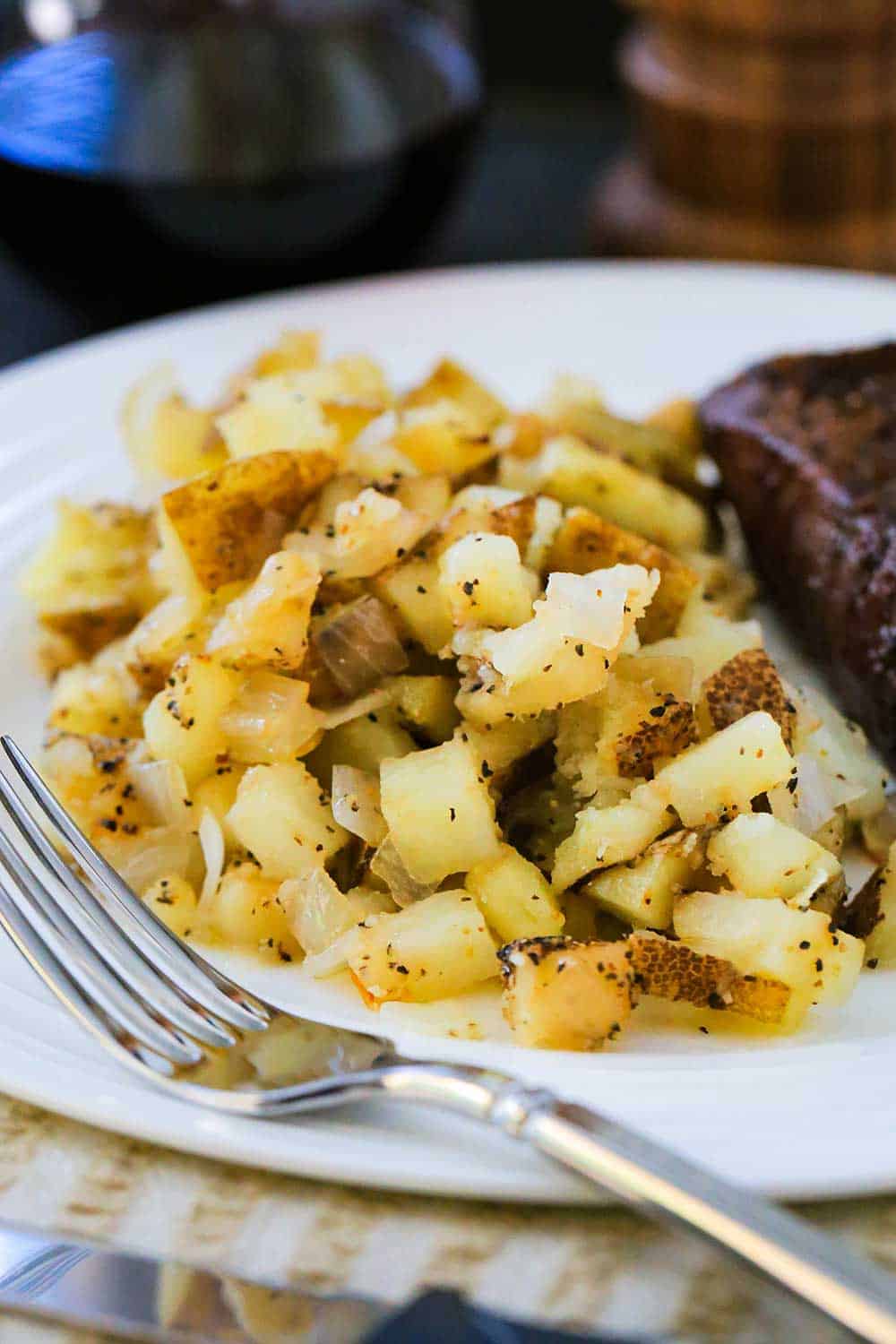 As mentioned, these potatoes are easily adaptable to your taste.
Other wonderful additions to add into the packets prior to roasting include:
Fresh herbs such as thyme, rosemary, sage, or basil. (If using dried, just give a couple shakes over the potatoes)
Fresh mushrooms, whole or sliced
Small frozen vegetables, such as chopped broccoli, carrots, cauliflower, or chopped bell peppers
Shredded cheese, such as mozzarella, gruyere, or Monterrey Jack
Mmmm…Aren't you craving these potatoes right about now?
AN IDEAL SIDE DISH FOR ALL OCCASIONS
These roasted potatoes are so versatile.
We love serving them at an outdoor cookout. They grill perfectly. Or place in a cast-iron skillet and place over a campfire.
They are also gorgeous when served alongside a perfectly cooked steak for a dinner for two, or serving guests.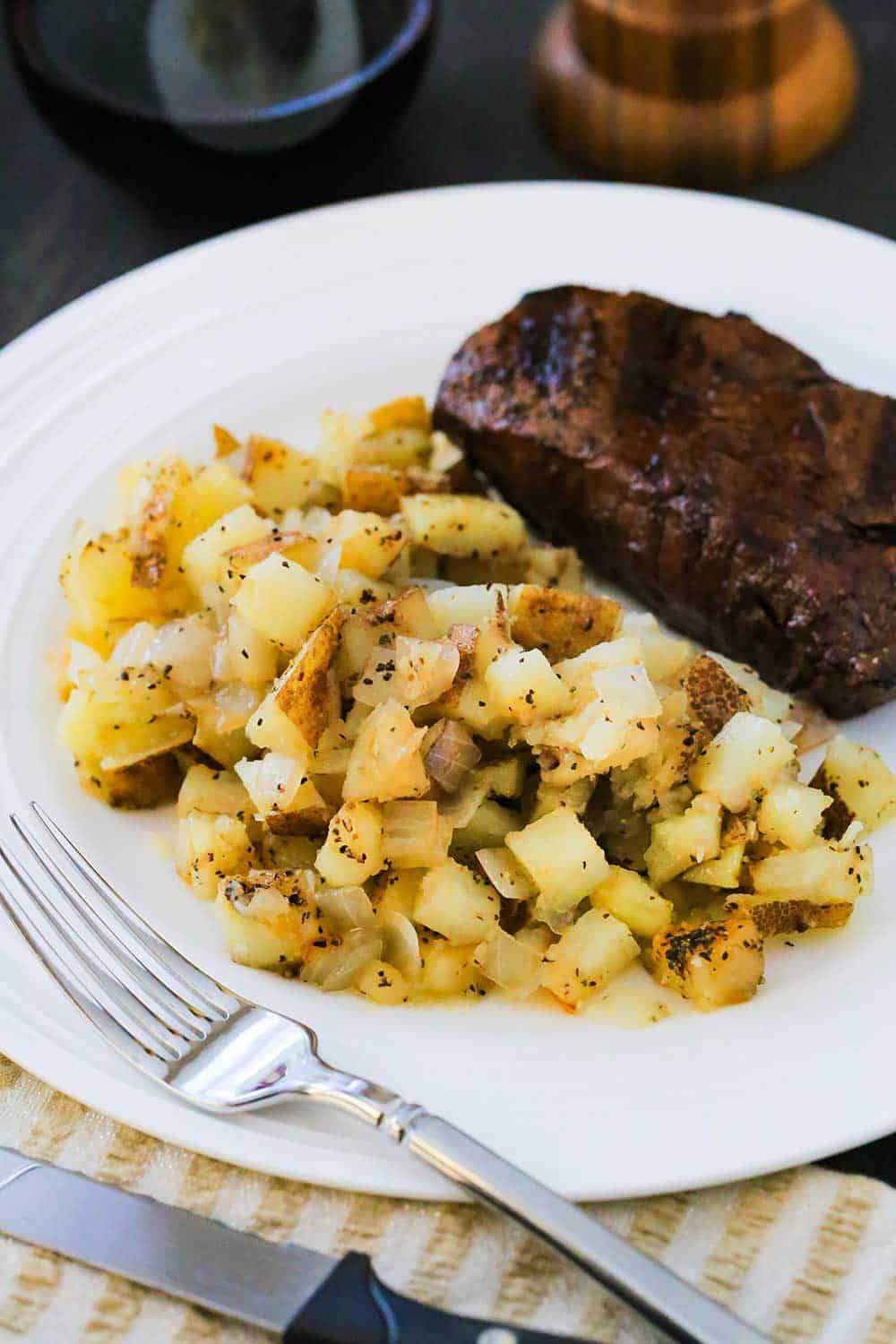 Ready to make the best (and easiest) potato side dish EVER? Go for it!
And when you do, be sure to take a picture post it on Instagram, and tag @howtofeedaloon and hashtag #howtofeedaloon!
Roasted Potatoes in Foil
This truly is the easiest side dish in the world. And you just can't believe the taste. The onion melts into the potatoes and the flavors are simple yet so satisfying. Perfect next to a steak, burger, or fish.
Print
Pin
Rate
Servings: 4
Calories: 325kcal
Equipment
4 pieces of foil, about 12" x 18"
Ingredients
4 tbsp olive oil
2 cups onion chopped
4 russet potatoes scrubbed and cut into ½-inch cubes
1 tbsp Kosher salt
1 tsp black pepper ground
Instructions
Preheat oven to 400°F.

Place the foil pieces on a work surface.

Add about ½ tbsp of oil down the middle (lengthwise) of each piece of foil. Add ¼ cup of onions over the oil on each piece of foil. Add half of each cubed potato over the onions. Sprinkle with salt and pepper. Repeat this process, adding a little more (approx. 1 tsp) of oil over the top.

Bring the edges from the long side of each foil piece together and pinch to form a seal. Fold in the ends and place on a baking sheet.

Roast in the oven for 20 minutes. Test a piece of cooked potato to ensure they are very soft and tender. If not fully cooked, add back into the oven for 5 to 10 more minutes.

Serve in the foil packet, or carefully transfer onto individual plates or serving platter.
Notes
We recommend using a good sturdy foil for these potatoes. You can also double wrap the packets. You want to avoid openings in the packets because steam will escape and not cook the pototoes fully. Yukon gold, baby red or white potatoes, and fingerling potatoes are all work perfectly, too. We don't peel the potatoes, but you can if you prefer. These can also be cooked on a grill with a cover. Don't place the packets over direct heat, but close the grill and follow the same cook times as for the oven version. Other wonderful additions to add into the packets are fresh herbs (or a sprinkle of dried), such as thyme, oregano, sage, or basil. Sliced (or whole) mushrooms will cook perfectly as they steam. A sprinkle of shredded mozzarella, gruyere, Swiss, or Monterrey Jack is great, too. These potatoes are wonderful served piping hot, but they are addictively delicious even after they've cooled off.
Nutrition
Calories: 325kcal | Carbohydrates: 46g | Protein: 5g | Fat: 8g | Saturated Fat: 2g | Sodium: 1758mg | Potassium: 1005mg | Fiber: 4g | Sugar: 5g | Vitamin C: 18mg | Calcium: 46mg | Iron: 2mg