If there ever was a dish that is transcendent in its simplicity, it's this one.
This is truly a melt-in-your-mouth showstopper of a dish. Perfect for that epic holiday meal served alongside our Slow-Cooker Spiral Ham! And the preparation is not difficult at all!
How To Make Potatoes Dauphinoise
Leave it to the French to take a few modest ingredients and turn them into a dish for the ages.
These are very similar to scalloped potatoes and potatoes au gratin, but there are few important tips to follow to make them perfectly French.
Layering the Flavor Profile
As you can imagine, this dish is all about the amazing layers and layers of flavor.
We don't allow a single layer to go without adding some flavor, and that starts with the base.
EXPERT TIP: We use our cast-iron baking dish that's approximately 10″ x 12″, but you can certainly go with a 9″13″ dish. First, softened butter is liberally applied to the bottom of the dish. Next, cut a garlic clove in half and rub the cut side all over the butter. It's subtle, but adds a hint of flavor to the dish.
Now, it's time to create the incredible cream sauce.
We go with 2 cups of heavy cream and 1 cup of whole milk.
Toss in a few sprigs of fresh thyme, salt, pepper, and 2 cloves of garlic either pressed through a garlic press or finely minced.
Bring to a boil, lower the heat, and simmer for a few minutes. Strain and set aside.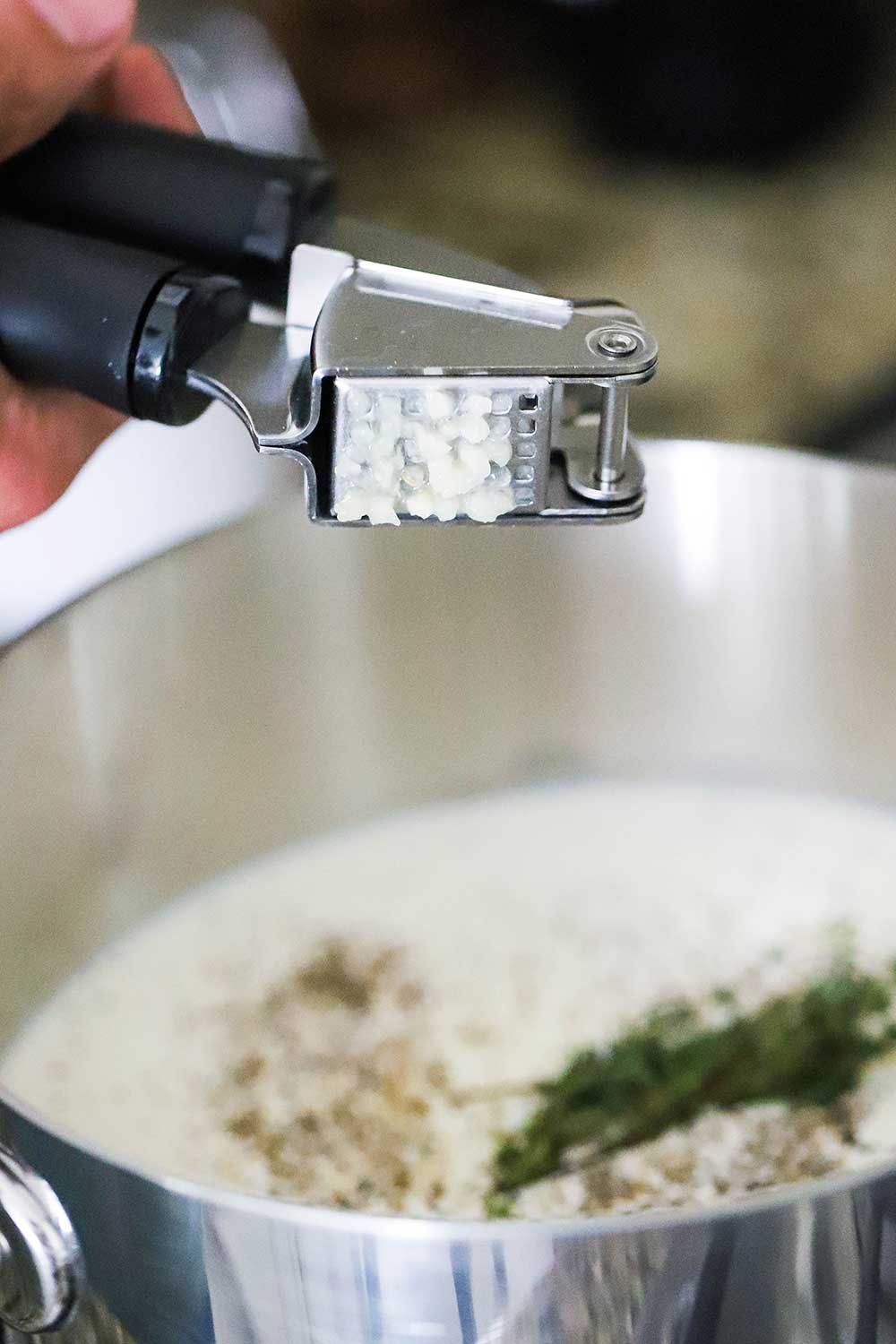 Choosing the Right Potato
We strongly recommend going with large gold potatoes for the dish. They cook wonderfully and become buttery soft after baking with the cream sauce. If you can't get gold potatoes, then go with Russet or white.
You'll need 3 lbs of peeled potatoes. We use our mandolin to slice them to about 1/8-inch in thickness.
EXPERT TIP: Make a single layer of potatoes in the bottom of the prepared dish. Give the layer a nice sprinkle of salt and a slightly less amount of black pepper. Add just enough of the prepared cream sauce to barely cover the potatoes. Repeat this process. You want just enough cream so that when you press on the potatoes, the cream peeks around the edges. Just eyeball this, you may have a few extra unused potatoes, or, you may have a little extra cream.
Gruyere is the perfect cheese for the topping. Rich and melts beautifully.
And as it bakes, the cheese turns into a beautiful crust or gratin.
EXPERT TIP: Gruyere can usually be found in the specialty (or gourmet) cheese section in most well-stocked supermarkets, often near the deli area. You most likely won't find it shredded, rather in blocks. We just cut away the rind and then toss the block in our food processor and process until just crumbled. Sweet cheese is a perfectly fine substitute if you can't find Gruyere.
When To Serve Potatoes Dauphinoise
This is truly a special dish and is really wonderful for special-occasion meals during the holidays.
However, the ingredients aren't terribly pricey, and the preparation isn't too involved, so it makes an incredible side dish for dinner parties or dinner for two any time of the week.
EXPERT TIP: The dish can be prepared up to 24 hours before baking. Cover with foil and place in the fridge. Allow an extra 15 minutes of baking if chilled. Remember to check after about 35 to 45 minutes. Usually, at this time, you'll need to cover with foil so it won't brown too much on top.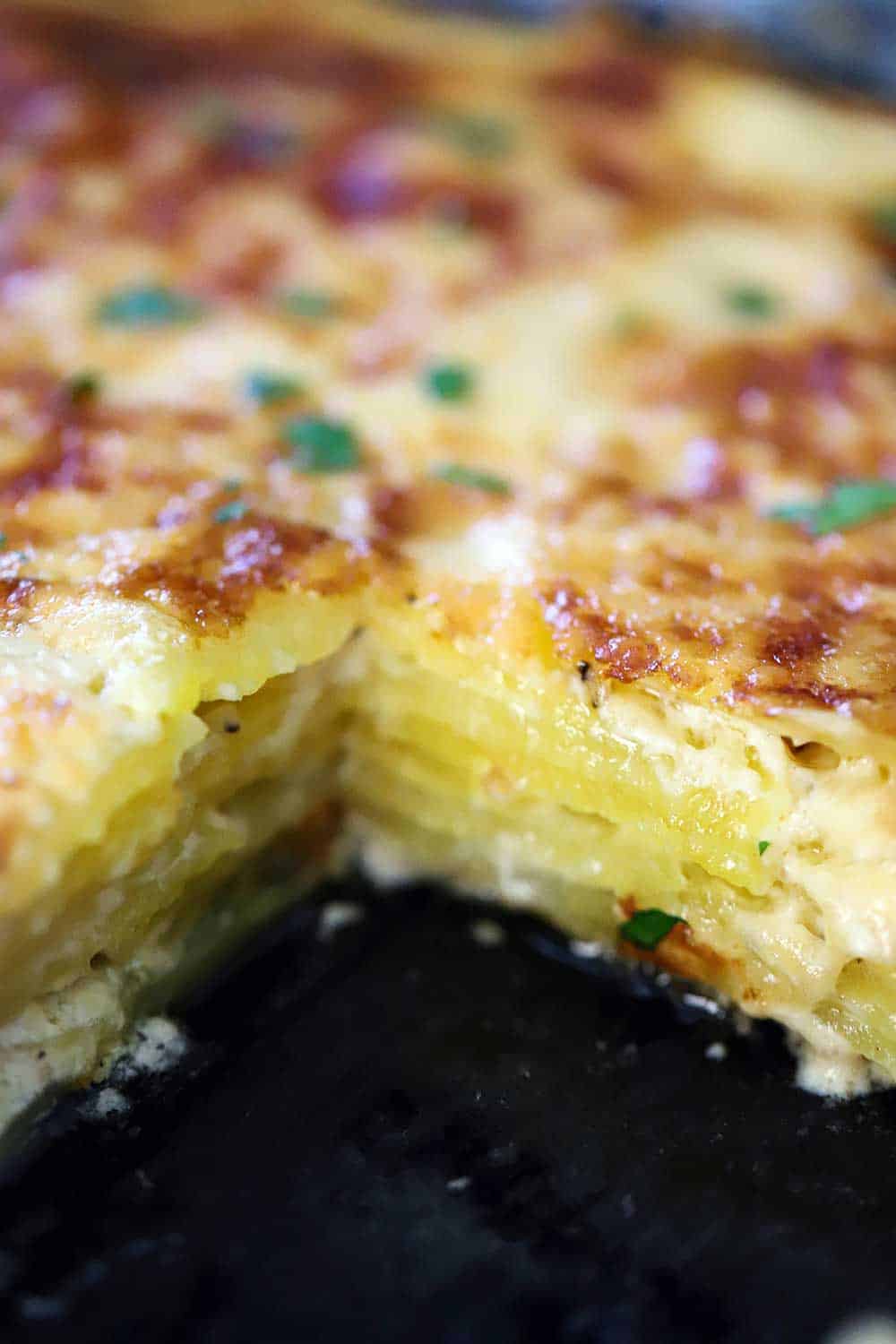 There are few dishes that are as universally loved as this dish.
Every time we serve this to guests, it gets raves and the recipe is always requested.
And the leftovers (if there are any) are equally as scrumptious.
When you need a special dish for a special occasion, look no further.
This dish will warm you up and just make you smile. Slow-cooked potatoes, cream, cheese with a little garlic, and herbs.
That's just good.
Ready to make the best Potatoes Dauphinoise this side of Paris? Go for it!
And when you do, be sure to take a photo of it, post it on Instagram, and tag @HowToFeedaLoon and hashtag #HowToFeedaLoon!
Potatoes Dauphinoise
This Potatoes Dauphinoise recipe is a keeper. So simple, yet so elegant, rich, and perfectly balanced. It is just an amazing combination of flavor and texture. Can be made a day ahead up to the baking. If refrigerated, add another 15 minutes to the bake time.
Print
Pin
Rate
Servings: 8
Calories: 355kcal
Equipment
9"x13" baking dish (or similar size)
Ingredients
1 tbsp unsalted butter room temp
1 clove garlic cut in half
3 lbs potatoes Yukon gold, peeled and thinly sliced. If using a mandolin, cut to 1/8" thickness.
8 oz gruyere cheese grated
2 cups heavy cream
1 cup whole milk
Kosher salt
Freshly ground black pepper
3 sprigs fresh thyme
Flat-leaf parsley chopped, for garnish on top
Instructions
Preheat the oven to 350°F.

Take a large, heavy-bottomed dish or an ovenproof gratin dish, and grease it well with the butter, then rub the ½ sliced garlic on the bottom and sides. Discard the garlic.

Put the cream, milk, and a pinch of salt and pepper and sprigs of thyme in a saucepan. Using a garlic press, press 1 clove of garlic into the sauce (or mince finely, and add to the sauce).

Bring gently to a boil. Lower heat and simmer for a couple of minutes. Remove from heat, then strain into a bowl, and discard the thyme and garlic. Set aside briefly.

Layer the potato slices in the dish, slightly overlapping each other, seasoning each layer with the salt and pepper. Once one layer is added, ladle enough of the strained cream sauce to coat the potatoes. Repeat with the process until out of potatoes.

Add a little more cream, if necessary. The cream should just barely be peaking around the edges of the potatoes when you press down on them (resist the temptation to add too much cream!). You may have extra potato slices, or you may have a little extra cream.

Sprinkle the cheese on the top of the last layer.

Bake for 45 minutes and then check them, you'll most likely need to cover them with a piece of foil to keep them from browning anymore. Bake for another 15 to 20 minutes, or until a sharp knife easily pierces the potatoes with absolutely no resistance.

Remove from oven and let rest for 5 to 10 minutes. Garnish with chopped parsley sprinkled on top.
Notes
Yukon gold potatoes are best, however, russets can be used in a pinch. Be sure to add a sprinkling of salt and a little bit of pepper to each layer of the potatoes. About 1/2 tsp of salt and 1/4 tsp of pepper per layer. There should be just enough cream to come close to submerging the potatoes, but not completely. It's okay, and preferable, that most of the top potatoes aren't covered by the cream. Be sure to check after 30 to 45 minutes, and cover with foil once nicely browned. Typically, it takes about 50 to 60 minutes total cooking time to get the potatoes super tender. If they are extremely thin slices, it will take less time. Once a knife can be inserted all the way through the potatoes to the bottom of the dish with absolutely no resistance, then the dish is ready to come out of the oven. The dish can be prepared up to 24 hours before baking. Cover and keep in the fridge until ready to bake. Uncover and bake for an extra 10 to 15 minutes, if cold. Leftovers will keep in an airtight container in the fridge for up to 5 days. The dish freezes okay, but the cream may break down somewhat once thawed and reheated.
Nutrition
Calories: 355kcal | Carbohydrates: 3g | Protein: 11g | Fat: 26g | Saturated Fat: 14g | Trans Fat: 1g | Cholesterol: 120mg | Sodium: 131mg | Potassium: 111mg | Fiber: 1g | Sugar: 2g | Vitamin A: 1237IU | Vitamin C: 1mg | Calcium: 362mg | Iron: 1mg
POST UPDATE: This recipe was originally published in March 2016, but was updated with improved tweaks to the recipe, new tips and photography, and a fabulous new video in April 2021!