There are show-stopper roasts and then there is this one.
We love this entree for so many reasons. First and foremost is taste and texture with melt-in-your-mouth tender and incredible flavor. What else makes this roast so awesome is that it's really foolproof. The prep is simple and the cooking method is straightforward. And the red wine sauce can be made in advance. Perfect for the big holiday feast!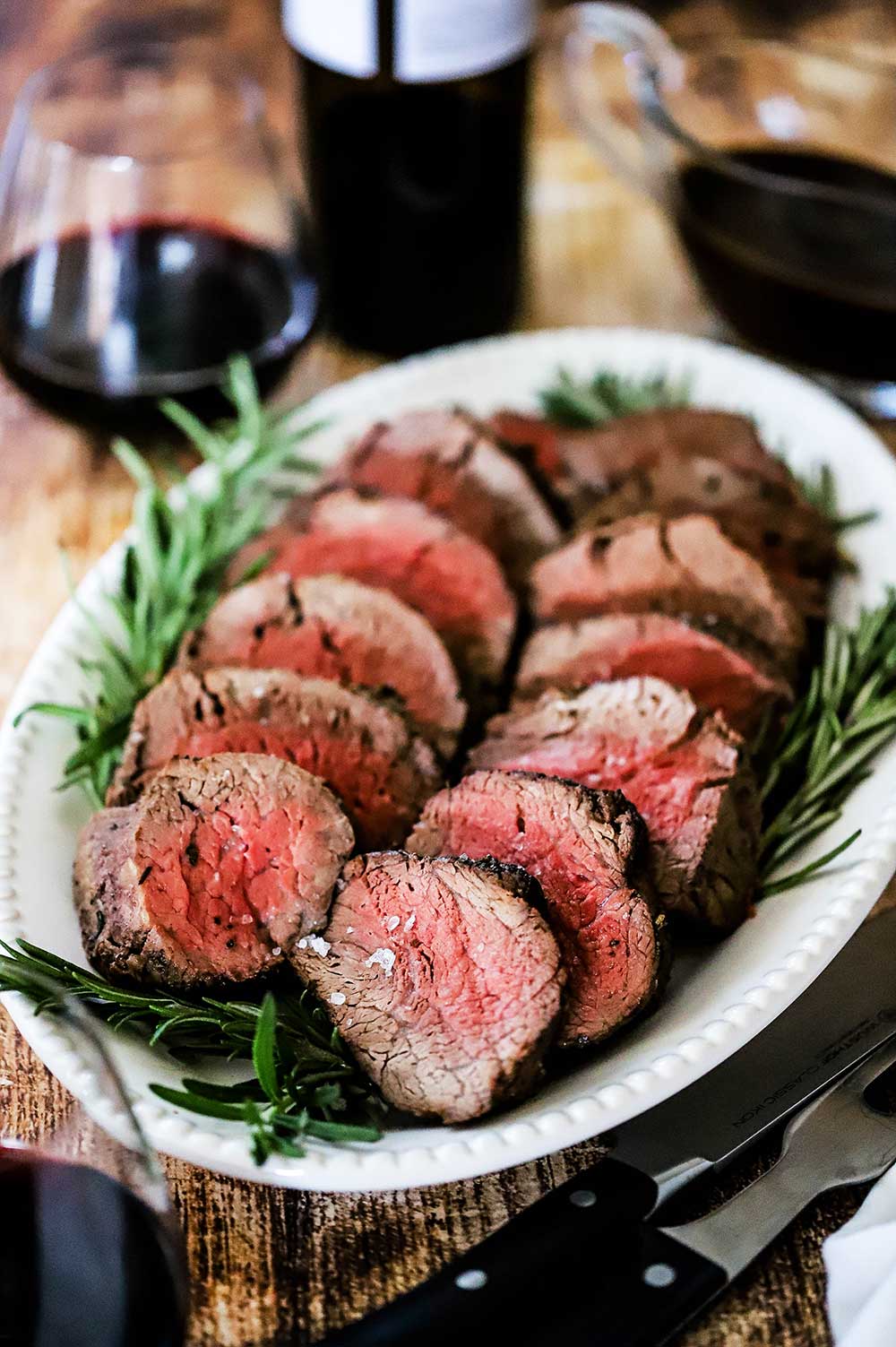 How To Make Beef Tenderloin with Red Wine Sauce
As mentioned, the preparation for this stellar entree is simple and not time-consuming at all.
We get started on the red wine sauce a day or two before serving the roast.
And the smell in your house when bringing it all together is incredible.
NOTE: If you liked the video, please subscribe to our YouTube channel. Remember to click the 'bell' icon so you'll never miss a new video. Thank you so much!
What is a Beef Tenderloin?
Of all the cuts of beef available, the beef tenderloin is (in our opinion) the most tender and flavorful.
It is an entire roast of filet mignon. Yeah, you heard that right.
EXPERT TIP: You can typically find a whole beef tenderloin at your local butcher. A whole loin is usually about 4 to 5 lbs and will easily feed 8 to 10 people. Ask your butcher to fold in the ends and tie up. If you are feeding four people, then you'll only need a 2 lb cut.
A simple rub of chopped rosemary, minced garlic, salt, and pepper is all that's needed to produce a deeply flavorful roast.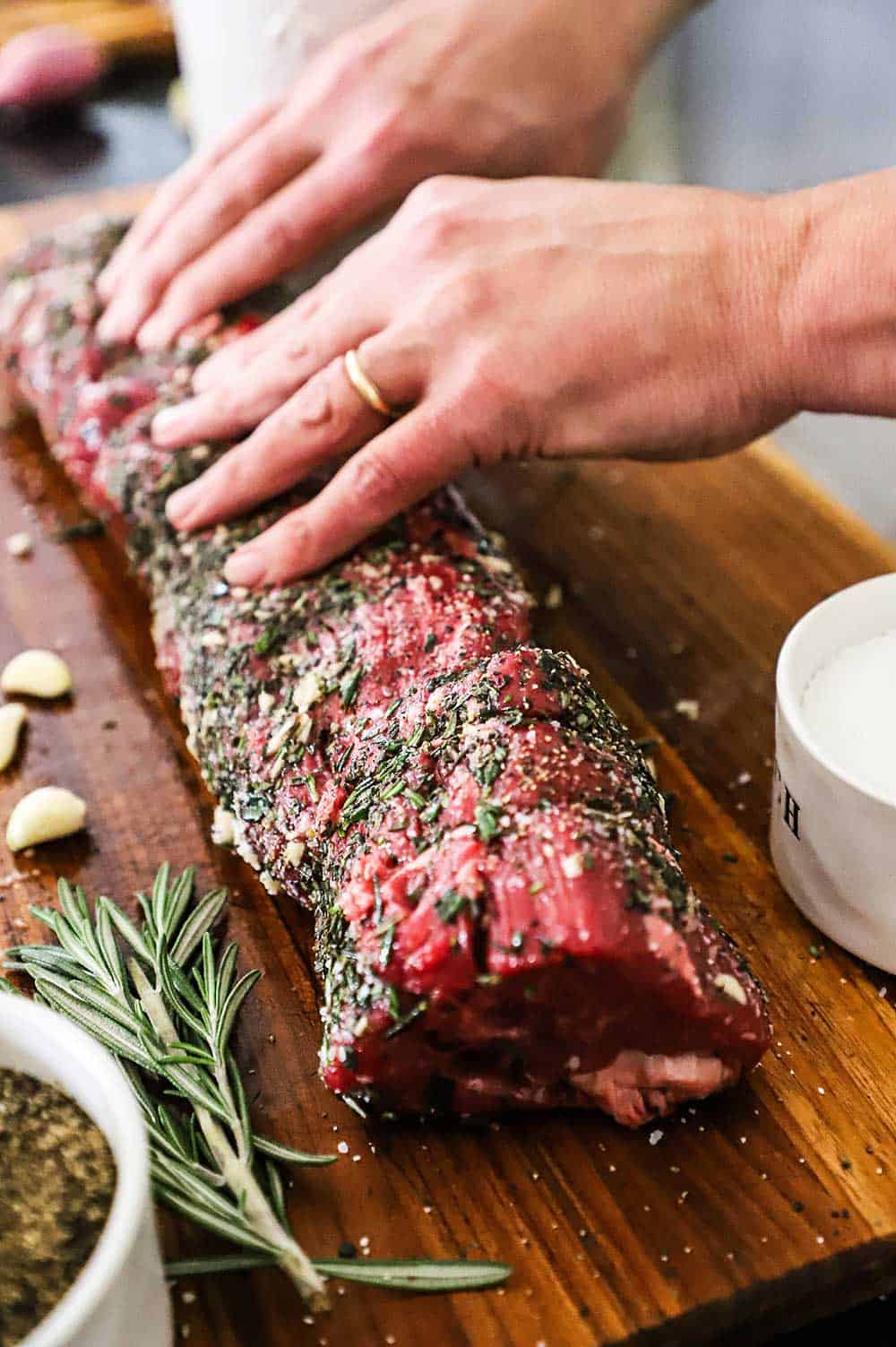 If you have a large cast-iron skillet, this is the time to pull it out.
You'll want to sear the roast in the skillet for about 7 minutes until nicely browned all over.
If you don't have an oven-proof skillet or Dutch oven, no problem. Sear the roast first in a large skillet, and then transfer to a roasting pan to cook the tenderloin.
How to Serve a Beef Tenderloin
Beef tenderloin is typically cooked to medium-rare, which is an internal temperature of 130° – 135°F.
You'll want the roast to sit after cooking for at least 15 to 20 minutes before slicing. The meat will continue to cook as it rests, which is why you'll want to remove the roast at 125°F.
The end slices will cook a little more than the center slices. Serve these to folks who prefer beef that is more well-done.
EXPERT TIP: If you want your roast cooked to medium or medium-well, see the NOTES.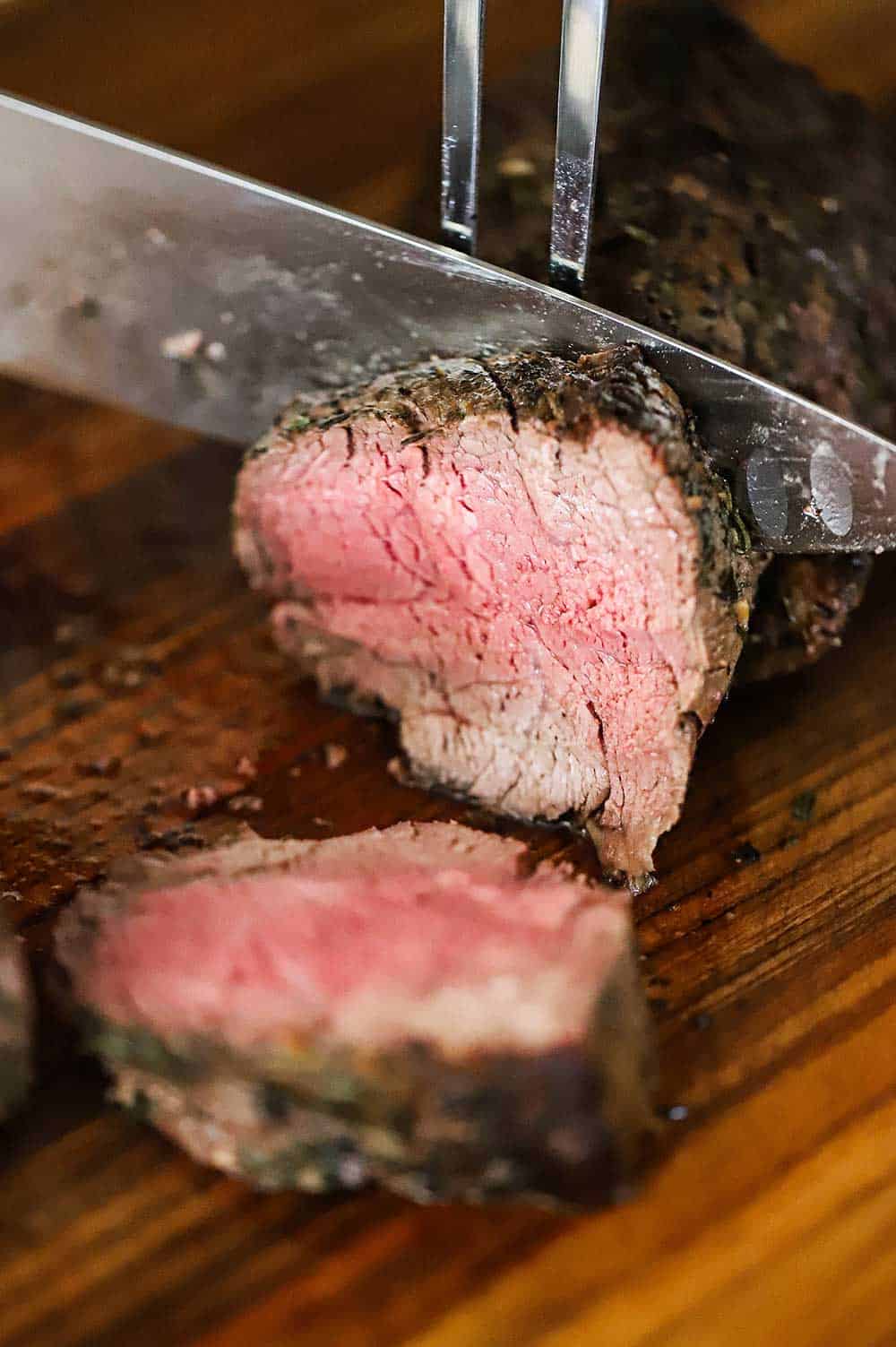 As mentioned, this beef tenderloin with red wine sauce is truly a gorgeous roast to serve, especially during the holidays.
Here are a few of our favorite sides dishes to serve with it:
French Gratin Potatoes (Dauphinoise)
Best Mashed Potatoes
Brussels Sprouts Gratin
Maple Glazed Carrots
Creamed Spinach
Steakhouse Mushrooms
Ultimate Macaroni and Cheese
But, there is no doubt who is the star of this production.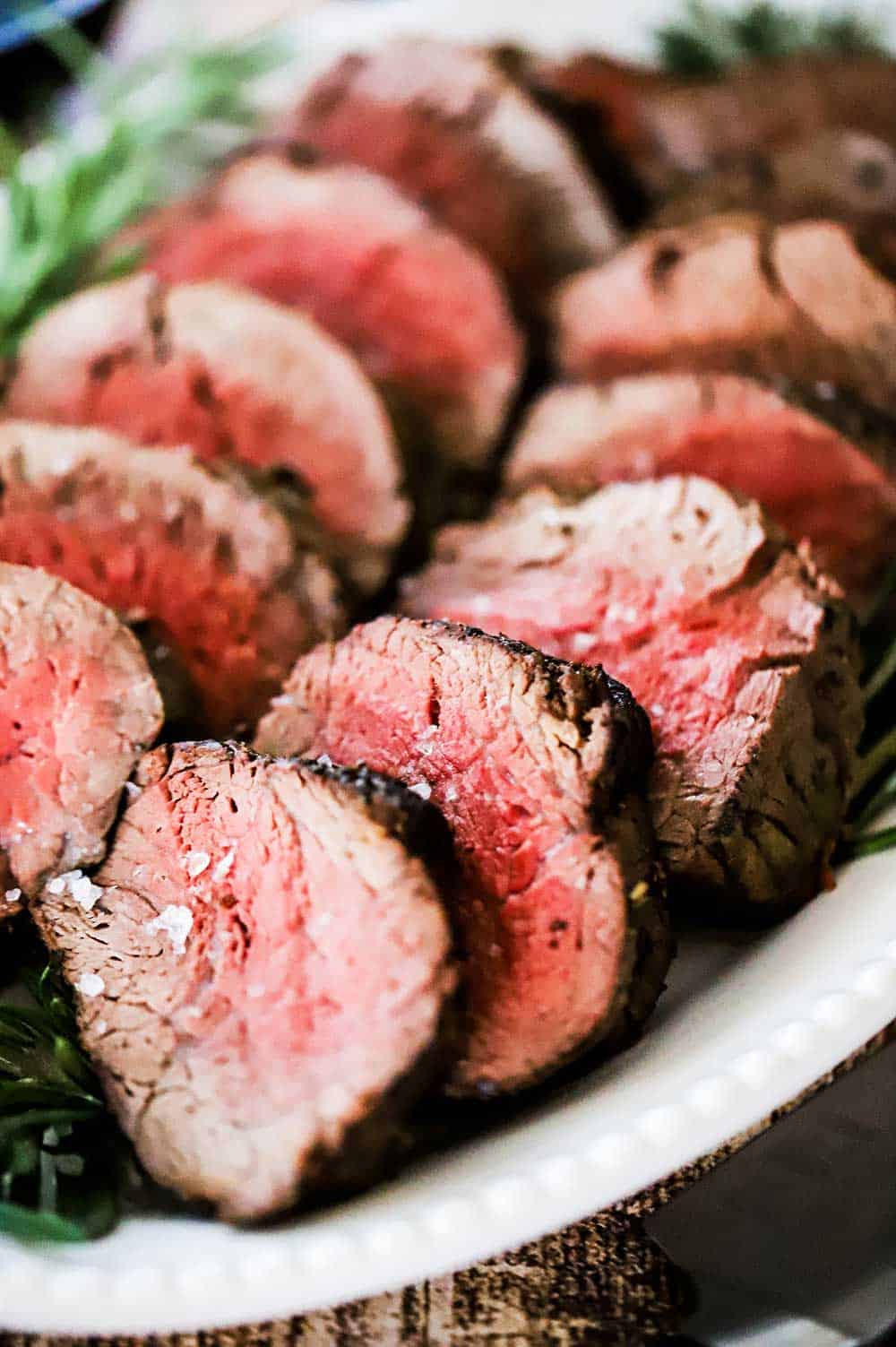 Tips for Beef Tenderloin with Red Wine Sauce
Do Ahead – Get the sauce started in advance of preparing the roast. In fact, you can make it up to 3 days in advance. You'll just need to reheat it and then add in the juices from the pan and then strain it.
Room Temperature – The roast cooks best when it's room temperature. After adding the oil, rosemary, garlic, salt, and pepper, allow it to sit on a cutting board for 1 hour. This will allow the flavors to penetrate the roast and help in the cooking process.
Let the Juices Settle – Resist cutting into the roast too soon after you take it out of the oven. The juices need to settle into the roast. The roast is so flavorful, it's even perfectly acceptable to serve it at room temperature.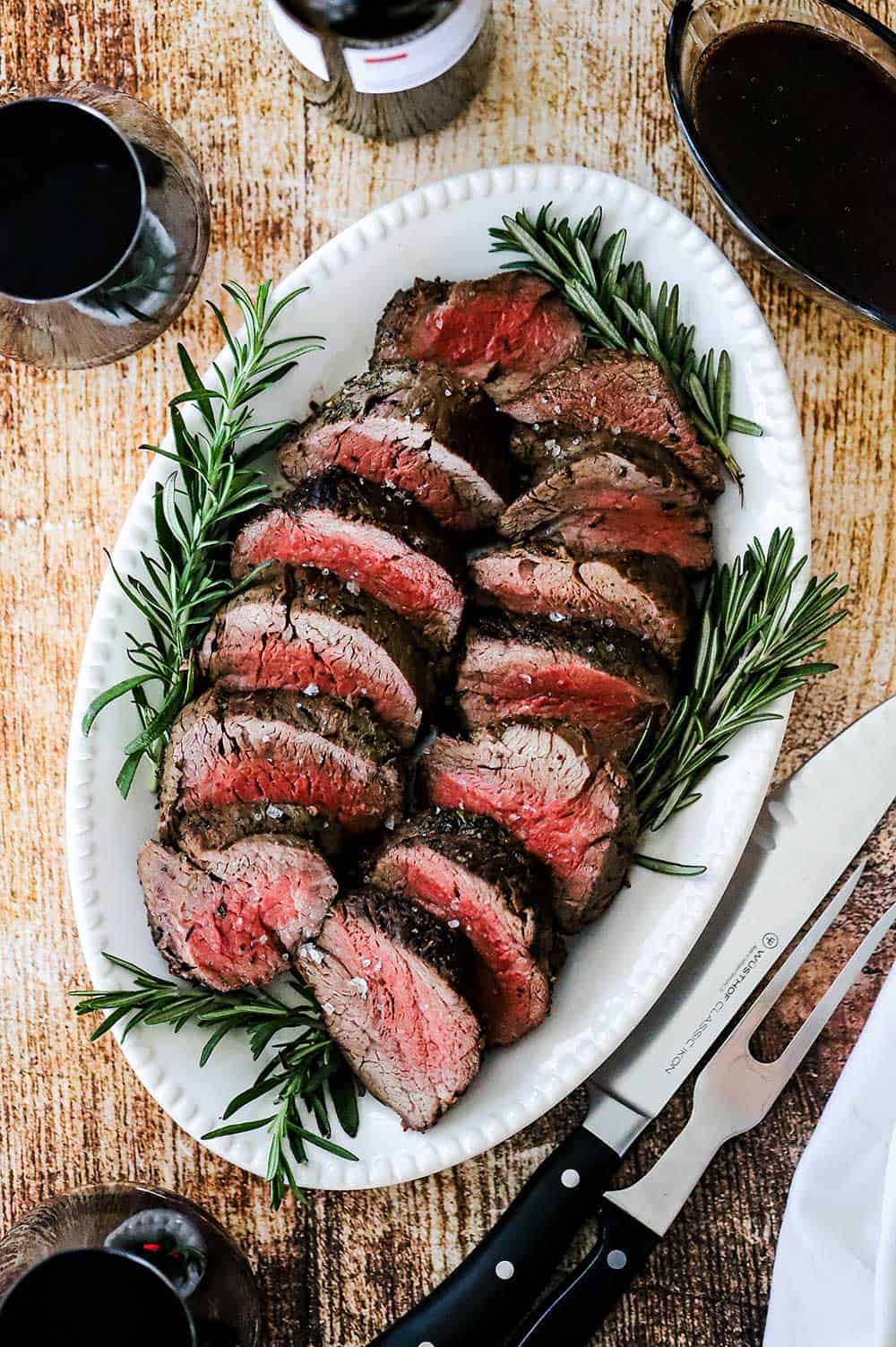 This is definitely one of those "special occasion" roasts. Beef tenderloin is not an inexpensive cut of meat, but the end result (and the ease of preparation) makes it worth it.
And folks, just wait until you drizzle on the red wine sauce. Amazing.
Your loved ones will be so impressed and so grateful for this one-of-a-kind roast.
Ready to make a roast that your family and friends will be talking about for years to come? Go for it!
And when you do, be sure to take a photo of it, post it on Instagram, and tag @HowToFeedaLoon and hashtag #HowToFeedaLoon!
Beef Tenderloin with Red Wine Sauce
Beef Tenderloin with Red Wine Sauce is a show-stopper of a roast. Pick up a whole tenderloin from your butcher to serve 8 to 12 people. Get a 2 to 3 lb roast for 4 servings. The red wine sauce can be started days in advance. And the leftovers are insanely delicious.
Print
Pin
Rate
Servings: 8
Calories: 187kcal
Equipment
Ovenproof skillet or Dutch oven (see NOTES)
Ingredients
For the Sauce
6 tbsp unsalted butter divided
2 shallots chopped
1⅓ cups red wine
2½ cups beef broth divided
3 sprigs thyme fresh
½ tsp Kosher salt
¼ tsp black pepper
For the Roast
1 4 lb beef tenderloin ends folded over and tied with twine
4 tbsp olive oil or canola, divided
4 tbsp rosemary fresh, chopped
4 cloves garlic finely minced
salt and pepper
finishing salt such as Maldon or coarse sea salt, optional
Instructions
Start the Sauce
In a medium saucepan, melt 4 tbsp of the butter over medium heat. Add the shallots and cook, stirring occasionally, until soft, about 4 minutes.

Add the wine, 2 cups of broth, thyme, salt, and pepper, and bring to a boil. Lower the heat to medium and simmer for 20 minutes, or until reduced by half. Turn off heat. This can be done up to 3 days in advance. See NOTES.
Prepare the Roast and Finish the Sauce
Meanwhile, rub 2 tbsp of the oil all over the roast. Use your fingers to rub in the rosemary and garlic all over the roast. Liberally salt and pepper the entire roast. Allow the roast to sit at room temperature for 1 hour.

Preheat oven to 425°F.

Heat 2 tbsp oil and 2 tbsp butter in a large oven-proof skillet or Dutch oven over medium-high heat. Add the roast and sear until browned all over, about 7 minutes. It's okay if you have to bend the roast to fit in the skillet.

Place the skillet in the oven and cook until an internal temperature of 125°F is reached (for medium-rare). If you don't have an oven-proof skillet, transfer the roast to a baking pan. An instant-read thermometer ensures the correct internal temperature. See NOTES regarding cooking temperatures.

Remove the roast from the skillet/pan, and allow to rest while you finish the sauce.

Place the skillet (or pan) on the stove over medium heat. Add the remaining ¼ cup of beef broth and use a spatula to scrape up the bits stuck to the pan. Bring to a simmer and sprinkle with another ¼ tsp of salt. Pour the broth into the pan with reserved sauce. Stir to combine. Strain into a gravy boat if serving immediately. If not serving immediately, store the sauce and then gently reheat over low heat on the stove in a pan.

Cut the twine from the meat and then slice the roast into ½-inch medallions. Place on a serving platter and serve warm, or at room temperature, with sauce on the side. Sprinkle the slices with finishing salt, if desired.
Notes
See the video near the top of the blog post for visual guidance. If you liked the video, please subscribe to our YouTube channel.
A whole beef tenderloin feeds 8 to 12 people. A 2 to 3 lb tenderloin will feed 4 to 6 people. Be sure to have the ends tied up with twine.
Doneness Temperatures:
130 - 135°F: Medium-Rare
140 - 145°F: Medium
150 - 155°F: Medium Well (not recommended)
The sauce can be reduced up to 3 days in advance. The roast can be marinated with the oil, rosemary, and garlic up to 12 hours in advance. Allow to come to room temperature (sitting at room temp for an hour) and then liberally add salt and pepper.
Leftovers will keep in the fridge for up to 5 days and can be frozen for up to 2 months.
For the best French dip of all time, gently reheat a slice of the roast (don't overcook). Place a slice of Provolone cheese over the top and place on a bun. Gently reheat the sauce for dipping. Amazing.
Nutrition
Calories: 187kcal | Carbohydrates: 3g | Protein: 1g | Fat: 16g | Saturated Fat: 7g | Polyunsaturated Fat: 1g | Monounsaturated Fat: 7g | Trans Fat: 1g | Cholesterol: 23mg | Sodium: 429mg | Potassium: 134mg | Fiber: 1g | Sugar: 1g | Vitamin A: 313IU | Vitamin C: 2mg | Calcium: 30mg | Iron: 1mg