Most everyone loves going to a top-notch steakhouse for great steaks, right? But we must say, the steakhouse sides give those steaks a run for their money!
This recipe is about a classic as they come. Yes, it's vegetarian, but no, it's not figure-friendly. But, hey, it's a "special occasion" kind of dish. Serve with a Steak au Poivre and some Best-Mashed Potatoes, and you'll feel like you're in the best steakhouse this side of Fort Worth, Texas!
How to Make Creamed Spinach
Folks, we promise you, making creamed spinach at home is so much easier than you might think.
It's rich, creamy, delicious, and so much fun to make!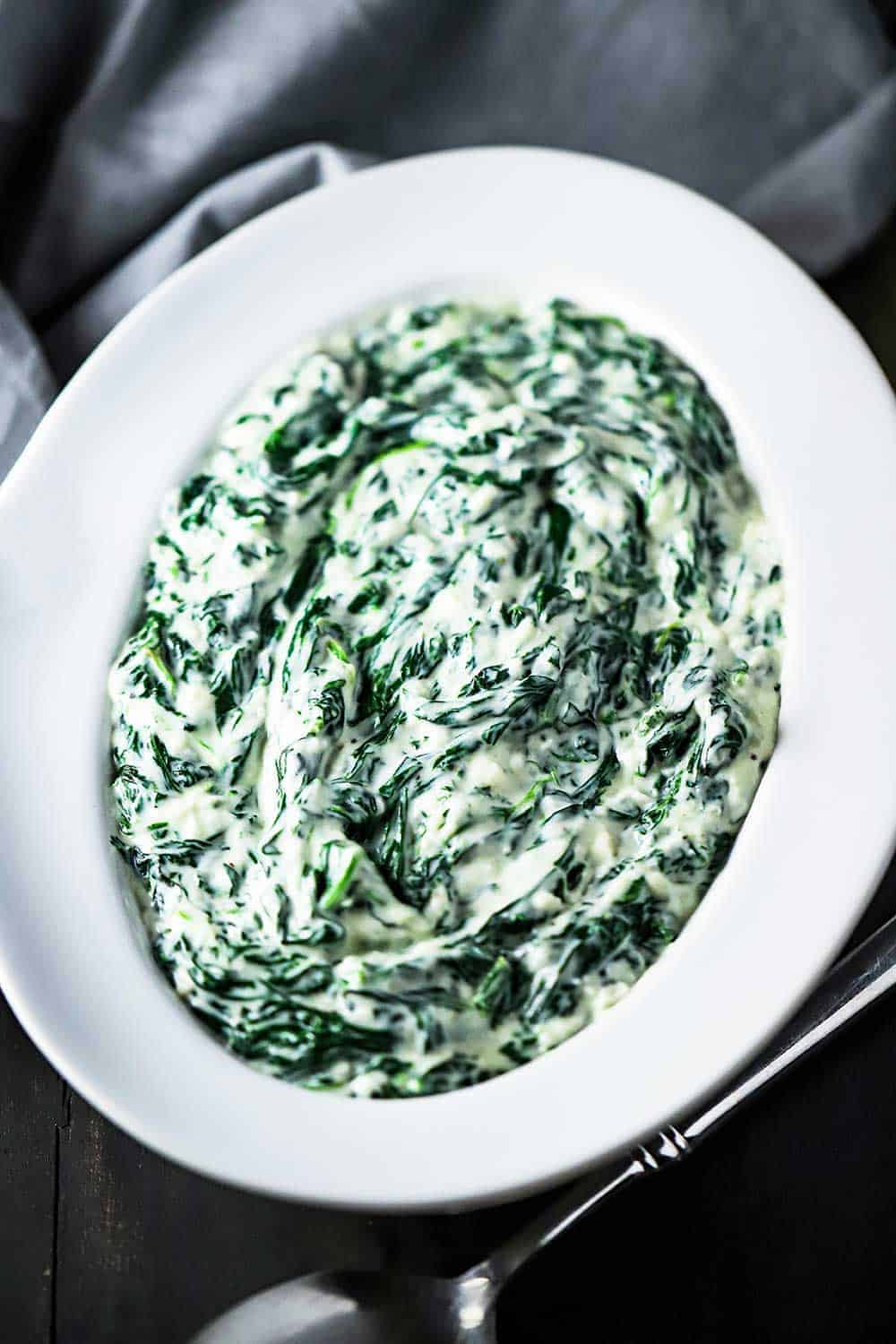 What's The Difference Between Spinach and Baby Spinach?
Nutritionally speaking, there's not much difference between baby spinach and mature spinach. Read more about that here.
But when cooking with spinach, we highly recommend going with mature spinach. Baby spinach just doesn't cook as well and gets kind of slimy. It's great for salads, but not for cooking.
You'll start off without about 12 cups of spinach, and you'll need to blanch them in a little water in a hot skillet in batches.
EXPERT TIP: Mature spinach can often be found in the produce section of most well-stocked supermarkets. They are usually bundled into small bunches with the stems still on them. To prep the spinach, use a knife to cut off the stems, and then place the leaves in a colander and rinse under cool water to wash away any dirt or grit. If you can't find fresh, then go with frozen spinach that has been thawed. No need to blanch frozen. Don't use baby spinach!
Once you've cooked all the spinach and it's cool enough to handle, it's time to squeeze the excess water from the leaves.
You can do this in the sink, or place your colander with the cooked spinach in it over a large bowl.
Take the spinach, one handful at a time, and squeeze the excess water out of it. Place in a clean bowl and set aside.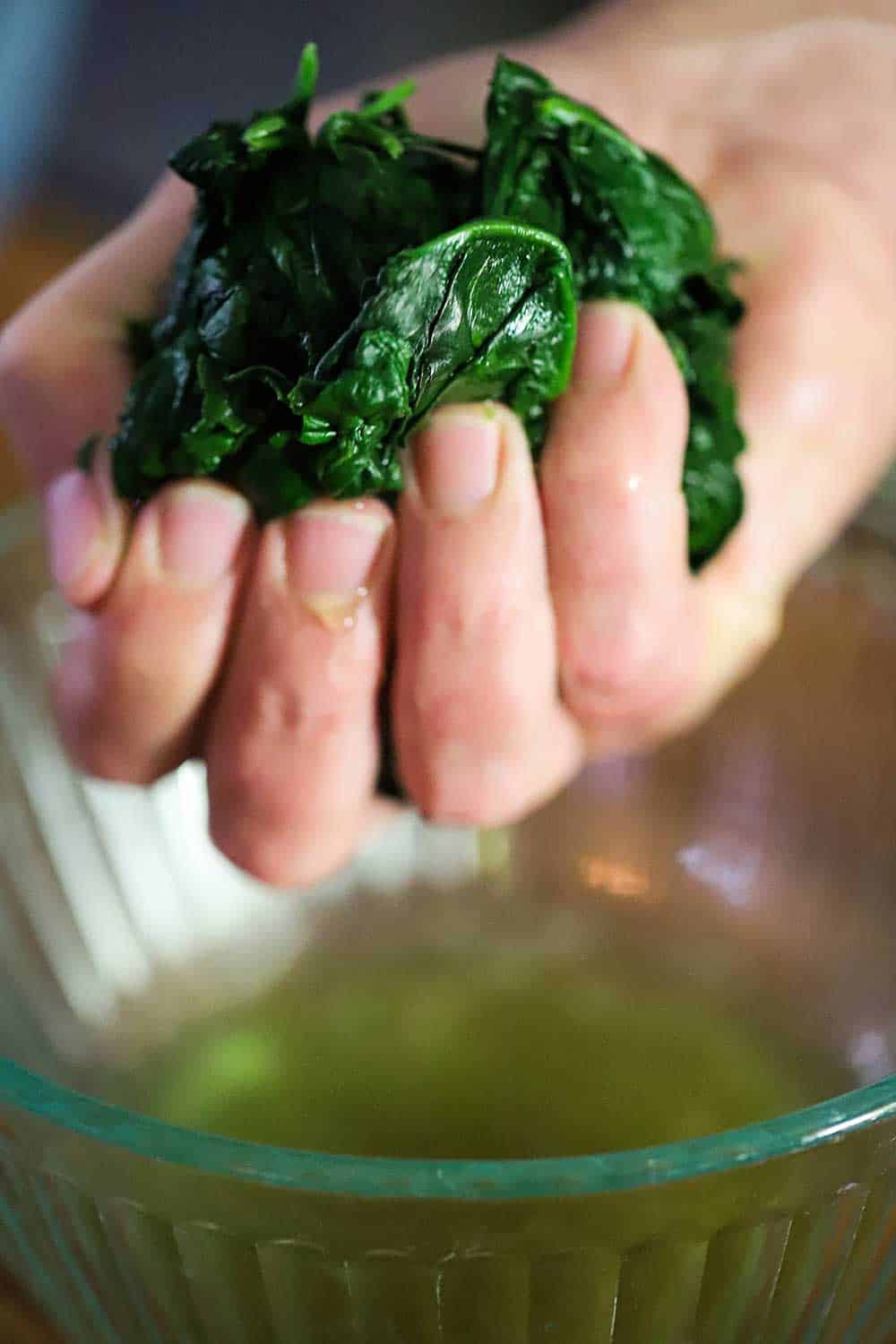 After you've blanched the spinach, it's time to prepare the cream sauce, a flavorful bechamel.
Sauté the chopped shallot and garlic in butter until soft.
Add the flour, stirring and cooking for 1 minute. It's important to cook the raw flour taste out and it will also make a roux, which will enable the cream to thicken perfectly.
The Right Ratio of Cream to Spinach
We've tested this recipe many times, and we find that half-and-half combined with a smaller amount of heavy cream creates a luxurious, but not too heavy sauce.
If you like a thick sauce, go with 1½ cups of half-and-half and ¼ cup of heavy whipping cream. If you like it a little less thick, go with 1¾ cups of half and half, and still ¼ cup of heavy cream. Warming the half-and-half and cream will help the sauce form nicely. Whisk the warmed cream into the roux, whisking constantly to remove any lumps.
EXPERT TIP: Keep some extra half-and-half on hand. After you mix in the cooked spinach, you made need to thin the sauce just a little, and the extra half-and-half allows you to do just that.
Now, it's time to bring it all together.
After the cream has thickened somewhat, stir in the salt, pepper, parmesan cheese, and ground nutmeg.
Finally, stir in the cooked spinach. It will take a little elbow grease to get the spinach fully coated. Stir until everything is well blended and the spinach is nicely heated.
When To Serve Creamed Spinach
This is a spectacular side dish that is especially good served alongside a wonderful steak, such as our Filet Mignon with Bordelaise Sauce.
It has that "special occasion" look and taste to it. It's wonderful when served for a romantic dinner for two for Valentine's Day (the recipe can easily be cut in half).
It's also an ideal dish for serving during the holiday season. But honestly, it's so good, and easy to prepare, we love whipping up a batch any time of the year!
The spinach can certainly be prepped well in advance of serving.
Cook the spinach, drain and store in an ai-tight container for up to 24 hours before adding it to the cream sauce.
We don't recommend making the entire dish in advance of serving. That being said, left-overs heat up nicely on the stove, just add a little more cream to loosen it up.
Mmmm…doesn't this just look delicious?
Folks, you no longer have to wait to go to your favorite steakhouse to have this amazing dish.
Once you get the spinach prepped and ready to go, you'll be amazed at how easy it is to make this deeply flavorful dish.
Creamed Spinach is rich and even a little decadent, no doubt, but it just matches perfectly against so many entrees, including beef, poultry, pork, or an all-vegetarian menu.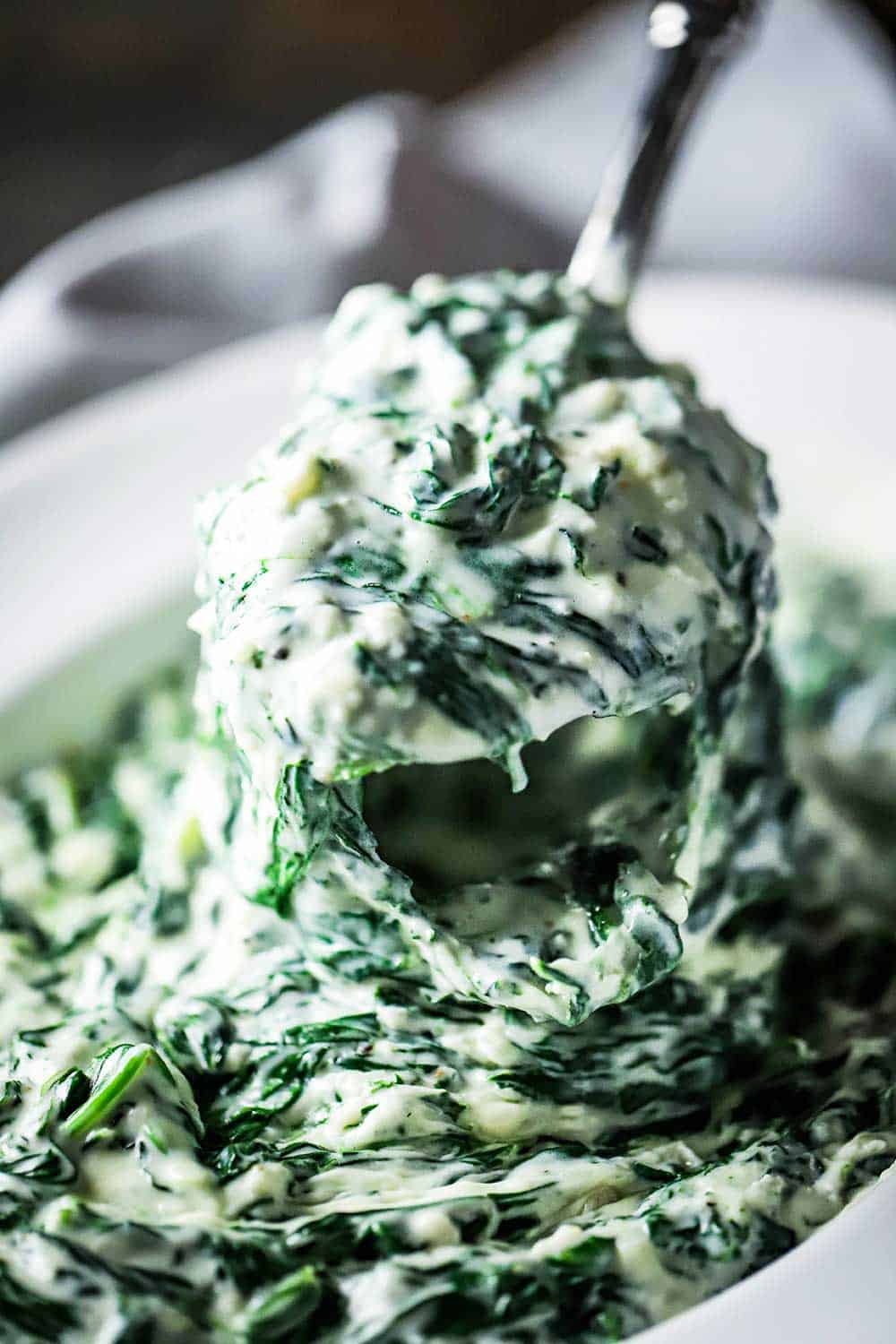 Ready to make one of the most popular side dishes of all time? Go for it!
And when you do, be sure to take a photo, post it on Instagram, and tag @HowToFeedaLoon and hashtag #HowToFeedaLoon!
Creamed Spinach
This Creamed Spinach is easy to make and you'll feel like you're eating in a fancy steakhouse...but you're in the comfort of your own home. Yum!!
Print
Pin
Rate
Servings: 6 people
Calories: 270kcal
Ingredients
3 lbs spinach fresh, mature, washed and thick stems removed
3 tbsp unsalted butter
1 shallot chopped
2 cloves garlic minced
3 tbsp all-purpose flour
1¾ cup half-and-half
¼ cup heavy cream
1 tsp Kosher salt
½ tsp black pepper freshly ground
½ tsp nutmeg ground
⅓ cup Parmesan cheese
Instructions
Prepare the Spinach
After rinsing spinach and removing stems, heat a large saucepan over medium heat. Add enough water to coat the bottom of the pan.

Working in batches, add the spinach and cook, stirring often, until soft and completely wilted, about 3 to 5 minutes. Drain into a colander and repeat this process until all spinach has been cooked. Rinse with cool water. Once cool enough to handle, use your hands to squeeze excess water from the spinach leaves. Place in a clean bowl and set aside.
Make the Creamed Spinach
Add the half-and-half and cream to a small saucepan and heat over medium heat until just starting to simmer. Keep on low, don't bring to a boil.

Using the same skillet that you cooked the spinach in, heat the butter over medium heat. Add the chopped shallots and garlic and cook, stirring occasionally, until soft and translucent, about 3 minutes.

Stir in the flour and cook for another minute.

Whisk in the warmed cream and stir until lumps have dissolved. Cook until thickened, about 3 to 5 minutes more.

Stir in the salt, pepper, nutmeg, and Parmesan cheese. Cook for about another minute.

Stir in the spinach and continue stirring until fully incorporated and the spinach is heated through, about another 3 minutes.

Transfer to a serving dish and serve at once.
Notes
This recipe can easily be cut in half if serving 2 to 4 people. Fresh mature spinach is ideal for this recipe. We do not recommend using baby spinach. You will still get delicious results with frozen spinach. Allow two (2) 10 oz. packages to thaw, squeeze out excess water, and proceed with the recipe as written. For the cream, we find using mostly half-and-half and a little bit of cream makes a nice balance for the sauce, and not too heavy. However, if you like the sauce really luxurious, then go with all heavy cream. You can also use a combination of half-and-half, cream, and/or whole milk. Just make sure you have a total of 2 cups. Have a little extra cream on hand in case you need to thin the sauce a little after mixing in the spinach. The spinach can be prepped up to 24 hours in advance. Keep in an air-tight container in the fridge, it can also be frozen for up to 1 month. We find the dish is served best right off the stove, although it re-heats just fine the next day over medium heat and a couple of splashes of cream added to loosen it up. The creamed spinach can be frozen, but the texture may be compromised somewhat once thawed.
Nutrition
Calories: 270kcal | Carbohydrates: 16g | Protein: 11g | Fat: 18g | Saturated Fat: 9g | Cholesterol: 59mg | Sodium: 690mg | Potassium: 1379mg | Fiber: 5g | Sugar: 2g | Vitamin A: 21883IU | Vitamin C: 65mg | Calcium: 374mg | Iron: 6mg
POST UPDATE: This recipe was originally published in March 2015, but was updated with improved tweaks to the recipe, new tips and photography, and a fabulous new video in December 2020!