This post is kindly sponsored by Erath Wines, but the recipe, photography, video, and opinions are 100% ours.
Every now and then, such as during the holidays, we love to prepare a meal that is sophisticatedly delicious and then pair it with the perfect wine.
And this culinary classic fits that bill flawlessly. Perfectly cooked beef tenderloin filet, a classic French sauce, silky beef bone marrow medallions, and one of the finest bottles of wine in the world. Now we're talking.
You'll need to get started several hours in advance of serving, but the steps are easy to follow
How To Make Filet Mignon with Classic Bordelaise Sauce
In this recipe, we're giving you some tips and techniques that produce a perfectly cooked steak, in addition to the steps for making the sauce and beef marrow.
And since we take holiday planning (or any special occasion dinner) very seriously and nothing can be left to chance, there's only one wine to serve with this show-stopper dish: Erath Wines. More on this incredible wine shortly.
How To Sous Vide a Steak
If you've never tried sous vide cooking, we encourage you to give it a try. The device isn't overly pricey, but the results are nothing short of phenomenal. Once you sous vide, you may never not sous vide again!
It is a method of cooking in which food is placed in a plastic baggie and cooked in a water bath for longer than usual cooking times (usually 1 to 7 hours, more than even 72 hours in some cases) at a precisely regulated temperature.
EXPERT TIP: Simply get a decent-sized pot (i.e., a pasta pot) and fill it with about 3 inches of water. Submerge the sous vide device into the water and turn it on. Select your temperature. Add a little bit of oil into the inside four plastic baggies, preferably ones with a ziplock. Now, one steak at a time, place in a plastic baggie, and then lower into the water, allowing the baggie to adhere to the steak. Seal the baggie and set your timer. See NOTES in the recipe card for timing and temperatures for doneness of the steak.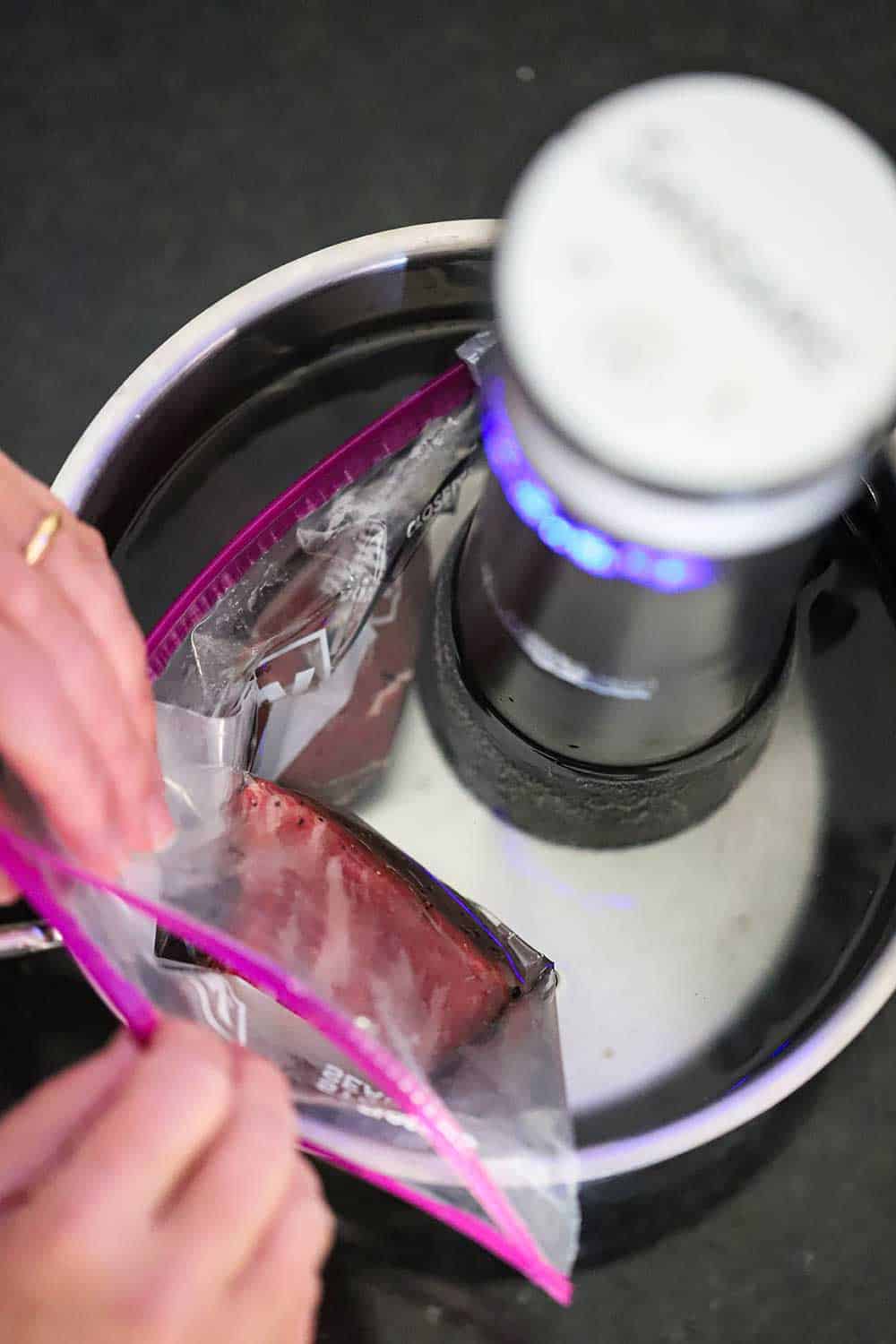 Beef Bone Marrow Adds Amazing Taste
We're talking bone marrow, folks. That may sound a little unusual, but we promise that you will be amazed at how delicious it is.
It is the soft, rich tissue located in the hollow center of beef shank bones. Many describe it as having the ultimate umami flavor and texture. The Loon says it's like beef butter that melts in your mouth.
Also consider this: Bone marrow is full of healthy attributes that are excellent for proper brain growth and function, and even improves cardiovascular health. How about that? All we can say is the following statement has never been more true: "It's better than butter!"
EXPERT TIP: Beef marrow bones are often found in the frozen section of the meat department in most well-stocked supermarkets. You can certainly get them from your butcher, and even ask him/her to cut them into 2-inch pieces. Take them home, and if frozen, allow them to thaw in the refrigerator. Next, add them to a bowl of ice water for 20 minutes. Then use your fingers to gently push the marrow from the bones. If they won't budge, gently warm a bowl of water, then place the bones in it for 1 minute. This should allow you to get the marrow out. Place the marrow in fresh ice water, and keep in the fridge for 2 to 6 hours.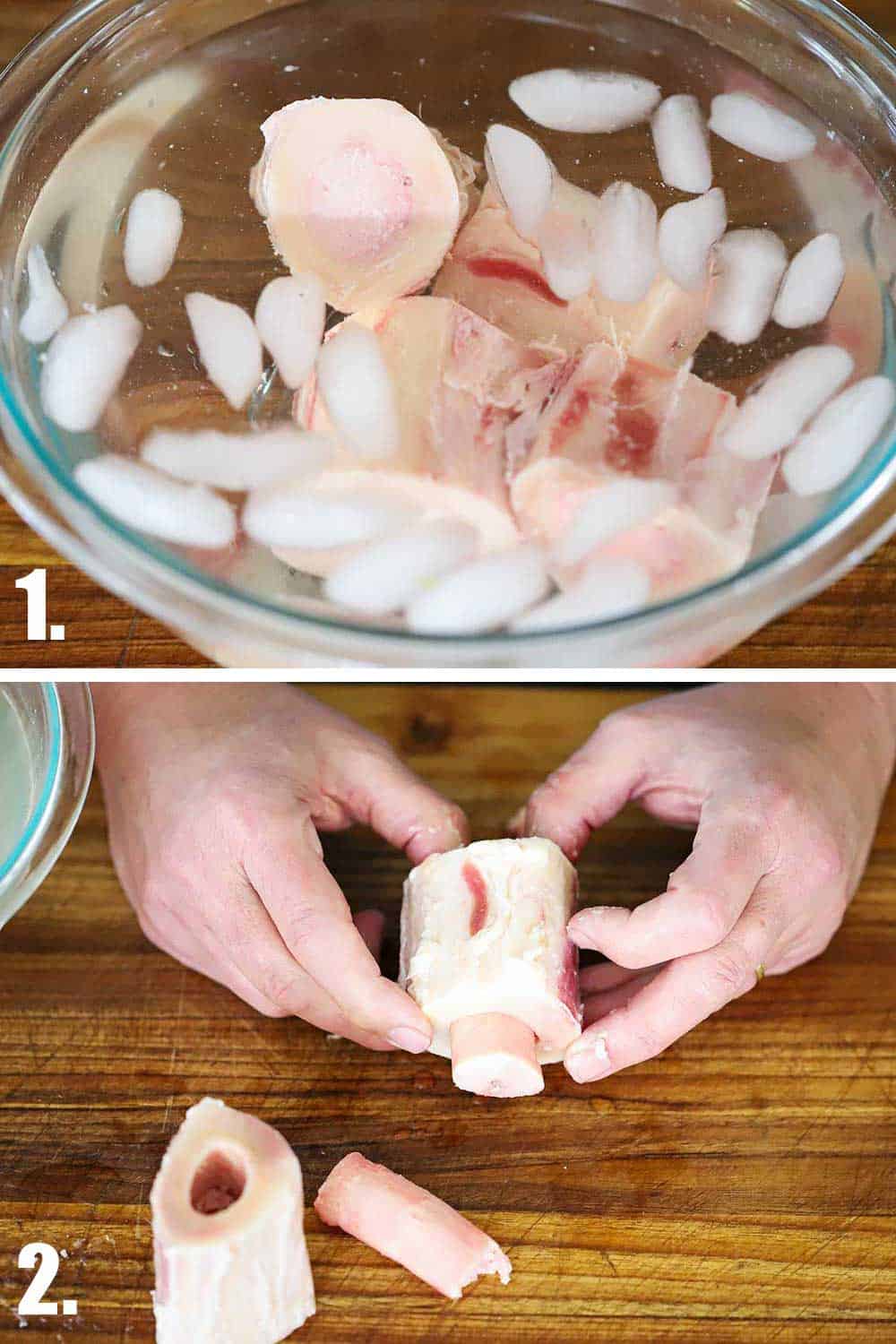 How To Make Classic Bordelaise Sauce
Bordelaise is a classic French sauce and is made with red wine, herbs, and demi-glace.
And you know the rule when it comes to cooking with wine: If it's not good enough to drink, then it's not good enough to cook with!
For our sauce, and then again for serving, we're going with Erath's Oregon Pinot Noir. Aromas of black cherry, plum, and currant mingle with hints of anise and sandalwood. The flavors reflect the aromatics of cherry and plum with a touch of graham. Hearty and robust, yet smooth and approachable. Perfect in so many ways!
EXPERT TIP: Making demi-glace from scratch is time-consuming and a bit tedious. Nowadays, you can find excellent options for demi-glace. Specialty cooking merchants, such as Williams Sonoma carry brands. Or, you can easily order it online. It's affordable, delicious, and much, much easier than making it from scratch.
And a reminder: Go with a top-notch wine. Erath's Pinot Noir won't break the bank, but the results will speak for themselves.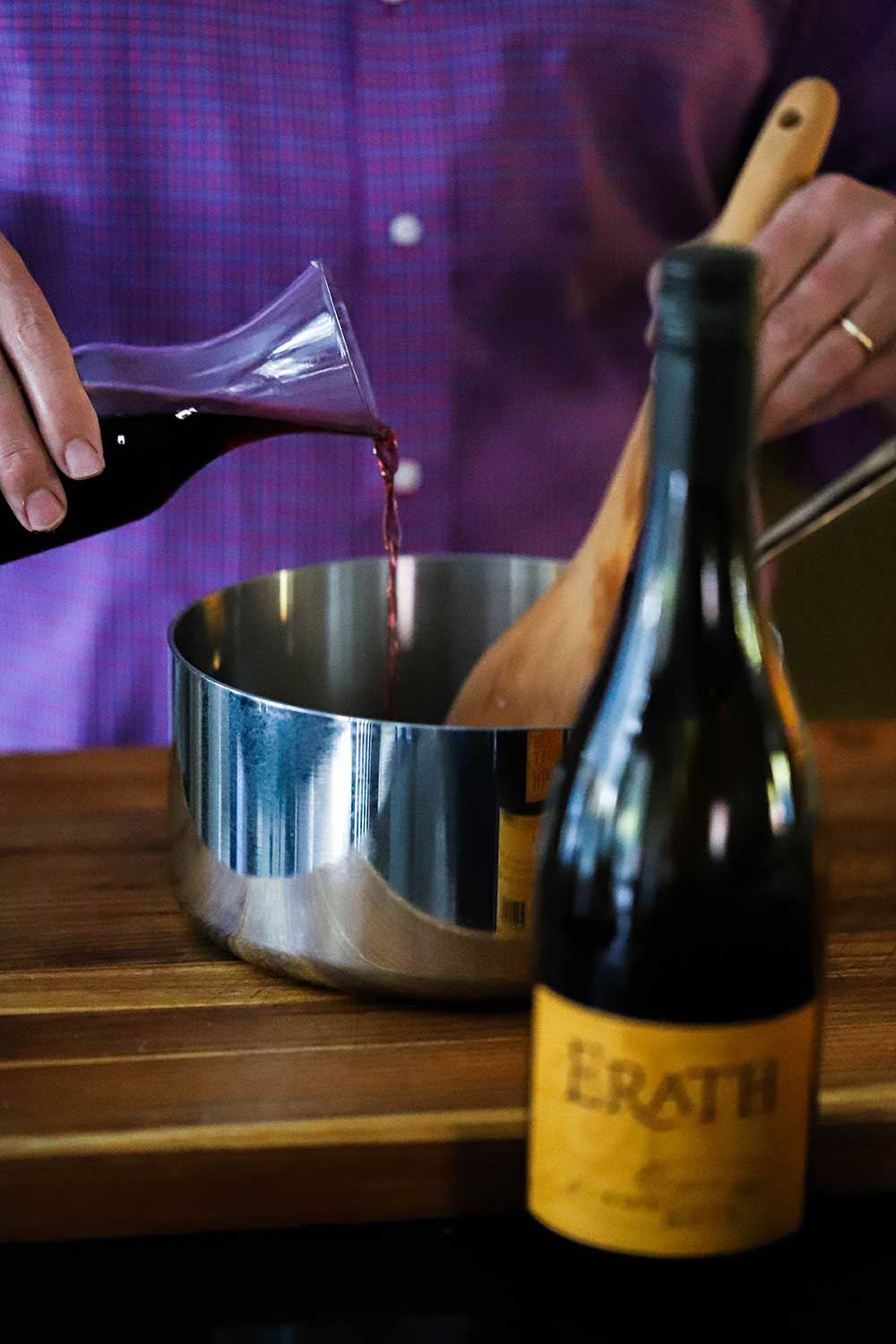 Once the steaks have cooked in the sous vide bath water for at least the allotted timeframe, it's time to finish prep them for serving.
Carefully remove them from the plastic baggies and lightly pat them dry with paper towels. Liberally season them with salt and pepper. Now, place a cast-iron skillet, or another sturdy skillet, over medium-high heat. No need to add oil. Once the pan is smoking hot, add the steaks. Sear on one side for about 1 minute, flip, and then sear for another couple of minutes. Keep them warm in a low-temperature oven (200°F) while you finish up the Bordelaise sauce.
EXPERT TIP: Besides cooking steaks and vegetables evenly and perfectly, another great benefit to sous vide is that once the steaks have been in the water long enough to reach the correct internal temperature, they can stay in the water, with the sous vide still running, for several more hours, without overcooking the steaks. For example, if your steak takes 1 hour to reach medium-rare, you can leave the steaks in the sous vide water for up to 4 hours, and they will still be perfectly done.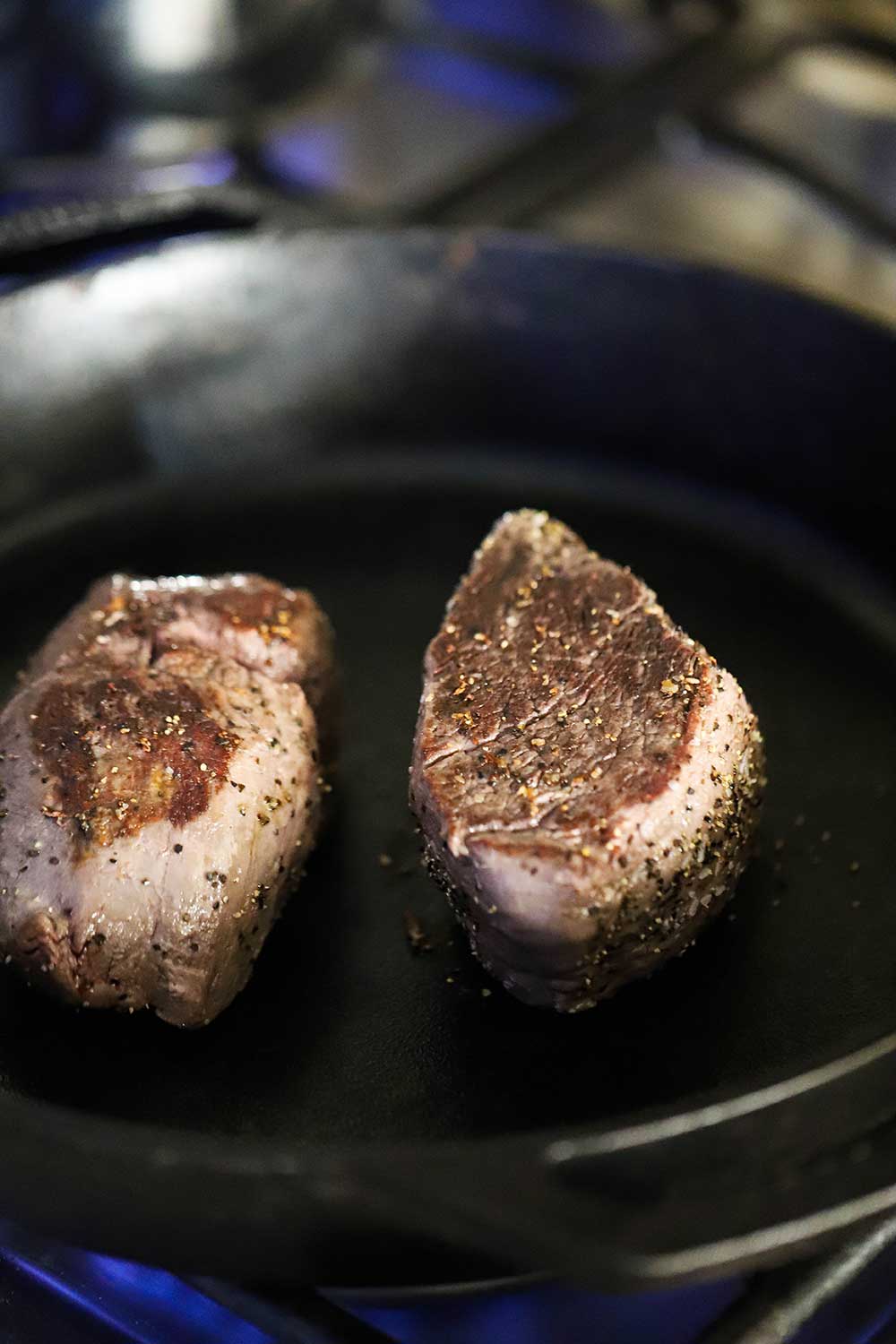 Finalizing the Sauce
Just before serving, you'll need to remove the bone marrow from the ice water.
Use a sharp knife to gently slice ¼-inch thick medallions.
EXPERT TIP: The bone marrow medallions can be kept in chilled ice water for up to 12 hours in advance.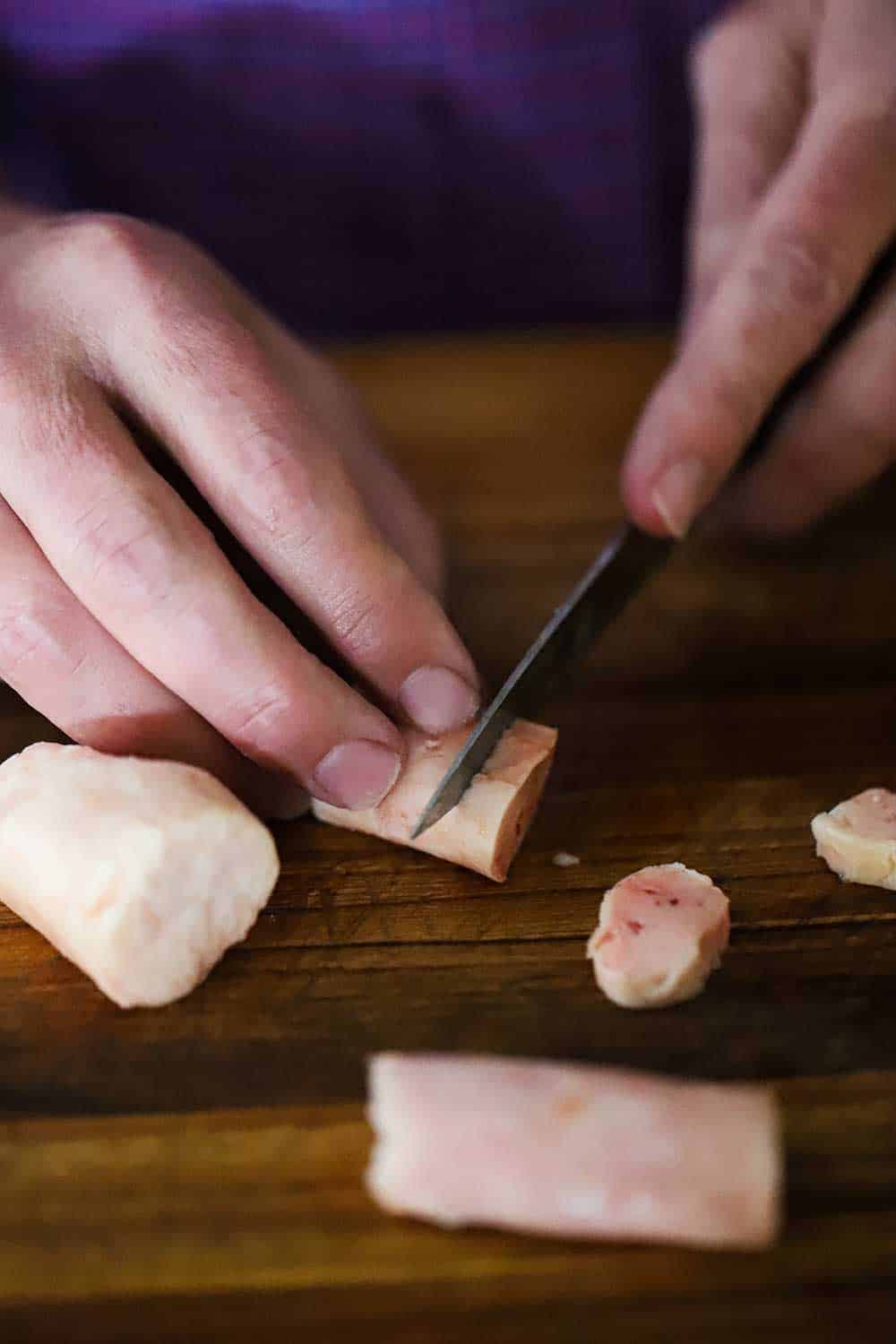 Minutes before serving, add the bone marrow medallions to the simmering Bordelaise sauce.
Only simmering them for 3 minutes, gently flipping them once. Don't overcook them!
Once ready to serve, use a fork to remove them from the sauce and place them on the steaks. Depending on the size of the medallions, you'll typically add 2 to 3 slices of bone marrow per steak.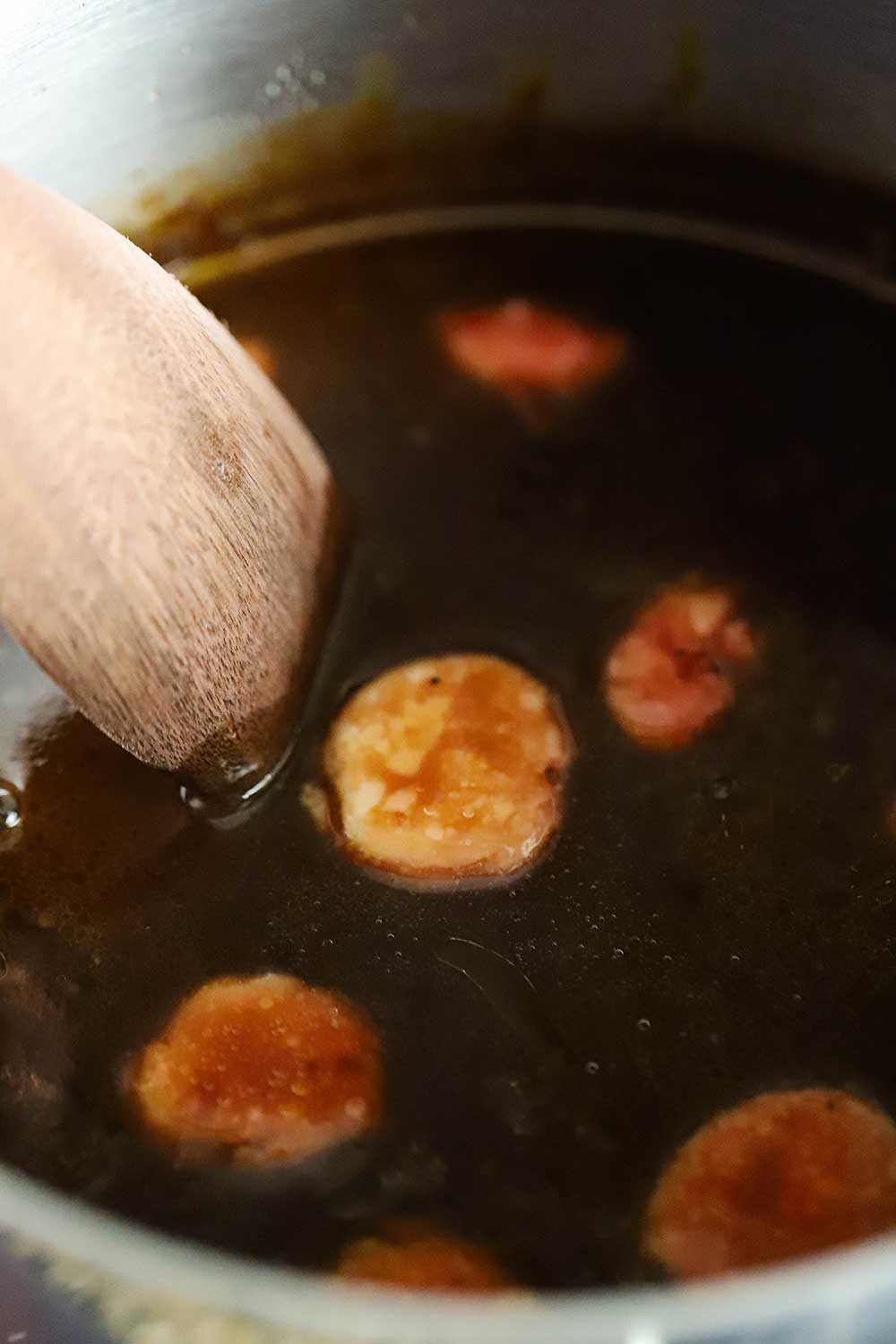 The Perfect Wine Pairing for Filet Mignon with Classic Bordelaise Sauce
When we make a dish as stunning as Filet Mignon with Bordelaise Sauce, we need a wine that stands up the bold flavor profile but doesn't overpower it.
Enter Erath wines!
Oregon Pinot Noir is one of many wines that Erath produces. In crafting their Pinot, they combine time-honored practices and new technologies to capture the unique character, or terroir, of their incredible vineyards. It just doesn't get much better than this, folks!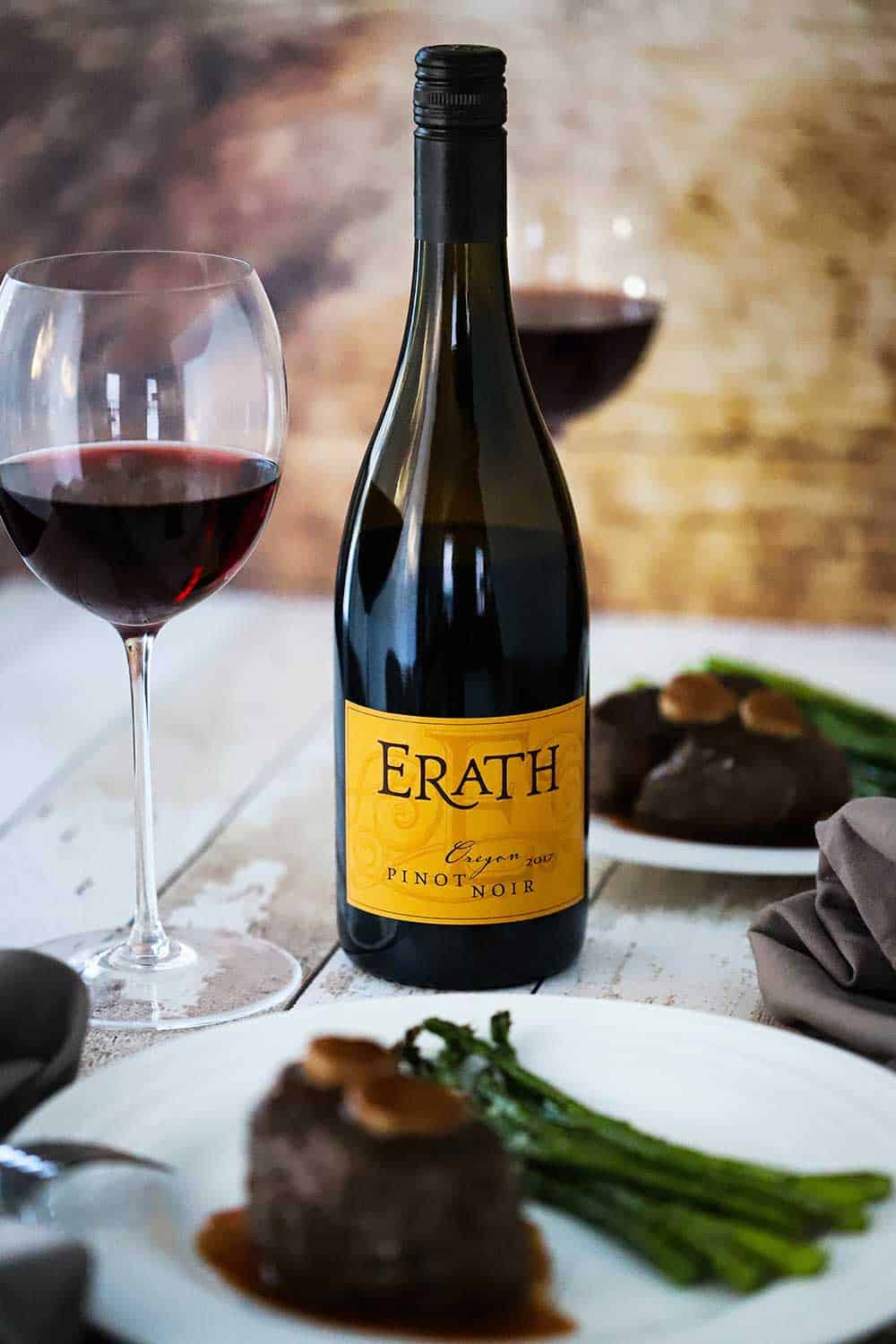 Erath Is a Pioneer in Pinot
We honestly can't say enough about the quality of wine that you get when you choose Erath.
They are truly an expression of the land that the winery has cultivated for more than 40 years, longer than any other winery in the famed Dundee Hills of Oregan.
They have perfected the art of Pinot. Not just through tireless trial and error, but they benefit from the ideal locale. The occasional marine breezes and long hours of sunshine create warm summer days and a cooler autumn that allows grapes to ripen gradually, the key to producing memorable wines. It's no wonder they are the #1 selling Premium Pinot in Oregon.
We love their Oregan Pinot Noir, but we also adore these glorious wines as well:
Simply the best. And affordable, too! And use Promo code ROAST to get 10% off your next order. Click here to learn more!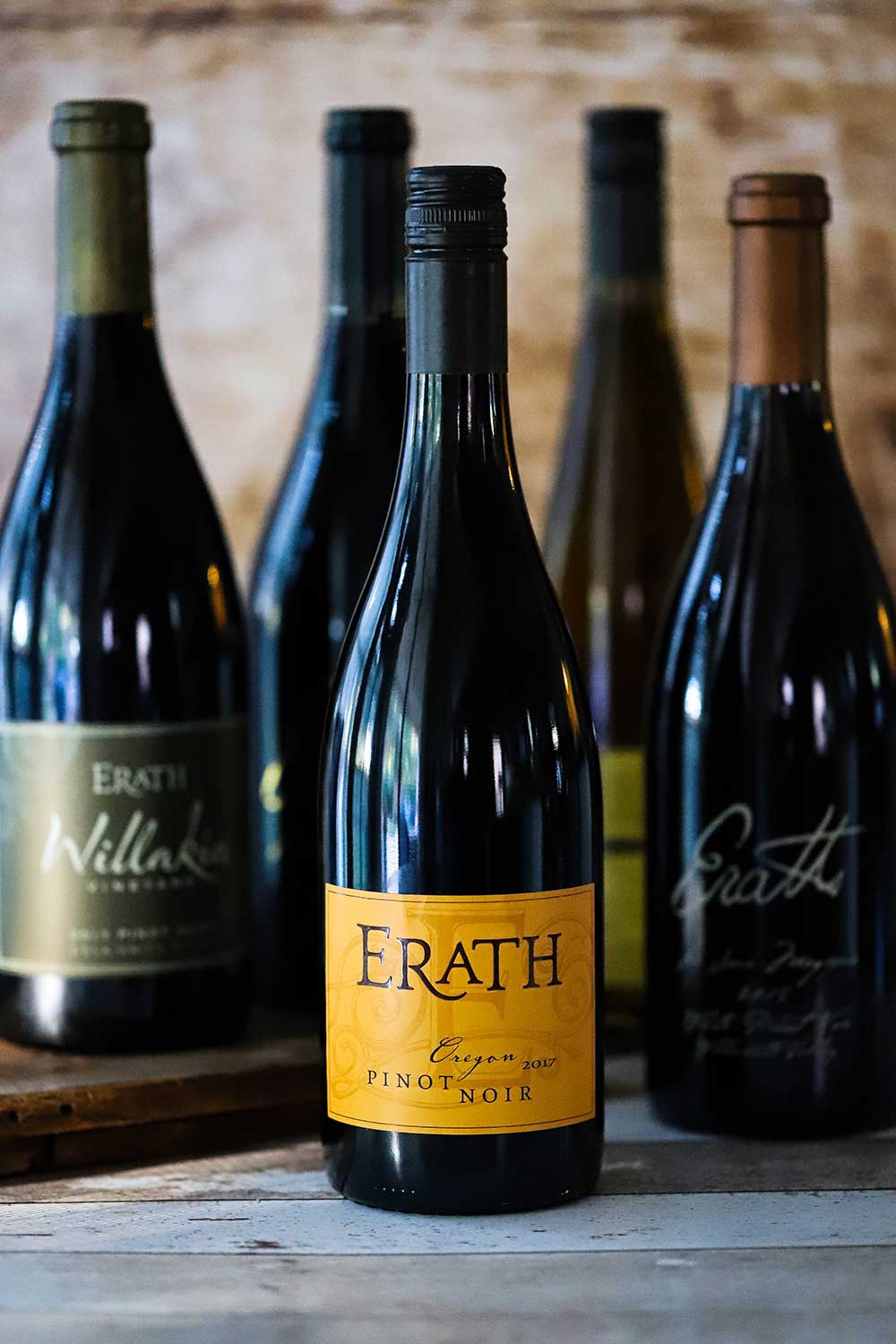 Ladies and gentlemen, when you are ready to impress, not just your loved ones, but yourself, too…this Filet Mignon with Classic Bordelaise Sauce paired with Erath is the golden ticket.
Perfect for a special holiday dinner, or any time you want to celebrate the good things in life.
This dish, paired with this wine, is a culinary experience you won't soon forget!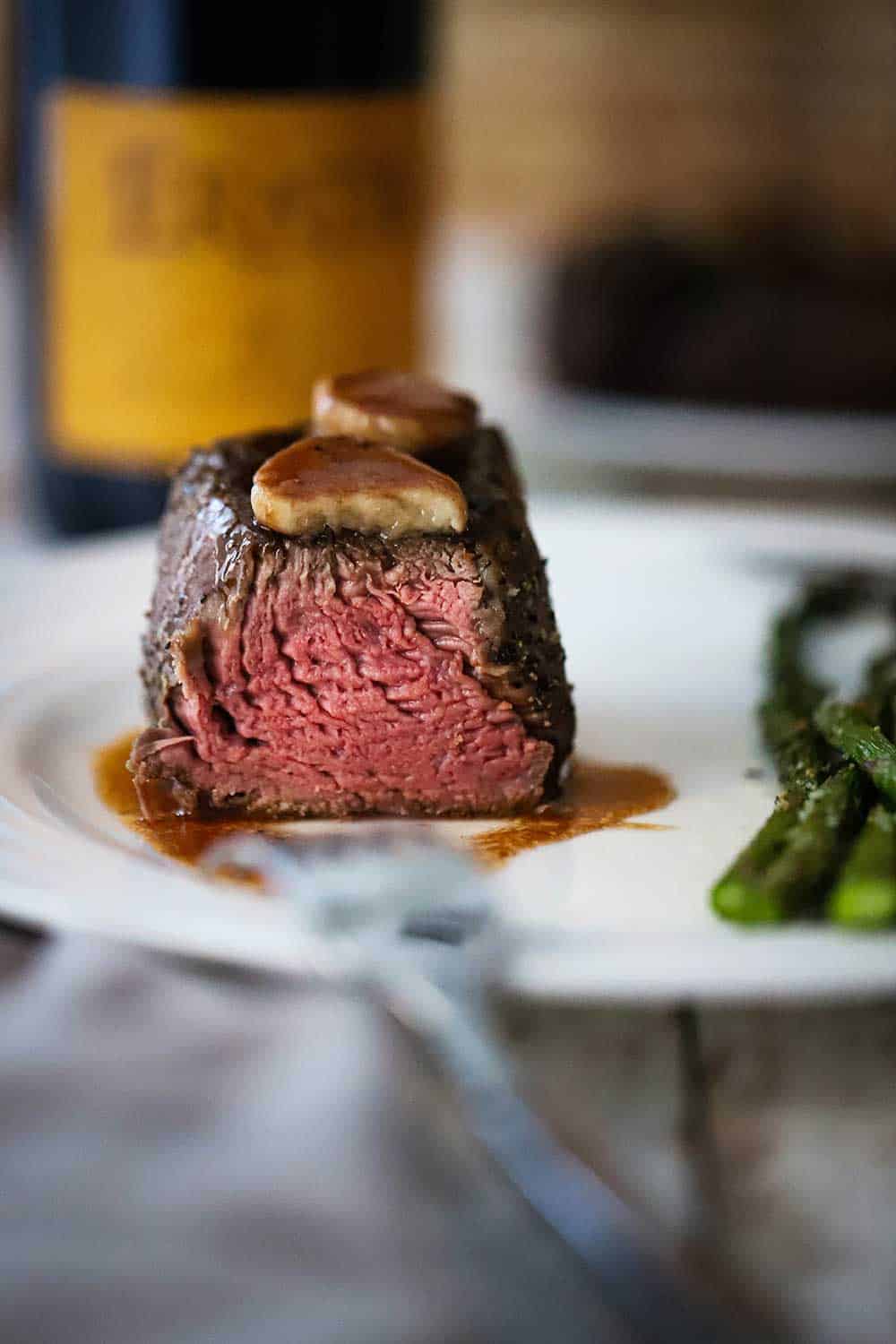 Ready to make one of the most memorable dishes paired with the most amazing Oregon Pinot Noir? Go for it!
And when you do, be sure to take a photo of it, post it on Instagram, and tag @HowToFeedaLoon and @ErathWines!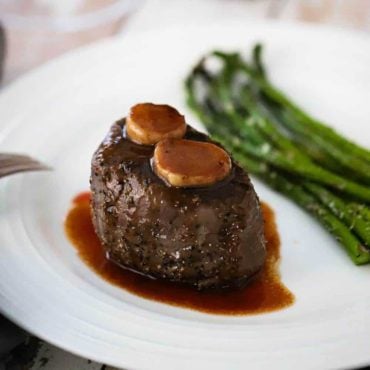 Filet Mignon with Classic Bordelaise Sauce
The Loon proclaimed this Filet Mignon with Classic Bordelaise Sauce was hands-down one of the best dishes he's ever had. The Bordelaise Sauce is a true classic...and get the bone barrow...it makes such a huge difference in the final taste experience. And finally, pair it with an amazing Pinot Noir, and you will be in heaven.
Print
Pin
Rate
Servings: 4 people
Calories: 457kcal
Equipment
Cast-iron skillet, or other large, sturdy skillet
Ingredients
4 beef filet mignon about 8 oz each, cut to about 2 inches thick
1½ tbsp olive oil
1½ lb beef marrow bones cut into 1½-inch lengths
4 tbsp unsalted butter divided
1 large shallot chopped
1¼ cups Pinot Noir
1 thyme sprig fresh
1 bay leaf
½ cup veal demi-glace
Kosher salt and freshly ground black pepper
Instructions
Start the Steaks (Several hours before serving)
Fill a large pot with enough water that it fills up by about 3 inches. Place the sous vide machine in the water. Turn the machine on and adjust the temperature to 132°F for medium-rare, and 138°F for medium.

Divide the olive oil amongst the inside of 4 plastic baggies, preferably with a ziplock. Use your fingers to coat as much of the inside of the baggies with oil as possible. Place the unseasoned steaks in the baggies. Gently lower the baggies with the steaks into the water. The pressure of the water will create a vacuum seal around the meat. Close the ziplock just before completely submerging. Continue cooking until the desired doneness is reached. See NOTES for temperature and timing, based on the size of the filets.
Prep the Beef Marrow (Several hours before serving)
Place the marrow bones in a bowl filled with ice water and refrigerate for 20 minutes.

Remove the bones from the water and using your thumb, push the marrow out of the bones. If it won't budge, immerse the bones in warm water for about 1 minute and try again. Place the marrow into a clean bowl of ice water and refrigerate for 2 to 6 hours.
Start the Sauce
In a medium saucepan over low heat, melt 2 tbsp of the butter. Add the shallots and cook until translucent, about 4 -5 minutes.

Add the wine, thyme, and bay leaf, and raise the heat to medium. Let simmer until reduced by about half, approx. 12 minutes. Strain the sauce into a bowl and clean out the saucepan. Discard the herbs and cooked shallots.

Return the strained sauce to the pan and stir in the demi-glace and ¼ teaspoon each of salt and pepper and simmer for another 4 minutes, or until sauce is slightly syrupy. Turn off the heat, cover, and set aside.
COOK THE STEAKS
Preheat the oven to 200°F. Heat a cast-iron skillet or another sturdy skillet over medium-high heat.

Season the fillets generously with salt and pepper.

When the pan is hot, add the fillets and cook for about 1½ minutes. Turn them over and cook another 2 minutes longer. If searing the steaks in batches, then place the first batch in the warmed oven and proceed with the remaining fillets.
FINISH THE DISH
Remove the marrow from the water and slice into ¼-inch thick medallions. Add the medallions to the sauce and bring it to a low simmer. Slowly simmer for 3 minutes.

Transfer the cooked steaks to individual plates. Use a fork to gently place 2 to 3 marrow medallions on each steak. Spoon the sauce over the medallions and steaks. Serve at once.
Notes
You can find the beef marrow bones in the frozen section by the meat department in many well-stocked markets. Or you can get them from your butcher. Tell him/her that you want the shank part of the bone, so you can extract the marrow. They should be in 2 to 3-inch pieces.
Use the following temperatures to set your sous vide machine:
For a 1-inch thick filet:
Medium Rare: 132°F for a minimum of 1 hour, and up to 4 hours
Medium: 138°F for a minimum of 1 hour, and up to 4 hours
For a 2 to 3-inch thick filet:
Medium Rare: 132°F for a minimum of 3 hours, and up to 6 hours
Medium: 138°F for a minimum of 3 hours, and up to 6 hours
You can also pan sear the filets, or grill them. You probably won't get as perfectly cooked steaks, but they'll still be delicious.
The bone marrow can be prepped up to 24 hours in advance. The sauce can also be prepared a day in advance. Gently bring to a simmer before adding the marrow medallions just before serving.
Nutrition
Calories: 457kcal | Carbohydrates: 3g | Protein: 3g | Fat: 31g | Saturated Fat: 8g | Cholesterol: 31mg | Sodium: 3mg | Potassium: 21mg | Fiber: 1g | Sugar: 1g | Vitamin A: 428IU | Vitamin C: 1mg | Calcium: 3mg | Iron: 1mg