Steak au Poivre.
Oh, Yes. This has been a Loon favorite for many years. And for good reason.
The seared peppered steaks and the black pepper cream sauce is something truly special. Perfect with a side of Steakhouse Creamed Spinach, Ultimate Mac 'n Cheese, or French Potatoes Gratin!
STEAK AU POIVRE IS EASY TO MAKE AT HOME
All you need is a simple spice grinder, or a sturdy skillet, a few good cuts of meat, top-notch Cognac…and cream…and you are good to go with this amazing dish.
This is a dish made to impress.
And you won't believe how easy it is to make at home! Watch us show you how to make Steak au Poivre!
Steak au Poivre is one of those dishes that you don't want to skimp on ingredients.
The key components of the dish are simple and straightforward, but should be good-quality.
For steak, we love a good New York Strip Steak which is a cut of meat from the short loin of the cow. For the sauce, we recommend a quality Cognac or brandy. Our favorite is Hennessy. Top-notch cream, beef stock and black peppercorns help to round out this amazing dish.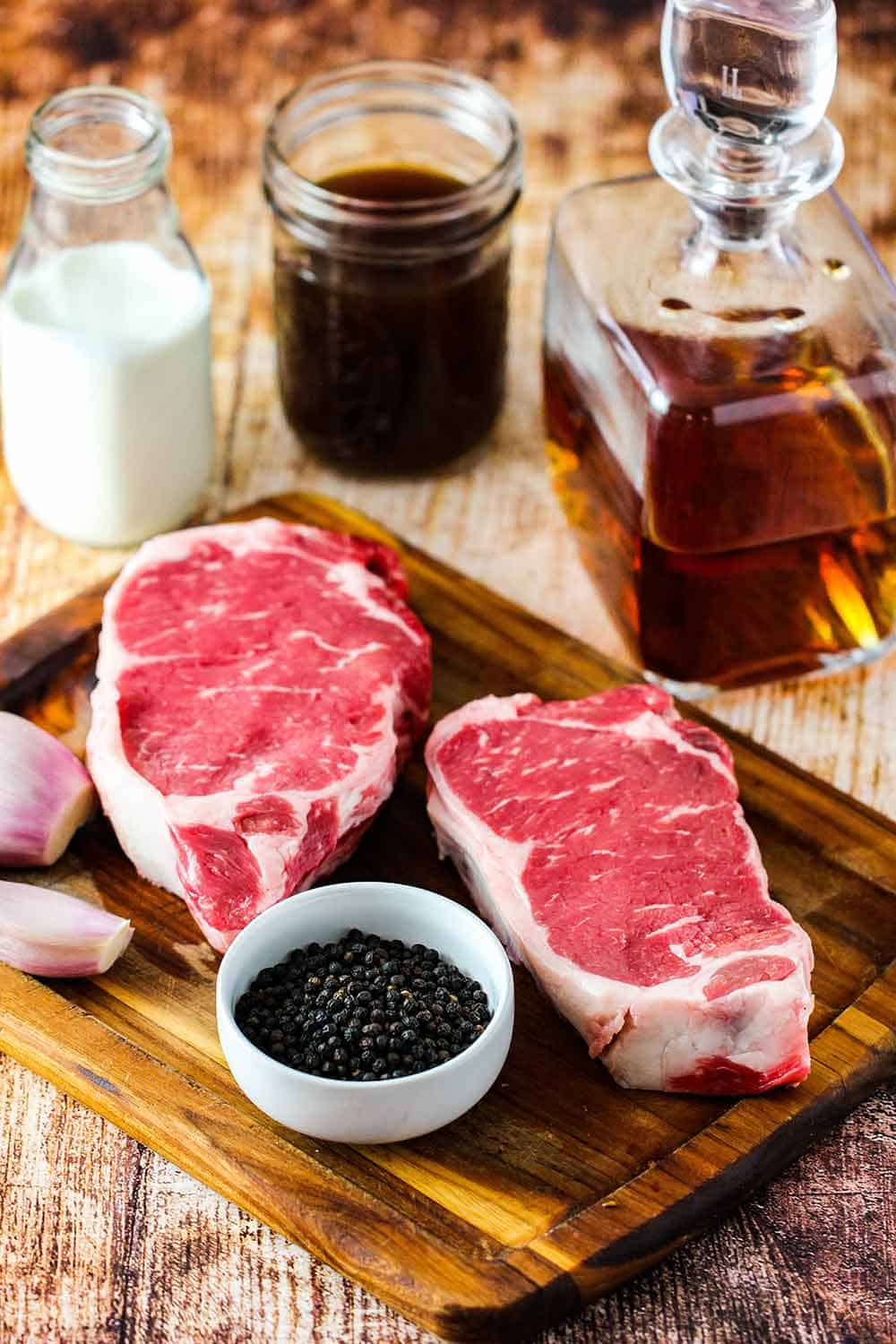 CRACK THE PEPPER BEFORE DREDGING
It is very important to crack the peppercorns before dredging the steak in the pepper. If you don't do this, the pepper-flavor will be too overpowering for most guests.
You can crack the peppercorns by several different methods. We use an old coffee grinder nowadays as our spice grinder. You can also use a mortar and pestle. Of, just place the peppercorns in a plastic baggie, and then take a blunt object, such as a heavy skillet, or even a wine bottle (carefully), and smash the peppercorns until they have become cracked and a little powdery.
Once you reach the right consistency, spread the pepper onto a plate or platter, and then gently apply the pre-salted steaks to the cracked pepper all over. Shake excess off. You don't want the steaks to be 100% covered in the pepper. Again, this would result in too much pepper for the steak. Remember, there is also cracked pepper in the au poivre sauce.
SEAR THE STEAKS FIRST
It's important to liberally add course sea salt or Kosher salt to the steaks before dredging in the pepper.
As shown above, press the steaks into the cracked peppercorn all over until the steak has a nice (but not too much) coating of the pepper.
Crank your skillet (preferably cast iron) up to high, and then sear each side for 2 minutes, and then lower the heat to medium, and cook each side for another 4 to 5 minutes per side until internal temperature reaches 135°F for medium/medium-rare.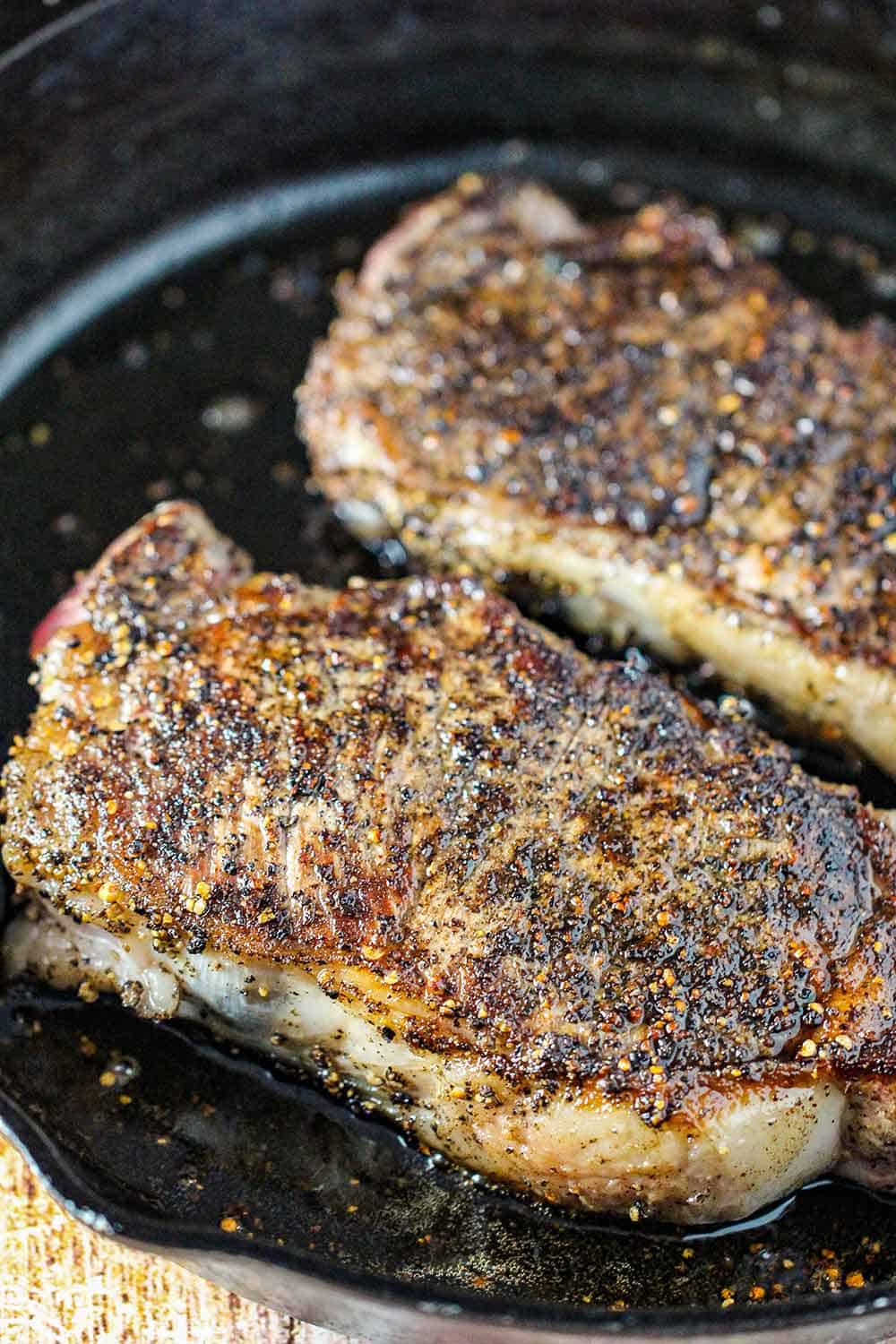 While preparing the sauce, keep the steaks warmed with a foil tent, or in a low-temp (200°F) oven.
Each layer of the sauce will reduce as it cooks, which will concentrate the flavors and deliver unmatched taste.
Once ready, the sauce will just coat the back of a wooden spoon.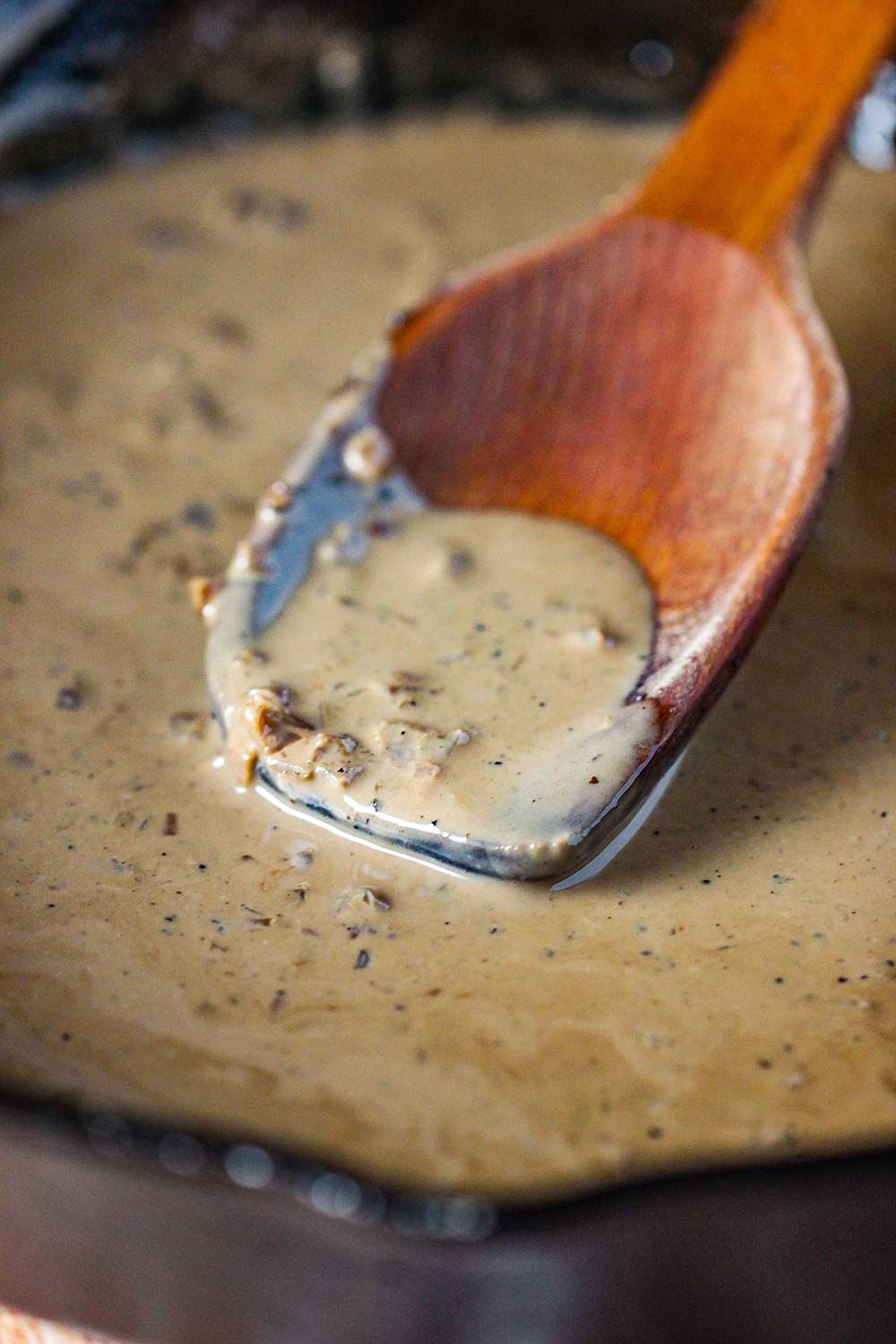 "au POIVRE" MEANS "WITH PEPPER"
When ordering Steak au Poivre at some steak houses, you may only get a steak that has a layer of pepper on the exterior of the meat. Others, you may get a seared steak that only has an au Poivre sauce poured over the top.
We think the perfect Steak au Poivre has both. But just the right amount of pepper on the steak and in the sauce.
When done right…it's quite possibly the best steak you'll ever eat.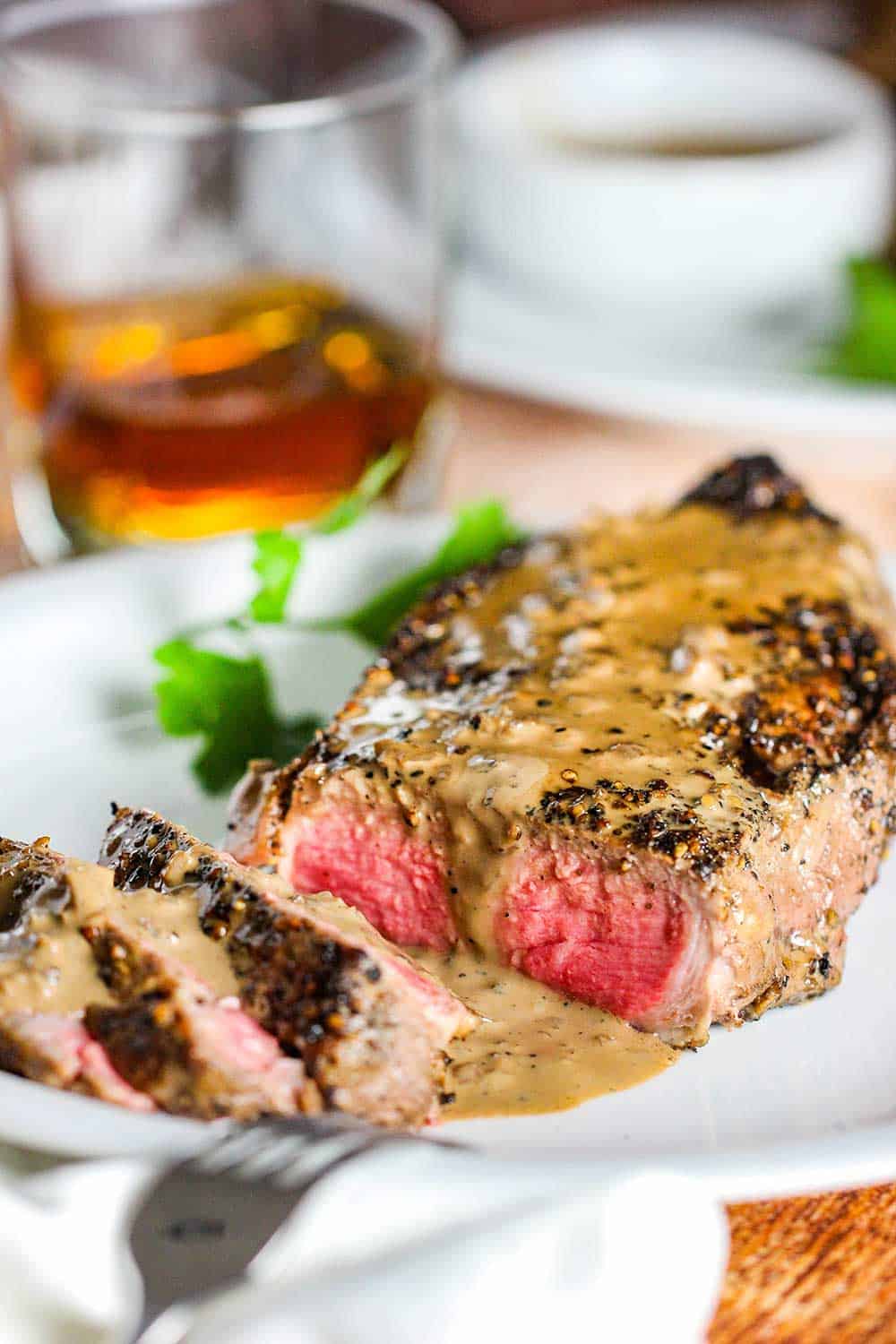 When you are ready to impress, and without killing yourself in the kitchen, this Steak au Poivre dish will send your guests home with rave reviews.
Here are a few of our other favorite beef dishes:
But for now, ladies and gentleman, the time has come to make our most favorite steakhouse dish of all time: Steak au Poivre. Yes. Yes. Yes!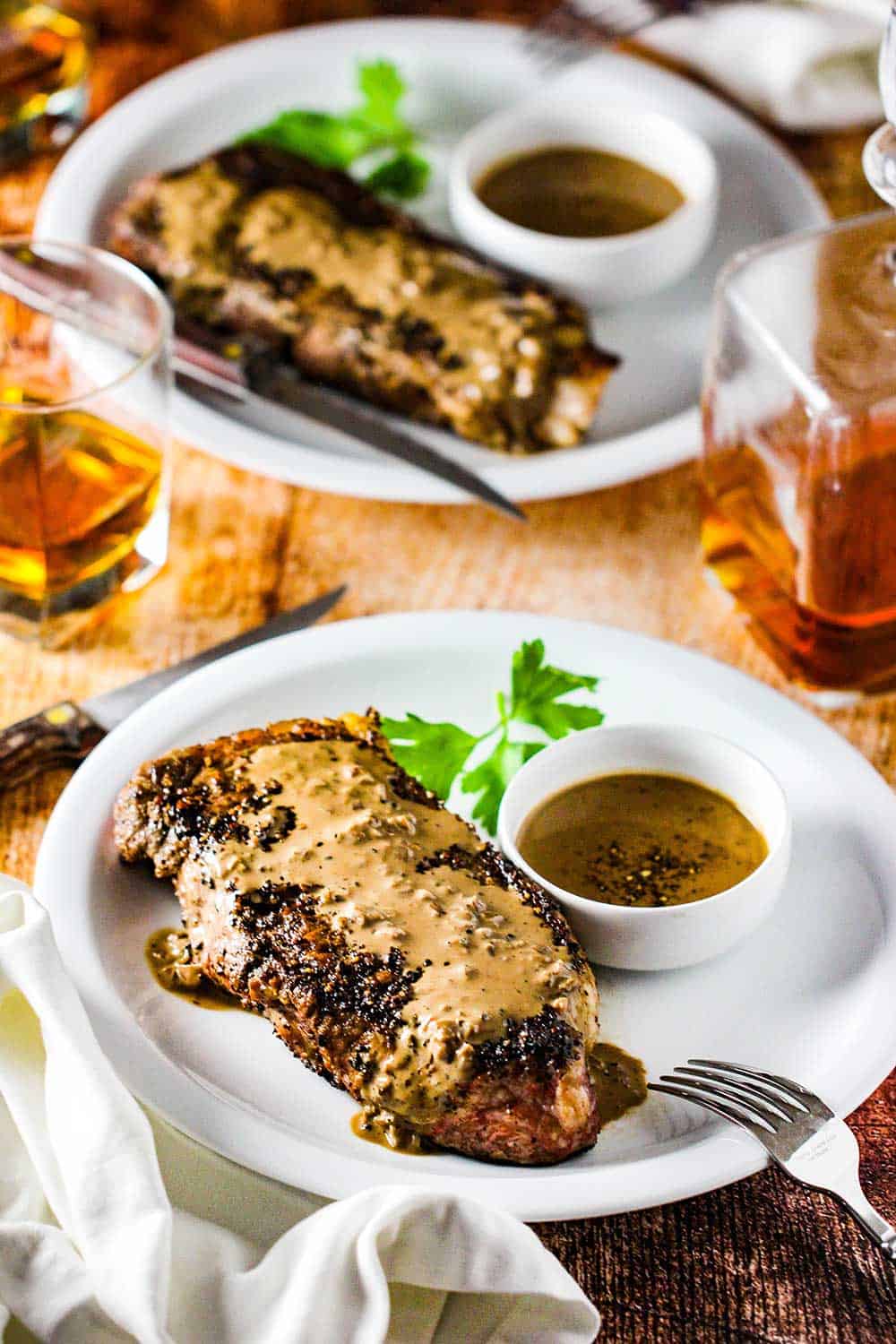 Steak Au Poivre
Steak au Poivre is amazing. A bit of a kick with the fresh ground pepper, and the super luscious sauce makes this classic steak amazing. Break up the whole peppercorns with a heavy skillet between two pieces of wax paper or a spice grinder.
Print
Pin
Rate
Servings: 8 people
Calories: 386kcal
Equipment
Spice Grinder OR Coffee Grinder OR Heavy Skillet
Ingredients
FOR THE STEAKS
6 strip steaks (i.e, New York strip) about 1 inch thick, each
Coarse sea salt, or Kosher salt
1/2 cup black peppercorns cracked, divided (save some for the sauce)
2 tbsp unsalted butter
FOR THE SAUCE
1 tbsp unsalted butter
3/4 cup shallots (usally one large shallot will be enough) finely diced
1 cup good-quality Cognac or brandy
1/2 cup red wine Cabernet, Zinfandel
2 cups beef stock
1 cup heavy cream
1 tbsp balsamic vinegar
1 tbsp cracked black peppercorns
1 tsp Kosher salt to taste
Instructions
PREPARE THE STEAKS
Liberally salt the steaks.

Spread 1/4 cup of the cracked pepper on a clean surface. Dredge the steaks through the pepper, shaking off excess. Don't try to cover the entire steaks in the pepper. There should still be red visible from the steaks after they have been dredged.

Melt butter in a large saute pan over high heat. Working in batches, add the steaks and sear each side for 2 minutes. Lower the heat to medium and continue to cook the steaks for another 8 minutes, about 4 minutes per side for medium-rare (135°F) or 5 to 6 minutes per side for medium (155°F). Remove and tent under foil, or place on a baking rack and pan and keep warm in a low-temp oven (200°).
MAKE THE SAUCE
In the same skillet, melt the butter over medium-high heat.

Add the shallots and saute until the shallots are soft, about 2 minutes. Stirring frequently with a wooden sppon.

Add Cognac and wine (stand back - it may flame!). Bring to a strong simmer and cook until reduced to about 1/2 cup, about 6 to 7 minutes.

Add the stock and bring to a boil. Cook for 12 minutes until thickened and almost syrupy.

Turn off the heat and stir in the cream. Turn the heat back to medium, and cook until thickened again, about 8 minutes. Stirring frequently.

Add the reserved cracked pepper (about 1/4 cup), balsamic vinegar, and salt, to taste.
ASSEMBLE THE DISH
Remove the steaks from the oven and place on warmed plates.

Spoon a layer of the sauce over the top of each steak and place the remaining sauce in a bowl for passing at the table. Serve at once!
Nutrition
Calories: 386kcal