Stuffed Flank Steak is as stunning in presentation as it is in flavor.
This Argentine-Style recipe is a real treat.  This is something to make on a special occasion, such as Father's Day, or an anniversary, or, oh, who cares, this is good for any occasion, including dinner. The flavor profile is rich and the sauce puts this dish over the top.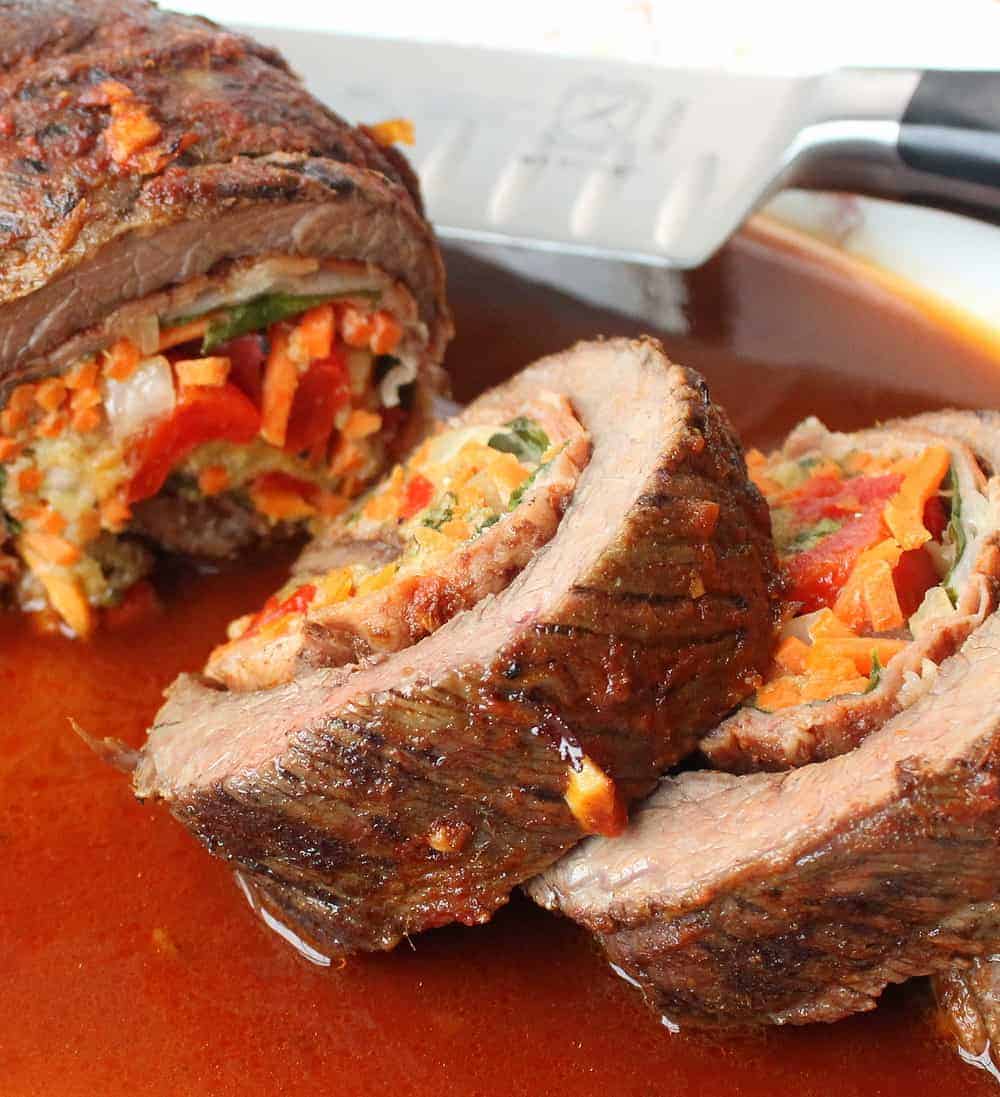 HOW TO MAKE STUFFED FLANK STEAK
Preparing the stuffed flank steak is easier than you might think.
Start by cutting through the center of the meat to butterfly it, or open it up.
Next you layer in the incredible filling, from prosciutto to fresh vegetables, herbs and parmesan cheese.
Wow, this is getting exciting!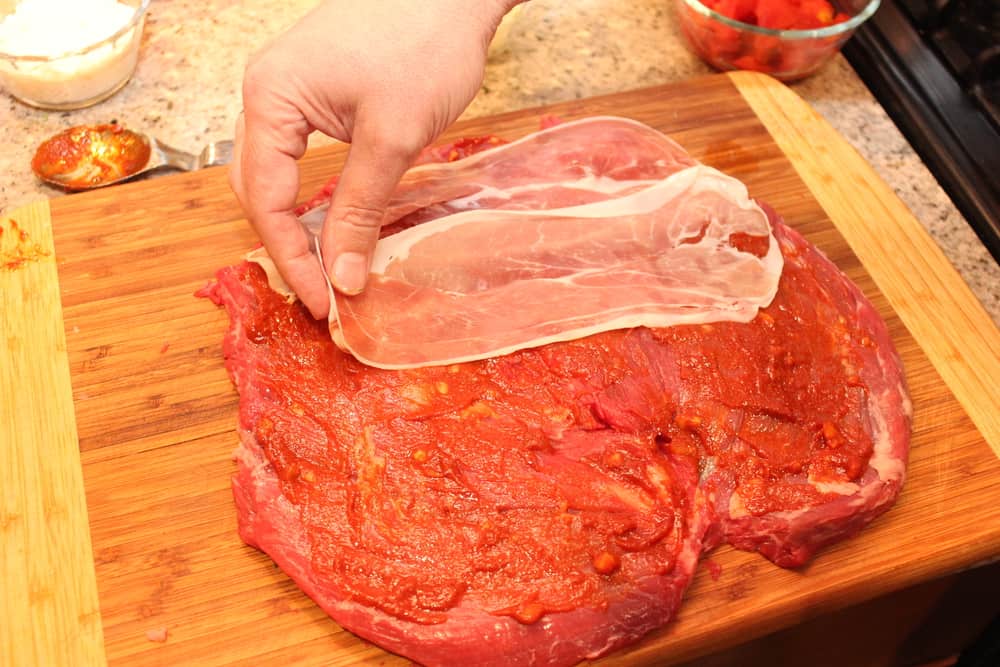 HOW TO TIE UP THE STEAK
After tightly rolling the stuffed flank steak, you'll need to secure it before proceeding.
We use our trusty kitchen twine to tie it together in several places across the length of the steak.
If you don't have kitchen twine, you can use just regular string.
HOW TO SERVE
You'll sear the rolled steak on all sides to lock in the delicious beef juiciness.
While the stuffed flank steak is cooking, you can quickly and easily make the incredible Marsala wine sauce.
We love to serve this with our incredible French Gratin Potatoes.
Once the middle of the stuffed steak reaches 130°F, about 30 minutes, it's almost ready. We let is rest for about 10 minutes, and then slice. Pour some of the sauce on a platter and then place the sliced stuffed flank steak on top. Pass the extra sauce at the table.
It's good and hearty, and super delicious!!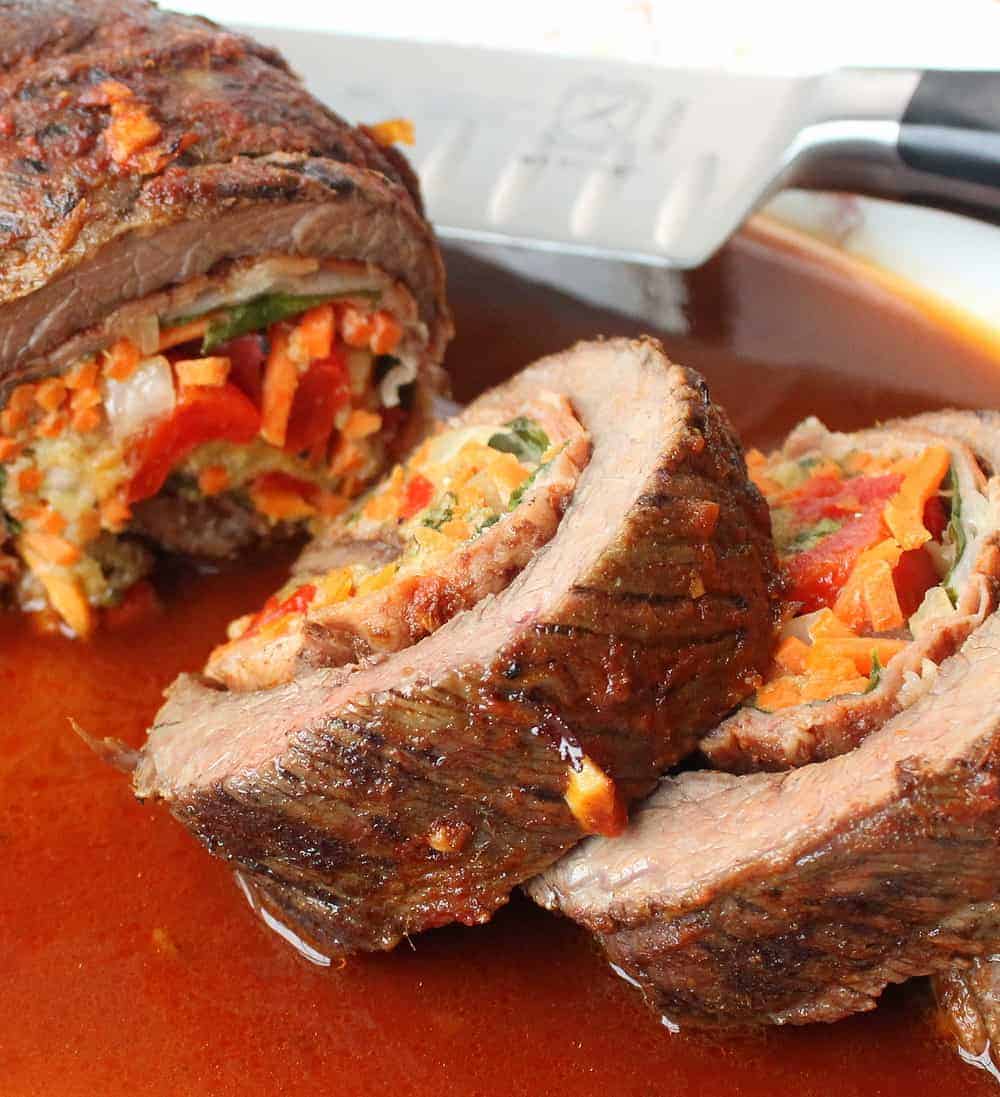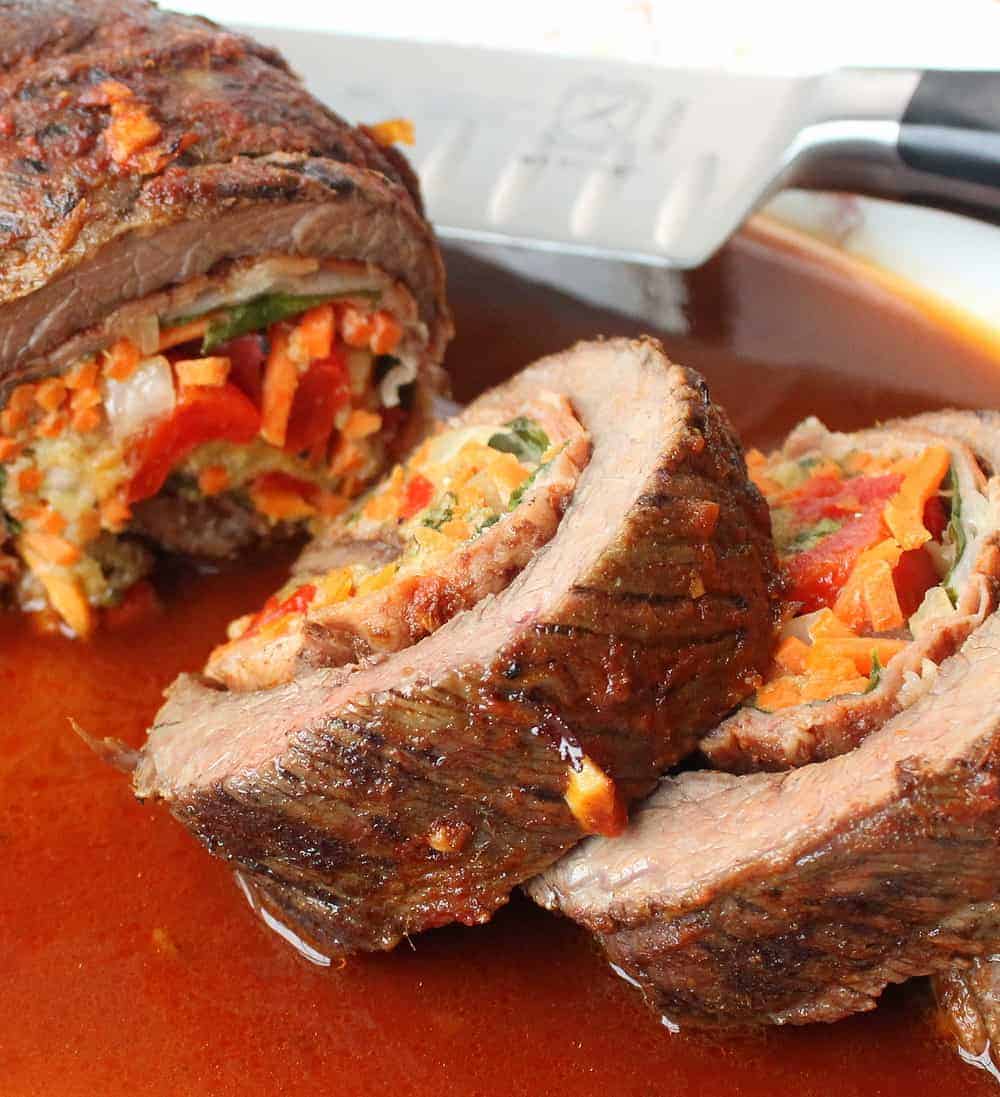 Stuffed Flank Steak
This Stuffed Flank Steak has so many layers of flavor, it's just incredible. The Marsala sauce just puts it over the edge. And the presentation is gorgeous! This is a dish that will impress!
Print
Pin
Rate
Prep Time: 30 minutes
Cook Time: 50 minutes
Total Time: 1 hour 20 minutes
Servings: 8 people
Calories: 375kcal
Ingredients
1 thick flank steak about 1 1/2 lb, trimmed of excess fat
1 tsp red wine vinegar
1 tsp smoked paprika
2 tbsp tomato paste
2 garlic cloves minced
4 tbsp olive oil
1/4 lb prosciutto thinly sliced
1 cup fresh spinach tough stems removed and leaves rinsed
1 carrot peeled and grated
1/2 yellow onion chopped
1 red bell pepper roasted and roughly chopped
1 cup fresh basil roughly chopped
1/2 cup dried bread crumbs
1/2 cup Parmesan cheese grated
2 tsp dried thyme
Kosher salt and freshly ground black pepper
1/2 cup dry white wine
1/2 cup Marsala wine
1 cup beef stock
1 tbsp Worcestershire sauce
Instructions
Butterfly the steak by slicing it horizontally, stopping about 3/4 inch from the other side.

Open up the steak and pound with a meat mallet to an even thickness of 1/2-inch.

Pre-heat oven to 350° F.

In a small bowl, mix together the vinegar, paprika, 1 tablespoon of the tomato paste, garlic, and 1 tablespoon of the oil. Stir to form a paste.

Measure out 1 tablespoon of the paste and set aside.

Smear the remaining paste on the open side of the steak.

Layer the prosciutto, spinach, carrot, onion, bell pepper, and basil on top.

In a small bowl, combine the bread crumbs, cheese, 1 teaspoon of the thyme, and season to taste with salt and pepper; and then sprinkle the mixture on top.

Roll the meat from the long end into a tight cylinder and tie every couple inches with twine.

Turn it seam side down and rub with 1 tablespoon of the oil.

Sprinkle with salt and pepper and the remaining 1 teaspoon thyme.

In a large, heavy skillet, over medium-high heat, heat the remaining 2 tablespoons oil. Add the meat and brown on all sides, about 5 - 7 minutes.

Transfer to an oven-proof roasting pan, seam side down, brush on the reserved tomato past mixture and roast for 20 minutes.

Lift the meat and pour the white wine into the pan underneath to keep the meat from sticking.

Roast until an instant-read thermometer inserted into the center registers 130° F, about another 30 minutes.

Transfer to a carving board and tent loosely with aluminum foil to keep warm.

Add the Marsala to the roasting pan, place over high heat, and cook, stirring to scrape up any browned bits from the bottom of the pan.

Whisk in the stock, Worcestershire sauce, and the remaining 1 tablespoon tomato paste and cook, stirring often, until reduced by half, about 5 minutes.

Strain the sauce through a fine-mesh sieve.

Remove the strings from the meat and slice into 1/2 inch rounds.

Transfer to individual plates, ladle with the sauce.
Nutrition
Calories: 375kcal