This vibrant and fresh sauce really is just that…the BEST.
It originated in Argentina and is so fresh and unbelievably flavorful. And talk about beautiful, too! And on top of that, it comes together in a matter of minutes!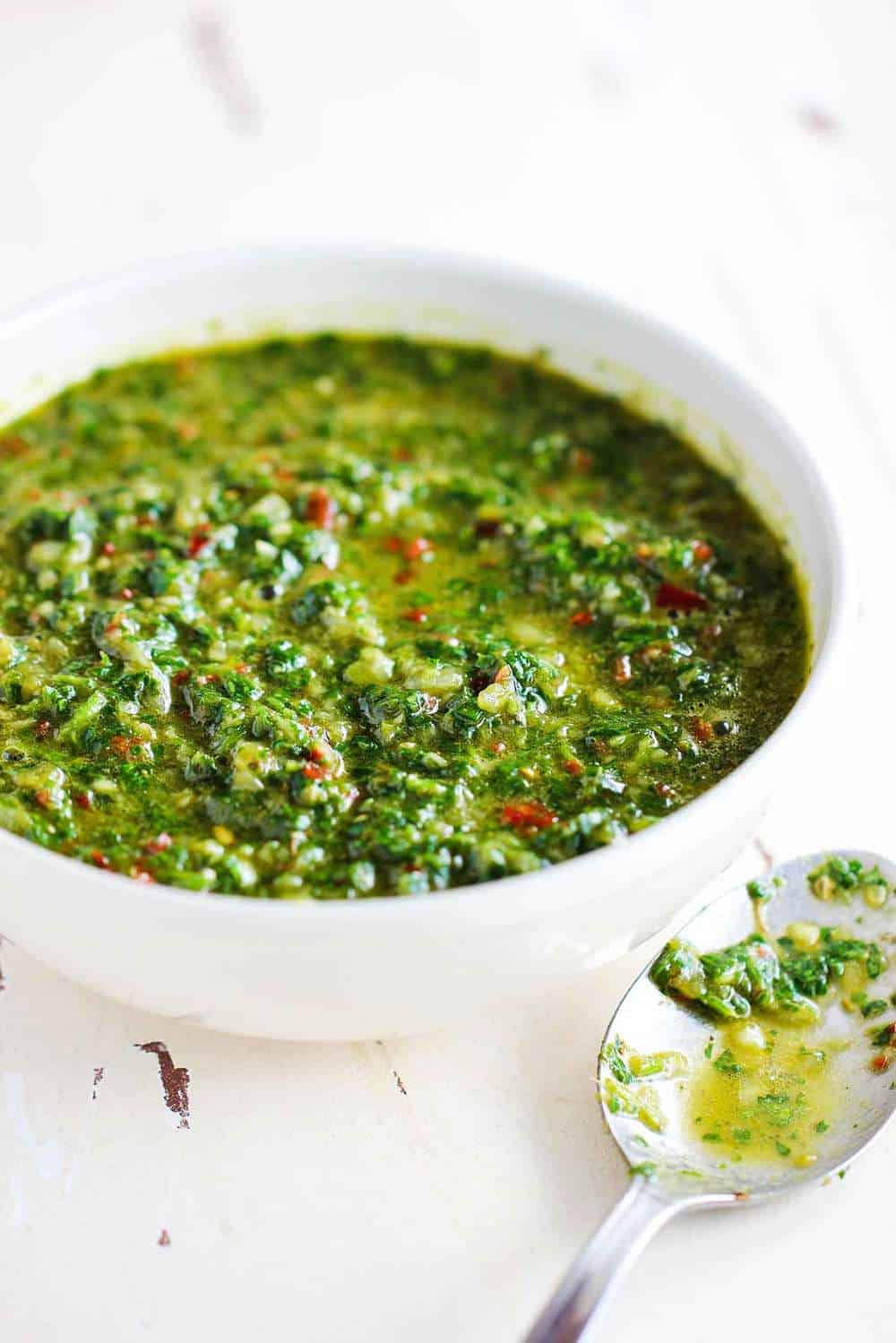 The ingredients work together beautifully in this sauce.
After preparing, you can serve it immediately, but as with most great sauces, it gets even better when it has time to allow the flavors to meld in the fridge for a few hours.
What Makes It So Flavorful?
Chimichurri Sauce is an uncooked sauce that is brimming with a fresh taste and bold flavor. Parsley, cilantro, garlic, oregano, red bell pepper, red wine vinegar, and olive oil bring this sauce to life.
This sauce is the perfect complement to grilled steak, but is also good on grilled veggies and eggs (try this in an omelet!).
So fresh and so delicious.
Its Culinary Origins
Argentina has some of the best beef in the world, so it only makes sense that they would come up with one of the best condiments on the planet to go with their world-famous cuts of beef.
Want to learn a little more about the mysterious history of this wonderful sauce? Read this Brief History of Chimichurri Sauce by The Culture Trip.
I mean, just take a look at this sauce and tell me you don't want a taste.
Mmmmmm.
Oh, and did we mention how incredible this is on steak?
While you're at it, go ahead and make our amazing Ribeye Cowboy Steak with Chimichurri Sauce.
It's also really amazing for making Chimichurri Mayonnaise, which we use on our Grilled Steak Sandwich!
But, in the meantime, just take a look at this steak topped with an amazingly fresh and vibrant sauce.
Ready to make the best condiment on this side of Buenos Aires? Go for it!
And when you do, be sure to take a photo of it, post it on Instagram, and tag @HowToFeedaLoon and hashtag #HowToFeedaLoon!
Best Chimichurri Sauce
This Best Chimichurri Sauce really is simply the best. We can't rave enough about it. So fresh and vibrant, and unbelievably delicious on grilled meats and vegetables. Serve immediately to retain the vibrant colors.
Print
Pin
Rate
Servings: 6
Calories: 176kcal
Ingredients
½ cup parsley fresh, flat-leaf, roughly chopped
¼ cup cilantro fresh, roughly chopped
5 cloves garlic roughly chopped
¼ cup onion roughly chopped
½ cup red bell pepper seeded and roughly chopped
1 tbsp oregano dried
¼ tsp red pepper flakes or more, for more heat
1 tsp Kosher salt
¼ cup red wine vinegar
½ cup extra-virgin olive oil
Instructions
Place the parsley, cilantro, and garlic in the bowl of a food processor and process until finely chopped.

Add the onion, bell pepper, oregano, red pepper flakes, salt, vinegar, and oil, and pulse several times.

Taste and add more salt and/or vinegar, if desired.

Use immediately, or transfer to a jar with a tight-fitting lid and refrigerate for up to 2 days. (Note: the vibrant green will diminish the longer it sits in the fridge).
Notes
Fresh is the way to go with the sauce. Especially fresh parsley and cilantro. The sauce is great as soon as it is prepared, but it's even better after it sits in an air-tight container with a lid in the fridge for a few hours. The bright green color will lessen somewhat the longer it sits, but it will keep in the fridge for up to 5 days. To add a little zip to the sauce, increase the red pepper flakes to 1 tsp, or even more heat with 1 tbsp. This sauce is amazing with steak, but it's also good on roasted veggies, baked potatoes, and in or on an omelet. The sauce freezes beautifully for up to 2 months.
Nutrition
Calories: 176kcal | Carbohydrates: 3g | Protein: 1g | Fat: 10g | Saturated Fat: 2g | Sodium: 395mg | Potassium: 84mg | Fiber: 1g | Sugar: 1g | Vitamin A: 894IU | Vitamin C: 24mg | Calcium: 25mg | Iron: 1mg
POST UPDATE: This post was originally published May 2015, but was updated with improved tweaks to the recipe with new tips and photography, and a fabulous new video in August 2020!