Cowboy Ribeye Steak with Chimichurri Sauce is something to behold.
It's really hard to know where to even begin to explain just how delicious these steaks and this sauce is.
But…does this give you an idea? Just look at that steak and chimichurri sauce.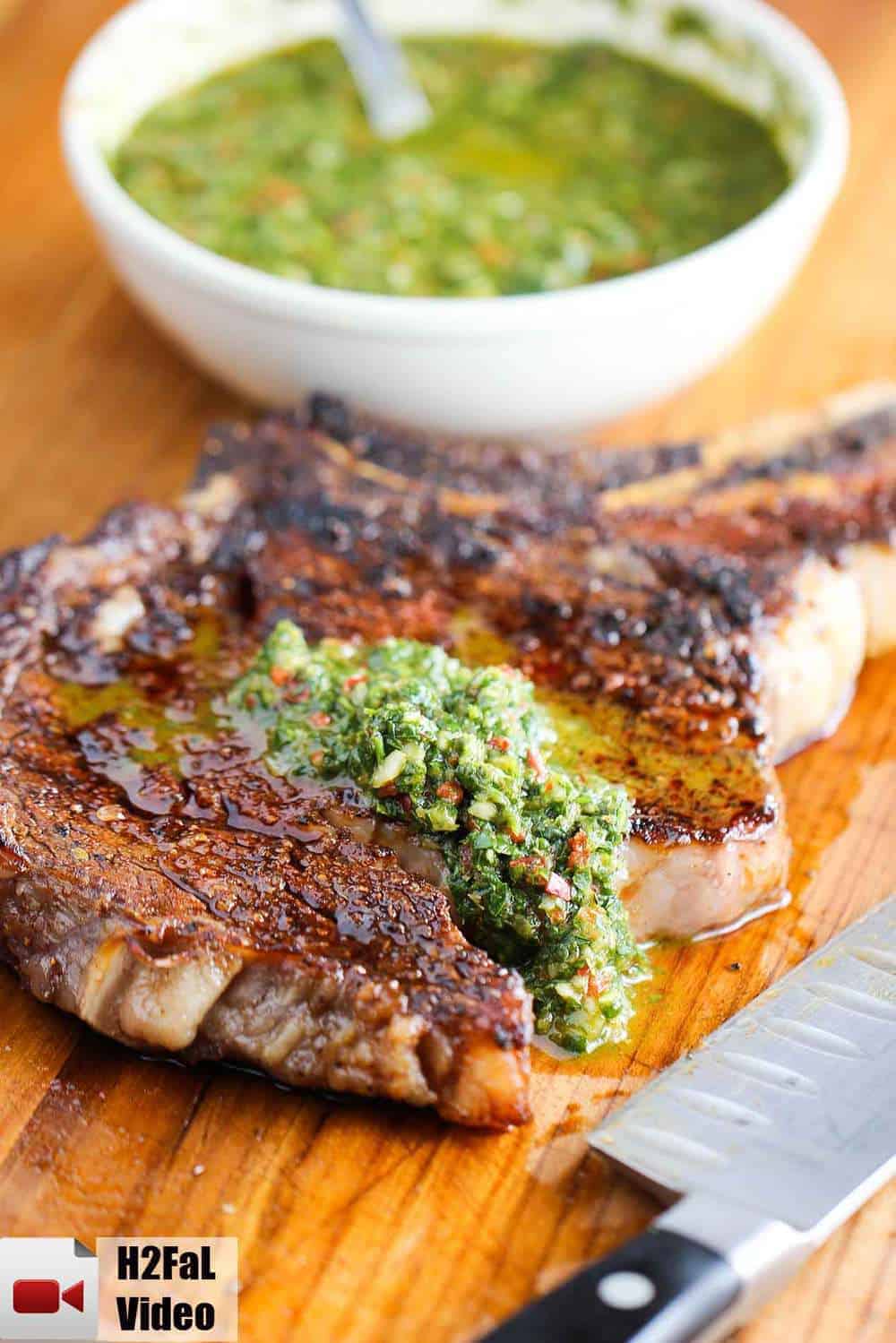 Now, if this doesn't get you excited, then watch us show you how easy it is to make the best steak in town, with some amazing fresh Best Chimichurri Sauce, too.
Sit back and get ready to salivate as we make this incredible Grilled Cowboy Ribeye Steaks with Chimichurri Sauce!
GRILLED COWBOY RIBEYE STEAKS ARE MARBLED AND EXTRA FLAVORFUL
A good ribeye steak is about as good as they come in our book. They are well marbled cuts of meat, which means as they cook, that marbling begins to melt and becomes so tender and juicy with every bite.
Seek about a nice 1-inch to 1 & 1/2-inch thick ribeye (bone-in) from your local meat market or butcher.
Curious as to what makes the ribeye one of the juiciest and most flavorful cuts of meats available? Read this interesting article About the Ribeye Steak to learn more.
And you may be wondering: "Well, Cowboy, what makes this a Cowboy Ribeye Steak?"
Well, let me tell you, my ancho chili rub that gets applied to this steak before it hits the hot grill is what bring out that amazing "Yee Haw" moment when you take your first bite.
It's got just enough kick to make you tip your hat and say, "Don't mind if I do…"
This is rub is the real deal.
Then on to the grill this Cowboy Ribeye Steak goes.
The smell is immediate. The sizzle. The juicy anticipation is not easy. That's when you quickly make the incredible Best Chimichurri Sauce.
Oh, this is going to be good.
GRILLED COWBOY RIBEYE STEAKS ARE BIG ON FLAVOR AND TENDER IN TASTE
As soon as the steaks hit the hot grill, the rub begins to caramelize and form a bit of a crust, which perfectly seals in the most juicy of juicy steaks.
We're not kidding around with this Grilled Cowboy Steaks with Chimichurri Sauce. And you serve these to a hungry group of cowboys and cowgirls, be prepared for lots of whooping and hollering.
They're that good.
All this incredible Cowboy Ribeye Steak needs at this point is a spoonful of the incredible Best Chimichurri Sauce.
The steak and the chimichurri sauce are a perfect match for each other.
Y'all…that's a heck of a steak.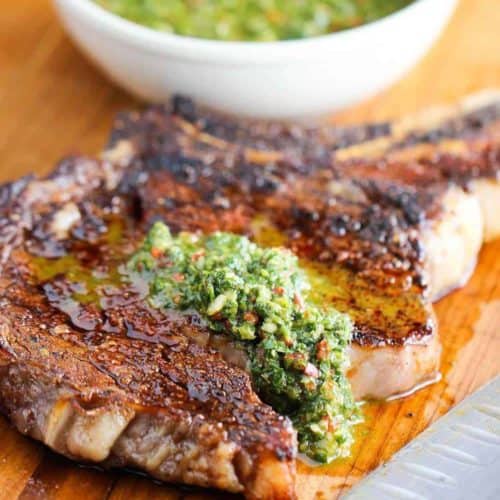 Cowboy Ribeye Steak with Chimichurri Sauce
This Grilled Cowboy Ribeye Steak with Chimichurri Sauce is about as good as it comes. The ancho rub brings the steaks to life, and the sauce is vibrant and compliments the steak perfectly.
Print
Pin
Rate
Servings: 4 people
Calories: 185kcal
Ingredients
Ancho Chile Rub
2 tbsp ancho chile powder
1 tbsp smoked paprika
1 tbsp dried oregano
1 tbsp coarse sea salt
1 tbsp ground black pepper
2 tsp onion powder
1 tsp cayenne pepper
1 tsp sugar
Steaks
Chimichurri sauce, for garnish
4 1 to 1 1/2-inc ribeye steaks bone-in (12- 14 oz each)
2 cups Best Chimichurri Sauce
Instructions
Let steaks sit at room temp for 1 hour.

Mix together the rub ingredients in small bowl.

Sprinkle rub over the steaks, pressing with your fingers to adhere to the meat. Let sit for another 15 minutes.

Heat grill to medium-high, direct heat.

Grill steaks, about 6 minutes per side. Use an instant-read thermometer: 130°F for medium-rare and 140°F of for medium.

Let steaks rest for about 5 minutes.
Nutrition
Calories: 185kcal