We just love Brussels sprouts because they can be prepared in so many different ways.
Shaving the sprouts is a unique and beautiful way to serve this versatile vegetable. We let our food processor do all the work, but you can certainly get the same results with just a knife and a steady hand. And this dish can be made completely on the stove, all in about 40 minutes!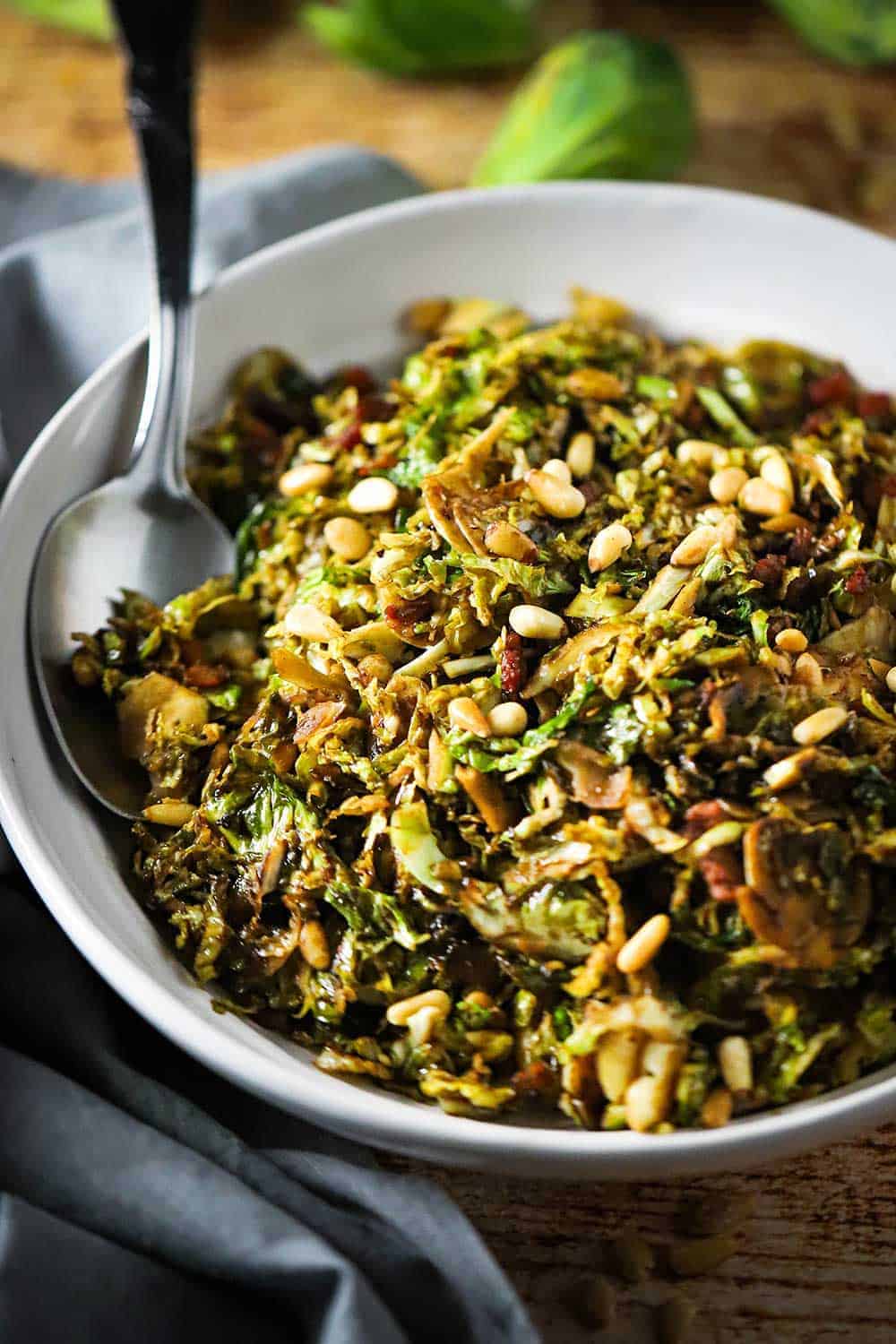 How To Make Shaved Brussels Sprouts
As mentioned, this side dish is so easy to prepare and is always a hit, especially during the holidays.
Ever wondered where Brussels sprouts originated? Well, we didn't really either. But, if in case you're interested, read more about that and much more here.
How To Shave Brussels Sprouts
Shaving, or thinly slicing Brussels sprouts is one of our favorite ways to serve the dish.
We recommend using a food processor to achieve this. You'll need to make sure you use the 'slicing' attachment.
EXPERT TIP: When selecting Brussels sprouts at the market, look for medium-sized bright green sprouts. When slicing them, remove any dark color exterior leaves and use a knife to cut the rough ends off of each sprout. If you don't have a food processor, then use the same knife to thinly slice the sprouts. You'll get the same end result, it will just take a little longer. The sprouts can be sliced up to 12 hours in advance of cooking them.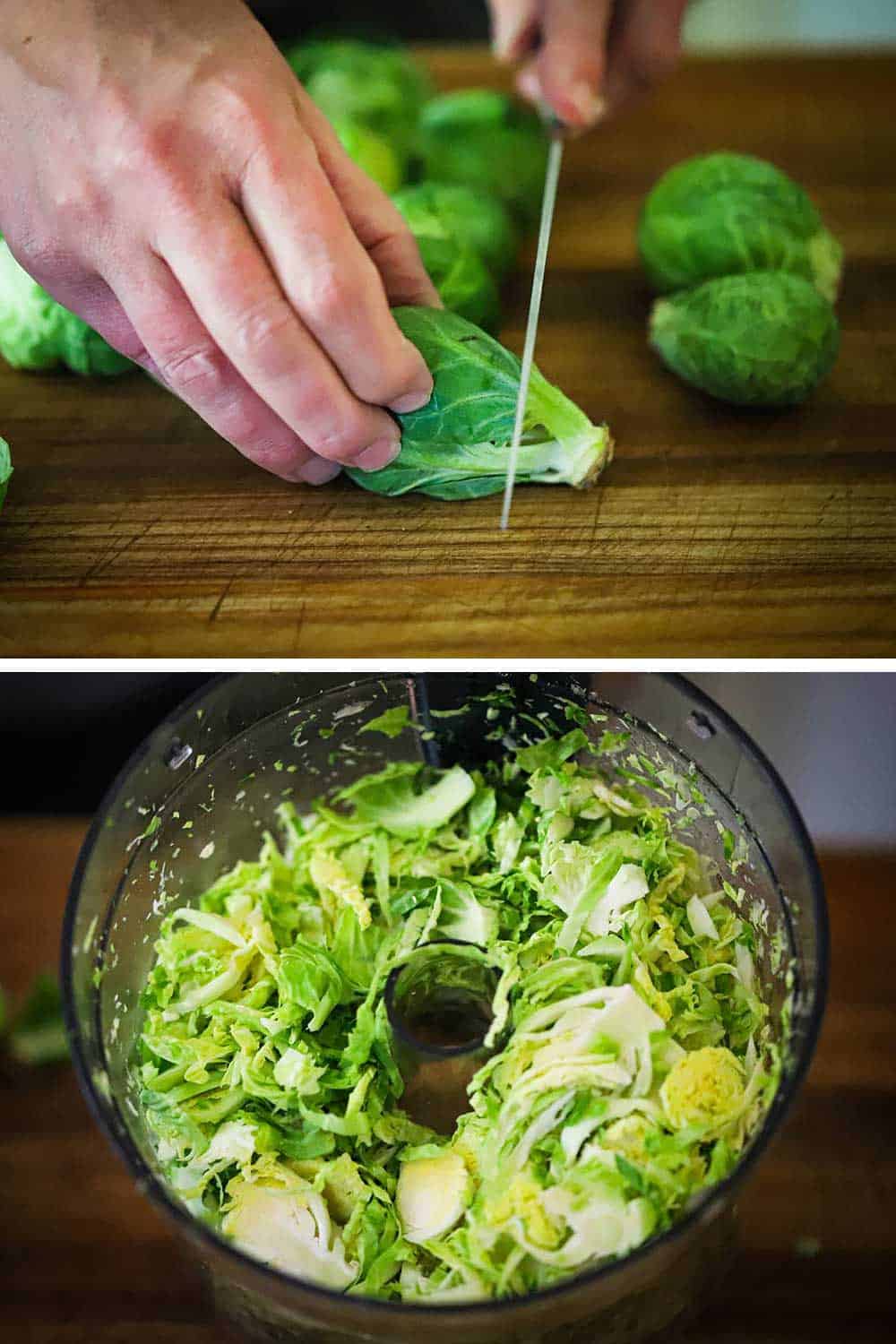 Pancetta adds a wonderful depth of flavor to this dish.
We love getting cubed pancetta and then cooking them in a large skillet over medium heat until nice and crispy.
EXPERT TIP: We also love cooking the shaved sprouts in the rendered grease from the pancetta. Deglazing the pan with wine will ensure all those flavorful bits stuck to the pan will deepen the taste profile of the dish You can omit the pancetta completely to keep the dish vegetarian. If so, start by heating 2 tbsp of olive oil before sautéing the sprouts. There's no need to de-glaze the pan with the wine.
Pine nuts are another wonderful addition to this dish.
We love roasting them to bring out even more of their delicious nutty flavor.
But be careful! Pine nuts, or pignoli's, don't take long at all to get nice and toasty. Place them on a baking sheet and roast at 350°F for only about 2 minutes, or until just starting to turn a darker brown. Keep an eye on them! They burn quickly!
Building the Flavors
When the pancetta is cooked, remove it from the skillet and place it on a plate lined with paper towels.
All those pieces of pancetta that are stuck to the bottom of the pan are loaded with delicious flavor.
EXPERT TIP: To release those pancetta bits stuck to the pan, we're going use a process called de-glazing. Simply pour liquid, such as white wine, or Madiera wine, and use the edge of a spatula to scrape the bits up. Cook for a couple of minutes, and then add the shaved sprouts to the pan.
How To Make Balsamic Glaze
We just love the addition of syrupy balsamic in our shaved Brussels sprouts.
To be 100% honest, you can find wonderfully delicious bottled balsamic glaze at most well-stocked markets.
EXPERT TIP: Making your own balsamic glaze, or reduction, is really easy. Simply place a medium-sized saucepan over medium-high heat. Add 2 tbsp of brown sugar (dark or light) and ⅔ cup of good-quality balsamic vinegar. Bring to a boil and then let simmer for about 15 minutes, or until reduced. The sauce will thicken somewhat and coat the back of a wooden spoon. The glaze can be made several days in advance.
Simply add a couple of tablespoons of the balsamic into the pan with the cooked Brussels sprouts, pancetta, and toasted pine nuts.
When to Serve Shaved Brussels Sprouts
This dish is so beautiful and is really the quintessential holiday side dish.
We love serving it with our Standing Prime Rib Roast, Best Mashed Potatoes, and Homemade Dinner Rolls.
But this dish is so easy to prepare, it's really wonderful any time of the year!
Ready to make the best side dish in town? Go for it!
And when you do, be sure to take a photo of it, post it on Instagram, and tag @HowToFeedaLoon and hashtag #HowToFeedaLoon!
Shaved Brussels Sprouts with Pancetta and Balsamic
Shaved Brussels Sprouts is such a unique and special way to prepare this delicious vegetable. The cooking of the pancetta, toasting of the pine nuts, and reducing the balsamic can all be done hours in advance of serving.
Print
Pin
Rate
Servings: 8
Calories: 182kcal
Ingredients
6 oz pancetta cubed
⅓ cup pine nuts lightly toasted
2 lbs Brussels sprouts dark leaves removed and rough stems trimmed
2 tbsp Madiera wine or white wine
2 tbsp balsamic glaze
1¼ tsp Kosher salt
½ tsp black pepper freshly ground
Instructions
Use the slicing attachment on a food processor to shred the sprouts. Or, use a sharp knife to thinly slice the sprouts. Set aside.

Cook the pancetta in a large skillet until cooked and crispy. Use a slotted spoon to transfer the pancetta to a plate lined with paper towels.

In the same skillet, add the wine and de-glaze the pan (scraping up cooked on pancetta bits) over medium-high heat. Cook, stirring frequently, until most of the liquid has evaporated, about 2 minutes.

Add the Brussels sprouts and cook until softened and somewhat reduced, about 5 minutes.

Stir in 1 tsp of salt, as well as the pepper, pancetta, toasted pine nuts, and balsamic glaze. Remove from heat and taste. Add more salt if desired. Transfer to warmed serving dish and serve at once!
Notes
Be sure to look for Brussels sprouts that are nice and bright green. If there are few dark leaves here and there, that's okay. If most of the outer layers are dark, try and find some elsewhere. The size of the sprouts isn't as important, you'll just need 2 lbs. Remember, as the sprouts cook, they will cook down and reduce in size. For a completely vegetarian version, omit the pancetta and the wine. Start off by heating 2 tbsp of olive oil to the pan and then add the shaved sprouts, following the recipe as written from that point on. When toasting the pine nuts, keep an eye on them...they will burn quickly! We love cooking with Madiera wine, but a nice quality white wine or sherry will work just fine, too. If you'd prefer not to use wine, then de-glaze the pan with apple cider vinegar. Be sure to taste and add salt accordingly before serving. These sprouts can handle a lot of salt, but remember that the pancetta is pretty salty to begin with. The pancetta can be cooked in advance and the pine nuts can be toasted in advance. To make your own balsamic glaze, simply heat a medium saucepan over medium-high heat. Add 2 tbsp of brown sugar (dark or light) and ⅔ cup of balsamic vinegar. Bring to a bowl, and then simmer for about 15 minutes until syrupy and somewhat thick. This can be done a couple of days in advance, too. This dish is best served right off the stove. And though leftovers are tasty, it loses the freshness after about a day in the fridge. It also doesn't freeze very well. Don't worry, though, it almost always gets devoured in its entirety when served to guests.
Nutrition
Calories: 182kcal | Carbohydrates: 13g | Protein: 7g | Fat: 11g | Saturated Fat: 2g | Cholesterol: 14mg | Sodium: 533mg | Potassium: 517mg | Fiber: 5g | Sugar: 3g | Vitamin A: 863IU | Vitamin C: 96mg | Calcium: 48mg | Iron: 2mg