There are some dishes that people always go for seconds or thirds. This is one of those dishes.
We love everything about this amazing side dish. You get the deep flavor from the roasted sprouts, but the smoked gruyere cream sauce puts it over the top. Even folks who don't like Brussels sprouts love this dish.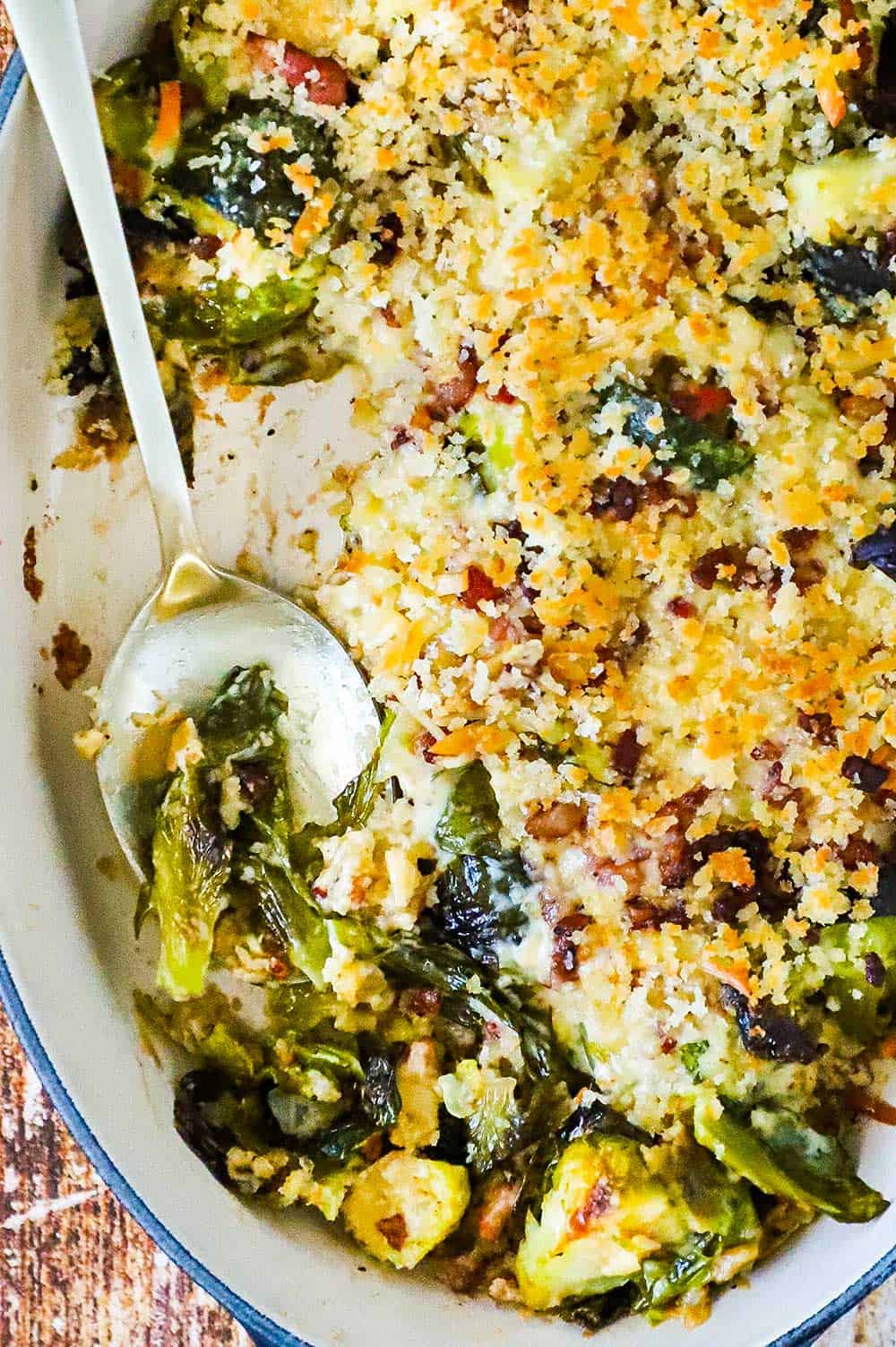 How To Make Brussels Sprouts Gratin
There are so many things to love about this dish.
First, and foremost, it's irresistibly delicious. But, it's also simple to prepare and can even be made a day in advance, up to baking.
Talk about the perfect holiday side dish!
If you liked this video, please subscribe to our YouTube channel. Remember to click the 'bell' icon so you'll never miss a new video. Thank you so much!
How To Roast Brussels Sprouts
We highly recommend roasting the Brussels sprouts before baking them.
Roasting deepens the flavor of the vegetable and also softens them which makes the texture of the dish perfect.
EXPERT TIP: You don't need to trim the sprouts before roasting. Give them a quick rinse, pat them dry, and place them in a bowl. Toss them with a couple of tablespoons of olive oil, a tsp or so of salt and pepper, and then roast on a baking sheet in a 400°F oven for 20 minutes, flipping halfway through.
Before Roasting
After Roasting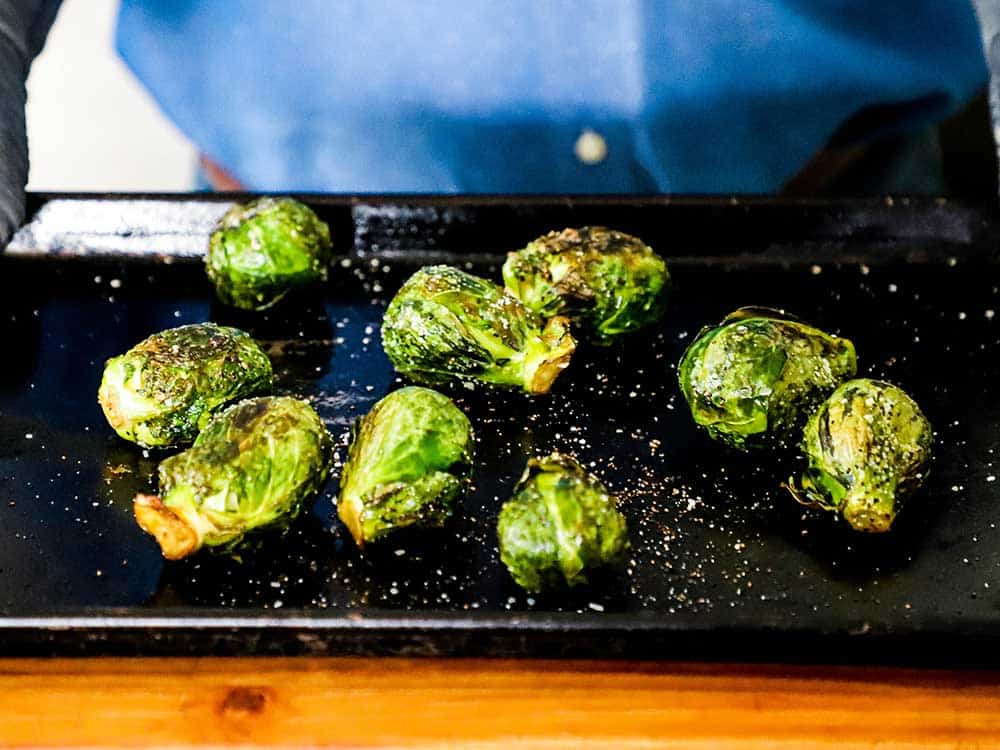 Creating a Deeply Flavorful Sauce
We start building the sauce by first cooking up cubed pancetta. Pancetta and Brussels sprouts just go together so perfectly.
For the cheese, we tested many different types and our favorite is smoked gruyere. Not too smokey, but deeply flavorful, and just the perfect taste for the flavor profile we were looking for.
EXPERT TIP: To make the dish vegetarian, simply omit the pancetta and make the roux with melted butter or oil. Other cheeses that we liked included regular Gruyere (not smoked), fontina, and white cheddar.
Pour that glorious sauce all over the roughly chopped roasted sprouts in a 2-qt. baking dish.
Topping the Brussel sprouts gratin with a butter and breadcrumb mixture adds that crunchy addition that works perfectly with the creamy sauce and soft sprouts.
Simply toss ¾ cup of breadcrumbs (we love Panko for the extra texture) with 3 tablespoons of melted butter and mix. Sprinkle all over the top of the gratin.
EXPERT TIP: If you leave the Brussels sprouts in large pieces, for example halved (instead of quartered), you'll need to allow the gratin to bake for 20 to 25 minutes to allow them to get nice and soft. This may mean the breadcrumb mixture starts to brown a little too much on top. Keep an eye on them, once they reach the golden color, cover the dish with foil for the remainder of the bake time.
Other Classic Holiday Side Dishes
This dish really is the perfect side dish for Thanksgiving or any special occasion meal.
Other family-favorite holiday side dishes:
Best Mashed Potatoes
Cornbread and Sausage Dressing
Gourmet Green Bean Casserole
Corn Casserole
Maple-Orange Cranberry Sauce
Homemade Cornbread
And folks, we've just got to say it again: One bite of this dish, and your loved ones will be side dish heaven.
We love cooking with Brussels sprouts, other favorite dishes included
Shaved Brussels Sprouts with Balsamic
Maple-Roasted Brussels Sprouts Bacon and Pecans
Brussels Sprouts with Sherry Vinaigrette
And this particular dish is one of the very best side dishes we've ever served or eaten.
It's really that good.
Ready to make a holiday side dish that even non-veggie lovers will love? Go for it!
And when you do, be sure to take a photo of it, post it on Instagram, and tag @HowToFeedaLoon and hashtag #HowToFeedaLoon!
Brussels Sprouts Gratin
Brussels Sprouts Gratin is always such a big hit, especially for that special holiday feast. Even non-veggie-loving people love this dish. Roasting the sprouts deepens the flavor and softens them. The smoked Gruyere with the pancetta and cream sauce puts it over the top.
Print
Pin
Rate
Servings: 4
Calories: 468kcal
Ingredients
1 lb Brussels sprouts rinsed and patted dry
2 tbsp olive oil
1½ tsp Kosher salt divided
1½ tsp black pepper freshly ground, divided
4 oz pancetta cubed
½ cup onion chopped
3 cloves garlic minced
1 tbsp all-purpose flour
⅔ cup heavy cream plus a little extra
½ cup smoked Gruyere shredded
¼ tsp nutmeg ground
¾ cup Panko bread crumbs
3 tbsp unsalted butter melted
Instructions
Preheat oven to 400°F.

Place the Brussels sprouts in a large bowl and toss them with the olive oil and a couple of pinches each of salt and pepper (about ½ tsp each of salt and pepper. Spread the sprouts onto a baking sheet and roast for 20 minutes, flipping them over halfway through.

Remove the sprouts from the oven, and when cool enough to handle, roughly chop them. (See NOTES).

Meanwhile, cook the pancetta in a large skillet over medium-high heat until crisp. Use a slotted spoon to remove the pancetta from the pan. Place in a bowl and set aside.

Leave the rendered grease in the pan. Add the onions and cook until soft and starting to brown, about 5 minutes. Add the garlic and cook for another 30 seconds.

Stir in the flour to create a roux and cook for about 1 minute.

Carefully pour in the heavy cream and stir until slightly thickened, about 2 minutes. Add the cheese and stir until melted. Season with ½ tsp of salt and pepper. Stir in the nutmeg and reserved pancetta. If the sauce is too thick, thin with more cream until the right consistency. It should be the consistency of thick gravy.

Place the chopped sprouts in a 2-quart baking dish. Pour the cream sauce over the top of the sprouts.

In a bowl, mix together the breadcrumbs with the melted butter. Sprinkle the breadcrumb mixture over the top of the cheese sauce.

Bake for 20 minutes until bubbly and golden on top.
Notes
See the video near the top of the blog post for visual guidance. If you like the video, please subscribe to our YouTube channel.
If you want the sprouts to be nice a chunky, simply halve them, rather than quartering them or chopping them. Depending on the size of the sprouts, if you leave them in larger pieces, they may need to bake longer to become nice and soft. After 20 minutes, pierce one with a knife. If there is much resistance, cook for another 10 minutes or so. You'll probably need to cover the dish with foil at this point to prevent the bread crumbs from browning too much.
We love using smoked Gruyere, but other great cheese choices include white cheddar, Fontina, or regular Gruyere (not smoked).
To make the dish vegetarian, simply omit the pancetta and use two tablespoons of butter or olive oil to saute the onions and make the roux. If you omit the pancetta, you'll want to increase the salt amount to ¾ tsp for the sauce.
This recipe easily feeds 4 people. Double the recipe to serve 8 or more and bake in a 9x13-inch dish.
The dish can be made up to 1 day in advance, prior to baking. Cover and keep in the fridge. Take it out of the fridge a couple of hours before baking to allow it to come to room temp. Add the bread crumb mixture and bake as directed.
Nutrition
Calories: 468kcal | Carbohydrates: 24g | Protein: 10g | Fat: 32g | Saturated Fat: 12g | Polyunsaturated Fat: 2g | Monounsaturated Fat: 8g | Trans Fat: 1g | Cholesterol: 96mg | Sodium: 1188mg | Potassium: 602mg | Fiber: 5g | Sugar: 4g | Vitamin A: 1716IU | Vitamin C: 99mg | Calcium: 111mg | Iron: 3mg