This originated in Santa Maria, California, and can be found all over Southern CA. Now, it's taking the world by storm!
When it's grilling season, you will definitely want to try this recipe. It's incredibly juicy and flavorful and the salsa is the perfect accompaniment. Serve with slow-cooker corn on the cob and best potato salad for a BBQ that won't soon be forgotten!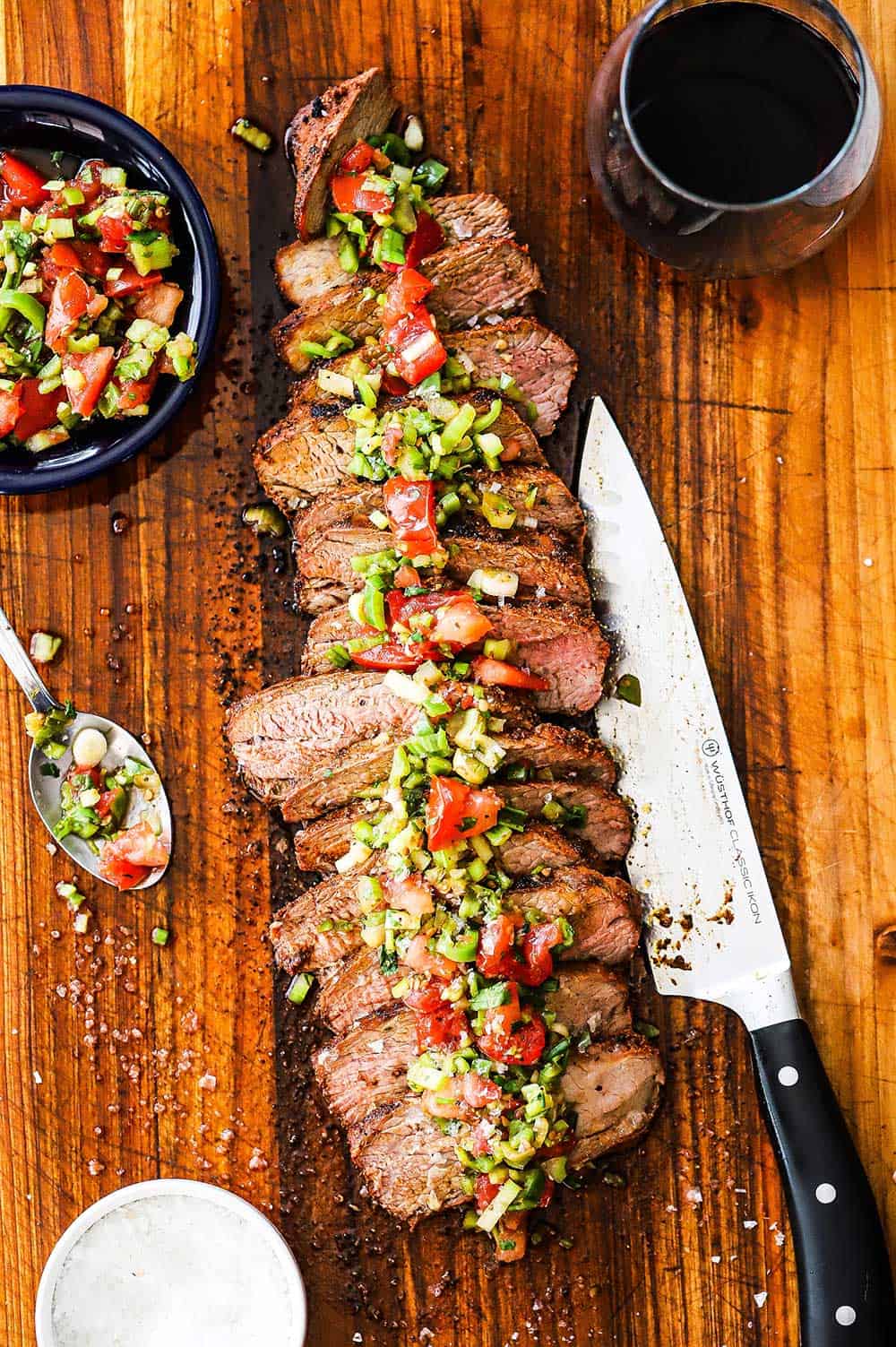 How To Make Grilled Tri-Tip with Santa Maria Salsa
First, you'll need to get your hands on a tri-tip roast. It's becoming more and more widely available outside of California.
If you can't find it, ask your butcher to special order it. But as mentioned, it's pretty easy to find nowadays.
NOTE: If you liked this video, please subscribe to our YouTube channel. Remember to click the little 'bell' icon so you'll never miss a new video! Thank you!
The Ingredients You Will Need
Obviously, the star of this dish is the meat. Here's all you need to bring it all together
Tri-tip steak – usually around 2 to 3 lbs, with excess fat trimmed away
Salt – Coarse Kosher is great
Pepper – Freshly ground
Onion powder – For the rub
Garlic powder – For the rub
Chili powder – Use your favorite
Paprika – Smoked adds amazing taste
EQUIPMENT: You'll need a grill (gas, charcoal, or electric) with a lid. An instant-read thermometer ensures a perfectly cooked steak.
EXPERT TIP: You'll want to start with a dry brine of coarse Kosher or sea salt. Sprinkle it all over the meat and let it chill in the refrigerator for 1 hour. Then apply the rub just before grilling.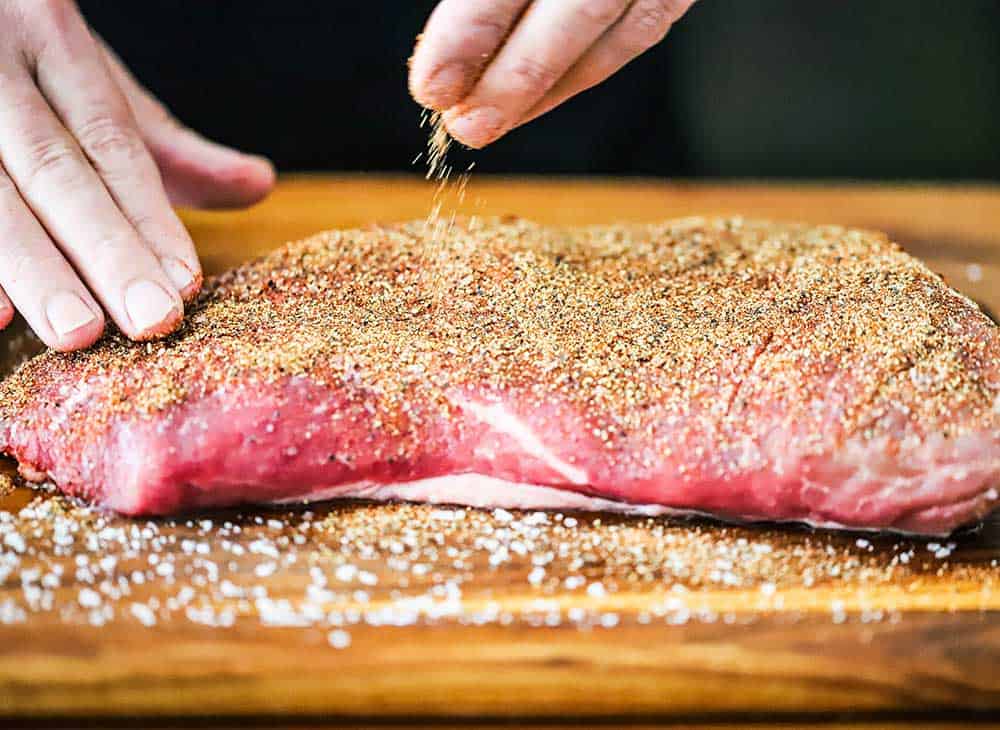 How To Make Santa Maria Salsa
Like most of us, we are crazy for salsa. This salsa is a little different from the Tex-Mex style salsa but complements the steak perfectly.
For the Santa Maria Salsa, you'll need:
Diced tomatoes – Canned is perfectly fine
Celery – Finely chopped
Scallions – Chopped, green and white parts
Anaheim peppers – Seeded and finely chopped
Cilantro – Fresh, chopped
Lime juice – Fresh is best
White vinegar – You could use white vinegar
Oregano and Basil – dried
Hot sauce – like Tobasco or Louisiana
Garlic salt and freshly ground black pepper
Simply mix it all together and have some on a chip! You can serve it immediately, or let it chill in the fridge for an hour or more.
How To Slice and Serve a Tri-Tip
Because a tri-tip steak is very lean, it's really important to slice it the way they do in Santa Maria.
After you've taken it off the grill and the internal temperature has reached 130°F, you'll want it to rest on a cutting board for about 5 to 10 minutes.
To serve, slice it first in half. Then turn each side 90° and start to cut thin slices against the grain. We like each slice to be no more than ½-inch. Fan the slices and serve with juices poured over the top. And then a layer of the salsa.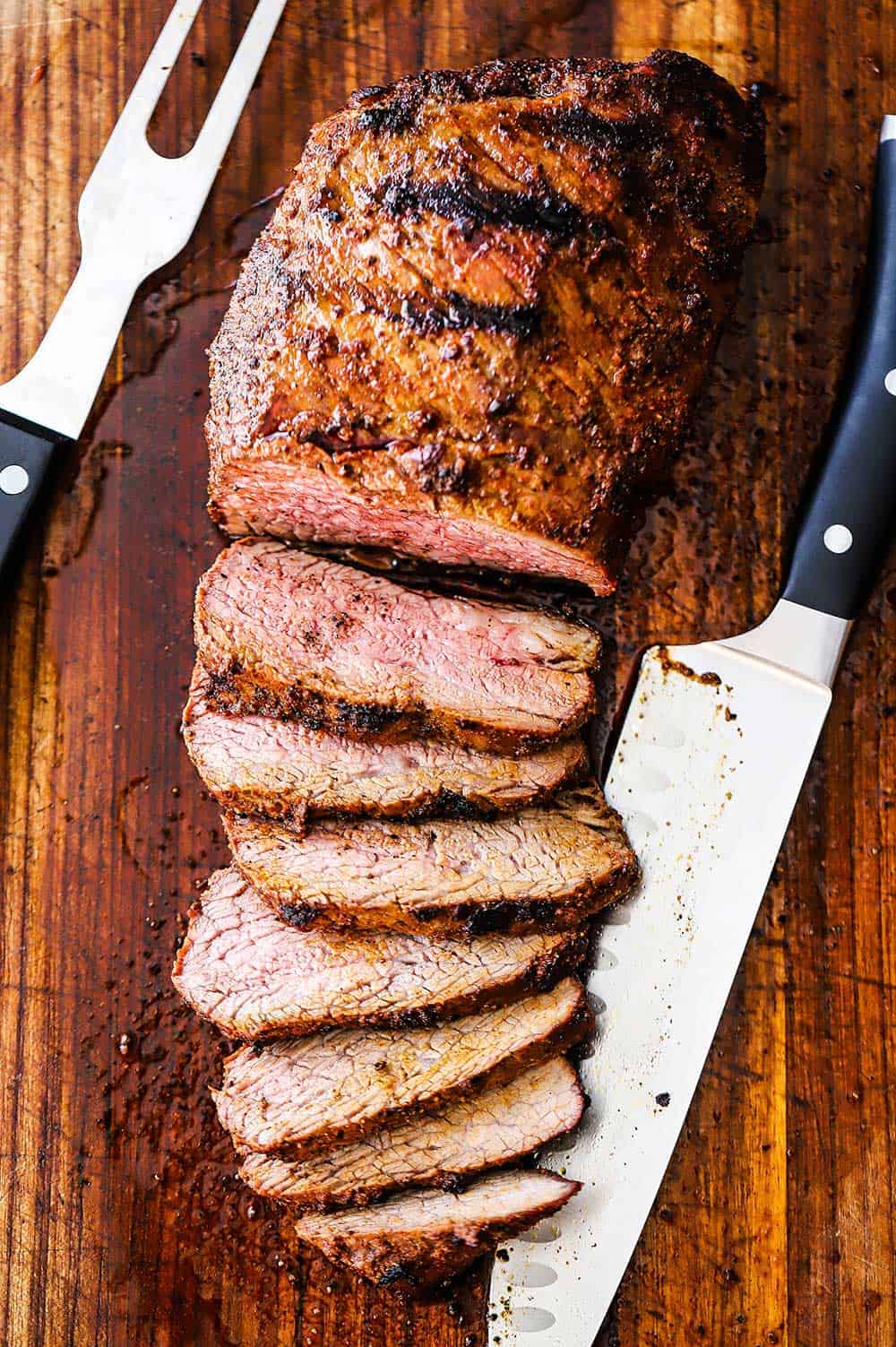 Tips for the Perfect Grilled Tri-Tip
Dry Brining with Salt – Sprinkling coarse salt all over the steak helps to bring out the juices of the meat. If the meat is heavily covered with salt, brush some of it off before adding the rub.
2-Zone Grilling – You'll want to start the steak off on the indirect side of your grill with the lid down. At this point, the grill is acting like an oven. Once you hit 110° to 115°, you'll move the steak to the direct heat side of the grill. Use an instant-read thermometer to 130°F for medium-rare, or 140°F for medium.
Resting the Meat – You'll definitely want the steak to rest for about 5 to 10 minutes before slicing the meat (against the grain). This allows the juices to re-distribute and they won't completely run from the meat once you slice into it.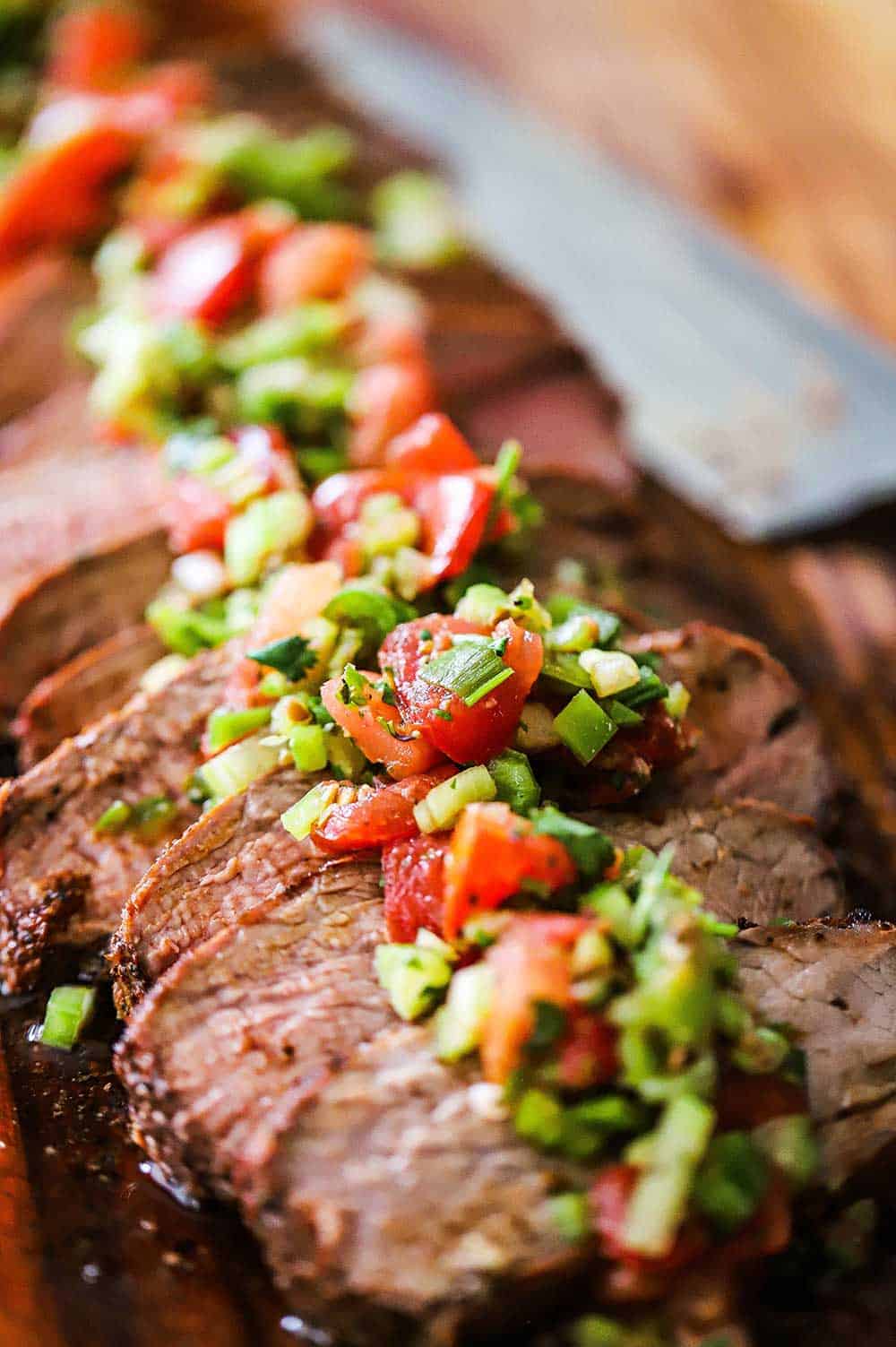 Other Grilled Meat Recipes
We love grilling and here are some of our most popular recipes:
Grilled Lamb Chops
Greek Salad with Grilled Steak
Carne Asada
Chicken Fajitas
Best Grilled Chicken
Grilled Pulled Pork Pizza
Amazing Grilled Oysters with Roasted Tomato Butter
Grilled Salmon with Poblano Butter
But in the meantime, aren't you craving a bite of this California masterpiece?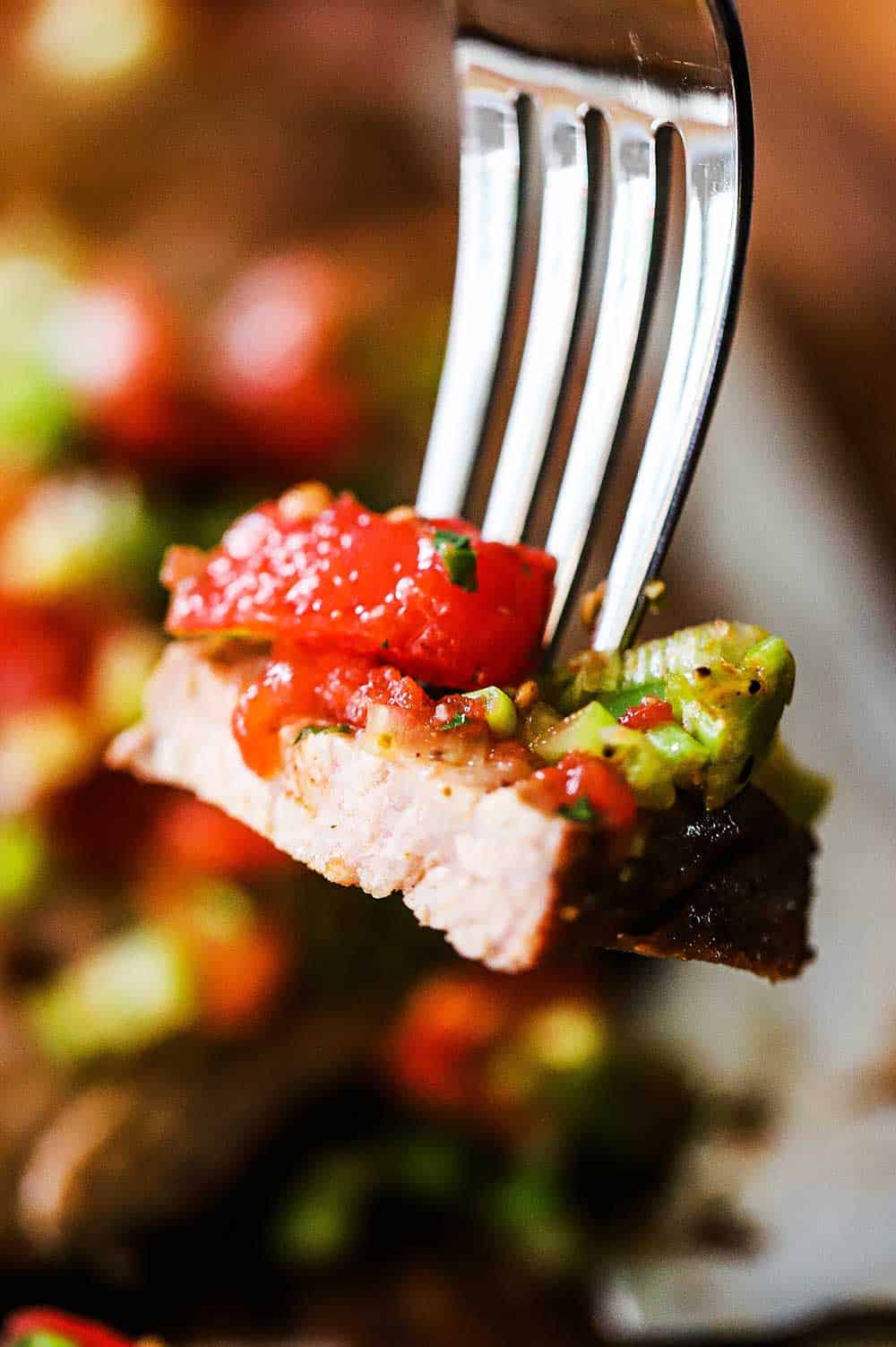 Ready to grill one of the most delicious steaks to ever come out of California? Go for it!
And when you do, be sure to take a photo of it, post it on Instagram, and tag @HowToFeedaLoon and hashtag #HowToFeedaLoon!
Grilled Tri-Tip with Santa Maria Salsa
Grilled Tri-Tip with Santa Maria Salsa is truly an explosion of flavor. The meat is incredibly flavorful and melt-in-your-mouth delicious. And the Santa Maria salsa is the perfect complement to the beefy cut of meat. Perfect for your next BBQ!
Print
Pin
Rate
Servings: 4
Calories: 268kcal
Equipment
1 Gas, charcoal, or electric grill
Ingredients
For the Tri-Tip
1 2 lb tri-tip steak fat trimmed off
2 tbsp coarse Kosher salt or sea salt
2 tsp black pepper
2 tsp garlic powder
2 tsp chili powder
1 tbsp brown sugar dark
2 tsp smoked paprika
1 tsp dry mustard
For the Santa Maria Salsa
1 28 oz can diced tomatoes drained
2 stalks celery finely chopped
3 scallions chopped, green and white parts
2 Anaheim peppers seeded and finely chopped
¼ cup cilantro chopped
2 tbsp lime juice
1 tbsp distilled white vinegar
1 tbsp Worcestershire sauce
1 tsp oregano dried
1 tsp basil dried
1 tsp hot sauce ie, Tobasco, Louisiana Hot Sauce
1½ tsp garlic salt
Instructions
Prepare the Grilled Tri-Tip
Sprinkle the coarse Kosher (or sea) salt all over the tri-tip. Place in the refrigerator for 1 hour.

1 2 lb tri-tip steak, 2 tbsp coarse Kosher salt

In a small bowl, mix together the black pepper, garlic powder, chili powder, paprika, brown sugar, and dry mustard.

2 tsp black pepper, 2 tsp garlic powder, 2 tsp chili powder, 1 tbsp brown sugar, 2 tsp smoked paprika, 1 tsp dry mustard

Fire your grill up for 2-zone cooking. One side with direct heat and the other side with no heat.

Remove the tri-tip from the refrigerator. Dust off the excess salt, but leave enough of it to season the steak. Sprinkle the rub all over the meat. Use your fingers to press it into the steak.

Place the tri-tip on the indirect heat side of your grill and lower the lid. Cook until an internal temperature reaches 110°F, about 30 to 45 minutes. Flip the meat about halfway while cooking.

Move the tri-tip to the direct heat side of the grill and cook until an internal temperature of 130°F is reached. Remove from the grill and let the meat rest for 5 to 10 minutes (the temperature will rise to 135°F).

Slice against the grain and then top with the salsa, with extra served at the table.
Make the Santa Maria Salsa
In a large bowl, mix all of the ingredients together. Chill in the refrigerator until ready to use. (You can make this up to several hours of grilling, or you can make it while the tri-tip is chilling with salt in the fridge).

1 28 oz can diced tomatoes, 2 stalks celery, 3 scallions, 2 Anaheim peppers, ¼ cup cilantro, 2 tbsp lime juice, 1 tbsp distilled white vinegar, 1 tbsp Worcestershire sauce, 1 tsp oregano, 1 tsp basil, 1 tsp hot sauce, 1½ tsp garlic salt
Notes
See the video near the top of the blog post for visual guidance. If you liked the video, please subscribe to our YouTube channel.
If you can't find tri-tip, ask your butcher if he/she can special order it for you.
You'll want to brush a decent amount of the salt off of the meat after it has brined in the fridge. Leave enough so the meat is seasoned with the salt, but not so much that is too salty. Brush off excess and you should be fine.
135°F is medium-rare. Bring the meat to 145°F for medium (very little pink inside).
This sliced tri-tip makes amazing sandwiches, too. The salsa is a great condiment, too.
Leftovers will keep for 5 days in the fridge. The salsa will keep for 1 week but loses its freshness after several days.
Nutrition
Calories: 268kcal | Carbohydrates: 10g | Protein: 14g | Fat: 4g | Saturated Fat: 1g | Polyunsaturated Fat: 1g | Monounsaturated Fat: 1g | Cholesterol: 1mg | Sodium: 342mg | Potassium: 194mg | Fiber: 3g | Sugar: 5g | Vitamin A: 1058IU | Vitamin C: 9mg | Calcium: 44mg | Iron: 1mg