Looking for something new and delicious to throw on the grill? Ladies and gentlemen, look no further.
These chops are naturally loaded with flavor and the simple herbed marinade combined with the smoky heat from the grill produces one of the most flavorful cuts of grilled meat you'll ever serve or eat. Allow them to rest in the marinade for at least a couple of hours, but overnight is best.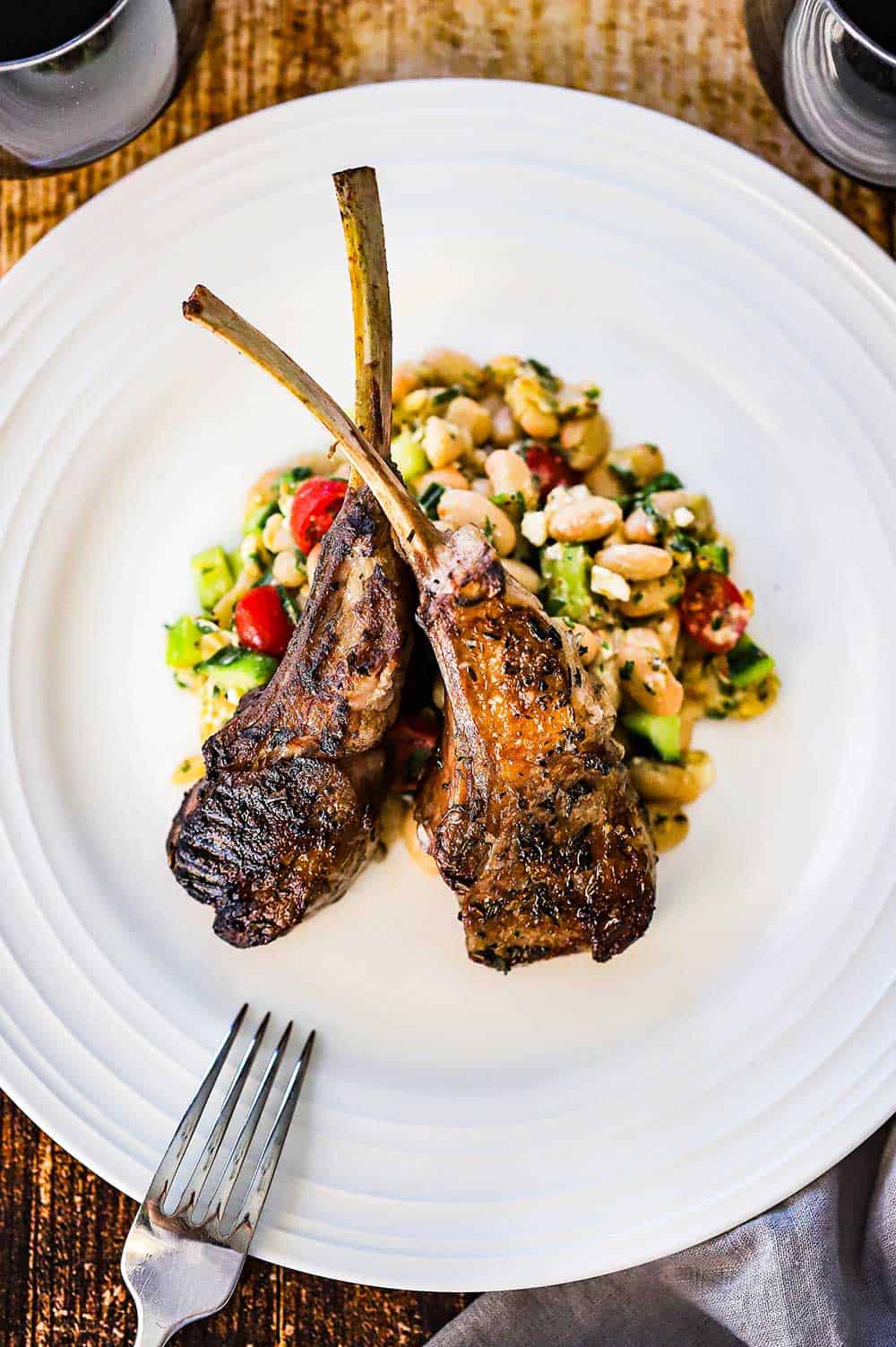 How To Make Marinated Grilled Lamb Chops
There are numerous cuts of lamb to choose from. These are technically rib chops that have been Frenched, which means some of the fat and meat have been trimmed away from the bone.
They can be found in many well-stocked supermarkets, at your local butcher, or online.
NOTE: If you liked this video, please subscribe to our YouTube channel. Remember to click the little 'bell' icon so you'll never miss a new video!
The Ingredients You Will Need
Besides the lamb rib chops, all you need is garlic, a few fresh herbs, salt, pepper, and quality olive oil.
We love to use a combination of fresh
Other options are:
Place the chops in a dish and sprinkle with salt and pepper on both sides and then brush them all over with the marinade. Cover with plastic wrap and let chill in the fridge for at least 2 hours.
How To Cook Lamb
We love to use our charcoal grill for the marinated grilled lamb chops, but gas, electric, or even a screeching hot grill pan on the stove will work, too.
If going with charcoal, be sure to wait until the coals are ashy, but still very hot, with a little amber still left in them.
EXPERT TIP: The ideal internal temperature for perfectly cooked lamb is 145°F. An instant-read thermometer will ensure your chops are cooked properly. Take them off the grill at around 140°F, and let them rest for a few minutes. They will continue to cook as they rest.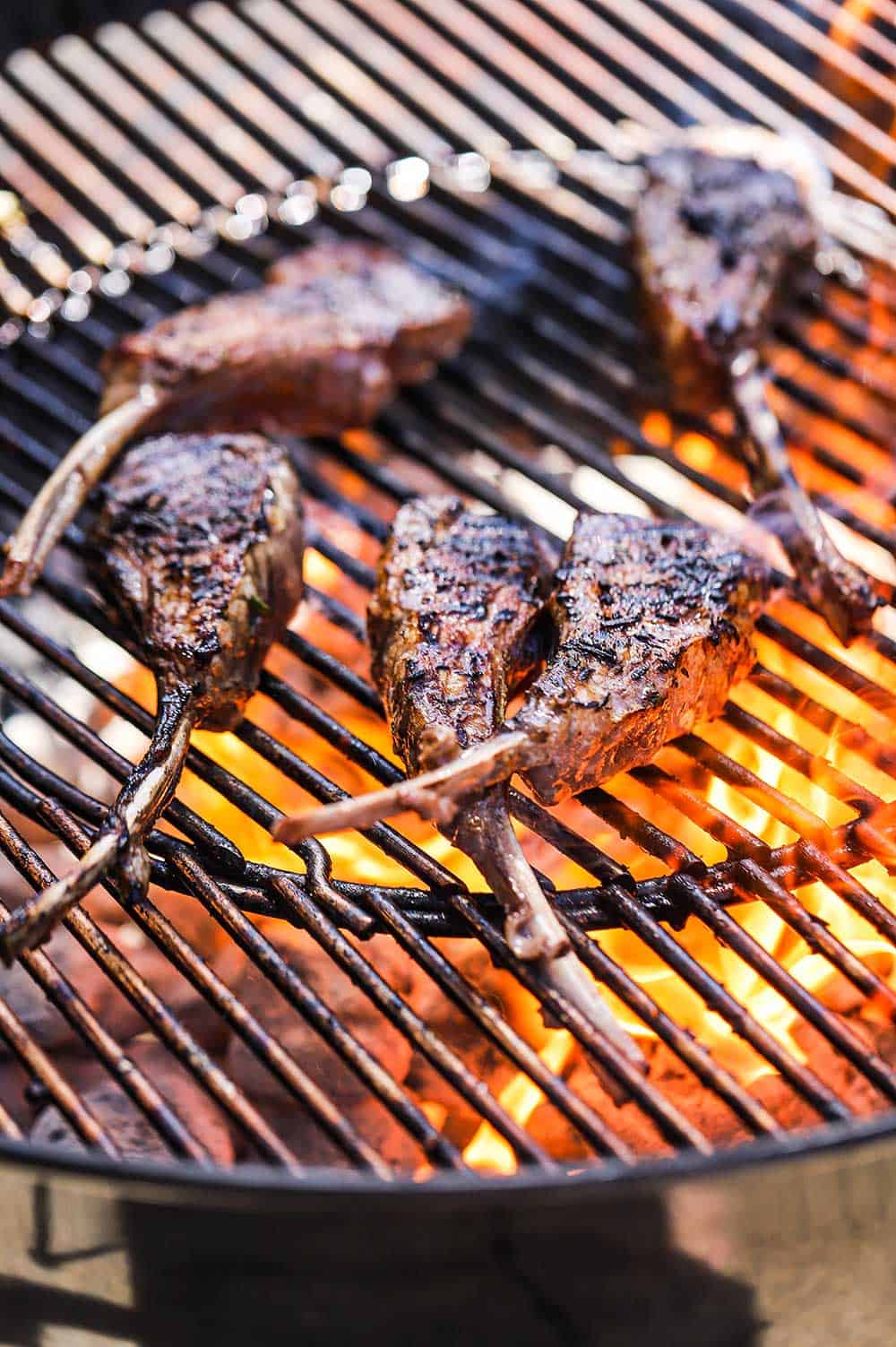 How To Serve Grilled Marinated Lamb Chops
We love to serve these fresh off the grill on a bed of our favorite Greek white bean and cucumber salad. Here's what you'll need to make this versatile, cool, and refreshing salad:
Canned white beans, drained and rinsed
English cucumber, cut into bite-size pieces
Cherry tomatoes, halved
Fresh lemon juice
Fresh parsley, chopped
Dried oregano
Garlic powder
Salt
Feta cheese, crumbled
Mix it all together and chill. This can be made in advance, but it is always really delicious when served fresh.
Mound a nice bed of the salad on each serving plate and then top with the chops. We love to hit the final dish with a sprinkle of finishing salt, such as Maldon.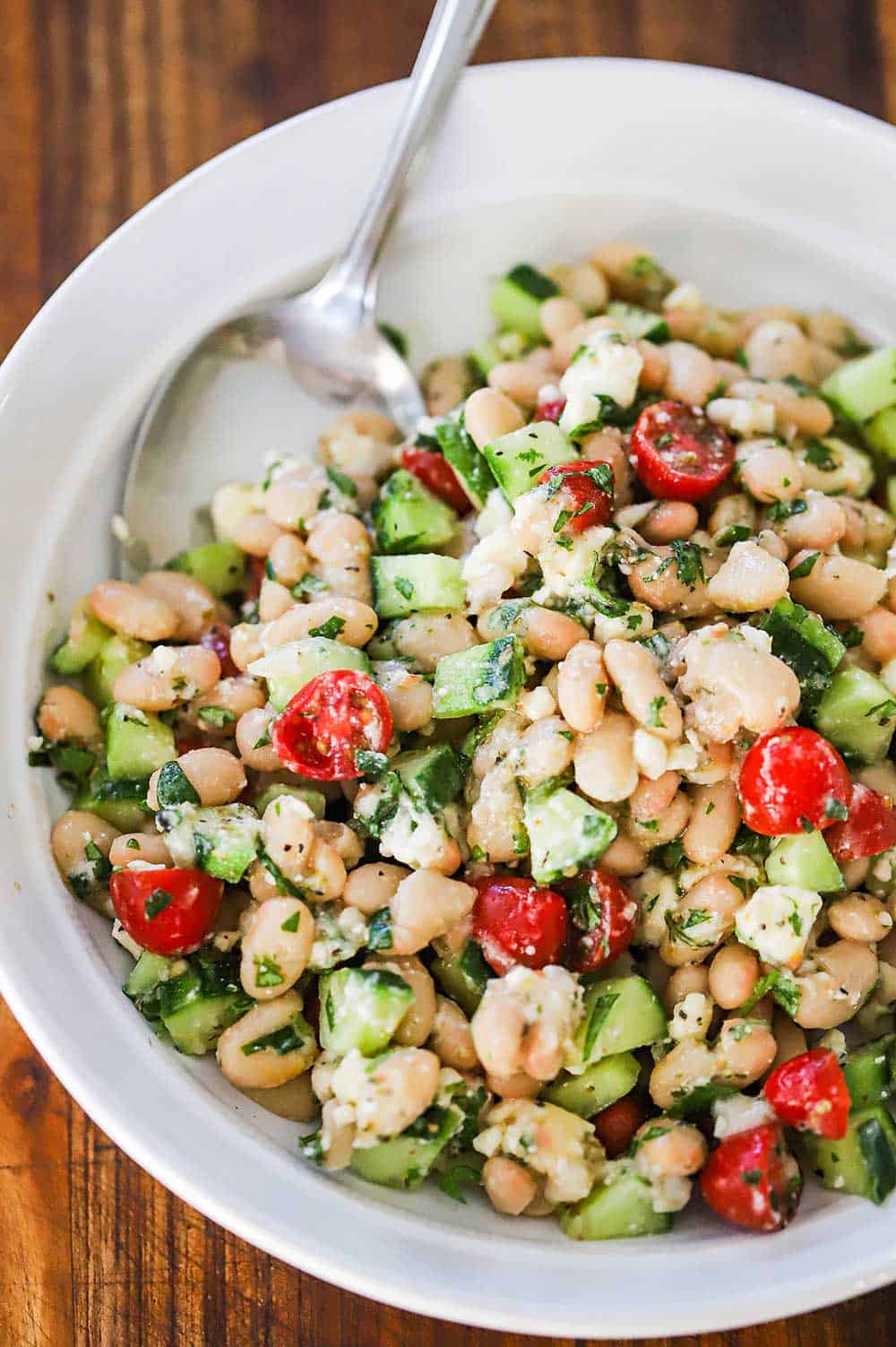 These chops are wonderful served as an appetizer, but we like to plate two of them on a bed of the bean and cucumber salad for an ideal entrée.
The presentation is stunning and truly has a "wow" factor.
And then the flavor and texture are just out of this world. The meat literally melts in your mouth.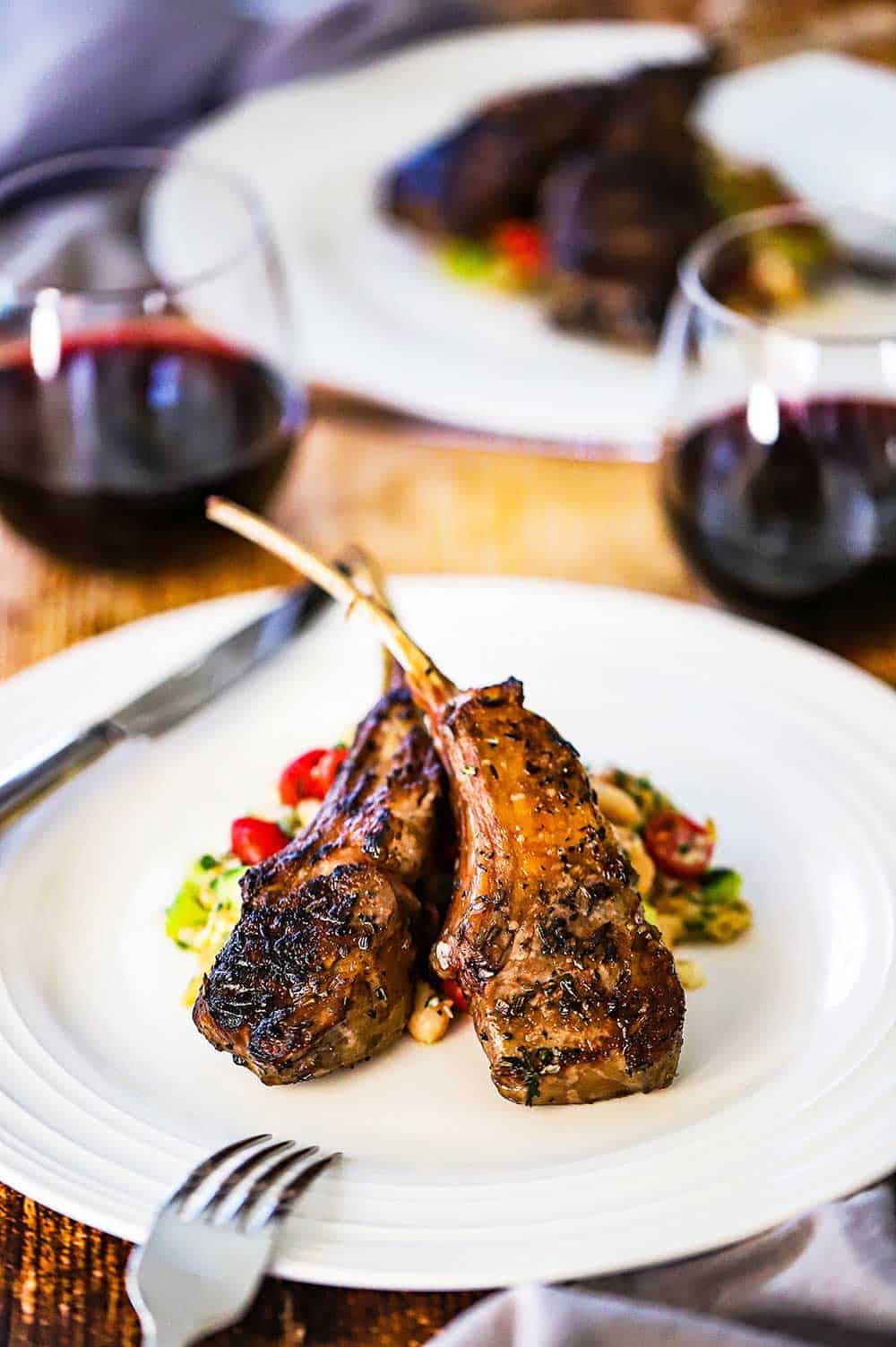 Other Lamb Dishes To Try
Other amazing lamb recipes for you to try are our:
In the meantime, make these amazing Grilled Marinated Lamb Chops. You and your guests will be so thrilled that you did.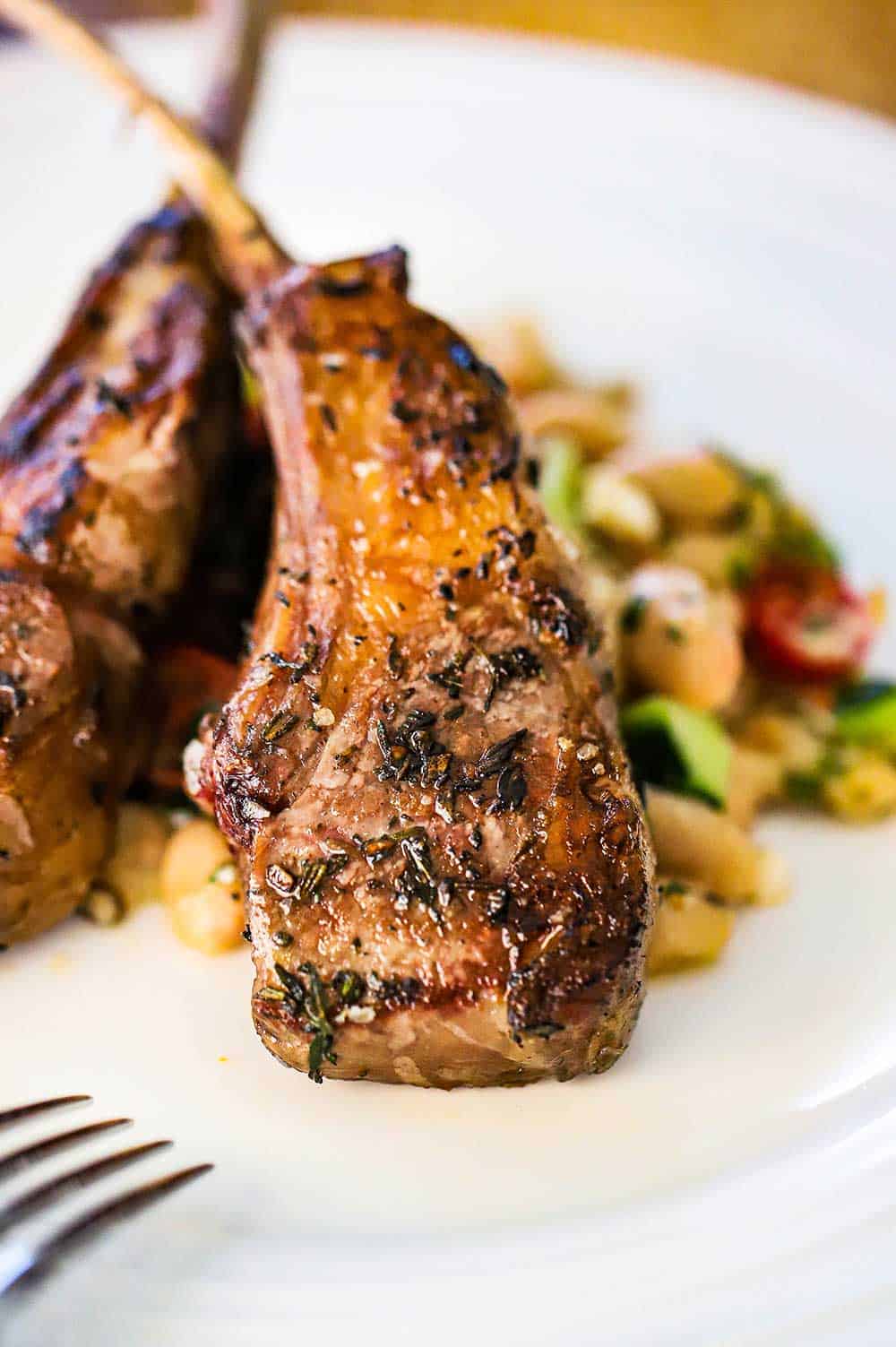 Ready to make one of the best grilled meats you'll ever taste or serve? Go for it!
And when you do, be sure to take a photo of them, post it on Instagram, and tag @HowToFeedaLoon and hashtag #HowToFeedaLoon!
Grilled Marinated Lamb Chops
Oh, these grilled marinated lamb chops are so tender and just so incredibly flavorful. Grilled to perfection. Simple, elegant, and just amazing. They can sit in the marinade for two hours, but we think they're even better when chilled overnight.
Print
Pin
Rate
Servings: 4
Calories: 508kcal
Equipment
Grill, charcoal, gas, or electric Can also use a grill pan on your stovetop.
Ingredients
3 cloves garlic minced
1 tbsp rosemary fresh, chopped
1 tbsp thyme fresh, chopped
¼ cup olive oil
Kosher salt and black pepper
8 lamb rib chops trimmed of excess fat
1 tbsp finishing salt such as Madlon, for finishing, optional
Instructions
In a small bowl, stir together the garlic, rosemary, thyme, and olive oil.

Place the lamb chops in a shallow dish and sprinkle salt and pepper all over them. Next, brush them all over with the olive oil mixture, coating both sides of the chops.

Cover and refrigerate for at least 2 hours, or overnight.

Prepare a charcoal or gas grill (even electric will work in a pinch) for direct grilling over high heat.

Using tongs, place the chops over the hottest part of the grill, turning once, until browned and crisp on the exterior and medium-rare at the center when tested with a knife, about 10 minutes total. The internal temperature should be 140°F. Let rest for a few minutes and garnish with a light sprinkle of finishing salt, if desired.

Transfer the chops to plates with a bed of white bean and cucumber salad. Serve at once.
Notes
See the video near the top of the blog post for visual guidance. If you liked the video, please subscribe to our YouTube Channel.
The chops can chill in the marinade for just a couple of hours, but they are even better when allowed to rest overnight. If you have time, allow the chops to come to room temp before grilling.
To make the salad, simply combine the following ingredient in a bowl and chill (covered) until ready to use:
1 15 oz can white beans, drained and rinsed (ie, Navy, Great Northern White)
1/2 English cucumber, cut into bite-size pieces
1/2 cup cherry tomatoes, halved
1 tbsp fresh parsley, chopped
1 tbsp dried oregano
1 tbsp garlic powder
1 tsp salt
Juice of one lemon
1/2 cup crumbled feta cheese
Nutrition
Calories: 508kcal | Carbohydrates: 1g | Protein: 45g | Fat: 26g | Saturated Fat: 6g | Polyunsaturated Fat: 3g | Monounsaturated Fat: 18g | Cholesterol: 149mg | Sodium: 164mg | Potassium: 623mg | Fiber: 1g | Sugar: 1g | Vitamin A: 99IU | Vitamin C: 4mg | Calcium: 45mg | Iron: 4mg
POST UPDATE: This recipe was originally published in April 2019, but was updated with improved tweaks to the recipe with new tips and photography and a fabulous new video in April 2022!