This Roast Rack of Lamb is incredibly delicious and so festive.  
Perfect for a holiday gathering of friends and family.  So impressive!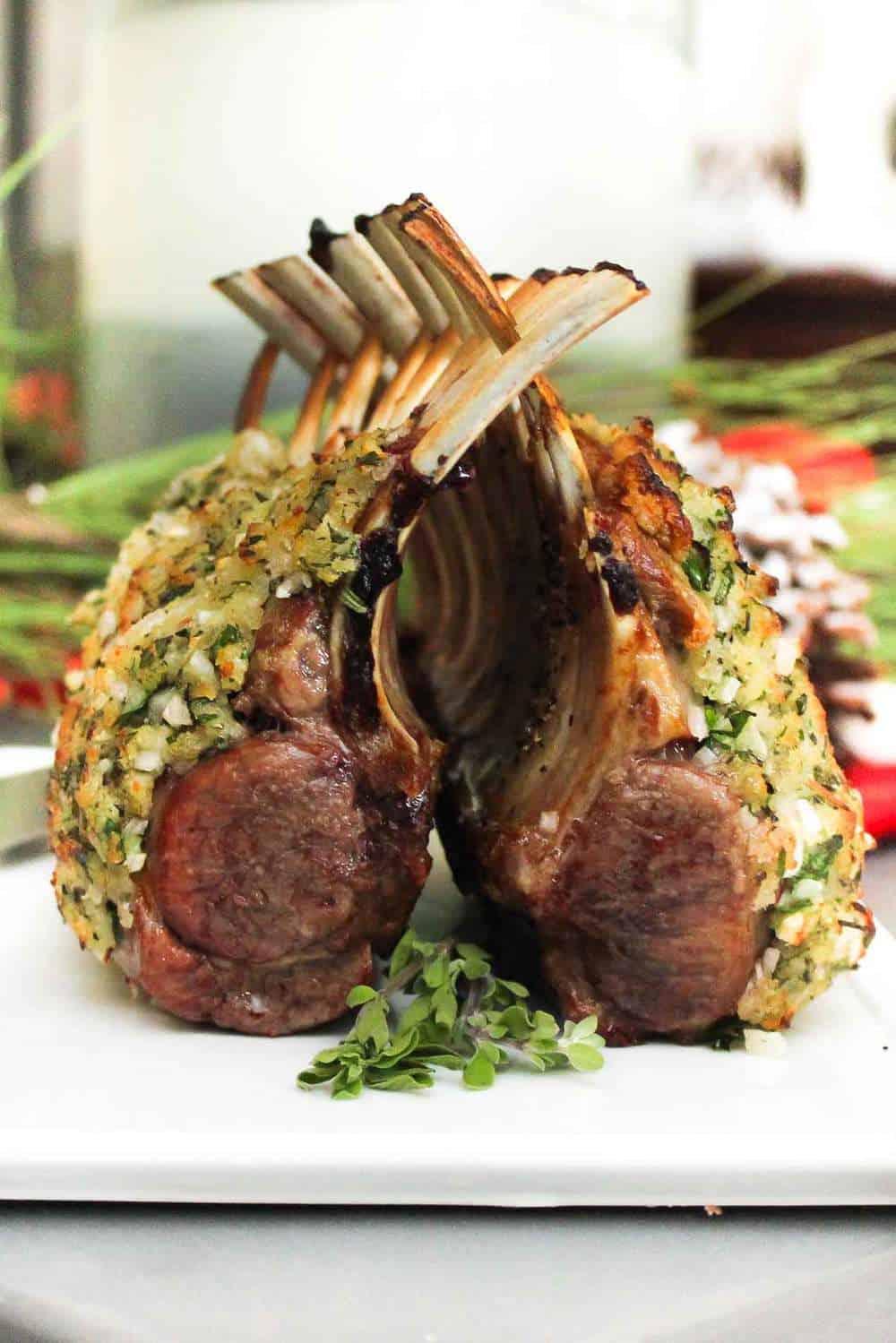 I love to make it with persillade, which is a mixture of bread crumbs, herbs, garlic and shallots.
Be sure not to over cook the chops. These are so flavorful and make an incredible presentation.
Gently press the persillade to the the roast.
You may need to reapply as you assemble the roast into the standing position, if you decide to present it in the manner. It's so impressive!
When you bring this incredible roast to your holiday feast table, your family and friends will truly be awe-inspired by your creation. Yes!
Rare to medium-rare is the way to go, and using an instant-read thermometer ensures a perfect rack of lamb.   Your guests will be so impressed!!
For another amazing lamb recipe, you will love our Grilled Marinated Lamb Chops!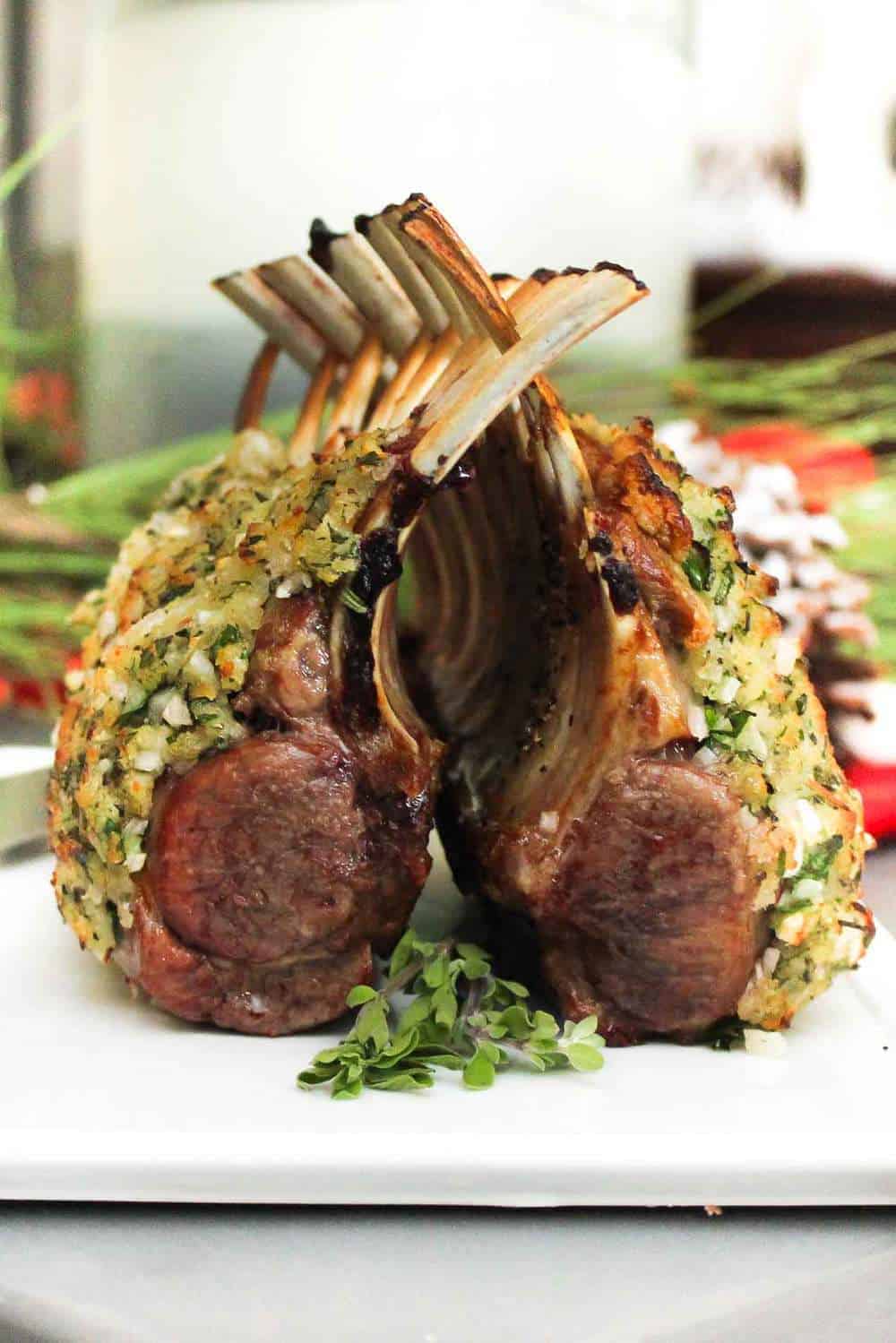 Now, go ahead and make this amazing Roasted Rack of Lamb recipe!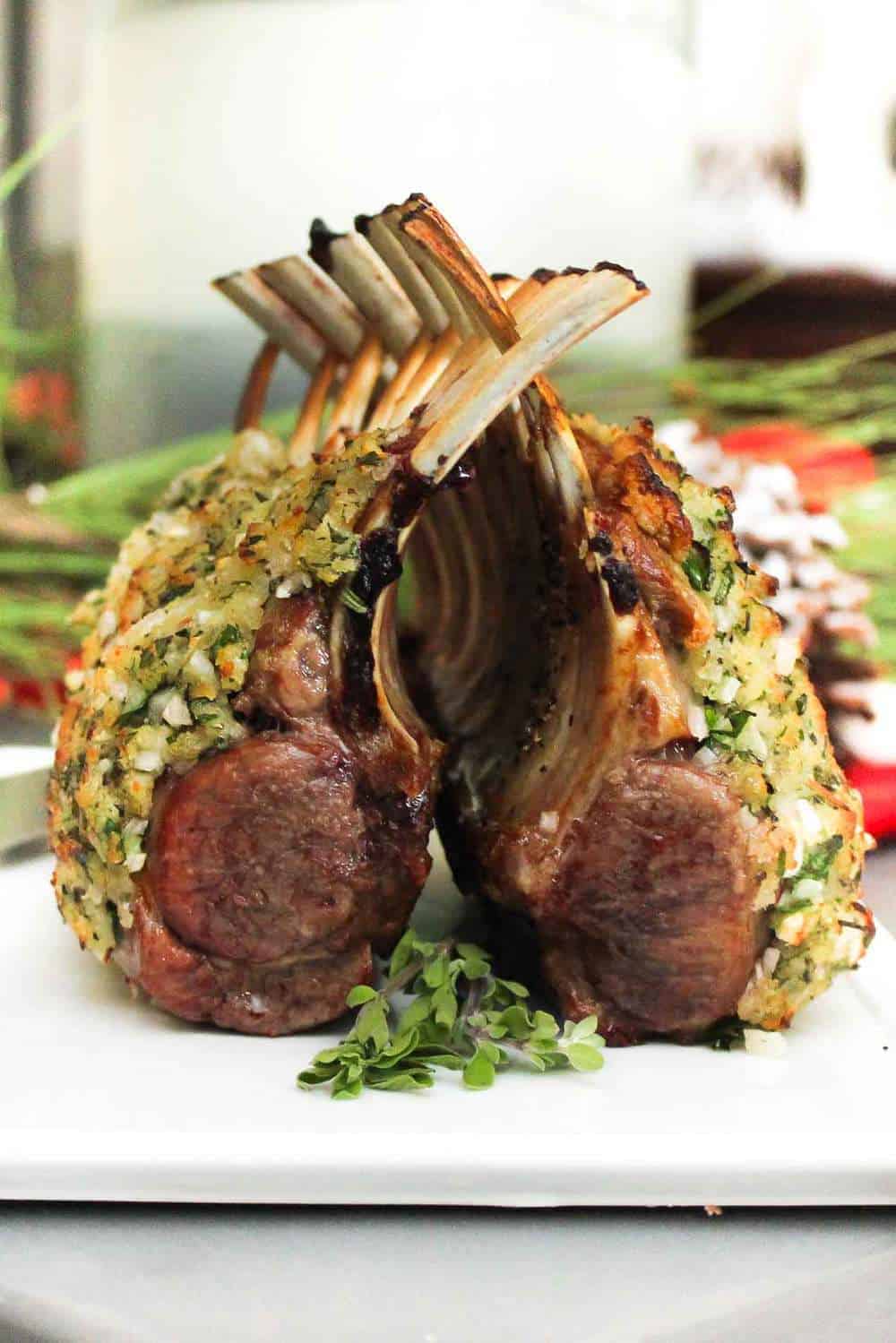 Roast Rack of Lamb
This Roast Rack of Lamb is so festive and just so flavorful. Get two racks of lamb and ask your butcher to french the ribs, which is a technique that cuts the meat away from the top of the chop to expose the bone. And use an instant-read thermometer to reach 125 F for rare or 135 for medium rare. This is the perfect way to serve these incredible ribs!
Print
Pin
Rate
Prep Time: 15 minutes
Cook Time: 30 minutes
Total Time: 45 minutes
Servings: 4 people
Calories: 415kcal
Ingredients
2 racks of lamb each 1 1/2 lb - 1 3/4 lb, with 7 or 8 ribs, frenched and trimmed of excess fat
1 cup coarse fresh bread crumbs I use my food processor
3 tbsp olive oil
2 tbsp chicken stock
2 shallots finely chopped
2 garlic cloves chopped
1/4 cup flat-leaf parsley finely chopped
1 tbsp fresh thyme finely chopped
1 tbsp fresh rosemary finely chopped
Kosher salt and freshly ground black pepper
Instructions
Pre-heat oven to 450 F.

Salt and pepper the racks of lamb all over.

Place the racks of lamb, bone side down in a roasting pan and roast until an instant-read thermometer inserted into the thickest part of the lamb (but not touching the bone) registers 125 F for rare or 135 F for medium rare, about 20 - 25 minutes.

While the meat is roasting, in a medium-sized bowl, combine the bread crumbs, oil, stock, shallots, garlic, parsley, thyme, rosemary, 1/4 teaspoon salt and 1/8 teaspoons of pepper and mix well.

Pre-heat the broiler on high.

Pat the bread crumb mixture evenly on the meat side of the lamb.

Place the lamb under the broiler and broil until the topping is lightly browned, 2 - 3 minutes. Watch closely...don't let it burn!

Transfer the racks to a cutting board and slice the racks into chops by cutting between the bones.

Transfer the chops to a platter or arrange 2 or 3 chops on individual plates.

Garnish with parsley and serve at once.
Nutrition
Calories: 415kcal