This dish has all those amazing autumnal flavors, but, it's so good, you'll enjoy it all year long.
Rice is so versatile and this pilaf is about as good as they come. Perfect for the holidays, but also scrumptious alongside fish, chicken, or grilled veggies. Of course, it just doesn't get better when paired with our classic glazed Cornish hens. And it can be made up to 24 hours in advance of serving!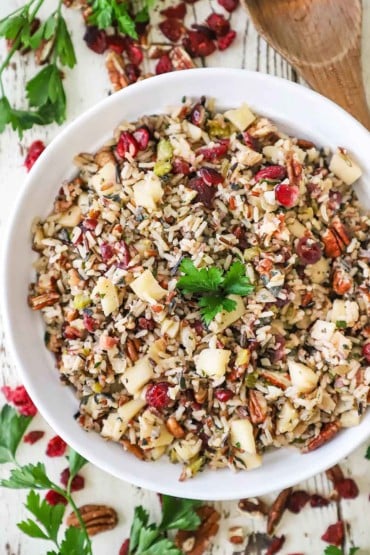 How To Make Wild Rice Pilaf with Pecans and Cranberries
NOTE: If you liked this video, please subscribe to our YouTube channel. Remember to click the little 'bell' icon so you'll never miss a new video. Thank you!
The Ingredients You Will Need
The components in the pilaf are familiar, but can easily be adapted to your own tastes. Here's what you'll need to have on hand:
Wild rice blend – Go with your favorite type of packaged wild rice. We love a blend of brown, red, white, and wild. Royal Blend is our favorite.
Chicken stock – Homemade is great, but good-quality store-bought is just fine. Vegetable stock is a great option, too.
Butter – Unsalted.
Pancetta – Cubed.
Apple – Granny Smith is our favorite. Fuji or Red Delicious are great choices, too.
Onion and celery – Chopped.
Garlic – Minced.
Dried cranberries – Sweetened or unsweetened. You can substitute any dried fruit, if desired.
Pecans – Roughly chopped.
Herbs – Fresh sage and parsley.
Tips for Making the Best Wild Rice Pilaf
Cook Down the Apples – Quickly sautéing the apples with the partially cooked pancetta will not only soften them, but will add an amazing depth of flavor to the apples.
Use Fresh Herbs – Use fresh sage and parsley for a bright, herbaceous flavor that complements the nutty wild rice and sweet cranberries. Fresh is superior to dried, but, dried can be used in a pinch. Use half the amount of fresh.
Cook the Rice in Chicken Broth – Cooking the rice in chicken broth instead of water will infuse it with extra flavor and make it more savory.
How To Serve
This rice pilaf is wonderful served warm or at room temperature. You can make it up to several days in advance.
If making in advance, keep it chilled in the refrigerator, covered, until about an hour before serving. Let it come to room temperature before serving.
It is wonderful served as a side dish for a wonderful summertime grill feast, but also, during the holidays. It is a show-stopper when served with glazed Cornish hens stuffed with this amazing pilaf.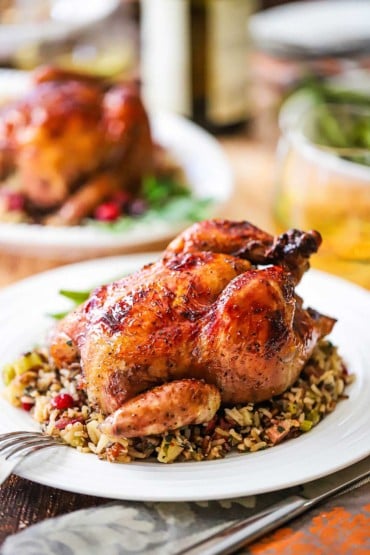 Other Classic Side Dishes to Try
It's been said that a main protein is only as good as its supporting dishes. Well, that may, or may not be true, but there is no doubt that these side dishes will rival any main dish you put on the table.
Cilantro Lime Rice
Roasted Whole Head of Cauliflower
Gourmet Broccoli and Cheddar Casserole
White Bean and Albacore Tuna Salad
Classic Candied Yams
Best Stewed Okra and Tomatoes
Roasted Broccoli with a Kick
Shaved Brussels Sprouts with Pancetta and Balsamic
Sautéed White Beans with Sage, Tomatoes, and Garlic
These are all amazing in their own right. But, in the meantime, isn't this bowl of yumminess catching your eye?
Ready to make the best side dish in town? Go for it!
And when you do, be sure to take a photo of it, post it on Instagram, and tag @HowToFeedaLoon and hashtag #HowToFeedaLoon!
Wild Rice Pilaf with Pecans and Cranberries
This pilaf is the perfect side dish in so many ways. The recipe can easily be adapted to you and your family's own likes. It's perfect in the warm months, but especially wonderful during the holidays.
Print
Rate
Servings: 6
Calories: 306kcal
Ingredients
2¼ cups wild rice blend
chicken stock for cooking the rice
3 tbsp unsalted butter divided, for the rice and then for the veggies
4 oz. pancetta cubed
1 Granny Smith apple peeled, cored, and cut into small cubes
1 medium onion chopped, about 1 cup
3 stalks celery chopped, about 1 cup
3 cloves garlic minced
½ cup dried cranberries
1 cup pecans roughly chopped
2 tbsp sage fresh, chopped
1 tbsp parsley fresh, chopped
1 tsp Kosher salt
½ tsp black pepper
Instructions
Prepare the rice according to the package instructions. Use broth (chicken or vegetable) in place of the water. Once cooked, place in a large bowl. Set aside.

2¼ cups wild rice blend, chicken stock, 3 tbsp unsalted butter

Heat a large skillet over medium heat. Add the pancetta and cook until almost crisp. If more than 1 tbsp of grease has rendered, tilt the pan and spoon the excess out. You'll need to leave about 1 tbsp of the grease. Stir in the apples and cook for 2 to 3 minutes, until the apples start to soften. Transfer to the bowl with the rice.

4 oz. pancetta, 1 Granny Smith apple

In the same skillet, heat 2 tbsp of the butter over medium heat. Add the onion and celery and sauté until soft, about 4 minutes. Add the garlic and sauté for another 30 seconds to 1 minute. Transfer to the bowl with the rice, pancetta, and apples.

1 medium onion, 3 stalks celery, 3 cloves garlic

To the bowl, add the cranberries, pecans, sage, parsley, 1 tsp salt, and ½ tsp black pepper. Stir together with a large wooden spoon until fully mixed.

½ cup dried cranberries, 1 cup pecans, 2 tbsp sage, 1 tbsp parsley, 1 tsp Kosher salt, ½ tsp black pepper

Serve at once. If desired, place in a baking dish and cover with foil. 20 minutes before serving, place in a 350°F oven to heat.
Notes
See the video near the top of the blog post for visual guidance. If you liked the video, please subscribe to our YouTube channel.
This recipe is very adaptable to your own tastes. You can vary the dried fruits, nuts, and herbs. To make this 100% vegetarian, leave out the pancetta and use vegetable stock for making the rice. Sauté the apples in a little butter, or, don't worry about sautéing them at all.
The rice can be made up to 24 hours in advance. Follow the last step in the recipe for reheating.
Leftovers will keep covered in the fridge for up to 5 days.
Nutrition
Calories: 306kcal | Carbohydrates: 18g | Protein: 5g | Fat: 14g | Saturated Fat: 4g | Polyunsaturated Fat: 3g | Monounsaturated Fat: 7g | Trans Fat: 0.3g | Cholesterol: 28mg | Sodium: 432mg | Potassium: 243mg | Fiber: 4g | Sugar: 12g | Vitamin A: 355IU | Vitamin C: 5mg | Calcium: 47mg | Iron: 1mg