Eating healthy does not, and should not, mean you have to forgo wonderful taste when preparing a meal.
This side dish is literally exploding with flavor and it is so good for you, too! Whenever Wesley and I are trying to count our calories, this is one of our favorite dishes to make. Even when we're not counting calories! And it comes together in about 30 minutes!
How To Make Roasted Broccoli with a Kick
There are so many things to love about this dish. It's delicious, good for you, and so easy to prepare!
It really is the perfect weeknight side dish, but also perfect for feasts, such as Thanksgiving or other holidays.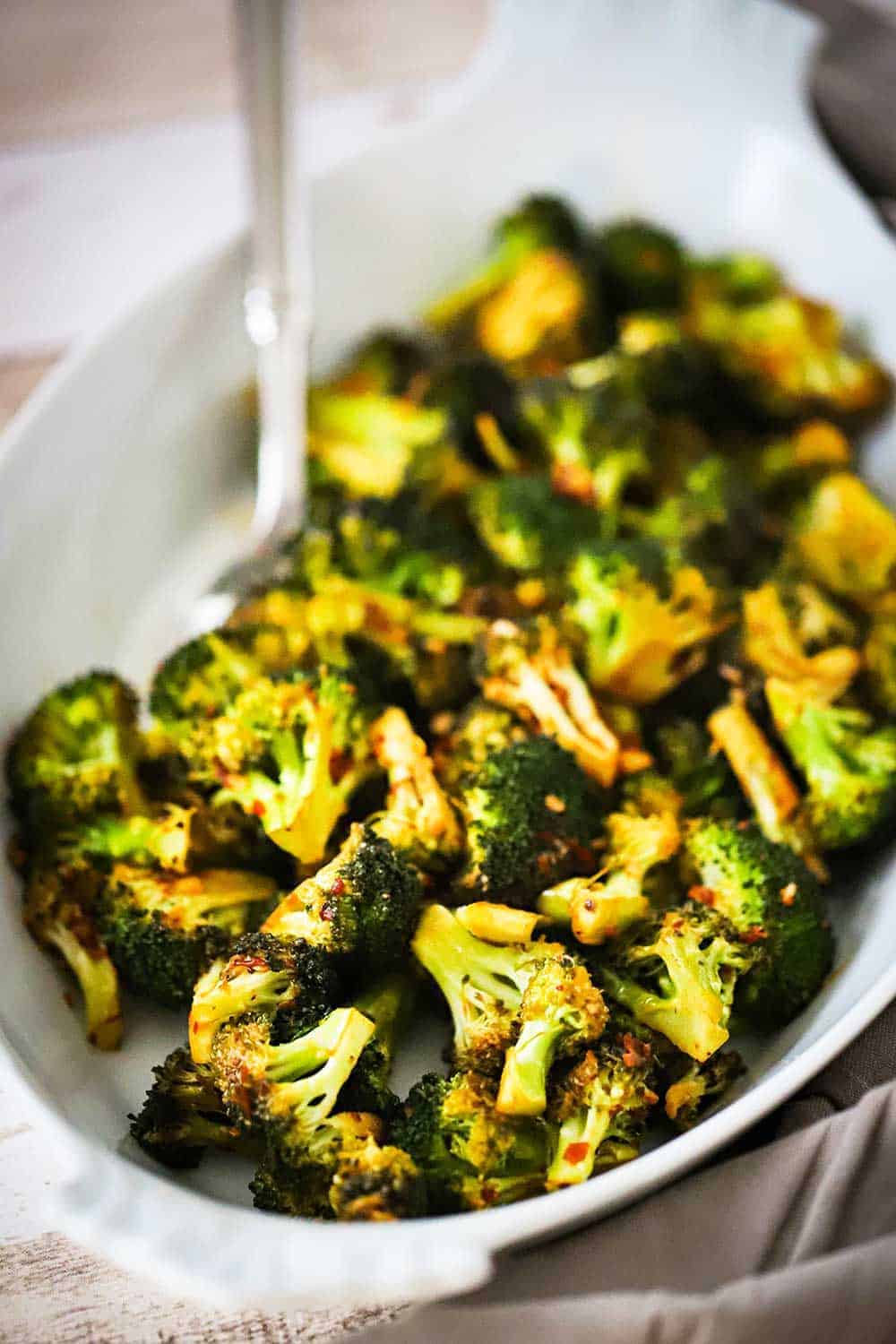 How to Cut Broccoli
We highly recommend going with fresh broccoli for this dish. You can purchase two whole heads or just the crowns.
Simply use a knife to cut away the thick stem, and then easily cut away the florets into bite-sized pieces.
EXPERT TIP: If you prefer to go with packaged broccoli, then seek out the bagged variety that is typically used for steaming. No need to steam! Frozen can be used in a pinch, but we find that the texture isn't as desirable once it's roasted. And broccoli is super good for you! Read more about its awesome health benefits here.
Adding Layers of Flavor
So, we call this Roasted Broccoli with a Kick because we like to add a touch of spice to the dish. We do this with Chili Paste, which can be found in most well-stocked supermarkets. Our favorite chili sauce is Sambel Oelek, but a nice Sriracha is great, too.
EXPERT TIP: Because we do like our broccoli with a bit of a kick, we go with two healthy tablespoons of the chili paste. For a milder taste, go with just 1 tablespoon, for more intense flavor, go with 3 or more. The addition of lemon juice and soy sauce and fresh garlic match beautifully against the chili paste. Whisk it all together in a small bowl.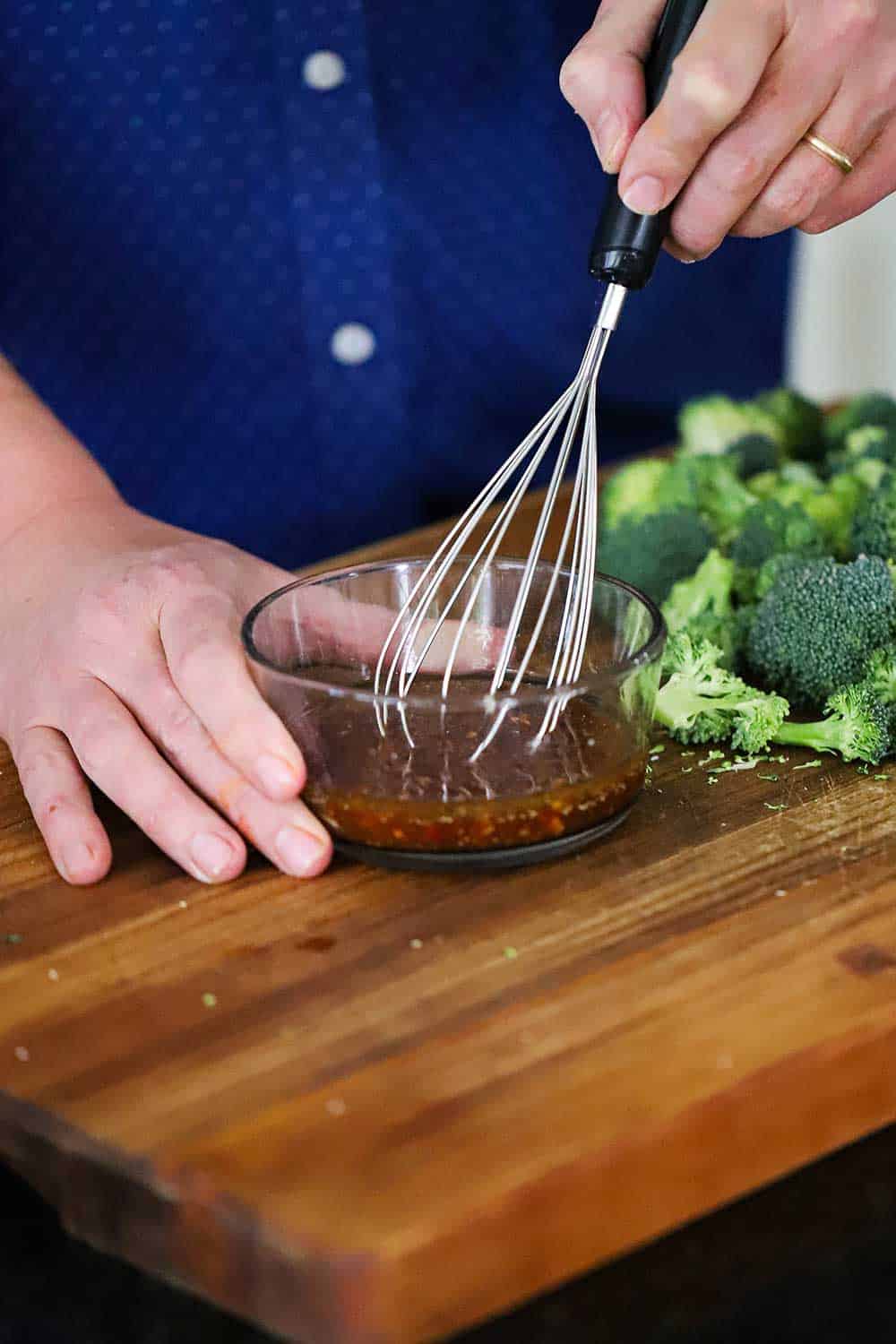 Now, it's time to bring it all together. First, preheat your oven to a nice hot 425°F.
Place the broccoli florets in a large bowl and then add the sauce. Toss well with wooden spoons.
EXPERT TIP: We love roasting the broccoli on a standard baking sheet. However, you can also use a 9″x13″ baking dish, or even the dish you plan to serve it in, just make sure it's oven safe.
The simplicity of this dish speaks for itself. But the flavor profile is really deep and so satisfying.
Other favorite broccoli dishes of ours include:
But in the meantime, you've just got to sink your teeth into some incredible roasted broccoli with a kick!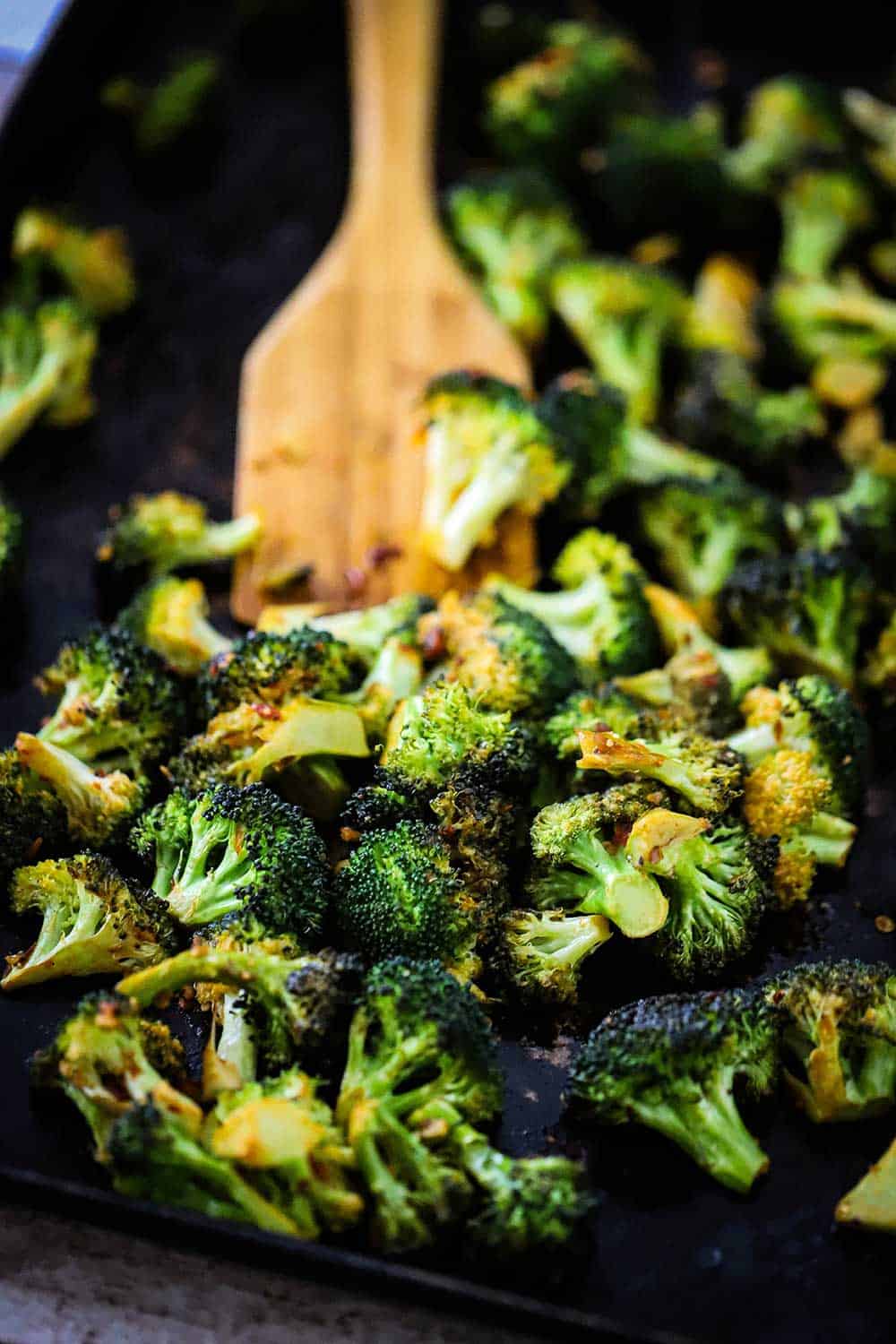 When To Serve Roasted Broccoli
As discussed, broccoli is loaded with great nutritional value and an ideal choice for a healthy diet.
It's the perfect dish when you are trying to cut calories and even lose weight. But folks, it's so loaded with flavor, you'll love it even when you're not necessarily counting those calories!
And did we mention how easy it is to prepare? YES! Perfect for busy weeknight dinners, but also a lovely side dish to an elegant dinner party.
Ready to make the most delicious (and healthy) side dish in town? Go for it!
And when you do, be sure to take a photo of it, post it on Instagram, and tag @HowToFeedaLoon and hashtag #HowToFeedaLoon!
Roasted Broccoli With a Kick
This is a super easy, but super flavorful way to make broccoli. It's good for you and so good to eat. Enjoy!
Print
Pin
Rate
Servings: 4 people
Calories: 180kcal
Equipment
Baking pan or 9"x13" baking dish
Ingredients
2 broccoli crowns thick stems removed, cut into florets
2 cloves garlic minced
2 tbsp olive oil
1 tbsp soy sauce
2 tbsp chili paste such as Sambel Oelek or sriracha
2 tbsp lemon juice
¼ tsp salt
¼ tsp black pepper
Instructions
Preheat oven to 425°F.

Whisk together all the ingredients (except broccoli) in a small bowl. Place the cut broccoli in a large bowl. Add the sauce and toss to coat the broccoli evenly.

Spread the broccoli over a baking sheet or baking dish and roast for 20 minutes, or until broccoli is lightly browned on top and softened. Serve at once.
Notes
We highly recommend going with fresh broccoli for this dish. However, you will still get good results with bagged broccoli found in the produce section of most well-stocked supermarkets. Don't steam the broccoli before roasting! We don't recommend using frozen broccoli because the texture won't be desirable after roasting. Sambel Oelek and sriracha can be found in the Asian section of most supermarkets, or sometimes in the condiments section, near the ketchup. For low heat, go with 1 tbsp of the chili paste. For medium heat (our favorite) go with 2 tbsp of the chili paste. Increase the amount for extra spicy. This dish is best served right out of the oven, but is still addictively delicious even after they've cooled off!
Nutrition
Calories: 180kcal | Carbohydrates: 24g | Protein: 9g | Fat: 6g | Saturated Fat: 1g | Sodium: 500mg | Potassium: 1000mg | Fiber: 8g | Sugar: 6g | Vitamin A: 1910IU | Vitamin C: 275mg | Calcium: 146mg | Iron: 2mg
POST UPDATE: This recipe was originally published in January 2014, but was updated with improved tweaks to the recipe, with new tips and photography, and a fabulous new video in January 2021!.