Roasted Broccoli with a Kick is so simple and incredibly flavorful.
This side dish is literally exploding with flavor and it is so healthy, too! Whenever Wesley and I are trying to count our calories, this is one of our favorite dishes to make. Even when we're not counting calories!
ROASTED BROCCOLI IS EXTREMELY EASY TO MAKE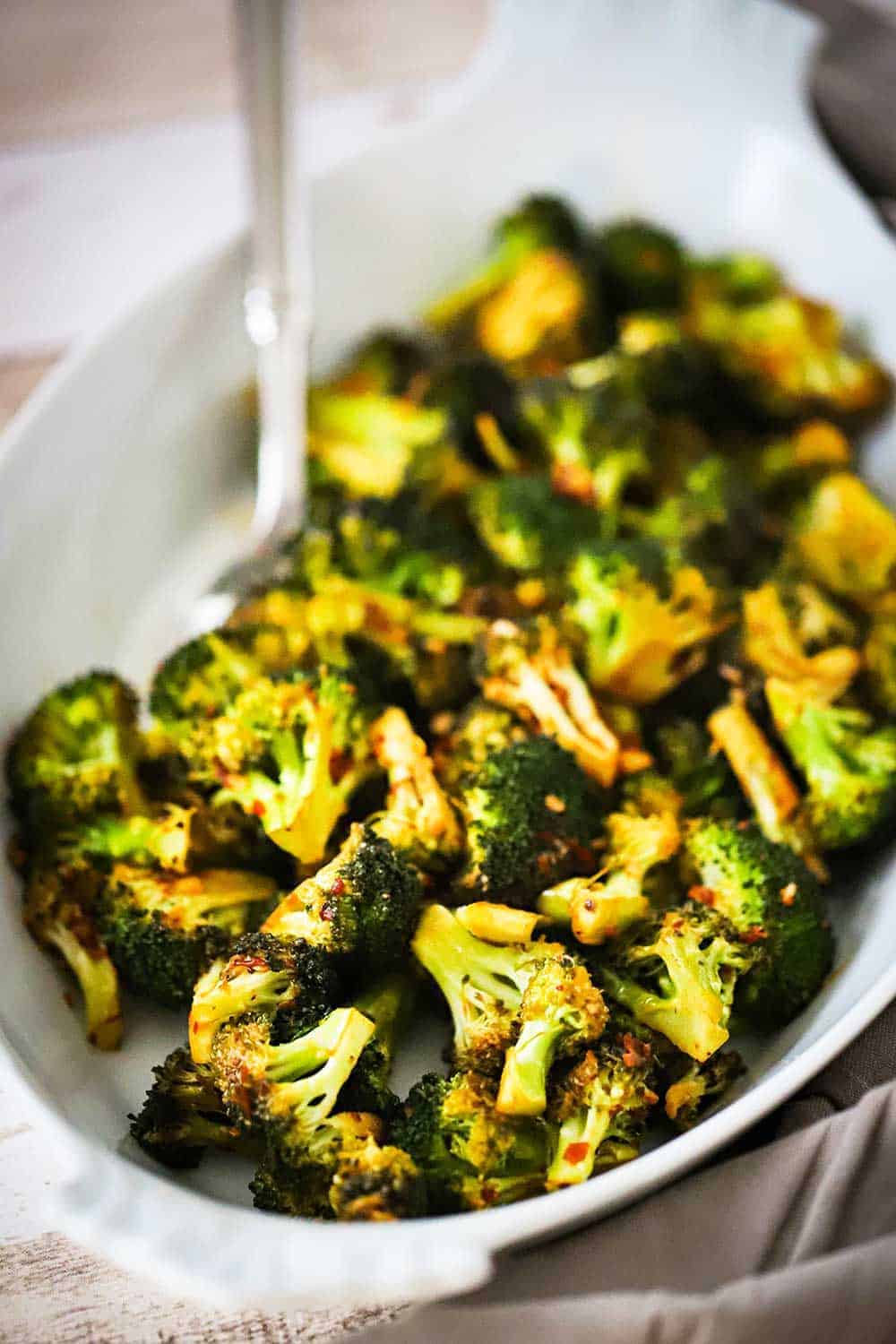 We love getting fresh broccoli and coring it and then cutting into bite size pieces. We love broccoli because it's just so delicious in so many dishes, like our Broccoli and Cheddar Quiche, but it's also super healthy, too. Read more about that here, if you're interested.
But nowadays, many well-stock supermarkets sell pre-cut broccoli in the produce section. We wouldn't recommend going with the frozen variety, but you could in a pinch. If you do, make sure its completely frozen.
The other key ingredient for this awesome dish if chili paste. This product can usually be found in the condiment section of your grocery story, near the ketchups.
Roasted Broccoli with a Kick! This is fantastic.  And so quick and easy.  It's healthy, it's gluten-free, and it has a nice spice that when you pop these into your mouth…you'll say:  "oh yes!!"  You can find the red chili paste in the Asian section of your local super market.  Adjust the heat to your liking.  Super easy and super good!  Roasted broccoli with a kick!
ROAST FOR ONLY 15 MINUTES
After you've tossed everything together, so the broccoli is nicely coated, simply add to a baking dish.
During this time, make sure you've pre-heated your oven to 425°F.
The perfect side dish.
We just can't rave enough how delicious this Roasted Broccoli with a Kick is. If you want more heat, double up on the chili paste! So good!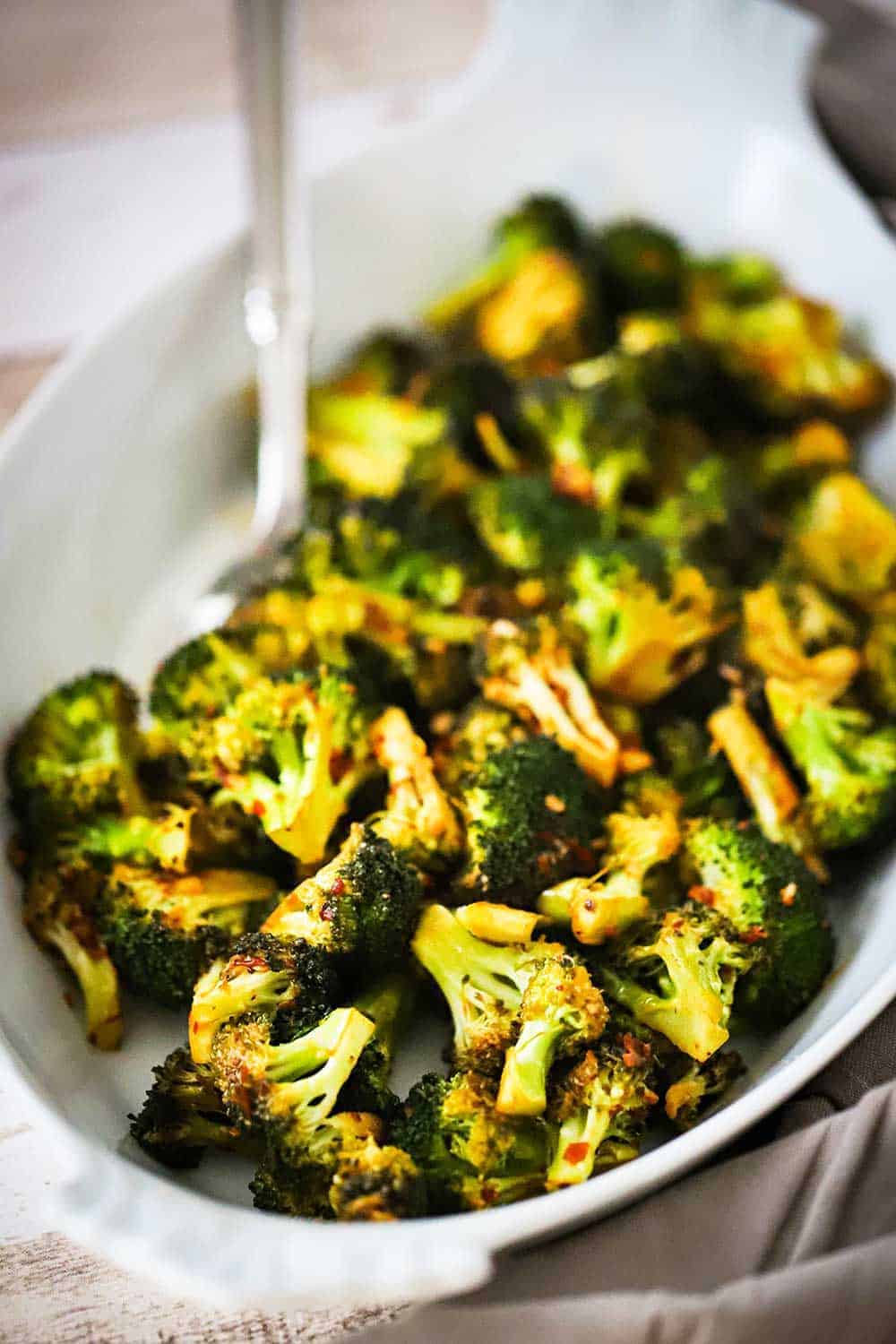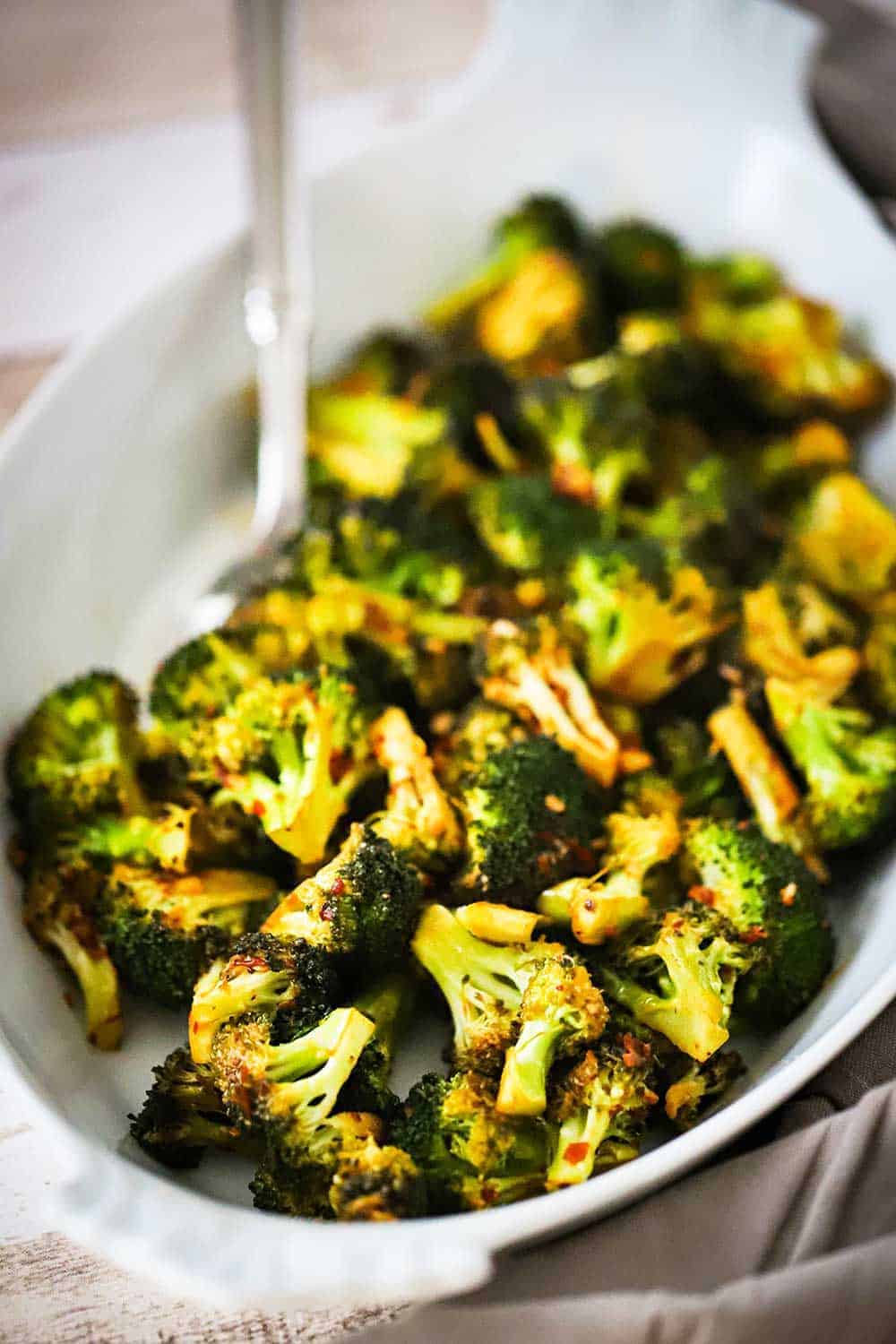 Roasted Broccoli With a Kick
This is a super easy, but super flavorful way to make broccoli. It's good for you, and so good to eat. Enjoy!
Print
Pin
Rate
Servings: 6 people
Calories: 109kcal
Ingredients
2 broccoli crowns chopped into smaller pieces
2 garlic cloves minced
2 tbsp olive oil
1 tbsp soy sauce
2 tbsp fresh chili paste
Juice from half of 1 lemon
1/4 tsp salt
1/4 tsp black pepper
Instructions
Pre-heat oven to 425 F

Add the broccoli to a baking dish.

Mix all the ingredients (except broccoli) in a small bowl.

Drizzle mixture over broccoli, then toss to coat evenly.

Roast for 15 minutes (turn about half way through). Serve at once.
Nutrition
Calories: 109kcal