If you thought turkey burgers could only be dry and lacking in flavor, it's time to re-think everything.
This burger truly gives your standard all-beef burger a run for its money. We go with our homemade Jamaican Curry Powder, but homemade East Indian Curry Powder is wonderful, too. The dill yogurt sauce and the grilled pineapple come together to make one of the most flavorful burgers we've ever had or served. It's really that good!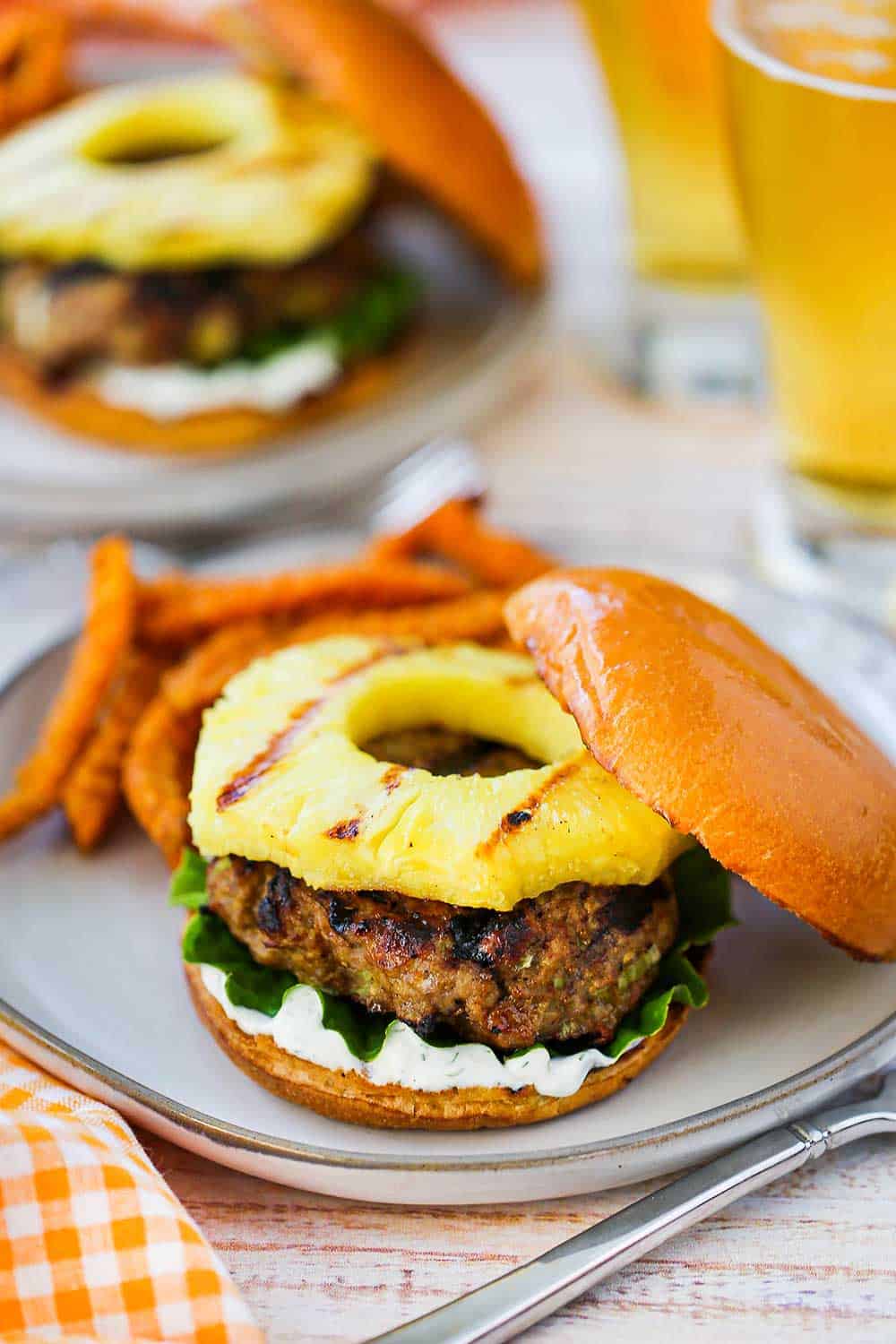 How To Make Curry Turkey Burgers
As you would imagine, curry is a key ingredient in giving the burgers the amazing boost in flavor that we're looking for.
As mentioned, we find that our homemade Jamaican curry powder works wonderfully with the ground turkey, along with the fresh ginger, honey, cinnamon, and green onions.
EXPERT TIP: The curry powder can be made weeks in advance and kept in a container with a tight-fitting lid. We use a good ole Mason jar. You can find Jamaican powder online, just reduce the amount of salt to the meat mixture, because many brands include salt, whereas our homemade version does not. Of course, quality purchase curry powder will work in this recipe, too. If making the curry powder from scratch, start a day or two before making the burgers.
The Ingredients You Will Need
To get the juiciest turkey burger in town, we opt for 93% Lean ground turkey meat.
For the healthiest burger, go with 99% fat-free. It will be a drier burger, but still quite tasty.
To boost the flavor profile, we add the following ingredients with the curry powder:
Fresh ginger – minced
Scallions (green onions) – finely chopped
Honey
Cinnamon – Ground
Salt and pepper
And for a final umami taste addition, we brush a combination of soy sauce and Worcestershire sauce while the burgers are grilling.
EXPERT TIP: We like to use large burger-sized cookie cutters to form the patties. You can also use a regular hamburger press, or the lid of a large jar, or even just your hands! You can grill the burgers as soon as you form them, but we find the flavors deepen if you cover the patties and place in the fridge for 2 to 12 hour before grilling.
We believe a great burger deserves a great sauce or condiment.
Our dill yogurt sauce is the ticket.
A wonderful cool match to the slight heat of the grilled turkey burger.
EXPERT TIP: The sauce can (and should) be made up to 2 days in advance. Just like the prepared burgers, the flavors will deepen and meld the longer they hang out with each other in the fridge.
How To Cut a Fresh Pineapple
Cutting a fresh pineapple into rings is actually a lot easier than you might think.
Simply turn the pineapple on its side, and use a large, sharp knife to cut off the top and bottom of the fruit.
Use your knife to gradually cut away the prickly skin. Do this slow and steady. It usually takes a couple of trips around the upright pineapple to remove all of the little prickly spots.
Now, simply (and carefully), begin cutting the pineapple into slices, about ¼-inch thick. Use a paring knife, or a small cookie cutter to remove the core from each slice.
Tips for Perfect Curry Turkey Burgers
How Long To Cook Turkey Burgers? – This is really going to depend on the thickness of your patties. If you keep them about ¼ to ½-inch thickness, about 7 minutes per side will cook them through. An instant-read thermometer will let you know when you've reached an internal temperature of 160°F. Remember, the burgers will continue to cook for another 5 minutes or so and increase to the desired 165°F.
Can You Cook the Burgers in a Skillet? – If you don't have a grill, cooking them in a skillet is a great option. Simply spray a sturdy skillet (i.e., cast-iron) with cooking spray, and heat over medium heat. Cook for about 5 to 7 minutes per side, or until cooked through and an internal temperature reaches 165°F.
Can I Use Canned Sliced Pineapple? – Yes, but be careful. After draining the pineapple, carefully transfer them onto the grate of your grill and take extra care when flipping them because they are very soft. Cooking them on a grill pan is a great way to ensure they won't slip through the grates.
EXPERT TIP: The pineapple cooks much quicker than the burgers. After 7 minutes of cooking the burgers, flip them over, and then add the pineapple slices. After about 3½ minutes of grilling, flip the pineapple slices over for the remaining 3½ minutes.
When and How to Serve
We love these curry turkey burgers so much, we fix them almost at least once a week, every week, especially during the warm months.
It's also really awesome to serve these at an outdoor BBQ. Often, guests are intrigued by them, and blown away by the taste. Set all the fixings out and let them build their own burger.
And you may be asking: "Are turkey burgers healthy?" While both ground turkey and beef burgers have various health benefits, turkey has less saturated fat and in turn, is good for a healthy heart. For the healthiest burger, go with 99% fat-free. Although, just remember, the burgers won't be quite as juicy.
Folks…this is an amazing burger. No question about it.
We love a good beef burger, such as our Rockin' Black and Bleu Burger. And a great chicken option is our Honey Mustard Chicken Sandwich.
We even love our fantastic World's Best Veggie Burger!
But if you're looking for a turkey burger that isn't dry and has amazing taste, this is the one for you!
With just one bite, you'll be a believer!
Ready to make the juiciest and most delicious turkey burger in town? Go for it!
And when you do, be sure to take a photo of it, post it on Instagram, and tag @HowToFeedaLoon and hashtag #HowToFeedaLoon!
Curry Turkey Burgers with Grilled Pineapple
Curry Turkey Burgers with Grilled Pineapple are so juicy and deeply flavorful. The patties and dill yogurt sauce can be made up to 1 day before serving. The flavors complement each other perfectly.
Print
Pin
Rate
Servings: 4
Calories: 612kcal
Ingredients
For the Curry Turkey Burgers
1½ lbs ground turkey 93% lean
¼ cup scallions finely chopped, about 3 scallions
1 tbsp ginger fresh, minced
¼ cup honey
1 tbsp Jamaican curry powder Or regular curry powder
¼ tsp cinnamon ground
1 tsp Kosher salt
½ tsp black pepper
2 tbsp soy sauce optional
2 tbsp Worcestershire sauce optional
For the Dill Yogurt Sauce
½ cup Greek yogurt plain, preferably whole milk
1 tbsp dill fresh, chopped
1 tbsp lemon juice fresh
1 clove garlic pressed, or minced
¼ tsp Kosher salt
1 pinch black pepper
For the Serving Burgers
1 pineapple fresh - cut into slices, or canned - drained
4 brioche buns
2 tbsp unsalted butter optional
green leaf lettuce cut into bite-sized pieces
Instructions
Prep the Burgers
In a large glass bowl, mix together the turkey, scallions, ginger, honey, curry powder, cinnamon, salt, and pepper. Mix until just combined and ingredients are evenly distributed.

Form into 4 patties. Cover and place in the fridge while you make the dill yogurt sauce, or, let them stay in the fridge for 2 to 12 hours.

Before grilling, add the soy and Worcestershire sauces together in a small bowl. Set aside.
Put Together the Dill Yogurt Sauce
Add all of the yogurt sauce ingredients into a small bowl and mix together with a whisk or fork. Cover and place in the refrigerator until ready to serve the burgers.
Grilling And Serving
Heat your gas or charcoal grill to medium-high heat.

If desired, butter the buns, and bring them out to the grill.

Spray the grate of the grill with cooking spray. Place the turkey patties on the grill over direct heat. Brush the soy/Worcestershire mixture over the tops of the patties. Cook for 7 minutes and then use a spatula to carefully flip them. Brush again with the soy/Worcestershire mixture.

After flipping the burgers, place the pineapple slices on the grill over direct heat. Carefully flip the pineapple sliced after about 3½ minutes. After a total of 7 to 8 minutes, or until the burgers are cooked through (160 to 165°F), remove them from the grill along with the pineapple slices.

Place the buns, cut-side down, on the grill. Keep an eye on them, brioche buns don't take long to get browned and toasty. Usually only a couple of minutes at the most.

Build the burgers by smearing a tablespoon of the dill yogurt onto the toasted bottom bun. Add a piece of the green leaf lettuce, and then the burger, and then a grilled pineapple slice on top. Add the top bun and serve at once.
Notes
Ground chicken is an excellent substitute for ground turkey. Both the patties and yogurt sauce are best when allow to sit covered in the fridge for several hours, or overnight. You can cook the patties in a skillet over medium-high heat for about 6 to 8 minutes per side. Use an instant-read thermometer to ensure the internal temperature reaches 160 to 165°F. Canned pineapple slices that have been drained can be used in place of fresh pineapple. They will be much softer, so handle them with care, especially on the grill. Leftover grilled turkey burgers will keep in an air-tight container in the fridge for up to 4 days. The prepared turkey meat can be frozen for up to 2 months.
Nutrition
Calories: 612kcal | Carbohydrates: 90g | Protein: 55g | Fat: 18g | Saturated Fat: 6g | Polyunsaturated Fat: 1g | Monounsaturated Fat: 2g | Trans Fat: 1g | Cholesterol: 253mg | Sodium: 1798mg | Potassium: 920mg | Fiber: 4g | Sugar: 42g | Vitamin A: 1148IU | Vitamin C: 112mg | Calcium: 133mg | Iron: 4mg