Cooking with made-from-scratch ingredients is delicious and so much fun!
You should be able to find all of the ingredients called for in the spice section of well-stocked supermarkets. If not, they can also easily be ordered online. This recipe makes a warm, but not overly spicy curry powder and is perfect in so many dishes!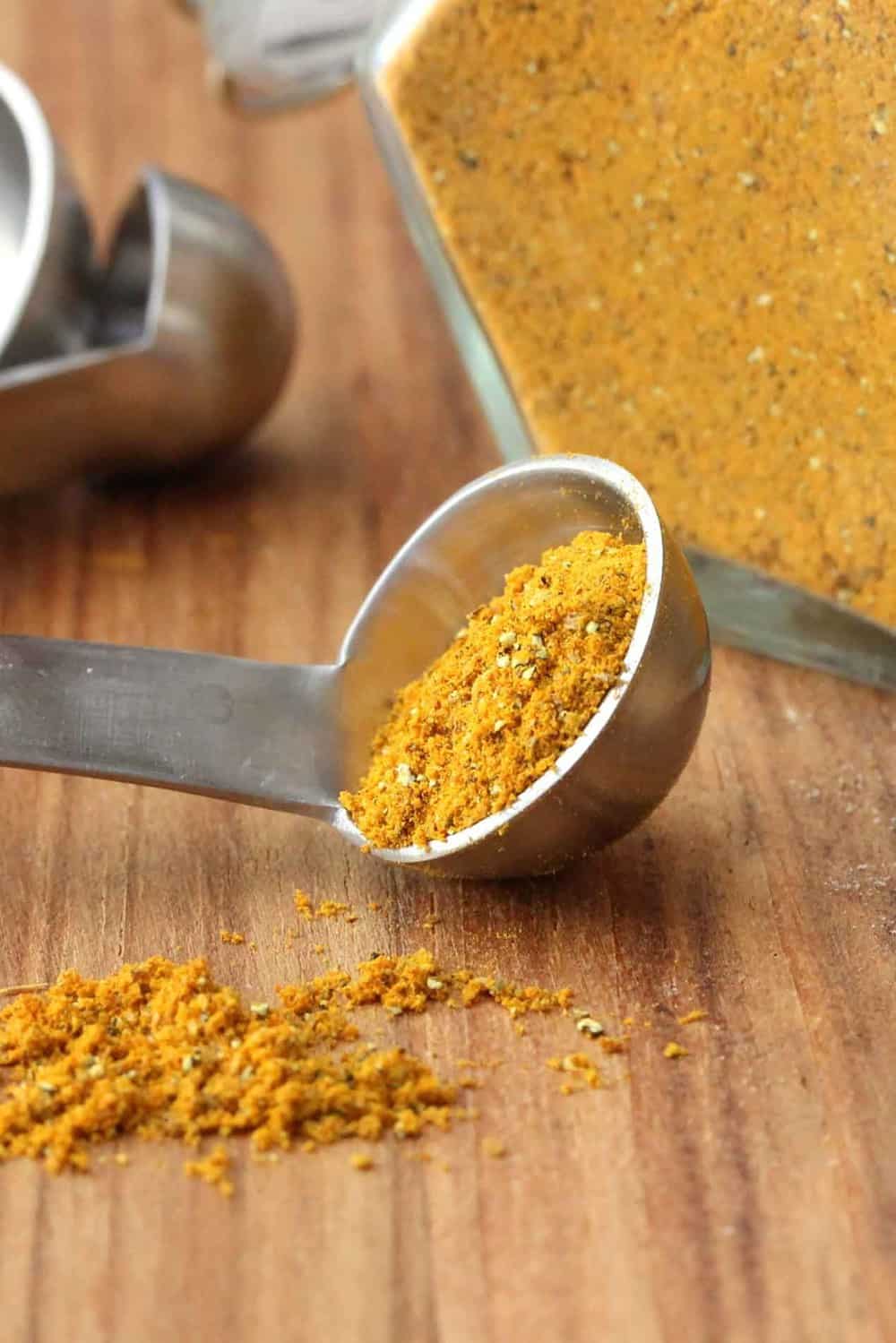 HOW TO MAKE HOMEMADE CURRY POWDER
Making curry powder from scratch is easier than you might think. Actually, there are many different recipes for curry. They are as colorful as the history of the spice itself.
Once you have the ingredients in hand, you just need a small skillet and a spice grinder – we use our coffee grinder from the 1990s!
Watch us show you how to make this incredible and iconic spice at home!
WHAT'S IN CURRY POWDER?
For this recipe, there are only six ingredients:
Cumin Seeds
Cardomom Seeds
Coriander Seeds
Ground Turmeric
Ground Dry Mustard
Cayenne Pepper
EXPERT TIP: As mentioned, this recipe makes a fairly mild homemade curry powder. For more heat, double the cayenne. For intense heat, triple the cayenne pepper.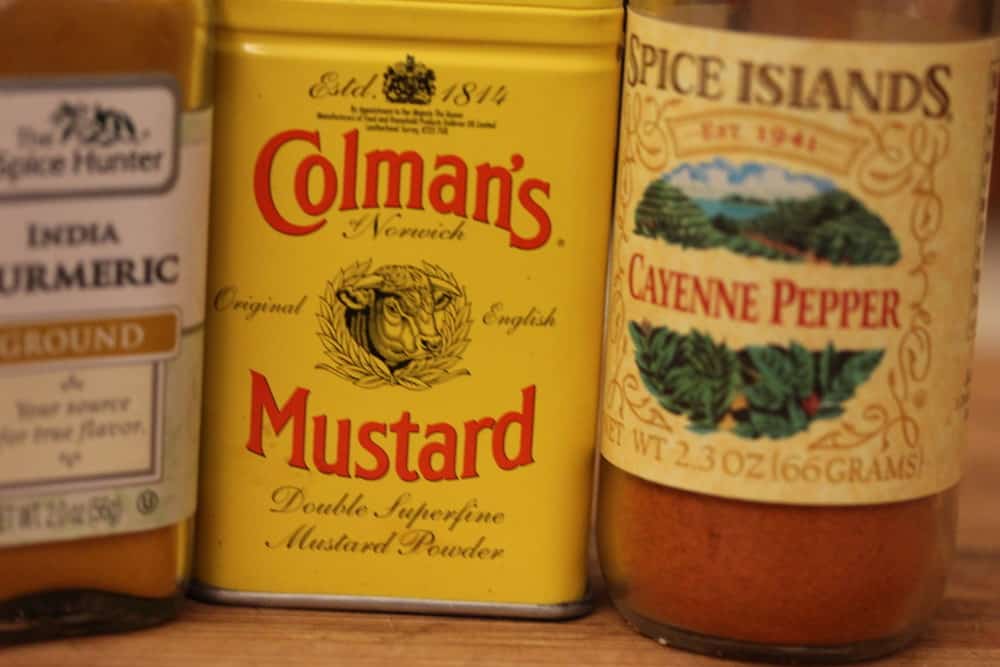 Toasting the seeds really intensifies the flavor of the cumin, cardamom, and coriander seeds.
Simply add them to a small saucepan and heat them over low heat for about two minutes.
EXPERT TIP: You will smell the oils from the seeds as they are toasted. If they start to smoke, remove from heat. Be careful to not let them burn.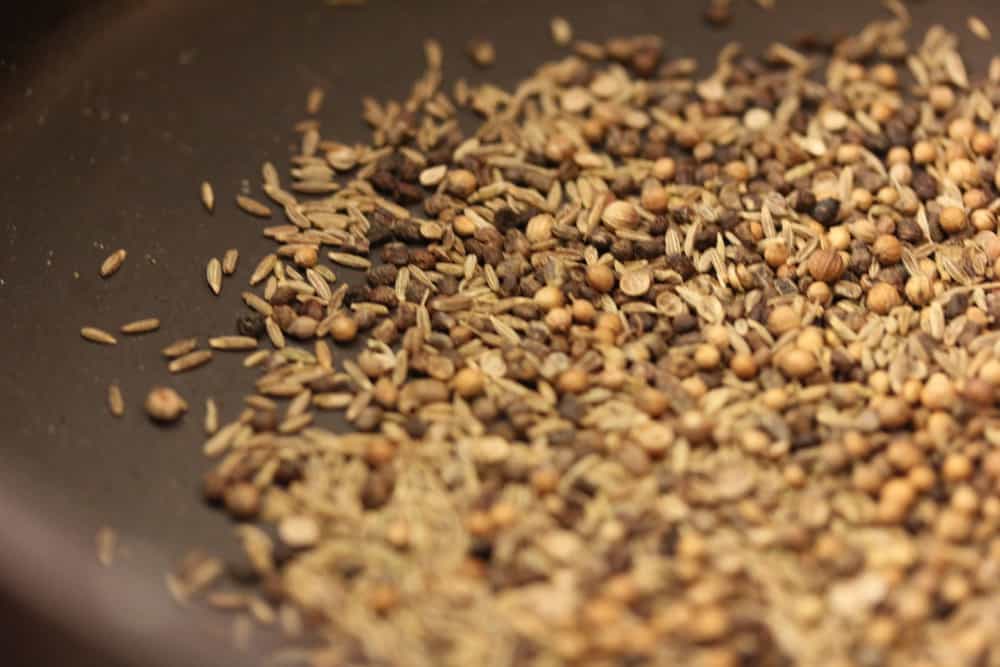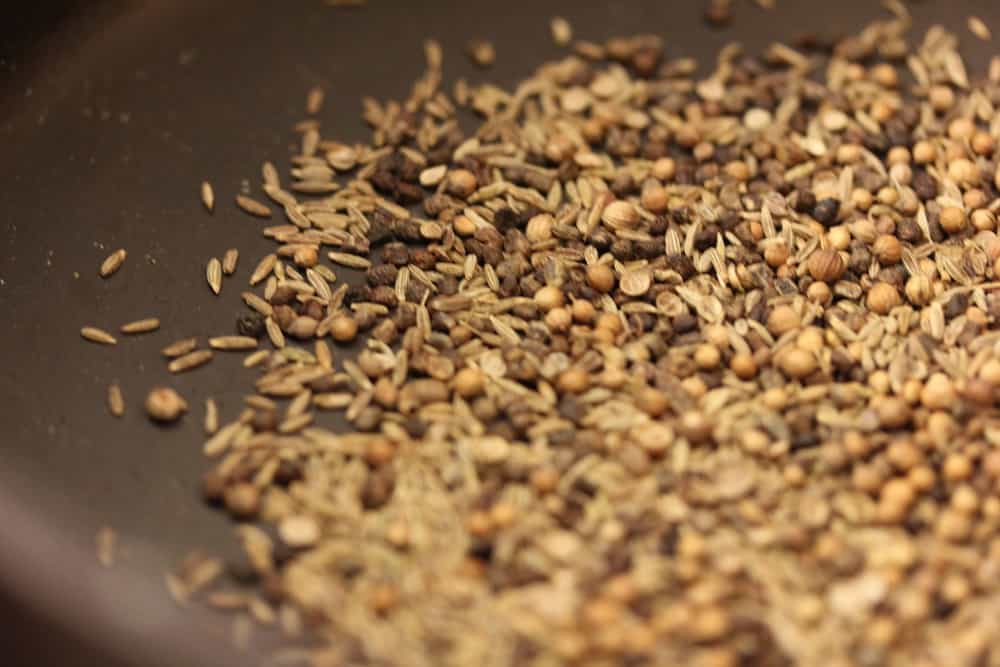 PULVERISE TO A POWDER
After the toasted seeds have had time to cool, you'll mix in the ground turmeric, mustard, and cayenne pepper.
We use our old coffee grinder to pulverize the ingredients into a fine powder.
If you don't have a spice grinder or coffee grinder, and mortar and pestle will work, or a small food processor.
OUR FAVORITE DISHES
Folks, it just doesn't get much more comforting than a dish made with homemade curry powder.
The taste is subtle and yet pronounced. You'll get just a touch of heat on the back end of each bite.
Here are some of our favorite recipes using this amazing spice:
Curry Chicken Salad (Coming Soon!)
Now, go and make Homemade Curry Powder! You'll be so happy that you did!
Ready to make this amazing spice in your own kitchen? Go for it!
And be sure to take a picture, post it to Instagram, and tag @howtofeedaloon and #howtofeedaloon!
Homemade Curry Powder
Homemade Curry Powder is so easy and makes all the difference in any recipe that calls for curry powder. You can find the ingredients at specialty markets, and Indian markets Go for it...you'll be so glad you did.
Print
Pin
Rate
Servings: 24
Calories: 2kcal
Instructions
In a small to medium saucepan or skillet over low-medium heat, add the cumin, cardamom, and coriander seeds and toast them until they are fragrant, about 2 to 3 minutes.

Transfer to a small bowl and let cool.

Add the turmeric, mustard powder, and cayenne and mix to combine.

Grind the spices in a spice or coffee grinder.

Store in an airtight container for up to 2 months.
Notes
Keep an eye on the seeds as they toast. Keep the heat low. If they start to smoke and smell like they are burning remove from heat. They will release some steam and you will smell them as they cook. Let them cool completely before adding the rest of the spices. A spice grinder or coffee grinder works perfectly. However, a mortar and pestle would work, by hand. Or a small food processor. Be sure to pulverize into a fine powder is formed. The curry powder will keep in an airtight container in your spice drawer for up to 2 months. Use in any recipe that calls for curry powder. It's also wonderful sprinkled on grilled meats and vegetables, such as kielbasa, chicken, and even shrimp.
Nutrition
Calories: 2kcal | Carbohydrates: 1g | Protein: 1g | Fat: 1g | Saturated Fat: 1g | Sodium: 1mg | Potassium: 5mg | Fiber: 1g | Sugar: 1g | Vitamin A: 19IU | Vitamin C: 1mg | Calcium: 3mg | Iron: 1mg
This recipe was adapted from Chef Donald Link in his book: Real Cajun (the recipe comes from a colleague of his: Ryan Prewitt).
POST UPDATE: This recipe was originally published in April 2015, but was updated with new tips and a fabulous video in January 2020.