We love side dishes that almost upstage the main dishes. In our books, this is one of those recipes.
The flavor of this salad is so satisfying. The touch of curry may sound odd, but, it gives a depth to this salad that makes it one of our all-time favorites. Making homemade curry powder is easy and so wonderful!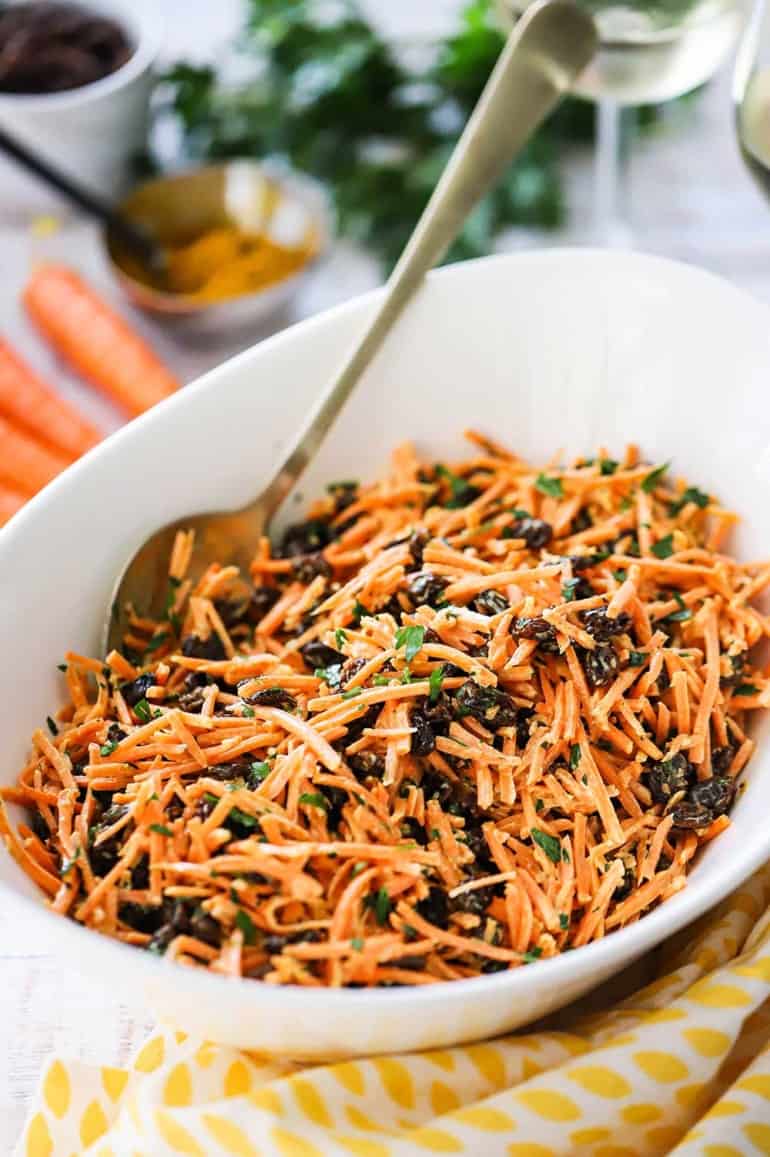 How To Make Carrot and Raisin Salad with Curry Dressing
You really will be surprised at how easy it is to make this carrot salad.
The dressing is simple, and as mentioned, the hint of curry is the perfect match against the sweet raisins and the flavorful carrots.
Store-bought curry is perfectly fine, but, honestly, there are so many types of curry powder, when you make your very own, you know exactly what you're getting.
NOTE: If you liked this video, please subscribe to our YouTube channel. Remember to click the little 'bell' icon so you'll never miss a new video. Thank you!
The Ingredients You Will Need
The ingredients for this wonderful salad are pretty simple. Fresh is best, but pre-packaged will work, too.
Here's What You'll Need to Have on Hand
Mayonnaise – Homemade is easy and so good, but store-bought is just fine
Curry powder – Same as the mayo, it's amazing how simple it is to make from scratch, but store-bought works, too
Salt – Kosher
Cayenne – A little adds a tiny kick, double or triple the amount for more heat
Lemon – Fresh is best
Carrots – Shredded. We love to use our food processor to shred fresh carrots, but packaged pre-shredded is perfectly fine
Raisins – Make sure they are fresh and very juicy
Parsley – Go with fresh here, if at all possible
EXPERT TIP: The dressing can be made up to 24 hours in advance. We do recommend letting the salad sit with the dressing for at least 1 hour in the refrigerator before serving.
Tips for Perfect Carrot and Raisin Salad with Curry Dressing
Use fresh and high-quality ingredients: The success of any salad depends on the quality of the ingredients used. Make sure to use fresh and crisp carrots, plump and juicy raisins, and high-quality curry powder for the dressing.
Balance the flavors: The dressing should be well-balanced with the right amount of sweetness, tanginess, and spiciness. Taste the dressing before adding it to the salad and adjust the flavors as needed. You can add a little honey or maple syrup to balance the tanginess of the dressing.
Let it marinate: Once you have mixed the salad and dressing, let it sit in the refrigerator for at least an hour before serving. This will allow the flavors to meld together and the raisins to plump up.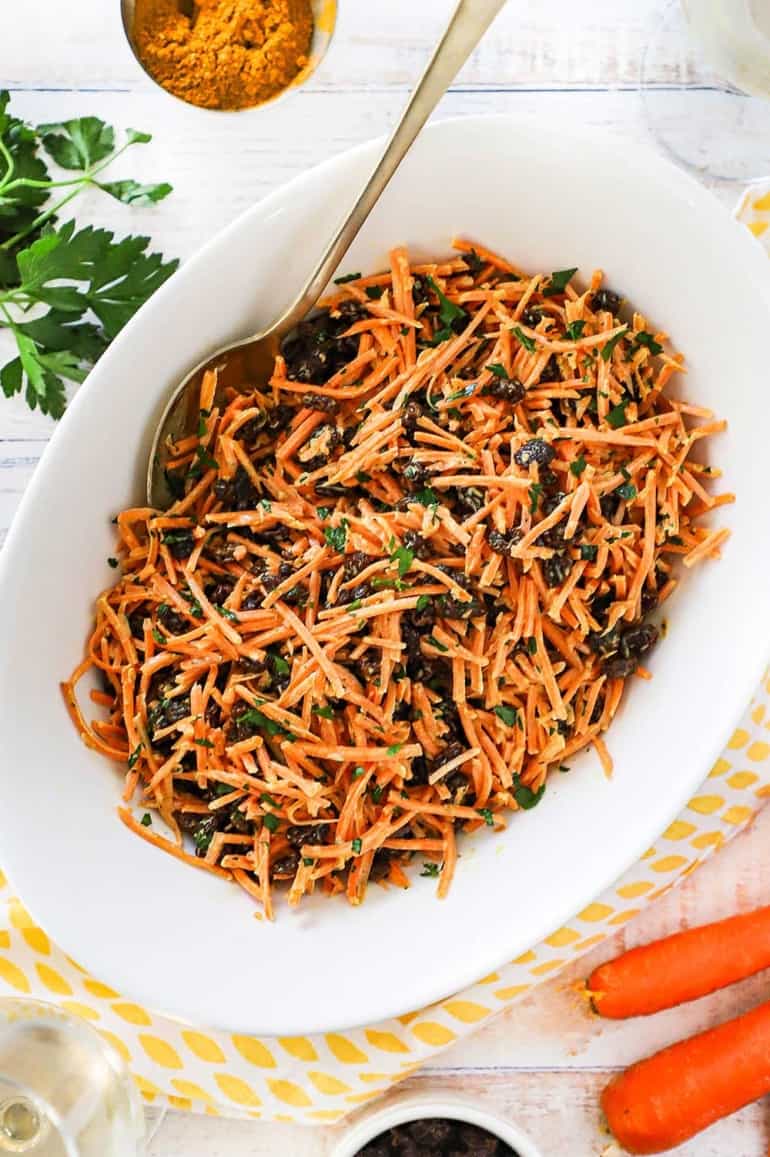 Other Side Salad Recipes to Try
This particular salad is always a hit when we serve it, especially at backyard BBQs, potlucks, and family gatherings. Here are some other side salads that always garner rave reviews:
Fresh Strawberry and Spinach Salad with Avocados
Creamy Horseradish Potato Salad
Warm Potato Salad with Bacon Vinaigrette
Avocado-Lime Slaw
Zesty Roasted Corn and Black Bean Salad
Cucumber and Dill Salad
Watermelon Cucumber Salad with Feta and Basil
Cajun Pasta Salad
These are all amazing, but in the meantime, isn't this salad calling your name?
There are so many things to love about this incredible salad.
It's not run-of-the-mill. It's unique. And it also happens to be beautiful.
But most of all, it's delicious.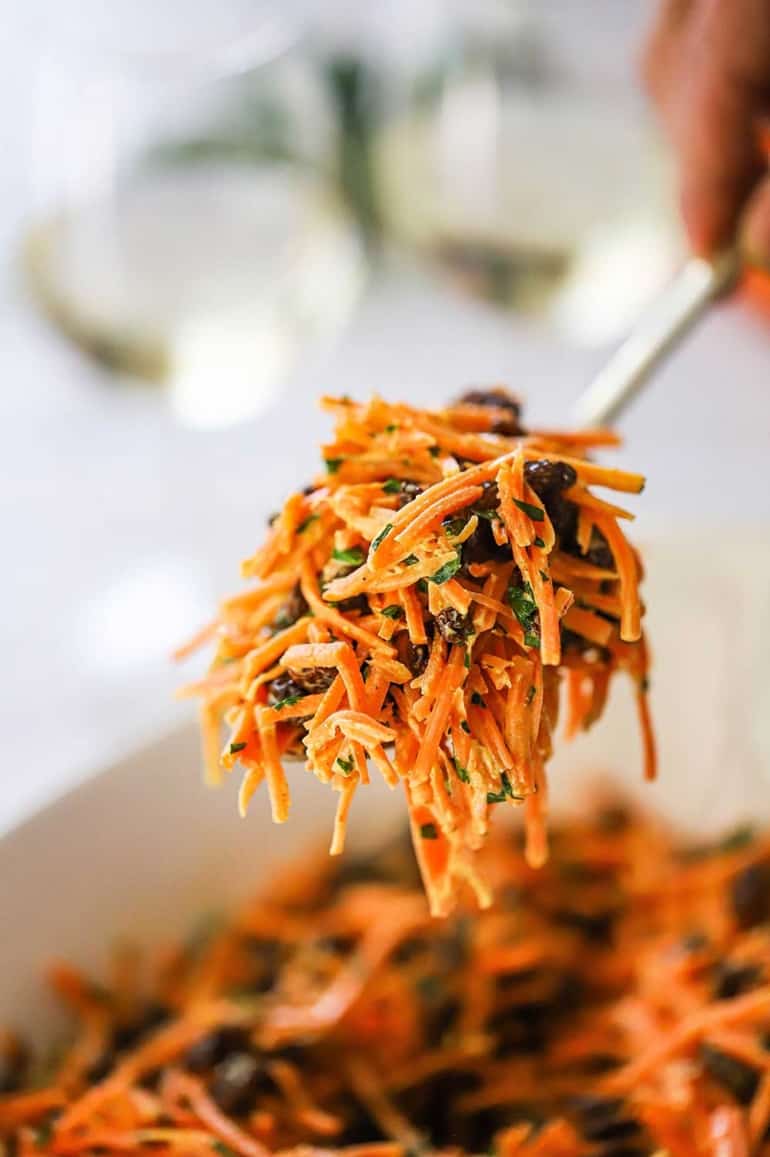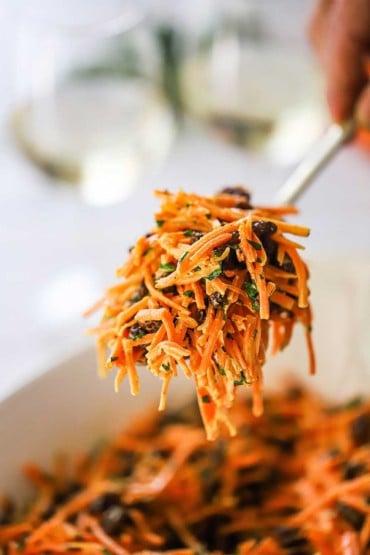 Ready to make the very best side salad in town? Go for it!
And when you do, be sure to take a photo of it, post it on Instagram, and tag @HowToFeedaLoon and hashtag #HowToFeedaLoon
Carrot and Raisin Salad with Curry Dressing
This carrot and raisin salad is amazing. So unique and always a hit. The hint of curry gives this salad an amazing depth when mixed with the mayo and other ingredients. The dressing can be made up to 24 hours in advance.
Print
Pin
Rate
Servings: 6 people
Calories: 368kcal
Ingredients
Instructions
In a medium bowl, mix the mayonnaise with the curry, salt, cayenne, and lemon juice. Set aside.

¾ cup mayonnaise, 2 tsp curry powder, 2 tsp Kosher salt, ¼ tsp cayenne, Juice of 1 lemon

Place the carrots, raisins, and parsley in a large bowl. Pour the dressing over the top and then use a wooden spoon to stir until all ingredients are well coated.

1 lb carrots, 2 cups raisins, ¼ cup parsley

Refrigerate for an hour or up to 4 hours to allow the flavors to develop. Give the salad a good stirring again before serving. Garnish with a little more parsley on top, if desired.
Notes
See the video near the top of the blog post for visual guidance. If you liked the video, please subscribe to our YouTube channel.
The dressing can be made up to 24 hours in advance. Keep covered in the fridge until ready to use.
The salad can be assembled up to 4 hours before serving. Let the salad sit out for 30 minutes before serving. Toss well with a large spoon before serving.
Leftovers will keep covered in the fridge for several days, although this salad is definitely best served the same day it's prepared.
NOTE: If you make the mayo from scratch, remember: Although the risk of contracting illness from raw eggs is minimal, those with a compromised immune system should avoid consuming them.
Nutrition
Calories: 368kcal | Carbohydrates: 46g | Protein: 2g | Fat: 17g | Saturated Fat: 3g | Polyunsaturated Fat: 8g | Monounsaturated Fat: 5g | Trans Fat: 0.1g | Cholesterol: 12mg | Sodium: 1020mg | Potassium: 672mg | Fiber: 6g | Sugar: 4g | Vitamin A: 12900IU | Vitamin C: 11mg | Calcium: 48mg | Iron: 2mg
POST UPDATE: This recipe was originally published in May 2015, but was updated with improved tweaks to the recipe and new tips and photography with a fabulous new video in May 2023!
NOTE: This recipe is adapted from Chef Donald Link's cookbook: Real Cajun.