A good side-dish should complement the main dish, but also be good enough to stand on its own.
We love homemade coleslaw, without a doubt. It really is the quintessential warm-weather side-dish. There is something even more refreshing when you mix in fresh avocado and vibrant citrus such as fresh lime. It's also an amazing topping to our famous mahi-mahi tacos!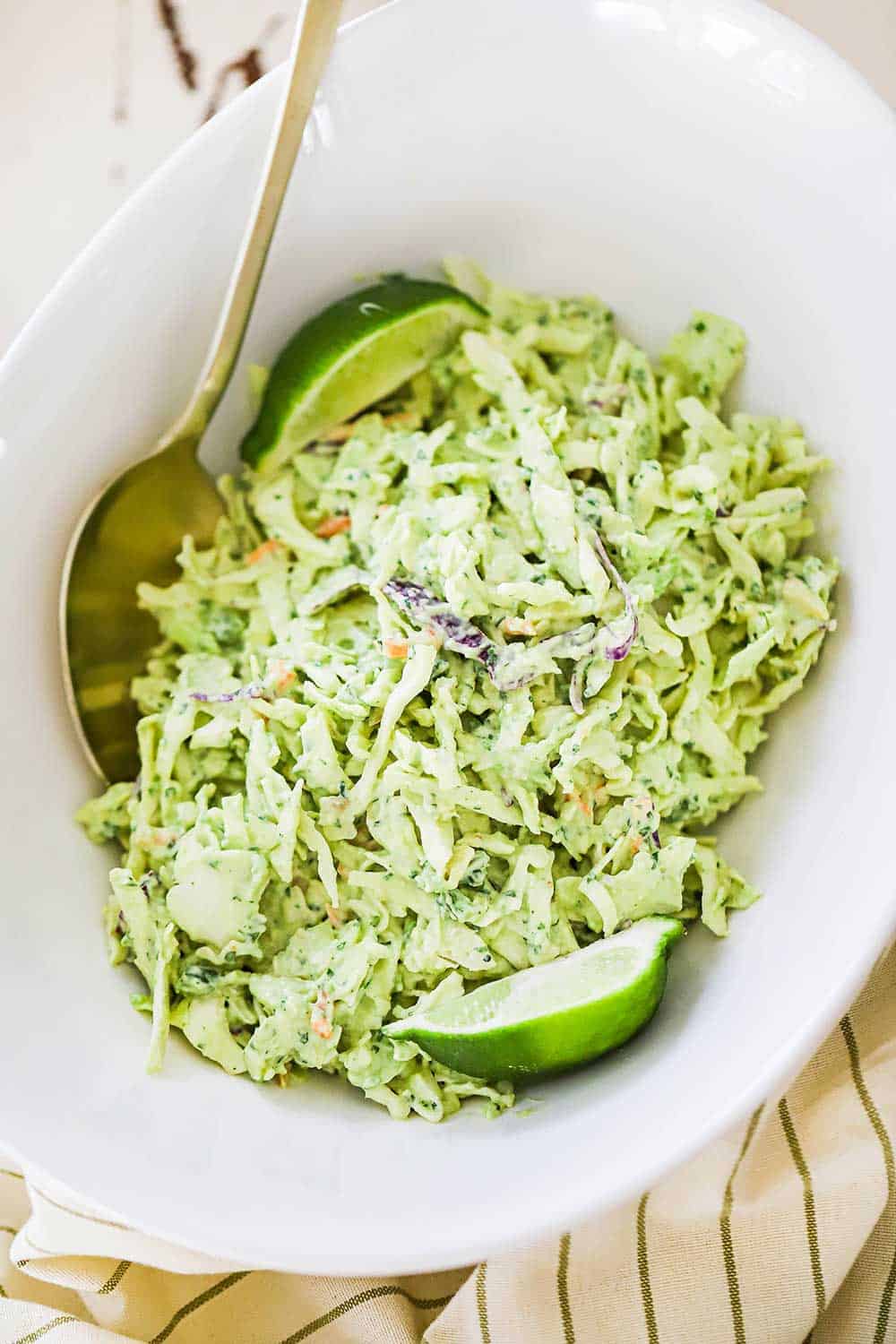 How To Make Avocado-Lime Slaw
This slaw could not be easier to prepare.
And the dressing is so good you can use it on a nice green salad, too.
We use our food processor to bring the dressing together, but a hand-mixer, or even a masher (for the avocado) and a wooden spoon will get you a creamy texture, too.
Going with fresh ingredients will produce the most vibrant taste and texture for the dressing.
EXPERT TIP: We love using freshly squeezed lime juice for our Avocado-Lime Slaw. You can certainly purchase good-quality bottled lime juice, but we find that freshly squeezed adds even more flavor and is very affordable. Just squeeze (cut-side up) directly into the bowl of your food processor.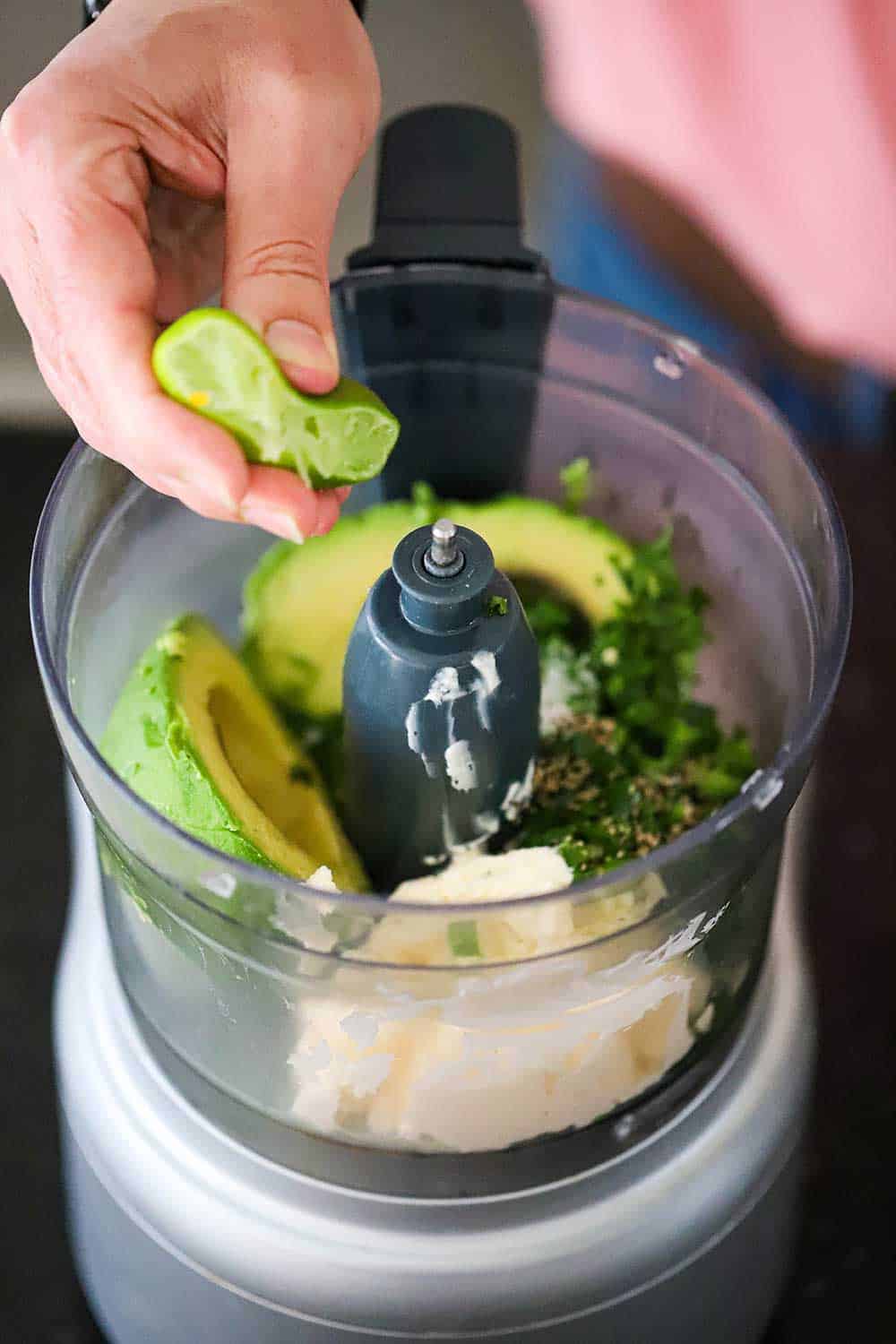 The Perfect Dressing for Slaw and More
We are just crazy about anything with avocado. From homemade guacamole to Grilled Shrimp Salad with Corn & Avocado.
Avocados also are loaded with great nutritional benefits.
And the cool creamy texture of the puréed avocado is the perfect match against the peppers, cilantro, and fresh lime juice.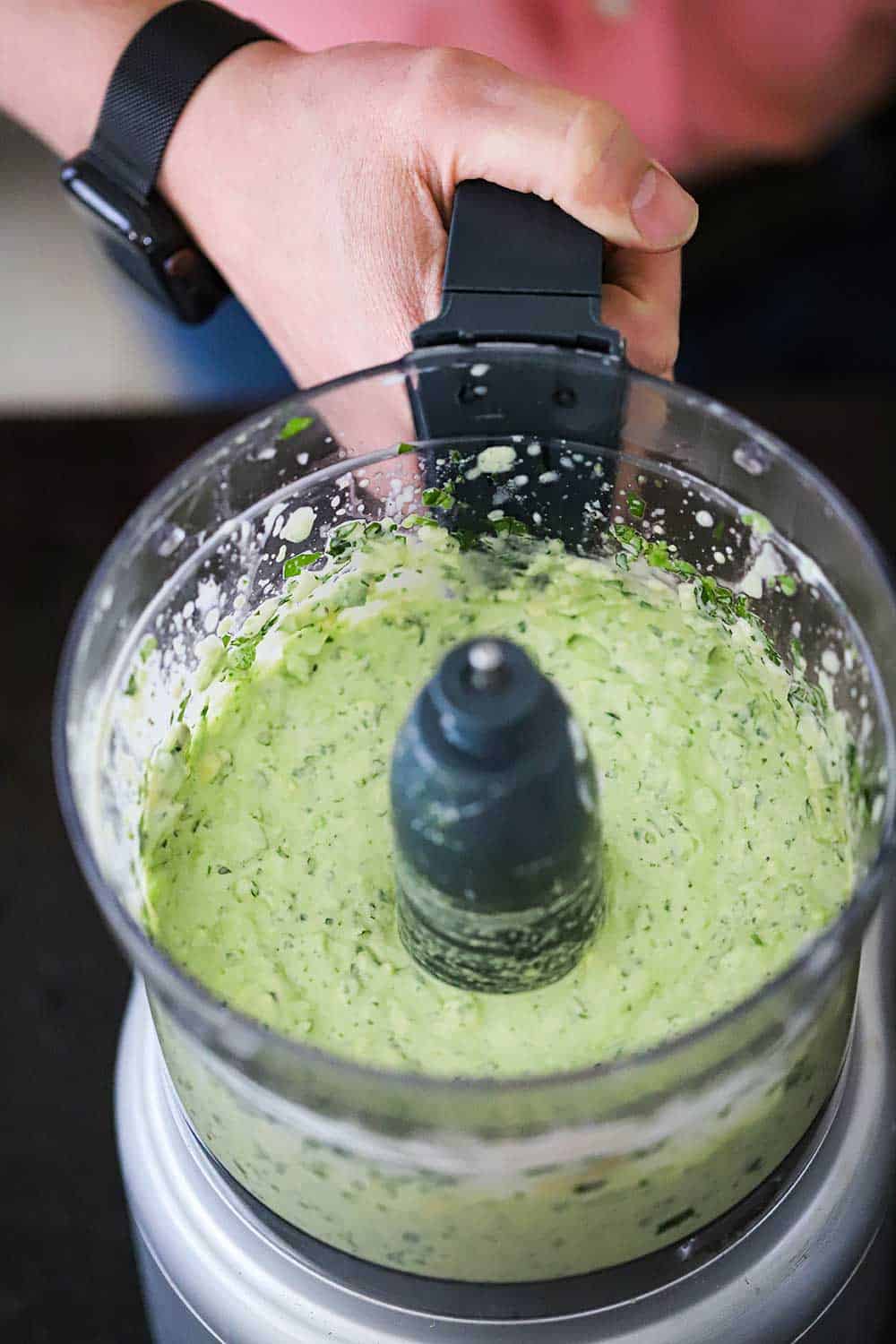 This slaw is such a wonderful twist on basic coleslaw.
EXPER TIP: We like using one fresh jalapeno that we have diced and removed all seeds. This will make a dressing that has just a slight little kick to it, not overly spicy at all. For more spice, leave some of the seeds in from the fresh peppers, or use more than 1 pepper. We also have used chopped pickled jalapenos, too, and really loved it. If going this route, we recommend about 3 tablespoons of chopped pickled (nacho-style) peppers.
So refreshingly delicious!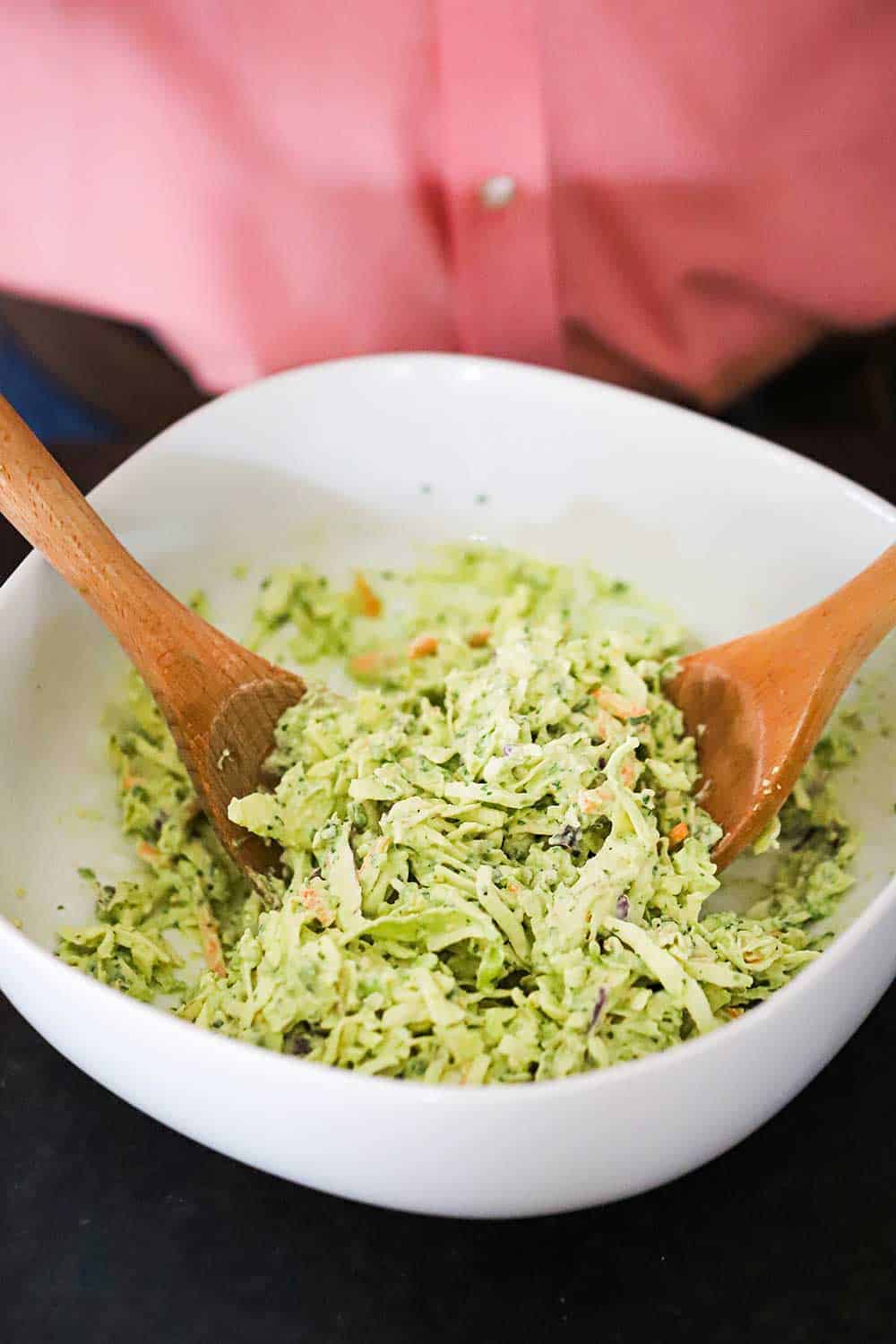 When To Serve Avocado-Lime Slaw
We must say that this slaw is a wonderful side dish for any BBQ or summertime gathering.
But as mentioned, the dressing makes a spectacular salad dressing that's great for entertaining, too.
And did we mention our mahi-mahi tacos? This slaw was made for these tacos!
For added ease, the dressing can be made several days in advance and kept in an air-tight container in the fridge.
We also grab a bag of packaged slaw-mix from the produce section of our supermarket which makes assembling the dish a snap.
Every time we serve this slaw, folks ALWAYS want the recipe. It's really that good!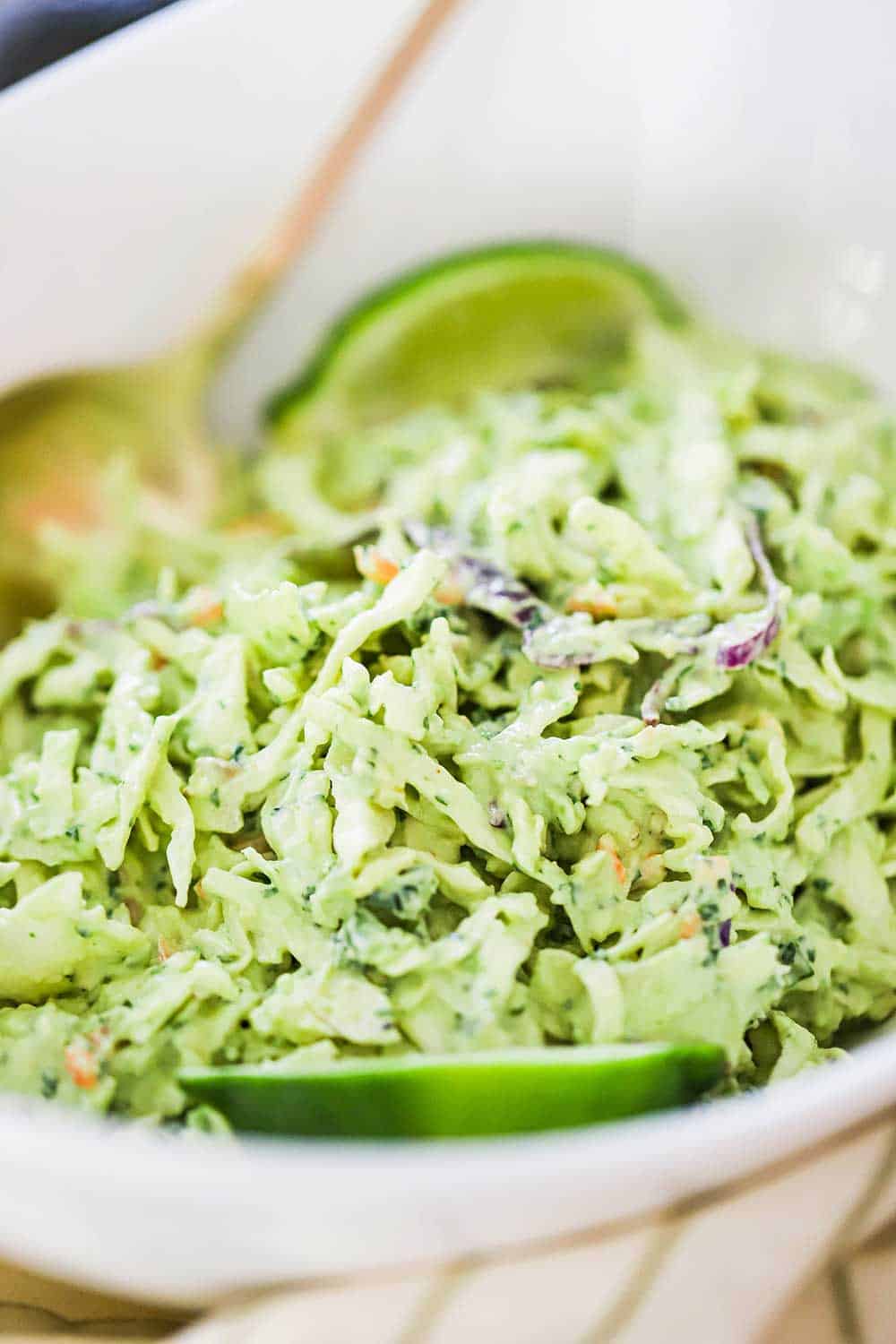 Ready to make the best slaw this side of the Rio Grande? Go for it!
And when you do, be sure to take a photo of it, post it on Instagram, and tag @HowToFeedaLoona and hashtag #HowToFeedaLoon!

Avocado-Lime Slaw
Avocado-Lime Slaw is such a vibrant and refreshing alternative to traditional coleslaw. We use fresh ingredients for maximum flavor, but use bagged slaw mix for the cabbage. Easy and so very delicious!
Print
Pin
Rate
Servings: 6
Calories: 199kcal
Ingredients
½ cup mayonnaise
1 avocado pit and skin removed, sliced in half
½ cup cilantro roughly chopped
2 cloves garlic minced
3 tbsp lime juice fresh
1 jalapeno seeded and finely chopped
½ tsp Kosher salt
¼ tsp black pepper freshly ground
12 oz slaw mix
Instructions
In a food processor, add mayonnaise, avocado, cilantro, garlic, lime juice, jalapeno, salt, and pepper. Pulse until completely blended and smooth.

Place the slaw mix in a large bowl and spoon the dressing over the top. Use two large spoons to toss the slaw until fully mixed.

Serve at once, or cover and place in the fridge for up to 24 hours.
Notes
If you don't have a food processor, you can use a hand mixer to make the dressing. You can also mash the avocado with a couple of forks, and then stir all the other ingredients into it until smooth, about 3 to 4 minutes. We sometimes used pickled jalapenos in place of the fresh. These are nacho-style peppers and are delicious. We usually do about 3 tbsp of chopped pickled peppers. This will be less spicy than fresh peppers. The dressing is wonderful on salads and sandwiches, too. It can be kept in an air-tight container in the fridge for up to 1 week. If your slaw mix has a bag of coleslaw dressing, save it for another use (or give it to the neighbors). If using fresh cabbage, core the center, and then cut into thin slices. Place in a colander and sprinkle salt all over the cabbage. Let rest (in the sink) for 20 to 30 minutes. Rinse the salt off, and then dry the cabbage with a paper towel. If not serving the mixed slaw immediately, cover and place in the fridge for up to 24 hours. Just before serving, add another tsp of lime juice and toss. Let sit at room temp for about 30 minutes.
Nutrition
Calories: 199kcal | Carbohydrates: 7g | Protein: 2g | Fat: 14g | Saturated Fat: 3g | Trans Fat: 1g | Cholesterol: 8mg | Sodium: 326mg | Potassium: 289mg | Fiber: 4g | Sugar: 3g | Vitamin A: 236IU | Vitamin C: 30mg | Calcium: 33mg | Iron: 1mg