Homemade Coleslaw is the perfect side dish for all your summer activities.
Heck, this coleslaw is so delicious (and easy), it's good for all your year-round activities.
Fresh. Vibrant. Delicious.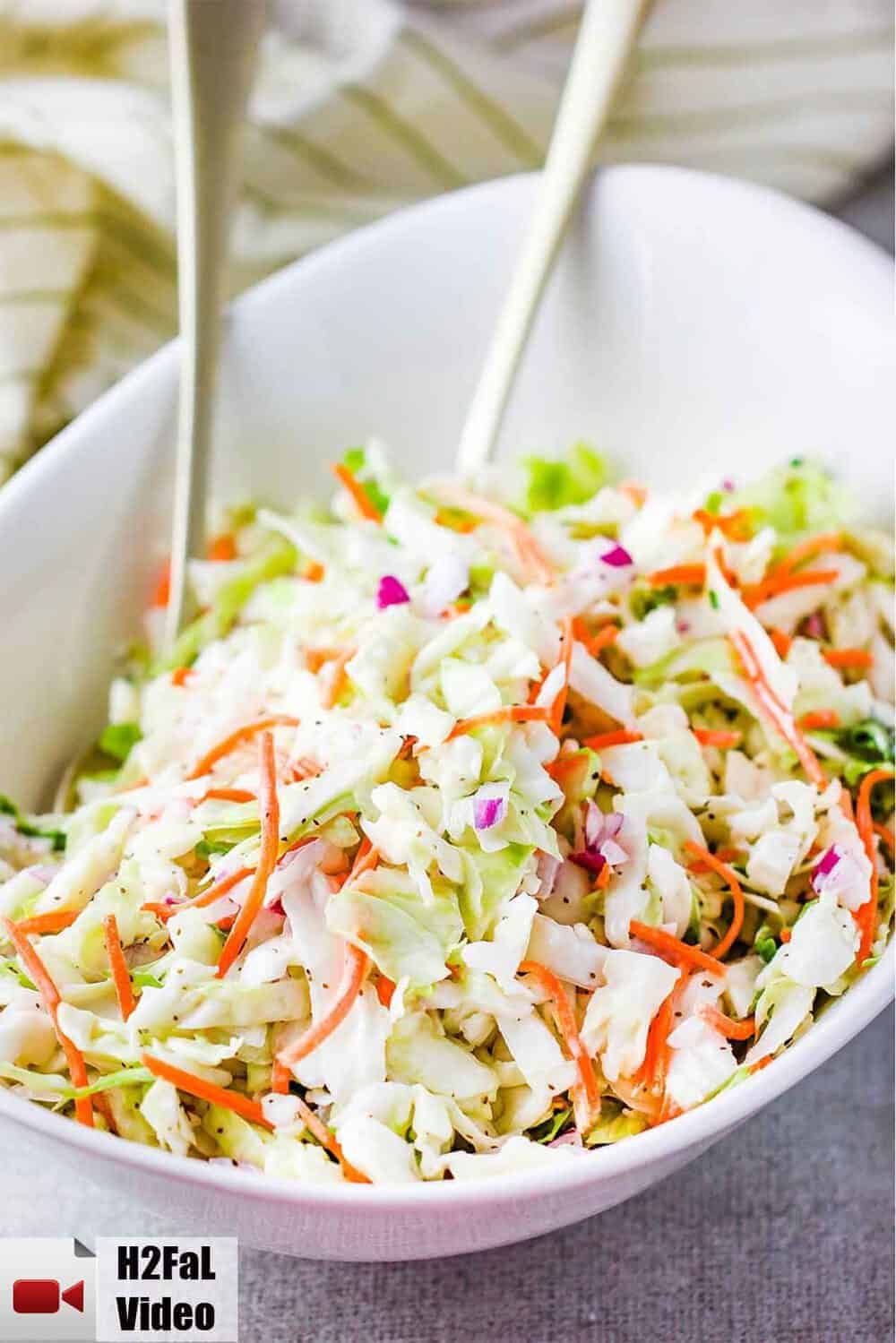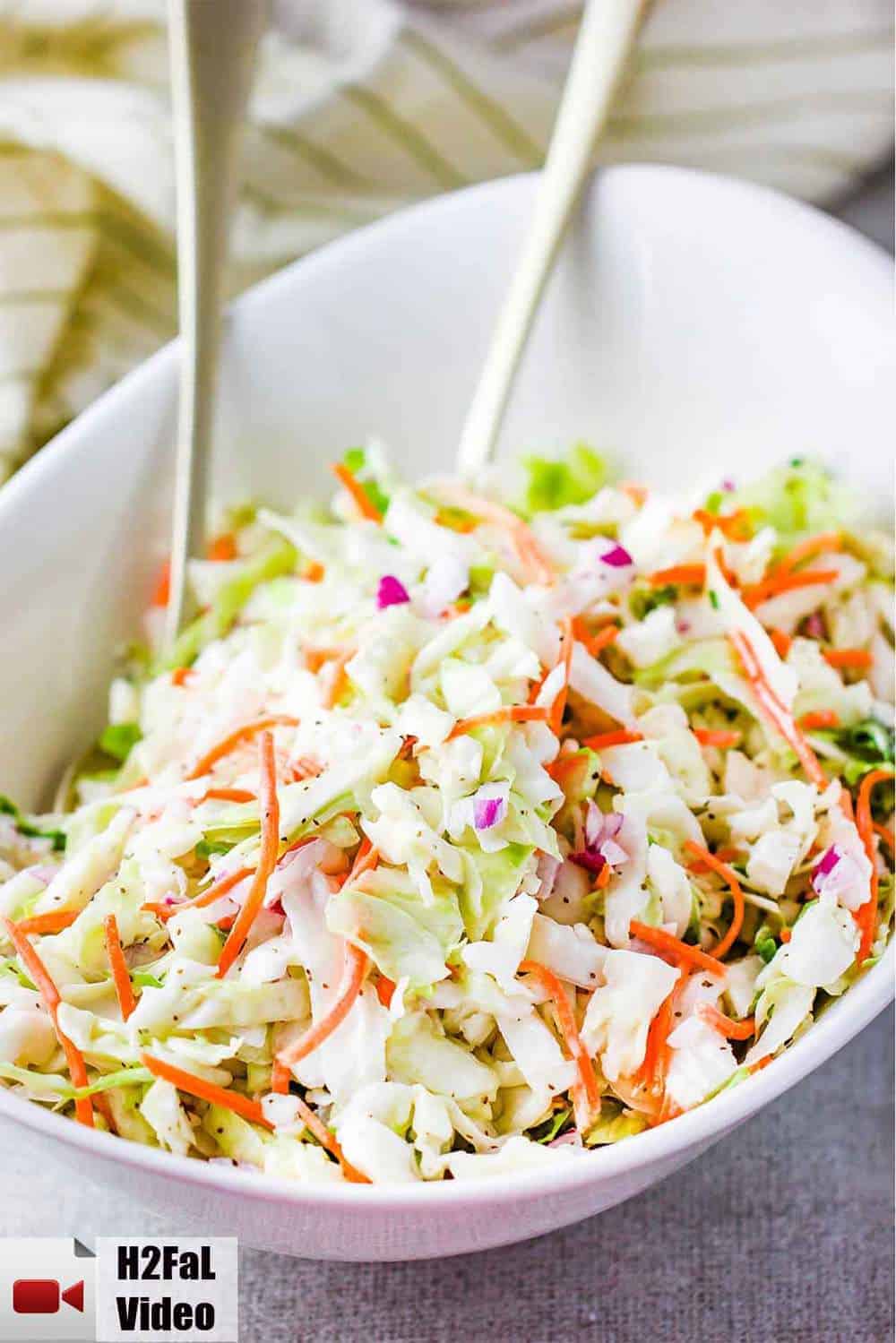 HOW TO MAKE HOMEMADE COLESLAW
You will be surprised at how easy it is to make super-fresh coleslaw at home.
Most of the components can be made 1 day ahead of time.
Watch us show you how to make this amazing Homemade Coleslaw!
What you need to make homemade coleslaw:
Head of green cabbage
Salt
Carrots
Red onion
Pepper
Mayonnaise
Milk
Buttermilk
Lemon juice
White wine vinegar
Celery seed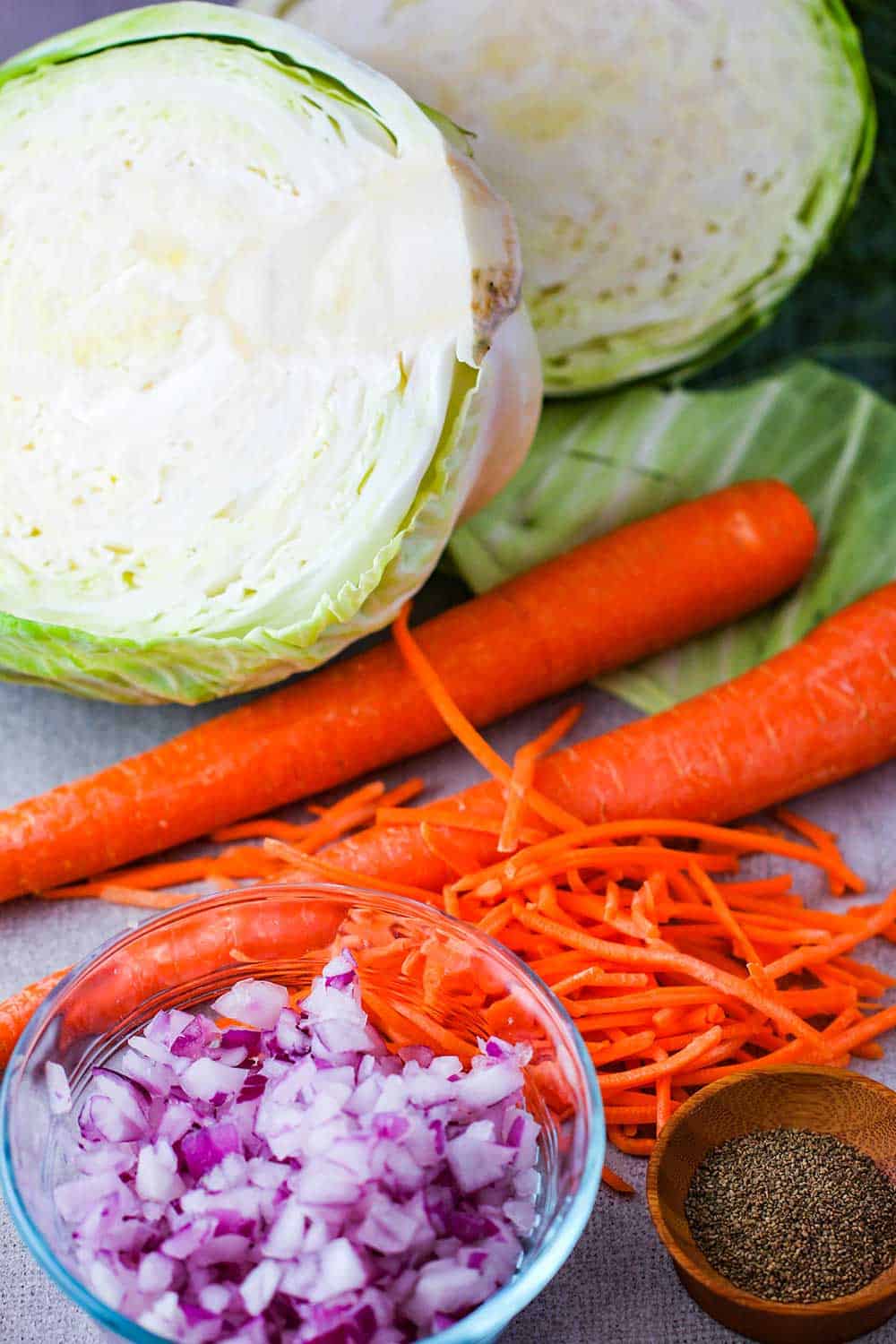 HOW TO SOFTEN THE CABBAGE
Starting with fresh cabbage is always best. We love using green cabbage and simply cutting it in half, then cutting out the tough core.
After roughly chopping the cabbage, place it in a colander in the sink.
Now, liberally add salt to the cabbage, tossing a couple of times to make sure all of the salt has covered most of the cabbage. The salt naturally extracts moisture, which in turn, softens the cabbage. Be sure to rinse the cabbage thoroughly before adding the other veggies and dressing to remove the salt.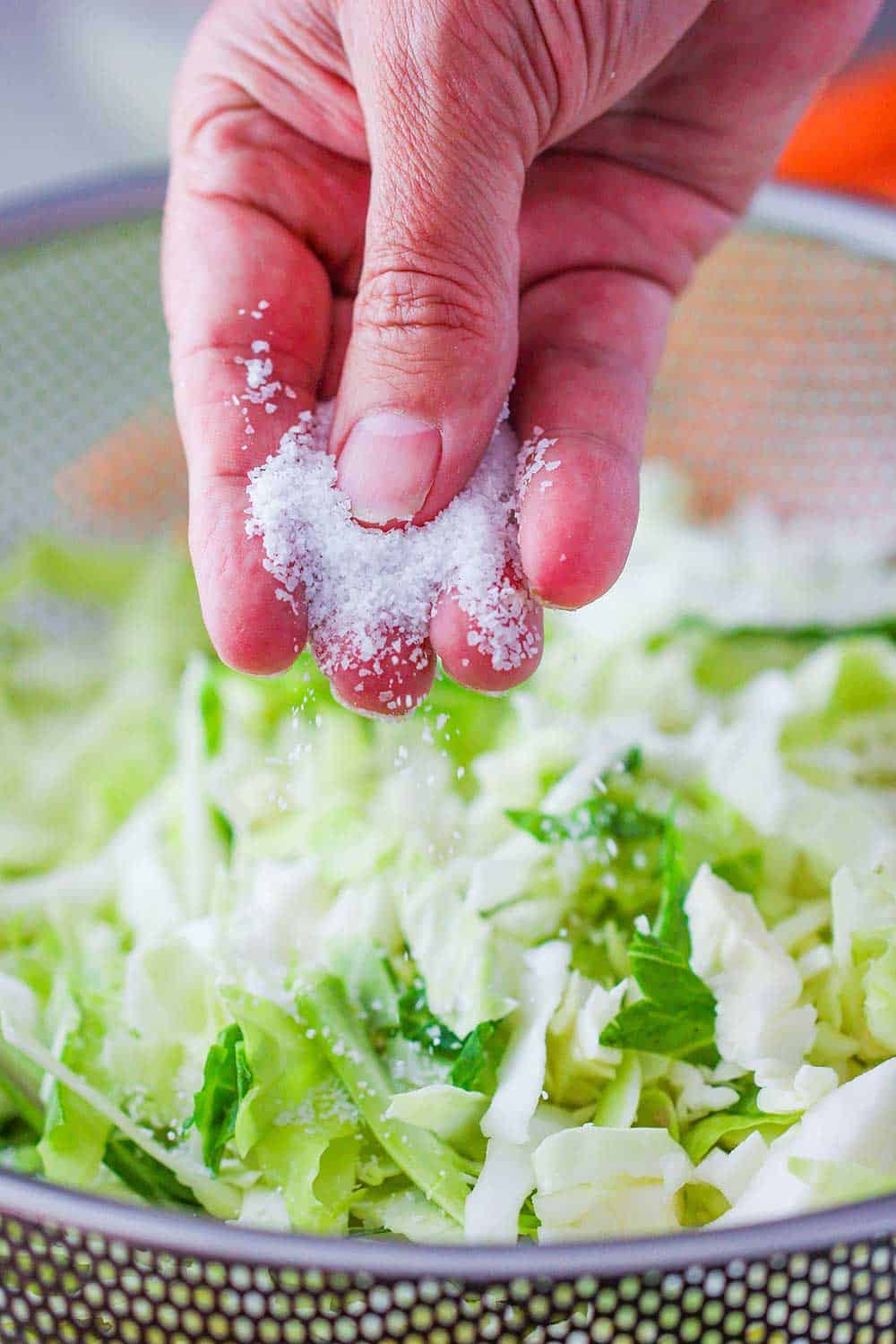 The dressing for this coleslaw is a perfect match of tang and sweet.
The combination of fresh lemon juice, white wine vinegar and buttermilk is ideal against the sugar.
Celery seed adds a depth of flavor that is subtle, but pleasant.
HOMEMADE COLESLAW CAN BE PREPARED AHEAD OF TIME
To save time, you can easily prep the veggies up to a day in advance and then keep in an air-tight container until ready to assemble.
Make the dressing up to several days in advance.
Simply pour the dressing over the veggies and then toss just before serving. The slaw will stay fresh for several hours. If serving outdoors in warm weather, consider placing the vessel on top of a large bowl of ice.
Homemade coleslaw is the quintessential summertime side dish. Another awesome slaw recipe is our Avocado-Lime Slaw!
It's perfect with grilled hamburgers and hot dogs. Other amazing summertime side dishes are:
Southern Baked Beans
Best-Ever Potato Salad
Slow-Cooker Corn on the Cob
Cajun Pasta Salad
Jalapeno-Lime Slaw
In the meantime…let's make this awesome Homemade Coleslaw!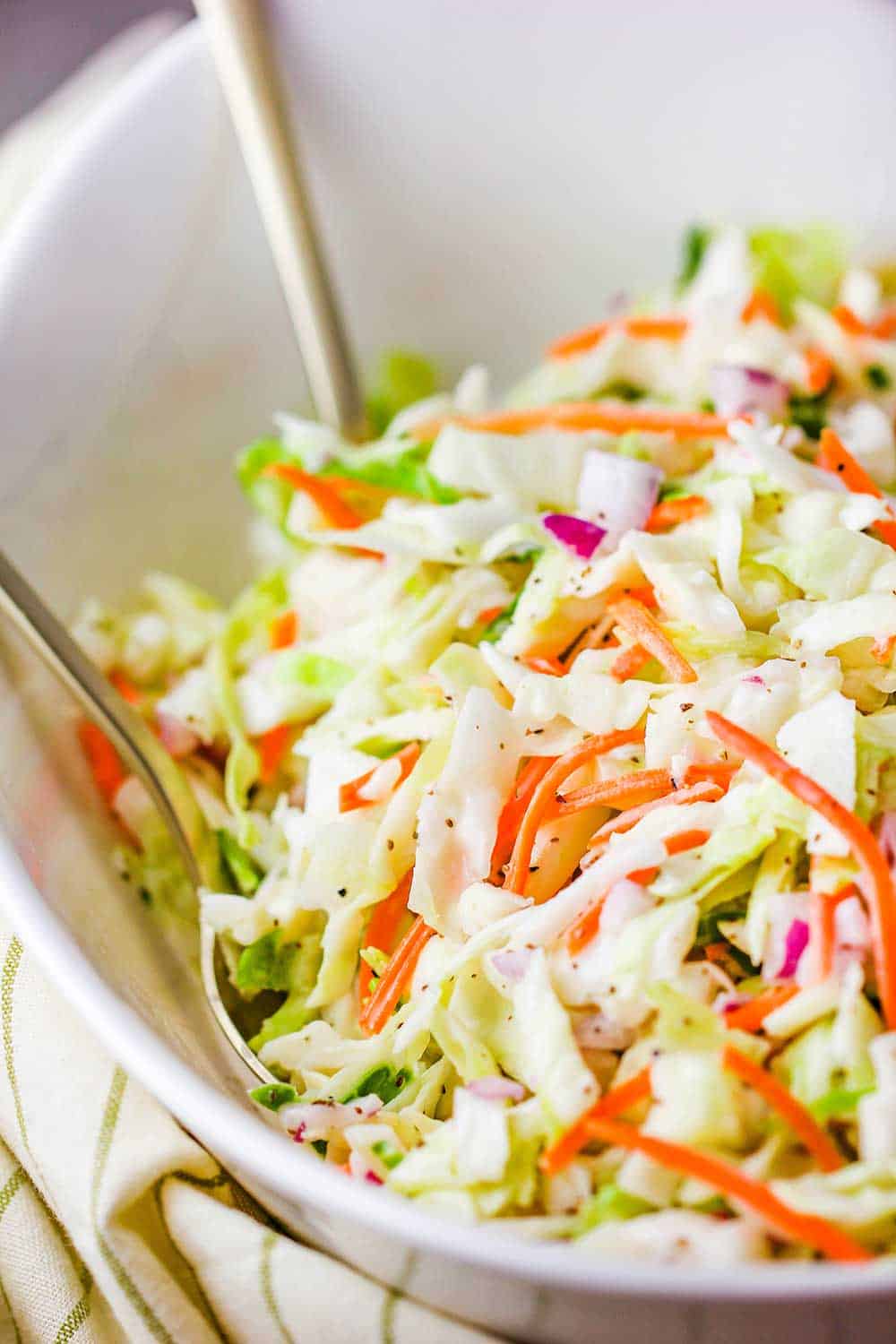 Homemade Coleslaw
This homemade coleslaw is really delicious. Simple to make and bursting with flavor. Perfect for picnics, BBQs, or, actually, anytime of the year! Go with fresh cabbage, it makes it so much better!
Print
Pin
Rate
Servings: 8 people
Calories: 245kcal
Ingredients
1 medium green cabbage chopped, about 4 to 5 cups
1 tbsp Kosher salt
1 - 2 carrots shredded, about 1 cup
½ red onion chopped
⅓ cup sugar Start with ¼ cup, and add more to taste
½ tsp salt
¼ tsp ground black pepper
½ cup mayonnaise
¼ cup milk
¼ cup buttermilk
2½ tsp fresh lemon juice
1½ tsp white wine vinegar
1 tsp celery seed
Instructions
Place cabbage in a large colander and sprinkle with the salt. Now, place in sink.

After 30 minutes, rinse the cabbage. This will remove the salt.

Place the cabbage, carrots and onion in a large bowl. Toss to mix.

In a medium bowl, whisk together all the other ingredients.

Add the dressing to the cabbage mixture, and stir until fully mixed.

Place in the fridge for at least 2 hours.

Remove from the fridge just before serving, and give a good stir with a large fork.
Notes
The veggies can be prepped up to a day in advance. Keep in an air-tight container. Dressing can be made up to 3 days in advance. Dress the salad just before serving. If serving outdoors in warm weather, consider placing the salad vessel in a large bowl of ice. The salad will stay fresh for 3 to 4 hours.
Nutrition
Calories: 245kcal