If you're looking for a festive and delicious side dish for your next get-together, you've come to the right place.
Everyone loves a good pasta salad, right? But, sometimes you want something a little different. Well, combining creamy cubes of cheddar cheese with crispy bacon, juicy cherry tomatoes, briny black olives with homemade Ranch dressing is a show-stopper of a side dish!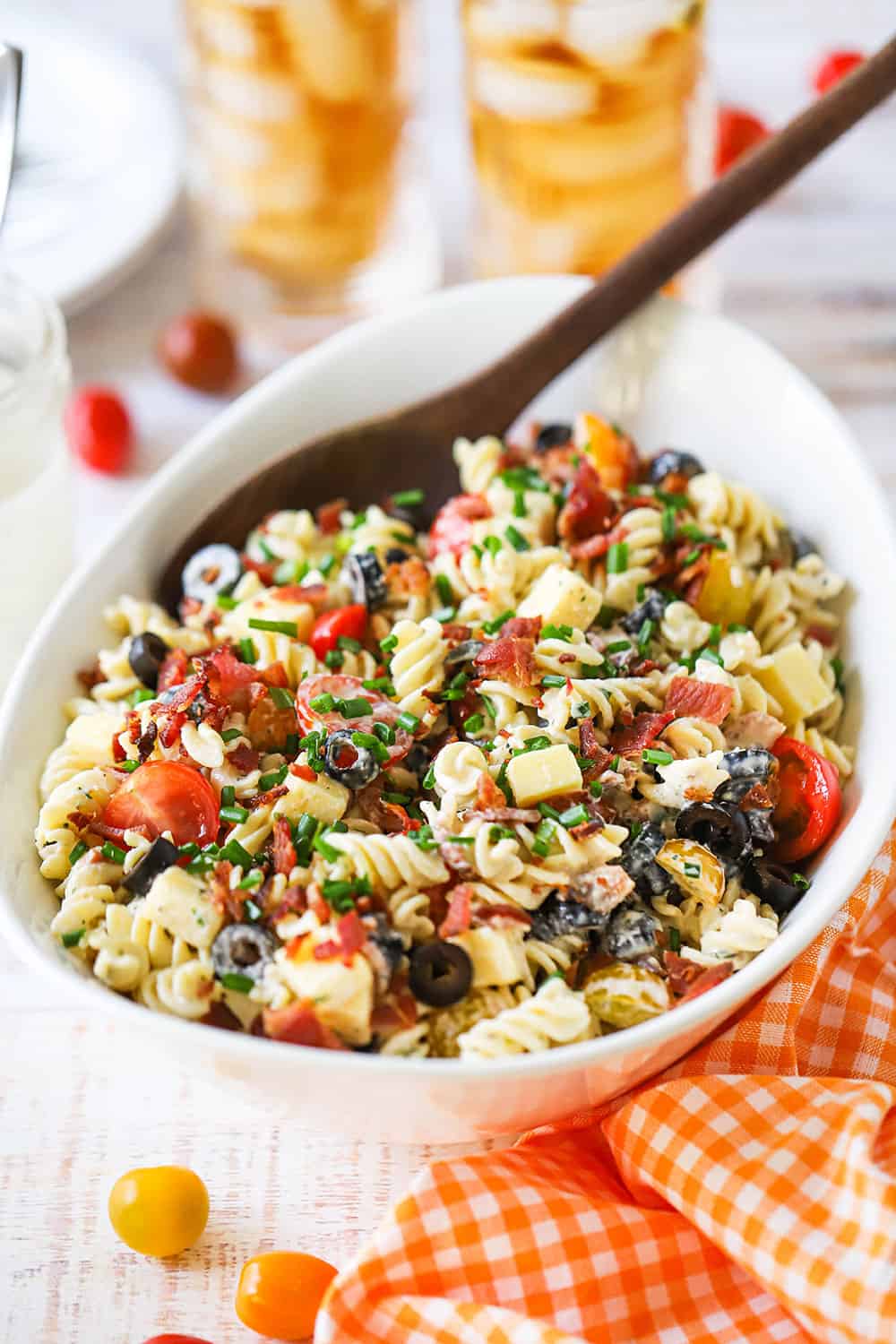 How To Make Cheddar Bacon Ranch Pasta Salad
We love most any kind of pasta salad, but we can honestly say this is one of our all-time favorites.
And you can't believe how easy it is to make!
The Best Pasta for Pasta Salad
You really can't go wrong when selecting the type of pasta for this salad.
Go with small (or short cut) pasta, and you'll be great. We love fusilli, but here are some other great options:
Farfalle (Bow Tie)
Macaroni (Elbow)
Ditalini
Orecchiette
Rotini
Penne
EXPERT TIP: Follow the packaging instructions to cook pasta until slightly al dente. Drain the hot pasta in the sink in a colander and then run cool tap water over it until completely cooled. If not using immediately, transfer the pasta to a bowl and toss with a couple of tablespoons of olive oil and cover with plastic wrap.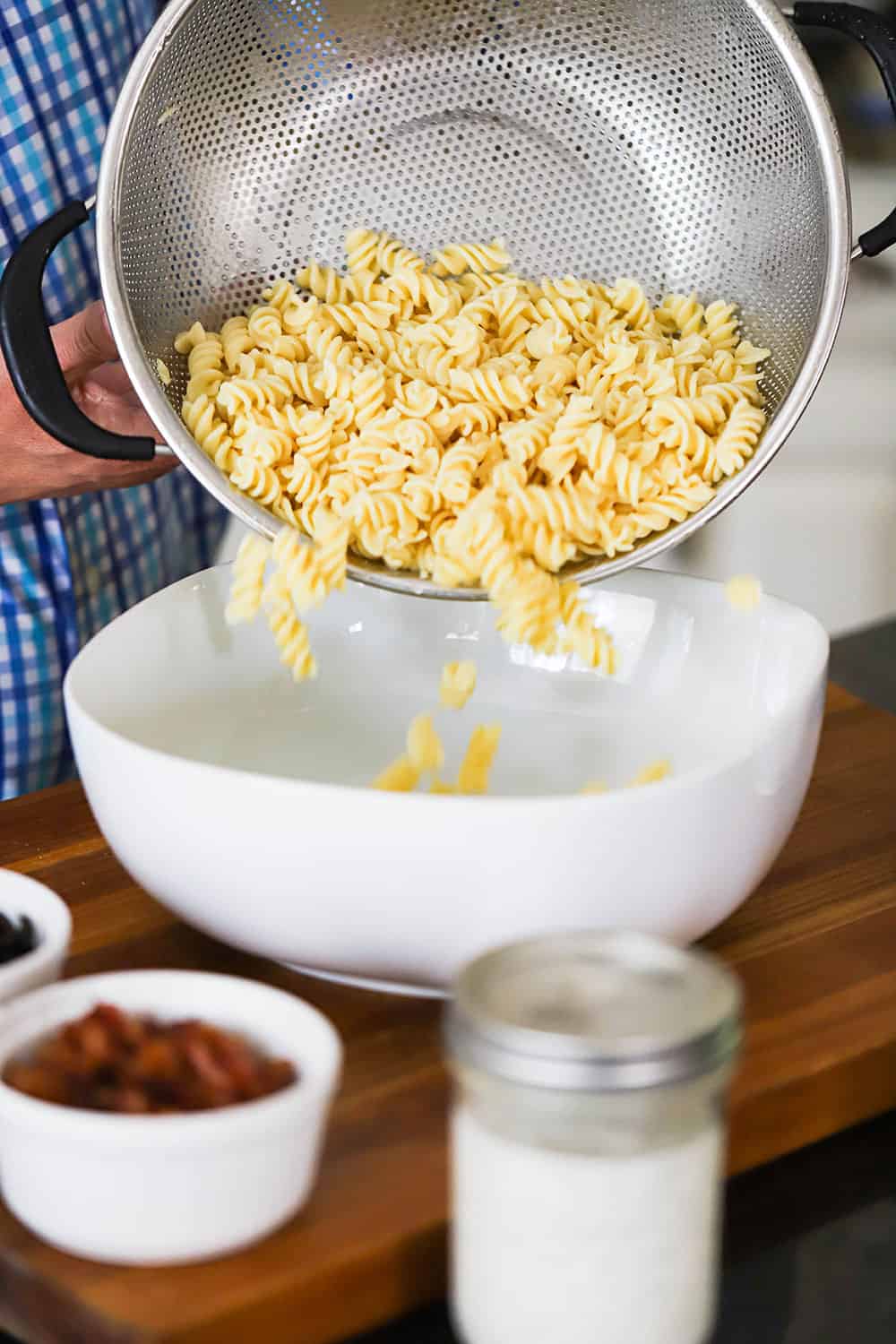 The Ingredients You Will Need
Cheddar Bacon Ranch Pasta Salad is literally loaded with all of our favorite ingredients.
Simply slice the cherry tomatoes down the middle, lengthwise. Get a can of sliced black olives and drain. Select good-quality cheddar cheese, such as Truly Grass Fed, and cube the cheese into bite-size pieces.
EXPERT TIP: For the bacon, turn your oven to 400°F and line a baking sheet with sturdy aluminum foil. Place the bacon strips on the foil and place in the oven and cook until crispy, about 12 to 15 minutes. Remove to a plate lined with paper towels to drain. Then chop with a knife.
NOTE: All of these ingredients can be prepped up to 24 hours in advance. The Ranch dressing can be made up to 1 week in advance.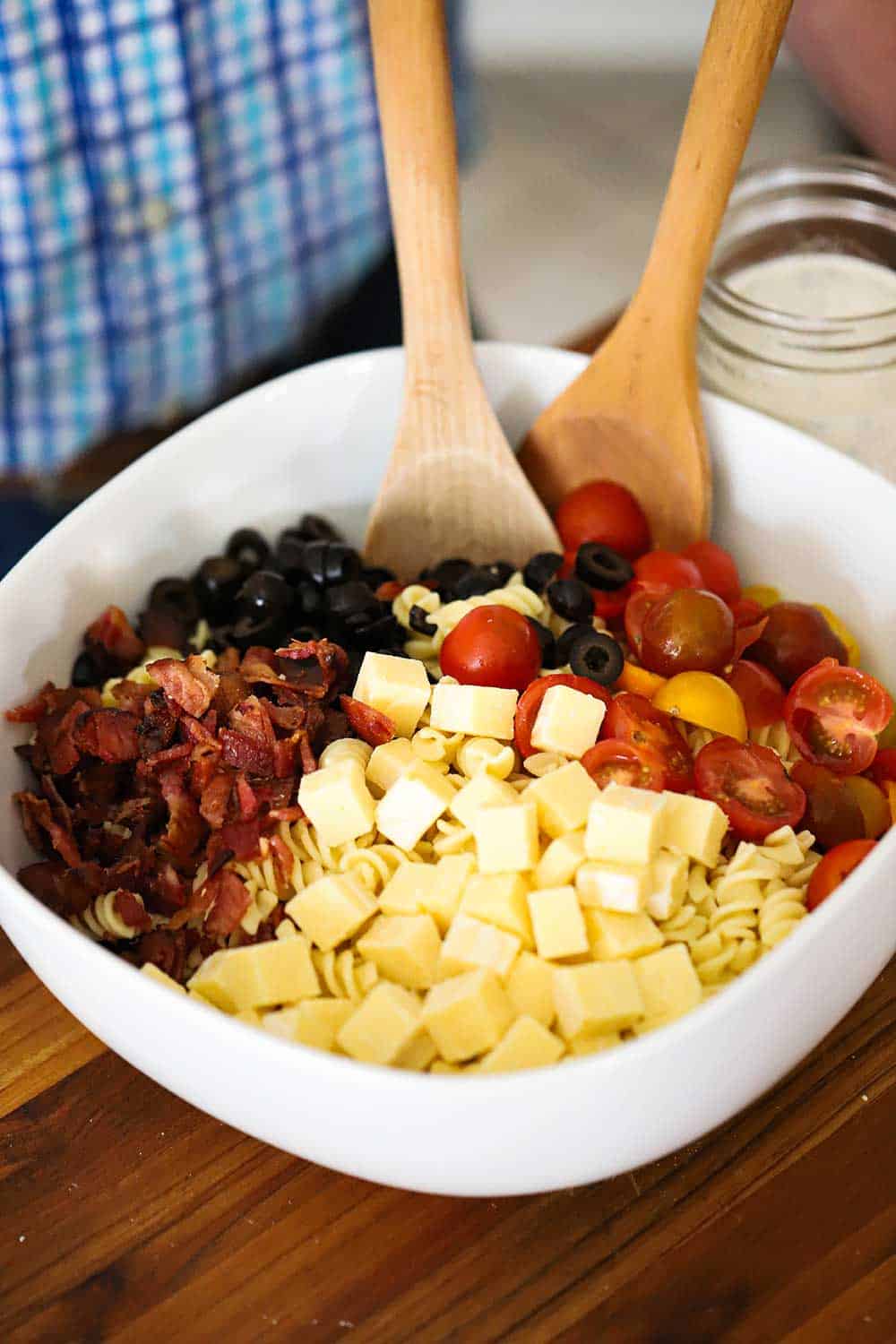 Folks, we must say, if you want this bacon Ranch pasta to be over-the-top delicious, we highly encourage you to make the homemade Ranch dressing.
It's not hard to make and can be prepared days in advance.
EXPERT TIP: The amount of dressing you add to the salad is really a matter of taste. We like the dish to be extra creamy, so we use the full amount of the dressing recipe (about 2 cups), but add a little, toss it all together, and then taste. Continue to add and taste until you've reached your desired consistency. As the salad sits, it will absorb some of the dressing, so you may need to add more just before serving.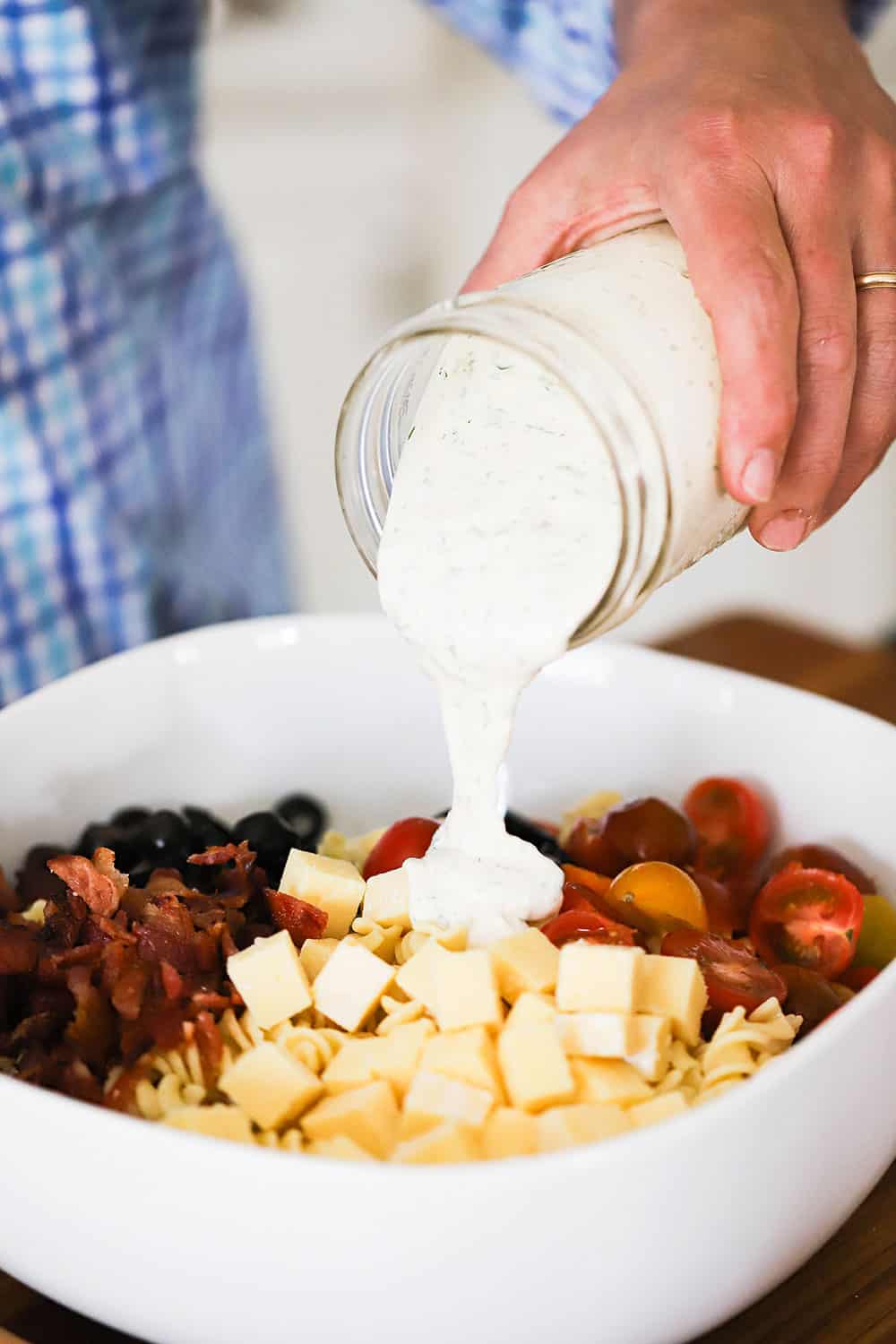 When to Serve Cheddar Bacon Ranch Pasta Salad
This salad is the perfect side dish for your summer BBQ, picnic, church social, or gathering of friends and family.
Some of our other favorite pasta salads are:
Classic Pasta Salad
Caprese Pasta Salad
Pesto Pasta Salad with Potatoes and Green Beans
Cajun Pasta Salad
In the meantime, just sink your eyes (and teeth) into this epic salad!
The other great thing about this salad is that it's completely adaptable to you and your loved one's tastes.
Omit any ingredient you don't care for, and add those that you do. Other great additions include sun-dried tomatoes, marinated artichoke hearts, kalamata olives, toasted pine nuts.
EXPERT TIP: After you mix the salad together, we recommend covering the bowl with plastic wrap and then placing it in the refrigerator for an hour to allow the flavors to meld. You can make the salad hours in advance of serving, but save some of the dressing to stir in just before serving. Although it keeps just fine for up to a week in the fridge, we think it's best served the same day it's prepared.
Ready to make a pasta salad that everyone will flip for? Go for it!
And when you do, be sure to take a photo of it, post it on Instagram, and tag @HowToFeedaLoon and hashtag #HowToFeedaLoon!
Cheddar Bacon Ranch Pasta Salad
If you're looking for something other than your average pasta salad but is still over-the-top delicious, this is it! Tweak with ingredients to fit your own likes, but be sure not to skip making the homemade Ranch dressing. It can be made in advance and puts the salad in a class of its own!
Print
Pin
Rate
Servings: 8
Calories: 445kcal
Ingredients
12 oz fusilli or other small to medium pasta
6 strips bacon cooked and crumbled
1 cup cherry tomatoes halved
1 cup cheddar cheese block, cubed
1 cup black olives sliced, drained
2 cups Ranch dressing
1 tsp Kosher salt
½ tsp black pepper freshly ground
¼ cup chives finely chopped
Instructions
Cook the pasta in liberally salted water according to package directions. Drain into a colander and run cool tap water over the pasta until completely cooled. Transfer to a large bowl.

Add the bacon, tomatoes, cheddar cheese cubes, and olives. Pour in about 1 cup of the dressing. Add the salt and pepper and then gently stir with a large spoon until everything is combined and dressed. Continue adding dressing and stirring until the desired consistency is reached. Cover with plastic wrap and chill in the fridge for 1 hour.

Remove pasta salad from the fridge, give it a good stir, and then transfer it to a serving bowl and garnish with chives. See NOTES about making in advance.
Notes
We HIGHLY recommend making the Ranch dressing from scratch (click the link in the recipe card). It really elevates this pasta salad tremendously. It's not hard to make and can be made several days in advance. Any type of small (short cut) pasta will work. The pasta can be made several hours before assembling the salad. Simply cool the pasta as written in the recipe, and then transfer to a large bowl and toss with a couple of tablespoons of olive oil. Give it a good stir every 20 minutes or so. We cook our bacon in a 400°F oven on a foil-lined baking sheet for about 15 minutes, or until crispy. All of the salad ingredients (other than the pasta) can be prepped up to 24 hours in advance. Assemble and chill 1 hour before serving. The salad can also be assembled several hours before serving, but save some of the dressing to stir in just before serving. Although the salad is still yummy for several days after serving (kept chilled in the fridge), we do recommend making and serving it on the same day, hopefully within an hour or two before guests arrive.
Nutrition
Calories: 445kcal | Carbohydrates: 6g | Protein: 7g | Fat: 28g | Saturated Fat: 8g | Trans Fat: 1g | Cholesterol: 46mg | Sodium: 1409mg | Potassium: 137mg | Fiber: 1g | Sugar: 2g | Vitamin A: 383IU | Vitamin C: 7mg | Calcium: 134mg | Iron: 1mg