Homemade is almost always going to be better. And with this recipe, there's no question about it: homemade is the best!
This dressing is amazingly fresh and so delicious on a nice leafy green salad, but also as a dip for chips, veggies, or appetizers such as fried pickles and fried asparagus! And it comes together in a matter of minutes!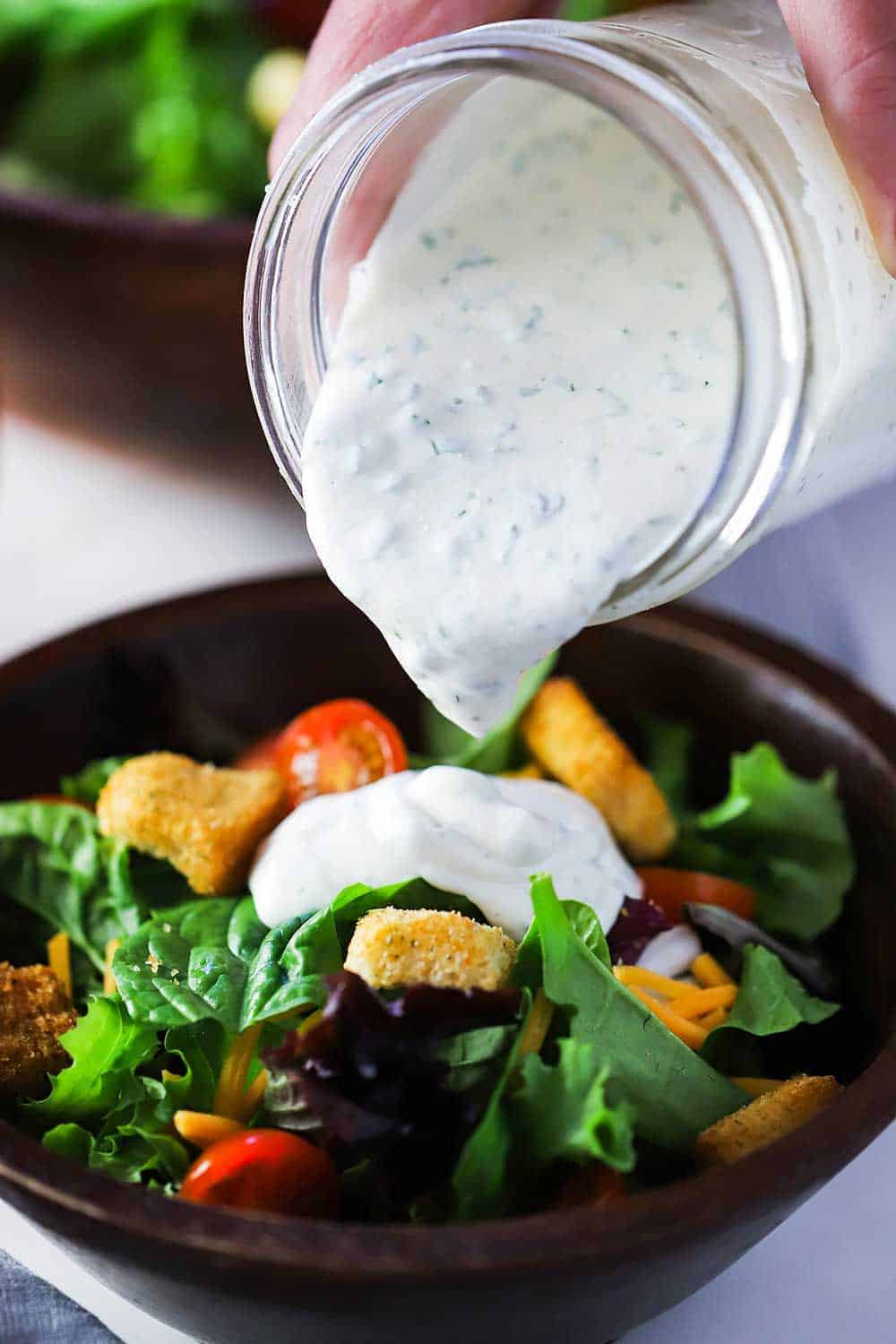 HOW TO MAKE HOMEMADE RANCH DRESSING
Homemade Ranch Dressing from scratch is so simple to put together.
The fresh herbs are really what makes this dressing shine. The buttermilk adds a little tang to the classic Ranch taste.
THE INGREDIENTS YOU WILL NEED
Here's what you'll need to make this incredible salad dressing and dip:
Buttermilk
Sour cream
Mayonnaise
Chives
Parsley
Dill
Salt and pepper
And that's the makings of the most iconic American salad dressing of all time! Learn more about its amazing history here.
As mentioned, going with fresh herbs really brings this recipe to life.
Fresh dill isn't always used in Ranch dressing, but we think it elevates the taste profile in a really good way.
EXPERT TIP: If you can't get fresh herbs, you can go with dried. Use 1 tsp for the chives and parsley, and ½ tsp of dill. A substitute for buttermilk is ¼ cup of plain yogurt mixed with ¼ cup of whole milk and a ½ tsp of white vinegar.
Once all the ingredients have been placed in a medium bowl, all that's needed is a good whisking!
Be sure everything has been fully incorporated.
Oh, how we love homemade ranch dressing!
CHILLING THE HOMEMADE RANCH DEEPENS THE FLAVOR
Once all the ingredients have been combined, you can start using the dressing.
However, we find transferring it to a jar or container with a tight-fitting lid, and then placing in the refrigerator for at least one hour helps the flavors to meld and improve the taste.
EXPERT TIP: The consistency of this recipe is perfect for a salad dressing, but also as a dip. However, if you prefer your dressing a little less thick, simply increase the amount of buttermilk to your own tastes.
This stuff is so good we put it on everything! And if you like this dressing, you'll also love our Avocado Lime Dressing!
It's so delicious, it's even good drizzled over pizza!
And did we mention it served with our Homemade Fried Asparagus? Oh my!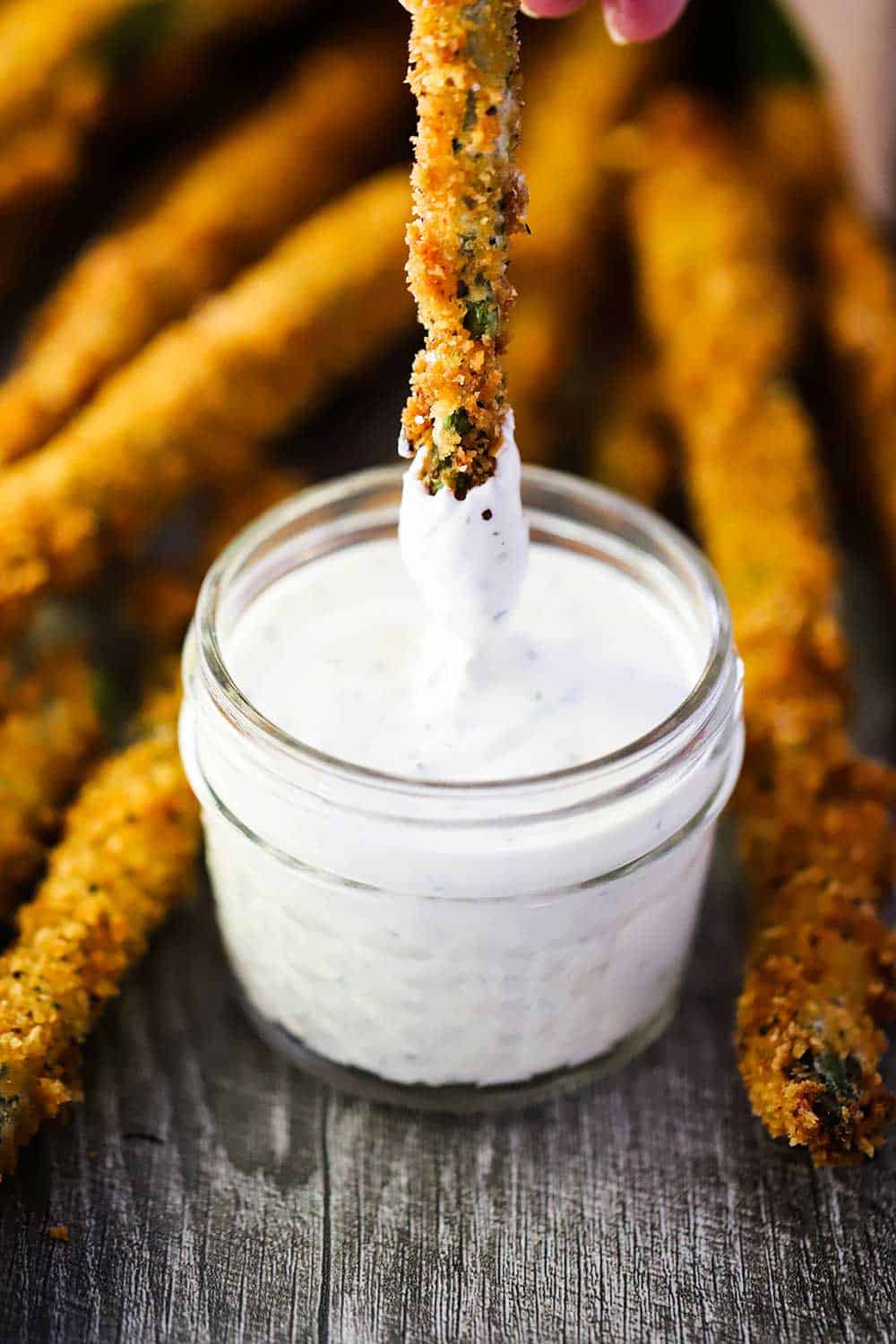 Ready to make the best Ranch dressing in town? Go for it!
And when you do, be sure to take a picture, post it on Instagram, and tag @howtofeedaloon and hashtag #howtofeedaloon!
Homemade Ranch Dressing
Homemade Ranch is so fresh and so delicious and the difference between it and the bottled stuff is night and day. Perfect for a salad or as a dip.
Print
Pin
Rate
Servings: 8
Calories: 140kcal
Equipment
Jar (or container) with a tight-fitting lid
Ingredients
¾ cup buttermilk
½ cup sour cream
½ cup mayonnaise
1 tbsp chives finely chopped
1 tbsp fresh parsley finely chopped
1 tsp fresh dill finely chopped
1 tbsp onion powder
1 tbsp garlic powder
¼ tsp Kosher salt
¼ tsp black pepper freshly ground
Instructions
Add all ingredients to a medium-sized bowl and whisk until completely combined.

Transfer to a jar (or container) and cover. Chill in the refrigerator for at least one hour.
Notes
Fresh herbs are amazing in this recipe, but in a pinch, you can certainly go with dried. For chives and parsley substitute 1 tsp of dried and 1/2 tsp dill. The buttermilk can be substituted with 1/2 cup plain yogurt combined with 1/2 cup milk and 1 tsp of white vinegar. If you prefer a thinner dressing, then add additional buttermilk to reach the desired consistency. The dressing will thicken somewhat as it chills in the fridge. We like to let the dressing sit out at room temp for about an hour before serving. The dressing will keep for up to 10 days in a jar with a lid in the fridge. It freezes just fine for up to 2 months.
Nutrition
Calories: 140kcal | Carbohydrates: 3g | Protein: 1g | Fat: 8g | Saturated Fat: 1g | Cholesterol: 15mg | Sodium: 190mg | Potassium: 63mg | Fiber: 1g | Sugar: 2g | Vitamin A: 182IU | Vitamin C: 1mg | Calcium: 36mg | Iron: 1mg
POST UPDATE: This recipe was originally published in November 2013, but was updated with improved tweaks to the recipe, new tips, photography, and a fabulous new video in April 2020!