We absolutely love asparagus. It's so versatile and so delicious. And wait until you try (fry) these babies.
There are so many ways to prepare asparagus, especially in the spring, when they are at their peak. But breading them and then giving them a quick flash fry is incredibly delicious. Dip them Homemade Ranch or Kickin' Remoulade, and you've got something really special to serve!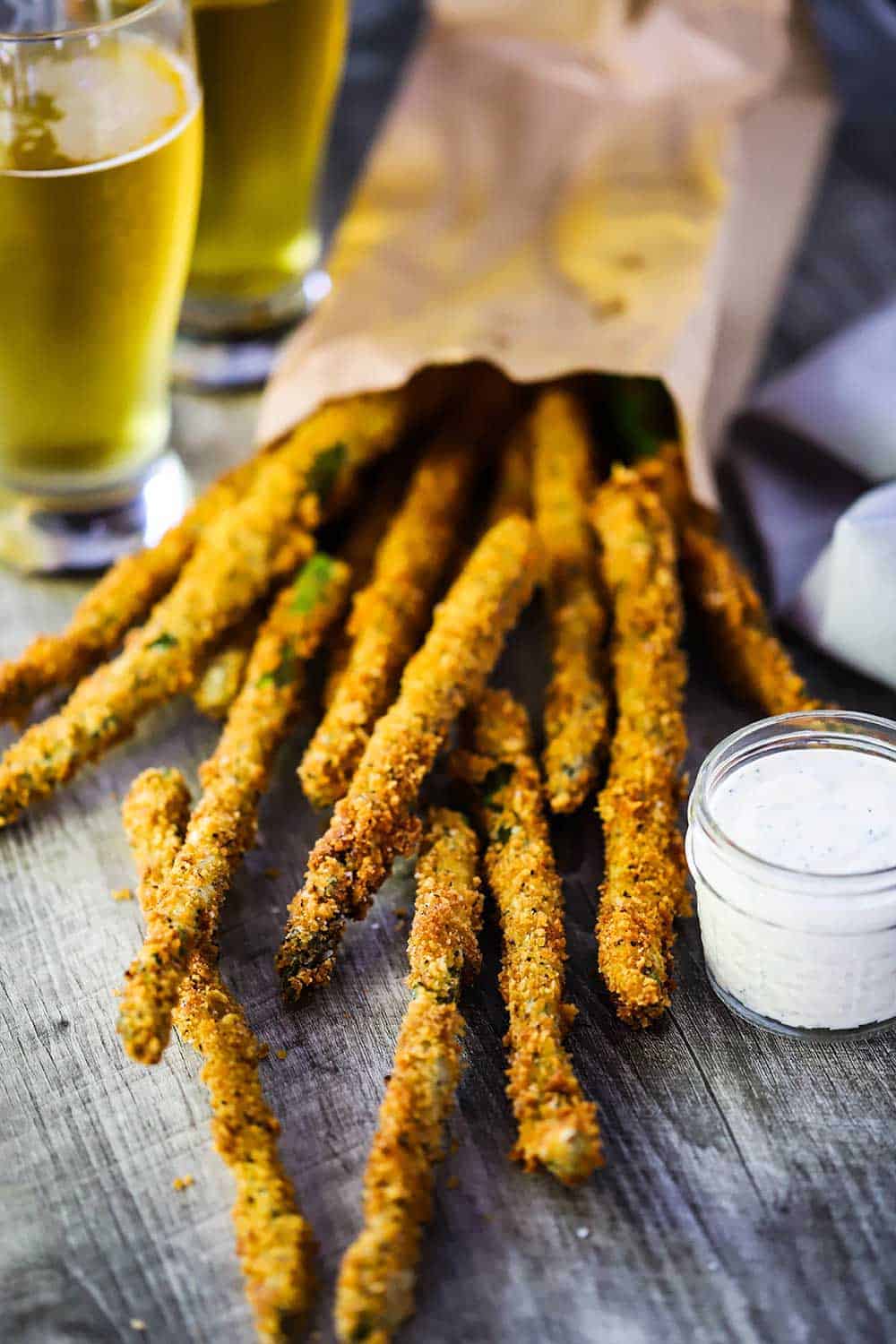 HOW TO MAKE FRIED ASPARAGUS
These gems are actually incredibly easy to make.
All you need to do is set up a quick dredging station, heat some oil to 365°F, and you are good go!
PREPARING THE ASPARAGUS
We love using large asparagus for this recipe, but you can certainly go with small, thin asparagus, too.
EXPERT TIP: Before breading them, you'll need to prep the asparagus. The ends can be tough and chewy to eat. We recommend using a sharp knife to cut about 1 to 2 inches off of the base of the vegetable. If they are thick, you'll probably want to peel the skin off the lower ends of the stalks.
While you are preparing the asparagus, start heating your oil.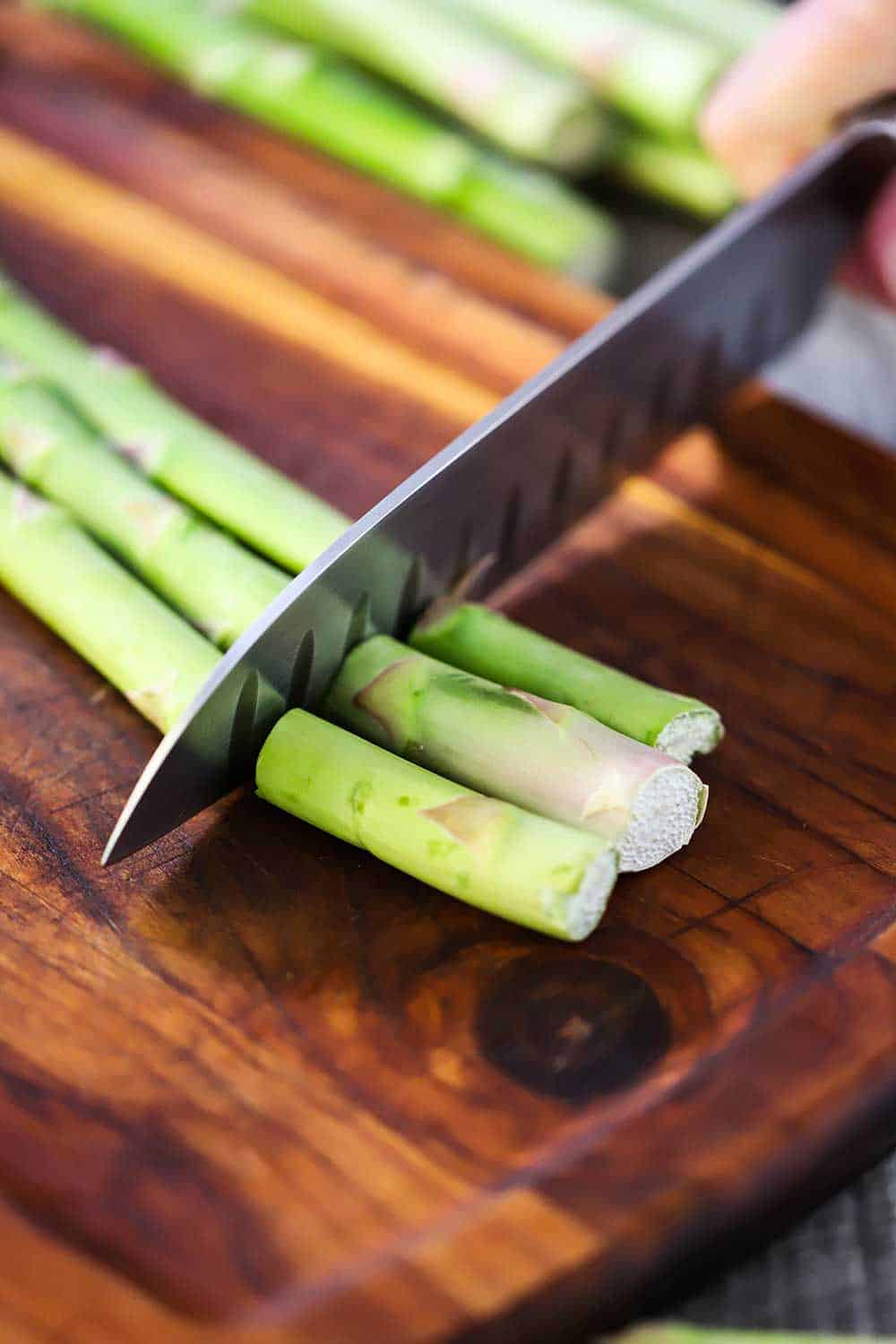 Now, it's time to set up your dredging station. We use 3 baking tins to do this.
In the first tin, we have flour, seasoned with salt and pepper. Next is the egg bath, with Parmesan cheese and lime juice mixed in. And finally, the last leg of the station is seasoned bread crumbs with smoked paprika mixed in.
EXPERT TIP: We love using seasoned Panko bread crumbs because they deliver amazing crunchy texture and are wonderfully seasoned. You can easily substitute plain bread crumbs or plain seasoned bread crumbs. If going with unseasoned bread crumbs, add 1 tsp of dried oregano and 1 tsp of dried basil to the mixture, along with the smoked paprika.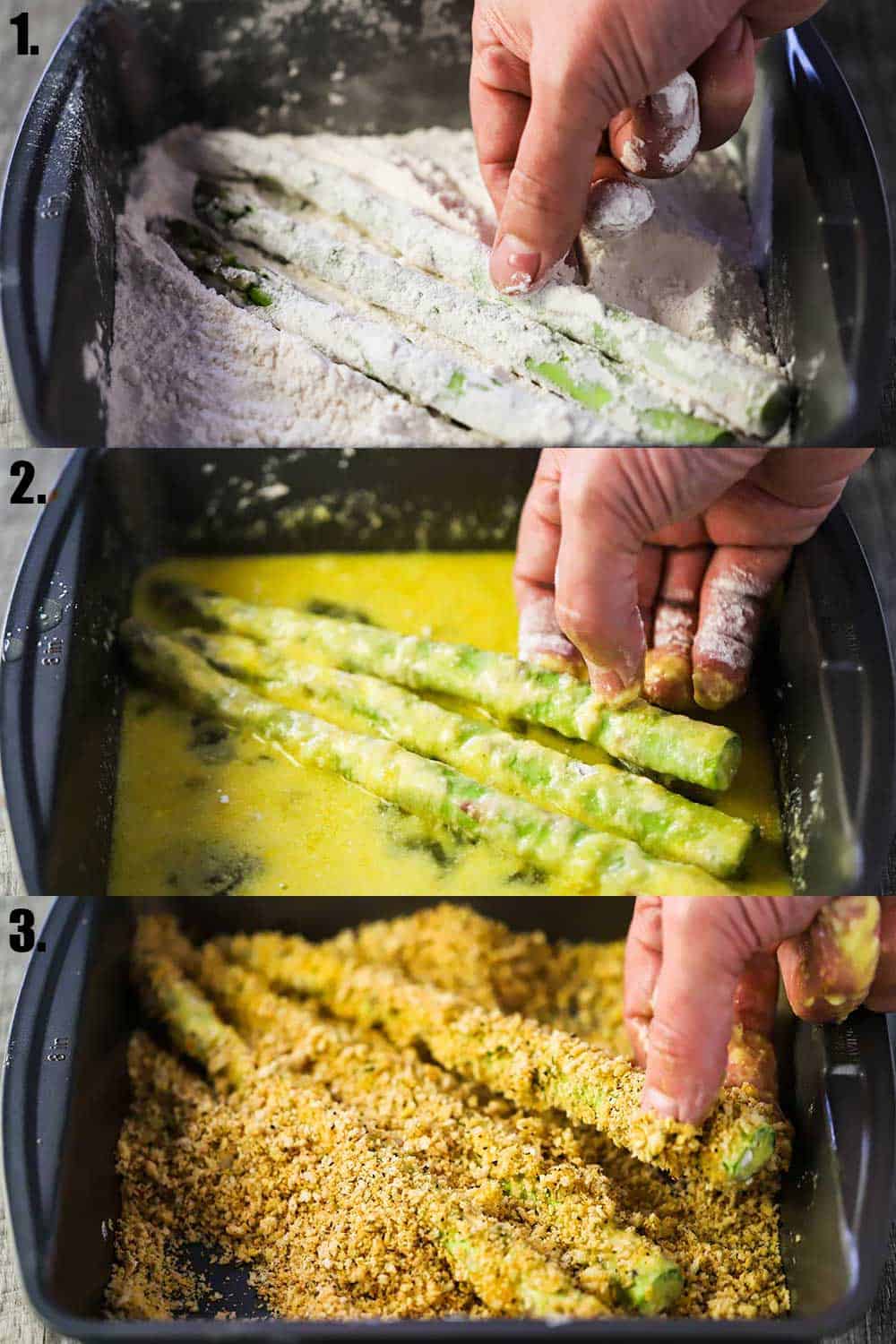 FLASH FRY UNTIL GOLDEN
Once you've breaded all of the asparagus, it's time to quickly fry them.
Your oil should be in the range of 350°F to 365°F. Fry them in batches for just a couple minutes, until crispy and golden brown.
EXPERT TIP: We love to use our deep fryer to make fried asparagus. You can absolutely use a cast-iron skillet, or a Dutch oven, too. The oil only needs to be 1 or 2 inches deep. Use a candy thermometer to gauge the temperature, or tear off a small piece of bread and toss it in. If it browns and crisps in about 15 seconds, it's ready.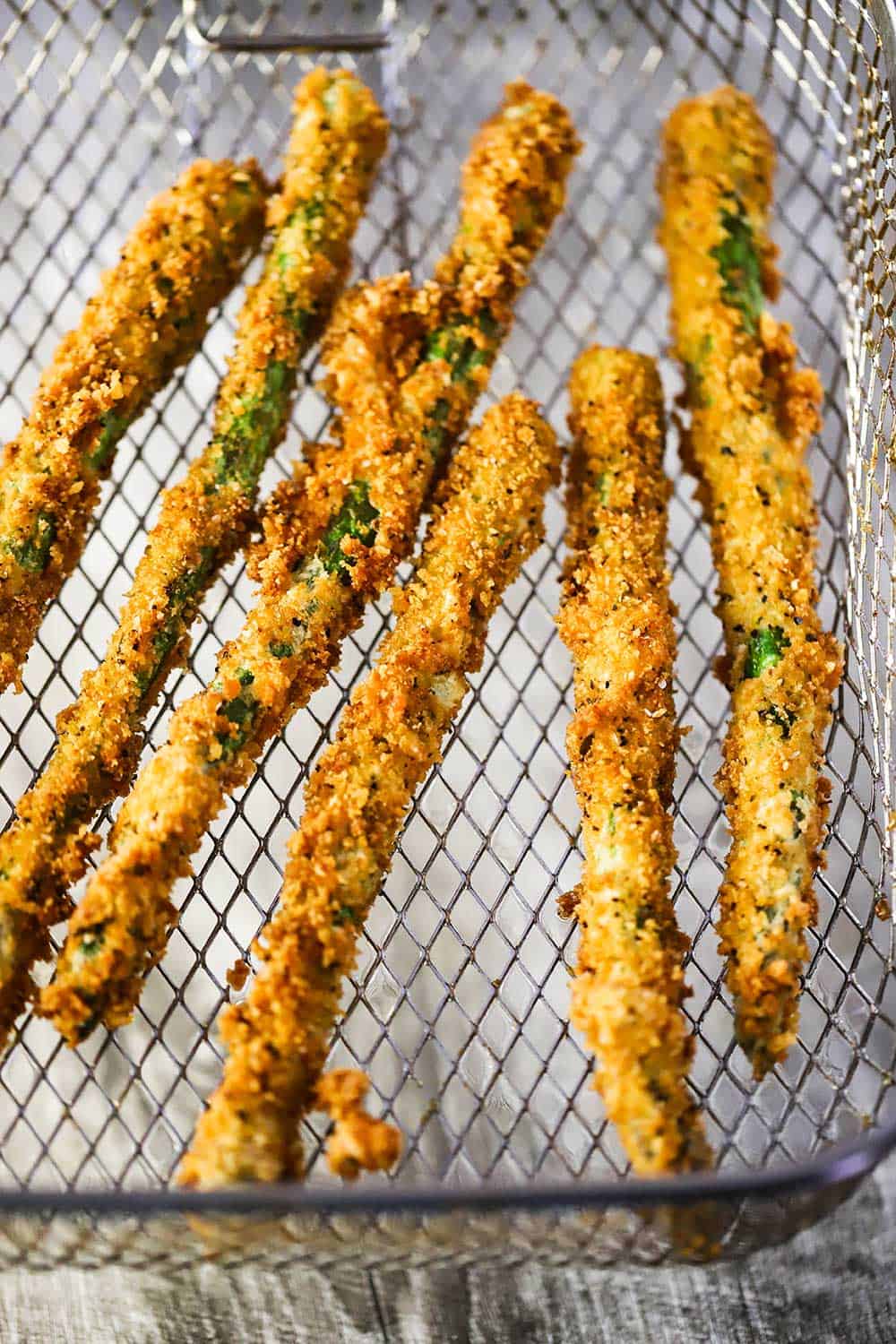 Fried asparagus is really beautiful when you serve it, too.
These are at their best served nice and hot.
A sprinkling of coarse sea salt is a nice finishing touch just before serving!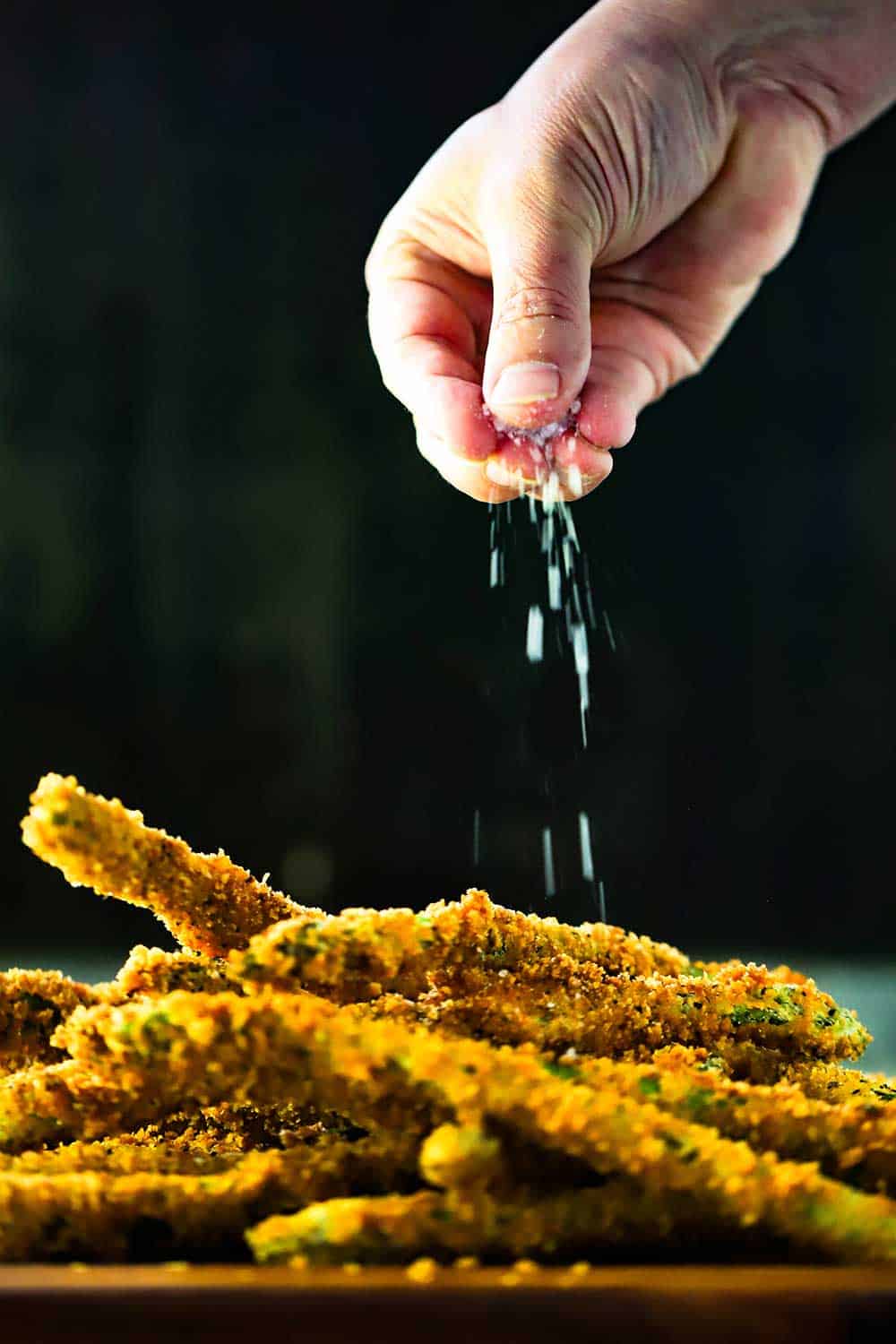 A GREAT APPETIZER
These are such a hit every time we serve them.
And don't worry if they are not 100% covered in breading. That's part of their charm, it's nice to see the yummy asparagus that you are munching on.
As mentioned, it's even better with a dipping sauce, such as Homemade Ranch, Fresh Marinara Sauce, or our Kickin' Remoulade Sauce!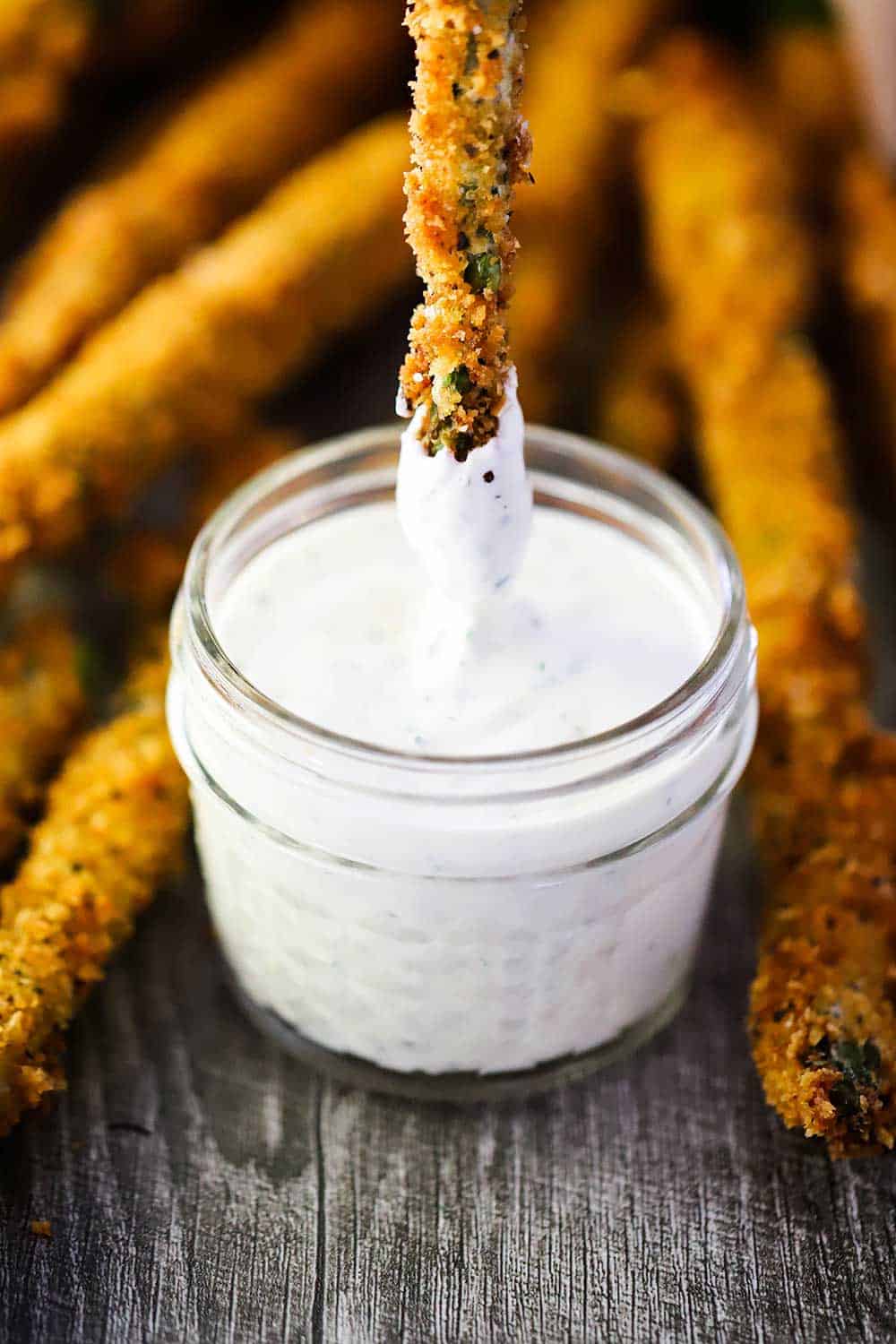 This truly is one of our most favorite appetizer dishes to serve and to chow down on!
However, if you don't want to fry asparagus, try our Seared Scallops with Asparagus or our Roasted Asparagus with Chopped Egg Salad. You will also love our Cheese Souflé with Asparagus and our Slow-Cooker Asparagus Risotto!
But if you do want to give these babies a quick fry, we're pretty certain you're going to love them as much as we do!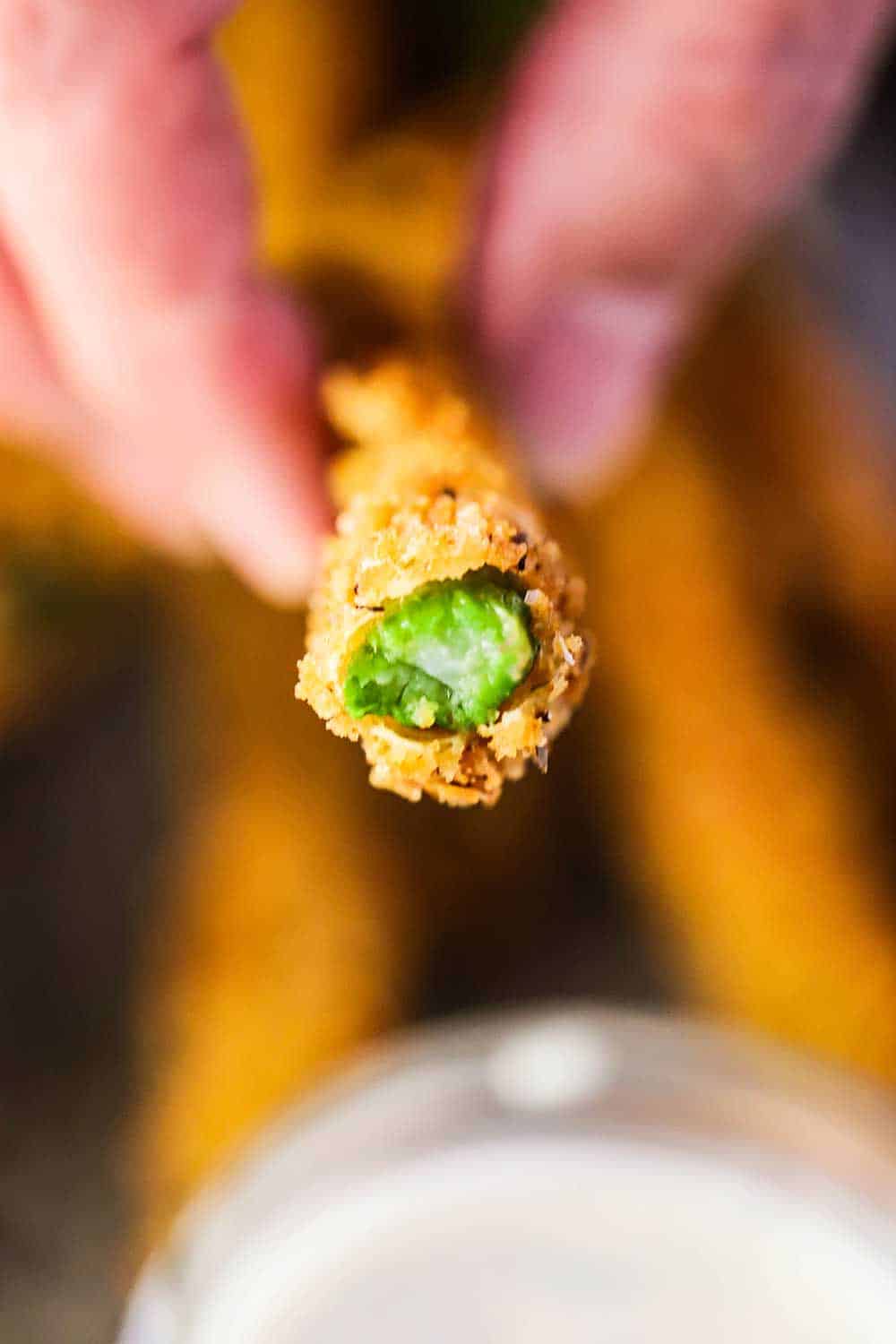 Ready to make the best appetizer in town? Go for it!
And when you do, be sure to take a picture of it, post it on Instagram, and tag @howtofeedaloon and hashtag #howtofeedaloon!
Fried Asparagus
Fried Asparagus is so easy and so delicious. Simply set up an easy dredging station and heat your oil to 365°F, and you're good to go! Great served with Homemade Ranch!
Print
Pin
Rate
Servings: 8 people
Calories: 157kcal
Equipment
Deep fryer or heavy skillet (or Dutch oven) with a couple of inches of vegetable oil in it
Ingredients
vegetable oil for frying
1 lb asparagus spears the ends cut off and the ends peeled
1 cup all-purpose flour
½ tsp Kosher salt
¼ tsp black pepper freshly ground
3 large eggs
3 tbsp Parmesan cheese grated
1 tbsp lime juice
1 cup bread crumbs seasoned Panko
1 tsp smoked paprika
1 tsp coarse sea salt for finishing
Instructions
SET UP THE DREDGING STATION
Place about ½ cup of water in a pan or medium-sized bowl. Set aside.

In a baking pan or on a platter, mix together the flour with the salt and pepper.

In a second pan or medium-sized bowl, mix together the eggs with the Parmesan cheese and lime juice,

In a third pan, or on a platter, mix the bread crumbs with the smoked paprika.

Wet the asparagus in the water, and then dredge through the flour to coat. Next, add the floured asparagus to the egg mixture, turning to coat. Shake off excess egg, and then dredge through the bread crumb mixture. Place breaded asparagus on a platter and repeat the process with remaining asparagus.
QUICK-FRY THE ASPARAGUS
Working in batches, fry the asparagus until golden brown, about 2 to 4 to minutes.

With a slotted spoon or fry basket, transfer to paper towels to drain briefly.

Sprinkle with coarse sea salt.
Notes
If your asparagus is large, we recommend cutting 1 to 2 inches off the ends of each stalk and using a peeler to cut the skin off at the end of each stalk. Not 100% necessary, but it makes the ends of the fried asparagus soft and not chewy.
Don't worry if the breading doesn't cover the asparagus stalks completely. It's nice to see some of the green asparagus through the breading.
If using traditional breadcrumbs, you may want to do a double-dredge if the breading looks thin. This is a matter of taste. We find that with Panko bread crumbs, a single dredging per stalk is perfect.
These can also be baked instead of fried. Preheat oven to 400°F and bake for 20 minutes, or until crisp and golden brown.
These are definitely best served fresh out of the fryer. And spectacular when served with homemade ranch, marinara, or our kickin' remoulade.
Nutrition
Calories: 157kcal | Carbohydrates: 24g | Protein: 8g | Fat: 12g | Saturated Fat: 3g | Cholesterol: 71mg | Sodium: 593mg | Potassium: 189mg | Fiber: 2g | Sugar: 2g | Vitamin A: 668IU | Vitamin C: 4mg | Calcium: 73mg | Iron: 3mg
POST UPDATE: This recipe was originally published in April 2016, but was updated with improved tweaks to the recipes, new tips, photography, and a fabulous new video in April 2020!