Oh, this recipe is just wonderful. It's so, so good.
This is one of those show-stopper dishes that comes together in about 20 minutes. Just incredible.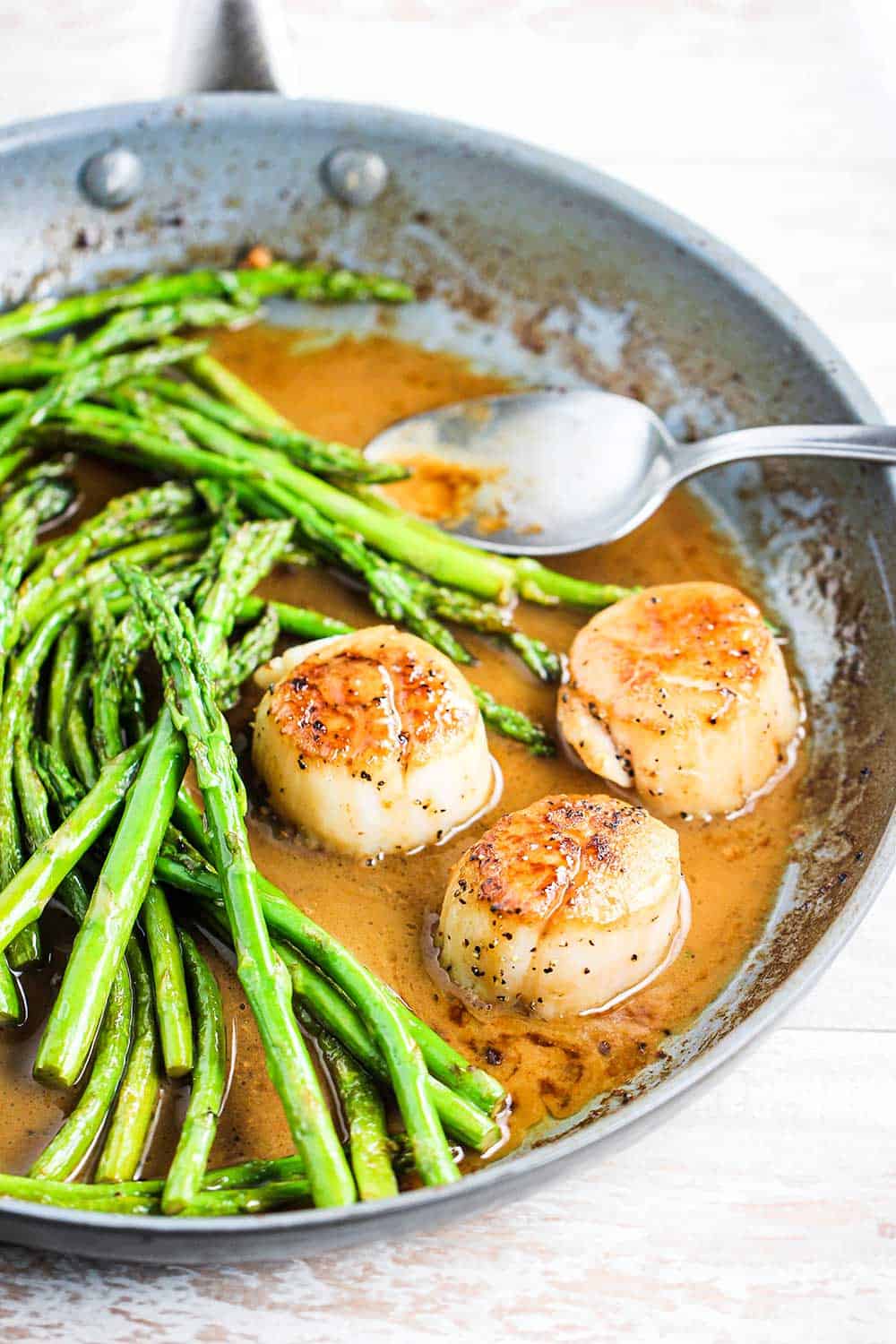 How To Make Seared Scallops with Asparagus
This is one of the easiest recipes we have on the blog.
It also comes together in less than 30 minutes.
And folks…the results? Oh, man…just watch:
Of course, it all starts with beautiful scallops. We just love using the large sea scallops. They are absolutely perfect for searing, and are even healthy for you in that they are low in calories and an extremely healthy source of protein.
But beyond that…they are melt-in-your-mouth delicious.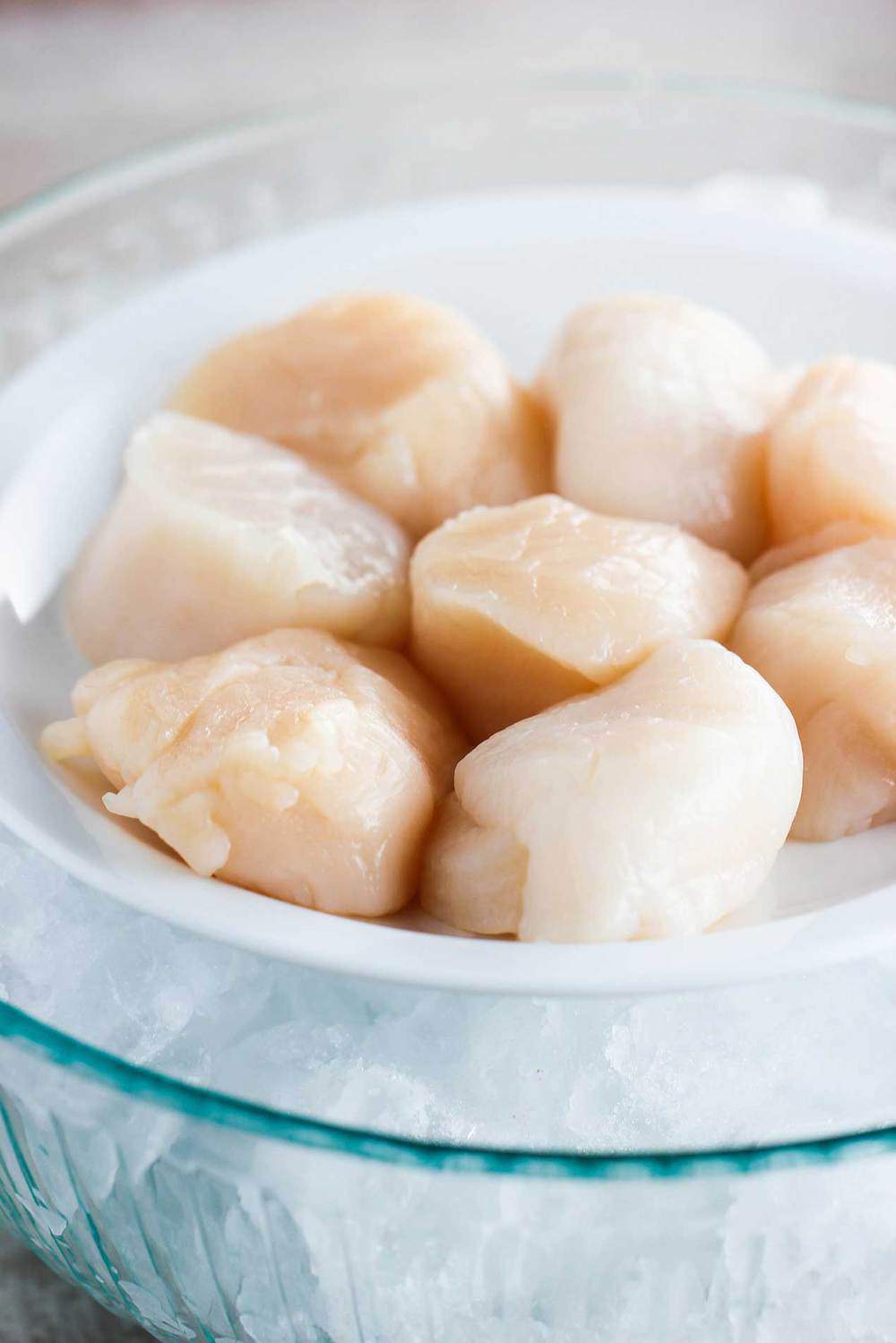 There are not a lot of ingredients in this incredible dish, but the simplicity is what makes it shine. The asparagus pairs perfectly with the scallops. And the sauce? Oh….the sauce.
Olive oil, white wine, white wine vinegar, and butter. With a dash of salt and pepper.
Simple, but oh so good. By the way, if you think this dish looks great, you should try our Classic Cioppino (Italian Seafood Stew)!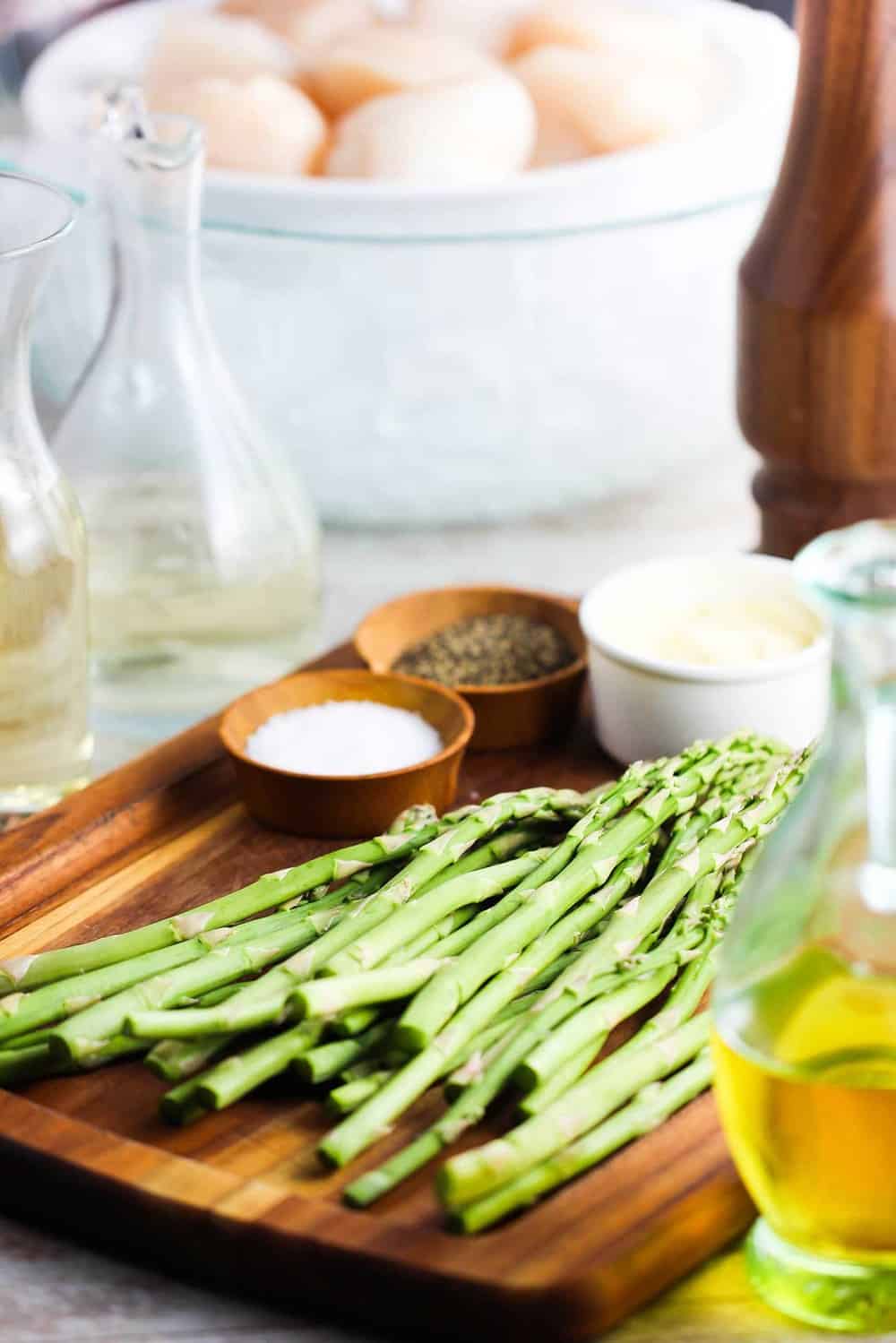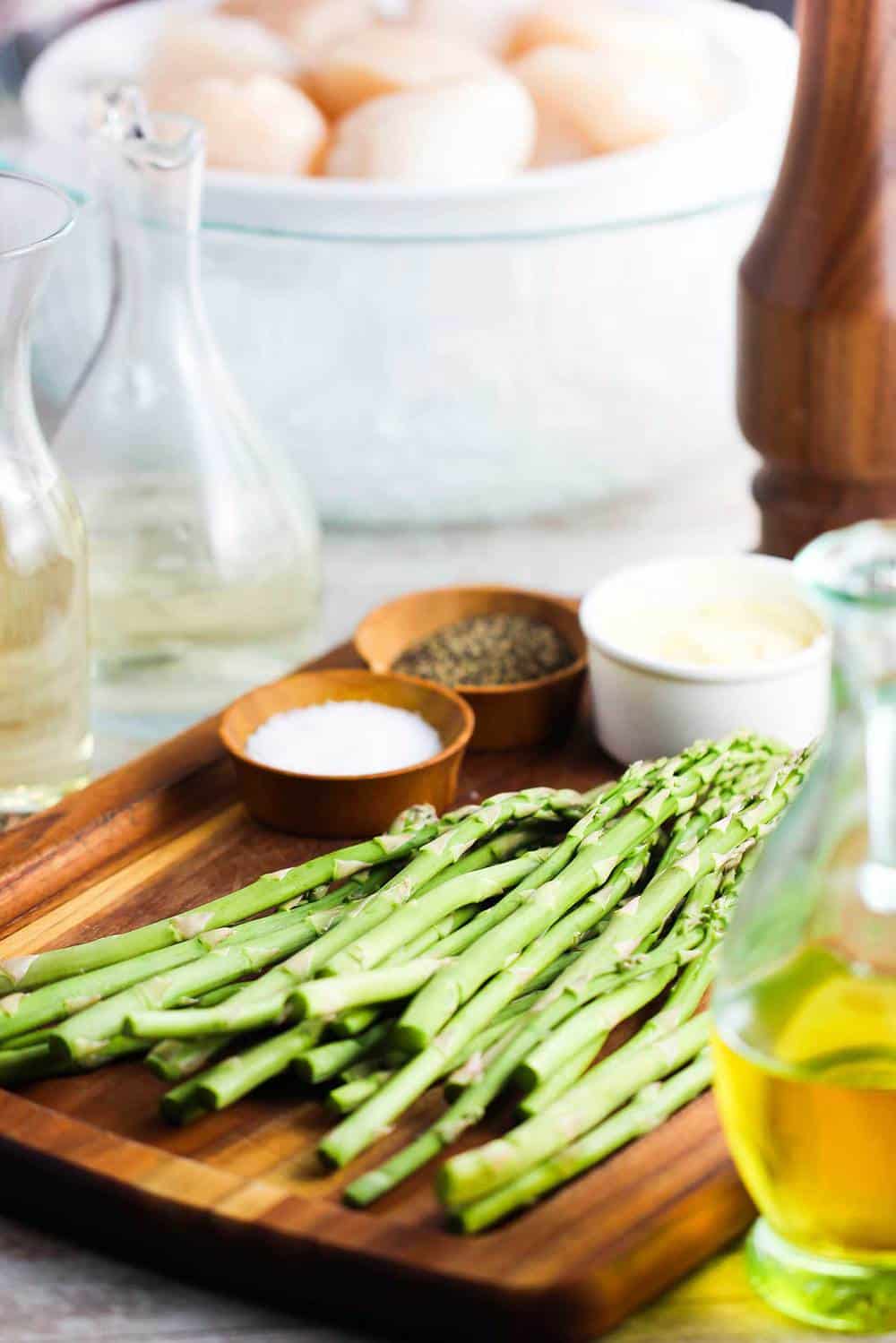 And asparagus is so flavorful and only needs a bit of a sauce to compliment the taste and texture.
The flavor profile and texture of this dish are truly spectacular and make a gorgeous presentation when served.
Simple, yet so wonderful.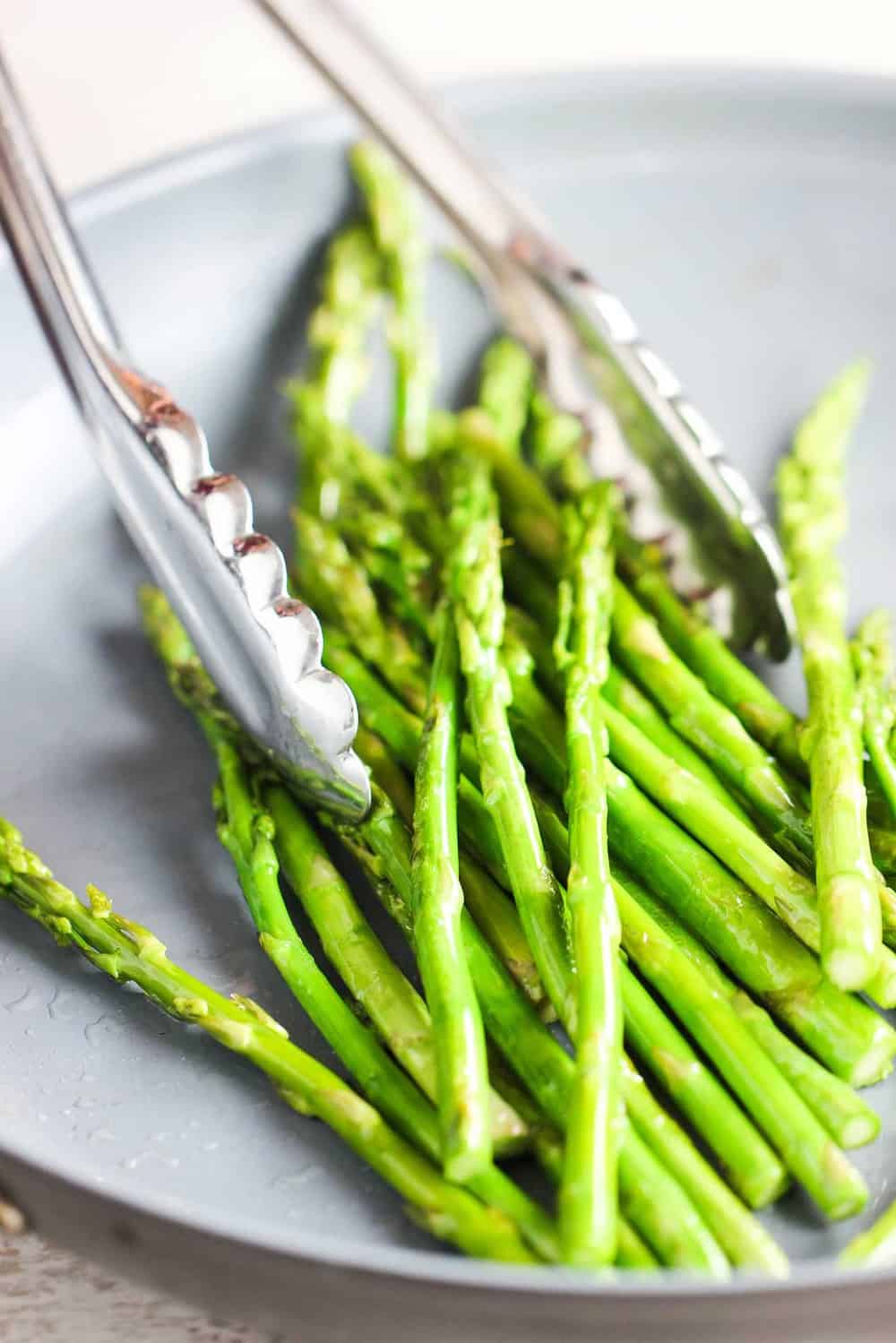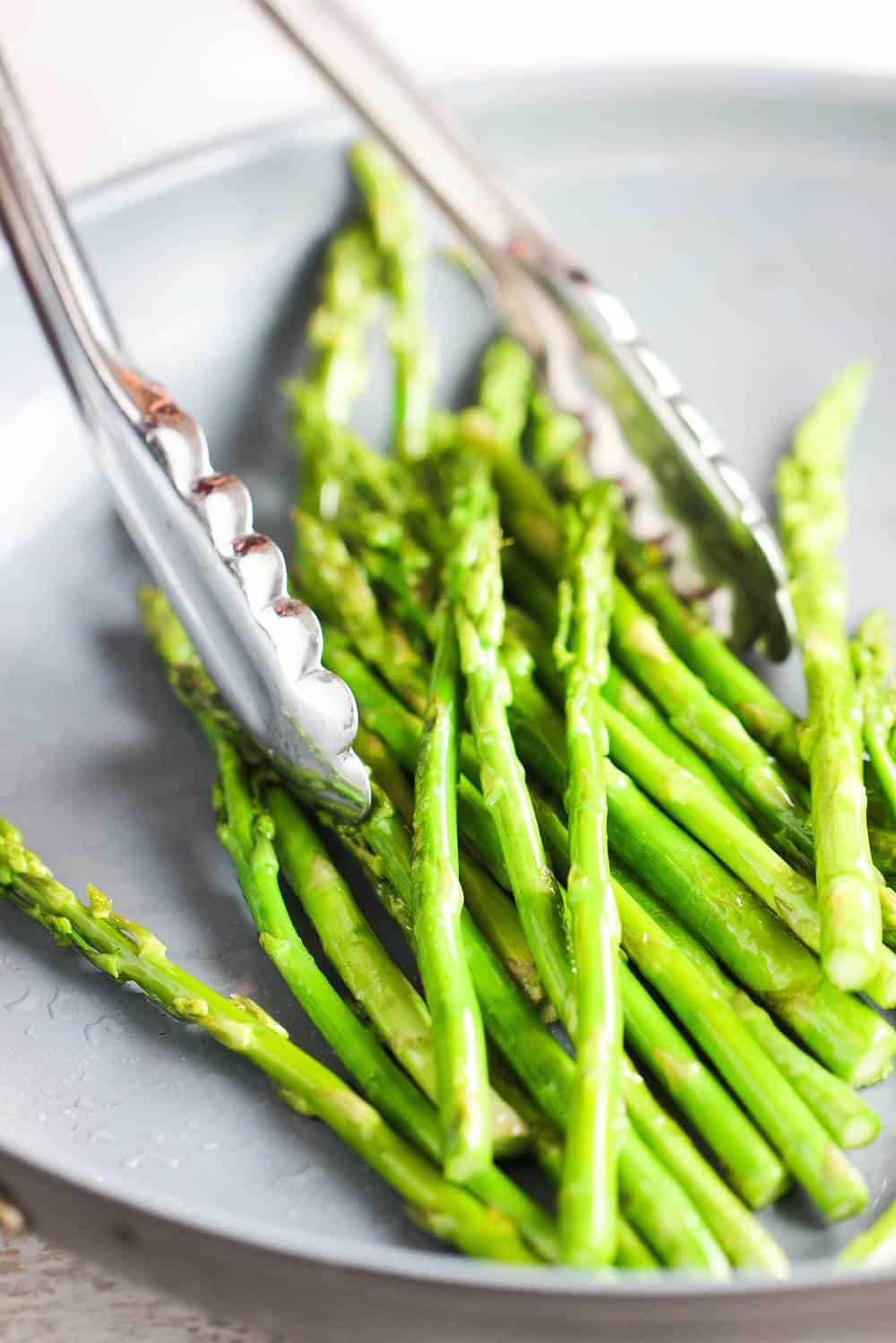 SAUTEEING SCALLOPS ONLY TAKE A FEW MINUTES
Scallops can be prepared in numerous ways. From stir-frying, to deep frying, to baking, or our favorite: Searing. Cook them over medium-high heat just until they start to brown on each side.
And oh yes, the sauce. The sauce.
A thing of beauty without a doubt!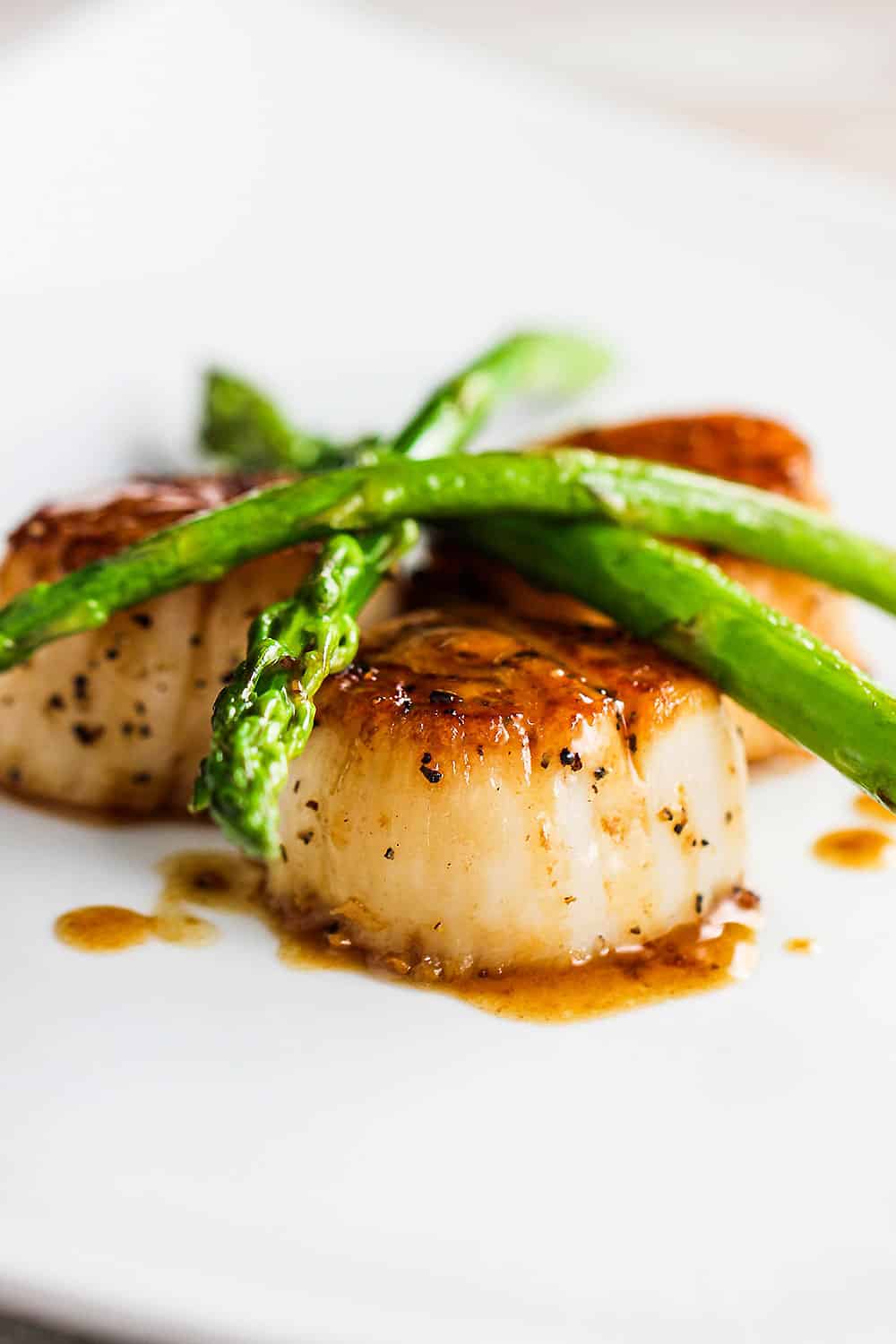 This dish has honestly been a favorite in our house for years, and every time we serve it to guests, they can't stop raving about it.
The scallops are so buttery melt-in-your-mouth delicious, and the asparagus is cooked until just tender and they are both complemented with the amazing pan wine and butter sauce.
Oh my, this dish is so good.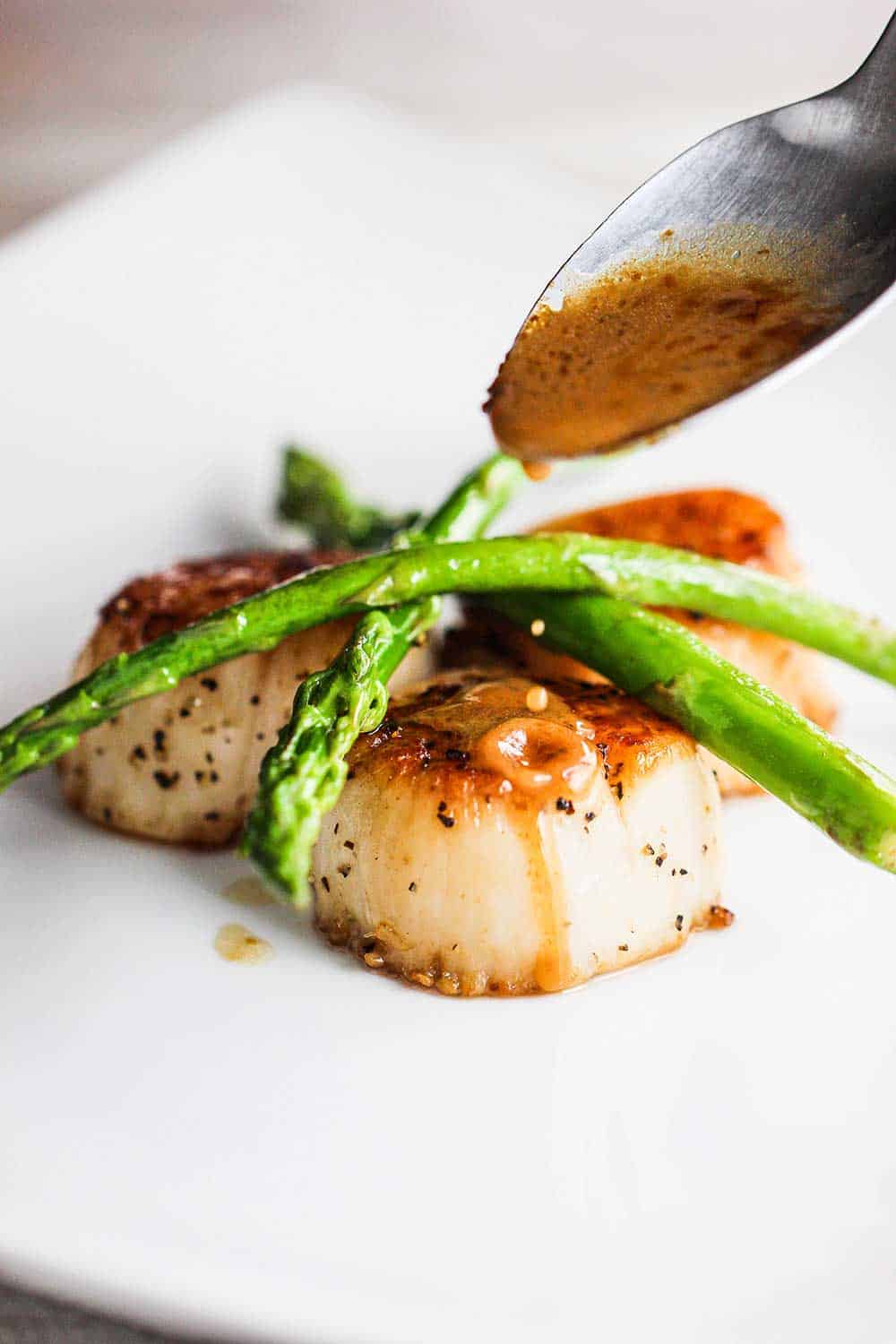 Okay, hopefully this has been enough to convince you to go make this awesome Seared Scallops with Asparagus recipe!

You're gonna love it!! We promise!
Seared Scallops with Asparagus
Gently seared sea scallops in a lovely white wine butter sauce with asparagus are simply amazing. And easy to make! This is a show-stopper of a meal that comes together in about 20 minutes.
Print
Pin
Rate
Servings: 4 people
Calories: 351kcal
Ingredients
1 lb asparagus ends trimmed
3 tbsp olive oil
1½ lb sea scallops
½ tsp black pepper freshly ground
¾ tsp Kosher salt
⅓ cup dry white wine
2 tsp white wine vinegar
4 tbsp unsalted butter
Instructions
Heat 1 tablespoon of oil in a large non-stick skillet over medium-high heat.

Saute the asparagus, stirring every now and then, until tender...about 3 minutes.

Transfer the asparagus to a plate. Don't clean out the skillet.

Pat the scallops dry with a paper towel, then sprinkle with the pepper and 1/2 teaspoon of salt.

Add another tablespoon of oil to the skillet and heat over medium high heat.

Saute half of the scallops, flipping once, until nicely browned and just cooked through, about 6 to 8 minutes total.

Transfer the scallops to another plate, as they are cooked.

Wipe out skillet, and add the remaining oil, and repeat with the remaining uncooked scallops. Once cooked, transfer to plate (don't wipe out skillet this time).

Carefully add the wine and vinegar to the skillet and boil, scraping up browned bits, until the sauce has reduced to about ¼ cup, about 4 minutes.

Add any scallop juices that have accumulated on the plate and bring to a simmer.

Reduce heat to low and whisk in the butter until melted and incorporated.

Add asparagus and the remaining ¼ teaspoon of salt and cook for about another minute.

Serve scallops topped with asparagus and sauce.
Notes
See the video in the blog post for a visual tutorial.
Nutrition
Calories: 351kcal | Carbohydrates: 11g | Protein: 23g | Fat: 14g | Saturated Fat: 6g | Polyunsaturated Fat: 2g | Monounsaturated Fat: 11g | Trans Fat: 1g | Cholesterol: 71mg | Sodium: 1108mg | Potassium: 600mg | Fiber: 2g | Sugar: 2g | Vitamin A: 1214IU | Vitamin C: 6mg | Calcium: 44mg | Iron: 3mg
This recipe is adapted from Epicurious.