Classic Cioppino is a hearty Italian seafood stew that became famous in San Francisco. San Francisco is one of our most favorite cities in the world, with one of the key reasons being the food.
Of course, with the city snuggly tucked into the gorgeous San Fran bay, the seafood is bountiful.
Every time we hit this magical city, we have to get a bowl of the heartwarming dish.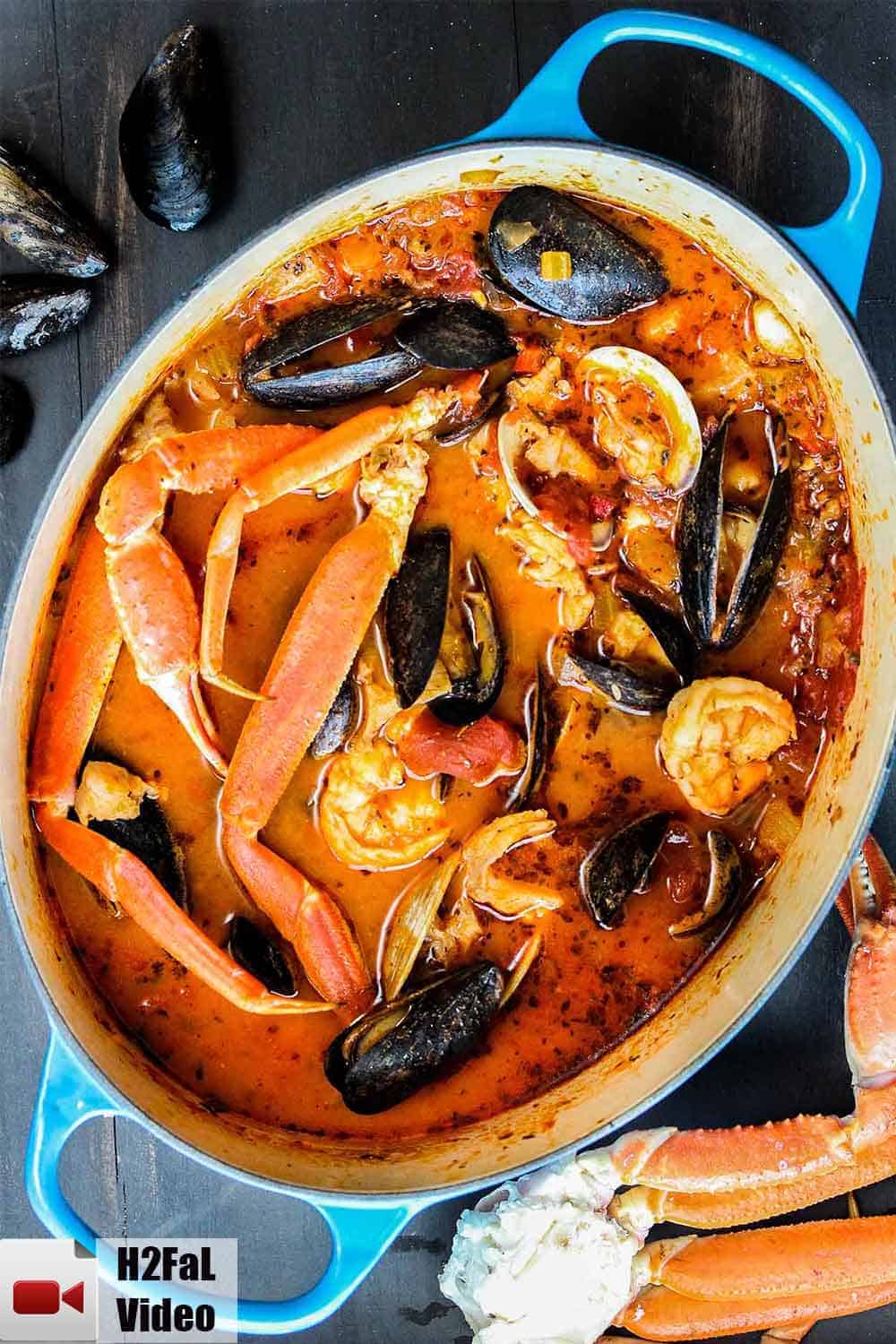 HOW TO MAKE CLASSIC CIOPPINO
Talk about a show-stopper of a dish.
Watch us show you how easy it is to make Classic Cioppino at home!
This amazing stew starts with with a sautéed trilogy of flavorful aromatics of onion, red bell pepper and celery.
And that's just the start.
You'll need a large pot for this classic cioppino, and I really love using my large Dutch oven.
A SAN FRANCISCO STAPLE
Cioppino is a seafood lover's dream stew.
We love using fresh crab legs, and meaty mussels, delicious clams and shrimp, and amazing chunks of white fish like halibut or cod.
This stew is truly something to behold.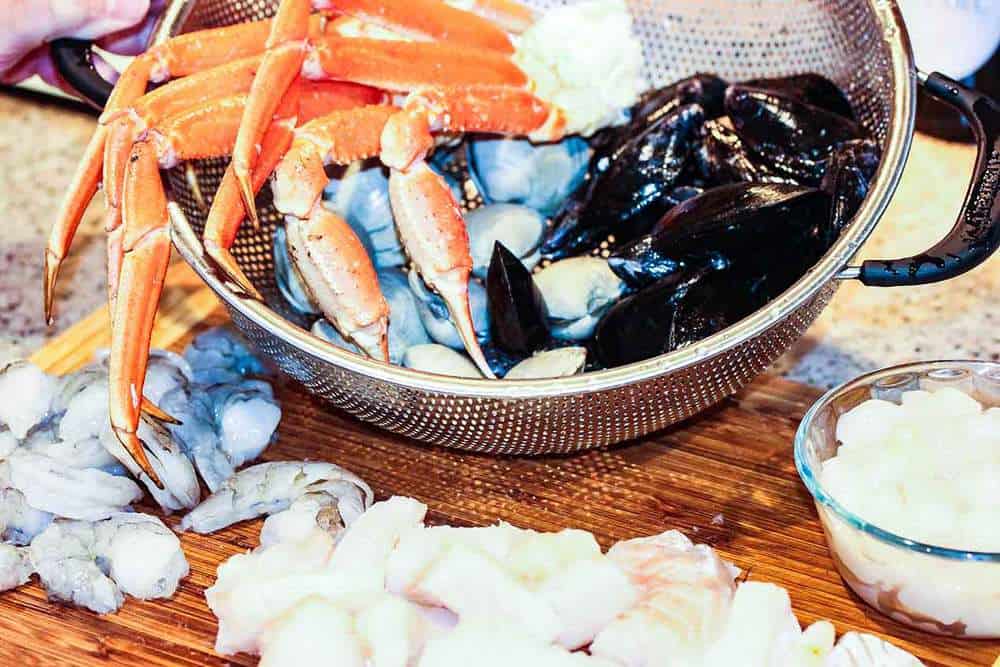 Cioppino was created in San Francisco by Italian fisherman. The history is fascinating…learn more here.
It's truly a gorgeous pot of deliciousness and is really a lot of fun to prepare.i
The tomato base is so flavorful and intensely flavorful.
As this stew simmers on the stove, you won't believe the smell coming from your kitchen.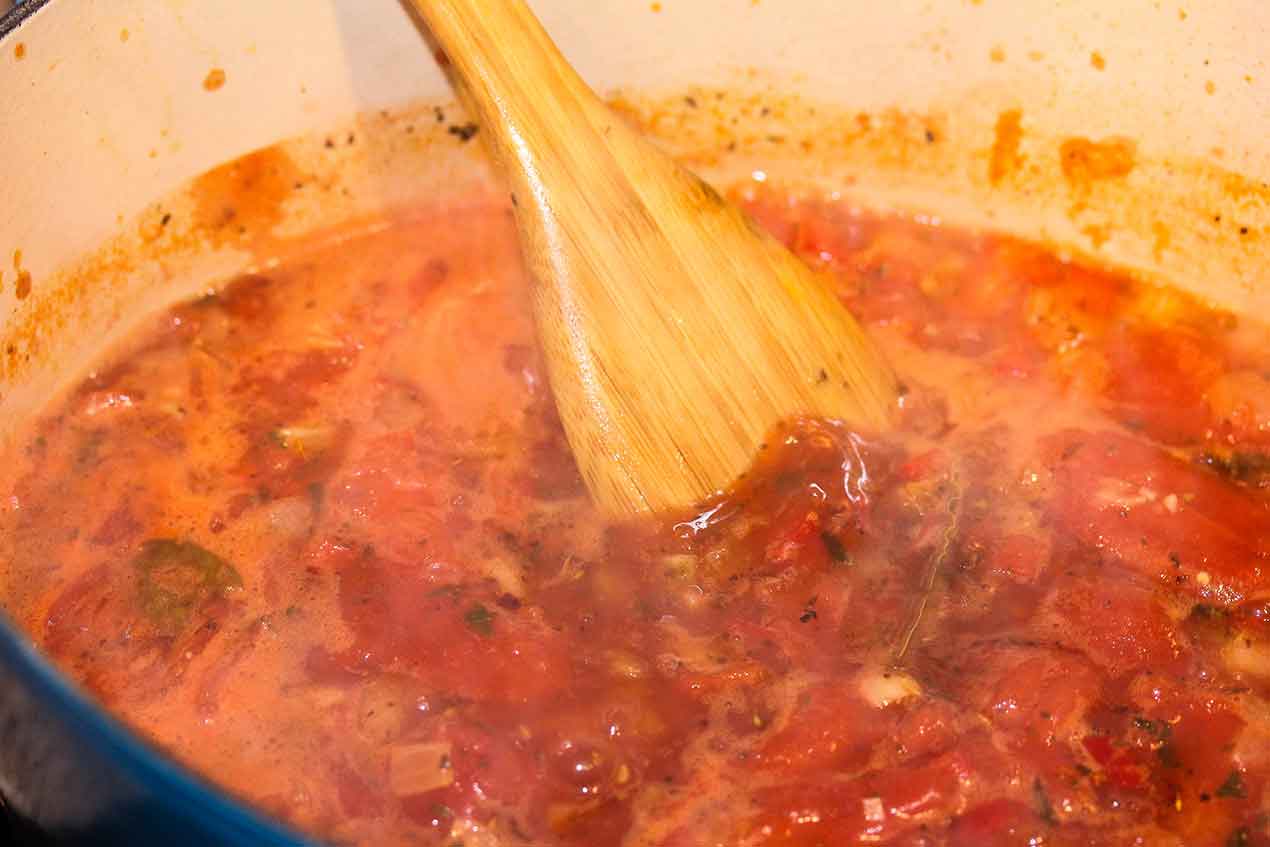 During our last staying San Fran, I found a couple of local foodie folks who shared their recipe for Classic Cioppino with me. I came home and played around with it, and this version is what we love and takes us back to the magical city by the bay every time.
It is a beautiful dish, and it even looks like it must be a super labor-intensive to make – but surprisingly, it's really not. You'll need just a couple of hours to bring this iconic dish to the table. And talk about a great thing to serve at the holidays, or anytime you want something special for loved ones.
This is now an instant classic in our home. Try it…you'll love it. You can make the tomato base sauce the day before. Then just reheat and add the fish and cook until ready (about 8 minutes)!!
Another awesome seafood dish is our Seaside Ceviche or our Braised Halibut with Kale, Beans and Tomatoes
Classic Cioppino (San Francisco-Style Seafood Stew)
This Classic Cioppino is a true favorite Italian seafood stew originating in the incredible city of San Francisco. It is beautiful, and actually quite easy to make. You just need a couple hours from start to finish. Plus, you can tweak to you own tastes. Enjoy!!
Print
Pin
Rate
Servings: 6 people
Calories: 280kcal
Ingredients
2 tbsp olive oil
2 tbsp unsalted butter
2 medium yellow onions chopped
4 cloves garlic minced
1/2 red bell pepper cored, seeded, chopped (about 1/2 cup)
1/2 cup celery chopped
1/4 flat-leaf parsley chopped
1 28 oz. can whole tomatoes San Marzano are excellent, with juice
2 8 oz bottles clam juice
1 cup dry white wine Sauvignon blanc is good
2 bay leafs
1 tbsp dried basil
1/2 tsp dried oregano
1/2 tsp dried thyme leaves
1/2 tsp crushed red pepper flake
1/2 tsp salt more to taste
Juice of 1 lemon about 2 teaspoons
12 small hard-shell clams in shell
12 mussels in shell
1 lb extra-large shrimp peeled and deveined
1 lb bay scallops
1 lb firm white fish fillets cod, halibut, haddock are all good choices
2 lbs fresh steamed crab legs
Instructions
In a large soup pot, or preferably large Dutch oven, over medium-low heat, heat olive oil, then add butter and let melt. Add onions, garlic, bell pepper, celery and parsley. Cook until soft, about 8 minutes.

Add tomatoes (break them up with your hands as you add them to the pot), and add the juice from the can.

Add the clam juice, wine, bay leaf, basil, oregano, thyme, red pepper flakes, salt, and lemon juice; bring to just a boil, then reduce heat and simmer for 1 hour.

NOTE: At this point, stock may be refrigerated, covered and kept up to 2 days before serving. Just bring the stock back to a boil about 20 minutes before serving, lower the heat, and progress with the recipe.

Scrub the clams and mussels with a small stiff brush under cold running water; remove beards from mussels.

Discard any open clams or mussels. Let cold water run over shells for 5 minutes (shaking every minute, or so).

Gently stir into the sauce the clams, mussels, shrimp, scallops, and fish fillets. Cover the dish and let simmer for 7 - 8 minutes, until the clams and mussels open. Discard any shells that have not opened.

Add the crab legs and steam until heated through, another 2 - 3 minutes.

Try not to stir too much (it will break up the fish), and don't overcook!!

Remove the bay leaves. Adjust seasonings

Ladle sauce and seafood into large bowls and serve with toasted bread.
Nutrition
Calories: 280kcal