This recipe is proof that a healthy dish can still be absolutely delicious. In fact, a true show-stopper.
There is just so much to love about this seafood dish. Don't worry, if you can't find halibut, or can find another fillet that's cheaper, go for it! Serve this up with a batch of easy, homemade cloverleaf dinner rolls for a meal you and your guests (or family) won't soon forget. And it comes together in less than an hour!
How To Make Pan-Seared Halibut with Vegetables
Because seared halibut cooks very quickly, as does the braised vegetables, this dish comes together very quickly.
All you need is a nice large skillet and some oil.
NOTE: If you liked this video, please subscribe to our YouTube channel. Remember to click the little 'bell' icon so you'll never miss a new video. Thank you!
The Ingredients You Will Need
We love cooking with halibut, because, first and foremost, if doesn't have a strong "fishy" taste to it all. In fact, it's actually often referred to as "the fish for people who don't like fish." It's also very healthy and good for you. Learn more about halibut's nutritional value.
Of course, if you can't find halibut, or want to find an even more budget-friendly cut, you have options. (see below)
Here's What You'll Need
Halibut fillets – Other options include cod, haddock, sole, flounder, turbot, and striped bass.
Salt and pepper – For seasoning the fillets and the sauce
Oil – Olive or Extra-Virgin will work perfectly
Butter – Unsalted. You can use only olive oil, but butter adds a depth of flavor and gets a nice sear
Onion – We love the color of red onion, but white (or yellow) is great, too
Garlic – Minced
Thyme – Preferably fresh, but dried will work, too
Rosemary – Preferably fresh, but dried will work, too
Cherry tomatoes – Go with a variety of colors, if possible
Chicken stock – Or seafood, or vegetable
Cannellini beans – Drained and rinsed (any white bean will work)
Spinach – Fresh is best, washed. Baby will work, too. Frozen will work in a pinch.
Lemon juice – From two lemons (about 3 tbsp)
Olives – Pick your favorite, we love Castelvetrano
Red pepper flakes – For a bit of zip, optional
EXPERT TIP: Heat the oil first, and then toss in the butter. You can skip the butter for fewer calories. Be sure to get the oil to a nice simmer over medium-high heat. A nonstick skillet is best for keeping the fillet from sticking. Brown on each side for about 3 to 4 minutes. You're just searing the halibut, it'll finish cooking in the final braising step.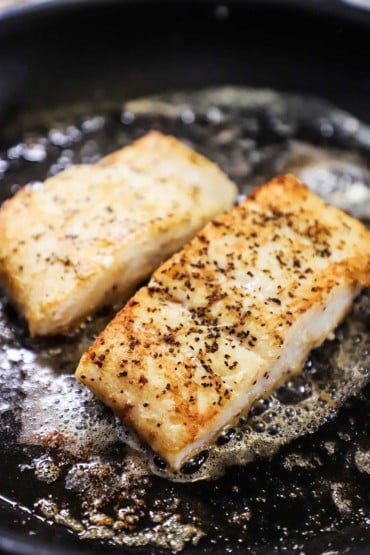 Tips For Perfect Pan-Seared Halibut
Season Well – You'll definitely want to liberally season the fillets all over with salt and pepper, and then season the vegetable bean sauce, too. Be careful when handling uncooked fish. Wash your hands after handling the fillets.
Crank the Heat with a Nonstick Pan – Halibut, as with many flakey types of fish, will tend to stick to a pan, even with oil and butter. If you have a 12-inch nonstick skillet, use it. If you have a smaller one, then you may need to seat the fillets in batches. Sear them over medium-high heat and scoot them around in the skillet often to prevent any kind of sticking.
Don't Overcook – We recommend going with 6-ounce fillets, however, sizes can vary, especially when they are frozen and packaged. During the braising process, the sides of the fillets should turn completely white. The internal temperature should be between 130°F and 135°F. This typically takes about 3 minutes simmering in the broth with the lid on.
EXPERT TIP: As mentioned, we recommend mature fresh spinach. Remove the stems and give them a good rinse. Although we like to reserve baby spinach for salads, you can use it in this dish as well. If using frozen spinach, let it completely thaw and then squeeze as much liquid out with a kitchen towel as possible. Fresh is best!
This one-skillet dish is really a meal all in one.
We get medium-size bowls, or shallow pasta bowls, and ladle in a decent amount (at least 1 one) of the vegetables with broth, and then snuggle the halibut fillet over the top.
Serve with warm crust bread, or even better, homemade cloverleaf dinner rolls for a fulfilling and complete meal.
For a stunning presentation, let folks serve themselves right from the skillet where it all came together.
Other Amazing Seafood Recipes to Try
We love all kinds of seafood and making it a home is much easier than you might think. Here are some of our favorites:
Mediterranean-Style Baked Red Snapper
Sautéed Wild Striped Bass
Blackened Salmon
Poached Salmon with Easy Hollandaise Sauce
Grilled Salmon with Poblano Compound Butter
Sautéed Soft-Shell Crabs
Seared Tuna Steaks with Olives, Capers, and Tomatoes
Seared Peppercorn Tuna Steaks
Classic Fish and Chips
Parmesan-Crusted Cod with Romesco Sauce
Grilled Oysters with Roasted Tomato Butter
In the meantime, isn't this dish making you hungry?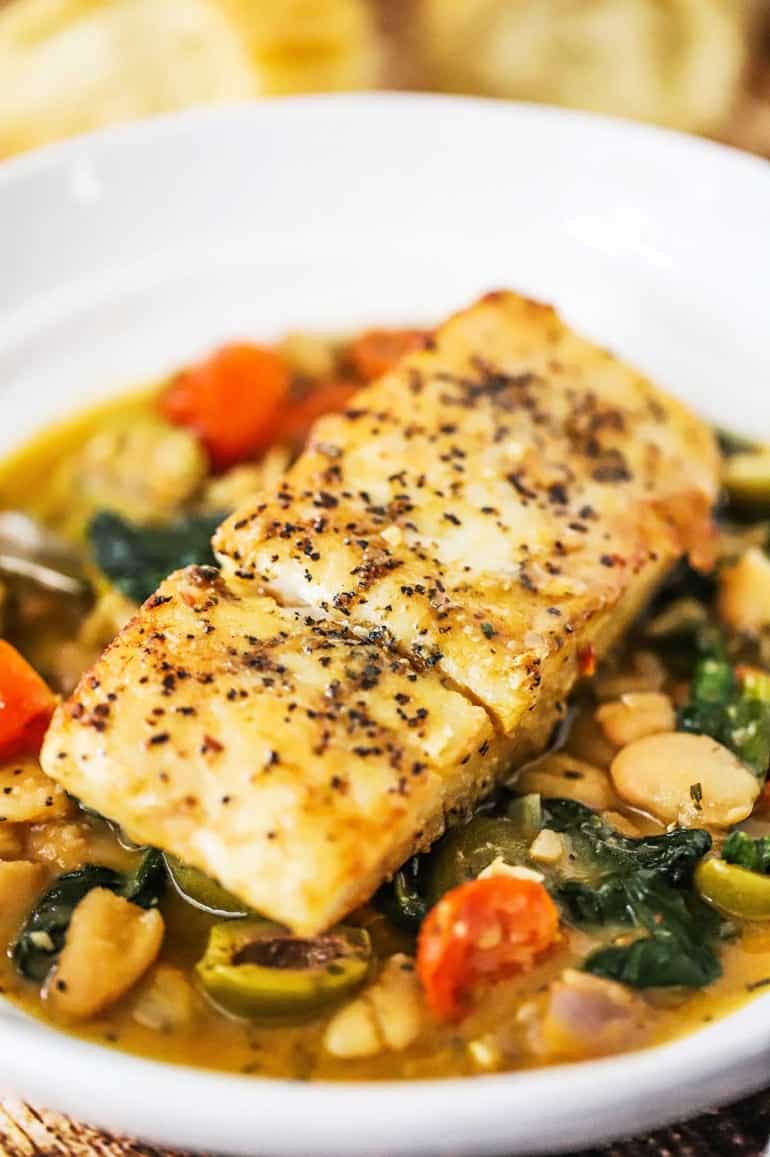 There always comes a time when we realize we need to try and eat a little healthier. That's certainly the case in our house.
This dish is a triumph in that the taste and texture are truly restaurant-quality, but the health benefits are equally as impressive.
This is a staple in our own kitchen rotation and we're sure you and your loved ones will agree. One bite, and you'll be a halibut believer!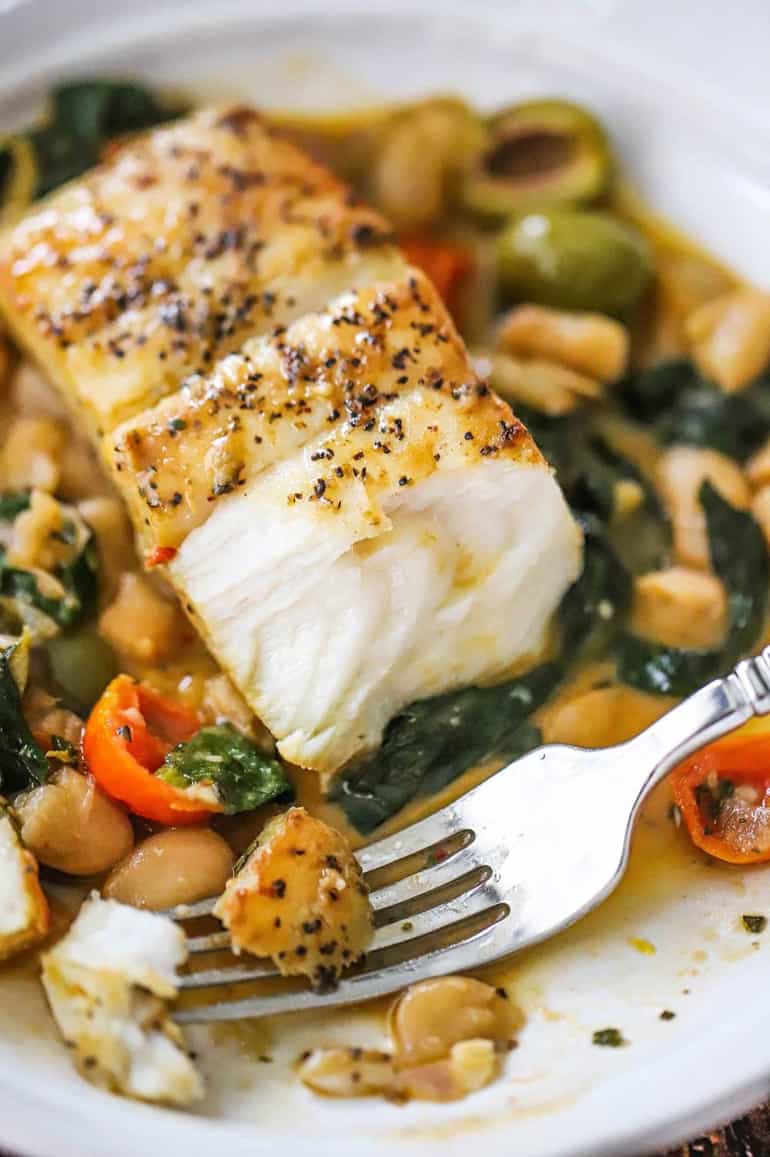 Ready to make the best seafood dish this side of the Pacific (or Atlantic) Ocean? Go for it!
And when you do, be sure to take a photo of it, post it on Instagram, and tag @HowToFeedaLoon and hashtag #HowToFeedaLoon!
Pan-Seared Halibut with Vegetables
Seared halibut is not a fishy-tasting seafood dish at all. See the NOTES for halibut substitutions. Because the dish comes together quickly, be sure to have all of your ingredients prepped and ready to go before starting.
Print
Pin
Rate
Servings: 4 people
Calories: 134kcal
Ingredients
4 6 oz halibut fillets
Salt and freshly ground black pepper
2 tbsp olive oil
unsalted butter
½ cup red onion chopped
4 cloves garlic minced
1 tsp rosemary fresh, chopped (or 1/2 tsp dried)
1 tsp thyme fresh, chopped (or 1/2 tsp dried)
¾ cup cherry tomatoes halved
⅔ cup chicken broth
½ cup cannellini beans drained and rinsed
5 oz spinach fresh, stemmed, and washed
2 tbsp lemon juice from 2 lemons
½ cup green olives pitted, halved
Pinch red pepper flakes
Instructions
Season the halibut fillets with salt and pepper.

4 6 oz halibut fillets, Salt and freshly ground black pepper

In a large skillet with a lid (non-stick is preferable), heat 2 tablespoons of the oil over medium-high heat. Once shimmering, add the butter and swirl until melted.

2 tbsp olive oil, unsalted butter

Add the halibut and sear until golden brown on one side, about 3 minutes (you may need to do this in batches). Transfer to a plate.

Add the onion and cook until soft, about 4 minutes. Add the garlic and cook, stirring often, for another 30 seconds.

½ cup red onion, 4 cloves garlic

Stir in the rosemary, thyme, and tomatoes and cook for another 1 to 2 minutes, stirring occasionally.

1 tsp rosemary, 1 tsp thyme, ¾ cup cherry tomatoes

Add the broth and beans and bring to a simmer.

⅔ cup chicken broth, ½ cup cannellini beans

Working in batches, add the spinach to the skillet and cook until completely wited down. Repeat with remaining spinach.

5 oz spinach

Stir in the lemon juice, olives, red pepper flakes, ½ tsp salt, and ¼ tsp pepper. Stir to combine.

2 tbsp lemon juice, ½ cup green olives, Pinch red pepper flakes

Turn down the heat to medium-low and nestle the fillets into the vegetables and sauce. Cover and cook for about 3 minutes, or until fillets are completely cooked through (internal temperature of 130 to 135°F).

Ladle the vegetable and bean sauce into shallow bowls and then nestle a fillet in each. Drizzle more sauce over the top. Serve at once.
Notes
See the video near the top of the blog post for visual guidance. If you liked the video, please subscribe to our YouTube channel.
Substitutes for halibut are cod, haddock, flounder, grouper, and dogfish.
We highly recommend using a nonstick skillet for this dish. Flakey fish tends to stick to skillets, even with oil and butter.
If desired, go with a total of 2 to 3 tbsps of olive oil and omit the butter.
Leftovers will keep in the fridge for up to 2 days, however, this dish is definitely served best right off the stove.
Nutrition
Calories: 134kcal | Carbohydrates: 10g | Protein: 4g | Fat: 9g | Saturated Fat: 1g | Polyunsaturated Fat: 1g | Monounsaturated Fat: 7g | Cholesterol: 1mg | Sodium: 490mg | Potassium: 329mg | Fiber: 3g | Sugar: 2g | Vitamin A: 3553IU | Vitamin C: 22mg | Calcium: 75mg | Iron: 2mg