Halibut with Kale, Beans and Tomatoes is incredibly flavorful and very healthy.
We just love halibut. Firm, yet flaky, and not too fishy. (The Loon doesn't like his fish too fishy…he reminds me this often). Matched against the pleasantly, slightly bitter kale, then throw in some cherry tomatoes, garlic, lemon, red onion, and buttery white beans…it all comes together for a healthy and super flavorful meal.
HALIBUT WITH KALE, BEANS AND TOMATOES IS EASY TO MAKE
Because seared halibut cooks very quickly, as does the braised vegetables, this dish comes together very quickly.
All you need is a nice large skillet and some oil.
The kale only takes about 8 minutes of braising to cook down and become silky delicious.
Go with a variety of colorful cherry tomatoes, if you have access to them. If not, any type of tomato will work!
HOW TO SEASON THE HALIBUT
Seared halibut is naturally loaded with delicious flaky flavor and texture, without being fishy tasting!
All you need is a little salt and pepper.
EXPERT TIP: Halibut is delicious, but might be more than you want to spend. Cod is a more budget-friendly type of fish and will deliver similar results.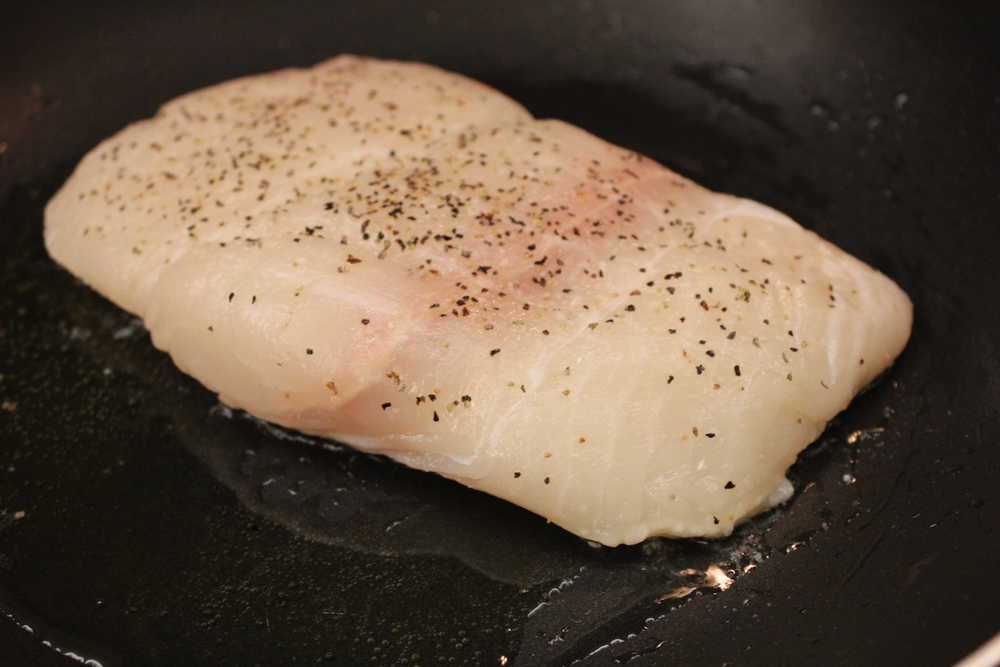 COOK THE KALE, BEANS AND TOMATOES IN THE SAME PAN
We just love the simplicity of this dish.
And bringing all the ingredients together in one pot makes it even better!
Fast, easy, healthy…and delicious!!
Another amazing seafood dish is Sautéed Wild Striped Bass or Sautéed Soft-Shell Crabs!
But in the meantime, go ahead and make this amazing Halibut with Kale, Beans and Tomatoes!
Halibut with Braised Kale, Beans & Tomatoes
This halibut with braised kale, beans & tomatoes is so amazingly flavorful, and so good for you! The halibut, kale, beans and aromatics all go together so beautifully!
Print
Pin
Rate
Servings: 6 people
Calories: 210kcal
Ingredients
6 halibut fillets 5 - 6 ounces each
Salt and freshly ground black pepper
4 tbsp extra-virgin olive oil plus more for drizzling
1/2 red onion sliced, and roughly chopped
3/4 cup red cherry tomatoes sliced lengthwise
3/4 cup yellow cherry tomatoes sliced lengthwise
3 cloves garlic thinly sliced
Pinch red pepper flakes
1 lb kale cored and cut into 1 1/2-inch pieces
1 cup canned white beans I like cannellini, rinsed and drained
Lemon wedges
Instructions
Season the halibut fillets with salt and pepper.

In a large skillet with a lid (non-stick is preferable), heat 2 tablespoon of the oil over medium-high heat.

Add the halibut and sear until golden brown on one side, about 2 minutes (you may need to do this in batches). Transfer to a plate.

Warm the remaining 2 tablespoons of oil over medium heat.

Add the onion and cook until soft, about 4 minutes.

Add the tomatoes, garlic, pepper flakes, 1/2 teaspoon salt, 1/4 teaspoon of pepper, and cook for about 1 minute.

Add as much kale as will fit in the pan.

As the kale wilts, continue adding the rest. You may need to add a splash of water (about 1 tablespoon), if the pan gets too dry.

Cook until the kale is just wilted, about 2 minutes.

Stir in the beans and 1/2 cup of water. Bring to a simmer, cover, and cook until the kale is very tender and the liquid has thickened, about 8 minutes.

Taste and add more salt and pepper, if needed.

Nestle the halibut fillets in the kale, browned side up, cover, cook until the fish is opaque throughout, about 4 minutes.

Drizzle with a little oil and serve with lemon wedges.
Nutrition
Calories: 210kcal