If you're looking for a dish that is healthy, gorgeous, and absolutely delicious…look no further.
This seared tuna steak recipe is one of our most favorite recipes…ever. You can control the spiciness with the amount of black pepper you go with. The Strawberry Vinaigrette and spinach salad put it over the top! And it comes together in less than 30 minutes!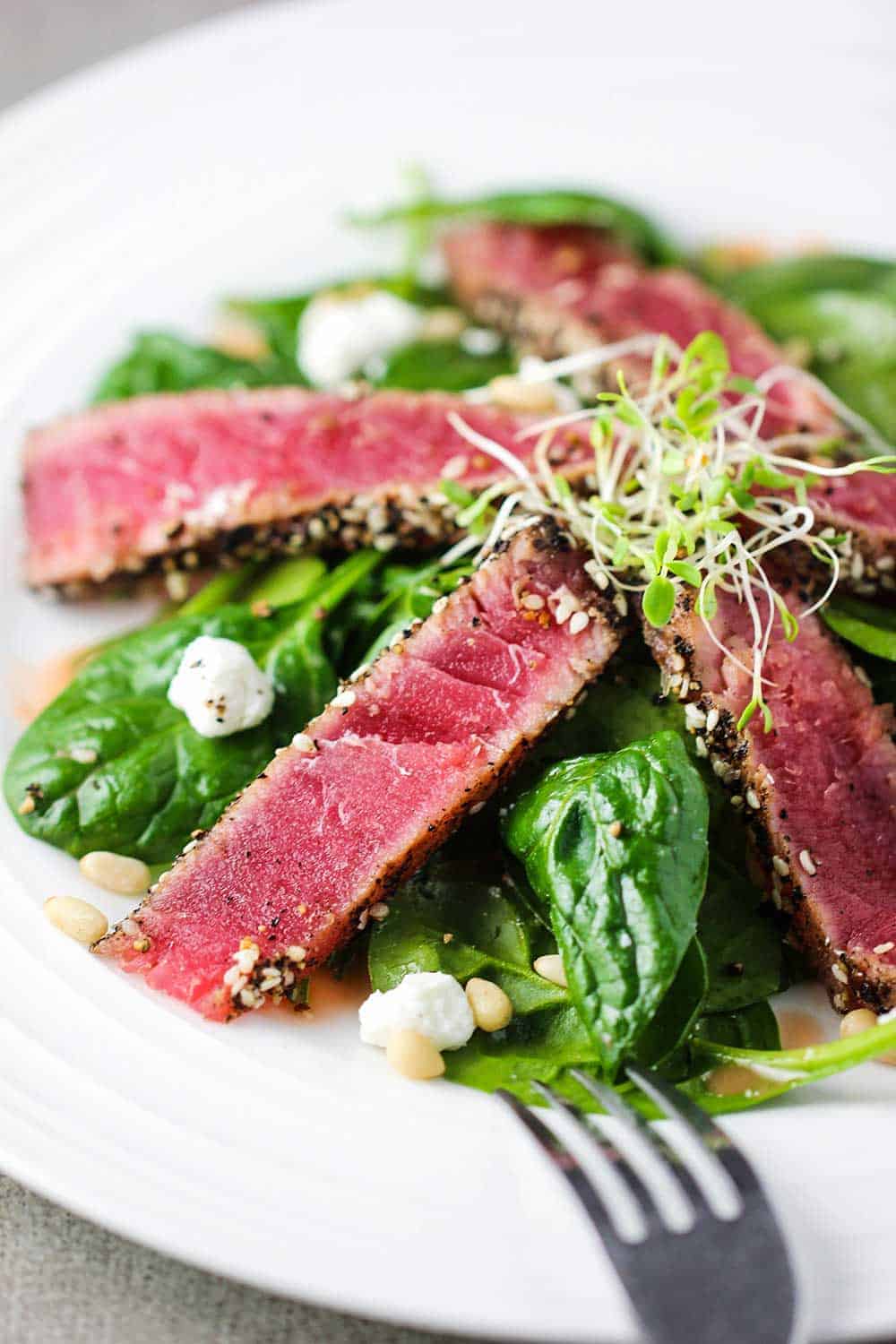 HOW TO MAKE SEARED PEPPERCORN TUNA STEAK
Seeking out good-quality tuna is where you need to start. We love ahi tuna, and bluefish is excellent, too.
Coating the steaks with a thin layer of sesame oil and then encrusting in sesame seeds and ground black peppercorns ensure a flavor profile that is incredible.
Watch us show you how to make this incredible dish, along with an amazing strawberry vinaigrette and spinach salad.
HOW TO CHOOSE THE RIGHT TUNA STEAK
As mentioned, this dish is really only as good as the tuna you get from your local fish market.
Sashimi-grade fish is some of the highest quality seafood available. The process in which the fish is caught and immediately processed is why it is safe* to consume raw, as is popular in Japanese cuisine. However, sashimi-grade can be difficult to find in many regions, and most likely not budget-friendly. We recommend yellowfin, bluefin, or albacore when seeing out steaks for our Seared Peppercorn Tuna Steaks.
EXPERT TIP: When seeking out yellowfin or bluefin tuna from a seafood counter, the steaks should have a firm texture and vibrant, red color. Albacore tuna should also have a firm texture but a pale color. All three varieties have similar taste profiles and textures.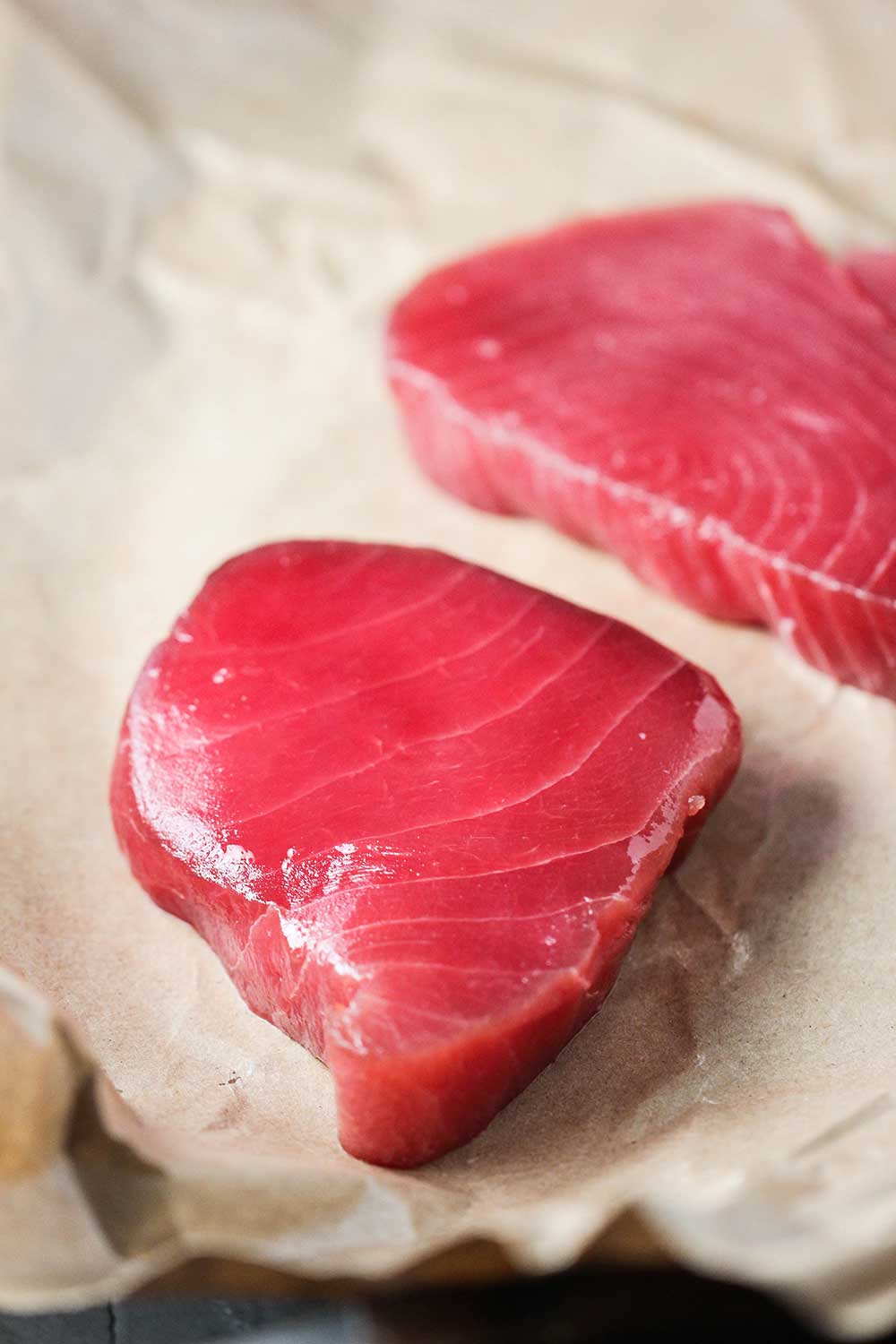 GETTING THE PERFECT SEAR
We love a combination of ground black peppercorns and white sesame seeds for the tuna steaks.
Remember, however, that you'll get some heat from the peppercorns. For medium-heat, go with ¼-cup ground pepper and ¼-cup sesame seeds.
For less heat, only use 2 tbsp of the ground peppercorn. If you prefer no heat at all, use a combination of black and white sesame seeds.
EXPERT TIP: Wondering how to ground peppercorns, easily? Pull out your trusty coffee grinder from the '90s. They work perfectly! If you don't have one, or still use it to grind the coffee, then pulverize them in a food processor. Or, place in a baggie, and gently pound until pulverized. One note, the less pulverized they are, the more heat they will produce with each bite. Purchased ground pepper will work in a pinch.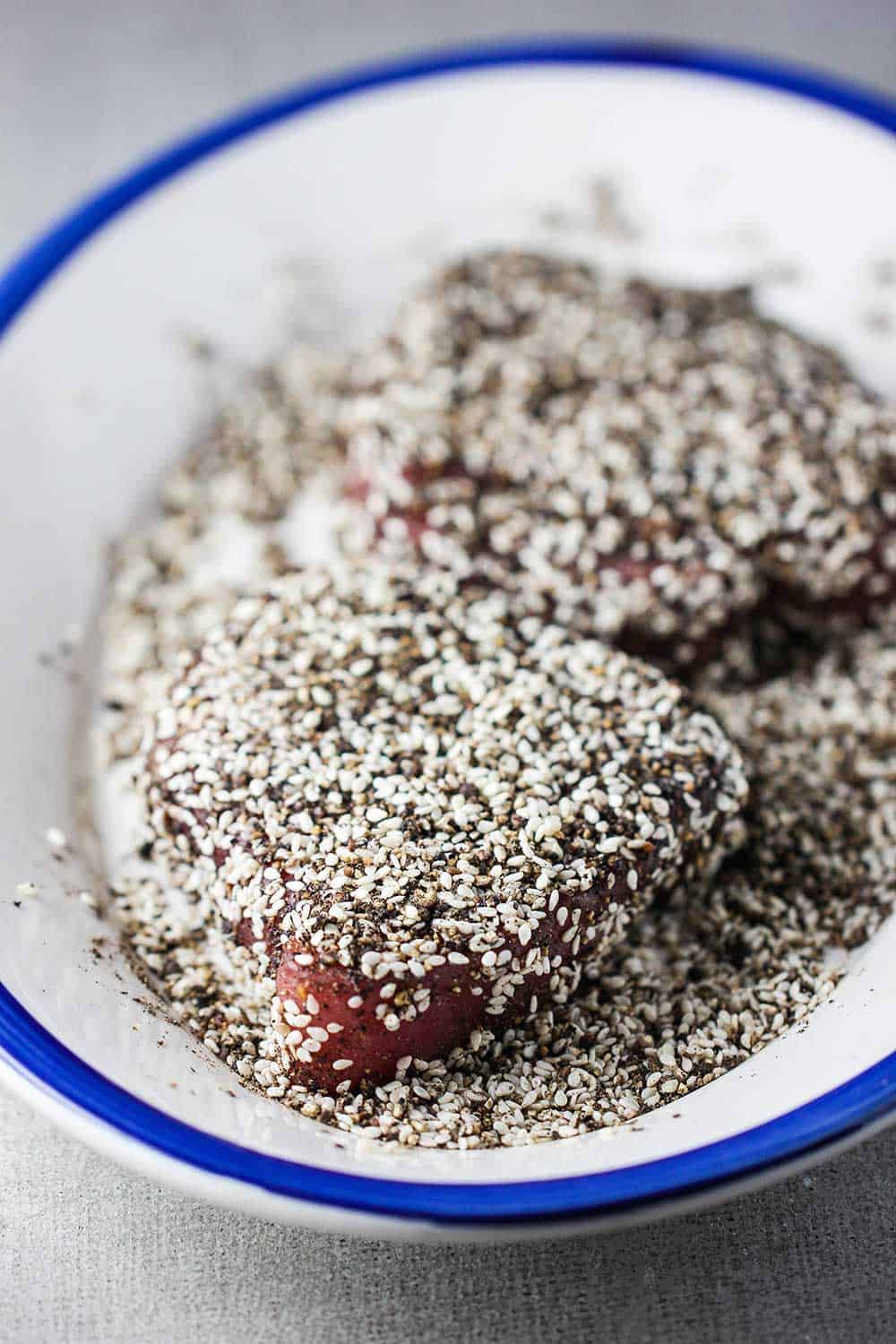 You'll want to lightly coat the steaks with sesame oil, and then dredge them in the pepper/sesame seed mixture.
Coat them all over. Next, cook them for about 1 to 2 minutes per side. in a medium-high heat skillet with a little oil.
EXPERT TIP: We highly recommend serving the sliced tuna rare to medium-rare. If over-cooked, even in the slightest, the tuna steaks become chewy and the fresh taste is diminished. However, see Note (*) below for more information on consuming rare, or raw food.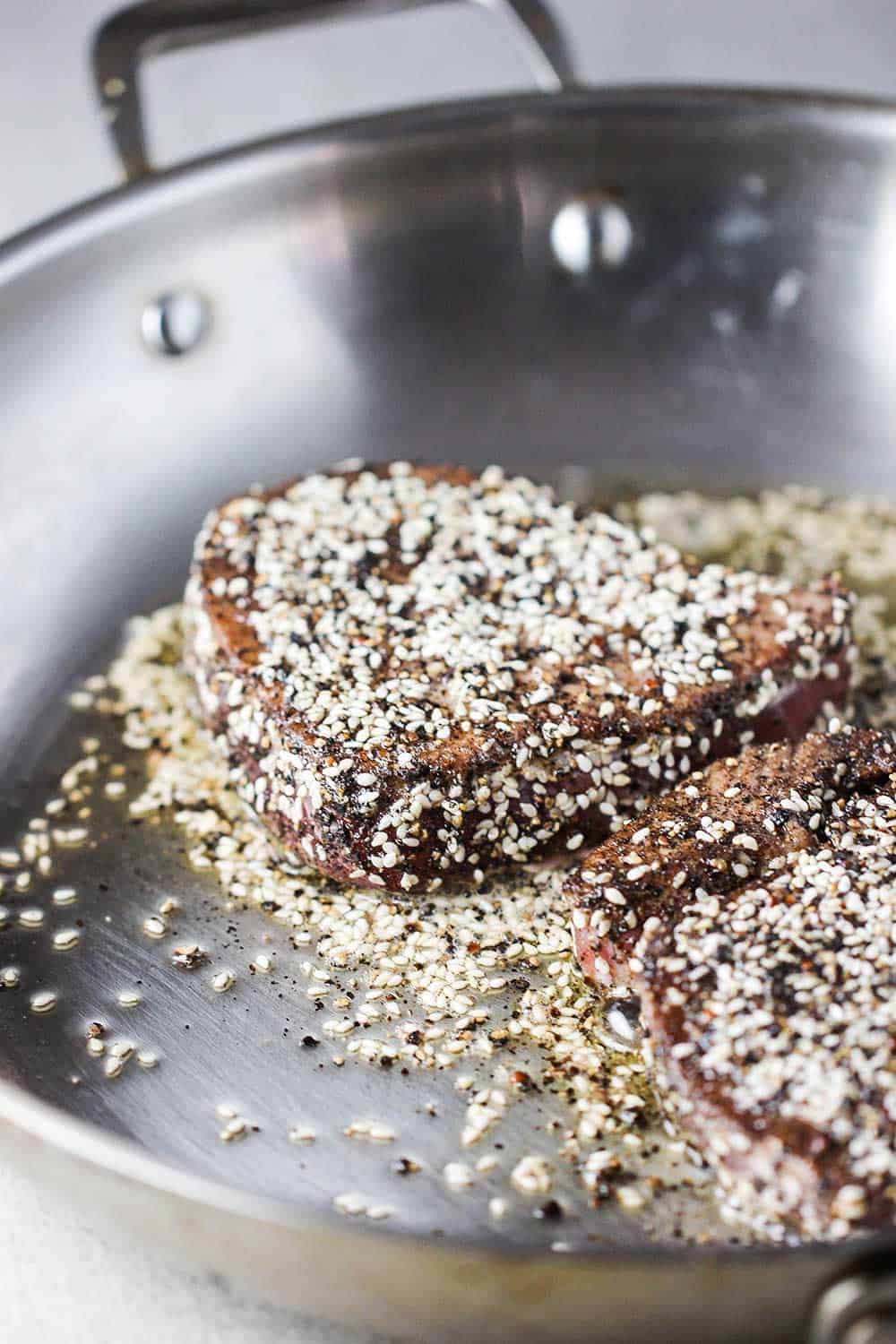 WHAT TO SERVE WITH TUNA STEAKS
We absolutely love serving the sliced tuna steaks over a lovely spinach salad.
Toasted pine nuts and crumbled goat cheese are all that is needed to compliment the incredible strawberry vinaigrette.
And the color is stunning.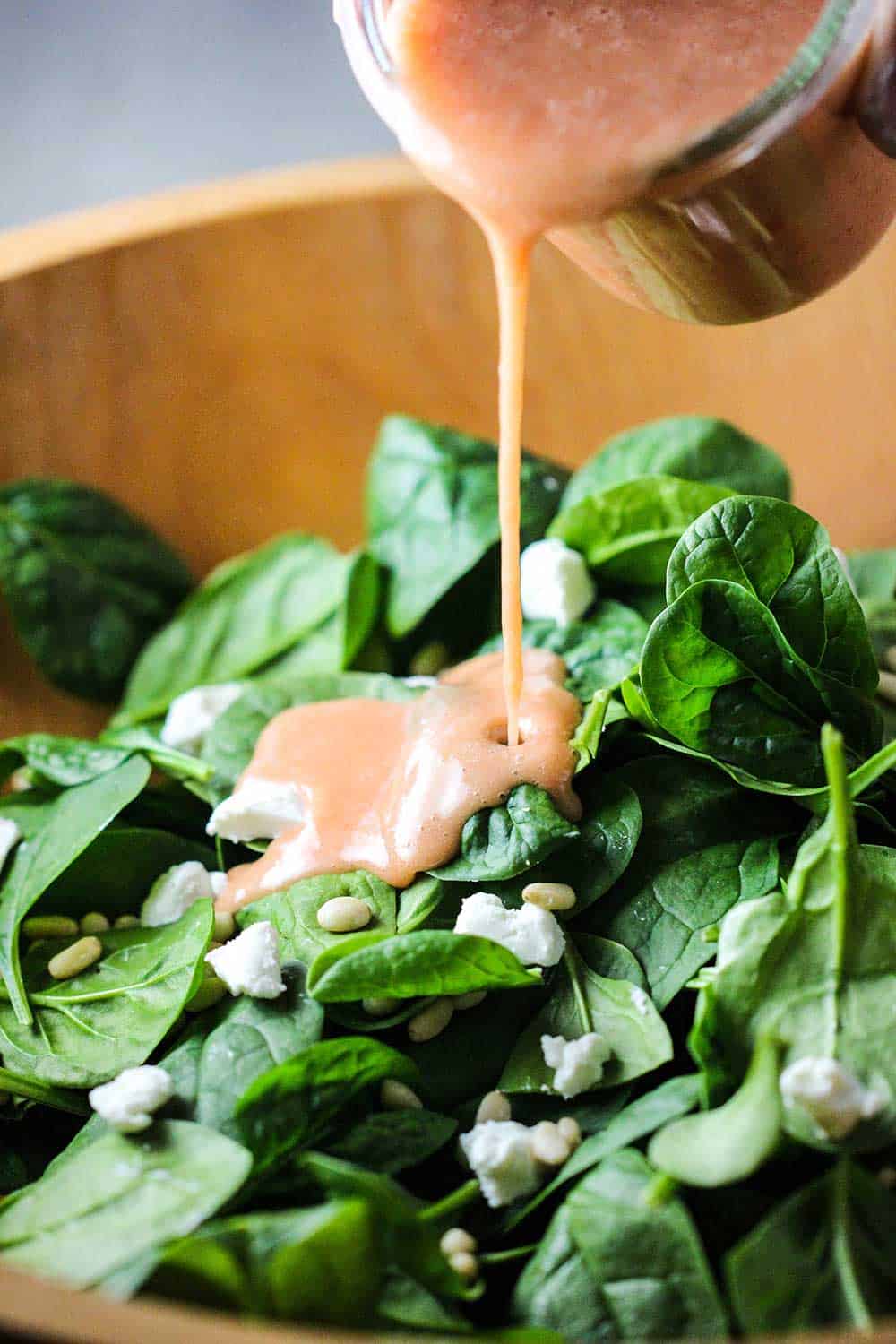 The steaks can be served warm or room temperature.
Use a sharp knife to cut the steaks into thin strips.
EXPERT TIP: Before dredging the steaks, look to see which direction the grain is on the tuna. You'll see parallel lines running throughout the fish. This is the grain. You'll want to slice the steaks against the grain. This allows for more tender, easy to chew bites.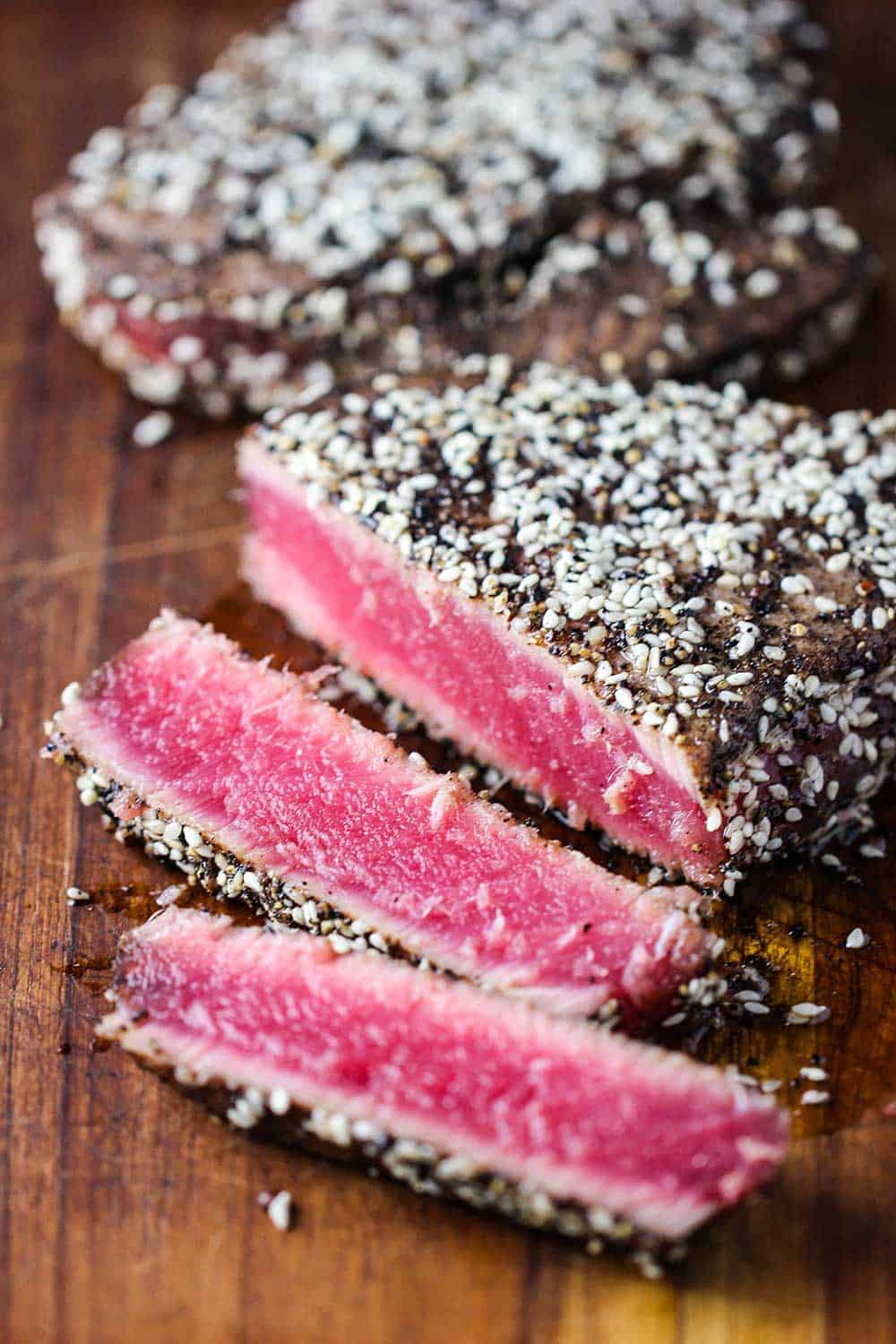 PLATING THE SEARED TUNA WITH THE SALAD
The combination of sweet and bitter in the dressing is the perfect match for the seared peppercorn tuna steaks.
We recommend dressing the salad first in a large bowl and then placing the salad on each serving dish.
Finish the plate off with another drizzle of dressing.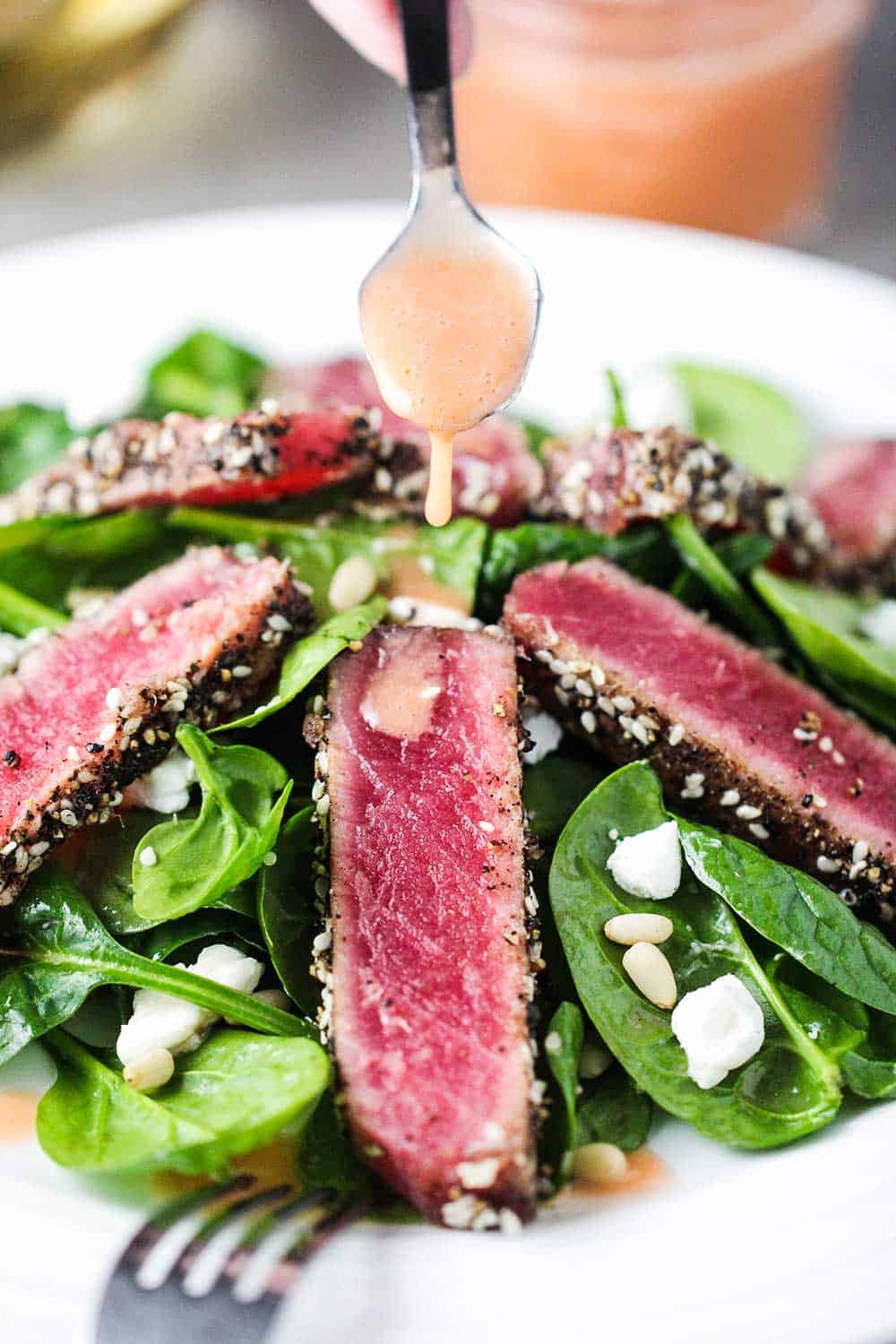 A HEALTHY (AND DELICIOUS) MEAL
If you're looking for a dish that is absolutely gorgeous in presentation, over-the-top delicious, and healthy…you have found it!
Tuna is a powerhouse of essential nutrients such as omega-3 fatty acids, potassium, magnesium, iron, vitamin A, B6, and B12!
And if that's not enough reason to embrace this dish, it all comes together in about 20 to 30 minutes!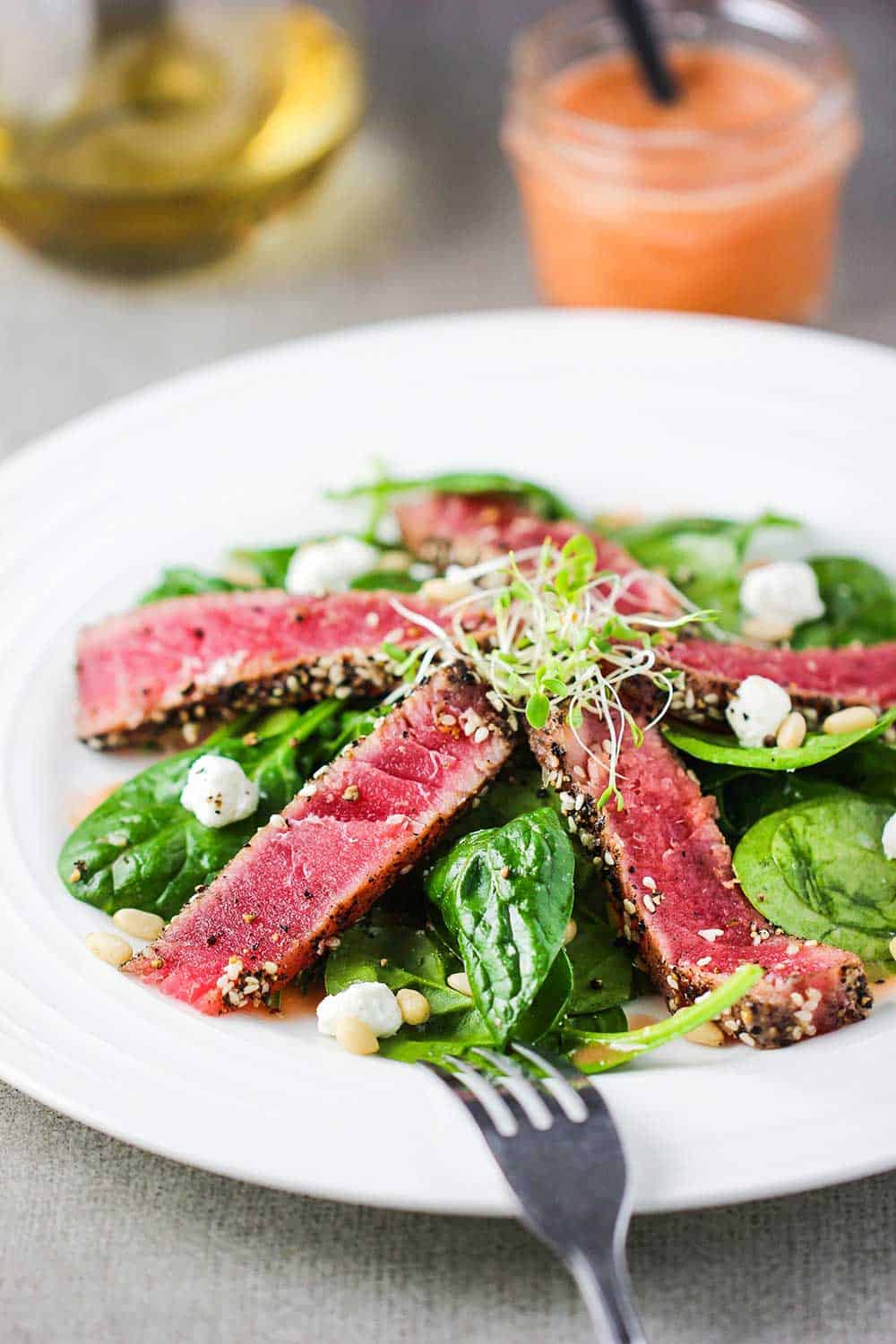 Ready to make a healthy yet delicious meal in no time at all? Go for it!
And when you do, be sure to take a picture, post it to Instagram, and tag @howtofeedaloon and #howtofeedaloon!
*According to the FDA, people with compromised immune systems, as well as young children and the elderly, are susceptible to foodborne illness when consuming raw or undercooked meats, poultry, seafood, shellfish or eggs may increase your risk of foodborne illness.
Seared Peppercorn Tuna Steak
These seared tuna steaks are so flavorful and healthy and come together in about 30 minutes, or less. Use less ground pepper for mild heat, or just go with a combo of black and white sesame seeds.
Print
Pin
Rate
Servings: 4
Calories: 290kcal
Ingredients
4 8 oz tuna steaks fresh, 8 to 12 oz.
1 tbsp sesame seed oil or more, as needed
1 tsp olive oil plus more, if needed
¼ cup black peppercorns crushed, or black sesame seeds
¼ cup sesame seeds white
4 cups baby spinach fresh, rinsed and dried
½ cup pine nuts toasted
½ cup goat cheese crumbled
½ cup strawberry vinaigrette or more, if desired
½ cup pea sprouts or bean sprouts
Instructions
DO AHEAD: Make the strawberry vinaigrette.

Pat the tuna steaks dry with a paper towel.

Rub the tuna on all sides with the sesame oil.

Mix together the cracked peppercorns and sesame seeds on a large platter. Dredge the tuna steaks in the pepper/sesame mixture until completely coated.

Heat the olive oil in a non-stick skillet over medium-high heat.

Working in batches of two at a time, place the encrusted tuna steaks into the hot skillet and cook for 1½ minutes. Flip, then cook the other side for another 1½ minutes. For medium-rare, cook 2 minutes per side.

Remove from heat, and when cool enough to handle, cut, against the grain, into ½-inch thick slices.

Meanwhile, in a large salad bowl, add the spinach and top with the toasted pine nuts and goat cheese. Toss with about ¾ cup of the vinaigrette.

Divide the dressed spinach across for serving plates. Add the sliced tuna, in a circular fashion, on top of the salad.

Drizzle a little more of the vinaigrette over the top of the tuna and add a small bunch of the pea sprouts in the center of the salad. Serve at once.
Notes
Albacore, bluefin, and yellowfin are all excellent choices for tuna steak. Make sure the fillets are firm, and a vibrant bright red in color. Fresh tuna steaks are always best, but frozen will work, too, if that's all that's available. Let thaw completely before proceeding with the recipe. NOTE: Seafood thaws much quicker than beef or poultry. Use a spice grinder, or coffee grinder, to grind the peppercorns. The less fine you grind the peppercorns, the less heat you'll get with each bite. This recipe, as is, is medium heat. To reduce heat, go with only 1 or 2 tbsp of the peppercorns, or replace the peppercorns with black sesame seeds. Be sure to look at the direction of the grain before you coat with the pepper/sesame seeds. Once cooked, you'll want to slice the tuna against the grain. The vinaigrette can be made up to 2 days in advance. Store in the fridge and give it a good shake before adding to the salad. The cooked tuna is best served soon after searing. However, leftovers can be stored in an air-tight container and kept in the refrigerator for up to 2 days. We don't recommend freezing the tuna.
Nutrition
Calories: 290kcal | Carbohydrates: 6g | Protein: 10g | Fat: 4g | Saturated Fat: 1g | Cholesterol: 13mg | Sodium: 130mg | Potassium: 312mg | Fiber: 2g | Sugar: 1g | Vitamin A: 3128IU | Vitamin C: 8mg | Calcium: 164mg | Iron: 4mg
POST UPDATE: The recipe was originally published in February 2014, but was updated with improved tweaks to the recipe, with new photography and a fabulous new video in January 2020!