Salmon is such a versatile seafood dish that can be prepared in many ways.
We absolutely love grilling fresh salmon so much. You can certainly grill the salmon on cedar planks that have been soaked in water for a couple of hours, or you can just lay them directly on the hot grill plate. Either way, the fillets will cook beautifully. And then…the butter. Oh, the butter.
HOW TO MAKE GRILLED SALMON WITH POBLANO BUTTER
This dish is so elegant and has a certain 'special occasion' feel to it.
But, honestly, it's so easy to prepare. All you need to do is give yourself enough time to roast your chili, marinate the salmon for an hour, and allow the butter to harden, about 30 minutes to an hour.
So wonderful!
HOW TO SELECT AND PREPARE THE SALMON
There are numerous types of salmon that are available at many well-stocked fish markets, including at your local supermarket.
We love going with Sockey (Red) because it's super flavorful, beautifully bright orange/red in color, and leaner than other types. But you really can't go wrong with whatever you choose. If the fish looks fresh and vibrant, it's going to work well for you.
EXPERT TIP: We typically order a nice large cut of salmon, usually several pounds, and then slice them into 1 to 2-inch wide fillets at home. We recommend leaving the skin on because it helps hold the fish together while it's cooking on the grill. You can remove the skin once it is finished, or serve with skin-on. We like the skin on, it's crispy from the grilling and is actually quite delicious (and nutritious!).
A simple marinade of lime juice, olive oil, soy sauce, cumin, and chopped garlic is all that's needed to enhance the super flavorful salmon.
ROASTING THE PEPPER DEEPENS THE FLAVOR
We just love roasting peppers. It concentrates the taste and adds a depth smoky flavor that is so wonderful.
Place just 1 pepper on a baking sheet and place under the broiler for about 4 to 5 minutes. Flip the pepper over until lightly charred all over.
EXPERT TIP: Placing the warm, roasted poblano in a bowl and covering with plastic wrap will continue to steam the pepper and allow the skin to become very loose. After it's cool enough to handle, simply place on cutting board an pull the excess skin away and discard. Don't worry if you don't get off 100% of the skin. It's edible and tasty, too.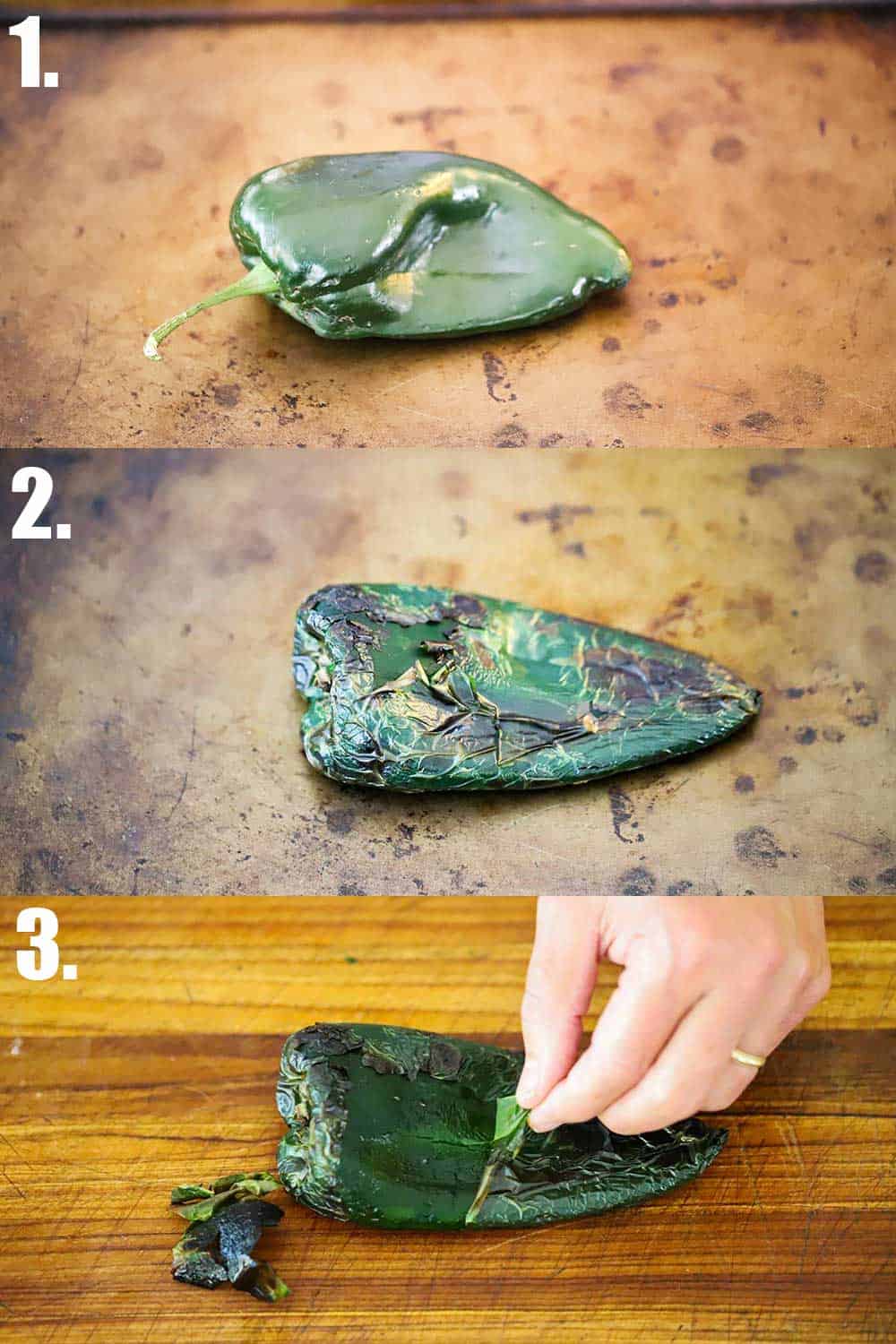 Once the skin is off, you're going to want to remove the pod of seed on the inside of the pepper.
Use a small knife to slit the pepper down the middle, and then use a spoon and/or knife to remove the pod and seeds. The pepper can be gently placed under running tap water to help remove all the seeds.
Now, dice the pepper very finely. You'll only need 2 tablespoons, so you may have extra pepper. It's great as a topping for scrambled eggs or on a baked potato!
COMPOUND BUTTER IS EASY TO PREPARE
Compound butter is simply butter that has been combined with any kind of flavor enhancer, either sweet or savory.
After mixing together the softened butter with the roasted poblanos, lime juice, agave (or honey), cumin, and salt, place on a piece of parchment and roll into a log.
Turn in the ends of the paper and place in the freezer for up to 20 minutes or in the refrigerator for 45 minutes, until hardened.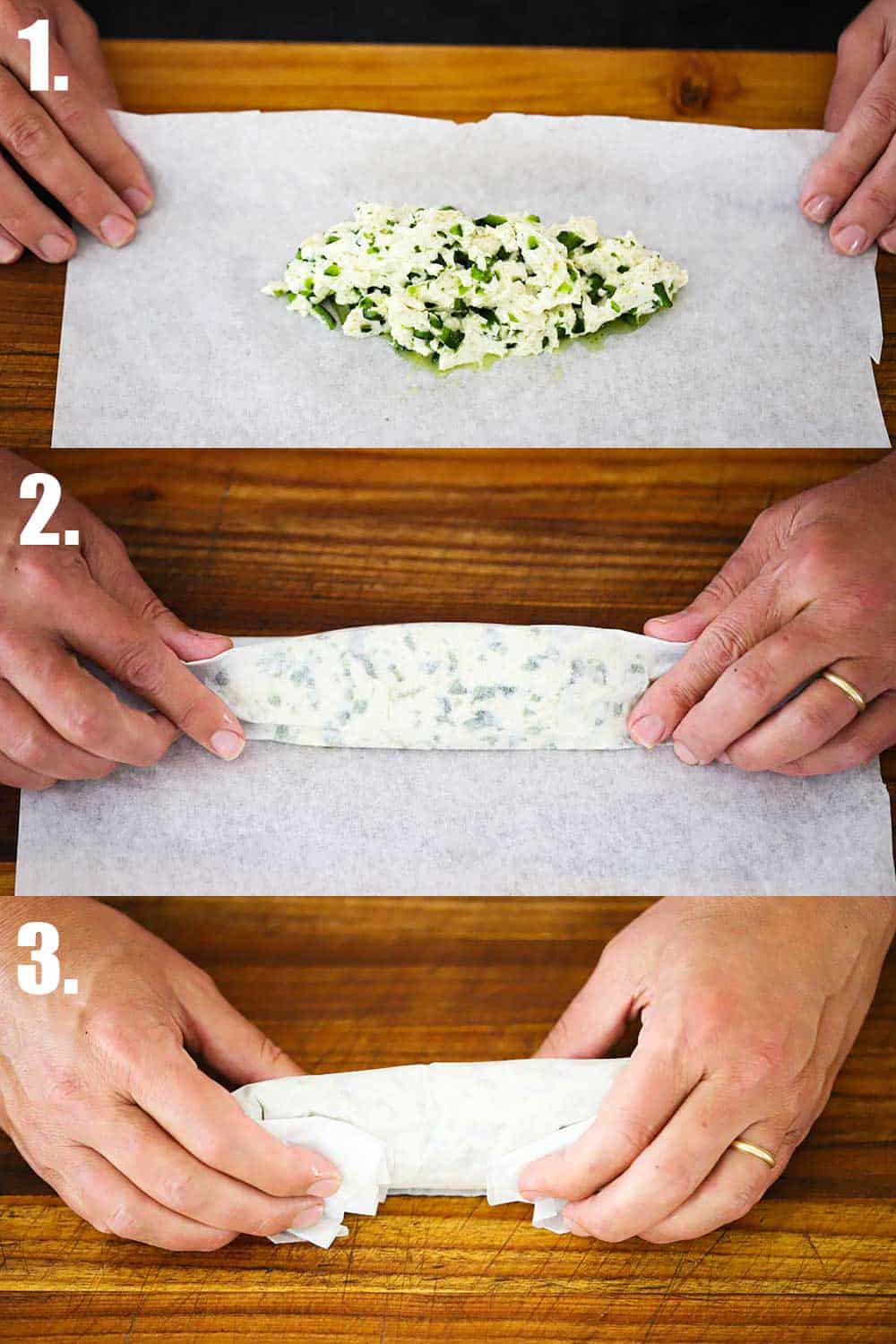 HOW TO GRILL SALMON
Grilled Salmon with Poblano Butter really is so great in its simplicity.
We lightly oil the grill grates first, then crank the heat to medium-high, and then grill for about 6 to 7 minutes on each side. Throw a couple of sliced lime halves on the grill at the same time. They are delicious and make for a pretty presentation.
EXPERT TIP: We start by grilling the fish skin-side down first. This helps the salmon to firm up first, making flipping and removing the fish from the grill easy to handle. But, still take extra care, salmon fillets are more delicate than steak or chicken.
WHAT TO SERVE WITH GRILLED SALMON AND POBLANO BUTTER
We absolutely love placing the perfectly grilled salmon fillets over of a bed of our Cilantro-Lime Rice.
It really is the perfect complement to the marinated fish and luxurious compound butter.
This dish pairs beautifully with a dry white wine such as Pinto Grigio, Chardonnay, or Sauvignon Blanc.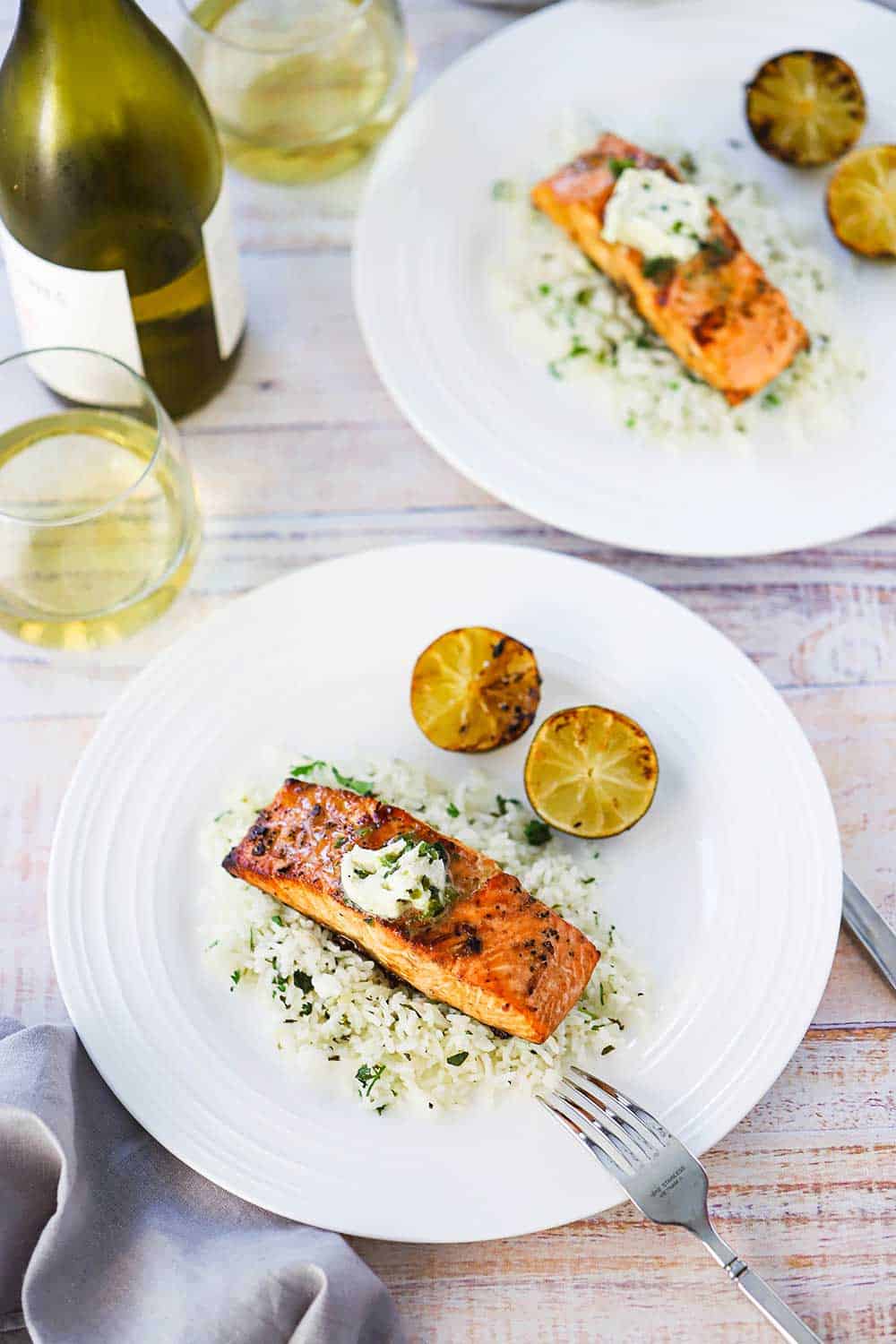 This recipe easily feeds four hungry folks.
Double or triple the recipe when serving at a dinner party.
MAKE AHEAD: The marinade, compound butter, and cilantro-lime rice can all be prepared a day in advance. NOTE: Don't let the salmon sit in the marinade for more than 2 hours. The citrus will cause the flesh to begin to break down.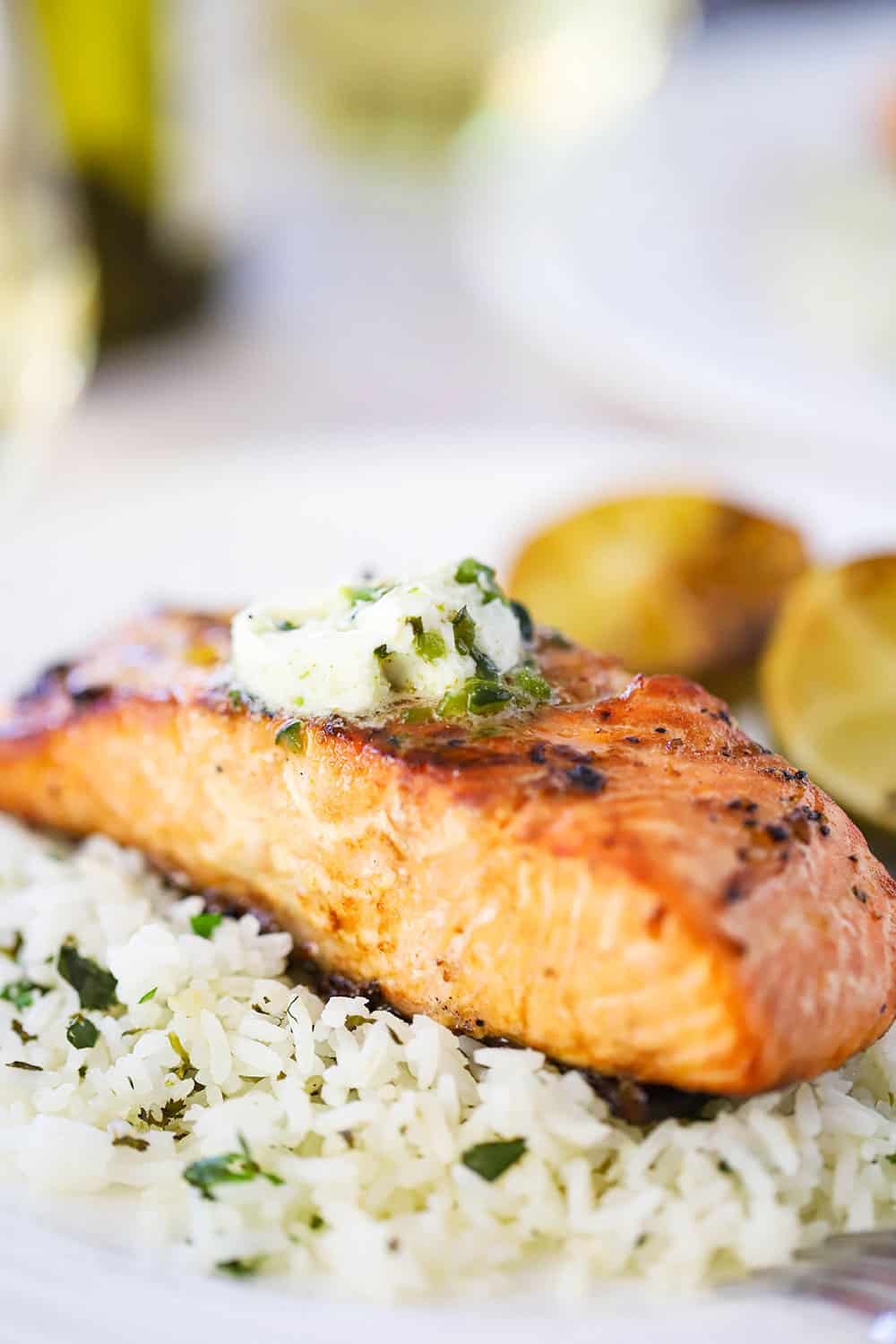 This recipe is so easy to prepare, we often have it on a busy weeknight, especially when a batch of the compound butter is already sitting in the fridge.
That being said, the presentation and taste of the dish are so wonderful, it makes for an elegant dinner party.
Oh, and that perfectly cooked salmon is just about as good as it gets.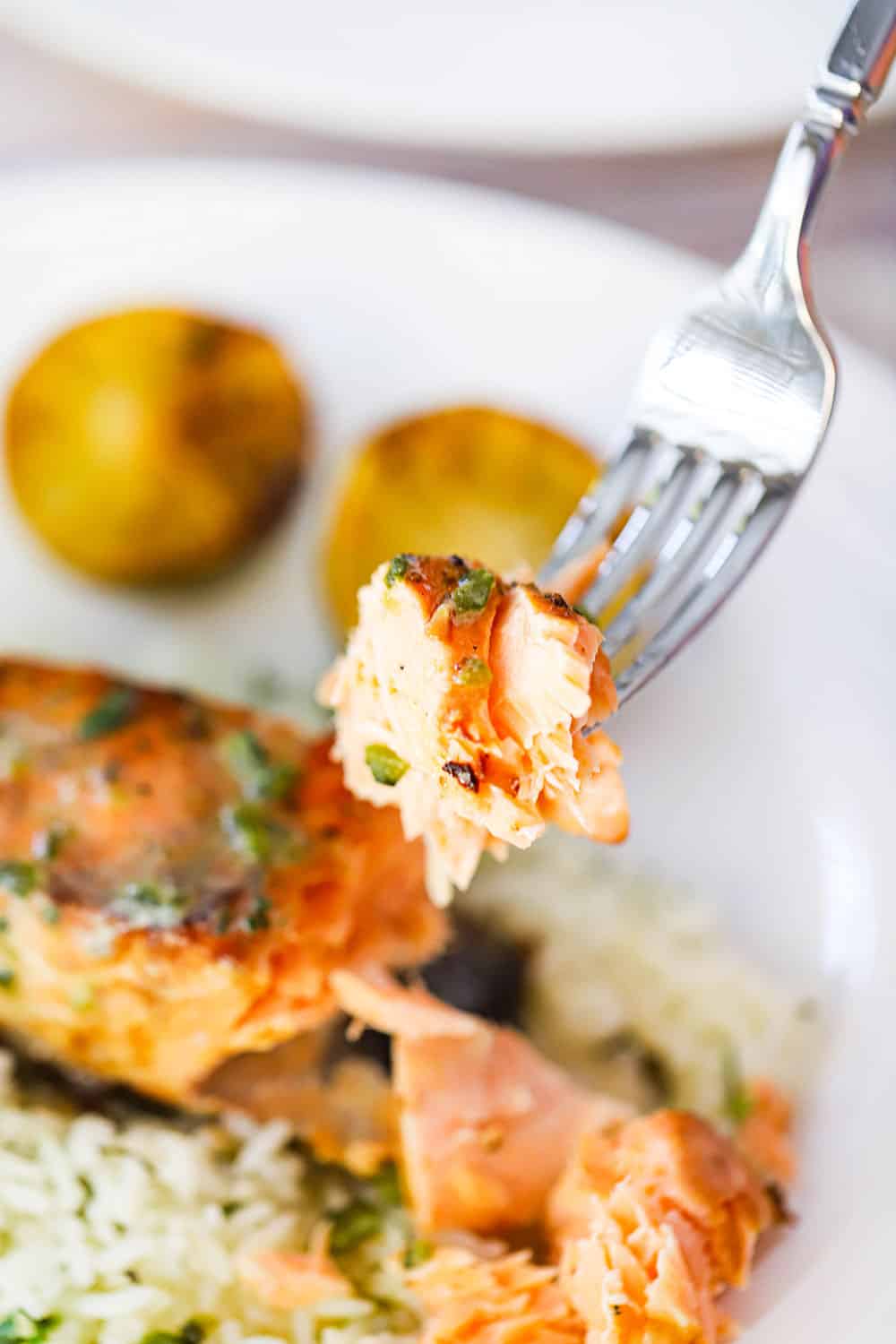 Ready to make the best grilled seafood dish in town? Go for it!
And when you do, be sure to take a photo, post it on Instagram, and tag @howtofeedaloon and hashtag #howtofeedaloon!
Grilled Salmon with Poblano Butter
Grilled Salmon with Poblano Butter is divine. Make the compound butter ahead of time, and you won't believe how quickly this superstar dish comes together. Serve over a bed of greens, and you'll have an amazing dish on your hands. Awesome!
Print
Pin
Rate
Servings: 4 people
Calories: 428kcal
Equipment
Gas or electric grill, or indoor grill, or grill pan
Ingredients
FOR THE SALMON
4 fillets salmon about 2 to 3 lbs
3 tbsp lime juice fresh
2 tbsp olive oil
2 tbsp soy sauce
2 cloves garlic minced
1 tsp cumin ground
1 tsp Kosher salt
½ tsp black pepper freshly ground
4 limes halved, for garnish
FOR THE ROASTED POBLANO BUTTER
1 poblano chile
8 tbsp unsalted butter softened, 1 stick
1 tbsp lime juice fresh
1 tbsp Agavé or honey
1 tbsp cumin ground
¼ tsp Kosher salt
Instructions
PREPARE THE SALMON
Place the salmon fillets skin-side down in a large glass dish. In a small bowl, mix together the lime juice, oil, soy sauce, cumin, and garlic.

Pour the sauce over the salmon, cover, and refrigerate for 1 to 2 hours, turning once.
MAKE THE COMPOUND BUTTER
Place the poblano pepper on a baking sheet and turn your broiler to HIGH. Place a rack about 4 to 6 inches under the broiler. Place the baking on the rack and cook for 5 to 7 minutes. Use a pair of tongs to turn the pepper over and roast for another 5 to 7 minutes, or until charred all over.

Place roasted chile in a large bowl and cover with plastic wrap for 15 minutes. Take the pepper out of the bowl and peel off the skin and remove the seeds. Finely mince the roasted pepper and set aside.

Place the butter in a medium-sized bowl and add in 2 tbsp of the roasted, minced poblano, 1 tbsp lime juice, 1 tbsp Agavé, 1 tsp cumin, and ¼ tsp salt. Use a fork or whisk to work the butter until the ingredients are mixed in.

Transfer the butter mixture to a square (10"x10") piece of parchment or wax paper. Using your hands, roll the paper over the butter and use your fingers to create a log of the compound butter. Place in the freezer for 15 to 20 minutes, or in the refrigerator for at least 30 minutes, or until the butter has hardened.
FINISH THE DISH
Turn your grill to medium-high heat. Spray the grates with cooking, or grilling, oil.

Place salmon, skin-side down. Sprinkle the tops with salt and pepper. Grill for 6 to 7 minutes. If desired, also place the lime halves on the grill at this point. Use a spatula or a pair of tongs, or the combination of both, to carefully flip the fillets over and grill for another 6 o 7 minutes, or until just cooked through.

Remove the fillets and the lime halves from the grill and plate with a sliced pad of the poblano butter on top of the hot salmon. Garnish with grilled lime halves.
Notes
If using cedar planks, be sure to soak them for 2 hours before placing on the grill. You can also prepare these on the stove with a hot grill pan or cast-iron skillet. Follow the same cook times as in the recipe, checking for doneness before serving. We like grilling the salmon with the skin on. This helps keep the fillet together will out falling apart. If you prefer no skin, then use extra caution when flipping the fillets, or use a grill pan, or cedar planks. Honey can be substituted for the Agavé. After roasting the peppers, you can gently run tap water over to remove any excess seeds. Pat the pepper dry with a paper towel before mincing. You'll only need 2 tbsp of the pepper, which means you have some of the poblano left over. The roasted peppers are great in scrambled eggs or omelet, or on a baked potato, or stirred into your favorite salsa. The butter will keep in the refrigerator for up to 1 month. The marinade and cilantro rice can be made a day in advance. Don't let the salmon sit in the marinade for more than 2 hours because the citrus will cause the flesh to start to break down. Re-heat the rice in the oven in a covered dish for about 30 minutes, or until warmed through.
Nutrition
Calories: 428kcal | Carbohydrates: 12g | Protein: 36g | Fat: 12g | Saturated Fat: 2g | Cholesterol: 155mg | Sodium: 732mg | Potassium: 1021mg | Fiber: 3g | Sugar: 2g | Vitamin A: 940IU | Vitamin C: 48mg | Calcium: 74mg | Iron: 3mg
POST UPDATE: This recipe was originally published in July 2016, but was updated with improved tweaks to the recipe including new tips and photography, and a fabulous new video in July 2020!