Everyone loves good BBQ, right? Everyone loves pizza, right? Well, let's double the fun and combine the two!
There are many ways to prepare homemade pizza, and we're going to show you a nice smokey way to make this on your grill. But, of course, you can do this in your oven or pizza maker. Make the dough yourself, or pick some up from your local pizza shop. It comes together very fast and is over-the-top in pure deliciousness!
HOW TO MAKE BBQ CHICKEN PIZZA FROM SCRATCH
This pizza is very adaptable to your own tastes.
If you want to make this really easy, you can get your dough from a pizza shop, BBQ sauce from a BBQ joint, and the chicken from a rotisserie chicken from the market.
Or, you can prepare those components yourself well in advance. Either way, you're going to flip at how delicious this pizza is!
PIZZA DOUGH MADE FROM SCRATCH
The history of pizza literally goes back to ancient times.
Through the generations, many types of pizza have been developed and perfected. This BBQ Chicken Pizza is unique, but incredibly delicious.
As mentioned, you can purchase quality pre-made pizza dough from either a pizza shop, an Italian restaurant, or even in many well-stocked supermarkets. But, our homemade semolina pizza dough is really something special and can be made hours in advance.
EXPERT TIP: You can make the pizza crust as thick or as thin as you like. For this pizza, we prefer a slightly thin crust. To get the perfect thickness, we split the semolina dough in half and then roll the dough into about a 10-inch circle.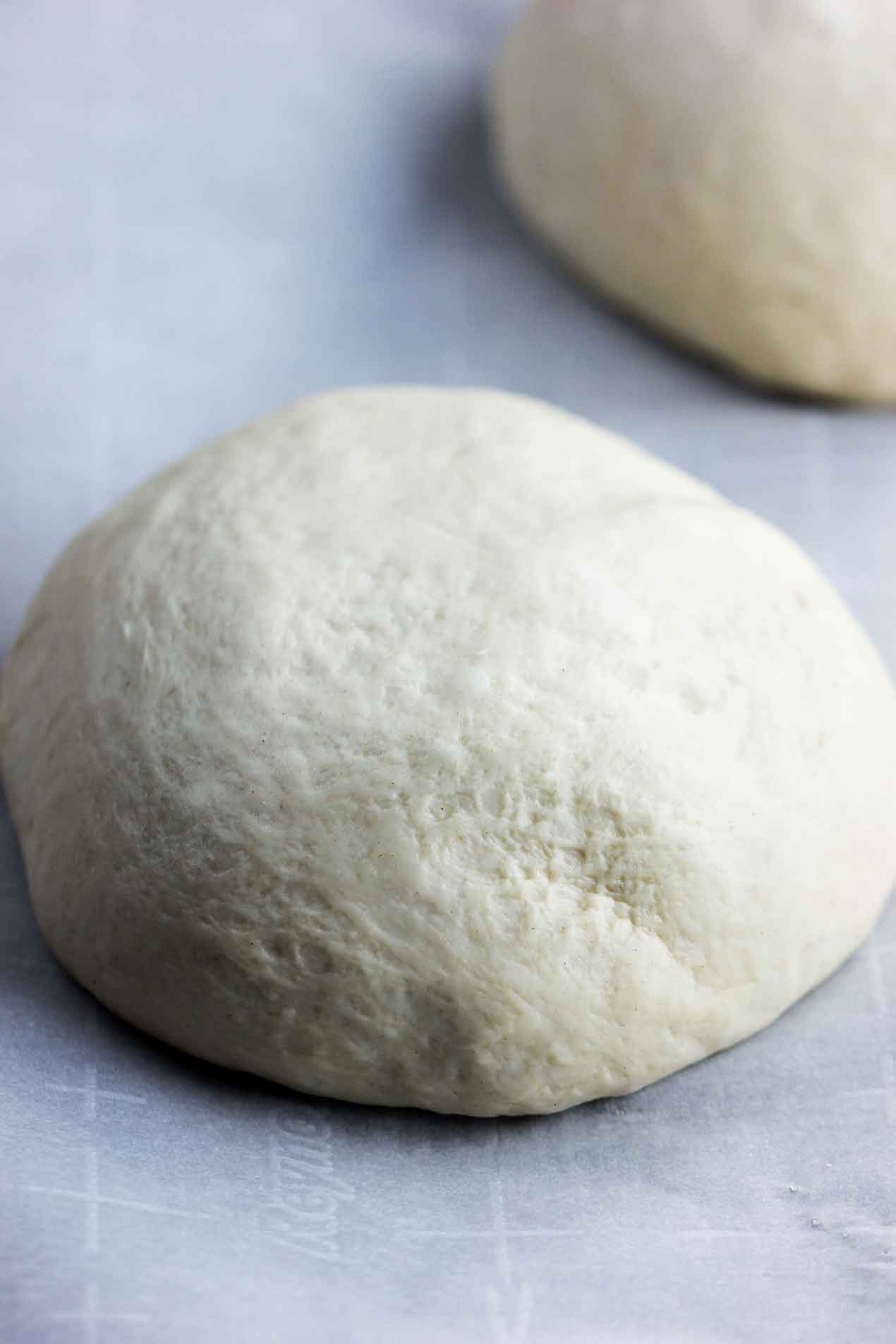 As mentioned, you can certainly pick up some good BBQ sauce from your favorite BBQ restaurant.
We don't really recommend bottled BBQ sauce, but in a pinch, it will work.
But we think is really the best is our Homemade BBQ Sauce. This recipe is super easy and can be made several days in advance.
BUILDING THE PERFECT PIZZA
Once you've rolled the pizza out to your desired thickness, carefully transfer it to a pizza paddle that has been sprinkled with either cornmeal or semolina flour.
Start with a thin layer of the BBQ sauce, usually about 1 cup. Next, add the chopped chicken all over the sauce.
EXPERT TIP: For a deeply flavorful chicken, lightly oil and season with salt and pepper a couple of skin-on, bone-in chicken breasts or thighs and roast them in a 350°F oven until cooked through, about 40 to 60 minutes. Remove the skin and shred the meat from the bones with a couple of forks. Whether you go with your own roasted chicken, or you use rotisserie chicken, we recommend lightly seasoning it with salt and pepper right after you've placed it on the pizza.
Next is the cheese. We love using a combination of aged Gouda and mozzarella.
For an added punch of flavor, we top the pizza with thinly sliced red onion and sliced pickled jalapenos.
EXPERT TIP: As the pizza cooks, the onion cooks down and slightly caramelizes and becomes almost sweet and loses the raw onion taste. Pickled jalapenos are milder than fresh and lose some heat while cooking, too. If you don't like onions or jalapenos, the pizza is still very delicious without them. (But REALLY good with them!).
THE BEST WAY TO COOK PIZZA
For this pizza, we're using our gas grill. The grill provides a slightly smokey flavor that we think is perfect for BBQ Chicken Pizza.
We place our pizza stone directly on the grates of the grill and then turn the heat on high. Let the stone heat for about 15 to 20 minutes before transferring the pizza to the stone.
EXPERT TIP: If you don't have a pizza stone, you can use a regular pizza pan. Simply build the pizza in the pan and then place it in the hot grill. Keep an eye on the pizza as grills vary from each other. The edges will start to brown and the cheese will be melted and bubbly when it's finished. You can also cook the pizza in the oven on its highest setting. In both cases, the cooking time is typically around 8 to 12 minutes. But, keep an eye on it!
We like to call this our Texas BBQ Chicken Pizza, but that's just because we live in Texas, and Texas is known for BBQ.
When you pull out that first piece, be ready for a mouth-watering experience.
It really is pizza perfection.
PIZZA PARTY!
This BBQ Chicken Pizza is such an amazing twist on your everyday pizza.
Throw a full-on pizza party and serve this pizza along with:
And a big bowl of Homemade Caesar Salad!
This Pizza Party is a guaranteed good time!
We've got to say it again…if you're looking for a pizza that is a little different than your average pepperoni pizza, but still packs a punch…this is your ticket.
Deeply flavorful and a delightful combination of flavors.
Let's hear it for PIZZA!
Ready to make the best pizza in town? Go for it!
And when you do, be sure to take a photo of it, post it on Instagram, and tag @howtofeealoon and hashtag #howtofeedaloon!

BBQ Chicken Pizza
BBQ Chicken Pizza combines to of the most delicious types of food in the world: BBQ and Pizza! The BBQ sauce matches perfectly with the roasted chicken, aged Gouda and mozzarella cheeses, and red onions and jalapenos. Such an amazing twist on traditional pizza!
Print
Pin
Rate
Servings: 4 people
Calories: 744kcal
Equipment
Gas or charcoal grill or pizza maker or oven

Pizza stone (optional)
Ingredients
all-purpose flour for dusting the work surface
1 medium pizza dough for slightly thin-crust
1 cup BBQ sauce plus more for garnish
2 cups chicken roasted, roughly shredded
Salt and pepper
¾ cup Gouda cheese aged, shredded
¾ cup mozzarella whole milk, shredded
1 cup red onion thinly sliced
½ cup pickled jalapenos sliced, optional
2 tbsp olive oil
2 tbsp cornmeal or semolina flour, for dusting the pizza stone
Parmesan cheese for additional toppings, optional
red pepper flakes for additional toppings, optional
Instructions
Turn your grill (or oven) on it's highest temperature setting and place a pizza stone on the grates and close the lid

Sprinkle your work surface with flour. Place the pizza dough in the flour and use the palm of your hand to flatten the dough, rotating as you go, beginning to stretch it into a circular formation. Use a rolling pin to stretch the dough into a circle roughly 10 to 12 inches in diameter.

Transfer the dough to a pizza paddle that has been dusted with cornmeal or semolina.

Use a large spoon to spread the BBQ sauce all over the dough, leaving about 1 inch of the perimeter of the dough without sauce.

Place the chicken on top of the sauce and lightly season with salt and pepper. Add the cheese and then a layer of the onions and jalapenos. Brush the olive oil along the outer edge of the dough.

Give the paddle a gentle shake to help loosen any of the dough that might have stuck to the paddle.

Carefully transfer the pizza from the paddle to the stone on the grill. Close the lid and cook until edges are browned and the cheese is melted and bubbling, usually about 8 to 10 minutes. Keep an eye on it as grill temperatures vary!

Carefully use tongs to transfer the pizza onto a cutting board. Slice and serve with additional BBQ sauce, grated Parmesan cheese, and red pepper flakes for extra toppings.
Notes
Homemade pizza dough, BBQ sauce, and oven-roasted chicken are wonderful for this pizza and can be done in advance. However, purchased dough and BBQ sauce and rotisserie chicken are all perfectly fine, too. If you want to cook the pizza in the oven, turn your oven to as high as it will go, usually 550°F. Place the pizza stone in the oven for 30 minutes before transferring the pizza onto the hot stone. Cook times vary, but typically, the pizza will be ready after about 8 to 12 minutes. Keep an eye on it! We think of a combination of aged Gouda cheese and whole-milk mozzarella work wonderfully for the pizza. But using just mozzarella, or just Gouda works just fine, too. Monterrey Jack, cheddar, and Fontina are all delicious options, too. If you don't have a pizza paddle, you can use the back of a large cutting board or even the back of a baking sheet to transfer the pizza to the stone. We recommend using a pizza stone, but a meal pizza pan will work just fine. Although a pizza stone can handle high heat, don't let it stay in an extremely hot grill for more than 15 minutes. The pizza can also be placed directly on the grill, but this requires a very steady hand. And be sure to keep an eye on the pizza. Don't let it burn! This pizza is very adaptable to taste. Use more pizza dough if you prefer a thicker crust. Though we think the red onion and pickled jalapenos work perfectly for the overall taste, you can omit them, if preferred, and still have an amazingly delicious pizza.
Nutrition
Calories: 744kcal | Carbohydrates: 85g | Protein: 30g | Fat: 22g | Saturated Fat: 8g | Cholesterol: 88mg | Sodium: 2241mg | Potassium: 394mg | Fiber: 4g | Sugar: 33g | Vitamin A: 879IU | Vitamin C: 6mg | Calcium: 456mg | Iron: 4mg