What can we say about Chicago-Style Deep Dish Pizza?  Well, honestly, both the Loon and I are crazy about New York Pizza.   But every time we go to Chi-town…we are reminded how much we love Chicago's very own deep dish pizza, too.  Just exploding with flavor!  This recipe calls for my favorite pizza dough, utilizing the wonderful semolina flour.  It just makes for the perfect texture and flavor.   Find a nice deep dish pizza pan, make the sauce from scratch, and you'll think you were at Lou Malnati's.  I promise!  It's that good!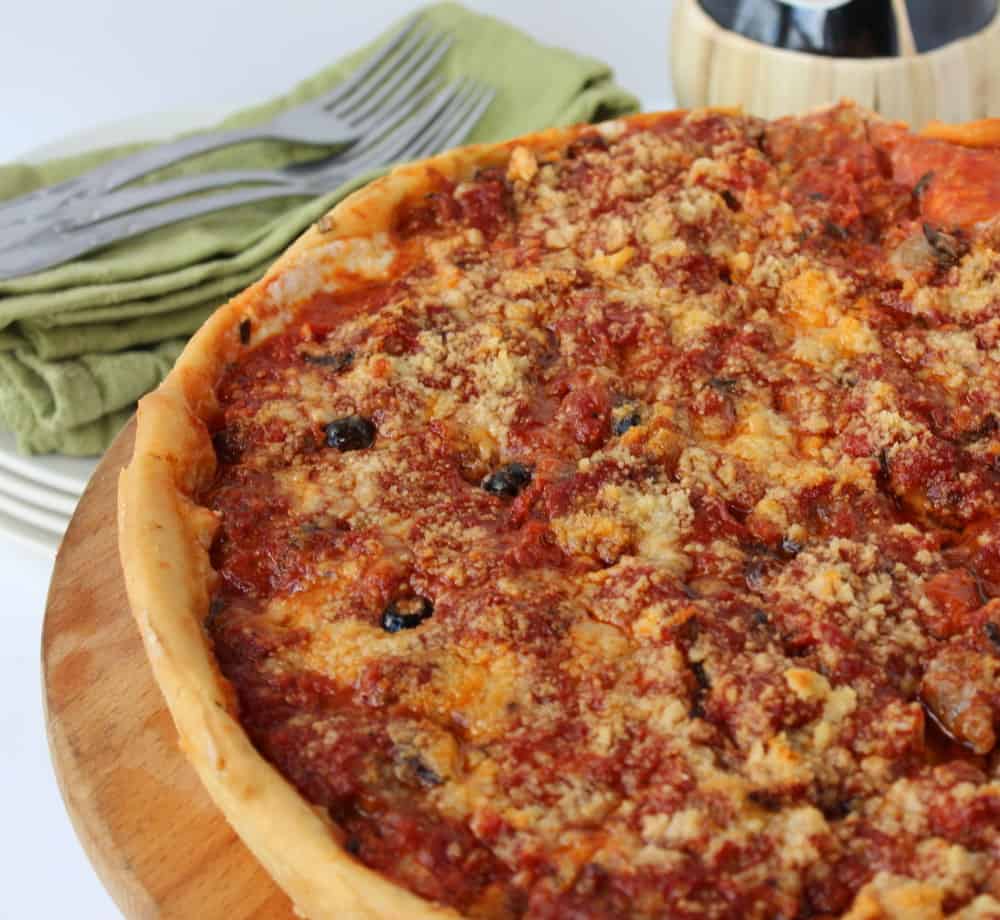 Chicago-Style Deep Dish Pizza
Chicago-Style Deep Dish Pizza is nothing like thin crust New York Pizza. But it is amazing...so much flavor from the wonderful crust, to the cheese, toppings and zesty sauce. Baked to perfection!
Print
Pin
Rate
Prep Time: 3 hours
Cook Time: 45 minutes
Total Time: 3 hours 45 minutes
Servings: 8 people
Calories: 410kcal
Ingredients
FOR THE DOUGH
1 1/2 cups warm water about 110 F
1 package 1/4 oz of active dry yeast
1 tsp sugar
3 1/2 cups all-purpose flour
1/2 cup semolina flour
1/2 cup vegetable oil plus a little more for greasing the bowl
1 tsp salt
For the sauce:
2 tbsp good olive oil
2 cloves garlic minced
2 tbsp fresh basil chopped
1 tsp fresh oregano chopped
1/2 tsp Fennel seeds
1/2 tsp salt
1/4 tsp fresh ground black pepper
1/2 tsp red pepper flakes
1 28 oz. can plum tomatoes San Marzano are best
1/4 cup dry red wine
1 teaspoon sugar
TOPPINGS
3/4 lb fresh mozzarella sliced
4 oz. pepperoni thinly sliced
4 oz. mushrooms sliced
1/2 yellow onion diced
1/2 cup thinly sliced black olives
1/2 lb Italian sausage hot or sweet, or combo of both - removed from casing and crumbled (no need to pre-cook)
1/2 cup Parmesan cheese grate
Instructions
MAKE THE DOUGH
In a large mixing bowl, combine the water, yeast, and sugar and stir to combine.

Let sit until the mixture is kind of foamy, about 5 to 7 minutes.

Using the dough attachment, turn the mixer on medium, and add 1 1/2 cups of the flour, the semolina, 1/2 cup of the oil, and the salt. mix until it's all incorporated and the mixture is smooth.

Continue adding the flour, 1/4 cup at a time, until well incorporated, the dough should still be a little sticky

Continue kneading on medium speed for about 4 minutes until smooth and still slightly tacky.

Oil a large bowl with the extra 2 teaspoons of the oil

Place the dough in the bowl and turn to oil all sides.

Cover the bowl with kitchen towel and set aside in a warm, draft-free place (I turn on the oven to 350, and place the bowl on the stove).

Dough should double in bulk, about 1/12 hours.

Divide into two portions.
MAKE THE SAUCE
In a large skillet, heat the oil over medium-high heat.

Add the garlic and cook, stirring, for 30 seconds.

Add the herbs, seed, salt, black and red peppers, and cook, stirring, for about 1 minute.

Add the tomatoes, breaking them up with your hands, or the back of a wooden spoon.

Add the wine and sugar and bring to a boil.

Lower the heat and simmer, until thickened, about 25 minutes.

Remove from heat and let completely cool before using
ASSEMBLE THE PIZZA
Oil a seasoned deep dish 12-inch (or 14, if that's what you have) deep dish pizza pan (depending on the size of your pan, you may need to use more than 1/2 the dough for this pizza)

Press 1 piece of the dough into the prepared pan, pressing to the edge and stretching and 1 1/2 inches up the sides.

Let rest for 10 minutes.

Pre-heat over to 425 F

Assemble the pizza:

Layer the mozzarella cheese over the bottom of the pie.

Top with half the pepperoni, mushrooms, onions, black olives, and sausage

Ladle the sauce evenly over the pizza.

Top with Parmesan

Bake until the top is golden, the cheese is bubbly and the crust is golden brown, about 30 minutes.

Remove from oven, slice and serve!
Nutrition
Calories: 410kcal