Here is one of the most delicious vegetarian dishes we've ever served or eaten. Amazing.
This is one of those Italian pasta dishes that is just perfect in so many ways. Bold, simple flavors, that will make you and your guests go back for more and more. We love this just as much as we love our classic Pasta Primavera. Pour a nice glass of wine, grab some crusty Italian bread, and you'll be in pasta heaven!
How To Make Pasta alla Norma
Pasta alla Norma is actually not difficult to prepare at all.
You may be wondering about the origins of the name of this amazing dish. It has to do with a great Italian opera called Norma. Learn more about the name here.
There is just something magical about this pasta dish. It's hard to explain, but when you take your first bite, you'll get it.
NOTE: If you liked this video, please subscribe to our YouTube channel. Remember to click the 'bell' icon so you'll never miss a new video!
The Ingredients You Will Need
The beauty of this dish is its simplicity. There are not a lot of ingredients, but they work beautifully together.
You'll need:
Extra-Virgin Olive Oil
Onion
Garlic
Eggplant
Whole tomatoes (canned San Marzano are great)
Salt and pepper
Fresh basil
Rigatoni pasta
EXPERT TIP: We love going with canned San Marzano (28 oz.) for this dish. If you have access to beautifully ripened fresh tomatoes, then, by all means, use them! You'll need 4 fresh tomatoes, preferably Roma. If going with canned San Marzano, be sure the can says "Certified."
How To Prepare the Eggplant
If possible, go with small or medium-sized eggplant. If you can find Japanese eggplant (small) or Italian eggplant (medium), then that's awesome.
You'll want the pieces of eggplant to be about the size of the pasta, which is typically rigatoni.
You can either lightly fry them in some extra-virgin olive oil in a large skillet or roast them in the oven (tossed in olive oil) for about 35 minutes. We like frying them in the skillet to get them a little char. Make sure the eggplant pieces are nice and soft before removing them from the heat.
EXPERT TIP: Eggplants contain a significant amount of water. Placing the eggplants in a colander and sprinkling them with salt for about 30 minutes before oiling them and then baking them will bring out a lot of the moisture. This will prevent you from having too watery of a sauce.
The traditional pasta for Pasta alla Norma is rigatoni, but you can really go with any type.
Cook the pasta until just al dente, for rigatoni, that's usually about 10 to 11 minutes.
After you've simmered the tomatoes in the sautéed onion and garlic, you can either transfer the pasta into the pan with the sauce, or put the pasta in a serving bowl and pour the other ingredients over it.
Tips for Perfect Pasta alla Norma
Eggplant pieces – Make sure you cut the eggplant into pieces that are about the size of a piece of rigatoni. You don't them to be too large, however, otherwise, they won't cook completely when sautéing them. No need to peel the eggplant.
Cooking the sauce – Just bring the tomato and onions to a simmer before transferring to the pasta. If you cook the tomatoes too long, they will reduce down, and though still tasty, you won't have enough pasta to sauce ratio. Also, this helps keep the preparation quick.
Choosing the right cheese – Ricotta Salata is the traditional cheese used in Pasta alla Norma, but it can be hard to find outside of Italy. However, you can find it at gourmet food shops and specialty cheese shops. Crumbled feta cheese is very similar in texture and taste (though it's a little more pronounced). If we can't get our hands on ricotta selata, then we go with a combination of crumbled feta and grated pecorino-romano or parmesan.
Add the cooked eggplant to the pasta after you've tossed it with the sauce. Save a little extra of the eggplant for garnishing the top of the dish.
This dish is so satisfying and also happens to be healthy.
We often go with whole wheat pasta to make it even healthier.
A nice cabernet or zinfandel pairs beautifully with the dish, but so does a chardonnay or sauvignon blanc, if you're in the mood for white.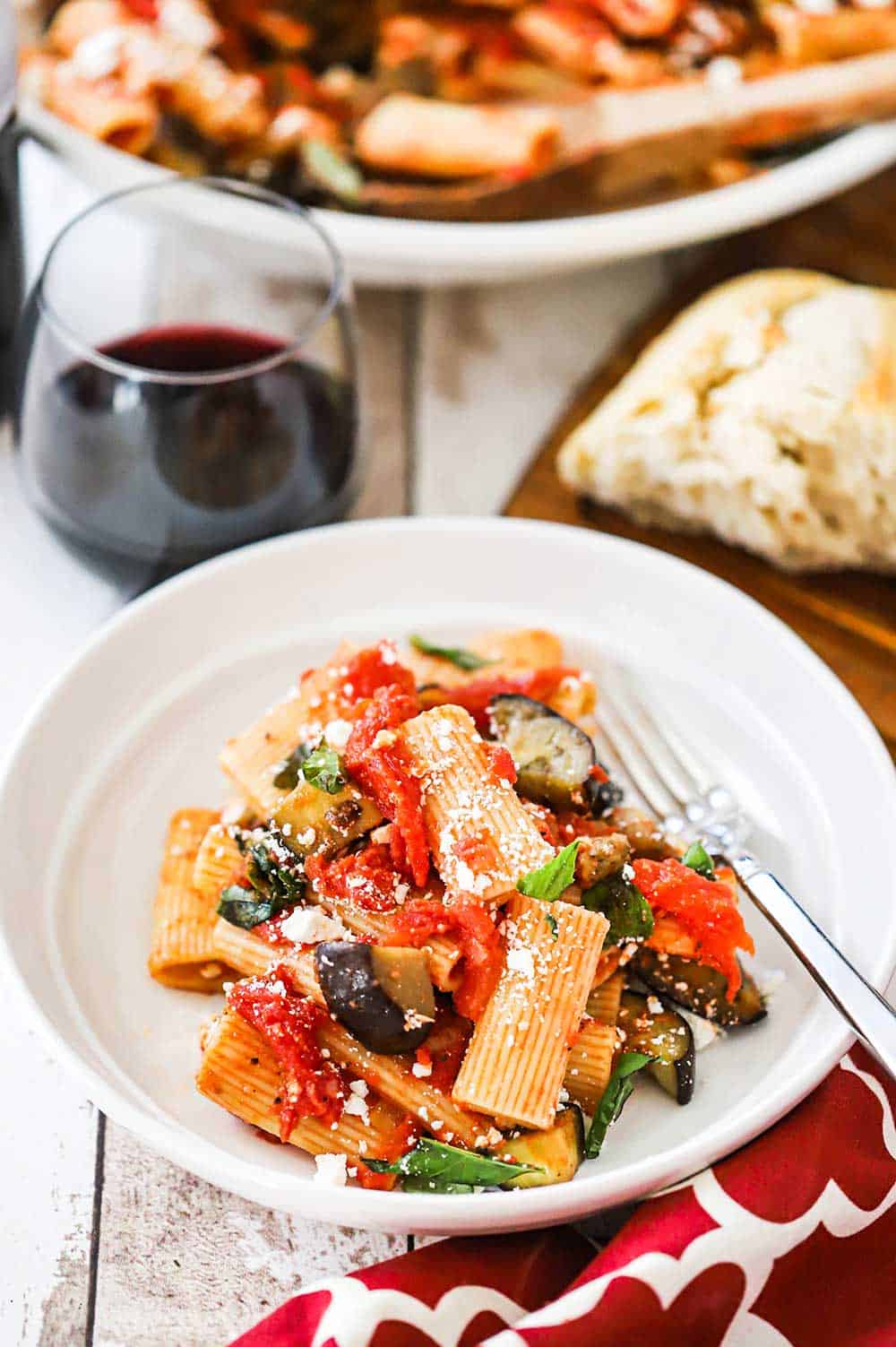 How to Serve and Store Pasta alla Norma
We love to serve the dish family-style and let folks dish it up for themselves.
Tossing it all together in a large pasta dish just before serving to guests always brings about gasps and outbursts of excitement.
Do you prep in advance and then preparation is fast and easy. Leftovers heat beautifully in a skillet over medium heat (or even in the microwave) for up to 5 days. You can freeze the dish, too, however, the pasta will lose some of it freshness after thawing.
When we're trying to eat healthy but not compromise on taste, the dish is always in rotation.
But folks, the taste of the Sicilian classic is incredible and is wonderful for any occasion.
Every time we serve this to guests, we get rave reviews and so will you.
Ready to make one of the best pasta dishes this side of Sicily? Go for it!
And when you do, be sure to take a picture of it, post it to Instagram, and tag @HowToFeedaLoon and hashtag #HowToFeedaLoon!
Pasta alla Norma
This Pasta alla Norma is a classic Italian dish that is just perfect in every way. Ricotta salata is the cheese typically used in this dish, but if you can't find it, you can use mild feta in its place. Rigatoni is traditional, but any type of pasta will work.
Print
Pin
Rate
Servings: 8 people
Calories: 357kcal
Ingredients
2 medium eggplant or 1 large, you want about 1½ lbs
Kosher salt plus more to taste
4 tbsp extra-virgin olive oil
½ onion chopped
3 cloves garlic minced
1 28 oz can whole tomatoes preferably San Marzano, crushed by hand, with juices
1 lb pasta rigatoni, or whatever is your preference
½ cup ricotta salata crumbled, plus more for garnish, see NOTES
½ cup pecorino-romano cheese grated, or Parmesan
½ cup basil fresh, roughly chopped, plus a few small leaves for garnish
½ black pepper
Instructions
Bring a large pot of salted water to a rolling boil.

Cut the ends of the eggplant and then cut in half, lengthwise. Cut again (lengthwise) if a large eggplant. Slice into pieces no large than a piece of rigatoni.

Place the eggplant in a colander that has been placed in a large bowl or your sink. Liberally sprinkle salt all over the eggplant piece and let them rest for 45 minutes to 1 hour. Rinse thoroughly with water to remove the salt. Pat dry with paper towels.

Heat 2 tbsp of the extra-virgin olive oil over medium-high heat in a large skillet. Add the eggplant and cook, stirring often, until softened and lightly browned in spots, about 10 minutes. Transfer to a plate and set aside.

Heat the remaining 2 tablespoons of olive oil in a large skillet over medium-high heat.

Add the pasta to the boiling water and immediately add the onion to the skillet and saute until tender, about 4½ minutes. Add the garlic and cook for another 30 seconds.

Add the tomatoes (crushed by hand) and the juices. Season with 2 tsp of salt and ½ tsp black pepper. Bring the tomatoes to a low simmer and cook until the pasta has reached al dente.

Drain the pasta and transfer it to a large pasta bowl or platter. Pour the tomato sauce over the pasta and stir to fully coat. Stir in ⅔ of the eggplant, all of the grated pecorino-romano (or parmesan), half of the ricotta selata, and the basil (leave a little for garnish). Gently stir until well combined.

Alternatively, leave the sauce in the skillet and add the pasta along with the other ingredients (as described in the previous step). Stir until fully combined.

Serve at once. Garnish with the remaining ricotta selata, eggplant, and basil on top.
Notes
See the video near the top of the blog post for visual guidance. If you like the video, please subscribe to our YouTube channel.
Make sure to cut the eggplant into bite-sized pieces. Small or medium-sized eggplant makes this easier, but you can certainly do this with the more common large eggplant. You'll need to cut the vegetable into long pieces before slicing it into smaller semi-circles.
Ricotta selata is hard to find in North America, however, you can find it in many gourmet food stores or specialty cheese shops. If you can't get your hands on ricotta selata, no problem at all. Substitute feta cheese. Or, add a few dollops of creamy ricotta on top of the dish.
Rigatoni pasta is traditional, but any type of pasta will work.
Leftover will keep in the fridge for up to 5 days. The pasta reheats beautifully and is so delicious as leftovers. You can freeze it as well, although the pasta will lose its fresh taste once thawed and heated.
Nutrition
Calories: 357kcal | Carbohydrates: 51g | Protein: 12g | Fat: 19g | Saturated Fat: 3g | Polyunsaturated Fat: 1g | Monounsaturated Fat: 6g | Cholesterol: 14mg | Sodium: 94mg | Potassium: 430mg | Fiber: 5g | Sugar: 6g | Vitamin A: 202IU | Vitamin C: 4mg | Calcium: 127mg | Iron: 1mg
POST UPDATE: This recipe was originally published in June 2017, but was updated with improved tweaks to the recipe with all-new tips and photography and a fabulous new video in January 2022.