Just because a dish is good for you, doesn't mean it can't also be absolutely delicious. And, wow, this healthy dish is amazingly scrumptious!
We just love everything about this glorious seafood dish. The light and crispy Panko and Parmesan breading encase the flakey cod filet and is brought to amazing heights with our easy homemade romesco sauce. It all comes together in about 30 minutes and is truly a restaurant-quality appearing and tasting dish that your family or guests will absolutely love.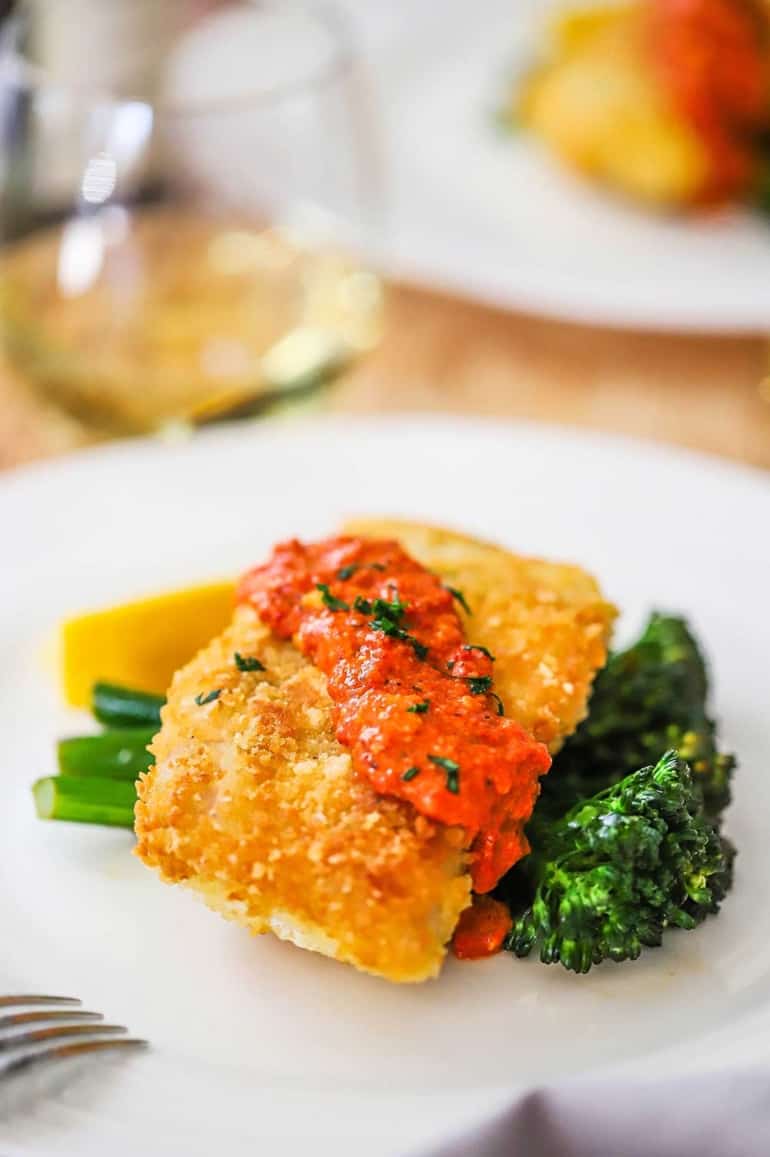 How To Make Parmesan-Crusted Cod with Romesco Sauce
As mentioned, this dish comes together very quickly.
In fact, you can make the romesco sauce up to several days in advance.
NOTE: If you liked this video, please subscribe to our YouTube channel. Remember to click on the little 'bell' icon so you'll never miss a new video. Thank you!
The Ingredients You Will Need
Cod is very flakey and neutral-tasting and is not fishy tasting at all. It's the filet that is most commonly used in the Classic Fish and Chips.
It is very easy to find and can be picked up in the seafood department at well-stocked markets. Fresh is best, but frozen is perfectly fine, too.
For the Parmesan-Crusted Cod, you'll need:
Flour – All purpose
Eggs – Lightly beaten
Bread crumbs – Panko is best, but any variety will work
Parmesan – We like Parmigiano-Reggiano, but any grated type is perfect
Cod filets – Fresh or frozen
Salt and pepper
For the Romesco Sauce, you'll need:
Red bell peppers – Roasted, jarred will work just fine
Diced tomatoes – Fire-roasted, canned, drained
Almonds – Preferably blanched
Chili powder – We love ancho
Vinegar – Red wine is best
Paprika – Smoked is great, but regular will work, too
Salt
Bread – 1 slice
EXPERT TIP: Before you get started, you'll need to set up a dredging station. Use 3 pans, one for the flour, one for the eggs, and one for the Panko and Parmesan. Dredge the cod filets through each station, shaking off the excess each time.
Tips for Perfect Parmesan-Crusted Cod with Romesco
Equal Portions of Cod – When selecting your cod, try and choose filets that are uniform (or close to it) in size. This will ensure that each filet is cooked evenly. Obviously, large pieces will take longer to cook than smaller filets. If possible, each filet should weigh about 6 ounces.
Cooking the Breaded Filets – You'll probably want to lightly fry the breaded filets two at a time. Get the oil nice and hot over medium-high heat. Toss a little breadcrumb into the hot oil. If it browns very quickly, then turn the oil down. If it simmers for a minute or two before browning, you'll probably need to turn up the heat. The filets should turn a light golden brown after about 3 to 4 minutes per side.
Easy on the Romesco – Homemade romesco sauce is deep in flavor, but a little goes a long way. We don't recommend smothering the parmesan-crusted cod with the sauce. Use a medium-sized spoon to drizzle about 1/4 to 1/2 cup over the top of each filet. Be sure to pass more of the romesco sauce at the table so folks can add more if they desire.
How To Serve
This dish is perfect for an easy weeknight dinner, but it is honestly so delicious and so gorgeous, it's ideal for an elegant dinner party.
You can serve everything family-style and let everyone serve themselves, or do what we like to do which is compose the plate before bringing it to the table.
We start with a small layer of sautéed broccolini, then one of the cod filets over the top of it, and then a thin layer of romesco carefully spooned over the filet in a diagonal shape.
Other Amazing Seafood Dishes To Try
We absolutely love serving and eating great seafood dishes. Here are some of our all-time favorites to prepare and serve:
Poached Red Snapper with Olives and Capers
Baked Tilapia with Lemon Garlic Sauce
Miso Black Cod
Poached Salmon with Capers and Easy Hollandaise Sauce
Blackened Salmon
Classic Fish and Chips
Sautéed Soft Shell Crabs
Sautéed Wild Sea Bass
But in the meantime, isn't this perfectly breaded cod calling your name?
This healthy but deeply flavorful dish has become a staple in our household, and if you and your family like seafood (that's not fishy tasting), then you will absolutely love it.
It's healthy, beautiful, and layered with flavor.
The fact that it's so easy to prepare makes it great for a busy weeknight meal, but it's honestly so beautiful in presentation and delicious in taste, it makes for a wonderful main dish for an elegant (or casual) dinner party!
Flakey and scrumptious with every single bite!
Ready to make one of the best seafood dishes in town? Go for it!
And when you do, be sure to take a photo of it, post it on Instagram, and tag @HowToFeedaLoon and hashtag #HowToFeedaLoon!
Parmesan-Crusted Cod with Romesco
Parmesan-Crusted Cod with Romesco Sauce is not a fishy-tasting dish at all. Deeply flavorful, super easy to bring together, and really healthy! The romesco sauce can be made up to several days in advance. Serve the sauce warm or at room temperature.
Print
Pin
Rate
Servings: 4
Calories: 368kcal
Ingredients
For the Cod
¾ cup all-purpose flour
2 large eggs lightly beaten
1 cup Panko breadcrumbs
½ cup Parmesan cheese grated
¾ cup olive oil
4 6 oz cod fillets
Salt and pepper
2 tbsp parsley fresh, chopped, for garnish
Instructions
Do Ahead
Prepare the romesco sauce. (See link to easy recipe above).
Prepare the Cod
Set up a dredging station utilizing three different pans or bowls. Place the flour in the first pan, the eggs in the second, and then mix together the Panko, Parmesan, and ¾ tsp salt in the third pan.

Lightly salt and pepper the cod filets all over.

Heat the oil in a large skillet over medium-high heat.

Working in batches, dredge one or two of the fillets through the flour, completely coating. Shake off excess. Dip into the eggs and submerge, fulling coating. Shake off excess and then dredge through the Panko/Parmesan mixture, again, pressing the filet to help it adhere to the filet. Set aside and repeat with remaining filets.

Carefully add one or two of the breaded filets to the hot oil. Cook until lightly browned on the underside of the filet, about 3 to 4 minutes. Flip and cook the other side until lightly browned. Remove from the skillet and repeat with the remaining filets.

Meanwhile, gently heat the romesco sauce over low heat (or keep it at room temperature).

Plate the prepared cod filets on dinner plates and spoon about ¼ to ½ cup over the top. Serve at once.
Notes
See the video near the top of the blog post for visual guidance. If you liked the video, please subscribe to our YouTube channel.
Halibut, snapper, flounder, grouper, or haddock are all excellent substitutions for cod. Although, cod will be the most economical (in most cases).
The romesco sauce can be made up to 3 days in advance. Keep covered in the fridge. Serve either warmed (our preference) or at room temperature.
Nutrition
Calories: 368kcal | Carbohydrates: 22g | Protein: 12g | Fat: 12g | Saturated Fat: 7g | Polyunsaturated Fat: 3g | Monounsaturated Fat: 8g | Trans Fat: 0.01g | Cholesterol: 78mg | Sodium: 348mg | Potassium: 116mg | Fiber: 1g | Sugar: 1g | Vitamin A: 402IU | Vitamin C: 3mg | Calcium: 196mg | Iron: 3mg