Every now and then, there comes a need to prepare a really special dinner. This definitely fits the bill for extra-special.
Chef Nobu Matsuhisa is one of the greatest chefs of our time and his signature dish at his signature restaurant is about as good as they come. This is one of those "special occasion" dishes. You need to plan in advance. Get ready to pay a little extra for the fish. And allow time for marinating. But the result is truly magnificent.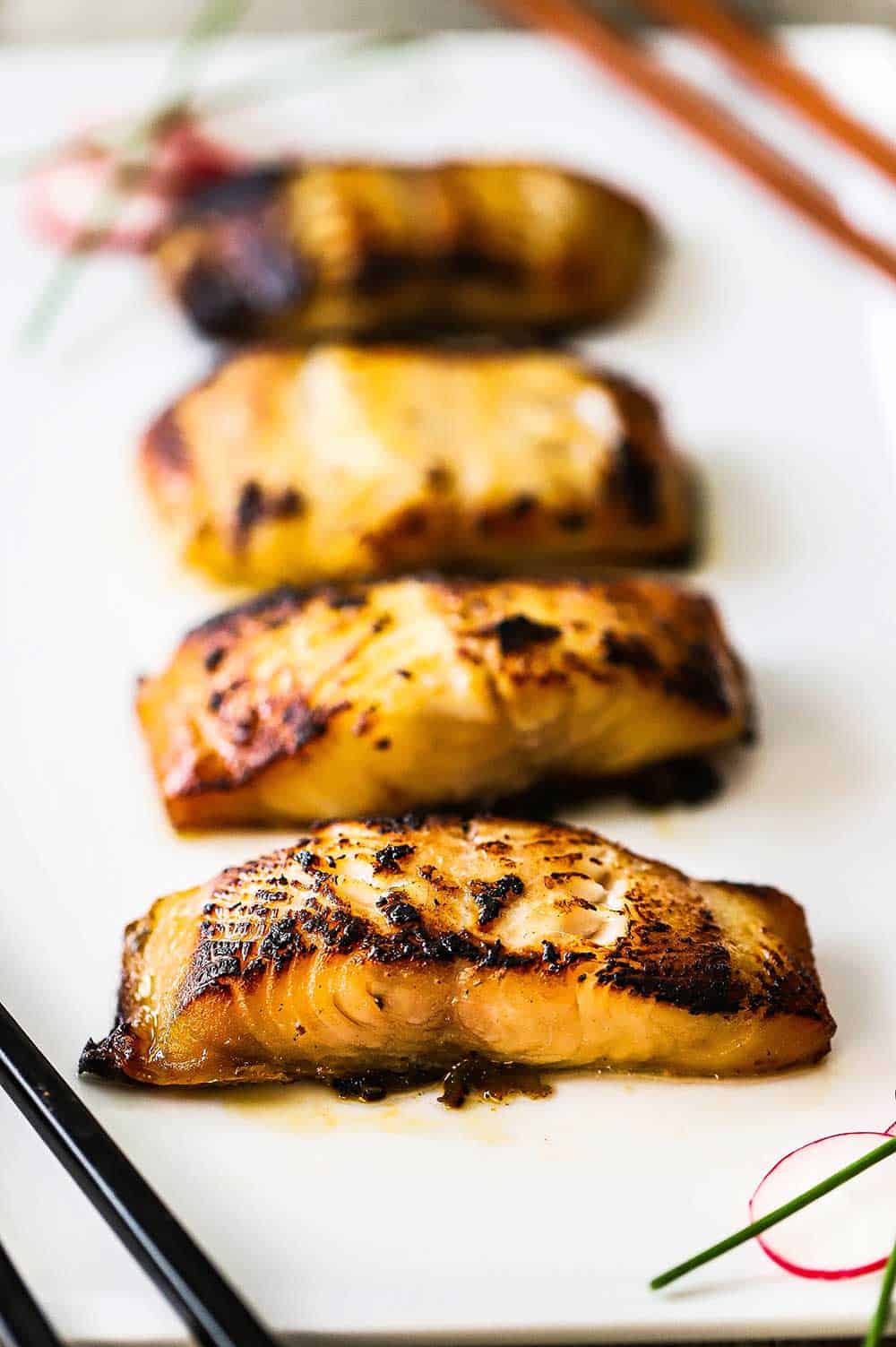 How To Make Miso Black Cod
The preparation of this dish is actually not challenging at all. The steps are quite simple.
You just need to give yourself time to allow the black cod to rest in the marinade.
NOTE: If you liked this video, please subscribe to our YouTube channel. Remember to click the little "bell" icon so you won't ever miss a new video! Thank you!
The Ingredients You Will Need
First and foremost, you need to get your hands on good-quality black cod, or more commonly named: sablefish. Although it is prevalent in the Northern Pacific Ocean, it can be difficult to find at your local fish market in the U.S. and Canada. We order ours from Maine Lobster and we are always impressed with the quality.
Black cod (Sablefish) is not cheap. 4 fillets (with shipping) can you cost you nearly $100 bucks. Again, it's one of those "special moments" items.
By the way, black cod is actually not part of the cod family that you see so often and is most commonly used for Classic Fish and Chips (check out our recipe!). Read more about its fascinating history here.
Black Cod Marinade Ingredients
Mirin (Japanese Sweet Cooking Wine)
Sake (Japanese Wine)
White Miso Paste (found at Asian food markets or online)
Granulated Sugar
And that's it! Not a lot of ingredients, which means after you purchase the black cod, you're almost done!
EXPERT TIP: After you prepare the marinade on the stove, you'll need to allow it to completely cool before adding to the fish. We like to cut our fillets into 2 to 3 oz. strips and make they are well soaked in the marinade.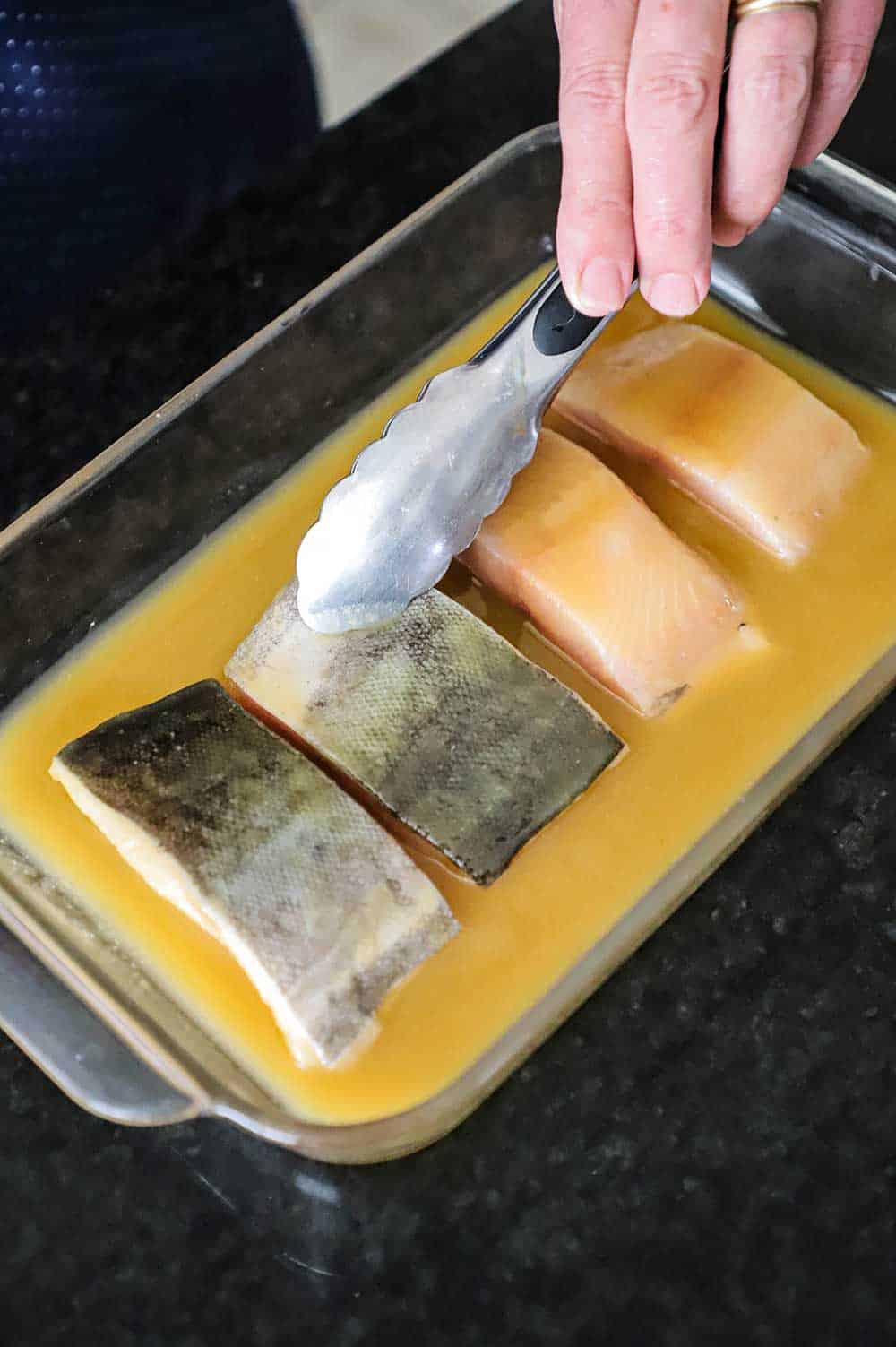 How To Cook Black Cod
There are several methods for cooking this deeply flavorful fish. Here are the most popular common ones:
Seared then Baked: This is our preferred method. Searing locks in the gorgeous blackened glaze and then baking finishes off the cooking with ease.
Broiled: This is how Chef Nobu would prepare it, and most executive chef's with top-notch broilers. For the home cook, it's very easy to burn the fish. Remember, miso burns very easily. You can try it, but keep a very close on it!
Grilled: This is a method we have not tried because it is difficult to control the heat. Plus, we have seen that you don't get that uniform blackened sear on the outside of the fish. But, you will get a hint of smokiness, which is always nice.
EXPERT TIP: We sear our black cod in our large non-stick skillet and then transfer it to a baking sheet lined with a silicone mat. However, you can also sear the fillets in a cast-iron skillet and then transfer them to the oven. This latter method is a little tricky because the fish has a tendency to stick to the pan. Be sure to lightly oil the skillet and very gently use a pair of tongs to slightly move the fillet to help prevent sticking.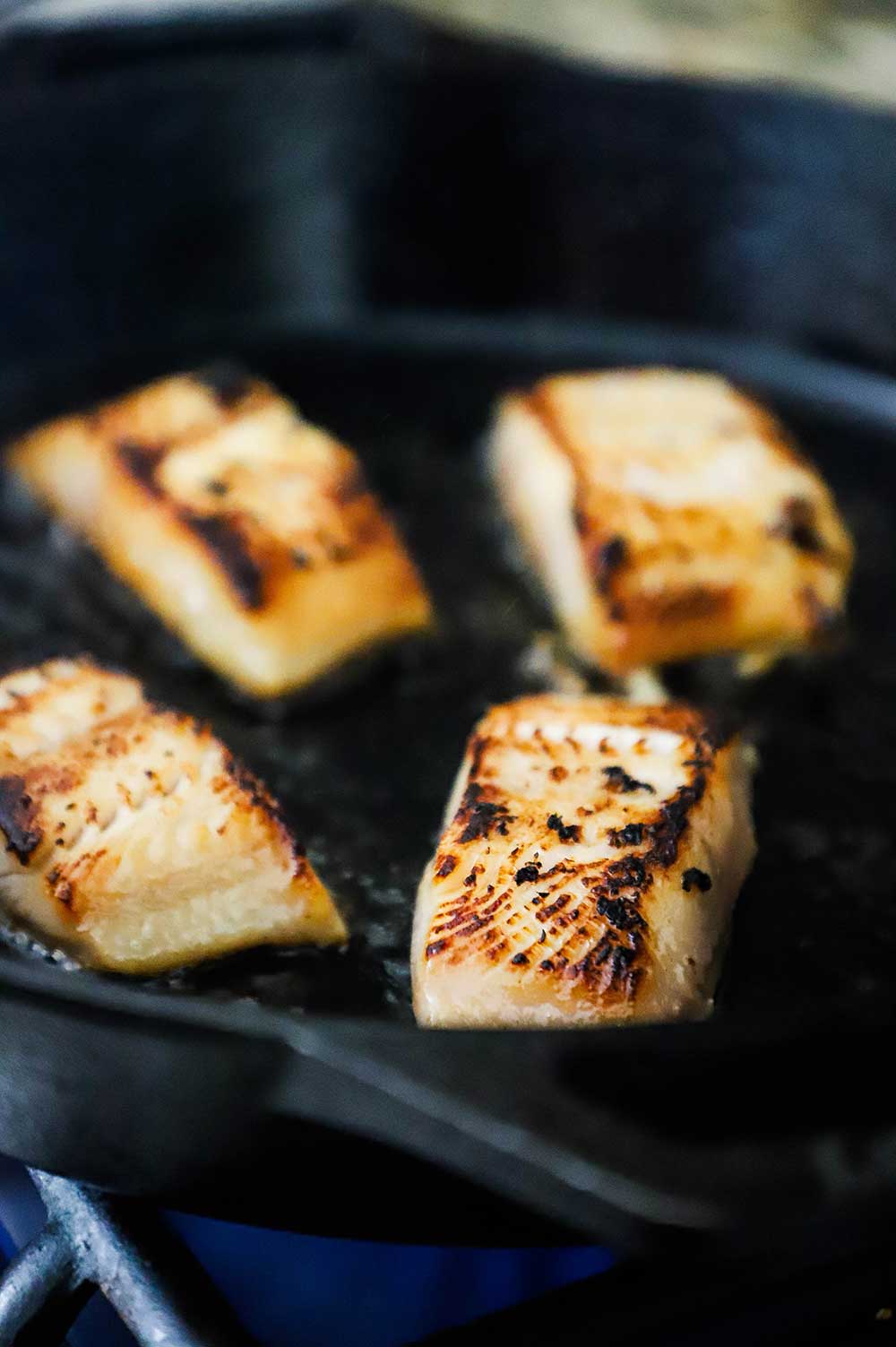 Commonly Asked Questions
Can I reduce the amount of marinating time? Absolutely. We like to marinate for 3 days, but you could reduce the time to 2 days or even 1 day. We've tried this and still get delicious results.
Are there other types of fish that I could substitute for the black cod? Yes. Salmon is a tasty substitute, as is swordfish. You won't get the melt-in-your-mouth texture that you get with black cod, but you'll still get wonderful results.
Is there any substitute for the white miso paste? Unfortunately, there isn't. However, you can find many options at your local Asian food market, and it is really easy (and quick) to order online. We often get ours with same-day delivery.
EXPERT TIP: Although it's not 100% necessary, we find we get the best results when we bake the fillets on a baking sheet lined with a silicone matt. It helps to keep the fish from sticking, and it also makes for a very easy clean-up.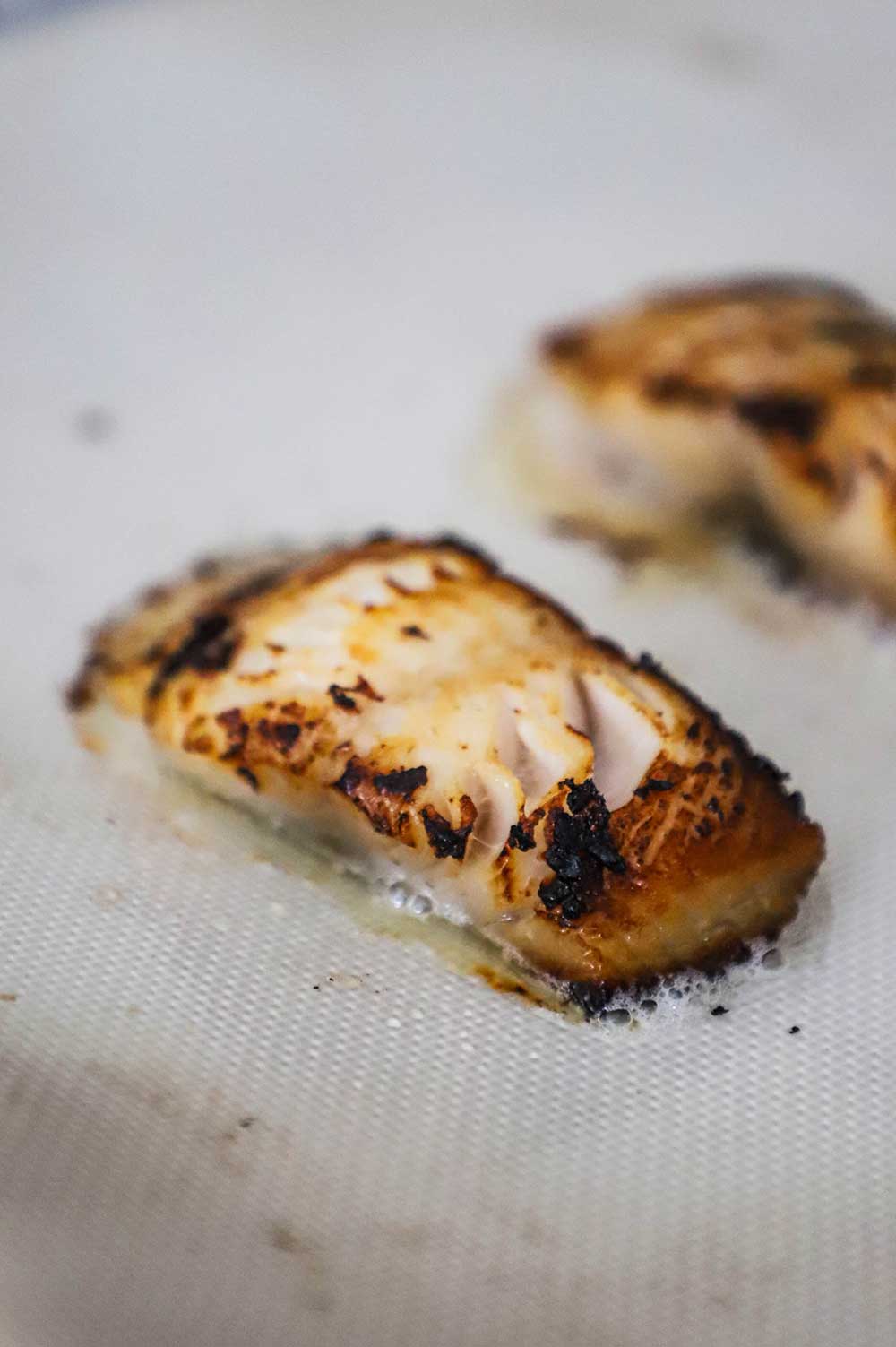 What To Serve with Miso Black Cod
We absolutely love to serve Miso Black Cod as a spectacular appetizer before an incredible meal. All we garnish the fillets with is a thin radish slice and a sliver or two of chives.
As an entree, a simple side of sautéed spinach and perfectly steamed rice makes for the perfect feast.
If serving to guests, consider giving them the option of using chopsticks or a fork and knife.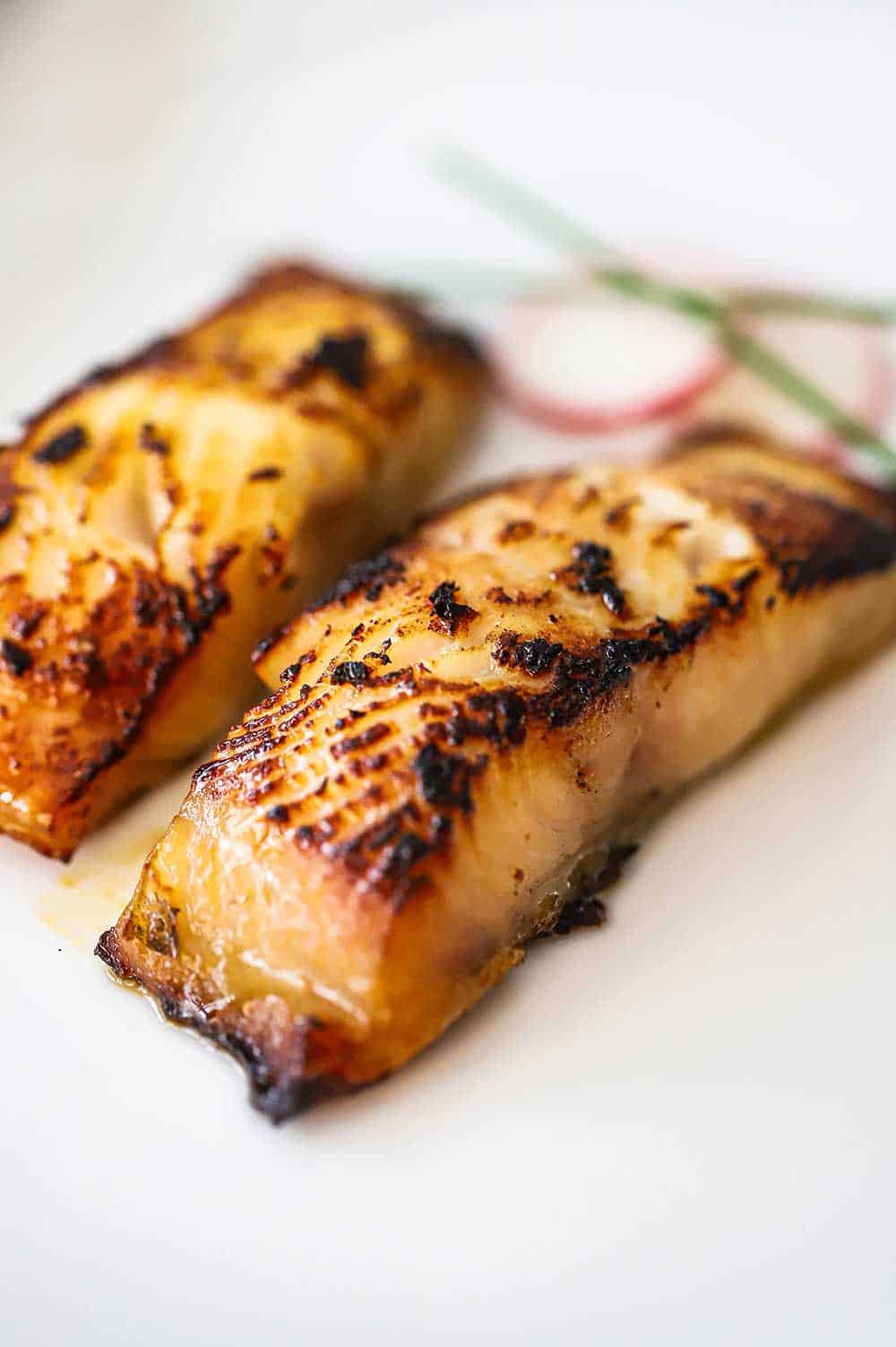 Other Amazing Seafood Dishes
We love seafood from almost every cuisine. Here are some other recipes you should check out:
In the meantime, folks, if you're looking for a true 5-star dish that you can make at home, this is the one for you. Just take a look at this amazing fish.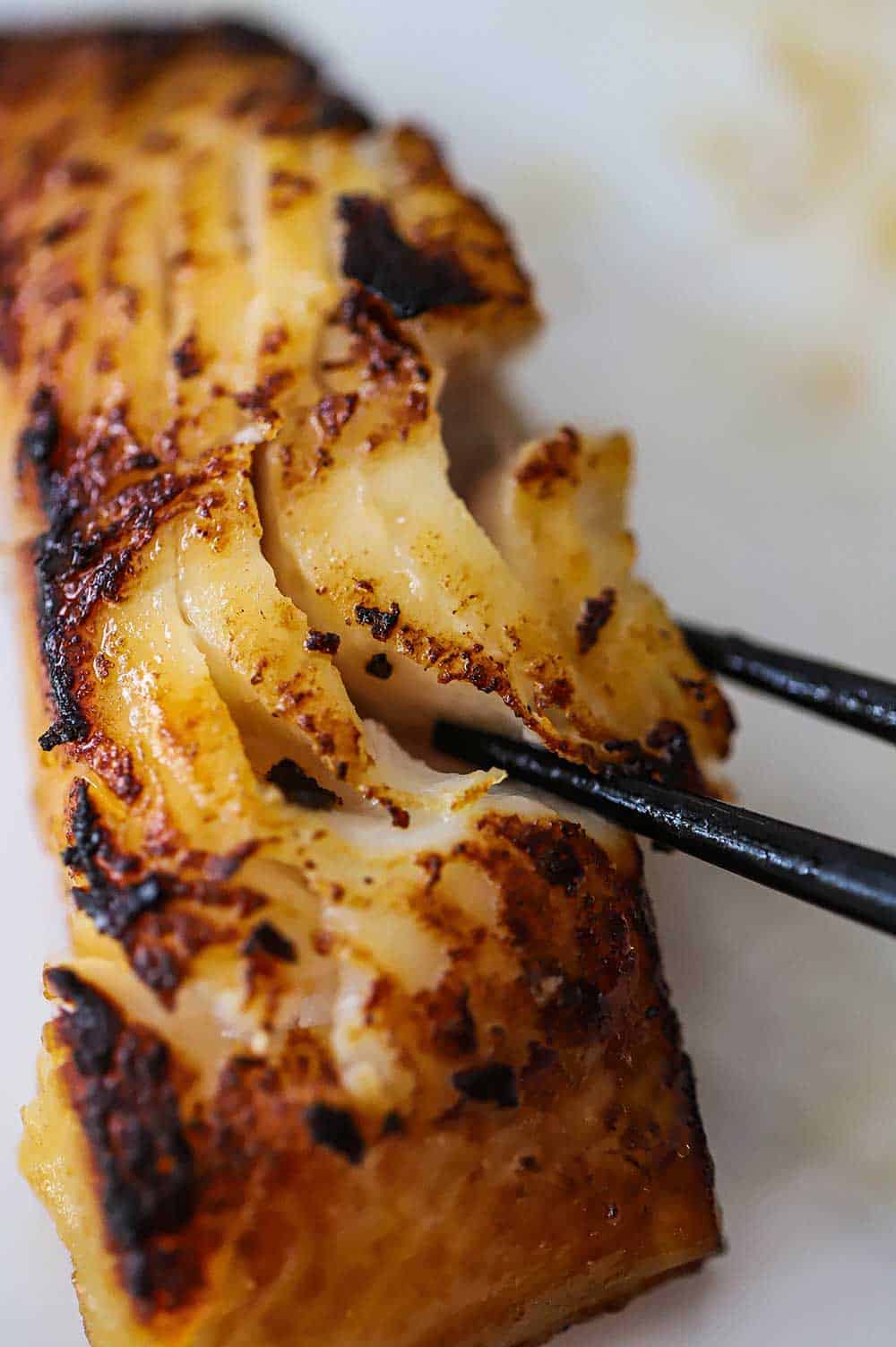 Ready to make a dish that could be served in a world-famous restaurant? Go for it!
And when you do, be sure to take a photo of it, post it on Instagram, and tag @HowToFeedaLoon and hashtag #HowToFeedaLoon!
Miso Black Cod (Nobu Copycat Recipe)
Miso Black Cod is an upscale dish that is just like you get from the world-famous restaurant by Chef Nobu. Plan ahead for this dish. The preparation is simple, but you want to give the fish time to rest in the marinade for 2 to 3 days, if possible. See the blog post for where and how to order black cod and white miso paste.
Print
Pin
Rate
Servings: 4
Calories: 111kcal
Equipment
1 skillet preferably non-stick, or heat-proof

1 Baking sheet preferably with silicone matt
Ingredients
2 tbsp salt
¼ cup sake plus 2 extra tbsp for washing off salt
¼ cup mirin
¼ cup white miso paste
3 tbsp sugar
4 8z black cod fillets
Instructions
If desired, cut the fillets into 1 to 2-inch strips, about 2 to 3 oz. each.

Sprinkle salt all over the fillets and allow them to rest in the refrigerator for 30 minutes to 1 hour.

Remove the fillets and remove the salt by adding about 2 tbsp of sake all over them, using your hands to help get the salt off.

Meanwhile, place the mirin and sake (¼ cup) in a small saucepan over high heat and bring to a boil. Lower the heat and then whisk in the white miso paste. Bring to a boil again, and then turn off the heat. Stir in the sugar until completely dissolved. Transfer to a heatproof bowl and let sit until it cools completely to room temperature.

Place the fillets in a dish and pour the cooled marinade over them. Turn the fillets over a couple of times and use a spoon to help fully coat them. Turn them skin side up in the marinade and cover tightly with plastic wrap. Place in the refrigerator for 2 to 3 days.

Preheat your oven to 400°F.

Use a paper towel to rub off most of the marinade, however, do not rinse them.

Heat a skillet (preferably non-stick) over medium-high heat. Add a small amount of olive oil to the skillet.

Place the fillets, skin-side up, in the hot skillet. Sear them for 3 minutes until browned on the bottom, and then flip them and sear them for another 2 to 3 minutes.

Use a spatula to carefully transfer the fillets to a baking dish, preferably lined with a silicone matt. Place them in the oven until nicely browned, about 8 to 10 minutes. Remove from the oven and serve at once.
Notes
See the video near the top of the blog post for visual guidance. If you liked the video, please subscribe to our YouTube channel.
Although we recommend marinating the black cod for 3 days, you will still get delicious results with 2 days, or even just 1 day. It is important to make sure your black cod (sablefish) is very, very fresh. See the blog post for who we order ours from.
Black cod is extremely buttery and flakes easily when cooked. You can substitute salmon or your favorite fish fillet in this recipe, and although it will still be yummy, it won't be the same as black cod!
Nutrition
Calories: 111kcal | Carbohydrates: 20g | Protein: 2g | Fat: 4g | Saturated Fat: 1g | Polyunsaturated Fat: 1g | Monounsaturated Fat: 1g | Cholesterol: 1mg | Sodium: 4246mg | Potassium: 43mg | Fiber: 1g | Sugar: 14g | Vitamin A: 15IU | Calcium: 13mg | Iron: 1mg