This has become one of our all-time favorite dishes to prepare. And it's fast. And it's healthy. Oh, and it's through-the-roof delicious.
We developed this recipe when we were trying to lose a little weight. We like anything that is blackened (practically anything), but there is something about the moist yet flakiness of the salmon that just makes this dish sing. We'll even provide you with the perfect side salad to serve it with. And it all comes together in less than 30 minutes! Winner Winner Salmon Dinner!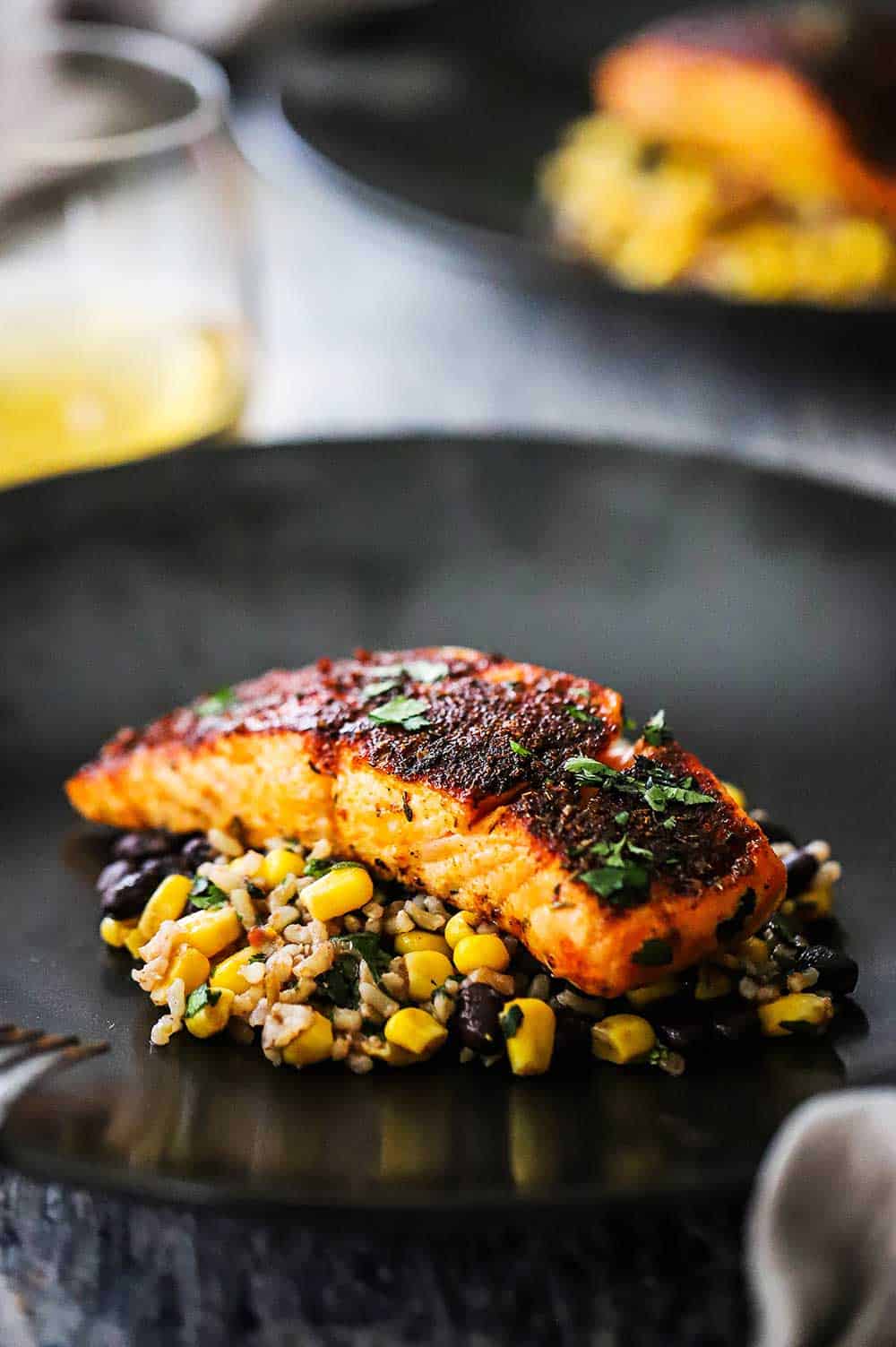 How To Make Blackened Salmon
The process of blackening fish (or any protein or vegetable) was developed and popularized by the legendary late Cajun chef Paul Prudhomme. Learn more about this amazing chef here.
Although the process is very simple, the results are truly spectacular.
You can control the spice level by increasing or decreasing the amount of cayenne pepper and/or black pepper.
Our recipe has a nice heat that hits you on the backend, but is not too intense, at all.
NOTE: If you liked this video, please subscribe to our YouTube channel. Remember to click the little 'bell' icon so you'll never miss a new video!
What Is the Best Fish for Blackening
So many seafood fillets are ideal for blackening. You want to pick one that will be nice and flakey, but not overly fragile.
In addition to salmon, you could use this method on redfish, catfish, sole, halibut, trout, tuna, and/or grouper.
EXPERT TIP: It's up to you if you go with skin-on or no-skin salmon fillets. When you are searing the salmon in your piping-hot skillet (preferably a cast-iron), sear the seasoned side first. We start off by applying a little oil to the flesh side of the salmon and then pressing the rub in with your fingers. After it's nicely blackened, flip it over. If your salmon has skin, it will crisp up beautifully, if not, it will brown nicely as well. The skin is nutritious and 100% edible.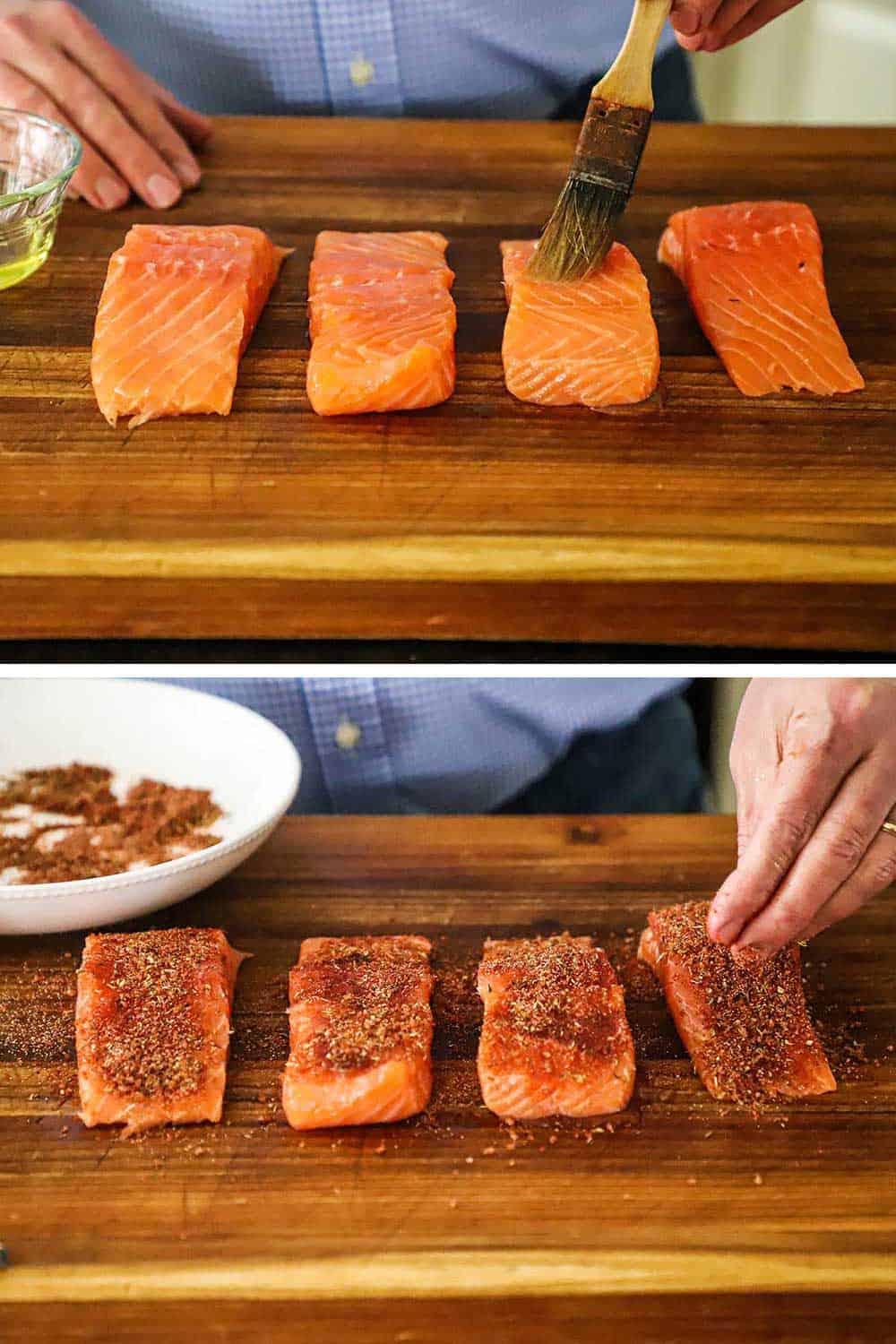 The brown sugar and the spices will turn a beautiful almost black color as you are searing the fillets in the piping hot skillet.
We recommend opening a window or door to the outside as it may produce smoke. You might need to unplug your smoke detector, but don't forget to plug it back in! A hood works nicely, of course.
EXPERT TIP: We recommend using a small spatula to press the fillets into the hot skillet. For a more traditional version, we add a little butter to the skillet to blacken the fish in. For a slightly healthier version, substitute the butter with extra-virgin olive oil, or regular olive oi.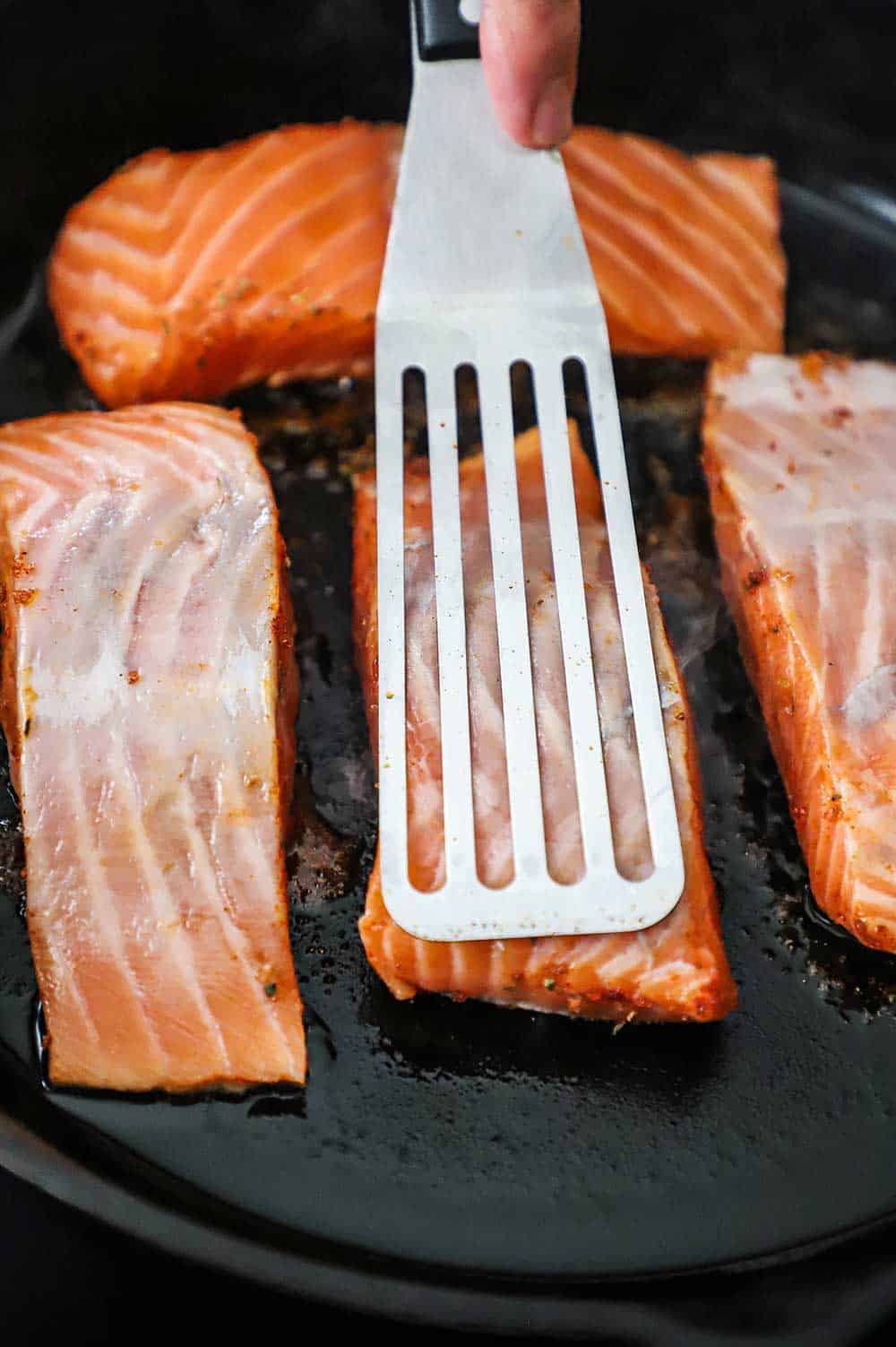 What to Serve with Blackened Salmon
As mentioned, this blackened salmon has a little kick to it, and pairs wonderfully with a super-easy Southwestern salad that takes no time at all to prepare.
Easy Southwestern Black Bean and Corn Salad
In a large bowl, mix together:
2 cups of cooked brown rice (Instant is just fine)
1 15 oz. can black beans, drained and rinsed
1 15 oz. can fire-roasted corn, drain (or any type of corn, such as thawed frozen corn)
Half a jar (about 8 oz.) of your favorite salsa (more or less, depending on taste)
¼ cup fresh cilantro, chopped (optional…but really tasty)
Healthy pinch of salt and pepper.
Serve warm or at room temperature. Leftovers keep in the fridge for up to 5 days.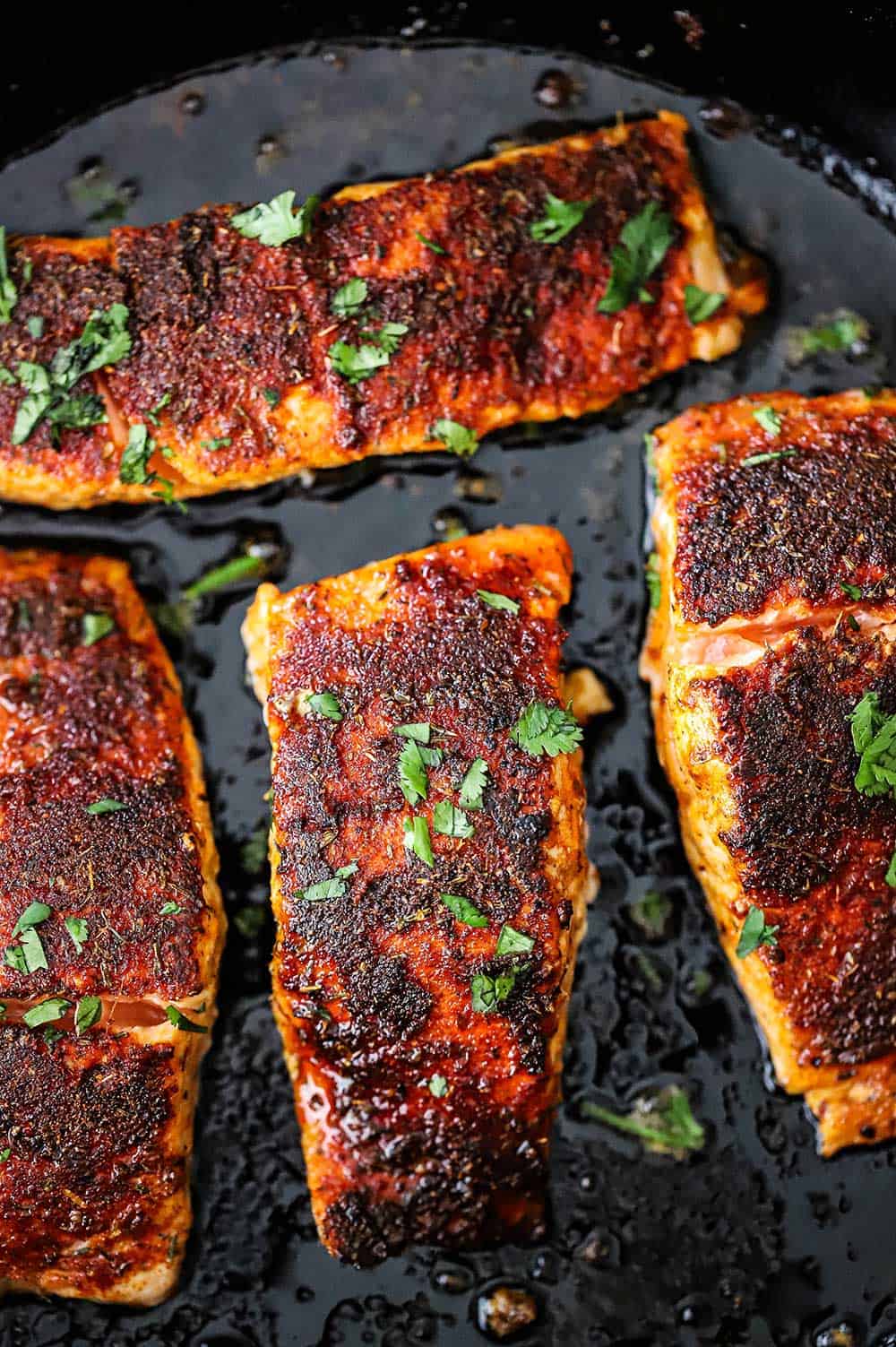 Other Favorite Salmon Dishes
In the meantime, you're going to want to sink your teeth into this incredible dish!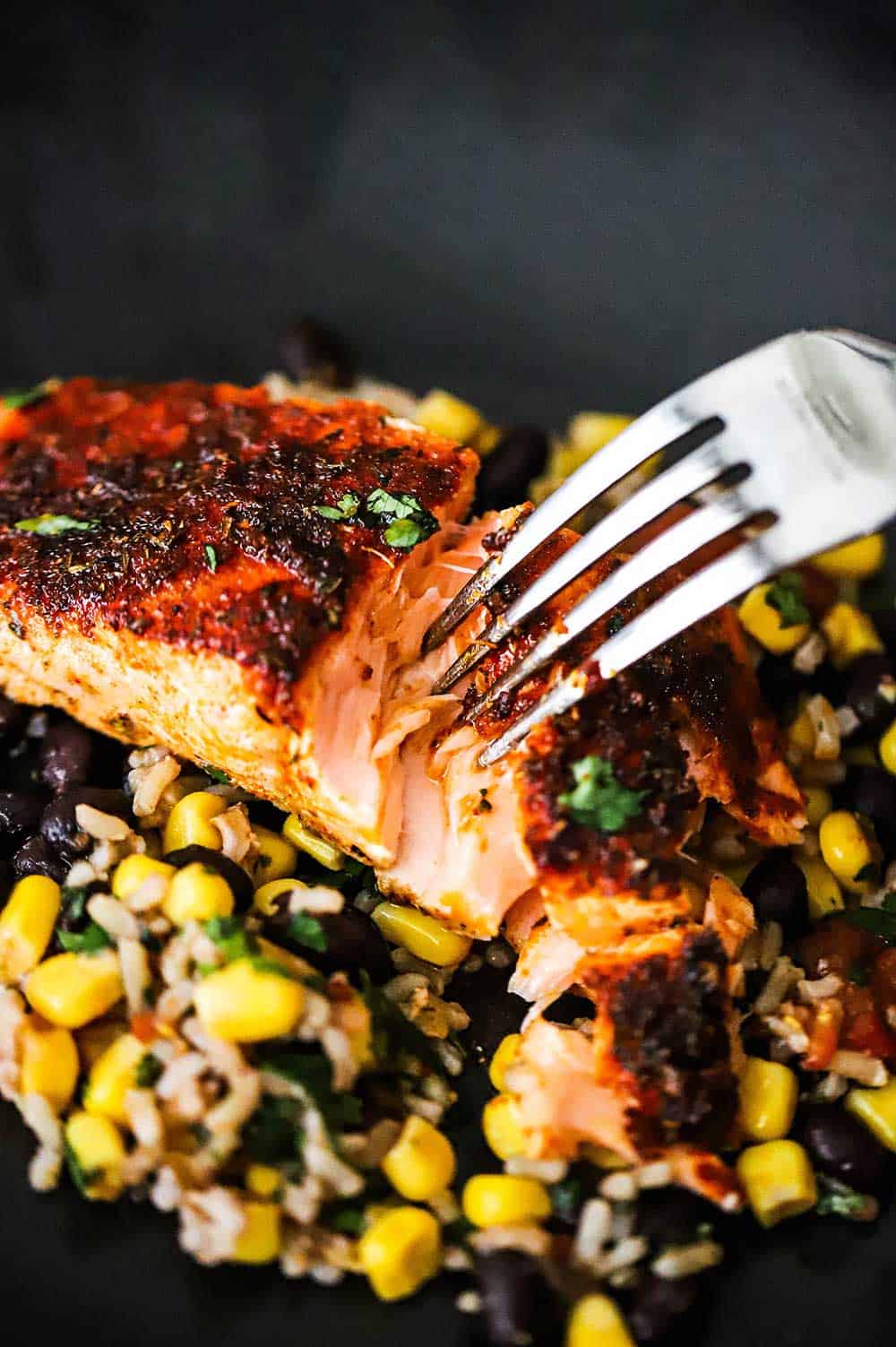 Ready to make the best recipe for blackened salmon this side of New Orleans? Go for it!
And when you do, be sure to take a photo of it, post it on Instagram, and tag @HowToFeedaLoon and hashtag #HowToFeedaLoon!
Blackened Salmon
Blackened Salmon is truly a taste sensation and could not be easier to make. You will probably get some smoke, so leave a window or door open to help circulate air. You may need to temporarily unplug your smoke detector. This recipe is mild-moderate spicy. For more heat, increase the cayenne to 2 tsp, for less heat, decrease it to 1 tsp, or 1/2 tsp.
Print
Pin
Rate
Servings: 4
Calories: 434kcal
Equipment
Cast-iron skillet or another sturdy skillet that can handle high heat.
Ingredients
4 7 oz salmon fillets either with or without skin
2 tbsp extra-virgin olive oil
Salt and pepper
1 tbsp brown sugar light or brown
1 tbsp smoked paprika
1 tbsp cayenne pepper See NOTES about spice level
1 tsp onion powder
1 tsp garlic powder
1 tsp oregano dried
1 tsp thyme dried
For the Corn and Bean Salad
2 cups brown rice cooked, Instant is perfectly fine
1 15 oz. can black beans drained and rinsed
1 15 oz. can fire-roasted corn drained, or regular corn, or thawed frozen
½ jar salsa or more, to tasted
¼ cup cilantro fresh, chopped, plus extra for garnish
Salt and pepper
Instructions
Place the fillets on a cutting board, skin-side down (if your fillets have skin). Rub a little oil over the tops of the fillets. Sprinkle generously with salt and pepper.

In a small bowl, mix together the brown sugar, paprika, cayenne pepper, onion powder, garlic powder, oregano, and thyme.

Use your fingers to press the seasoning mixture all over the top flesh of the fillets.

Heat 1 tbsp of oil (or butter) in a large sturdy skillet over medium-high heat. Heat until oil is just starting to whisp and a tiny bit smokey.

Carefully, add the fillets to the hot skillet, flesh-side down. Use a spatula to gently press down on the fillets. Cook for about 4 minutes, until nicely blackened. (You will most likely produce a fair amount of smoke from the skillet).

Carefully flip the fillets over and continue cooking for another 4 to 6 minutes, until the fillets easily flake, and are cooked through. You should reach an internal temperature of about 120°F (the fillets will continue to cook even after they are removed from the skillet. Then internal temp should rise to about 14o to 145°F).

Serve at once, over the black bean and corn salad and garnished with extra chopped cilantro if desired.
Notes
See the video near the top of the blog post for visual guidance. If you like the video, please subscribe to our YouTube channel.
This recipe has a bit of heat (spiciness) to it. If you like your blackened salmon to be spicy, then increase the cayenne pepper to 2 tbsp. For less heat, we recommend 1 tsp of cayenne. This will give that backend heat that you expect from blackening, but not too much. For even less heat, reduce the cayenne to ½ tsp.
If after about 9 minutes of cooking, the salmon doesn't look (or isn't) cooked through, with an internal temp of around 125°F, then keep in the skillet for another few minutes until cooked. The salmon will continue to cook after it's removed from the skillet. You'll want a final internal temp around 145°F.
Blackening often will produce smoke in your kitchen. You may want to consider unplugging your smoke detector, but DO NOT forget to plug it back in! Opening a window or door helps with ventilating and reducing smoke.
Leftovers will keep in the fridge for 2 days. We don't recommend freezing blackened salmon.
To make the corn black bean salad, simply mix all ingredients in a bowl. Serve warm or at room temp. It can be made several days in advance and kept in the fridge for up to 5 days.
Nutrition
Calories: 434kcal | Carbohydrates: 79g | Protein: 8g | Fat: 8g | Saturated Fat: 2g | Polyunsaturated Fat: 2g | Monounsaturated Fat: 6g | Cholesterol: 1mg | Sodium: 10mg | Potassium: 364mg | Fiber: 5g | Sugar: 3g | Vitamin A: 1567IU | Vitamin C: 4mg | Calcium: 55mg | Iron: 3mg