If you love salmon, you are going to fall in love with this burger recipe.
There's no doubt that we are big fans of a good ole juicy all-beef burger, But, folks, this recipe gives the all-American classic a run for its money. We serve it with our Rosemary and Garlic Aioli, and always get rave reviews. And you can make the patties up to 24 hours in advance! Great served with brioche buns, or homemade hamburger buns!
How To Prepare a Salmon Burger
This salmon burger recipe is simple and easy to put together.
A food processor makes it come together quickly, put a large sharp knife will do the trick, too.
A great option for seafood lovers at your next outdoor BBQ!
Besides being absolutely delicious, there are many health benefits to including salmon in your diet.
We love our burgers to have nice big chunks of salmon in them, but that can make the burger more challenging to hold together during the cooking process.
EXPERT TIP: Adding about one-third of fresh salmon to your food processor and then processing it to a smooth texture will act as a binder, along with a little mayonnaise and bread crumbs. You may need to use a spatula to scrape down the salmon as you pulse. Process until very smooth, usually less than 1 minute.
Next, we add in the remaining salmon (cut into chunks), along with the parsley, garlic, Dijon, mayonnaise, lemon juice, salt, and pepper.
Pulse 5 to 7 times.
This will mix everything together, but also leave nice-sized pieces of salmon which will yield a delicious burger.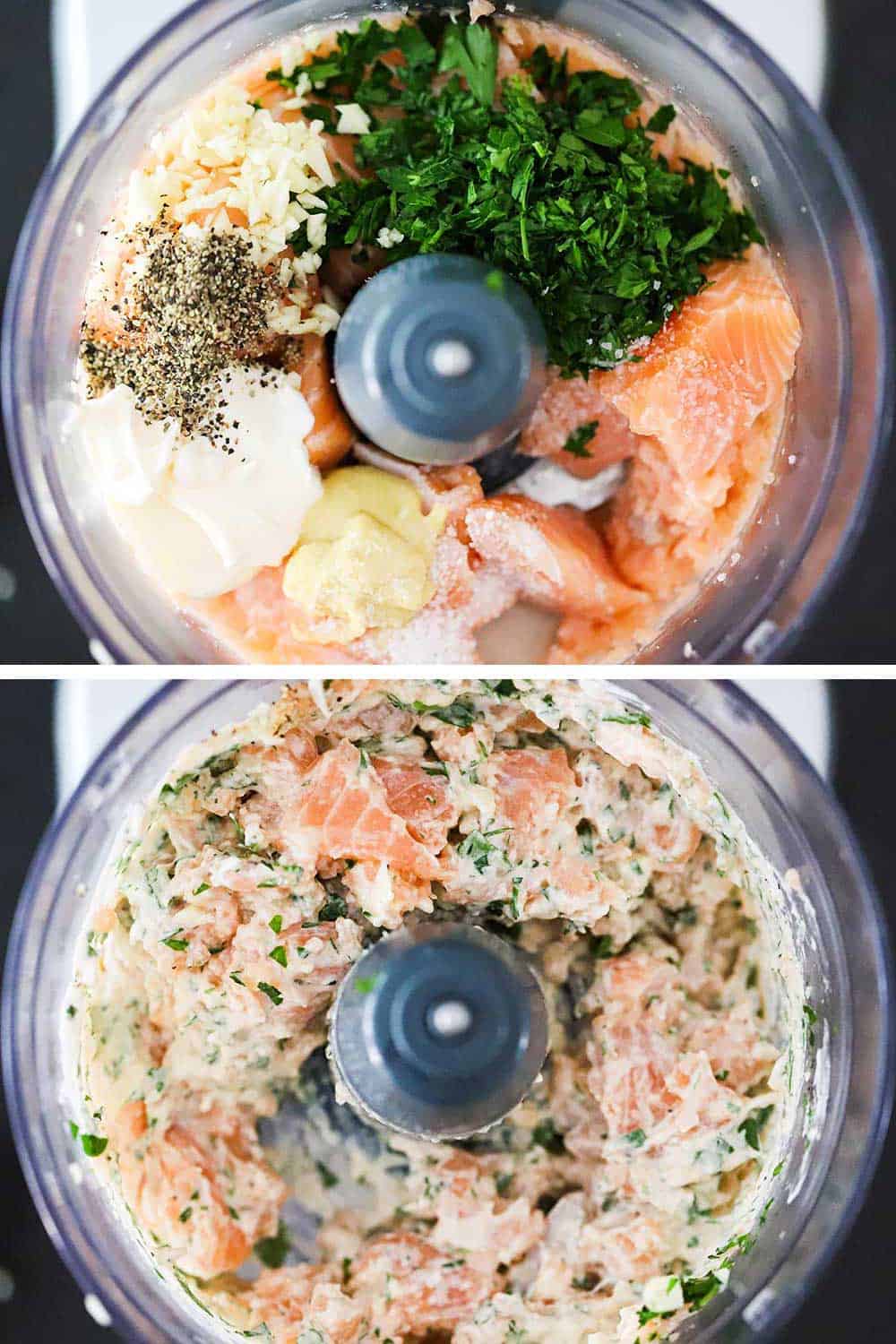 Now, it's time to fold in the chopped roasted red peppers and the Panko bread crumbs.
You can do this directly in the food processor, or transfer the salmon mixture to a bowl before adding in the peppers and bread crumbs.
EXPERT TIP: We love the texture of Panko bread crumbs, which can be found in most major supermarkets. However, if you want to use plain bread crumbs, which are much finer, then decrease the amount from ¼ cup to 2 tablespoons.
Forming the Patties
This recipe will yield four patties.
If you want thicker burgers, then you'll only form three patties. Remember, however, the thicker the burger, the longer the cook time.
EXPERT TIP: We use cookie-cutter rings to help form our patties, but a standard hamburger patty press works great, too. Or, just form them with your hands! Be sure to chill the patties (preferably on parchment paper) for at least 20 minutes before cooking them. This will firm them up and make grilling or cooking in a skillet easier to handle.
Now, it's time to cook the burgers!
If grilled (our preference), we highly recommend using a grill pan because if not, parts of the patties may fall through the grates. Lightly spray the pan and then crank your grill to medium-high heat.
You can also cook them up perfectly in a lightly oiled skillet (preferably non-stick).
EXPERT TIP: The FDA recommends salmon be cooked to 145°F. This is a very well-done salmon burger, but still very delicious. An instant-read thermometer helps you know when the burgers are properly cooked. Typically, 7 minutes per side will cook the salmon perfectly, but again, this will depend on the thickness of the patties. Also, the burger will continue to cook after it's removed from the heat source.
What To Put on a Salmon Burger
The usual burger fixings are great on the burgers.
We always go with nice crisp green leaf lettuce, juicy sliced tomatoes, and thinly sliced red onion. Buttered and toasted brioche buns complement the salmon beautifully. Or, make homemade hamburger buns!
But the condiment that really puts these burgers over the top is our Rosemary and Garlic Aioli, which can be made 1 to 2 days in advance. Heavenly.
These burgers are truly as beautiful as they are delicious!
And you can prepare and form the burgers up to 24 hours before serving! Just place them in an air-tight container and keep them in the fridge.
Another gorgeous, delicious, and healthy burger is our Curry Turkey Burgers with Grilled Pineapple!
But, f you, and/or your guests, enjoy salmon, then you will all absolutely love these babies! One bite, and you'll be hooked!
Ready to make a non-beef burger that even your beef lovin' guests will flip for? Go for it!
And when you do, be sure to take a photo of it, post it on Instagram, and tag @HowToFeedaLoon and hashtag #HowToFeedaLoon!
Salmon Burger
This Salmon Burger recipe is loaded with amazing flavor and is truly simple to prepare. You can even make the patties up to 24 hours in advance! Either grill or sauté in a skillet and top with traditional garnishes and our amazing Rosemary and Garili Aioli (see below for link to recipe).
Print
Pin
Rate
Servings: 4
Calories: 453kcal
Equipment
Food processor, or large sharp knife

Grill pan is recommended (for grilling), or a non-stick skillet if cooking stovetop.
Ingredients
1¼ lbs salmon skinned and de-boned, cut into 2-inch pieces
¼ cup parsley fresh, chopped
2 cloves garlic minced
1 tsp onion powder (optional)
1 tsp Dijon mustard
2 tbsp mayonnaise
1 tbsp lemon juice usually from 1/2 of a large lemon
1 tsp Kosher salt
½ tsp black pepper freshly ground
⅓ cup roasted red peppers drained and roughly chopped
¼ cup Panko bread crumbs
4 brioche buns
4 tbsp unsalted butter
1 large tomato sliced, for garnish
green leaf lettuce torn into bun-sized pieces, for garnish
1 red onion sliced, for garnish
1 cup Rosemary and Garlic Aioli for garnish
Instructions
Add ⅓ of the salmon to the bowl of a food processor. Pulse until the salmon is smooth, about 10 to 15 seconds.

Add the remaining salmon, parsley, garlic, onion powder (if using), Dijon, mayonnaise, lemon juice, salt, and pepper into the food processor with the smooth salmon. Pulse 6 or 7 times, until everything is combined and there are still chunks of salmon visible.

Transfer to a bowl and gently fold in the roasted peppers and bread crumbs.

Divide the mixture into 4 mounds, and then form each into a patty, about 3 to 4 inches in diameter. A hamburger press or large cookie cutter is helpful here, but not totally necessary.

Chill the patties for at least 20 minutes, or up to 24 hours.

If grilling, turn your grill to medium-high heat. Lightly spray a grill pan, (or non-stick skillet) with cooking spray. Use a spatula to transfer the patties onto the grill pan and place over direct heat on the grill. Cook for 7 minutes and then carefully flip and cook for another 7 minutes. If cooking on the skillet, follow the same timing. The internal temperature of the burgers should be 135°F to 145°F.

Meanwhile, butter the buns and toast during the final cooking of the salmon burgers.

Serve at once on toasted buns, with lettuce, tomato, onion, and aioli, if desired.
Notes
Be sure to ask your fishmonger to remove the skin from the salmon, if it's still intact. Also, be sure the fish has been de-boned. If you don't have a food processor, you can achieve the same results with a knife. Initially, chop one-third of the salmon until paste-like. Then, roughly chop the remaining salmon and follow recipes as written. In the video, we did not use onion powder, but we do love the addition of it in these burgers. The patties can be prepared up to 24 hours before cooking. Place them on parchment paper in an air-tight container and keep them in the fridge until ready to cook. The salmon burgers can be frozen (uncooked) for up to 2 months. As mentioned, the Rosemary and Garlic Aioli is a FANTASTIC addition to these burgers.
Nutrition
Calories: 453kcal | Carbohydrates: 48g | Protein: 40g | Fat: 14g | Saturated Fat: 4g | Trans Fat: 1g | Cholesterol: 255mg | Sodium: 1281mg | Potassium: 912mg | Fiber: 2g | Sugar: 3g | Vitamin A: 1890IU | Vitamin C: 21mg | Calcium: 104mg | Iron: 3mg