Our Instant Pot Recipe Series continues, and we are so excited to share with you our first seafood dish! This Instant Pot Teriyaki Salmon recipe is definitely one of our favorites!
This dish is so incredibly flavorful and only pressure cooks for 6 minutes!
The perfect weeknight meal that's not only delicious but healthy, too!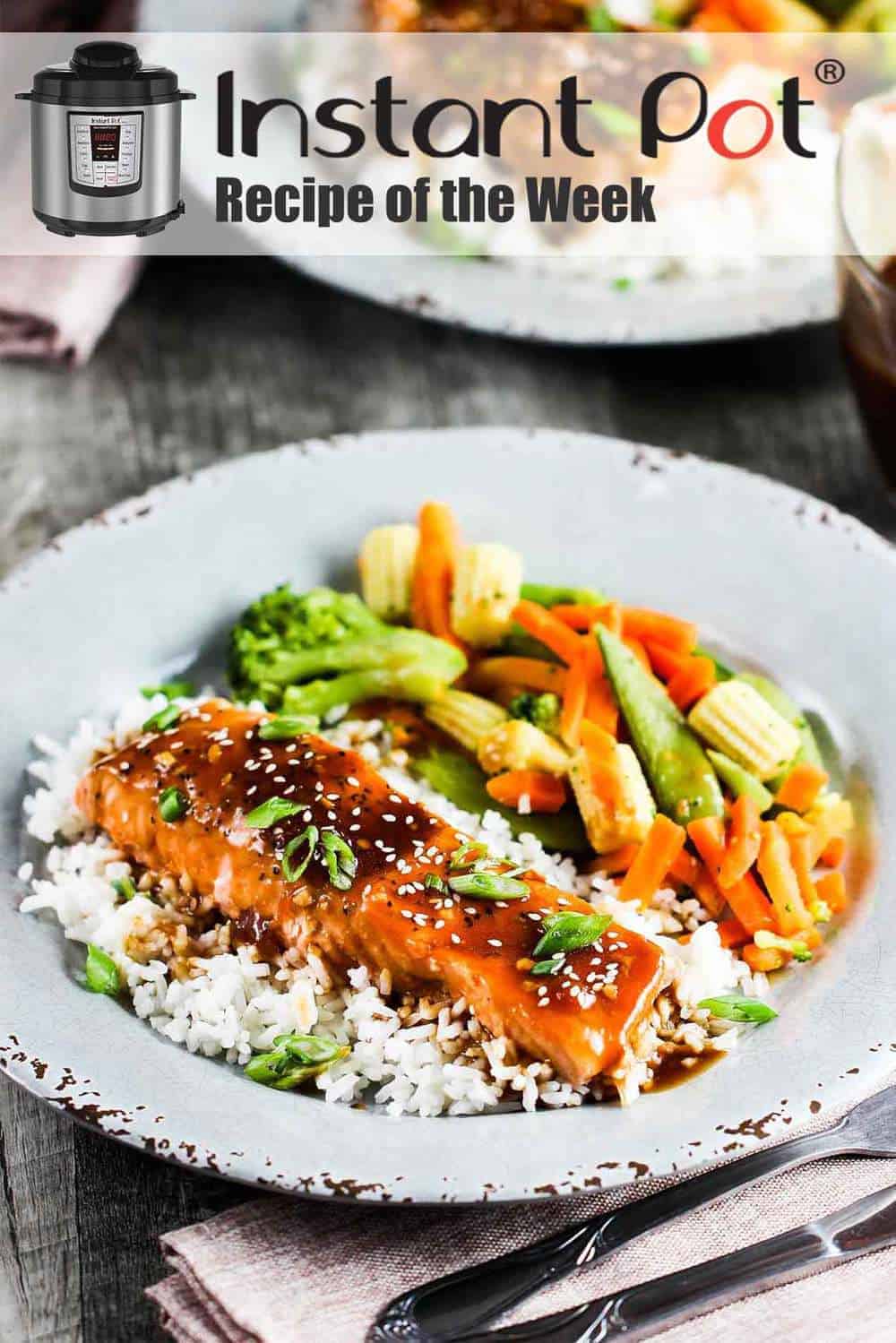 HOW TO MAKE INSTANT POT TERIYAKI SALMON
You'll need to place the salmon fillets in some sort of a vessel for steaming.
I love using my 7-inch springform pan, but you can also use a couple of small bread loaf pans, or even make a small 'boat' out of heavy-duty aluminum foil, loosely sealed.
If using a springform pan, as I've done, just be sure to line it with foil, so none of the marinade leaks out.
Pour about a half a cup of the marinade over the salmon in its vessel, and let it sit for about 15 minutes in the fridge.
Then it only steams for 6 minutes in the Instant Pot!
Amazing! Just look at that perfectly cooked salmon!
TERIYAKI ADDS A DEPTH OF FLAVOR
Teriyaki is one of our all-time favorite flavor enhancers. With a combination of soy sauce, mirin, sesame oil, garlic, and fresh ginger…how can you go wrong?
Pour the reduced sauce over the perfectly cooked salmon for a stunning presentation.
Oh, that's good.
The Instant Pot is so versatile, and though pressure cooking fish can be tricky, this recipe is fool-proof and produces one of the most delicious salmon dishes you will ever try.
In a matter of minutes!
We love our Instant Pot!
AND EASY AND ELEGANT WEEKNIGHT MEAL
If you're looking for an easy meal that is packed with flavor and happens to be good for you and your family, too…well look no further!
Just look at this Teriyaki Salmon!
Mouth-watering, right?
Now, go ahead and make this incredible Instant Pot Teriyaki Salmon recipe!
You and your family will love it! And you'll love how easy it is!
The perfect side dishes are steamed veggies and sticky white rice!
Instant Pot Teriyaki Salmon
This Instant Pot Teriyaki Salmon recipe is so simple, fast...and delicious! You'll want to steam the salmon in a vessel that will fit inside the IP pot. I love using my 7-inch springform pan lined with foil, but small loaf pans, or even a boat made heavy duty foil will work! Serve with steamed veggies and rice for the perfect weeknight meal! In less than 30 minutes! Get the rice ready first, because the fish comes together so quickly!
Print
Pin
Rate
Servings: 4 people
Calories: 334kcal
Equipment
Instant Pot

7-inch springform pan
Ingredients
½ cup soy sauce
¼ cup mirin sweet rice wine*
½ cup chicken stock or fish stock
1 tsp sesame oil
2 garlic cloves minced
2 tsp fresh ginger grated, or finely chopped
1 cup water
1½ lb salmon 3 to 4 fillets
Freshly ground black pepper
Cornstarch slurry: 1 teaspoon cornstarch mixed with 1 tablespoon water
4 scallions thinly sliced, for garnish
2 tbsp sesame seeds for garnish
Instructions
In a medium bowl, mix together the soy sauce, mirin, stock, sesame oil, garlic and ginger.

Season the salmon with the pepper.

Place the salmon in a 7-inch springform pan lined with foil, or small loaf pans, or a sturdy aluminum foil packet, then loosely sealed.

Pour 1/3 cup of the marinade over the salmon and place in the fridge for 15 minutes.

Add 1 cup water into the Instant Pot and lower in the steam trivet.

Lower the vessel with marinated salmon onto the steam trivet. If using loaf pans, you can stack them, making an 'X' formation.

Lock the lid into place and select STEAM on the High setting fro 6 minutes.

After cooking, Quick Release the pressure. Unlock and remove the lid.

While the fish is cooking, add the remaining marinade into a small pan and bring to a boil. Add the cornstarch slurry, and whisk until slightly thickened and glossy. This is a good time to steam your veggies, too, if using

Carefully remove the steamer trivet from the pot and with a large slotted spatula, transfer the fish to a plate (best if served over steamed rice).

Pour a couple tablespoons of the reduced teriyaki sauce over the fillets.

Garnish with sliced scallions and sesame seeds. Pass remaining sauce tableside.
Nutrition
Calories: 334kcal | Carbohydrates: 11g | Protein: 39g | Fat: 11g | Saturated Fat: 2g | Cholesterol: 94mg | Sodium: 1856mg | Potassium: 981mg | Fiber: 1g | Sugar: 5g | Vitamin A: 188IU | Vitamin C: 3mg | Calcium: 81mg | Iron: 3mg