This Instant Pot Corned Beef with Cabbage recipe is a favorite at St. Patrick's Day and of course, in many households on New Year's Eve.
There is something so soothing and very delicious when these wonderful ingredients come together in the Instant Pot!
Delicious!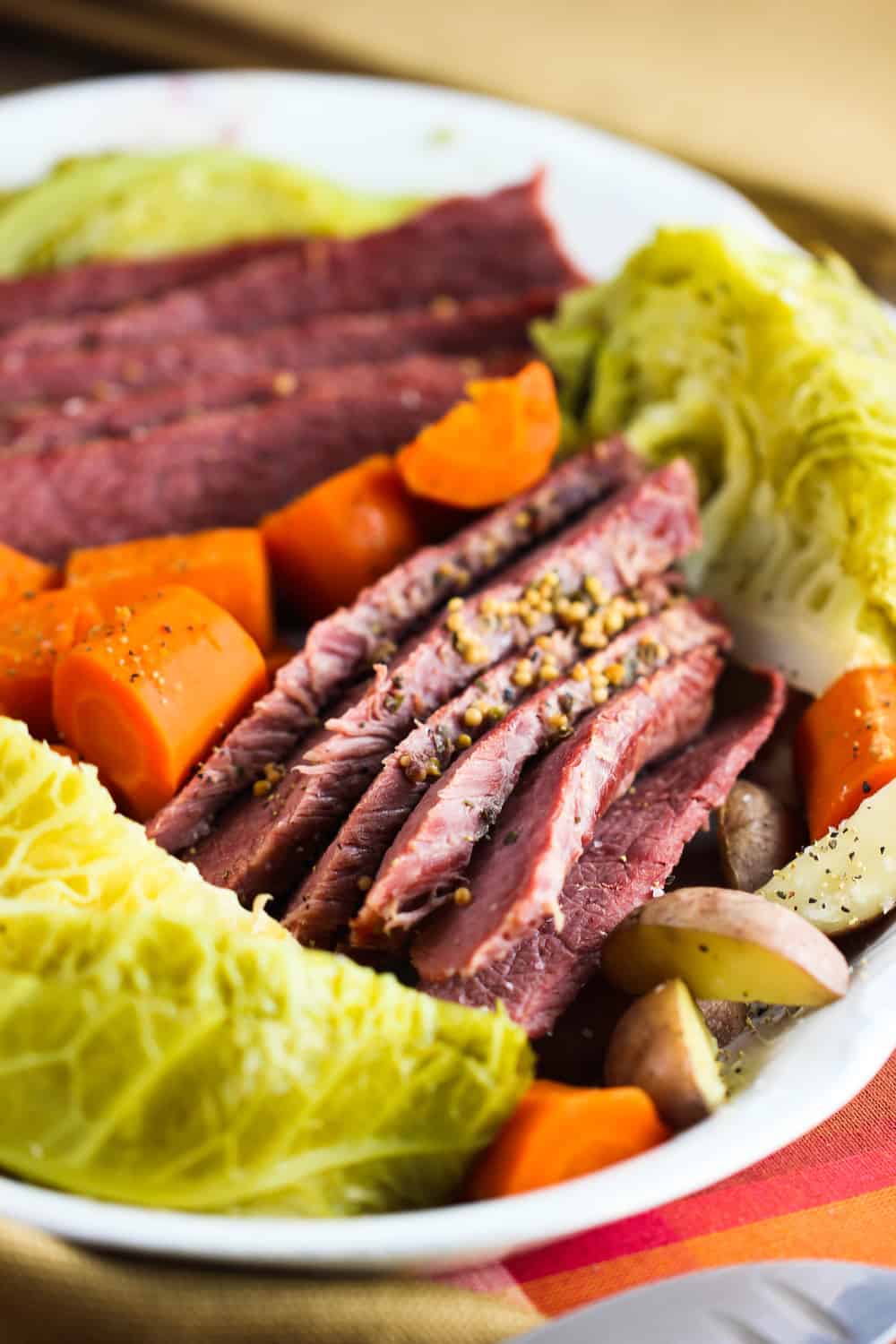 INSTANT POT CORNED BEEF AND CABBAGE IS FAST, EASY AND DELICIOUS
This brisket cut is cured with salt, so it is just loaded with flavor.
Bring along the potatoes, carrots, and cabbage, and the flavorful aromatics that come in the spice packet of the roast, and you've got something truly magical to serve!
Watch us show you how easy it is to make Instant Pot Corned Beef and Cabbage at home!
I grew up in Texas, and in the Southern U.S., black-eyed peas are New Year's tradition, and we just love that dish.
But, boy, oh boy, do we love Corned Beef with Cabbage, too!
Set a platter of this deliciousness out at your New Year's Eve party, and you'll be guaranteed to have a wonderful and prosperous year (or at least a fulfilling NYE!).
And, of course, being able to produce this in just over an hour is simply spectacular. Pull out your trusty Instant Pot and you'll have this iconic dish ready to serve in less than 90 minutes! This would normally need to braise in the oven for hours!
A good new year's resolution is to make more dishes in your Instant Pot!
Use a sharp knife to slice the corned beef against the grain. Place on a nice platter with the steamed vegetables. We just love the presentation of the dish as well as the amazing comforting taste and texture.
This is so good at New Year's and St. Paddy's Day, but we love it any time of the year. It's especially good during the cold months. Yum!!
Now, go ahead and make this amazing Instant Pot Corned Beef and Cabbage recipe!

Instant Pot Corned Beef with Cabbage
This Instant Pot Corned Beef with Cabbage is a St. Paddy's Day and New Year's Eve tradition, but it's so easy to make in the Instant Pot, we have it year round. The flavors go together perfectly. Find the corned beef in the packaged meat section in most supermarkets. So delicious!
Print
Pin
Rate
Prep Time: 10 minutes
Cook Time: 1 hour 5 minutes
Total Time: 1 hour 15 minutes
Servings: 6 people
Calories: 365kcal
Ingredients
1 3 to 4 lb corned beef brisket with spice packet
4 garlic cloves peeled
6 cups water
1 lb baby red potatoes quartered
1 lb about 3 or 4 carrots, peeled, cut into 1-inch pieces
1 small green cabbage cut into 6 wedges
Instructions
Place the garlic and corned beef into the Instant Pot.

Add the water and sprinkle the contents of the spice packet over the top.

Secure the lid on the Instant Pot, move the valve to SEALING and select the MEAT/STEW setting on HIGH PRESSURE for 55 minutes.

Let pressure release naturally for 30 minutes.

Remove the lid and carefully transfer beef to a carving board and tent with foil.

Remove 2 cups of the water from the Instant Pot and set aside. Carefully discard the remaining water (use oven mitts to do this).

Add the 2 cups of water back into the Instant Pot.

Place a steamer basket in the pot and add the potatoes, then carrots, then cabbage, in that order.

Secure the lid on the Instant Pot and STEAM on HIGH for 5 minutes.

Perform a Quick Release and remove the veggies from the Instant Pot.

Slice the beef against the grain and place the vegetables around the meat.

Lightly salt and pepper the veggies.

Serve at once.
Nutrition
Calories: 365kcal