We absolutely love everything about this dish. It's easy. It's festive. And it is unbelievably delicious.
Here is a dish that is perfect for serving at a party or small gathering of friends and family. It comes together in about 10 minutes, and only requires a handful of ingredients. We love serving it alongside our Best Charcuterie Board. It's always a huge crowd-pleasing small-plate dish.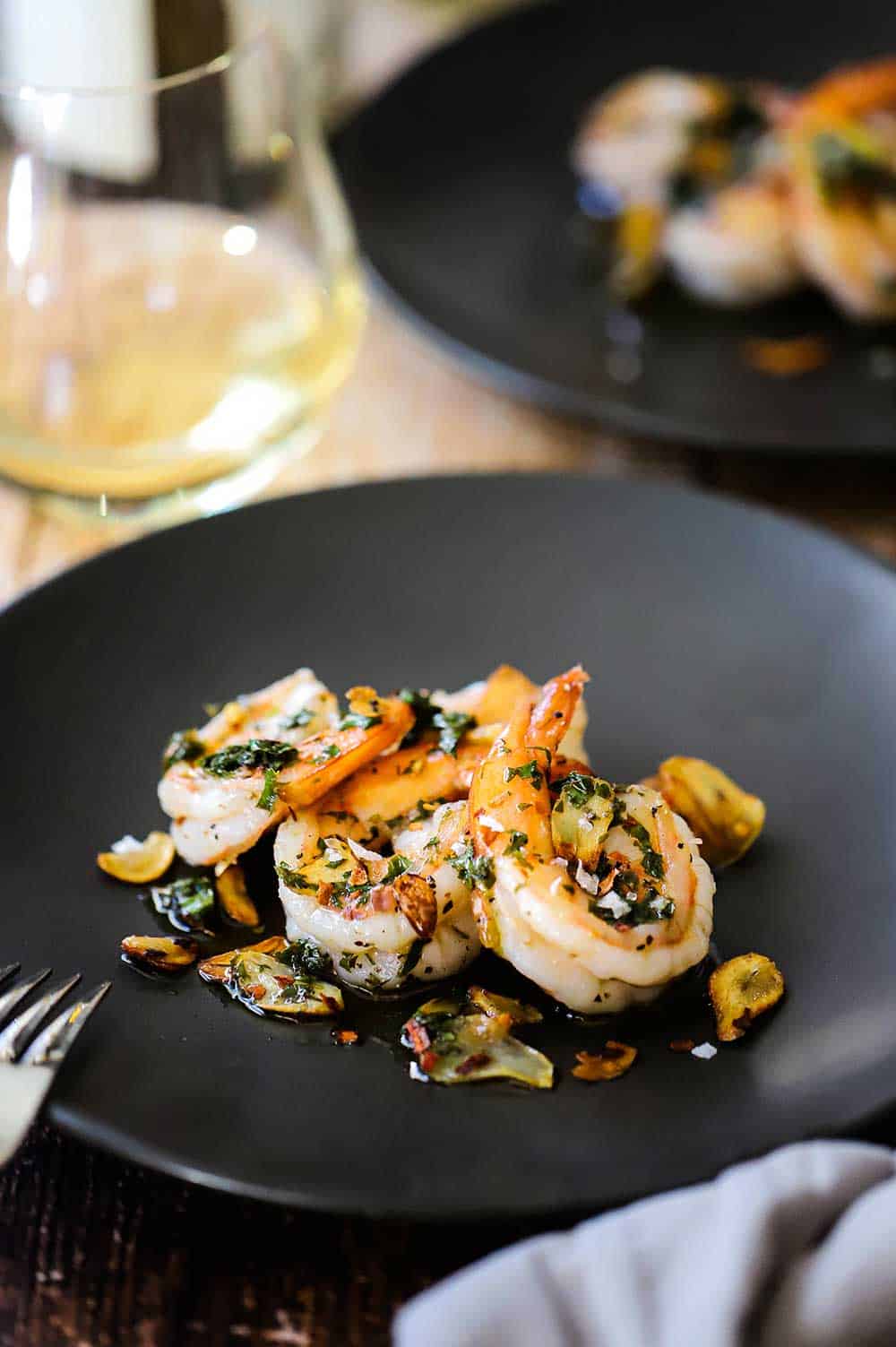 How To Make Garlic Shrimp (Gambas al Ajillo)
As mentioned, this dish comes together in a matter of minutes.
Have the handful of ingredients prepped and ready to go, and then watch your guests enjoy watching you bring it together in no time at all!
The 'oohs' and 'ahs' when you sprinkle the fried garlic and white wine sauce over the perfectly prepared shrimp is truly awesome.
What is Tapas?
Tapas is a Spanish way of serving appetizers and small-plate dishes in such a festive and communal way.
Dishes range from cold and/or warm dips and olives to garlic shrimp and fried squid. Learn more about the amazing world of tapas here.
EXPERT TIP: When preparing this dish, we recommend selecting extra-large or jumbo shrimp. We leave the tails on because they make a pretty presentation, but they also make it easy to grab a shrimp with their fingers and eat them right from the small plate.
After sauteing the red pepper flakes and garlic in the oil for about 1 minute, you'll add the shrimp and cook until pink and curled, about 2 to 3 minutes.
Once the shrimp is finished cooking, you'll want to quickly remove it with a slotted spoon.
Then, use the same slotted spoon to remove as much of the garlic as possible. By this point, it should be lightly fried and golden in color.
Now, it's time to reduce a dry white wine to an amazing sauce mixed with fresh parsley. You could use Sauvignon Blanc or Chardonnay. If you're wanting to keep the dish spirit of Spain, then seek out an amazing Spanish white wine called Albariño.
How To Serve Spanish-Style Garlic Shrimp
You can place the cooked shrimp onto a serving platter and then top with the fried garlic and wine sauce.
Or, you can place a small stack of three or four shrimp on small serving plates and then sprinkle on some of the garlic and then spoon the sauce over the top.
You can also place the shrimp back into the skillet, give it a gentle stir, and then let folks serve themselves directly from the skillet.
No matter how you serve this dish, your guests will be impressed.
Tips for Prepping and Storing
You can clean (peel and devein) the shrimp up to 24 hours in advance. Slice the garlic up to 4 hours in advance and keep it in a bowl covered with plastic wrap. You do prep the parsley in the same manner as the garlic.
Have the oil, red pepper flakes, and wine already measured out ahead of time. This allows you to bring the dish together for guests in an easy and very quick way.
Garlic shrimp is definitely best when served warm and fresh. Although it's still tasty reheated, the texture of the shrimp is best when served right away.
This is one of those dishes that is so simple to prepare and requires just a handful of ingredients that you can throw it together just anytime you're in the mood for a delicious shrimp dish.
It is also a spectacular tapas dish to serve as an appetizer to guests or part of a full spread, including marinated olives, hummus, grissini (breadsticks), and sliced cheeses and cured meats.
This is Spanish cuisine at its very best. And, honestly, is so fast and easy to prepare. You won't believe something this delicious can come together so quickly from so few ingredients.
.
Ready to make the best tapas dish this side of Barcelona? Go for it!
And when you do, be sure to take a photo of it, post it on Instagram, and tag @HowToFeedaLoon and hashtag #HowToFeedaLoon!
Garlic Shrimp (Gambas al Ajillo)
Garlic Shrimp (Gambas al Ajillo) is a classic Spanish-style tapas dish that is perfect for entertaining or an easy late-night taste sensation. We leave the tails on the shrimp for easing grabbing and a pretty presentation.
Print
Pin
Rate
Servings: 4
Calories: 233kcal
Equipment
Large saucepan/skillet and slotted spoon
Ingredients
6 tbsp extra-virgin olive oil
1 tsp red pepper flakes ½ tsp for very little heat
10 cloves garlic thinly sliced
16 extra-large shrimp peeled and deveined
2 tsp Kosher salt divided
½ tsp black pepper
⅔ cup white wine Sauvignon Blanc or Chardonnay
¼ cup parsley fresh, chopped
Instructions
Heat the oil in a large saucepan over medium-high heat. Add the pepper flakes and garlic and stir with a wooden spoon for about 1 minute.

Add the shrimp and sprinkle liberally with salt and a pinch of pepper. Stir and cook until curled, pink, and cooked through, about 2 to 3 minutes.

Use a slotted spoon to remove the shrimp from the pan and transfer it into a bowl or platter. Use the same slotted spoon to remove as much of the lightly fried garlic as you can (it's okay if you don't get every single sliver). Place in a small bowl and set aside.

Still over medium-high heat, add the wine to the pan and cook, stirring occasionally, until reduced by one half, about 4½ minutes. Season with 1 tsp of salt and ½ tsp black pepper. Stir in the parsley and remove from the heat.

Add 3 or 4 shrimps to small appetizer plates and then sprinkle some fried garlic slivers on the shrimp, and then pour a couple of spoonfuls of the sauce over the top. Serve at once.
Notes
See the video near the top of the blog post for visual guidance. If you liked the video, please subscribe to our YouTube channel.
We love to leave the tails on the extra-large (or jumbo) shrimp for easy grabbing and a pretty presentation, but you can certainly remove them if you prefer.
Prep the shrimp, garlic, and parsley up to 12 hours in advance. Measure out the oil, pepper flakes, and wine, for fast and easy preparation of the dish.
This dish is so simple and easy to bring together, we definitely recommend serving right after preparing. Although it's still tasty after being reheated, it's really best served immediately.
Nutrition
Calories: 233kcal | Carbohydrates: 4g | Protein: 1g | Fat: 16g | Saturated Fat: 3g | Polyunsaturated Fat: 2g | Monounsaturated Fat: 15g | Sodium: 1177mg | Potassium: 93mg | Fiber: 1g | Sugar: 1g | Vitamin A: 466IU | Vitamin C: 7mg | Calcium: 26mg | Iron: 1mg