If we had to pick one dish that is guaranteed to be a hit at your next party or gathering, this would probably be it.
Meatballs are just so much fun to serve and to eat. They can easily be prepared in advance and then kept warm in a slow-cooker. Perfect party food and insanely delicious.
How To Make Swedish Meatballs
This classic hors d'oeuvre is not difficult to prepare at all.
We've got a few tricks to share with you that will produce extra-moist meatballs and a deeply flavorful sauce.
The recipe can easily be doubled if serving a crowd.
Incidentally, there is an interesting history to Swedish meatballs. Did they actually originate in Sweden? Learn more here.
NOTE: If you liked this video, please subscribe to our YouTube channel. And remember to click the 'bell' icon so you'll never miss a new video. Thank you so much!
The Ingredients You Will Need
We recommend using a mix of ground beef and ground pork, but you can certainly use only beef, or even a combination of beef, pork, and veal.
Season the mixture with ground nutmeg, ginger, salt, pepper, and freshly chopped parsley. An egg binds it together.
EXPERT TIP: To make the meatballs extra moist, we take 1 cup of fresh bread crumbs and add ¼ cup of heavy cream. Use your fingers to work the cream into the bread and then let it sit for 15 minutes. Mix this in with the other ingredients. This will produce super moist and juicy meatballs.
Roll the balls into 1-ounce meatballs. A heaping tablespoon or small ice cream scoop works perfectly.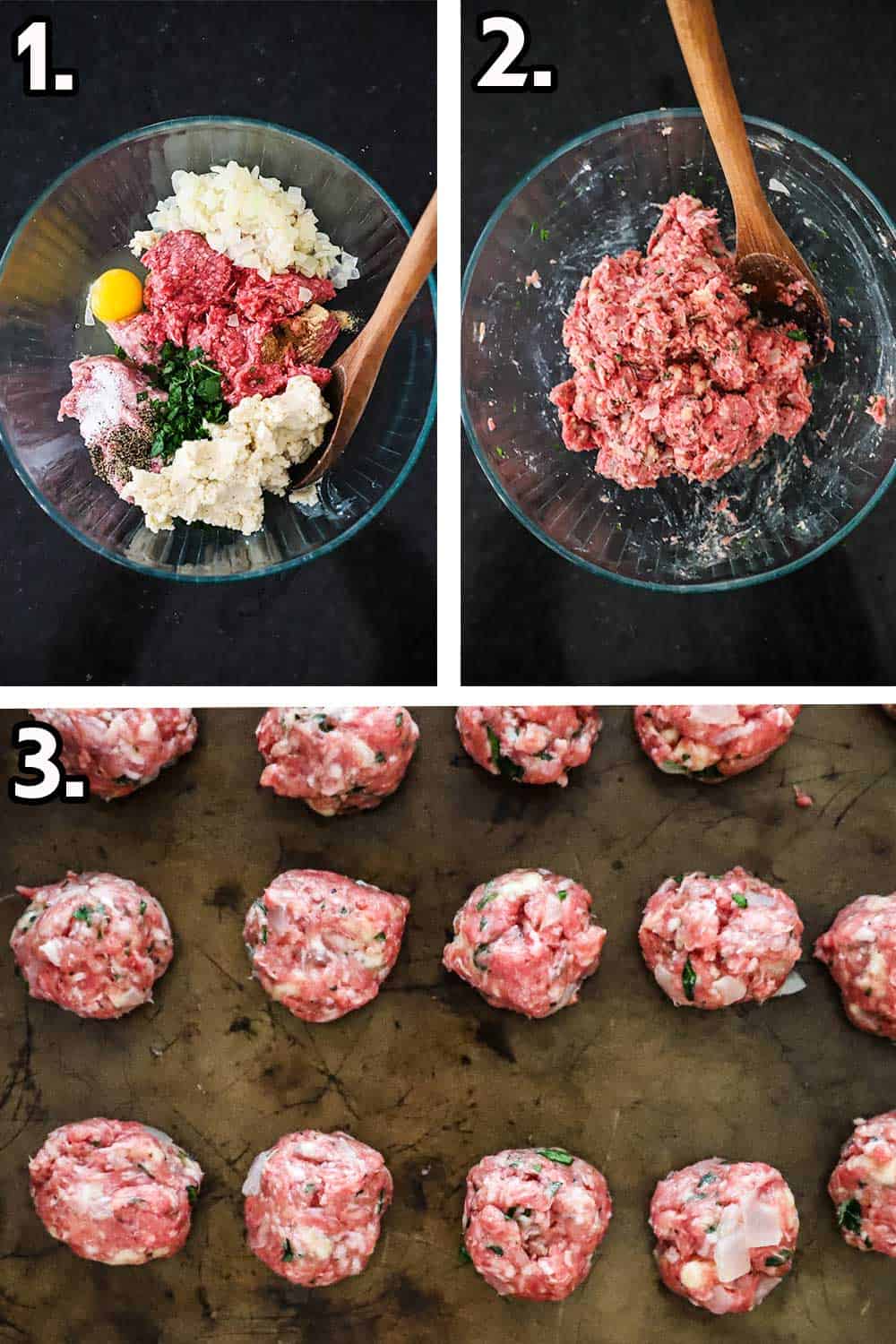 We recommend searing the meatballs in a non-stick skillet, if possible.
Our favorite 12-inch non-stick skillet is our Sardel. Amazing.
Brown the meatballs in olive oil and do them in batches. You don't want to overcrowd the pan.
EXPERT TIP: You won't be cooking the meatballs all the way through. You just want to brown them to lock in amazing flavor. They will finish cooking while simmering in the sauce.
The Secret Ingredient for the Best Sauce
In the same skillet you seared the Swedish meatballs you will want to make the sauce.
Create a roux with melted butter and all-purpose flour. Cook for about 1 minute to cook out the flour taste.
SECRET TIP: In addition to beef broth, heavy cream, salt, and pepper, you're going to add ⅓ cup of strongly brewed coffee. As the meatballs simmer with the thickened sauce, the flavors all meld to make the most deeply flavorful sauce imaginable.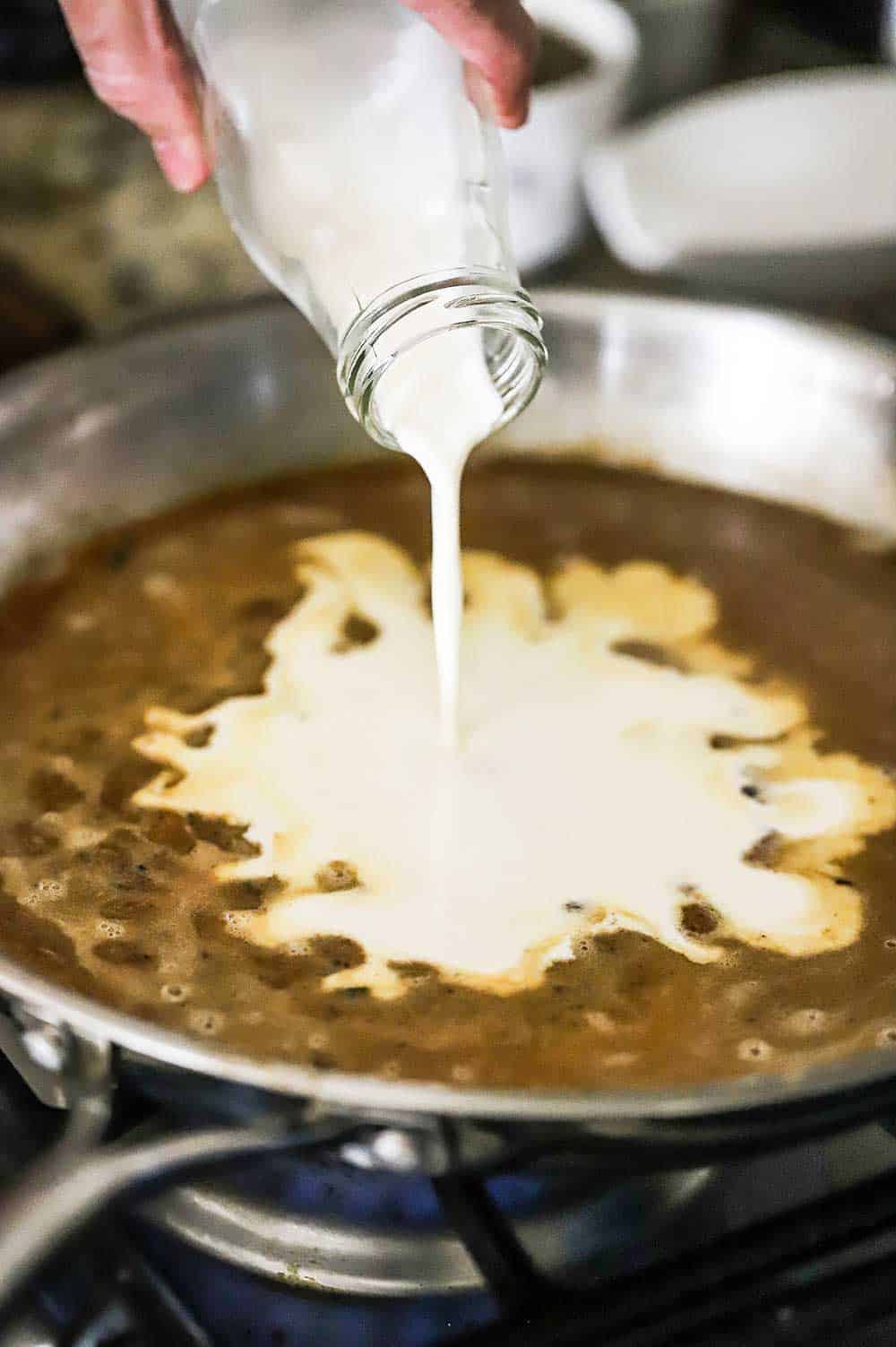 When to Serve Swedish Meatballs
These amazing balls of yumminess are quintessential party food.
As mentioned, you can make them several hours in advance and then keep them warm in your slow-cooker.
However, they are so easy to prepare and always such a family-favorite dish, serve them alongside mashed potatoes and simmered green beans for the perfect weeknight meal.
These are as delicious as they are festive.
We love serving these at parties, especially on New Year's Eve.
Let folks grab them directly from the skillet with a toothpick, or transfer them to a platter and pour the sauce over them.
We typically serve them with small cocktail plates and let guests serve themselves.
Tender, saucy, and so flavorful.
Ready to make the best meatballs this side of Stockholm? Go for it!
And when you do, be sure to take a photo of them, post it on Instagram, and tag @HowToFeedaLoon and hashtag #HowToFeedaLoon!
Swedish Meatballs
Swedish Meatballs are always a crowd favorite. These meatballs are incredibly juicy and moist and the sauce is deeply flavorful. You can make these several hours in advance and then keep them warm in a slow-cooker, if desired. They are great for parties but also a weeknight dinner with a side of mashed potatoes.
Print
Pin
Rate
Servings: 8
Calories: 368kcal
Equipment
Non-stick skillet (See NOTES)
Ingredients
For the Meatballs
2 tbsp butter
½ cup onion finely chopped
1 cup bread crumbs fresh, from 2 white slices with crusts removed
¼ cup heavy cream
1 lb ground beef 85% lean
½ lb ground pork
1 large egg
¼ cup parsley fresh, chopped, plus more for garnish
1 tsp Kosher salt
½ tsp black pepper
½ tsp nutmeg ground
¼ tsp ginger ground
2 tbsp olive oil more, as needed
For the Sauce
3 tbsp unsalted butter
3 tbsp all-purpose flour
1½ cup beef broth
⅓ cup coffee strongly brewed
½ cup heavy cream
½ tsp Kosher salt
¼ tsp black pepper
Instructions
Start the Meatballs
Heat the butter in a large non-stick skillet over medium heat. Add the onions and cook until soft, about 5 minutes. Let cool for about 10 minutes.

Meanwhile, place the breadcrumbs in a bowl and pour the cream over them. Use your fingers to work the cream into to bread. Let it sit for 15 minutes (you can do this while you're sautéing and then cooling the onions).

In a large bowl, add the beef, pork, egg, parsley, salt, pepper, nutmeg, ginger, sautéed onions, and soaked breadcrumbs. Use two wooden spoons (or your hands) to fully mix it all together. Make sure there are no large chunks of the soaked bread.

Use a heaping tablespoon or a small ice cream scoop to form 1 oz balls. Place them on a baking sheet until all the balls have been formed. You have about 30 meatballs.

Heat a couple of tablespoons of olive oil over medium heat in your large skillet. Working in batches, add the meatballs to the hot skillet and use a couple of spoons to move them around so they brown all over but don't stick to the skillet. Once browned, transfer them to a platter (they won't be fully cooked at this point). Repeat with remaining meatballs adding more oil as needed.
Make the Sauce and Finish the Dish
Discard excess oil in the skillet. Melt the butter in the skillet over medium heat, using a spatula to scrape up any bits stuck to the pan. Add the flour and stir to combine, it should resemble wet sand. Cook, stirring often, for 1 to 2 minutes.

Carefully whisk in the beef broth, coffee, and heavy cream. Stir in the salt and pepper. Continue stirring until slightly thickened, about 3 to 4 minutes. Allow the sauce to simmer for 10 minutes.

Add the meatballs into the sauce and simmer on low for another 25 minutes. Either transfer to a platter or serve directly from the skillet. Sprinkle the extra chopped parsley over the top.
Notes
See the video near the top of the blog post for visual guidance. If you liked the video, please subscribe to our YouTube channel.
If you don't have a food processor, no worries. Just remove the crusts from 2 slices of white bread, and then roughly chop them up with a knife, or even your hands. Then soak with cream.
If you prefer, you can make the meatballs completely out of beef, or any combination of beef, pork, and/or veal. Make sure the total amount of meat is 1½ lbs.
A non-stick skillet works well for searing the meatballs, but a regular skillet works, too, just make sure to keep enough oil in the pan, and don't let the meatballs sit for too long in one spot for too long (or they will stick, and lose their shape).
The uncooked meatballs can be prepared up to 12 hours in advance. Keep them covered in the fridge until ready to sear them.
The entire dish can be made hours in advance. Gently reheat in the skillet over medium heat, or transfer to a slow-cooker set on the WARM or LOW setting.
The cooked meatballs will keep covered in the fridge for up to 1 week and will freeze nicely for up to 2 months.
Nutrition
Calories: 368kcal | Carbohydrates: 14g | Protein: 19g | Fat: 24g | Saturated Fat: 8g | Polyunsaturated Fat: 2g | Monounsaturated Fat: 15g | Trans Fat: 1g | Cholesterol: 133mg | Sodium: 801mg | Potassium: 348mg | Fiber: 1g | Sugar: 1g | Vitamin A: 741IU | Vitamin C: 4mg | Calcium: 68mg | Iron: 3mg