When done right, this presentation is a true show-stopper.

So festive and just beautiful. We love everything about this display of delicious nibbles. Make the grissini, marinated olives, and easy homemade hummus ahead of time. Go with quality meats and cheeses, and your guests will be raving.


NOTE: If you liked the video, please subscribe to our YouTube channel. Remember to click the 'bell' icon so you'll never miss a new video!
How To Make the Perfect Charcuterie Board
Charcuterie is a French term referring to cooked meats.
But when done right, it's so much more than that.
Technically, a charcuterie board doesn't include cheese. But come on folks, we need cheese. And more!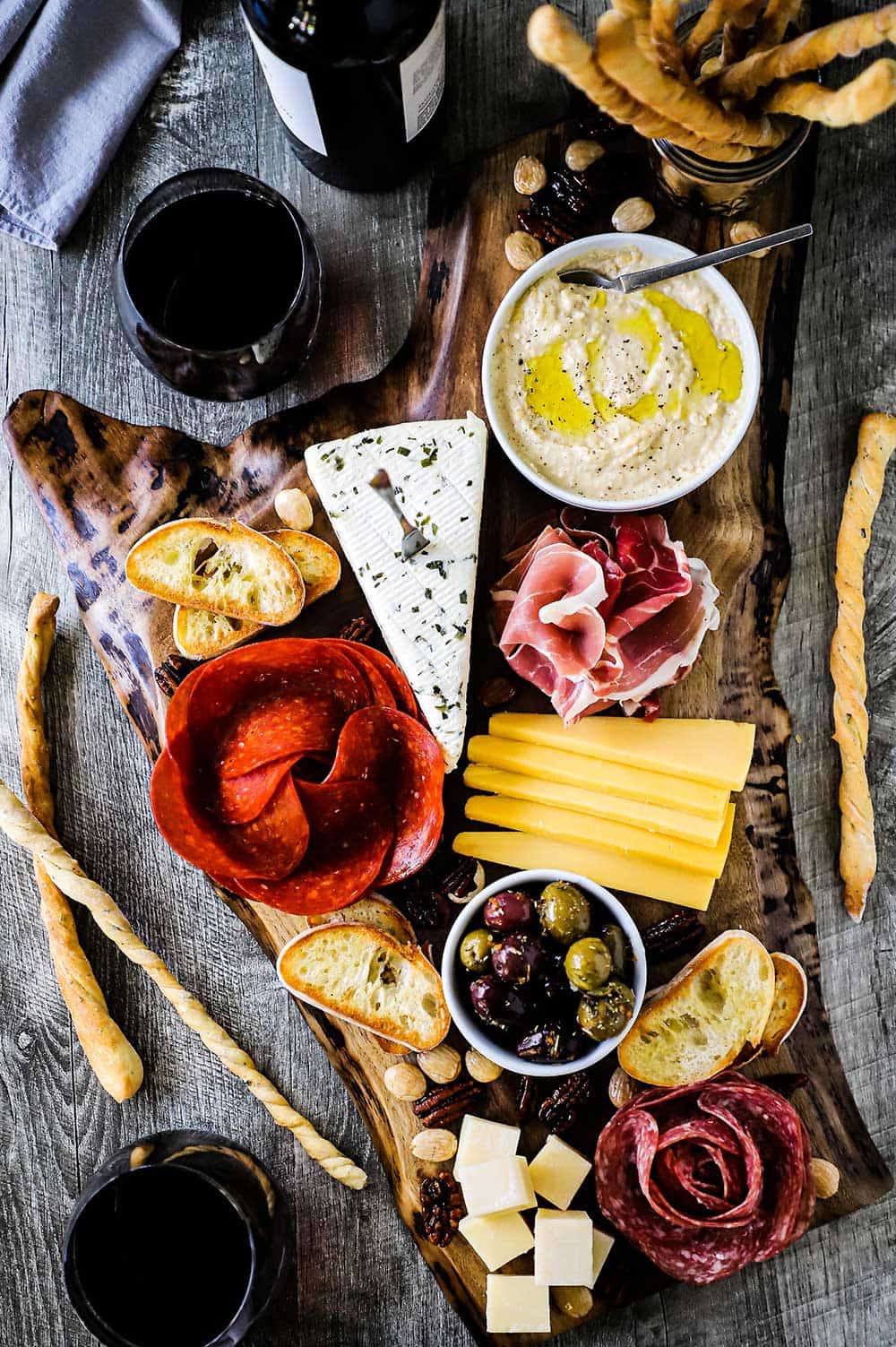 Choosing the Right Board
Everything about a charcuterie board should spark excitement and conversation.
The board is no exception.
We are in love with a company called Original Edge. They create stunning boards (and furniture, too) at such affordable prices.
In fact, contact them via email and mention "How To Feed a Loon" for 15% off your order.
Just look at this board.
Using a combination of homemade goodies with quality purchased meats, cheeses, and nuts is ideal.
We recommend having a couple of different types of bread.
Toasted slices of a fresh baguette are a nice touch.
Homemade grissini (Italian breadstick) is gorgeous, whimsical, and delicious. Perfect!
What Can Be Made Ahead of Time?
As mentioned, using a combination of homemade items as well as good-quality purchased ingredients makes a perfect board.
And the great thing is all three of our homemade items can be made up to several days in advance.
Marinated olives are a wonderful addition to the perfect board.
EXPERT TIP: If making these olives in advance, be sure to keep them in an air-tight container or jar in the refrigerator. However, the oil might congeal while it's chilled. This is normal, but you'll want to allow the olives and oil to come to room temperature before serving. Be sure to use a slotted spoon to transfer the olives from the oil into a container.
You'll also want to include some sort of a dip.
We think the perfect accompaniment to the grissini is our easy homemade hummus.
EXPERT TIP: As hummus sits out, it may get a little dry on the surface. Before your guests arrive, give the hummus a stir with a small spoon, and then add a thin layer of quality olive oil and a sprinkle of ground black pepper.
How To Make a Meat Flower
Making a flower out of Italian meats may seem strange, but they are a gorgeous addition to your charcuterie board.
Start with large slices of pepperoni and then grab a shot glass or small, short bottle. Add the pepperoni along the top of the glass, overlapping. Continue to add more pepperoni until you've added about 20 slices.
Turn the glass over and use your fingers to fan the pepperoni. See the video for visual reference.
We go with three types of meat. Pepperoni, salami, and prosciutto.
For the cheese, we recommend a soft cheese, such as brie, a semi-soft cheese, such as smoked gouda, and a block of hard cheese, such as gruyere or pecorino.
Round out the board with an assortment of nuts, such as almond slivers and candy pecans.
EXPERT TIP: Check out the gourmet cheese section of your supermarket. In addition to quality cheese, there is usually a great variety of crackers, nuts, olives, and more. Get creative!
Ready to make the most stunning and delicious centerpiece in town? Go for it!

And when you do, be sure to take a photo of it, post it on Instagram, and tag @HowToFeedaLoon and hashtag #HowToFeedaLoon!
The Perfect Charcuterie Board
Making the perfect charcuterie board is not difficult at all. Using a combination of homemade goodies as well as quality meats, cheeses, and nuts is ideal. The grissini and olives can be made several days in advance, the hummus can be made several hours in advance of serving.
Print
Pin
Rate
Servings: 8
Calories: 564kcal
Equipment
A board for serving (see NOTES)
Ingredients
24 grissini (Italian breadsticks) click the link for the recipe
2 cups marinated olives click the link for the recipe
2 cup easy homemade hummus click the link for the recipe
8 oz soft cheese i.e., brie
8 oz semi-soft cheese i.e., gouda
8 oz hard cheese i.e., gruyere or pecorino
8 oz pepperoni sliced
8 oz salami sliced
8 oz prosciutto thinly sliced
1 baguette sliced
2 tsp olive oil
1 cup assorted nuts
Instructions
Do ahead
Make the grissini and marinated olives.

Several hours before serving, make the hummus.
Assemble the Board
Use a shot glass and small jar to make the meat flowers with pepperoni and salami (see video for reference).

Brush olive oil on the baguette slices and toast until lightly browned.

Arrange all of the board components on your board.
Notes
See the video near the top of the blog post for visual guidance. If you like the video, please subscribe to our YouTube channel!
We recommend letting the dough for the grissini proof overnight in the fridge. Remember this when you are making your schedule for planning your party. The grissini can be made days in advance.
We highly recommend Original Edge for charcuterie boards (and more). Contact them via email (originaledgetables@gmail.com) for ordering. Mention "How To Feed a Loon" and get 15% off your order.
Nutrition
Calories: 564kcal | Carbohydrates: 18g | Protein: 21g | Fat: 21g | Saturated Fat: 8g | Polyunsaturated Fat: 5g | Monounsaturated Fat: 18g | Trans Fat: 1g | Cholesterol: 102mg | Sodium: 1610mg | Potassium: 316mg | Fiber: 1g | Sugar: 1g | Vitamin A: 391IU | Vitamin C: 1mg | Calcium: 64mg | Iron: 2mg