If you want to serve a fun and festive appetizer that's not too filling but super delicious, then you need to check these babies out.
Super crunchy but also amazingly delicious, these breadsticks are perfect for munching on a weekend afternoon, or for serving at a party. They make a wonderful component to a fabulous charcuterie board right next to our marinated olives and homemade hummus (recipe to come).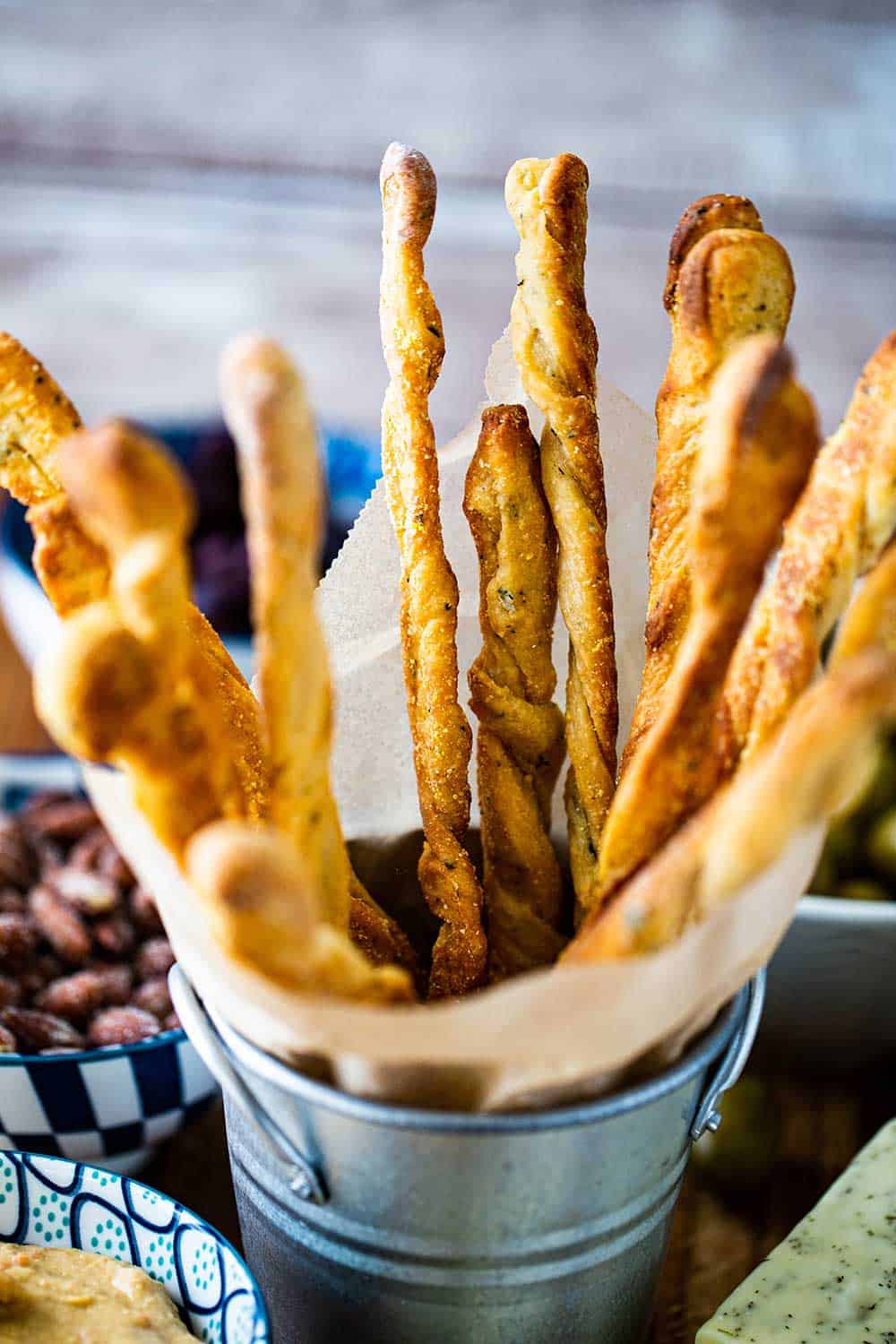 How To Make Grissini
First of all, you may be asking, what is grissini? They originated in Italy several centuries ago. Learn more here. You can find them served as an appetizer in many Italian restaurants all over the world.
Making homemade breadsticks is really not difficult, you just need to give yourself enough time to allow the dough to rise, slowly.
You can also adapt them to your own tastes by including your own favorite herbs and spices.
Making the Dough
We use a stand-mixer for making the dough, however, a hand-mixer, or even your hands, with a lot of elbow grease, will yield excellent results.
After you've whisked together all of the dry ingredients with the herbs and spices, you'll need to slowly add in the room-temperature water.
EXPERT TIP: Don't mix the dough for too long, otherwise, the dough will not be elastic enough to roll out. As soon as the mixture pulls away from the sides of the bowl, remove it. Add a decent amount of flour to your surface and then use the palms of your hands to knead the bread for a couple of minutes. The dough should be smooth, elastic, and not sticky.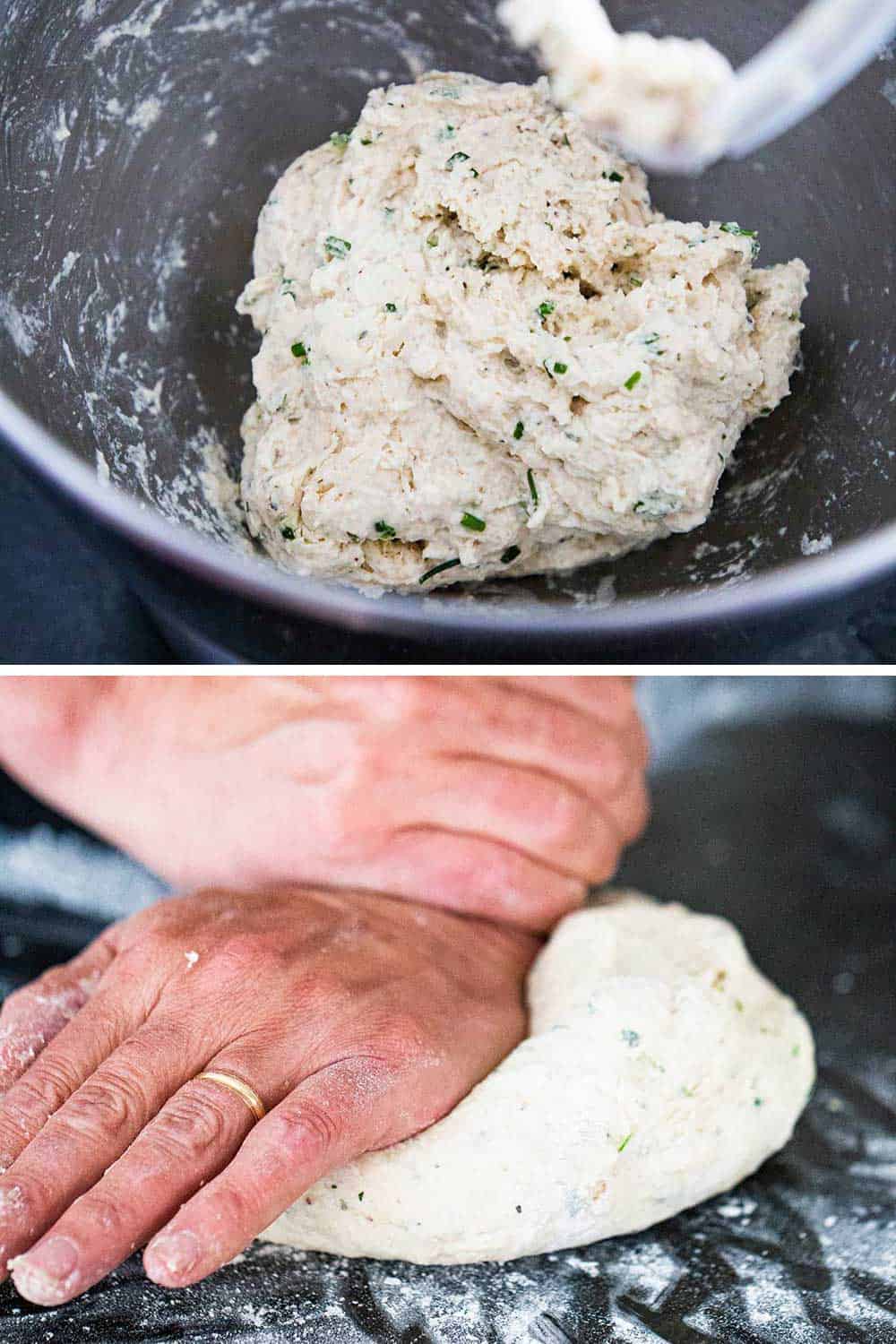 The dough for grissini does well when it has time to rise slowly in the fridge for at least 6 hours, and as long as 24 hours.
Form the dough into a smooth bowl and then place in a lightly oiled bowl and cover with plastic wrap.
EXPERT TIP: The dough most likely not double in bulk, which is okay. The yeast is doing its work nice and slow in the fridge and when it's time to bake the grissini, they will puff slightly, and then dry out. Which is exactly what we want.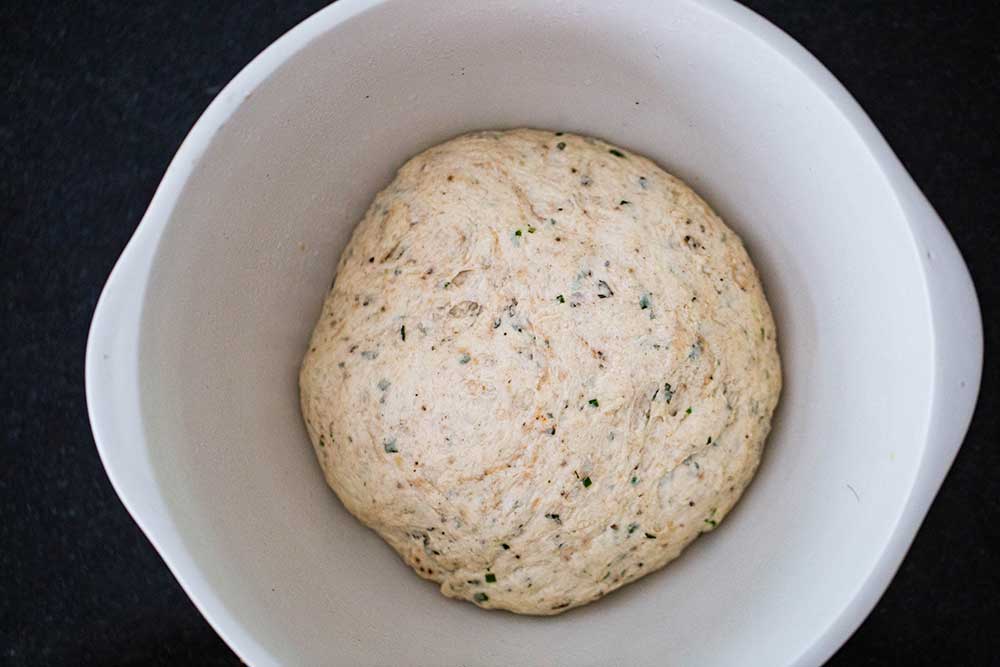 How To Form a Grissini Breadstick
First of all, you need to remember that grissini sticks don't have to be completely identical. That's part of their charm.
We use our rolling pin to roll the dough out on a floured surface to a rectangle roughly about 10″x15″. Try to keep the dough uniform in thickness, about ⅛" thick.
EXPERT TIP: A pizza cutter makes cutting the strips a snap. We pull each small rope up with two hands, and spin them a little (like a tiny jump rope), which will elongate them. Fold them back, end to end, and then gently twist them. Place on baking pans that have been lined with parchment paper and sprinkled with cornmeal.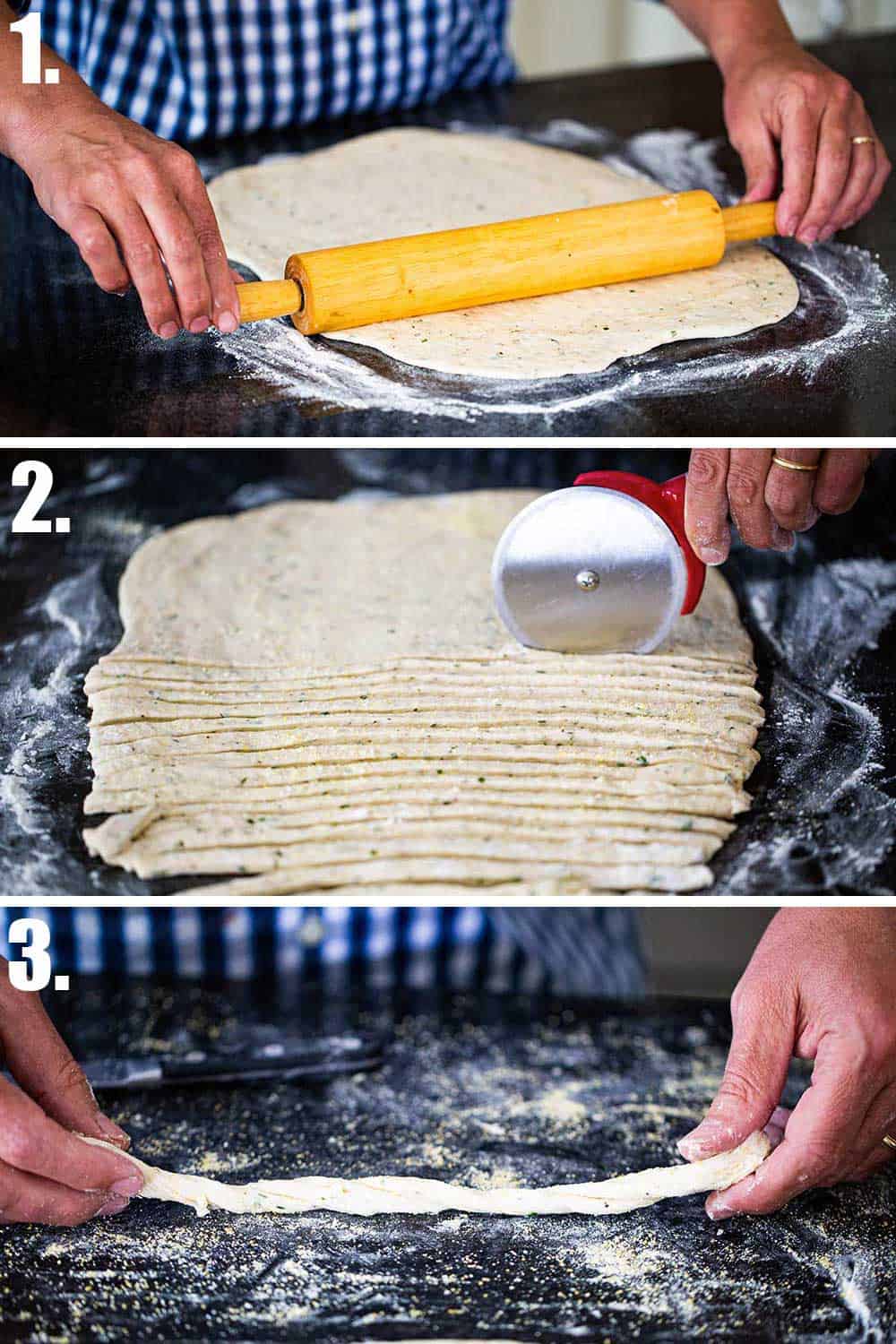 A brush of olive oil over the uncooked grissini will help to allow the sticks to become nice and golden as they back.
If desired, you can sprinkle sesame seeds, poppy seeds, or everything bagel spice on them at this point.
EXPERT TIP: It's extremely important to keep an eye on the breadsticks as they bake. Some thinner, smaller sticks may cook (and brown) more quickly than larger ones. After 17 minutes, switch the two baking sheets, turn them 180°F, and then use tongs and/or a spatula to gently turn each stick over. All of this will help the sticks to brown evenly. Once golden, remove them from the oven and allow them to cool on racks.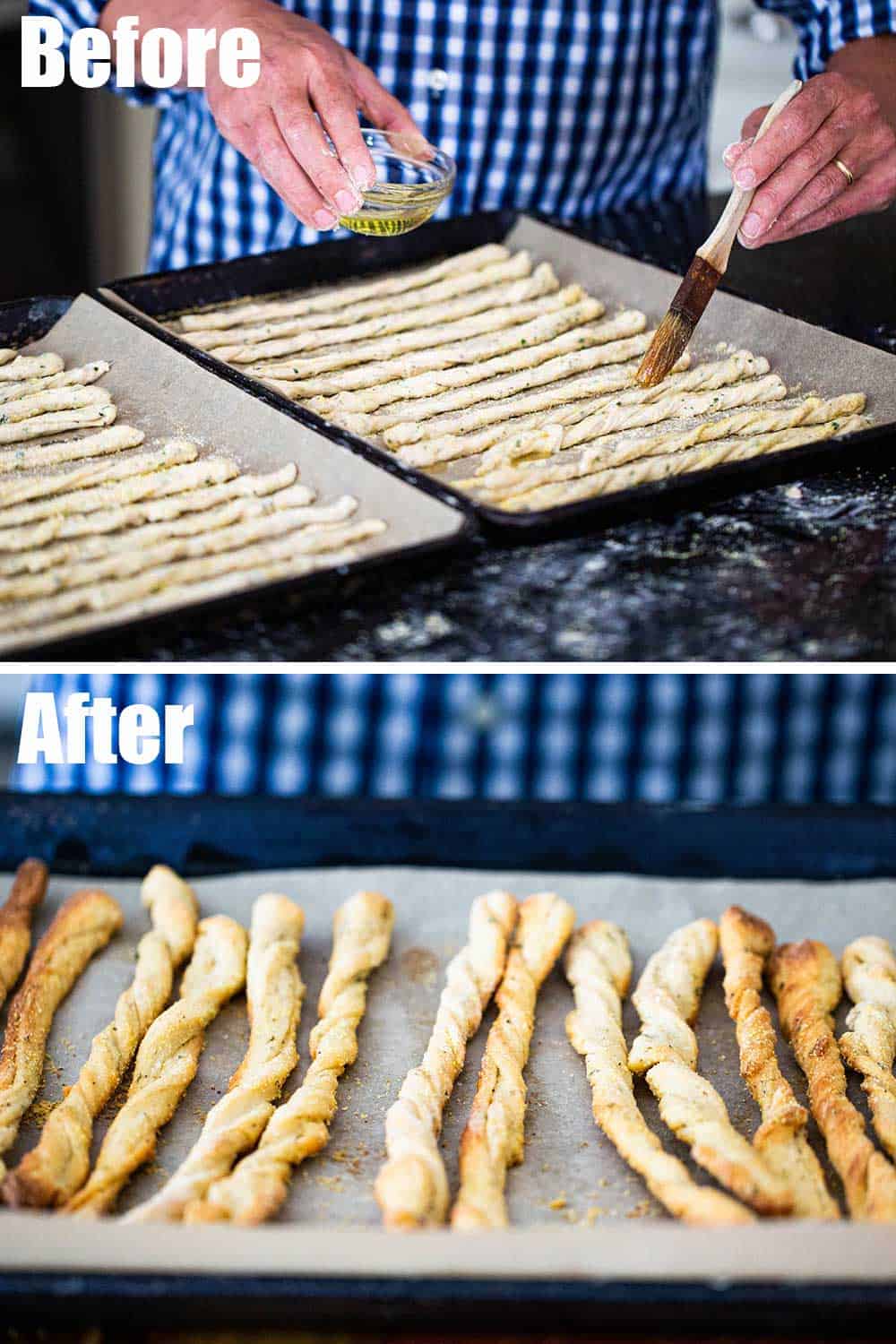 When To Serve Grissini
We love to serve these as an appetizer before a wonderful dinner party. They are delicious, yet not filling.
They make a wonderful addition to a charcuterie board of Italian cheeses, meats, as well as marinated olives and hummus (recipe to come).
EXPERT TIP: These can be made several days in advance of serving. Keep them in an air-tight container. Check them several hours before serving. If they feel a little soft, then turn your oven on to the lowest setting, usually 170°F. Place the grissini on baking pans lined with racks and place them in the oven for 1 hour. It will crisp them up beautifully without browning them any further.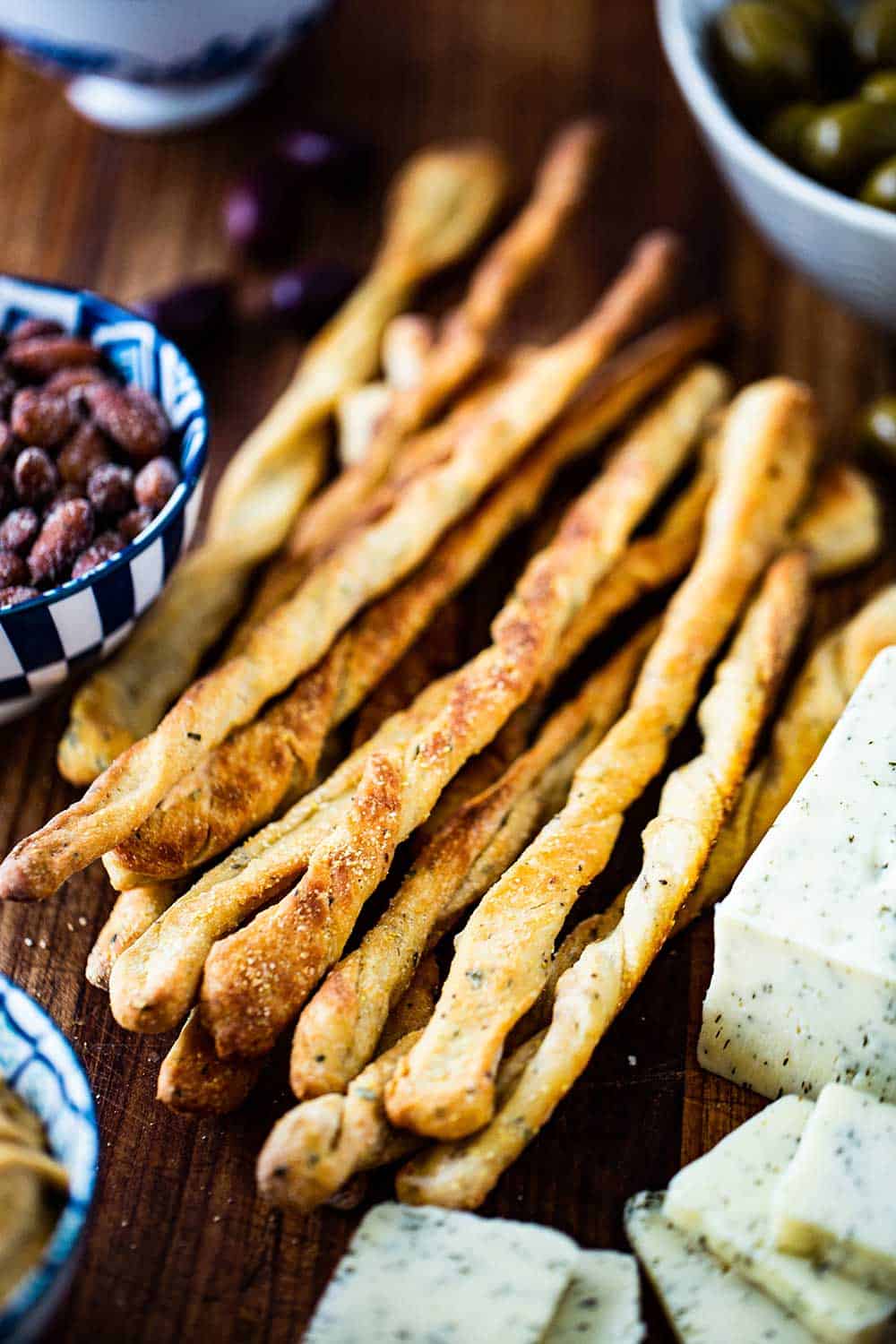 We have never served these to guests when they didn't get rave reviews.
There is just something so festive about them. And they are addictively delicious!
And they are so great for plunging into your favorite dip! Amazing!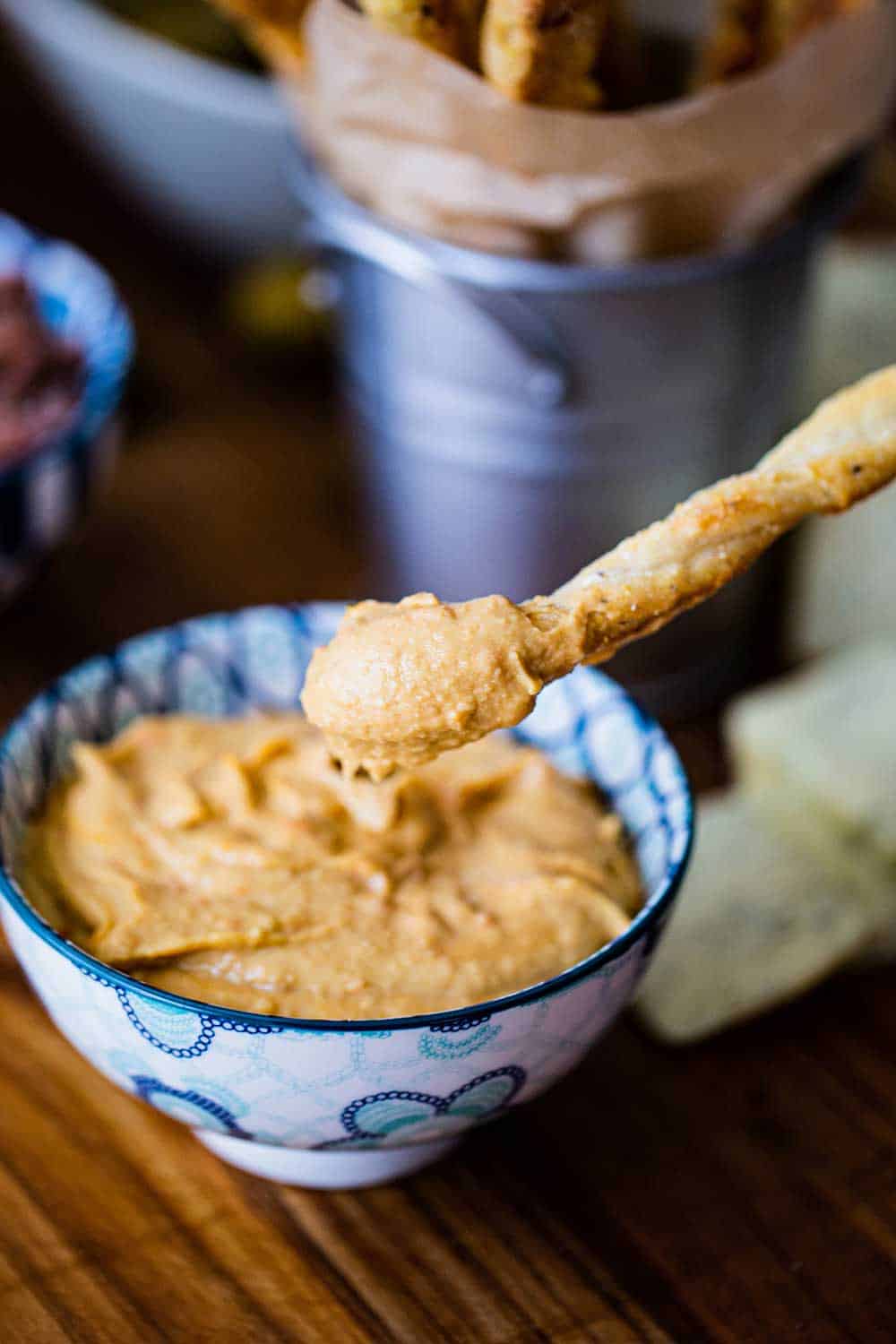 Ready to make the most delicious and festive appetizer that will rival your favorite Italian joint? Go for it!
And when you do, be sure to take a photo, post it on Instagram, and tag @HowToFeedaLoon and hashtag #HowToFeedaLoon!
Grissini (Italian Breadsticks)
Grissini are honestly as much fun to snack on as they are delicious. They really are the perfect appetizer to serve at a celebration or before a dinner party. Be sure to allow plenty of time for the dough to rise in the fridge, overnight is best. Crispy and just wonderfully yummy!
Print
Pin
Rate
Servings: 8
Calories: 182kcal
Equipment
Stand mixer with dough attachment

2 baking pans lined with parchment paper
Ingredients
2¼ cups bread flour
1 tsp instant yeast or active dry yeast
1 tsp salt plus extra for dusting sticks
½ tsp black pepper freshly ground
1 tsp garlic powder
⅓ cup Parmigiano-Reggiano grated, or Parmesan
1 tbsp chives fresh, minced
1 tbsp rosemary fresh, chopped, or any other fresh herb
1 cup water room temperature, 70° to 80°F
cornmeal for dusting parchment paper
2 tbsp olive oil for brushing
Instructions
In the bowl of a stand mixer whisk together the flour, yeast, salt, pepper, garlic powder, cheese, and herbs.

Add the dough attachment and turn the mixer on medium-low. Slowly add the water and mix until the dough is just starting to come together and is pulling away from the sides of the bowl.

Remove the dough and place on a lightly floured surface. Use the palms of your hands to knead the dough until soft and elastic, about 1 to 2 minutes. If the dough feels wet or sticky, then sprinkle a little more flour on it as you are kneading.

Spray a large bowl with cooking spray. Form the dough into a ball and smooth it with your fingers. Place the dough in the prepared bowl and turn to coat with oil. Cover with plastic wrap and place in the refrigerator for at least 6 hours, preferably overnight for 12 hours, or up to 24.

Preheat your oven to 375 F.

Turn the dough out onto a floured surface and use a rolling pin to roll the dough out to a rectangle roughly 10"x15", about ⅛" to ¼" in thickness.

Use a pizza cutter, or sharp knife, to cut the dough, from the long side to long side of the rectangle. You'll want each strip to be about ¼-inch wide.

Carefully take each strip and spin it a bit with your two hands, similar to a jump rope. This will cause the strip to elongate. Don't overdo, or the stips will get too thin. Fold the strip in half and use your fingers to twist the dough.

Place the ropes of dough onto baking sheets lined with parchment paper and liberally sprinkled with cornmeal. You'll need two baking sheets (if you only have one, see NOTES).

Brush the ropes with olive oil and sprinkle with salt.

Place the baking pans on the racks and bake for 17 minutes, checking periodically for overbrowning (the bottoms will brown first). Switch the pans and rotate them 180°. Use a pair of tongs, or a couple of forks, to gently turn each stick over. This allows the breadsticks to brown evenly all over. Bake for another 5 to 10 minutes, until golden and crisp. Allow them to cool on racks. Serve at once, or store in an air-tight container for up to 4 days.
Notes
All-purpose flour can be substituted for bread flour, if you can't find bread flour. The dough will most likely not double in size while proofing in the fridge. This is normal. If you don't have two baking sheets, then roll out just half of the grissini and place the rest of the dough back in the fridge. Bake the first batch, cool on racks, and allow the baking pan to cool (cold water helps this, and then dry the pan). Then proceed with batch #2. Make sure to keep an eye on the breadsticks as they bake. They will brown first on the bottoms. You will naturally have some sticks that are thinner than others. They will most likely finish cooking before the large ones. You may need to remove some and let others bake a little longer. The grissini will keep in an air-tight container for up to 4 days. If they get a little soft, then turn your oven to its lowest setting, usually 170°F, and place the sticks on a baking pan lined with a rack. Place in the low-heat oven for 1 hour. This will crips them back up. The uncooked dough can be frozen for up to 2 months.
Nutrition
Calories: 182kcal | Carbohydrates: 27g | Protein: 6g | Fat: 5g | Saturated Fat: 1g | Polyunsaturated Fat: 1g | Monounsaturated Fat: 3g | Cholesterol: 3mg | Sodium: 361mg | Potassium: 63mg | Fiber: 1g | Sugar: 1g | Vitamin A: 58IU | Vitamin C: 1mg | Calcium: 61mg | Iron: 1mg