This dish is truly something to behold.
You may be thinking that adding a hearty tomato sauce to a nice seared steak would just take away from the juicy experience of the steak. Trust us, it elevates it to levels you won't believe. You can even make the sauce up to a day or two in advance, making the final preparation so quick and easy So amazing!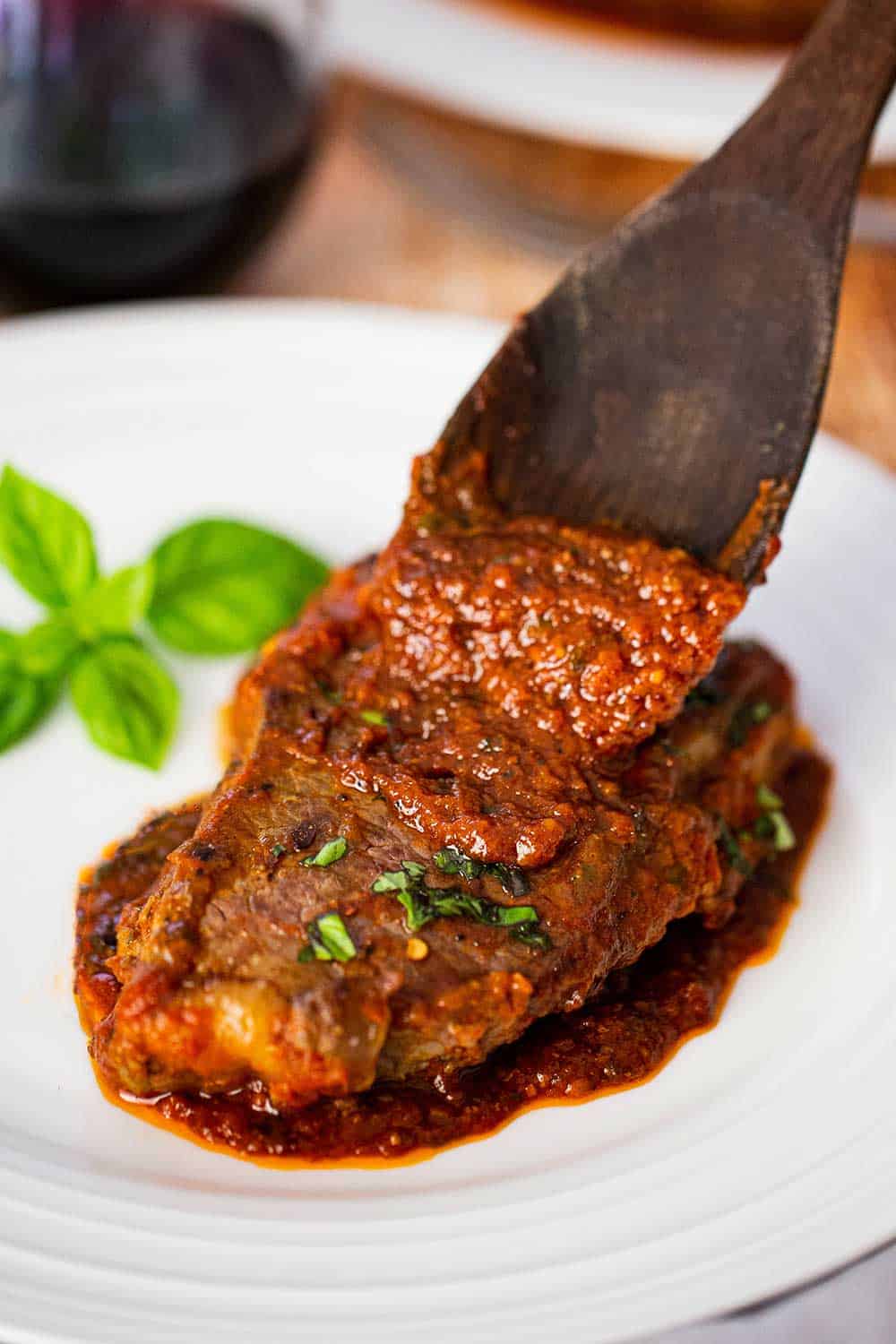 How To Make Steak Pizzaiola
There are no exotic ingredients in this dish.
It's straightforward and pure Italian comfort food.
Making the sauce is an easy process of simply cooking the tomatoes with sautéd garlic until they reduce and their flavor is concentrated.
After bringing the tomatoes to a boil, and then simmering on the stove for just 30 minutes, it's time to pureé them with some fresh basil. This can be done in your food processor or blender.
EXPERT TIP:We love using canned San Marzano tomatoes for this dish. They are grown at the foot of Mount Vesuvius in Italy and are canned at the peak of their freshness. Be sure to pick a brand that has the "Certified" label on the can. Many brands will say 'San Marzano-Style', which means they came from somewhere else. San Marzano tomatoes can be found in the canned tomato section of most well-stock supermarkets.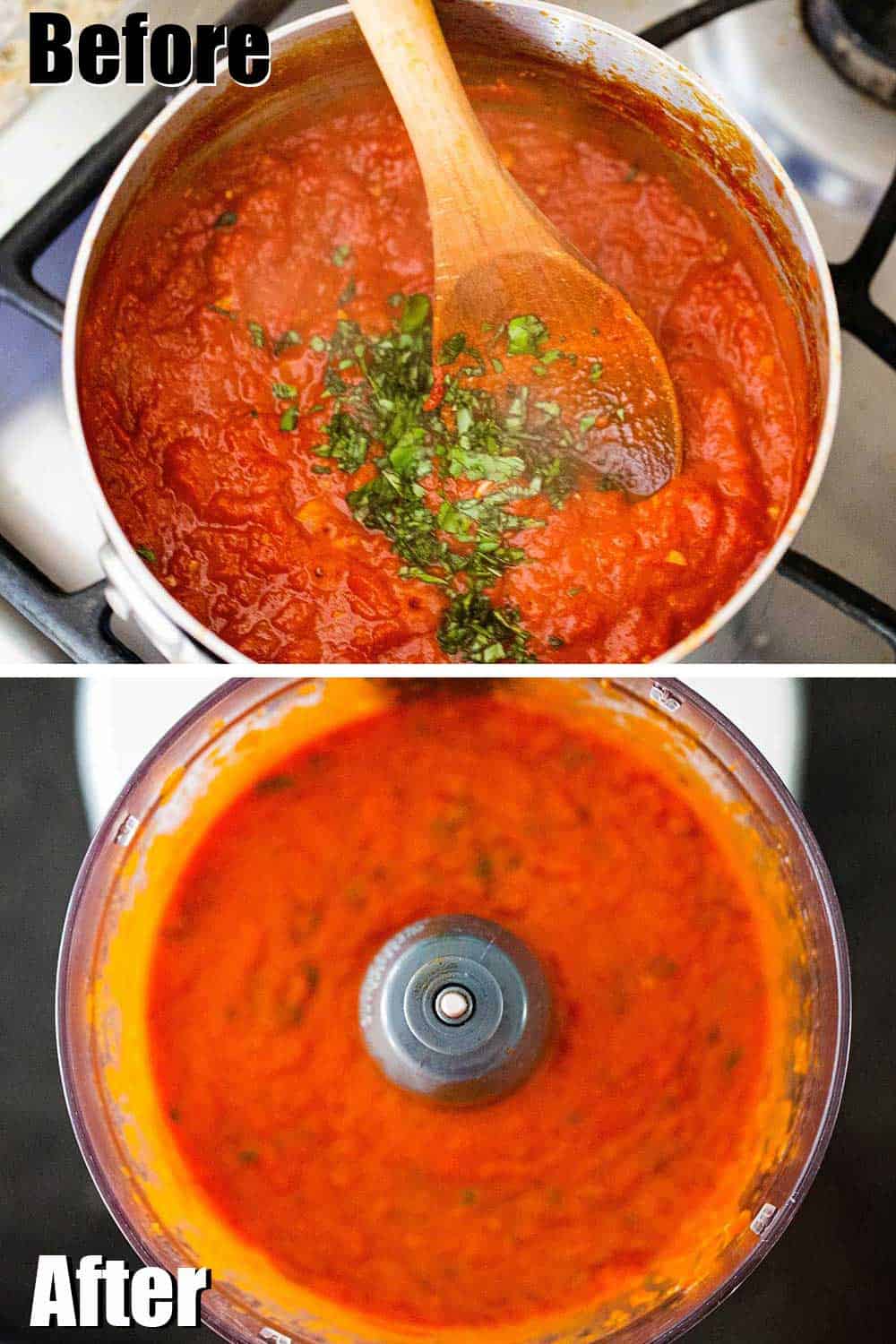 Choosing The Best Steak
Of course, for this dish to really shine, you need to go with a good steak.
We recommend any thick cut of steak such as ribeye, strip, or even a good porterhouse, which could easily feed two hungry loved ones.
EXPERT TIP: Ask your butcher (even the butcher at your supermarket) to cut you a steak that's ½-inch to ¾-inch thick. Usually, he/she will do it for you no problem. You'll sear them first for only two or three minutes per side. Searing adds flavor and helps keep the steak juicy as it finishes cooking in the sauce.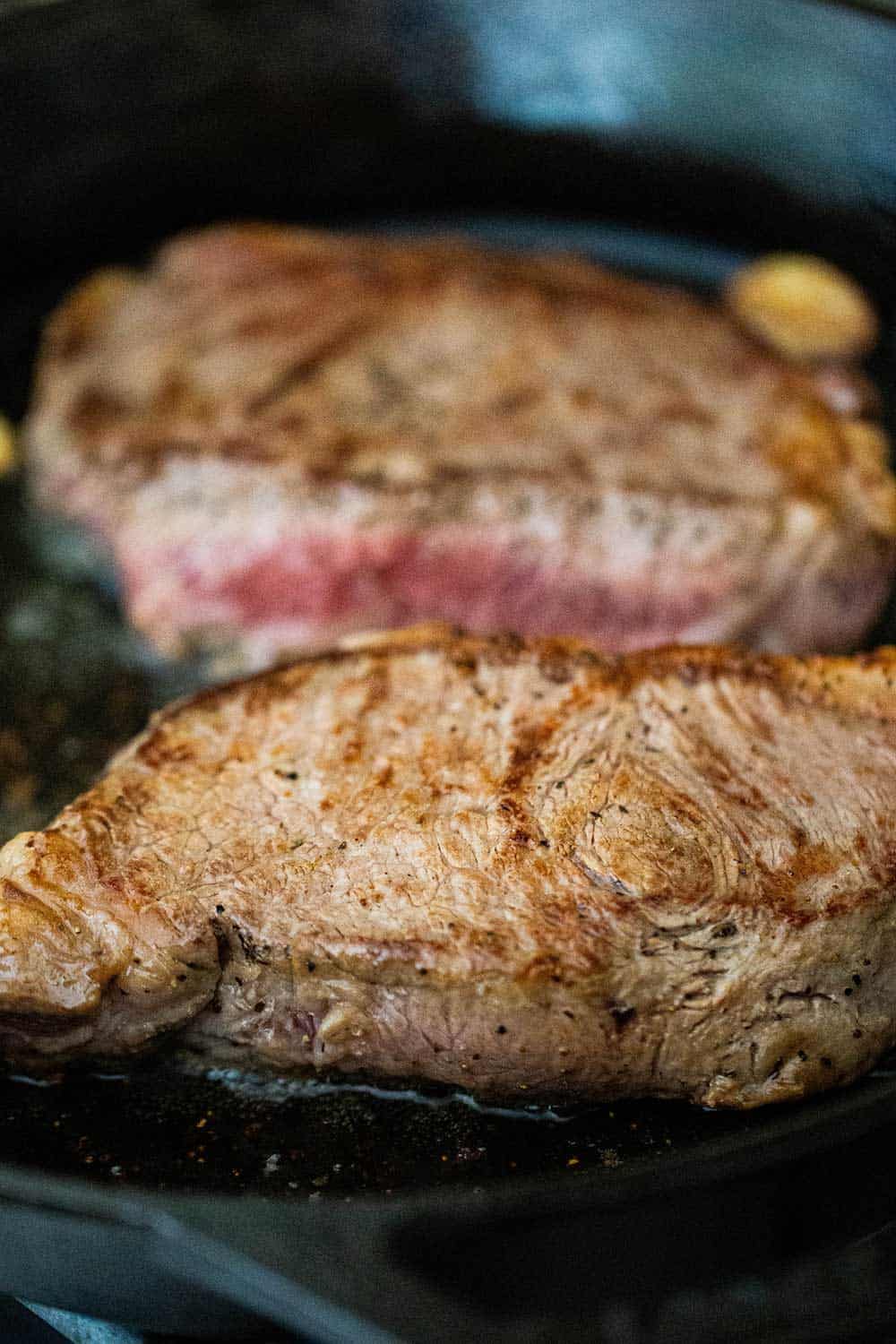 Building the Classic Italian Flavor Profile
After searing the steaks until nicely browned on both sides, use a spatula to transfer them to plate.
In the same skillet, we're going to start to build that classic Italian flavor profile.
Sauté fresh oregano and red pepper flakes for just about 1 minute, and then add a nice dry white wine (such as Chardonnay or Sauvignon Blanc) and let it simmer until it reduces, about 3 minutes.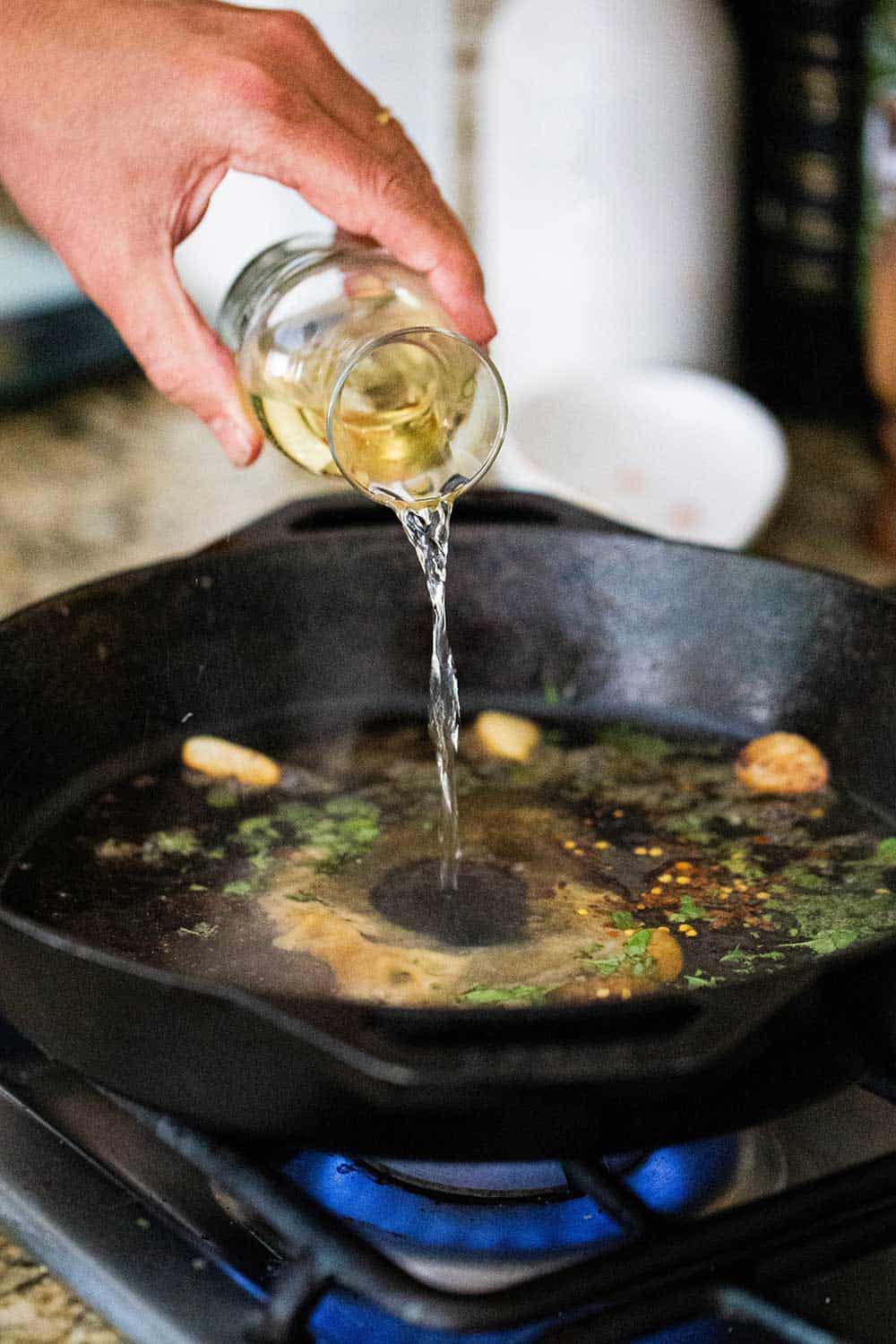 Now, it's time to transfer that glorious tomato sauce into the skillet.
Stir to fully incorporate the oil and reduced wine into the sauce.
EXPERT TIP: To help expedite the cooking process of the steaks, you can add the tomato sauce from the food processor or blender back into the original pot and keep it warm on very low heat. Or, you can just keep the sauce in the food processor or blender until ready to add to the skillet. It will have cooled down, but that's okay, it will heat up quickly in the hot skillet.
Tips for Perfect Steak Pizzaiola
Do ahead – You can easily prepare the sauce, before simmering with the steaks, 1 to 2 days in advance. We recommend gently reheating it on the stove before adding it into the skillet to simmer with the steaks.
Choosing the Right Steak – Quality is always best, especially for this dish. Our go-to steak is a ½-inch thick ribeye. If you have the option, go with Prime as opposed to Choice. Both are good, but Prime is even better. It costs a bit more, but the results are amazing.
Proper Cooking – You definitely want to make sure you don't over-cook these steaks, which can be easy to do. Use an instant-read thermometer to reach either medium-rare (120°F) or medium (140°F). Remember, the steaks will increase approximately another 5 after they are removed from the sauce.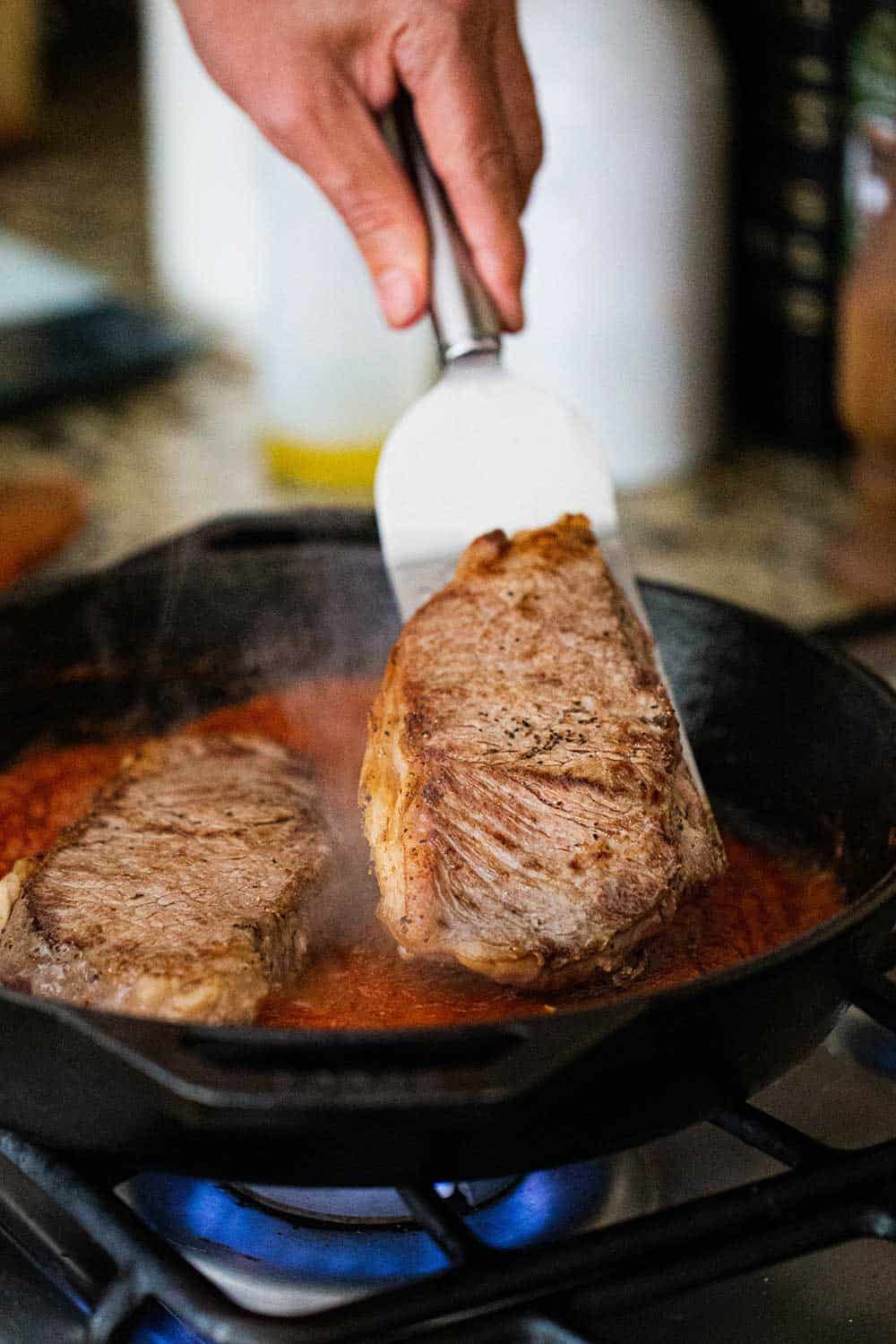 How To Serve
This dish is rich and deeply flavorful. And quite filling. You can even slice the steak and serve it over pasta or rice to serve a family of 4.
We recommend starting the meal off with a delicious Caesar Salad and serving it with Rosemary and Olive Oil Focaccia.
WINE PAIRING: The sauce has a white wine base, so you could pair it with a nice Chardonnay or Sauvignon Blanc. However, beef pairs beautifully with a hearty red, such as Zinfandel, Cabernet, or Pinot Noir.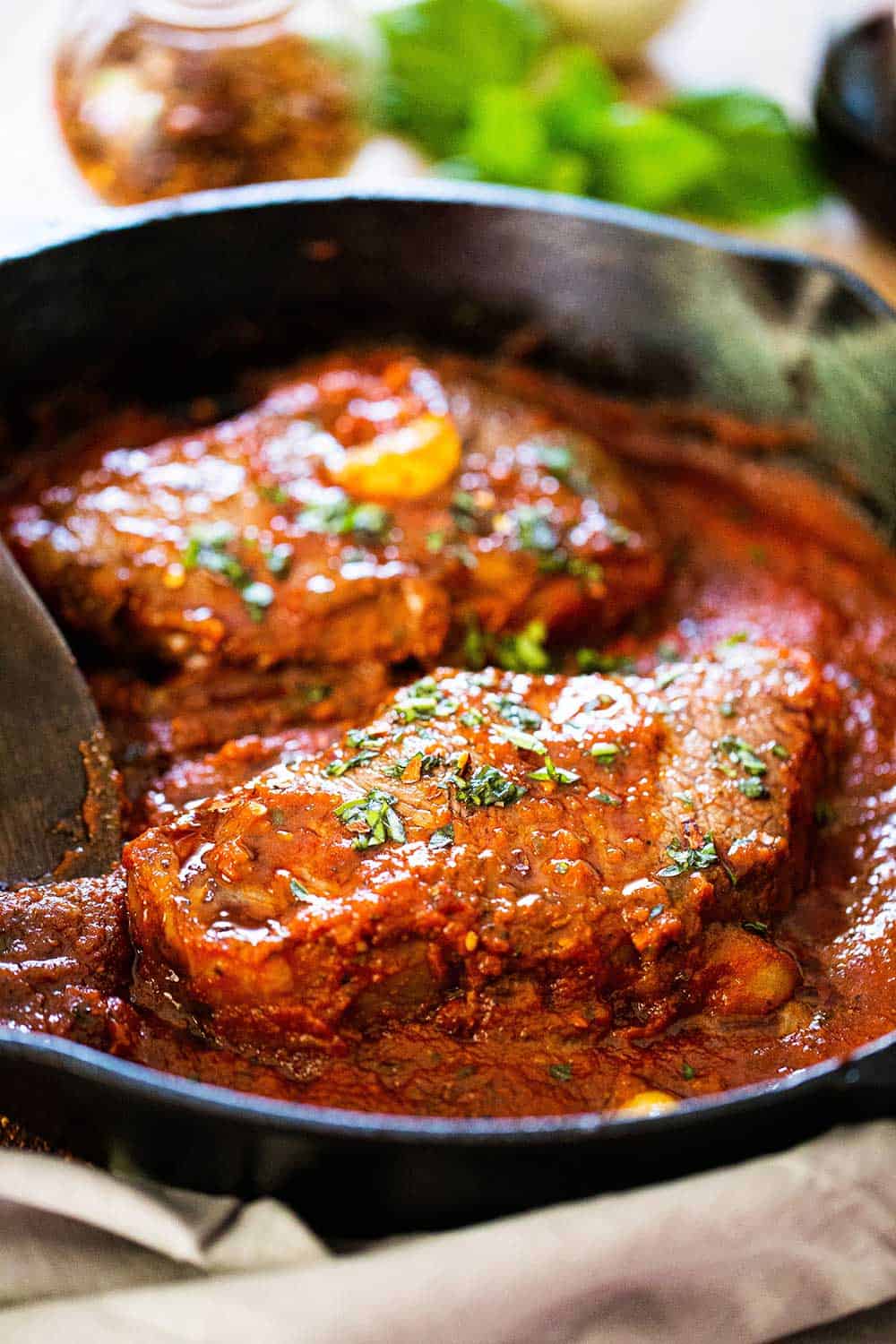 Steak Pizzaiola is truly a spectacular dish.
It's not only deeply flavorful, but it's just stunning in presentation, too.
And it's a dish that you don't see on menus that often outside of Naples, Italy. Serve this and your guests will be very impressed.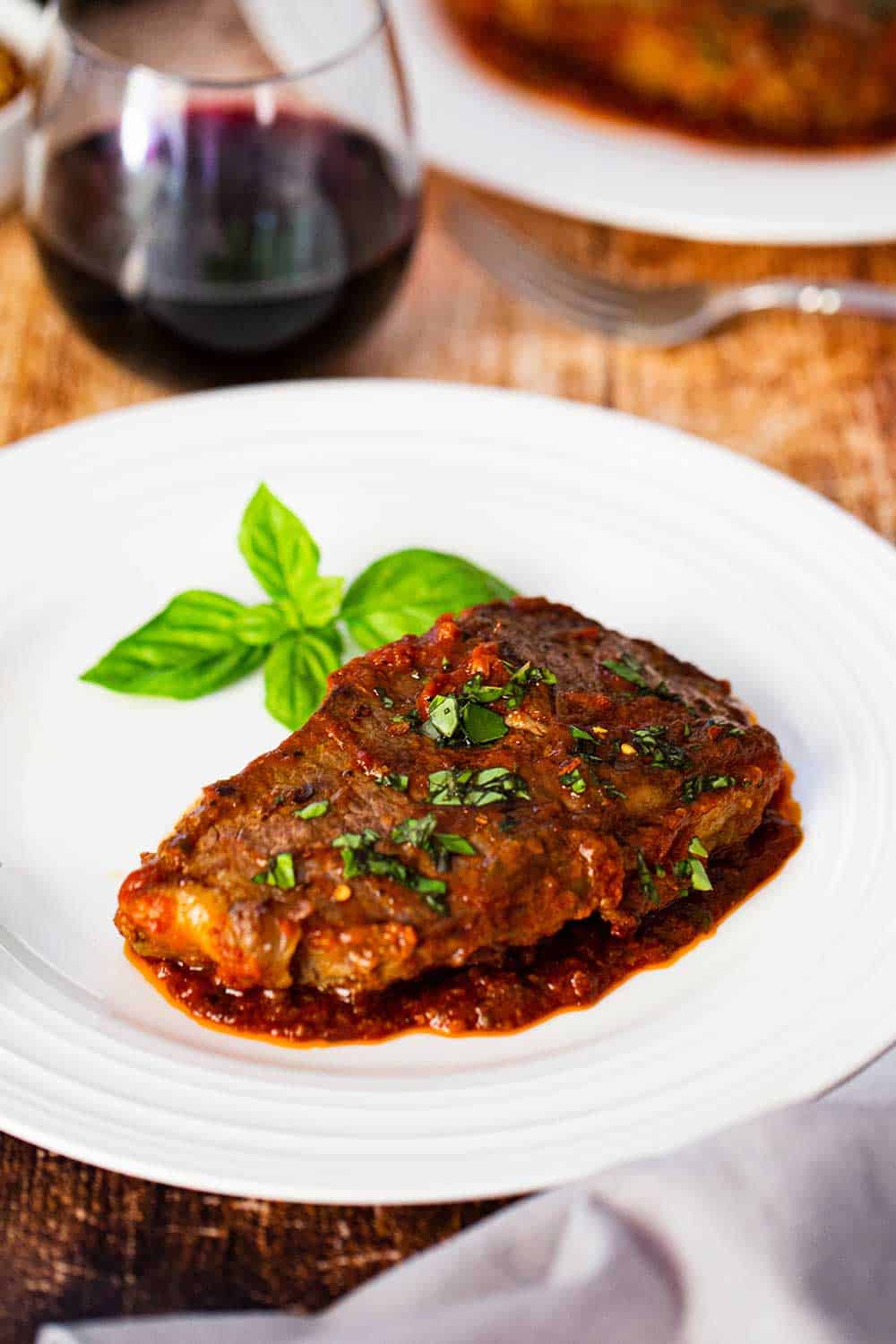 Ready to make the best Italian steak this side of Naples? Go for it!
And when you do, be sure to take a photo of the dish, post it on Instagram, and tag @HowToFeedaLoon and hashtag #HowToFeedaLoon!
Steak Pizzaiola
Steak Pizzaiola is truly spectacular. The tomato sauce is so deep in flavor and is the perfect complement to the perfectly seared and braised steak! You will NOT be disappointed with this incredible dish!
Print
Pin
Rate
Servings: 2 people
Calories: 846kcal
Equipment
A medium-sized pot and a large sturdy skillet, such as cast-iron.
Ingredients
FOR THE TOMATO SAUCE
3 tbsp extra-virgin olive oil
2 cloves garlic minced
1 28 oz can tomatoes San Marzano, whole
Kosher salt and freshly ground black pepper
1 tbsp basil fresh, chopped
FOR THE DISH
2 steaks about1/2 to ¾-inch thick, each
Kosher salt and freshly ground black pepper
2 tbsp extra-virgin olive oil
2 garlic cloves peeled and halved
¼ tsp red pepper flakes
1 tbsp oregano fresh, chopped (1 teaspoon dried...but fresh is best)
½ cup white wine
1 tbsp basil fresh, chopped, for garnish
Instructions
MAKE THE TOMATO SAUCE
Heat the oil in a medium-sized sturdy pot over medium heat.

Add the garlic and cook, stirring frequently, until beginning to turn golden, about 3 minutes.

Add the tomatoes (with juice) and season with ½ tsp salt and ¼ tsp pepper.

Increase heat to high and bring the sauce to a boil. Reduce the heat to medium-low and simmer, stirring occasionally, for 20 minutes.

Add basil and simmer for another 10 minutes more, stirring often.

Let cool slightly, then carefully transfer to a blender or food processor and puree.

Return to the pot and keep it warm on very low heat.
MAKE THE DISH
Season the steaks on both sides with salt and pepper.

Heat oil in a large, sturdy skillet over medium-high heat until hot, but not smoking. Add garlic halves and cook for 1 minute.

Add the steaks and sear one side for 2 minutes, then flip them over and sear the other side for 2 minutes then transfer to a plate.

Add red pepper flakes and oregano to the hot pan, then add the wine and cook, stirring frequently, until liquid is slightly reduced, about 2 minutes.

Add the pureed tomato sauce (1 cup) and stir.

Place the steaks into the sauce and cook for 6 to 10 minutes per side for medium (140°F), turning the steaks once, halfway through. Use an instant-read thermometer to ensure correct internal temperature. (The steaks will continue to cook even after you have removed them from the sauce.)

Add a little more water to the sauce if too thick. Place steaks on a serving dish, pour sauce over steaks. Garnish with basil and serve at once.
Notes
The sauce can be made up to 1 to 2 days in advance. Keep in an air-tight container in the fridge. Gently reheat in a pot on the stove over low heat before proceeding with the recipe.
We love using ribeye for the steaks, but strip, sirloin, or porterhouse are all good choices.
If the sauce gets a little too thick, thin it with a little water.
Leftovers can be kept in an air-tight container in the fridge for up to 5 days. The sauce can be frozen for up to 2 months.
Meat temperatures:
125° F: Rare
135° F: Medium-Rare
145° F: Medium
150° F: Medium-Well
160° F: Well (not recommended)
Nutrition
Calories: 846kcal | Carbohydrates: 5g | Protein: 46g | Fat: 28g | Saturated Fat: 8g | Polyunsaturated Fat: 5g | Monounsaturated Fat: 41g | Cholesterol: 138mg | Sodium: 127mg | Potassium: 716mg | Fiber: 1g | Sugar: 1g | Vitamin A: 261IU | Vitamin C: 2mg | Calcium: 77mg | Iron: 5mg
POST UPDATE: This post was originally published in October 2017, but was updated with improved tweaks to the recipe with new tips and photography and a fabulous new video in June 2021!