Classic Fish and Chips are just that: Classic.
This authentic recipe is the classic beer-battered fish and chips recipe. Serve it with homemade tartar sauce and Southern hush puppies and a little malt vinegar, and you'll think you're in the best pub in England!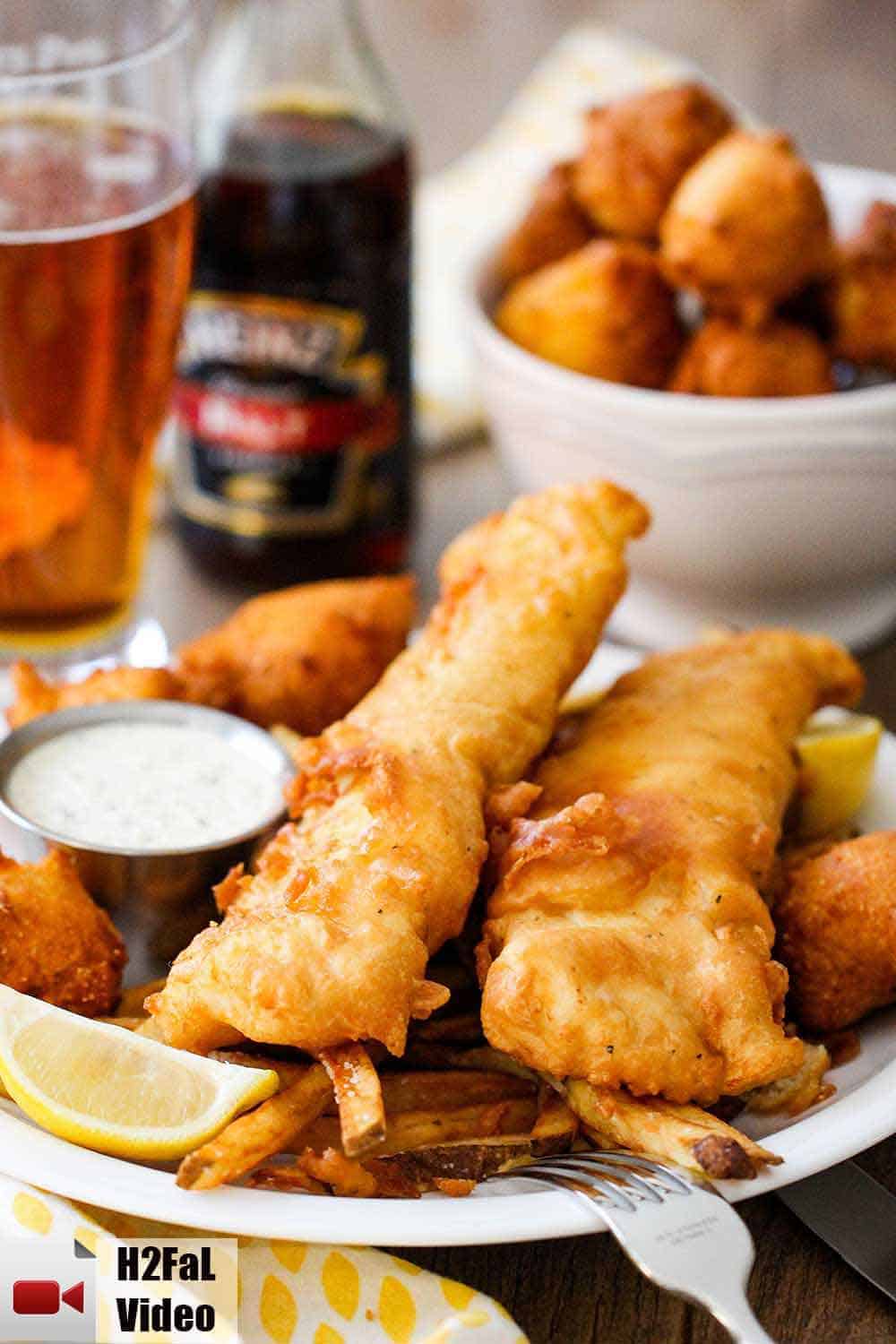 HOW TO MAKE CLASSIC FISH AND CHIPS
This fish n chips recipe is really not difficult to execute.
You can use two different vessels for frying the fish and the fries, or you can use just one. We'll show you how to do it either way!
Watch us show you how to make Classic Fish and Chips at home!
CHOOSING THE RIGHT BEER
Okay, you really can't go wrong when choosing the right beer for our Classic Fish and Chips.
It's all about the carbonation and the pH and other factors that make beer such a perfect ingredient for making delicious and crunchy batter.
That means you can really choose your favorite beer, anything from dark stout, to amber, to ale. During the fall months, we love going with our favorite Oktoberfest Lager!
CHOOSING THE RIGHT FISH FOR FISH N CHIPS
You want to go with a firm-flesh white fish for that classic English fish and chips. The three most commonly-used filets are:
Cod is our favorite and is the most commonly used fish. It's flakey and just delicious. And after a quick dredge in flour, simply dip the filet into the beer batter and then let the excess drip off. That's all that's needed to prep the fish!
EXPERT TIP: Ask your fish monger for fish "fillets", not fish "steaks." These filets are rectangular in shape and are ideal for making Classic Fish and Chips.
START WITH THE FRENCH FRIES, FIRST
To get the perfect crispy-on-the-outside and soft-on-the-inside chip, or French fry, you'll need to employ the 2-fry technique.
You give the fries a quick fry at a lower temperature for the oil at 330°F. Then, you'll crank the oil temperature up to 365° to 370°F.
This is the temperature you'll cook the fries at for the 2nd fry, which makes them golden and crisp, and it's also the temperature you'll need to fry the fish at. You can use two different vessels of oil to do this, or just one, and adjust the temperature after the initial quick fry of the chips. Using two vessels, though a little more effort, helps you to finish the fish and the fries at about the same time, which is ideal!
EXPERT TIP: We strongly suggest using either peanut oil or vegetable oil for frying. Also, having the correct temperature for the oil is critical. This is easily done with a deep-fryer, but also achievable with a sturdy pot (i.e., Dutch oven), oil, and a high-temperature thermometer (i.e., candy thermometer).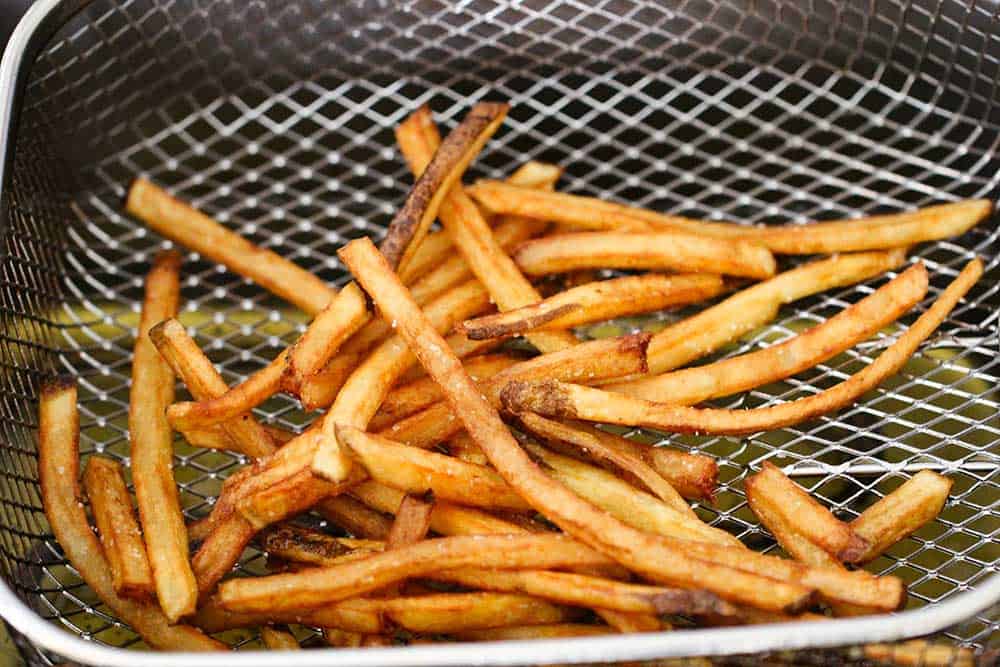 HUSH PUPPIES ARE THE CLASSIC ACCOMPANIMENT
If you're going to make the best fish n chips this side of Big Ben, you've got to round out the dish with an American favorite, Southern Hush Puppies!
Make these just before you fry the chips and fish, and keep them warm in a low-temp oven.
Hush puppies are best served soon after they've come out of the fryer, so don't make them too far in advance.
OTHER CLASSIC FRIED FISH RECIPES
We love seafood prepared in so many ways, from searing, to poaching, to grilling, to sautéing. But there's something pretty magical about a crispy fried piece of fish: Here are some of our favorites:
But in the meantime, you can't get much more classic than these incredible English Pub-Style Fish n Chips!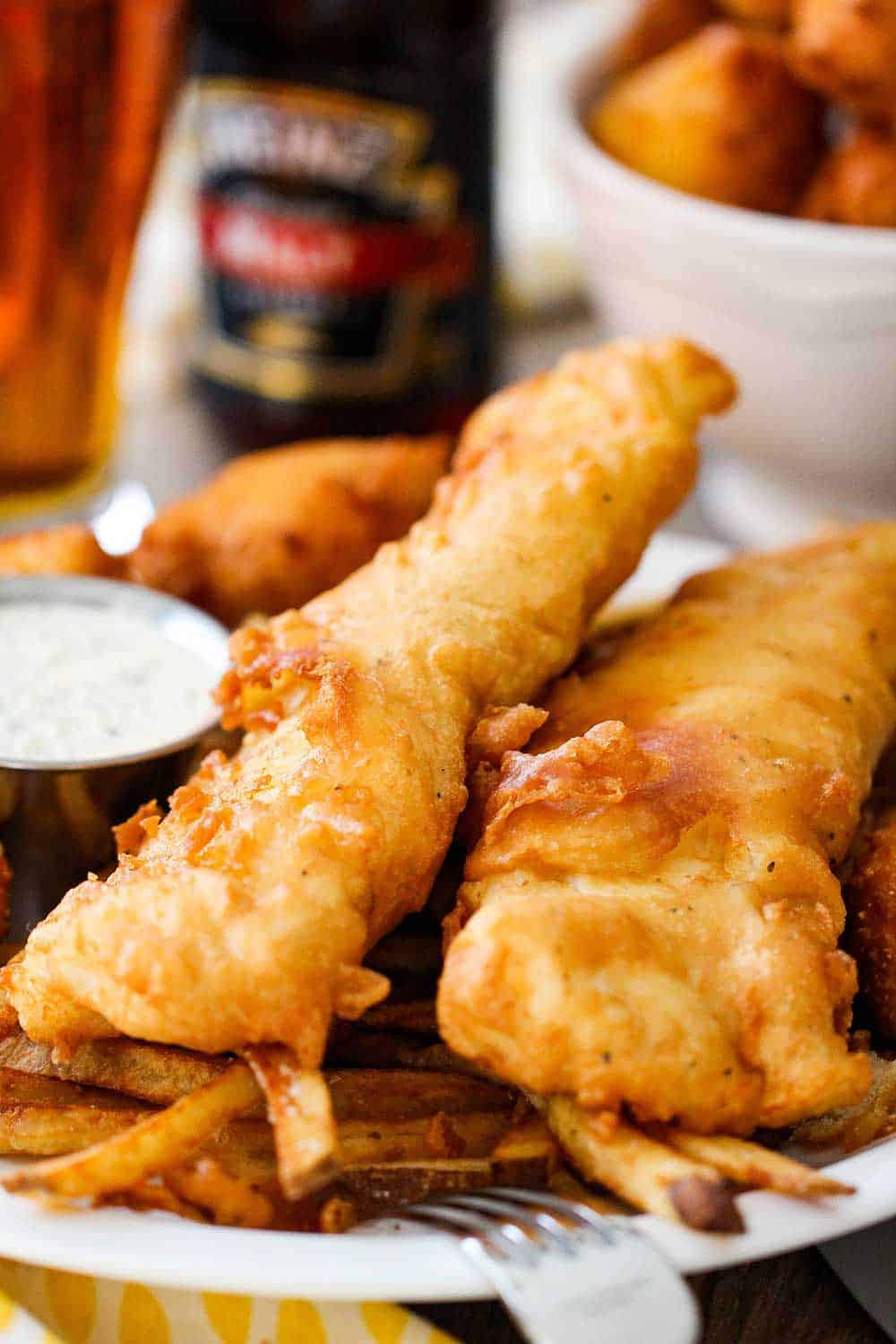 CLASSIC FISH AND CHIPS FAQs
What is the best type of fish to use? As mentioned, we love Cod because it's so flaky and not 'fishy' tasting at all. Haddock is used by a lot of chefs because there is a little more of a sweet flavor to the meat, but it's considered to be not as flaky. Pollock is another type of Codfish, and is good, too, just a little harder to find and a little more expensive.
Do the fries really have to be fried twice? We know it sounds like an extra step, but YES! Following the 2-fry method produces restaurant-quality fries. Letting them sit in a cold water for at least 30 minutes before frying helps to remove starch and again, helps to produce the best possible chip. Be sure to dry them off completely before hitting the hot oil!
Can the batter be made in advance? Yes! You can prepare the batter up to 1 day in advance. We recommend bringing the batter back to room temperature before coating the fish. Once the fish and chips have fried, however, you'll want to serve them immediately!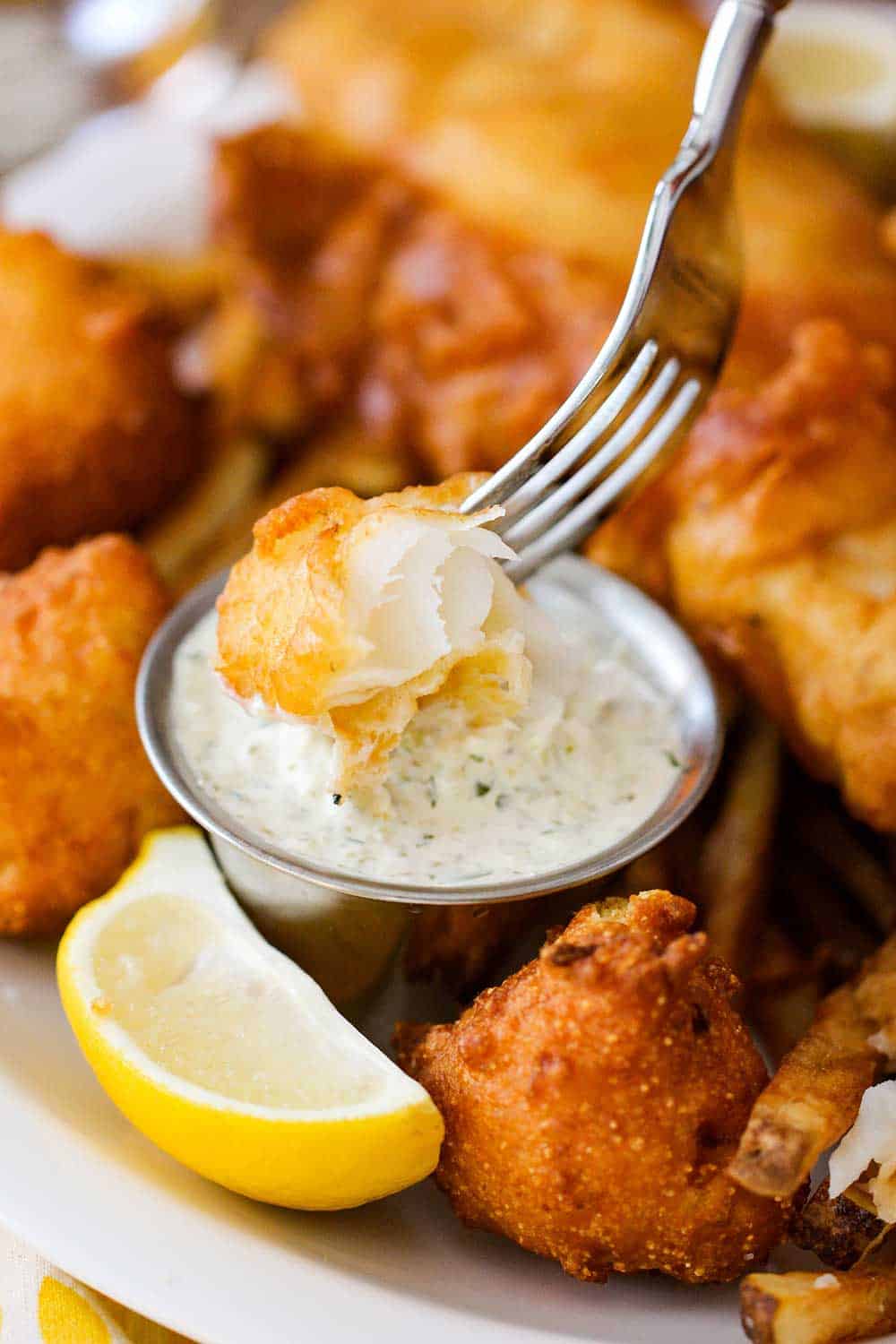 Folks, if you love classic fish n chips as much as we do, then you've got to make this recipe. And to truly make it special, be sure to make the Homemade Tartar Sauce, too. It's so easy and truly spectacular.
Looking for another British classic? How about our amazing Shepherd's Pie or Pub-Style Guinness and Beef Pie, our Classic Meat Pies!
Now…go make our U.K. friends proud and make this dish! And when you do, be sure to take a picture, post it to Instagram, and tag @howtofeedaloon and #howtofeedaloon!
Classic Fish and Chips
Print
Pin
Rate
Servings: 6 people
Calories: 259kcal
Equipment
Deep fryer, or sturdy pot (i.e., Dutch oven) with a candy thermometer
Ingredients
4 large potatoes preferably Russet, sliced into 2 1/4 x 3/8 strips (a mandolin makes this really easy)
1 cup all-purpose flour
1 tsp baking powder
1 tsp salt
1/2 tsp ground black pepper
1/4 tsp onion powder
1 bottle beer your favorite ale, stout or lager
1 large egg lightly beaten
8 pieces cod
Vegetable oil for frying
Tartar sauce for serving
Instructions
Place the potatoes in a bowl of ice water for about 30 minutes.

Heat the oil in a deep heavy skillet, or deep fryer to 330° F.

Drain the potatoes and dry them well with a kitchen towel.

Carefully, drop the potatoes, about 1 cup at a time, into the hot oil and fry for abut 3 minutes.

Remove with a slotted spoon and drain on paper towels.

Repeat until all potatoes have gone through the 1st round of frying.

Increase the oil temperature to 365°F to 370°F.

Meanwhile, in a large bowl, stir together the flour, baking powder, onion powder, salt and pepper. Next, add in the egg and beer. Stir to mix.

Add a little more flour on a platter and dredge the fish fillets.

Add the floured fillet to the batter and let the excess batter drip off.

Carefully add the fish to the hot oil.

Cook until the fish is golden.

Drain on paper towels.

To finish the chips, fry the pre-cooked potatoes in the hot oil.

Fry until they are golden brown, and crisp, about 4 more minutes.

Drain on paper towels.
Notes
Be sure to use the 2-fry method for the chips. Fry first at lower temp (330°F) for 2 minutes, and then at a high temperature (365°F) for another 4 minutes. You can use the same vessel to fry the fish and the fries with. Do NOT fry the fish with the potato fries. Small pieces of the batter will come off the fish as it fries. If you are planning on frying additional fish or fries, you may want to consider using two different frying vessels, one for the chips and the other for the fish. Those small batter chunks will start to burn if they are in the hot oil for too long. Use your favorite type of beer for the batter, almost all types will help make the fish crispy, the flavor/taste is up to you and what you like most. The batter can be made 1 day in advance. Fish and chips are best served soon after they come out of the fryer!
Nutrition
Serving: 6g | Calories: 259kcal | Carbohydrates: 49g | Protein: 10g | Fat: 10g | Saturated Fat: 1g | Cholesterol: 36mg | Sodium: 430mg | Potassium: 1151mg | Fiber: 7g | Sugar: 1g | Vitamin A: 51IU | Vitamin C: 28mg | Calcium: 121mg | Iron: 9mg
POST UPDATE: This was originally published in April, 2014, but was updated with improvements to the recipes, new photography and an awesome new video in September, 2019!